Vinyl plank flooring is known for its durability and often favored for its high resistance to moisture. This makes it a popular floor covering choice for home areas such as your bathroom and kitchen. Our Proximity Mills review is a comprehensive guide covering all aspects of this brand and its luxury vinyl plank floor products.
What makes luxury vinyl plank (LVP) an excellent flooring choice for many homeowners is you can now use it in any room and still be proud of how your floor looks! Proximity Mills has all your floors covered no matter what kind of traffic it handles. Their floor products don't only look smart, but they're designed to handle boisterous pets, messy kids, and normal daily thoroughfare.
When deciding on a flooring brand, you want to look out for distinctive key features such as safety, installation methods, warranties, and styles. It also helps to know if the brand is serious about quality and manufacturing standards as well as catering for the eco-conscious customer. Let's also consider pricing, as that's often the deal-breaker for many homeowners choosing a product.
If you're still deciding if Proximity Mills is the brand for your floor covering needs, then read on as we give an in-depth review on this company and its extensive range of luxury vinyl plank floors.
If you have any questions or need samples, please reach out to our team.
How Does Proximity Mills Rank?
Head on over to the Proximity Mills website, and one of the first words you'll see is "The #1-Ranked Vinyl Plank Floor in the USA." That's a mighty statement for a company to make, but we can't ignore the fact that it's one of the fastest-growing flooring companies. Homeowners are looking for and getting high-quality luxury vinyl planks that are durable, waterproof, and great for family homes when they pick Proximity Mills.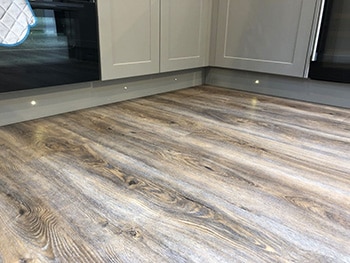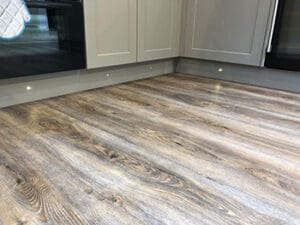 Proximity Mills' vinyl planks also rank high for handling large traffic volumes in commercial properties. They are a floor brand that caters to both residential and commercial flooring needs. Our rating for them is 5/5 stars.
Pros And Cons Of Picking Proximity Mills For LVP
Proximity Mills focuses on producing vinyl plank flooring that is not only pet- and kid-friendly, but is also easy to maintain. The brand's LVP is waterproof, durable, and suitable for any customer's budget. What's more, the vinyl planks create a realistic wood visual for any room in your home with their wide range of aesthetics and designs.
Pros
11 collections offering between 5 to 10 different styles per collection
SPC construction with three wear layer options up to 22 MIL thick
Choice of tile or wood look
Floating, glue-down, or loose lay installation methods
Eco-friendly with low or no VOCs and 100% recyclable
Standard lifetime warranty
Cons
Built-in underlayments only available with loose lay flooring option
Varying commercial warranties depending on the collection
Not available at all flooring retailers
Why Pick Proximity Mills Luxury Vinyl Planks
Proximity Mills only offers waterproof Stone-Plastic Composite (SPC) luxury vinyl planks. If you're wondering if there's a difference between SPC and LVP, then the team at Proximity Mills has the answer for you. Luxury vinyl planks fall under both the SPC and WPC grouping for vinyl planks.
This brings us to understanding what WPC is as well. Also known as Wood-Plastic Composite, WPC is made up of a rigid core permeated with wood flour. This makes the flooring product more spongy, making it ideal for bathrooms and bedrooms.
SPC has a rigid core that is infused with limestone, making it a highly durable floor for areas handling a lot of traffic such as hallways and living rooms. These vinyl planks are also best for commercial properties that have high traffic volumes moving through them.
Proximity Mills' LVP floors can be used for both residential and commercial applications. When searching for the right type of luxury vinyl planks for your specific flooring needs, refer to the company's durability grading system. Each collection clearly states a durability rating between 1 to 5, with 5 being the maximum grade.
Another attractive reason for picking Proximity Mills is the cost of buying their luxury vinyl planks. If you're still debating whether it's cheaper to install carpets or laminate flooring compared to vinyl planks, think again. Proximity Mills has priced their vinyl planks so it's affordable for most customers' budgets.
Based on our research on Proximity Mills vinyl planks, we're able to share some of their essential key features that should make your decision-making process a whole lot easier! You'll also find customer reviews on the company's website if you need further support when deciding which product to buy.

A Wide Range Of Styles
With 11 collections to pick from, each one offering anything up to 12 different styles, you're spoiled for choice! You also get to pick from a range of colors, shading options, and whether you want tile or a more natural wood appearance. Depending on the collection, you can also choose between floating, glue-down, or loose lay installation methods.

Wear Layers
If there's one essential key feature you need to look out for when picking luxury vinyl planks, it's the wear layer. The higher the wear layer, the longer your floor is likely to last, and the measurement is quoted in mil (one-thousandth of an inch.) Proximity Mills LVP comes in three wear layers: 12 Mil, 20 Mil, and 22 Mil.

Low Or No VOC In Vinyl Planks
Proximity Mills takes your health seriously and ensures all their vinyl planks are made according to the highest possible manufacturing standards. This includes making sure all their products have low or completely no VOCs in them, which is supported by their FloorScore-certified rating. Plus, all their vinyl planks are mold-resistant, antimicrobial, and phthalate-free. 

Flooring Visualizer
One of the challenges when picking a floor cover is picking the right style for your room. Proximity Mills's flooring visualizer makes it simple for you to upload a photo of your room and match it with their vinyl plank floor products. Samples are also delivered directly to you if you need further clarification that you're picking the right style and color for your flooring needs.

Eco-Friendly
For the environmentally-conscious homeowner, you can't go wrong with Proximity Mills' vinyl plank floor products. The brand is serious about sustainability, which means all their floor products are 100% recyclable. When the time comes to replace your vinyl planks, rest assured: the discarded planks are recyclable, minimizing the impact on our planet.
Proximity Mills Product Line
All Proximity Mills luxury vinyl planks are SPC constructed, which means they're ultra-durable, waterproof, and pet- and child-friendly. All of their floors come with ceramic bead-infused wear layers, making them extremely scratch-resistant (and the company does request you don't try throwing knives onto these floors!).
Proximity Mills will only work with manufacturers who manufacture flooring products for top vinyl plank floor brands. This way, they can assure you of only the best when purchasing their luxury vinyl floor planks for your home or commercial property.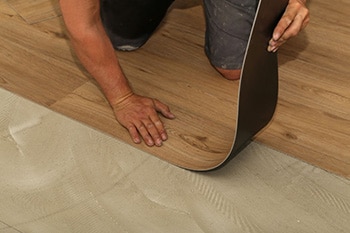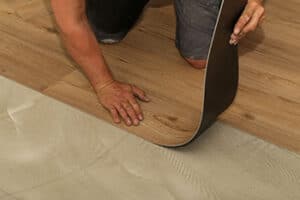 The styles and designs of the collections range from the classical to a Scandinavian design to a more rustic and earthy type. You can even select for textures ranging from wood to tile to stone. Moldings such as flush stairnose, end cap, T-molding, and reducer are other features to look out for in these product lines.
Various color options are available depending on the collection you pick and shading can be picked from dark, light, or medium. The vinyl planks come in a range of sizes with width measurements varying from mixed to 9 to 12 inches.
Let's take a look at five of the brand's collections as examples of their product lines available for both residential and commercial applications. In case you're wondering, yes, the collections are all named after famous American rivers!

The Hudson River Collection
The Hudson River collection offers six unique styles to pick from. The colors are rich with the styles intended for homes with warm and cozy decor. It's easily installed with a 14F locking system and can be used in both homes and business properties. Moldings are available as well as shade variations.
This collection is noted for the following features:
Product type: Plank
Size (L/W/D): 48″ x 7″ x  0.1887″
Wear layer: 12 Mil
Warranty: Lifetime residential / 7 yrs commercial
The Hudson River Collection is appealing to those homeowners looking to create a natural wood appearance in their homes. These vinyl planks only offer the floating installation method.

The Ohio River Collection
With 12 styles to pick from in the Ohio River Collection, you'll love this product line if you're looking for old-world meeting new age floor decor. The tiles come in single and multi-width boxes and are suitable for both home and commercial floors with its high durability rating of 5. Installation is simple and easy with its 14F locking system.
The product dimensions for this collection are:
Size (L/W/D): 36″ x 18″ x 0.216535433″ (note: mixed widths: 6/12/18″)
Wear layer: 22 Mil
Warranty: Lifetime residential / 10 yrs commercial
For high traffic areas, you'll find the Ohio River Collection most suitable, especially if your home or office would benefit from a modern style of flooring with natural aesthetics.

The Salmon River Collection
If it's nature and earthly coloration you're after for your residential or commercial property, you'll adore this product line. A beautifully painted bevel enhances the wood aesthetics of this vinyl plank. The planks come in two sizes with the largest one measuring 9″ x 72″. It comes in a range of widths from 5″ to 9″.
Other features to note with this collection are:
Product type: Plank
Wear layer: 22 Mil
Warranty: Lifetime residential / 10 yrs commercial
The Salmon River Collection gives you six styles and colorations to pick from and a variety of shading options. Installation is simple and easy with a 14F locking system and floating method.

The Suwannee River Collection
This collection offers 10 different styles which are designed along the lines of elegant Scandinavian designs. Moldings are available and the edging is a micro bevel. Shade variation is mostly medium and the installation method is floating.
Other key features of this collection include:
Product type: Plank
Size (L/W/D): 47.99″ x 6.97″ x 0.256″
Wear layer: 20 Mil
Warranty: Lifetime residential / 10 yrs commercial
The Suwannee River Collection is easy to install and is wonderful for creating a calm and rustic look in any home or office building.

The Yellowstone River Collection
If you're looking for a product line that's classical but stylish at the same time, then the Yellowstone River Collection is a good bet. It only comes in three rich and natural colors. The planks are wide and have a clear finish creating a clean look.
The dimensions of these vinyl planks are as follows:
Size (L/W/D): 60″ x 9″ x 0.216535433″
Wear layer: 22 Mil
Warranty: Lifetime residential / 10 yrs commercial
With a micro bevel edge, a variety of molding options, and ceramic bead surface coating, the Yellowstone River Collection vinyl planks won't disappoint.
Where To Buy Proximity Mills Luxury Vinyl Planks
Proximity Mills luxury vinyl plank floor products can be found at most independent flooring retailers throughout the United States. However, they're quite fussy about which flooring stores they supply and will only associate with retailers with reputable and ethical business practices. 
This brand is serious about customer service and proper installation. This is another reason why they only sell their products through professionals they trust and who know their product inside-out!
To find a retailer close to you and get help with product selection, contact our team of experts.
Standard Lifetime Limited Warranty
The brand is proud of its vinyl plank flooring products and maintains using only industry-leading quality on all its planks and tiles. Proximity Mills also only uses high-quality manufacturing processes guaranteeing a top-end floor cover. Their other essential belief is providing luxury vinyl planks at reasonable prices making their vinyl planks accessible to most customers.
Based on knowing they have an excellent product, Proximity Mills offers a standard limited lifetime warranty. It must be noted that they offer limited commercial warranties ranging from 7 to 10 years.
FAQs
Is luxury vinyl plank flooring the best option?
If you're looking for a vinyl plank that is durable, scratch-resistant, waterproof, and can handle high traffic volume, then LVP is your best option. These luxury vinyl plank types are either made with Stone-Plastic Composite (SPC) or Wood-Plastic Composite (WPC).

Which is better – SPC or WPC flooring?
Deciding whether SPC or WPC flooring is better for your home or office building depends on where you plan to lay the floor cover. SPC vinyl planks are perfect for both residential and commercial purposes. They're constructed with a rigid core and limestone making them highly durable, waterproof, and most suitable for areas such as living rooms and hallways.
WPC vinyl planks have a rigid core infused with wood flour and have high moisture resistance, making them most suitable for bathrooms.

What brand of vinyl plank flooring is the best?
Proximity Mills along with Shaw are the top brands for vinyl plank flooring. Picking the best brand depends on a number of factors. You want to find a brand that offers you the following:
A wide range of styles, colors, and shading options
Various wear layers for durability such as 12 Mil, 20 Mil, or 22 Mil
Safety features such as low or VOC-free products
Lifetime warranty
If the brand can also offer eco-friendly features, then you know you have a winner.
Final Thoughts
If you've decided to install vinyl planks in your home or office building, we highly recommend you explore Proximity Mills.
Proximity Mills are proud suppliers of luxury vinyl plank flooring in the USA. This brand is all about delivering vinyl planks that are of high quality, sold only through trusted professionals while still being affordable. With 11 collections to pick from, you'll easily find a range of styles to suit your home or commercial property.
Installation is simple and quick with a 14F locking system, and you can choose between floating, loose lay, or glue-down methods. This means laying these vinyl planks can be a DIY project, or you can call on the experts to do the job.
A huge bonus when dealing with Proximity Mills is the cost. Their prices range from affordable to mid-range and higher. This means you can now afford to install luxury vinyl planks in your home even if you're on a tight budget.
If you have any comments or first-hand experiences with Proximity Mills, please post them below or share your pictures via our social media. We would love to hear from you!
Back to Top