If you're searching for a slurpy, sliding, super suction device designed to handle even the messiest, stickiest and sloppiest of situations, you're in luck. Somehow, you have found your way to this, a sometimes exciting, sometimes cheesy review of the six best wet/dry vacs and shop vacs.
Are you looking for an effective dirt eradication solution to a variety of debris-riddled nooks and crannies in the house? Maybe you need a water-eliminating emergency extraction. Either way, one of these versatile vacs can provide the perfect particle-trapping companion.
A shop master's best friend, a pet lover's saving grace, or a car cleaning fanatic's favorite interior suction system, these powerful vacuums can pack a real punch when it comes to eliminating tiny dirt invaders and watery messes.
In this world of hoses and handles, attachments and cords, suction is king, and price point queen. And hey, why not throw a lawn and leaf blower conversion in there for good measure!
Rankings
How We Ranked the Best Wet/Dry Vacs and Shop Vacs
When zoning in on the best wet/dry vacs and shop vacs, there are quite a few variables to consider.
People use these workhorse cleaning machines for some of the dirtiest jobs. Features like casters, long hoses and on-board accessory storage can vastly improve a user's suction experience.
Tank capacity sizes vary wildly throughout the wet/dry vac market. While bigger tends to usually be better, this factor wasn't necessarily a major deciding factor in our rankings.
A large capacity can definitely allow users to go longer between tank emptying. However, these heavy-duty tanks can really weigh a vac down and start to impact maneuverability.
A wet/dry vac can perform in a serious standing water situation. Then, users can flip it to remove sawdust and fireplace ash.
Filtration is important when changing up the duties of these vacs. A foam sleeve added to the filter during water removal is pretty much a must. A fine dust filter will protect the vac and the user when cleaning up tiny particles and debris.
Lots of wet/dry shop vacs on the market offer a handy feature that reverses suction. Sometimes they also provide a high-powered blower to eradicate debris that accumulates in hard-to-reach nooks and crannies.
We incorporated the following variables when filtering through all the features and functions of these six best wet/dry vacs and shop vacs.
Ease Of Use

Maneuverability
Hose and Power Cord Length
Tank Capacity

Value

Features and benefits

Blower Option
Tank Drain
Attachments and Accessory Tools

Price
Quality of construction and materials

Stainless Steel Tank vs. Plastic

Suction Power

Peak Horsepower Suction
CFM (Air Volume – Cubic Feet per Minute)
What to Expect When Spending More
There is quite a price range in the broad market of wet/dry vacs and shop vacs. We've zoned in on the vacs that seem to fill most residential and light commercial consumers' needs.
However, there is a large commercial-grade market, where prices and features can soar. We've left that for a different review.
In this category, a buyer should expect to see features like hose locking systems, larger tank capacities, tank drains, and a more durable construction when doling out cash for a higher-priced vac.
An entry-level shop vac (with an entry-level price tag) can still get a consumer into the wonderful world of wet and dry debris removal. These are for smaller, less frequent jobs. They usually have smaller tank capacities and don't always come with the full tool box of accessories.
Price point will also usually determine material and construction quality, and the length of the product warranty.
Rankings & Reviews
After a whirlwind of wet/dry vac data and review research, the dust settled (and we promptly vacuumed it up). This landed us on the final rankings of the best wet/dry vacs and shop vacs.
It was an exhaustive research and ranking process, with industry terms like CFM and peak HP flying around. Hose lengths, tank capacities, on-board accessory storage, suction power and, of course, the price tag headed up the key ranking features.
The decision to wall mount or not to wall mount is personal. We didn't want to prop up or punish a vac for offering this sleek, stowable feature.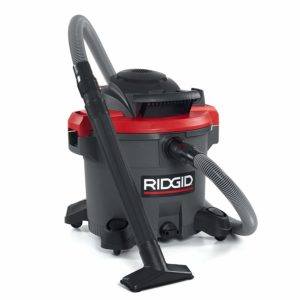 Weight: 18.2 lbs
Tank Capacity: 12 gallon
Wheels: Yes
The high points: Large tank capacity with drain, Lifetime warranty
The not-so: Shorter than average power cord, Some durability issues
This lumberjack of a wet/dry vac is rugged, sturdy and ready to take on any job you toss its way.
The Ridgid 1200RV Wet/Dry Vac has a reasonably-sized 12 gallon tank capacity with a handy tank drain. Not too big and not too small, the vac is compact, considering its capacity.
It blends easy mobility with a sizeable holding tank.
The large carrying handle and 360° caster wheels give the user some options when operating the Ridgid 1200RV Wet/Dry Vac. This mid-sized cleaning buddy is happy following you around with its smooth-moving wheels in pursuit of the next debris or water removal job.
Ridgid really nailed the on-board attachment storage on this vac. It utilizes the space above the wheels to holster the tools that come with the vacuum. This design eliminates motor or exhaust impingements that can get in the way of functional tool storage and accessibility.
The attachment spread that comes with the Ridgid 1200RV Wet/Dry Vac isn't vast, but it provides most of what the typical shop vac operator needs. Two extension wands help to reach ceilings and the undersides of decks and overhangs. The utility, car and wet hose attachments all lend a helping…nozzle to their respective causes.
The versatile Ridgid 1200RV Wet/Dry Vac comes standard with a 1-⅞" diameter hose. One can also adapt it to utilize Ridgid's wide assortment of heavier-duty 2-½" attachments.
What Reviewers Say About It
Most user reviews report the Ridgid 1200RV Wet/Dry Vac as having top-notch suction capabilities. Owners also seem impressed by the wide range of debris and dust that this vac will eat. From construction scraps to popcorn ceiling particles to wispy clumps of pet hair, this vacuum has you covered.
Multiple 1200RV reviewers have utilized the vac in emergency water removal situations and consider it to be a lifesaver. One user reported extracting over 300 gallons of water from a flooded basement without even the tiniest hiccup.
A few reviewers commented about the vac's slightly louder than normal noise. Users should wear hearing protection when operating the Ridgid 1200RV Wet/Dry Vac.
What's Good?
The compact size and easy mobility is popular among Ridgid 1200RV vac owners. The large carrying handle helps to transport this lean, mean, debris-removing, water-draining machine where people need it the most.
The vac's lengthy 8' hose connects to the suction port with a premium "pro-lock" locking system. This prevents the hose from popping off the vacuum.
This feature is usually present in higher quality vacs. It will definitely prevent potential headaches involving the sad scenario of freshly-sucked debris spewing back out of the vacuum.
Maintaining the vacuum and moving between dirt, dust, debris and liquid removal is easy with the Ridgid 1200RV Wet/Dry Vac. The filter pops in and out and requires no tools to access. Adding a fine dust filter bag for particle pickups or a foam filter for sloshy water extractions is quick and efficient.
Possibly the best thing about the Ridgid 1200 RV Wet/Dry Vac is its full lifetime warranty. This impressive warranty covers defects and workmanship for the life of the vac.
According to reviewers who've had to make a claim, the warranty holds water. Most of these consumers report that the manufacturer has repaired or replaced their defunct vacs.
A blower port provides some added functionality to the Ridgid 1220RV vac. Indoors and out, this blower can blast hidden particles and pieces of debris out of their hiding places. Operators can either suck up these elusive invaders once exposed, or let them live another day, just not on the landscaping rocks.
What Could Be Better?
Various users complain of a couple main issues with the Ridgid 1200 RV vac. While both are minor glitches, improvements would propel this already effective and easy-to-use vac into the next echelon of wet/dry vacs.
The first issue is that the exhaust blower is angled directly out of the back side of the vacuum. This design means exhaust air is shooting and propelling the particles in its path out into the area being cleaned. That creates tiny projectiles and makes an even larger mess.
The second most commonly reported issue is with the top lid of the vac. Various users complain of having trouble securing the lid and seem to account the problem to weak latches or production defects.
How Does It Compare in Value?
Overall, the Ridgid 1200RV Wet/Dry Vac is a pretty value-based vacuum. It provides a lot of higher-end design and function features found in vacs of higher price points.
The construction of the vac leaves a little to be desired and some vacuums with similar price tags offer heavier-duty features. These include stainless steel tanks and more durable controls and latches.
What shoots this vac into top value status is its full lifetime warranty. The ability to be able to (usually) get the vac repaired or replaced in the event of a defect, even years into the life of the vac, makes the Ridgid 1220RV Wet/Dry Vac one of the best values on the market.
How Has It Improved?
Ridgid has made some minor tweaks to their wet/dry vacs over the years.
The 1200RV model comes with a super-flexible hose. It is reported by the manufacturer to be four times more durable than previous hoses included with their vacs.
The manufacturer has improved noise levels over the years. The Ridgid 1200RV vac is still pretty loud. However, it is now quieter, which makes it more user-friendly.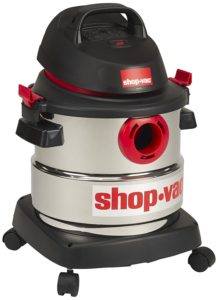 Weight: 15 lbs
Tank Capacity: 5 gallon
Wheels: Yes
The high points: No tip, Full circumference dolly, Rear blower port
The not-so: Short power cord, short handle
The Shop-Vac 5 Gallon Stainless Steel Wet/Dry Vac is a compact and durable vac, great for a variety of household, marine and light commercial applications.
The vac's stainless steel tank is durable and easy to clean. That adds some value to this already well-priced shop vac. A full circumference dolly with casters allows this spunky little vac to traipse along with you without tipping over.
With its rapid water removal capabilities and rear blower port, this vac is versatile and capable of handling a multitude of household and shop tidying tasks. It comes with three extension wands and three tools, including a wet/dry nozzle, a crevice tool and a water-ready gulper nozzle.
While the tank capacity is small and doesn't offer a tank drain, the handy sized Shop-Vac 5 Gallon Stainless Steel Wet/Dry Vac can be (relatively) easily dumped, due to its lightweight, compact design. This vac is ideal for marine applications and can be stowed without taking up precious storage space on the boat.
The physical appearance of this sleek suction system may leave a certain Dr. Who fan base a little uneasy. Fear not, though, our Whovian friends, this efficient extraction device is here to help you exterminate dirt and debris invaders…we hope.
The top carrying handle and positive latch system make it easy to haul the Shop-Vac 5 Gallon Stainless Steel Wet/Dry Vac to where it's needed most, whether a grimy garage puddle beckons or a stubborn sawdust pile continues to spread.
What Reviewers Say About It
Reviewers tend to really enjoy tapping into the debris-trapping powers that the Shop-Vac 5 Gallon Stainless Steel Wet/Dry Vac provides. Users report being able to effectively suck up various types of dirt and debris, including shards of glass, gallons and gallons of water, sawdust and wood chips, and gritty sand and dirt.
Shop-Vac 5 Gallon Stainless Steel Wet/Dry Vac owners report being able to go quite a while between filter cleanings or replacements. The filter bags are optional and can be taken in and out based on different cleaning situations.
A couple complaints that surface among consumer reviews include an issue with a less-than-ideal design with the on-board tool storage. According to a few reviewers, the air output/exhaust vent is in the way of some of the accessory storage ports, so tools won't fit in their allocated areas on the vac.
A handful of reviewers also don't like the diameter of the vac's hose. The 1-¼" hose is pretty small by industry standards and some owners have found ways to adapt the vac's port to utilize a larger diameter hose.
What's Good?
The accessory tools that are included with the vac offer a lot of variation in the vac's functionality and the three extension wands really allow the user to customize each suction experience to their specific needs.
The blower function allows for some more versatility and can be used to assist in completely clearing a surface or room of even the smallest particles. Some pet owners have found this forceful feature to dramatically assist in maintaining the hair produced by the little fur factories that they feed and care for day in and day out.
A quick blow to a less-than-enthusiastic pet with the vac and all that hair destined for the floor can be grabbed before it sets on its path of dander distribution.
The CFM (air volume) rating on the Shop-Vac 5 Gallon Stainless Steel Vac is pretty high for its class. This means the vac should do exceedingly well at fine particle pickups like drywall dust and sawdust specks.
What Could Be Better?
There are a couple issues with the Shop-Vac 5 gallon Stainless Steel Wet/Dry Vac that could use some improvement.
The vac needs more range. A longer hose and a longer power cord would take this vac to number one status. With its standard 7' hose length and shockingly short 6' power cord, owners have learned that an extension cord is a necessity when scouring surfaces with the Shop-Vac 5 gallon Stainless Steel Vac.
An increased hose diameter could give this vac a more industrial feel and function, allowing it to pick up a wider range of debris sizes and to suction water at a slightly faster rate.
How Does It Compare in Value?
The Shop-Vac 5 Gallon Stainless Steel Wet/Dry Vac ranks reasonably high on the wet/dry vac value scale.
Features like the heavy-duty, durable stainless tank and the powerful blower option are both normally found in vacs with much higher price tags. Shop-Vac works these high quality upgrades into a value priced vac, while also providing a nice spread of accessory tools.
How Has It Improved?
Minimal changes have been made recently with the Shop-Vac 5 Gallon Series vacs, but as mentioned before, the stainless tank and the blower port feature were incorporated to add to the versatility of this vac.
A couple additional filters have been incorporated and some users claim hoses have improved in durability with more recent models like these.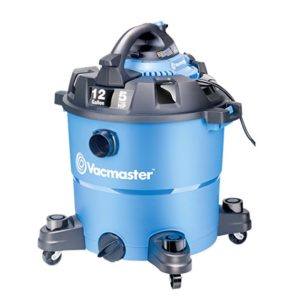 Weight: 18 lbs
Tank Capacity: 12 gallon
Wheels: Yes
The high points: High suction power, Detachable motor head converts to portable leaf blower
The not-so: Short lifespans, Most filter bags are add-ons
The Vacmaster 12 Gallon VBV1210 Wet/Dry Vac is a heavy-duty, versatile vac designed to handle just about any type of extraction or blowing application it meets.
The vac's mid-sized 12 gallon tank has a drain to ease in the elimination of liquids without needing to muscle the vac sideways to dump the contents. This tank size is ideal for most residential applications, though tends to be on the small side in the commercial and industrial realms.
The large 2-½" diameter hose allows the vac to pick up all shapes and sizes of dirt and debris, and water sucking can be a tad easier. The vac's powerful suction capabilities combined with this large hose can really accelerate extraction time, an essential function during an emergency water removal event.
The Vacmaster 12 Gallon VBV1210 Wet/Dry Vac comes with some pretty sweet accessories. Two extension wands, a car nozzle and a crevice tool come with the vac, plus one standard and one foam filter.
Car detailers love this vacuum and attest to its excellent ability to get deep into upholstery and floor mats to eliminate deeply embedded dirt and grime. It's also reported to effectively remove water from carpeted areas, to the point of the vacuumed carpet nearly being dry.
What Reviewers Say About It
Consumers have generally had nothing but nice things to say about their Vacmaster 12 Gallon VBV1210 Wet/Dry Vacs. While there are a few blips in the rave reviews from slightly to extremely peeved vac owners, most users seem happy with their purchase.
Ease of use is a prominently reported plus with the Vacmaster 12 Gallon VBV1210 Wet/Dry Vac. From the initial assembly, to emptying the collection tank, to general operation, reviewers consistently rave about how easy it is to own this vac.
A few owners state their dealings on defective products resulted in satisfactory results from the manufacturer, including repair or replacement of their vacs within the factory's two year warranty period.
There seem to be wildly varying views on the power of the vac's suction. Most reviewers report adequate to excellent suction capabilities and speak of all the random bits and pieces of dust and debris that their Vacmaster can grab, while some consumers report almost no suction and struggle to suck up even the simplest specks of dirt.
What's Good?
Vacmaster 12 Gallon VBV1210 Wet/Dry Vac owners can use the vac's convenient and innovative detachable motor head to transform their normally suction-y system into a powerful lawn and leaf blower. Not only does this vac serve as a prime debris picker-upper, but it's a legitimate lawn maintenance machine, too.
Conversation doesn't have to end when the suction starts. With its air and noise diffuser, the Vacmaster 12 Gallon vac is a quiet little dirt eater. Nosy neighbors and curious kids can still get all the answers they seek from you while you efficiently eliminate ever-accumulating dust and debris.
There are a variety of filters available to help maximize the vac's cleaning capabilities. The standard paper and foam filters that come with the vac are useful for day-to-day use and water removal tasks, while the HEPA filter is ideal when sucking up drywall dust and wood ashes.
What Could Be Better?
There are some reports of defective motors and short lifespans on the Vacmaster 12 Gallon vac. Some users also comment on the product's cheap construction and lower quality latches.
The cord length could be longer. At 12' long, it's a bit short by industry standards. Most users have adapted by adding a permanent extension cord to the operation, especially when utilizing the detachable leaf blower function.
The vac may short circuit when users plug it into some standard residential outlets. Consumer reviewers recommend tapping into a kitchen or utility room outlet, which tends to be wired for appliances with heavier electrical draws. This seems like a pretty inconvenient solution, and once again, will require the use of an extension cord.
How Does It Compare in Value?
The Vacmaster 12 Gallon VBV1210 Wet/Dry Vac is a reasonably priced vac, with some added functions and features. These added features and lower price point make this vac somewhat of a bargain.
Considering the fact that this mid-sized vac transforms into a high-powered, fully function lawn and leaf blower means that a savvy Vacmaster 12 Gallon VBV1210 Wet/Dry Vac buyer is gaining two maintenance machines for the price of one.
How Has It Improved?
The Vacmaster 12 Gallon VBV1210 Wet/Dry Vac has a few newer, improved features and functions compared to its predecessors.
Once again, we mention the two-in-one detachable motor head designed to convert to a lawn and leaf blower. This addition has greatly improved the marketability and versatility of this vac.
Additional attachments have been added to the tool arsenal and a couple new filters, including the HEPA, have been incorporated with recent model variations.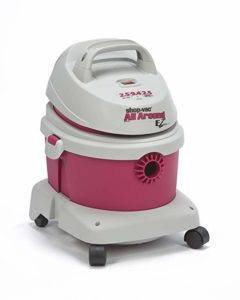 Weight: 12 lbs
Tank Capacity: 2.5 gallon
Wheels: Yes
The high points: Wall mountable, Lightweight
The not-so: No tank drain, No locking mechanism for hose
The Shop-Vac 2.5 Gallon AllAround EZ Series Wet/Dry Vac is a compact, lightweight debris dominating device that is designed to be easily stowed away on an included wall mount when its services are not required.
The vac has one of the smallest tank sizes in the industry, but for the right applications, might just be the perfect handy helper for a variety of household and shop clean ups.
This vac may be on the little side, but it has many of the same features as larger models on the market. A blower feature allows the vac to expel and eradicate tiny particles clinging to corners and crevices, and can clear a deck or sidewalk in no time.
Oh, and this vac's pink. Or magenta, as the manufacturer defines it.
What Reviewers Say About It
Users love the attached but removable dolly that the vac can use to tour the terrain. This wheeled system makes it easy to move and groove throughout the house with the suction assistant in tow.
Pet owners are generally big fans of the Shop-Vac 2.5 Gallon AllAround EZ Series. This vac can be mounted up and out of the way on a wall in the garage or a mudroom and easily accessed for quick pet pick ups and water dish spills.
Oddly enough, it seems that the vac doesn't like guinea pig bedding, as two separate reviewers seethed with frustration over the vac's reported distaste for their rodent's litter.
A few users report that the vac's dry filters can be a bit tedious to replace. For an easier cleaning session, these consumers spoke highly of the bag filters offered by the manufacturer.
What's Good?
The Shop-Vac 2.5 Gallon AllAround EZ Series Wet/Dry Vac comes with a variety of tools and attachments. Two extension wands, a crevice tool and a floor nozzle designed to switch between carpet and solid floors make this vac capable of tackling multitudes of household tasks.
The power cord is a lengthy 18' and provides a decent amount of range of operation. The hose length also lends an additional 7' of reach, so you have quite a distance to travel with the wheeled, wandering debris-eliminating suction system before you need to find a new power location.
The CFM (air volume) speed is comparable to that of larger, pricier vacuums. You can expect this vac to do a pretty exceptional job with fine particle removal, like drywall dust, fireplace ashes and pet dander, but make sure you've got the right filter in place.
What Could Be Better?
Though this vac is pretty manageable and lightweight, its lack of a tank drain is a little disappointing. It isn't a super-daunting task to dump the tank manually, but a well-placed drain would make this vac all the more user friendly.
The hose, while reasonable in length, is only held to the suction port by friction. This means that bumping the hose just right while operating the vac can cause the hose to dislodge from its port and release all of its undesirable contents back into the room. A secure locking system or tab added to the port would go a long way in helping to avoid this yucky situation.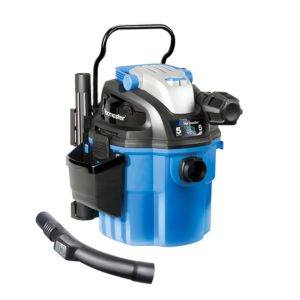 Weight: 22 lbs
Tank Capacity: 5 gallon
Wheels: No
The high points: Wall mountable, Hose Length
The not-so: No wheels, Price is a little high
The Vacmaster 5 Gallon Wet/Dry Vac is pretty ideal for garage and household applications. It's designed to be wall-mounted, even during use. With a total max reach of 21', plus a remote on/off switch and suction control accessible right on the handle, this vac was meant to be left behind.
The vac comes with some decent attachments, including a crevice and car tool, a floor/utility nozzle, a cartridge filter and a foam sleeve. You're pretty much set for sucking upon opening the vac's box.
What Reviewers Say About It
Consumers rave about the heavy-duty construction and quality appearance and feel of the Vacmaster 5 Gallon Wet/Dry Vac. There are a couple minor complaints regarding some issues with lost filter retainers and reports of the flex hose attachment breaking down, but otherwise this vac seems to be a pretty solid suction device.
Many reviewers claim this vac to be their go-to vac for their household vacuuming needs and utilize it for anything from pet hair and dust removal to garage messes to cleaning up around outdoor water features like fountains and ponds
The vac comes with an air/noise diffuser that greatly reduces the blaring sound that is expected from a suctioning shop vac. Users claim it to be one of the quietest shop vacs they've encountered and don't hesitate to use it during previously-restricted no-vac times.
What's Good?
The vac has a two stage 5 horsepower motor that can be adjusted from the remote handle control. This allows for custom suction settings and provides a broader spectrum of cleaning capabilities.
The wall-mount design of the Vacmaster 5 Gallon Wet/Dry Vac really does make it a friendly, low-profile addition to any home or garage. Stow it up high and out of the way, and when you need it, just grab the lengthy hoses and head to the scene of the…grime. Sorry.
Though this vac is meant to be mounted, it can easily be mobilized and some owners have even retrofitted their own caster and dolly systems that they can attach and detach when desired.
What Could Be Better?
The convenient remote handle control is super handy, except when it needs batteries. Ah, batteries, the bane of our modern existence. The handle uses a non-standard 23a 12v battery and you might find yourself on quite the hunt to find one. When you find it, you may want to buy two. Or three.
The vac's plug isn't grounded, which causes a bit of concern, considering this vac is designed for water removal applications. There must be a reason for this, or no reason to change.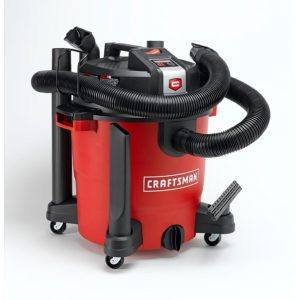 Weight: 26.5 lbs
Tank Capacity: 12 gallons
Wheels: Yes
The high points: Tank drain, Large hose diameter
The not-so: Durability, Price is a little high
The Craftsman XSP 12 Gallon Wet/Dry Vac rounds out our list of the six best wet/dry vacs. This mid-sized vac has a decent tank capacity and convenient tank drain. It's capable of handling a variety of dirt and debris eradication tasks around the house.
The vac comes with two extension wands and three attachments, providing a diverse lineup of accessories to assist with effective dirt removal in most cleaning situations.
An impressively long power cord of 20' allows the vac a wide berth before needing to seek a new power outlet. Swivel casters allow the vac to roll around the room with ease.
What Reviewers Say About It
Users love the 2-½" diameter hose. Leaves, wood chunks, and dense dirt piles are no match for this vast wormhole of suction.
The vac can be a bit on the loud side and some reviewers are disappointed that the add-on air diffuser isn't just included with the vac.
Many reviewers enjoy the on-board tool storage. The vac has a well-designed docking area for each of the accessory tools, and users love to use them.
What's Good?
The Craftsman XSP 12 Gallon Wet/Dry Vac brings some upgraded features to the table, including a tank drain, on-board tool storage and plenty of attachments and extension wands.
The vac is easy to assemble and provides powerful suction on even the finest of dust and dirt particles.
What Could Be Better?
The Craftsman XSP vac could benefit from a couple updates to help justify its higher price point.
Including the air diffuser with the vac, instead of offering it as an add-on purchase, would be a minor but well-received addition to the vac pack. Improvements to the hose and attachment maneuverability would also be a welcome change.