If your dream is to add comfort and warmth to your home, one of the brands that you may come across in your search for new flooring is DreamWeaver. DreamWeaver is a leading brand that uses the latest technology and innovation to create comfortable, durable carpet flooring.
In this guide, we're going to take a look at the benefits and drawbacks of DreamWeaver carpet across 9 key criteria.
Why spend hundreds (or thousands) of dollars on a product that doesn't deliver as promised? See our ratings below!
Our Overall Rating of DreamWeaver Carpet
We rated the DreamWeaver carpet across 9 key criteria. Read on to learn more.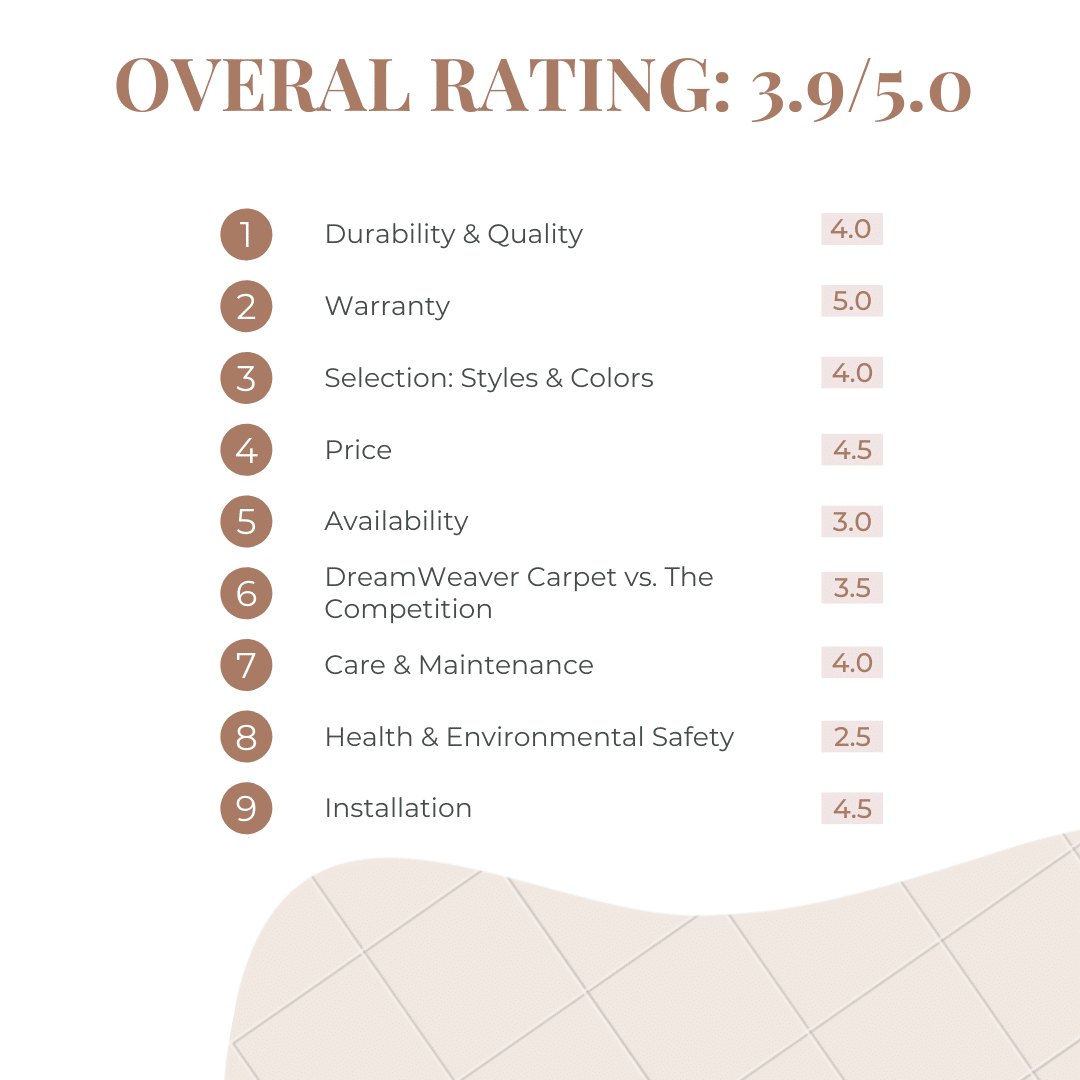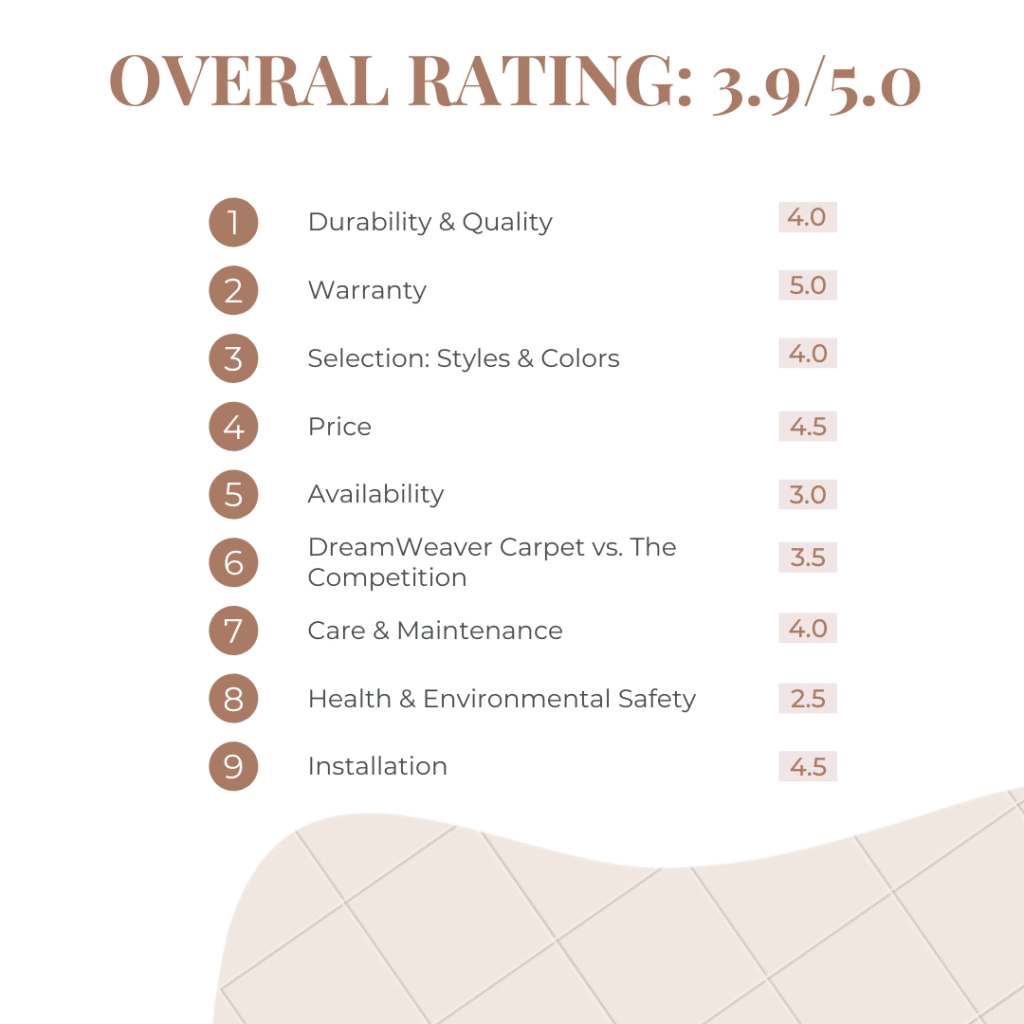 DreamWeaver Company Overview
DreamWeaver is the third largest U.S. carpet manufacturer and was founded in 2009 by Bob Shaw of Shaw flooring. At age 78, Bob came out of retirement and founded Engineered Floors which owns the DreamWeaver brand.
DreamWeaver is based in Dalton, GA (aka the carpet capital of the world) and proudly manufacturers its carpet in the USA.
The Complete DreamWeaver Carpet Buyer's Guide
1. Durability & Quality
DreamWeaver scores well for durability. Its PureColor and TwistX technologies are more than just fancy sounding names. If you are looking for a carpet that can resist stains, give DreamWeaver a closer look.
Carpet is a popular choice for many households because of its warmth and comfort. However, one of the biggest worries that comes along with owning carpets is durability. Is DreamWeaver carpet able to withstand the daily traffic of a busy household?
Proprietary Technologies
DreamWeaver has four key proprietary technologies that they feel makes their carpet high quality. It is worth noting that most high-quality carpet manufacturers have a cool sounding technology that more or less functions the same way.
PureColor – This refers to their solution-dyed fiber that goes all the way through the carpet fiber to prevent fading, stains, and wear. A way to think of this technology is when you cut a carrot you will see orange no matter where you cut. Unlike when you look at a radish, you see the red on the outside, but when you cut it, you will see a white color. DreamWeaver likes to think of their carpet as a carrot and competitors' like a radish.
TwistX – A durability technology that has a twist multiplier that provides 33% higher bundle sizes which give the carpet more yarn and higher density.
PurBac – A premium backing system that makes installation easier, but also protects the carpet against mold and fungus.
SoilShield – A technology that helps block soil from sticking to the carpet fibers.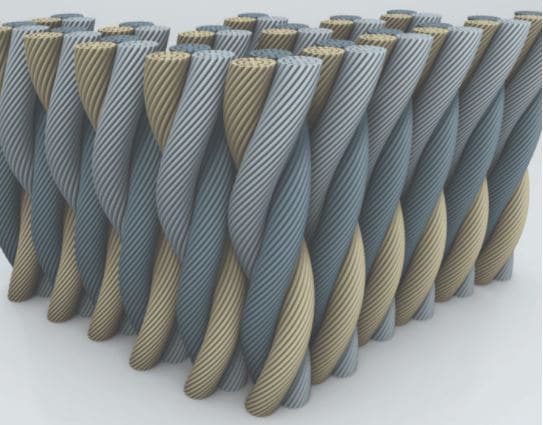 Carpet Material
Knowing what carpet is made out of is one of the most important buying decisions.
DreamWeaver residential carpets are made from Polyester (note: their commercial line also offers Nylon). Is that good? Let's discuss.
There are four main types of carpet fibers:
Nylon – considered the best carpet for high-traffic areas as it has the strongest fiber, expensive
Olefin or Polypropylene – used more in commercial settings, less costly than wool, nylon, and polyester
Polyester – has a luxurious feel and excellent stain resistance, however, it does not hold its pile height under heavy traffic as well as other fibers, budget friendly
Wool – natural, very soft, and strong, but requires more maintenance than other types of carpets and does not hold up as well to stains
The right carpet fiber is based on your needs and budget. We feel DreamWeaver carpet is an excellent choice for someone looking for stain resistance at a reasonable price. We suggest you go with a DreamWeaver carpet that has a high pile height and high density. We discuss styles later this in this article.
DreamWever Carpet Face Weight and PAR (Performance, Appearance and Retention) Rating
When looking at the quality of a carpet, face weight and PAR rating are two important criteria (in addition to the carpet material discussed above).
In short, a higher face weight means the carpet should be more durable. Residential carpets on average have a face weight between 35 to 60 ounces. The DreamWeaver carpets we reviewed had a face weight between 20 and 80 ounces, with the average being about 45 ounces (so on the lower end of the average carpet).
Performance, Appearance and Retention rating is a 1 to 5 (higher the better) score given to a carpet based on simulated foot traffic. It was created by Shaw Industries. The test compares the worn piece of carpet with an unworn piece. DreamWeaver's carpets range from 2.5 to 4.5, with most receiving a score of 4.
The issue we see with the PAR rating system is that each person or family uses their carpet differently and a simulation may not reflect actual use. So we don't recommend picking a carpet solely based off its PAR score.
Carpet Padding
Carpet padding is required to qualify for DreamWeaver's warranties. The Carpet & Rug Institute says the rule for most residential carpet applications is to choose cushion no more than 7/16 inch thick and no less than 1/4 inch with 6 pounds per cubic feet density.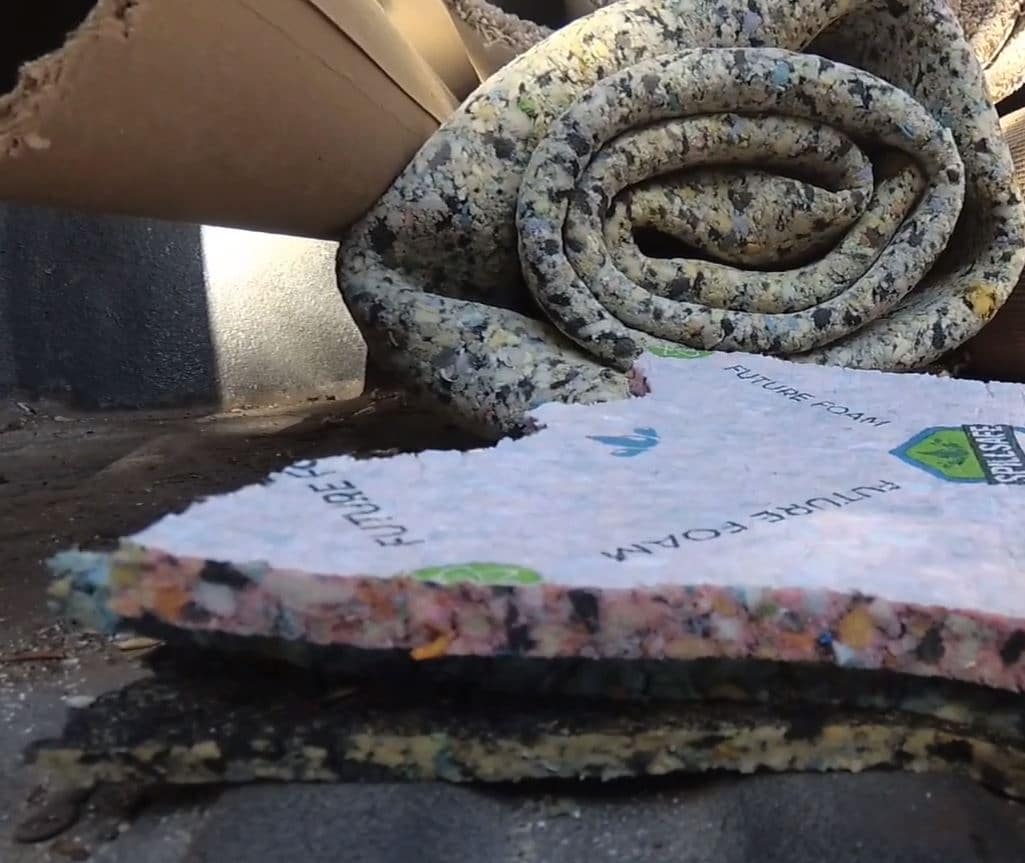 Does DreamWeaver Wear, Stain, & Fade Easily?
We felt the carpet did an excellent job resisting tough stains like wine, coffee, and ketchup. See the before and after photos of wine that was spilt on the carpet.
As you can see, the stain was completely removed by using a simple combination of bleach and water.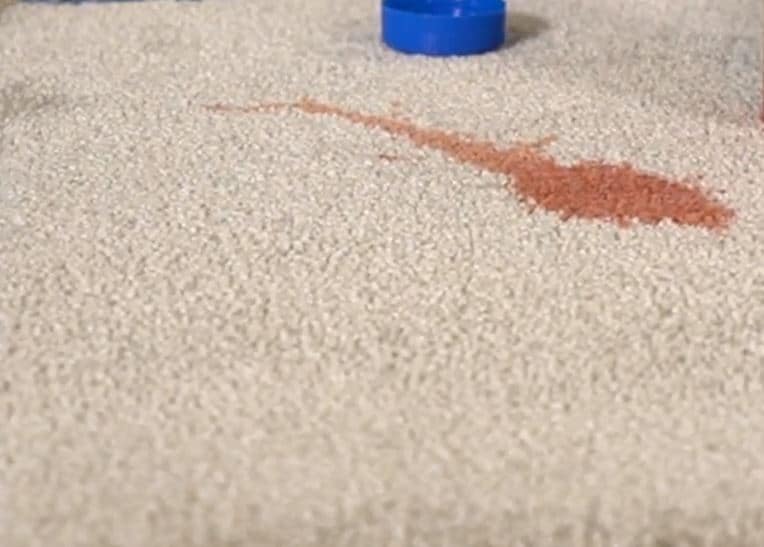 While we weren't able to test if the carpet truly holds up to prolonged sun exposure, but we feel confident that DreamWevaer can backup their claims. The high quality material used in their carpets paired with their PureColor technology and industry leading warranty helps support our claim.
Of course, like all carpets, you will eventually begin to see wear and tear. This is especially true with heavy traffic throughout your household, improper care, or improper installation. We discuss warranty in our next section.
Read more: How Long Does Carpet Last?
2. Warranty
DreamWeaver backs up all of their wear and stain resistance claims with its warranty. While a lifetime warranty sounds great, you must realize most carpet lasts on average 10 years.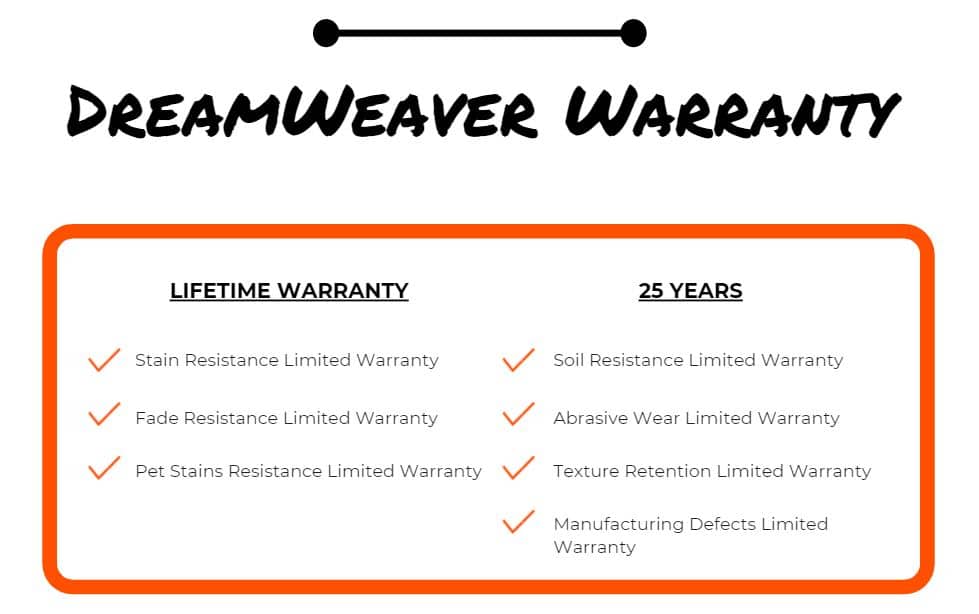 For comparisons sake, Mohawk offers fade resistance warranties that range from 15 to 25 years vs. the lifetime warranty offered by DreamWeaver. Mohawk does offer similar lifetime warranties for stain and pet.
All PureColor carpets come with lifetime warranties against staining, pet staining, and fading. If your carpets are stained or damaged after proper installation and care, the company will repair or replace them.
DreamWeaver also offers warranties against soil resistance, abrasive wear, texture retention, and manufacturing defects. The length of the warranties range from one year to 25 years and vary by collection.
What's Not Covered?
Carpets treated with a foreign substance after installation
Non-residential installations
Abnormal abuse
Carpet exposed to hot substances
Crushing caused by furniture
Damage caused by tears, pulls, burns, wheel traffic, or athletic equipment
Carpet installed in kitchens, bathrooms, laundry rooms, stairs, carpets in commercial facilities, outdoor areas
Damage due to flooding
Failure to follow recommended carpet care and routine maintenance of the product or recommended installations guidelines
From our experience, getting a claim approved may not be the easiest. It is important to read the warranty before buying and also ensuring a certified installer is chosen.
Also, the warranty is not transferable.
Proration Schedule
Furthermore, you can't expect to file a claim 20 years after purchase and hope to get all your money back. Most all flooring companies have a proration schedule where they pay out based on how old the carpet is. The DreamWeaver schedule is below.
| Year | % Covered |
| --- | --- |
| 1-7 | 100% |
| 8-11 | 90% |
| 12 | 80% |
| 13 | 70% |
| 14 | 60% |
| 15 | 50% |
| 16 | 40% |
| 17 | 25% |
| 18 | 20% |
| 19 | 15% |
| 20-25 | 10% |
Read more: DreamWeaver detailed warranty information.
3. Selection: Styles & Colors
The number of styles and color options DreamWeaver offers will make your head spin, but will give you several options that will hopefully help enhance your home décor. We feel having more choice in carpet styles, even if it may seem overwhelming, is better.
Unless you plan on remodeling your entire home, you want your flooring to complement your interior. You want to choose carpet that looks at home with your furniture, the paint on your walls, other flooring installed throughout the home, and your décor. Luckily, DreamWeaver offers plenty of color and style options to suit any home.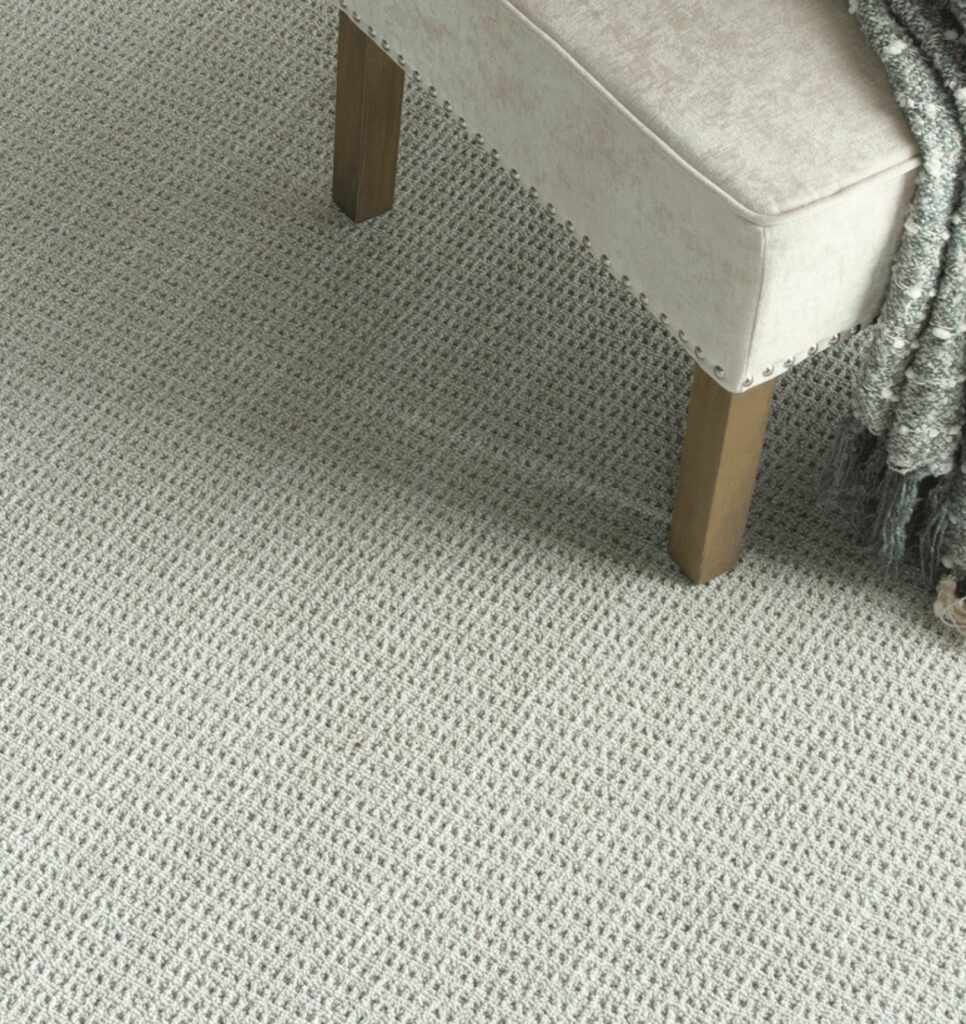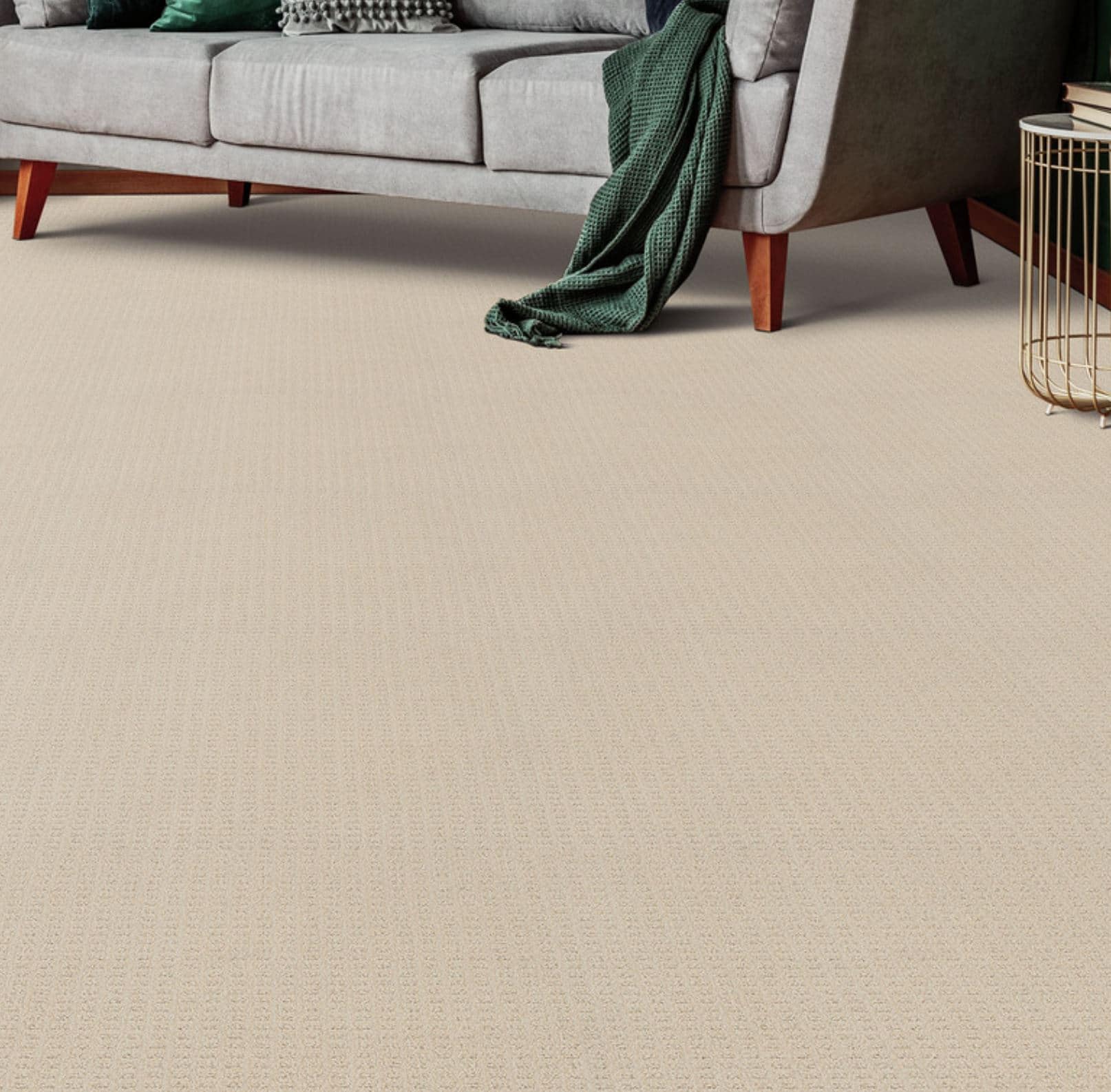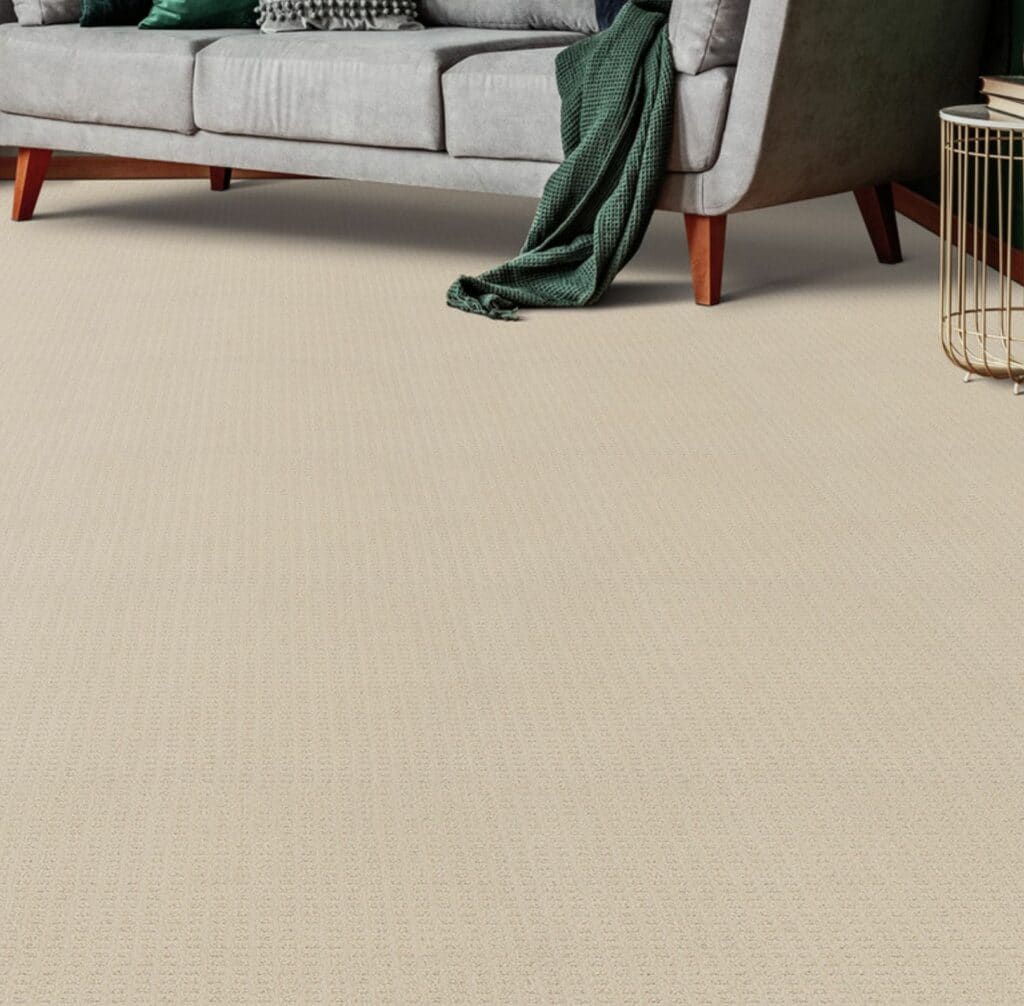 DreamWeaver offers hundreds of different carpet styles. Here is how to make sense of their product line.
Styles: Fiber Technology
PureColor Solutions (Good)
PureColor (Better)
PureColor w/twistX (Best)
Color Shades
Beige
Brown
Grey
Ivory
Multicolor
Taupe
Construction Type
DreamWeaver offers four different types of carpet construction. Here is a quick summary of each type.
Type
Pros & Cons
Texture
Pros: soft and durable, comes in a variety styles to match any décor
Cons: pile height lessens with high traffic
Twist
Pros: soft, the more twists there are, the more durable the carpet
Cons: harder to clean
Loop
Pros: very durable, good for high-traffic areas
Cons: Not as comfortable and soft as other options
Pattern
Pros: appearance, spills are easy to clean as carpet is less dense
Cons: Not best for high-traffic areas
Styles: Fiber Technology
DreamWeaver's latest technology, twistX, was released in 2020. It uses 3-ply yarn vs. more commonly used 2-ply yarn. The third ply is intended to secure the other 2 plies and increase the density of the yarn and thus provide better durability.
We feel this is something buyers should consider as you are now able to get a high-end carpet that can perform closer to nylon at a better price point.
Dave Meister, owner of The Floor Meister, said to FC News "The bells and whistles on this are out of this world. It's what I call 'a carpet man's carpet.' There is no doubt we will sell a lot of this stuff."
Which Technology Should You Choose?
PureColor Solutions (Good) – If you are on a tight budget, lower face weight so not meant for heavy traffic
PureColor (Better) – For lower traffic areas, affordable price point, warranty matches higher end models
PureColor w/twistX (Best) – If you are looking for high-end features at a less than luxury price
Colors
DreamWeaver also has a large selection of colors. Choose from lighter shades like Eggshell, Dove, or Porcelain, or darker shades like Summer Bronze, Honey Beige, and Utopia. There are roughly 6 to 20 different types of color options depending on the style of carpet which we felt was more than enough.
Their colors have various names, but can be grouped into the following color shades.
Beige
Brown
Grey
Ivory
Multicolor
Taupe
Color choices are a personally preference. Here are some general color selection tips from our team:
Order large samples and view them under your own home's lighting conditions
Choose a light or beige color to make a room look open and spacious
Choose a color that complaints your existing furniture
Darker colors provide a warm and comfort feel
4. Price
The value you receive relative to the cost of DreamWeaver carpet is outstanding.
Before you tackle your home improvement project, you've most likely put a budget in place. To determine if DreamWeaver carpet is a budget-friendly flooring option, let's look at their price ranges.
We breakdown the prices based on face weight (the higher the better quality).
<30 ounces: $0.70 to $2 per square foot
30-40 ounces: $1 to $2 per square foot
40-50 ounces: $1.50 to $3 per square foot
>50 ounces: $2 to $3 per square foot
While the cost of DreamWeaver carpet varies based on where you purchase the carpet as well as the style you select, you should expect to pay around $1 to $3 per square foot.
When compared to other brands, DreamWeaver carpet is very competitively priced. The price of carpet varies based on a number of factors, including the retailer you select, the brand of carpet, and the overall quality. Prices vary from less than $1 per square foot to about $5 per square foot.
However, this is simply the cost of the carpet itself. Professional installation, additional materials like padding, and tools for self-installation will add more to your total project costs.
5. Availability
We like that you can find DreamWeaver in many small retailers and online, however, you cannot find them at big box stores. Furthermore, most retailers do not carry all the styles which is disappointing.
While you will not find DreamWeaver carpet at Home Depot or Lowe's, you will be able to find it at many local dealers.
6. DreamWeaver Carpet vs. The Competition
We find DreamWeaver to be a competitive choice vs. the competition. It has advantages on price and warranty while is lacks behind on selection, availability, and performance.
Key differences:
Shaw carpets are generally more expansive than DreamWeaver by $2 to $4 per square foot (most of the savings comes from less production stages in DreamWeaver's manufacturing process)
The DreamWeaver warranty is better, but note, that most carpets will not last through a full warranty period
Shaw offers nylon for residential carpets which can provide more wear resistance
Shaw has better availability
Key differences:
DreamWeaver adds stain protection in the carpet fibers vs. after the carpet has been manufactured so will be resistant longer

Mohawk offers more

styles and add-on options
DreamWeaver has a better warranty
Mohawk's SmartStrand line is considered by some to be one of the best carpets based on it's durability, feel, and styles
Mohawk has better availability
7. Care & Maintenance
Pretty standard care and maintenance instructions. Some warranty language seemed to make cleaning the carpet harder than it should be.
To get the most out of your new carpet, you want to make sure that you care for it as recommended by the manufacturer. Not only does this prolong the life of your DreamWeaver flooring, but improper care may cause your warranty to become void.
Fortunately, caring for your new DreamWeaver carpet isn't difficult at all. Daily carpet cleaning can be performed using a carpet vacuum cleaner. DreamWeaver recommends using a model recommended by the Carpet and Rug Institute.
The manufacturer also recommends professional cleaning using hot water extraction every 12 to 18 months. Spills should be immediately cleaned up by blotting with a damp white towel, and spot cleaning can be performed using a cleaning product recommended by the Carpet and Rug Institute.
DreamWeaver provides a care and warranty guide online that provides all details to consumers. The company also has a spot cleaning guide to help you remove stains safely from your carpet.
Tips To Extend the Useful Life of Your Carpet
8. Health & Environmental Safety
We could not find much information on how sustainable DreamWeaver carpet is. We did not see the brand listed on Green Guard or receive any VOC information.
Green Solutions in DreamWeaver Carpet
Solution-dyed polyester carpet is free of PFAS
Carpet does not use a latex backing
DreamWeaver's energy savings claims: 30 % less energy, 87% less water, 42% less greenhouse gases
All carpets produced meet the Green Label Plus Program standards set by the Carpet & Rug Institute.
9. Installation
DreamWeaver carpet is a little easier to install than its competitors due to is PureBac technology.
Why DreamWeaver's PureBac Technology Makes It Easier To Install?
No latex which speeds up installation as its lighter, more flexible, and softer
Does not require acclimation time of 12 to 72 hours in colder climates
Seem sealer is not needed
While it is possible to install DreamWeaver carpet yourself, pros do not recommend it. In fact, improper installation can void your warranty, so it's best to turn to a professional for the job.
Since most consumers don't readily have the skills or the necessary tools to do the job themselves, the wisest move is to hire a licensed professional installer. While you will pay roughly $1 to $4 per square foot just for the installation, the peace of mind that you'll have in knowing that your flooring has been installed properly is well worth the additional expense.
You can contact us if you need any help finding a trusted installer.
However, if you do plan to install the flooring yourself, it's important to note that there will be additional materials and tools needed to properly complete the job. This includes a carpet pad of the right thickness, a knee kicker, and a carpet stretcher.
Below is a helpful installation video.
FAQ
Is DreamWeaver a good carpet?
DreamWeaver carpets are of excellent quality. Thanks to the brand's innovative technology, these carpets are durable enough to withstand daily traffic and are perfect for homes with pets and kids. The PureColor solution-dyed fiber the brand uses is resistant to staining, wear, fading, etc.

Another essential point is that the brand offers long warranties for their carpets. This flooring solution is easy to clean and maintain, and it comes at a competitive price. As long as you follow the manufacturer's recommendations for care and maintenance, your DreamWeaver carpets will look as good as new for years.

What is DreamWeaver Carpet made of?
The brand uses two different materials in the production of its carpets: high-quality polyester and high-quality nylon (commercial only). .

DreamWeaver carpets are made using a unique, innovative technology called PureColor. This technology produces high-quality fibers that are resistant to wear, fading, staining, and spots caused by household bleaching agents.

Is DreamWeaver carpet nylon or polyester?
DreamWeaver residential carpets are made of polyester while their commercial line also includes nylon. This flooring brand uses each of these materials combined with their PureColor and SoilShield technologies.

Their PureColor innovation provides solution-dyed fibers that are more durable than traditionally-dyed fibers. As a result, you can expect your new carpets to be resistant to fading even when exposed to sunlight, resistant to wear even in high-traffic areas, and resistant to damage from soil, stains, and bleach spot treatments.

How do you order DreamWeaver carpet samples online?
DreamWeaver carpets are available at numerous dealers, most of which also offer online sales; however, not all resellers provide carpet samples online. You will need to work directly with the sellers the manufacturer collaborates with to see if you can get samples.

Because DreamWeaver carpets are an Engineered Floors brand, though, they offer a visualization feature online. With this feature, you can upload pictures of your room and see which carpet will be the best fit even if you find that obtaining a physical sample is not convenient.

Can DreamWeaver carpet be installed without a pad?
No. A carpet pad is required to qualify for the warranty. A padding of 7/16″ and minimum density of 6 pounds per cubic feet is recommended.
Final Thoughts
DreamWeaver is a leading brand in the carpet industry, and with good reason. Its PureColor technology and exceptional warranties ensure that you are purchasing a durable product that's easy to clean and maintain. You'll have a wide variety of styles and colors to choose from, all at a budget-friendly price.
On the downside, the product availability and sustainability are areas other brands have an edge on.
Back to Top