Carpets are the perfect accent to any room if you want to add to your interior decor. They're also perfect for insulation during cold months. But how long does carpet last? Are there specific brands that are more durable than others?
If you're wondering if it's worth carpeting your house, then perhaps today's article will give you the information you need to make an informed decision. I'll be giving you a complete guide on what carpets are made from and which materials last longer.
At the bottom of the page, you'll find a FAQ section where you can find out more about how long carpets should last, when to clean them, and when to replace them. Keep reading to find out more.
Carpets Became Popular In The 1930s
The carpeting industry in the US began in the 17th century, when the first mill opened in Philadelphia. However, wall-to-wall carpeting didn't become popular until the 1930s. By 1951, the carpeting industry had sold over 6 million square yards of wall-to-wall flooring. By 1968, 400 million yards of carpet had been sold in the United States.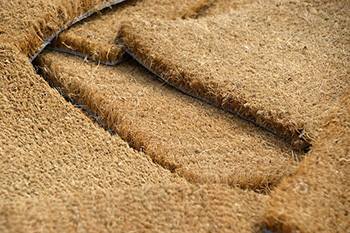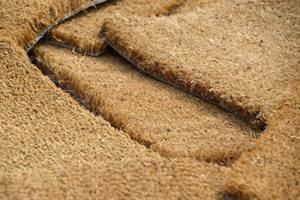 Prior to the 1950, carpeting was a luxury product that was out of reach for many. But after World War II, there was a hike in sales because people's interest shifted more toward interior design and new carpet fiber technologies.
During the '50s, saxonies was the most popular type of floor cover. This type of rug has fibers that are tightly twisted together and provide a soft texture. For many years. the carpeting industry experimented with various materials, textures. and colors.
Materials Used To Manufacture Carpets
There are three materials that are used to make carpeting: wool, nylon. and olefin. In this section, I will give the benefits and drawbacks of each material, so you can decide which one would work best for your home.

Nylon Carpeting
Nylon is an artificial fiber that's incredibly strong and can be made into soft, textured threads. It's one of the most popular carpeting materials on the market because it's resistant to abrasions and has excellent retention. This simply means that nylon is able to keep its original shape, so the fibers don't go flat when you walk on them.
Floor rugs made from nylon come in a variety of colors and textures to choose from, and they're versatile too.

Wool Carpeting
Unlike nylon, wool is an all-natural fiber that's strong and won't shed easily. Woolen rugs or carpets are easy to maintain, so they're perfect for people who have pets and children. Since wool fibers are durable, carpets made from this natural fiber are ideal for areas that have high foot traffic such as the following:
Hallways
Restaurants
Living rooms
Conference rooms
Bedrooms
On the other hand, if you pick woolen carpets you may want to avoid using bleach to clean them. There are mild carpet cleaning detergents on the market that are specially formulated for woolen rugs.

Olefin Carpeting
Olefin is another popular synthetic product used to manufacture carpets. Fibers made from olefin won't stain easily, and the material can withstand many types of spills, from fruit juice to bleach. However, his material doesn't have a high retention rate, so it doesn't keep its shape well.
Since olefin is so durable and can withstand harsh environments, this material is used to make both indoor and outdoor rugs.
Which Carpet Material Last Longer?
The carpet material that lasts the longest is nylon. This synthetic fiber material can withstand the following:
Pet hair and spills
High foot traffic
UV rays
Frequent vacuuming
Messy children
Wall-to-wall carpeting made from 6.6 nylon are considered the best choice for homes because of their incredible strength. They're also effortless to maintain. A high-quality nylon carpet, whether it's wall-to-wall or a throw rug, will last between 12 and 15 years.

Causes For Carpet Wear And Tear
When you walk around outside, soil, sand, and other types of debris stick to the bottoms of your shoes. Soil and sand are abrasive, so when you tread this type of dirt onto your carpet, it can cause significant wear over time. Abrasive debris is similar to sandpaper and rubs or scrapes the fibers down, causing patches to form on the surface of the rug.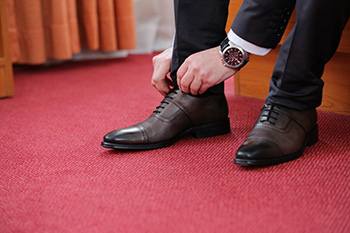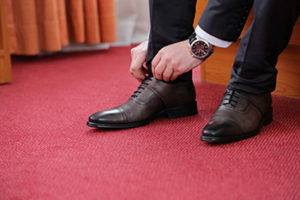 However. it's not only sand and shoes that cause patches and scuff marks on carpets. Heavy furniture, toys, and other items dragged across your carpet can cause it to wear over time. Rips can also be caused by dragging heavy items over the surface. Other types of carpet damage include stains from spilling food or drinks and burn holes from cigarettes.
Mold growth can be caused by high humidity levels or water damage. On the other hand, high-quality carpet brands are more durable and won't tear easily, but I recommend drying your carpets thoroughly when washing them to prevent mold growth.
Top Carpet Brands That Last Long
Now that you know more about carpets, which brands can offer you fiber flooring that will last the longest? Take a look at the following top carpet brands on the market in this next section.

Shaw Flooring
Shaw Flooring is a brand that has been in the industry since 1946, and it's one of the biggest carpet manufacturers you can find. The company offers top-notch service, high-quality products, and a variety of flooring options for you to pick from.
Shaw Flooring's products include R2X stain resistance and LifeGuard. The R2X stain-resistant carpets from Shaw are resistant to soil damage and of course stains of any kind. LifeGuard is a waterproof carpet that's resistant to mold and water damage.
You'll appreciate that Shaw Flooring has sustainable carpet practices where you can recycle your old floor covers to make new ones.

Stainmaster
DuPont launched Stainmaster in 1986, and the brand offered 6.6 nylon carpets to consumers. Stainmaster is now a division of Invista that has licensed other carpet fibers such as PET (polyethylene terephthalate).
Stainmaster has a list of high-end products, namely TruSoft and Active Family.
The TruSoft line is exceptionally soft, and the fibers feel luxurious under your feet and when you sit on it. It's also stain-resistant and robust, so it won't wear or tear over time. Stainmaster's Active Family carpet is durable and stain-resistant, and therefore suitable for people with children and pets.

Mohawk Industries
Mohawk Industries was founded in 1878 in New York, which makes this company one of the oldest carpet brands in the business. The company manufactures carpets for residential and commercial areas. This brand has a continuum technology that's a softer and more robust polyester material.
The company produced a collection called SmartStrand Forever Clean that is designed to withstand harsh environments. So if you have messy pets and children, this Mohawk Industries floor covering will be ideal for your home.
FAQs About How Long Carpets Last
What Is The Average Life Of A Carpet?
The average life of a carpet is 10 years. But for your carpet to last this long, you must take care of it and do the necessary maintenance work to keep it in tip-top shape. Even with extensive care, there will be parts of your carpet that will show signs of wear after 10 years.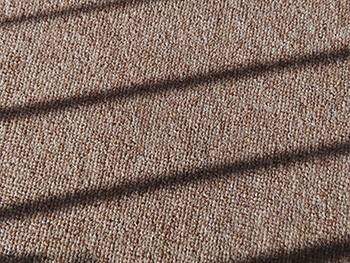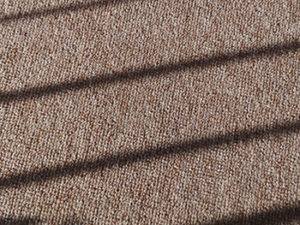 You may start to notice patches of missing fibers where people walk the most. Your carpet will start to lose color, and it will look faded in some places. You'll notice fading even more so if you have a patterned carpet. Old carpets will also start to lose cushioning and will stain easily.
If you find that it's become increasingly difficult to remove stains from your rugs, then it's time for you to get new ones.

How Often Should You Replace Your Carpet?
Carpets can be replaced between every 5 and 15 years depending on the quality of your carpet and how much padding it has. This padding is the foundation of your carpet that makes it more comfortable to walk on. Additionally, the foundation of your floor covering deters sound, which works well if you have wooden boards underneath the carpets.
However, the drawback to carpet padding is that it absorbs liquids. Even if you deep clean your carpets regularly, you won't be able to get the padding clean. After a while, the padding will start to wear, or it could harbor mold.
That's why it's extremely important to replace your carpets when they become old and tattered. There are some affordable carpet brands out there, so you can re-carpet your floors even when you're on a budget.
What's more, laying down carpet is a lot cheaper than installing laminate or wood floors. Replacing old floor coverings with new, high-quality carpets will add elegance to your interior designs.
New carpets feel luxurious and have a pleasant fragrance. Simply removing old carpets from your home can make the area instantly smell better.

Can Old Carpet Make You Sick?
Yes, old carpets can make you sick, especially if you've had water damage in the past and there's mold growing in between the fibers. Old carpets can cause respiratory infections and even stomach illnesses.
Your skin can be affected by old rugs, too. Eczema and athlete's foot are common skin problems caused by old floor coverings. If you notice a rash forming on your skin every time you sit or walk on your floor, it could mean your carpet is causing the skin condition.
The old carpet can also cause a weakened immune system because your body is constantly fighting against the toxins and dirt being kicked up from your old floor covering. That's why it's important to replace your carpets after the expiration date, especially if you have children and pets. You don't want your pets and your family to get sick from a worn out carpet.

How Many Times A Year Should You Clean Your Carpet?
You should vacuum your carpets every week to remove dust and other small dirt particles from the fibers. However, you should wash your carpets every three to six months, especially if there are many stains on the surface.
If your carpets tend to get extremely dirty, you'll need to deep clean them with an industrial machine twice a year. Or you can hire a carpet cleaning service to assist you. A deep clean will pull all the dirt and stains hidden deep within the fibers to clean them out thoroughly.
Once you've cleaned your carpets, you must stay off of them until they are completely dry. If you walk over your floor coverings when they're still wet, you'll put marks all over them. To dry your carpets quicker, leave all your windows open or place a fan inside the room.
There are machines that suck up most of the moisture left behind after washing carpet and rugs. But they don't completely dry them. To prevent mold growth or mildew buildup, use a high-powered fan to dry the fibers.
Another aspect to remember is that synthetic carpets dry faster than natural fiber coverings. So if you want to have carpets that won't take time to clean or dry, then consider nylon products.

How Can You Make Your Carpet Last Longer?
To make your carpets last longer, you must maintain them regularly. Vacuuming your carpets weekly will remove abrasive dirt that causes fiber wear. Additionally, you should dust around your house regularly so that the dirt doesn't fly off surfaces and settle on your flooring.
Spot cleaning is essential in proper carpet care. If there's a spill on the carpet, you should clean it up as quickly as possible to prevent the liquids from seeping deep into the carpet. To safely lift stains off of your rugs, you can use a high-powered cleaning agent.
Another way you can make your floor covers last longer is by placing area mats down where there is high foot traffic. You can put clear mats down so that it doesn't affect the aesthetics of your interior decor.
Lasty, use a dehumidifier in your home if you live in an area with high humidity, to prevent mold growth in the fibers of your carpet. It's important to keep your home well-ventilated when you have wall-to-wall floor covers.

Is It Quicker To Install Carpets Or Hardwood Floors?
It's quicker to install carpeting than it is to install hardwood floors. It usually takes about a day to install carpets, depending on the size and shape of your floors. For hardwood floors it can take up to five days to complete installation.
However, hardwood floors last for up to 25 years or longer, whereas carpets only last between 10 and 15 years. But carpeting is a lot cheaper and there's a lot you can do with it. For example, if you want an alternating look in every room, you can install a different color or pattern design in each area. This can add a unique aesthetic to your home.
If you want a consistent look throughout your house, then it's advised to use the same color or patterned carpeting in every room. Make sure the carpets line up perfectly if you're installing them in stages, especially if there are patterns on the surface.

Must You Remove Furniture Before Doing Carpet Installations?
Yes, you need to remove all furniture from the room before you install your carpets. If you lay your flooring around furniture it will look untidy.
And if you're asking, "How long does carpet last?" you can reduce the average number of years if you install the carpets incorrectly. They will start ripping or tearing where you haven't placed tack strips. So always install carpets from wall to wall to prevent premature wear and tear.
Conclusion
There are many benefits to having carpets in your home such as thermal insulation, which is perfect if you live in cold and snowy regions. Having floor coverings throughout your home gives it a cozier atmosphere, too.
Carpets can add to the aesthetics of your home if you pick the right colors and designs. They're comfortable to sit on and provide safer flooring for children to walk and play on. I recommend you choose synthetic carpeting for your home because it's easier to clean and highly durable.
A synthetic carpet will last for up to 12 years if you maintain it correctly. So if you've decided to add wall-to-wall carpeting throughout your home, use this guide to assist you.
I hope I answered your "how long does carpet last" question. On the other hand, if you have any other questions about flooring or how often to replace carpets, then leave a message below. I would be happy to help you with any questions you might have about carpet maintenance.
Back to Top