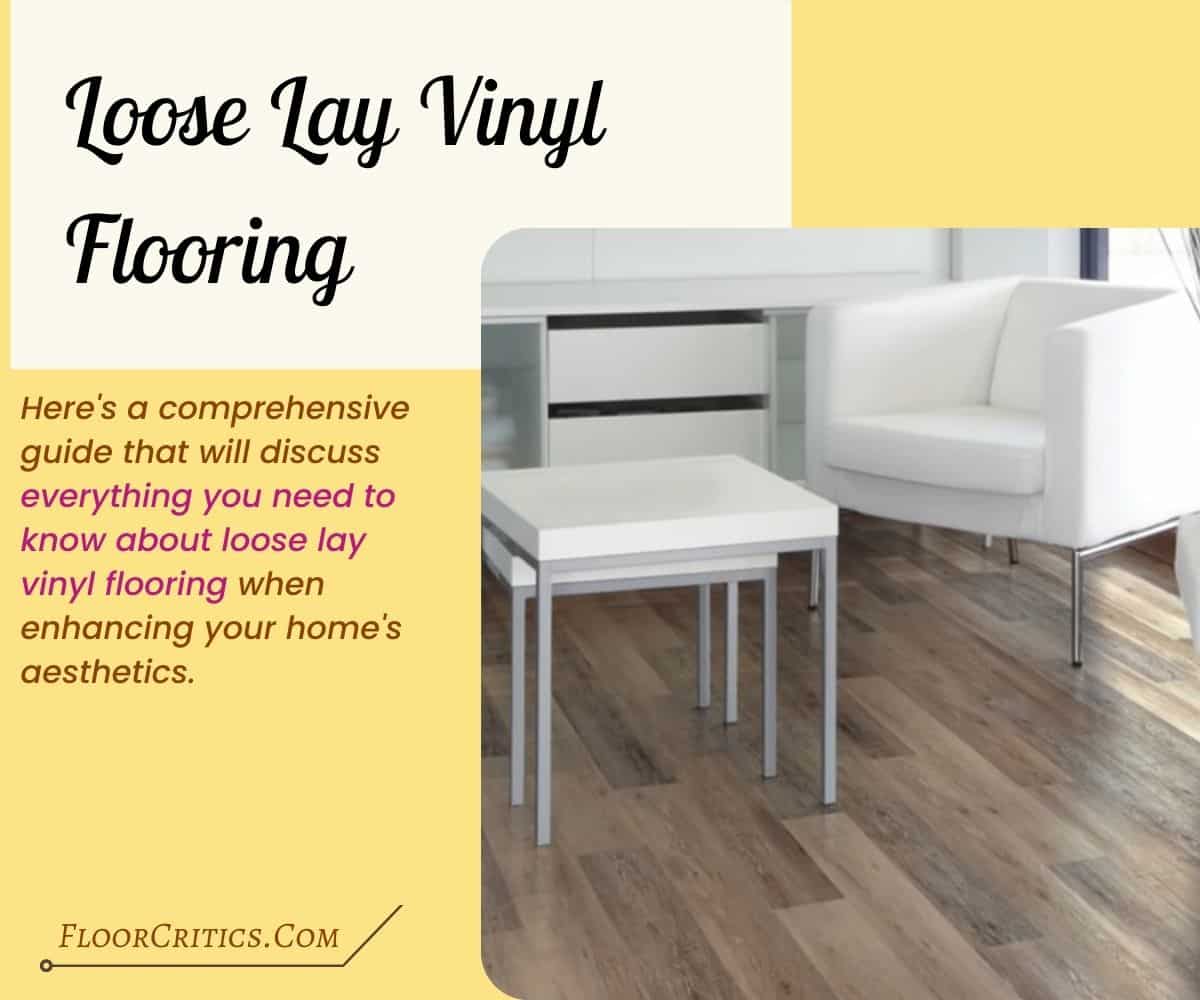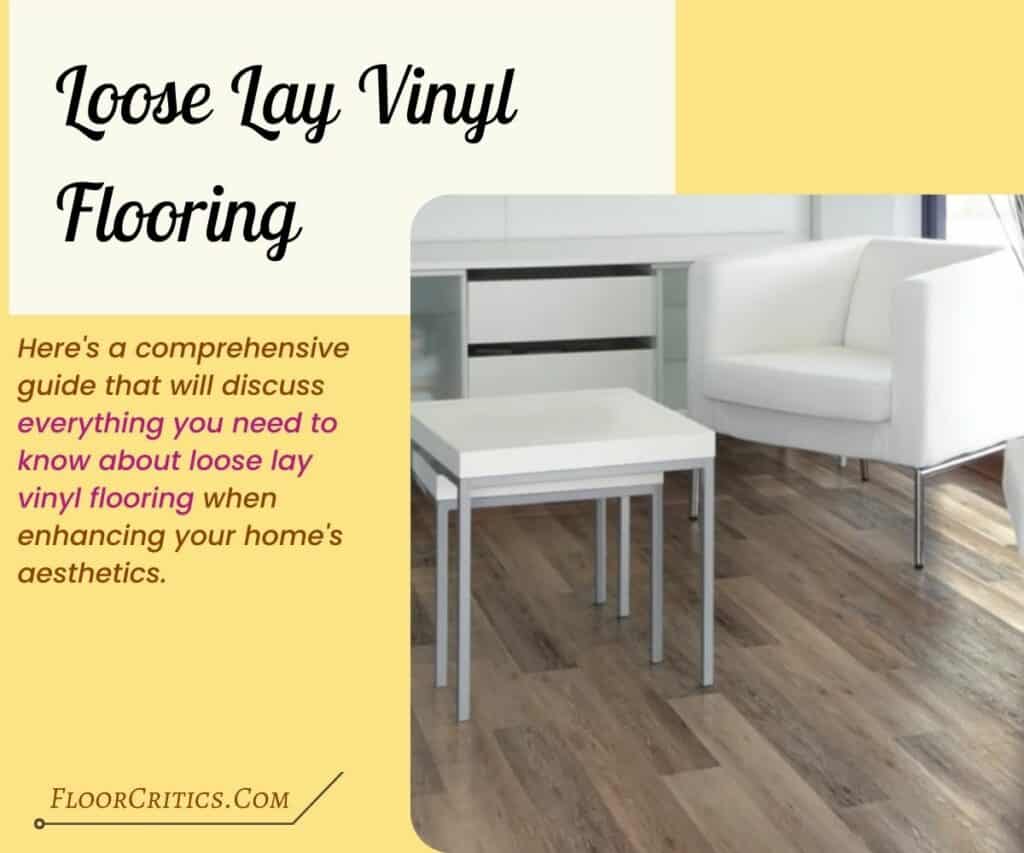 Vinyl flooring is becoming a trend for DIYers because aside from being affordable, it is resilient and provides a wide variety of design options. In fact, the market is expected to grow at a CAGR of 5.1% from 2021 to 2026.
So if you are looking into enhancing your home's aesthetics using loose lay vinyl flooring, here's a comprehensive guide for you. We'll give you the pros and cons, basic installation steps, and a buying guide to make things easier.
What Is Loose Lay Vinyl Flooring?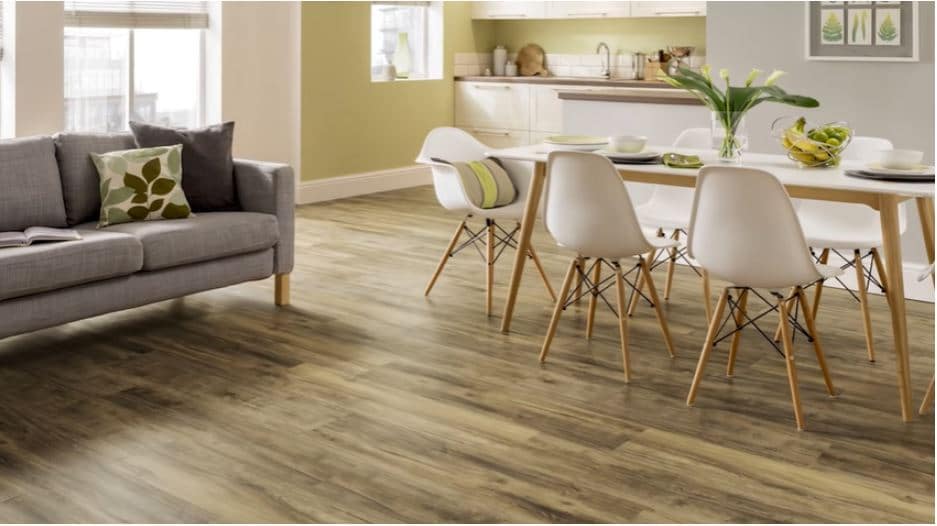 First of all, loose lay vinyl flooring is NOT a type of vinyl flooring. It is an installation method for luxury vinyl.
While traditional vinyl flooring is installed using a click-together or glue-down method, loose lay floors are "laid loose". The rubber backing allows them to stay on the floor without anything (e.g. adhesive) to keep them in place.
Is Loose Lay the Same as Floating Floor?
Loose lay flooring is one of the two types of floating flooring installation methods – an installation style where the floor rests atop a subfloor or existing flooring. They just "float" above your subfloor without the need for nails or glue.
Check out our Glue Down vs Floating Vinyl Plank comparison too!
Types of Loose Laid Vinyl Flooring You Can Choose From
Luxury vinyl is used for loose-laid vinyl floors. It is among the few types of waterproof vinyl flooring made of multiple layers of hard plastic and a protective layer coating for added durability.
There are two types of luxury vinyl and here are their key differences:
| Luxury Vinyl Planks | Luxury Vinyl Tiles |
| --- | --- |
| Cut into planks | Cut into tiles |
| Mimics hardwood flooring with realistic embossing or scraping | Mimics tile flooring that features concrete, stone, or porcelain looks with surface texture |
Although loose lay vinyl floors come in both LVT and LVP options, LVP is more common. Also, since these two are functionally identical, some refer to all types of luxury vinyl as simply vinyl planks or LVP.
See our guide on the different types of vinyl flooring.
Take Note: Loose Lay Vinyl Plank Is Not the Same As Loose Lay Vinyl Sheet Flooring
You might have also heard about loose-laid vinyl sheet flooring, but don't get confused because it is different from vinyl planks. Below is a brief comparison between these to clear your confusion:
| | | |
| --- | --- | --- |
| | Sheet Vinyl | Vinyl Planks |
| Look and Style | Bulky sheets that come in large pieces with fewer design options | Individual tiles/planks to provide endless customization options |
| Durability and Stability | Less stable and durableEasily damaged and harder to repair | Can last for years and is easier to remove, reinstall, and replace |
| Installation | Bulky sheets can be difficult to transport to the installation siteOften done by pros | Easier to transportRecommended for DIYers |
| Cost | Cheaper but maintenance costs will be expensive | More expensive but cheaper in the long run |
Although you can use loose lay vinyl sheets, they are less common and not practical based on our comparison. Their only notable advantage is they are impenetrable by water. This is because they come in huge sheets, unlike individual vinyl planks that come in individual pieces.
Pros and Cons: Reasons to Choose and Not to Choose Loose Lay LVP
Floating floors are great! But, there are also problems with loose lay vinyl flooring. We've listed the pros and cons of this installation method to help you decide whether to push through with it or not.


Pros
Simple Installation
You don't need a professional to help you install loose-laid vinyl planks. Even DIYers without any experience can install them in no time. All you need to do is lay down the planks side by side until you've covered all of the space in your room.
Increased Savings
You can increase your savings while still having stylish flooring because vinyl flooring is among the cheapest flooring options. You also don't need to spend money on installation costs since you can install it yourself.
Easy to Remove, Reinstall, and Repair
Since floating flooring doesn't use glue, you can easily remove and reinstall them somewhere else. Replacing damaged planks is also easier. This is great when you're moving houses which also gives you more savings because there's no need to buy new flooring.
Does Not Shrink or Expand
Loose-laid vinyl floors are dimensionally stable – they don't shrink or expand with fluctuations in temperature or humidity. So, you don't have to leave expansion gaps between your planks and your wall.
Absorbs Sound
Floating floors, rubber floors, and luxury vinyl tiles/planks are among the best acoustic flooring options. And since we are talking about loose lay vinyl planks with rubber backing, you'll have flooring with good sound absorption properties.
Highly Durable
Loose-laid vinyl planks are made from the same durable materials used in luxury vinyl planks. Thus, they can last for years with proper care.
They have thick wear layers with better coating composition for enhanced durability and scratch resistance. Luxury vinyl planks are usually made with 6-8 layers:
A foam layer for insulation and noise reduction
A waterproof and anti-microbial SPC or WPC core layer
A cork or PVC layer to prevent contraction and expansion
A design layer/print layer for enhanced appearance
A wear layer for added durability
A UV layer for an added anti-microbial layer
You Can Install It Over Other Floors
No need to worry about the hassle of getting rid of your old floors anymore! Why? Because loose laid flooring allows you to install your new floors on your existing floor. This saves you time and money when doing your DIY flooring installations.
Comfortable Flooring
You'll get comfortable flooring with good insulation properties against cold weather. Loose-laid floors are soft and slightly squishy because of their rubber backing. If you are looking into making a room homier, loose-laid vinyl flooring is worth considering.
Wide Selection of Styles
You will surely find a design that suits your taste because loose lay LVP comes in a wide variety of styles. From popular hardwood designs to the less common ones such as ebony flooring, there are plenty to choose from. You can even create your own patterns like chevron or herringbone flooring to achieve your ideal look.


Cons
Limited Availability
There are only a few brands that sell loose lay LVP which means that finding rare designs can be challenging. What's more is that not all of these brands offer "real" products because they are actually selling flexible vinyl plank flooring.
Some manufacturers will sell you flexible products that look like peel-and-stick tiles instead of rigid-core loose lay vinyl planks with SPC or WPC cores. But the good thing is, most vinyl brands provide installation instructions for their products. This allows you to know if you are really buying the real deal.
Seams Can Develop if Improperly Installed
Loose lay LVP is a great type of flooring. But, it is possible for it to shift and develop seams. This is unlikely to happen, though, if you installed the planks properly. In case some planks do shift, you can just move them back to their original position.
Spills Can Seep Through Loosely Installed Lays
Loose lay LVP is, in no doubt, waterproof. But if not installed correctly, liquid can penetrate through the seams.
You need to check any planks that shifted every once in a while to prevent this from happening. Though this may be the case, loose lay planks are still better than water-resistant hardwood flooring that can warp when exposed to moisture.
Needs Careful Installation
Loose lay flooring doesn't require fasteners or adhesives. However, you still need to install them with care to prevent seams and spills from seeping through which can damage your subflooring.
So when installing your flooring yourself, be diligent and patient. The worst-case scenario is that you will need to hire a professional to install your flooring for you. (Although this is still cheaper compared to installing glue-down LVP.)
Not Ideal for High-Traffic Areas
This type of flooring is often not designed for high-traffic and large areas like your kitchen or living room. Their rubber backings provide a good grip on the floor. But, they can lose their grip if constantly walked on or exposed to weight more than they can handle. Thus, causing warping and development of seams.
Better consider click and lock or glued options if you are planning to install flooring in high-traffic areas.
Best Applications of Loose Lay Flooring
Based on the pros and cons we discussed, we have listed a few of the best applications of loose lay LVP below:
Low-traffic areas like basements
Moisture-prone areas like bathrooms
Movie theaters
Upstairs of homes/businesses
How to Install Loose Lay Vinyl Plank Flooring
Now, let's move on to how to lay your vinyl flooring. The process is pretty straightforward. You just need to make sure that the surface you are installing on is clean, flat, and dry before you lay down your planks.
You can check out the video below for detailed instructions on how to install your flooring. The video includes steps for a standard installation and when an adhesive is needed. Special installation tips are also included to ensure seamless installation.
If you will be installing flooring in a large area and need some help, feel free to contact us. We can help you find a contractor that meets your needs!
You might also want to read more about vinyl plank flooring installation here.
Factors to Consider When Buying the Right Loose Laid Flooring for Your Needs
To make sure that you get the right flooring for your home or business, you might want to consider the following:
#1 Thickness or Wear Layer
Consider spending more on thicker products to ensure better quality. Most have thicknesses ranging from 4mm to 8mm, but we suggest you go with the highest wear layer you can afford. The higher the thickness level of the vinyl plank is, the higher the quality. Low-quality options are prone to wear and developing seams, so they won't last long.
See our detailed guide on how to choose vinyl plank thickness.
#2 Texture Print
Choose planks with highly detailed texture prints for a better appearance. The best options come with a not-too-shiny satin finish and have clear top layers showing the clear print below. Do not buy poorly printed products just because they are cheap. Or else, you'll end up spending on costly replacements in the future.
Where to Buy Loose Lay Vinyl Plank Flooring: Best Brand Reviews
At last! You've decided to buy loose lay vinyl flooring for your DIY project, but which is the best place to buy one? Below are the top brands we've reviewed that are worth considering.
Contact us if you have any questions we can help answer.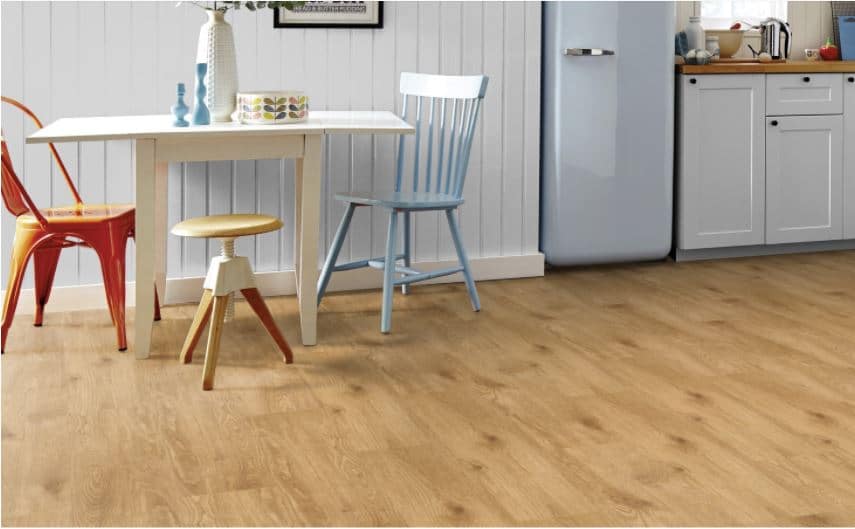 Karndean is among the pioneers of loose lay flooring that offer wood and stone-look options. Their Karndean LooseLay and LooseLay Longboard feature a K-Wave backing that relies on friction grip to keep the planks in place.
The company mainly offers 41" x 10" and 59" x 10" planks as well as 20" x 24" tiles. These are non-beveled, 4.5-mm thick, and have a 20-mil thick wear layer. They come with a lifetime residential warranty.
Check out our Karndean Vinyl Plank Flooring Review here.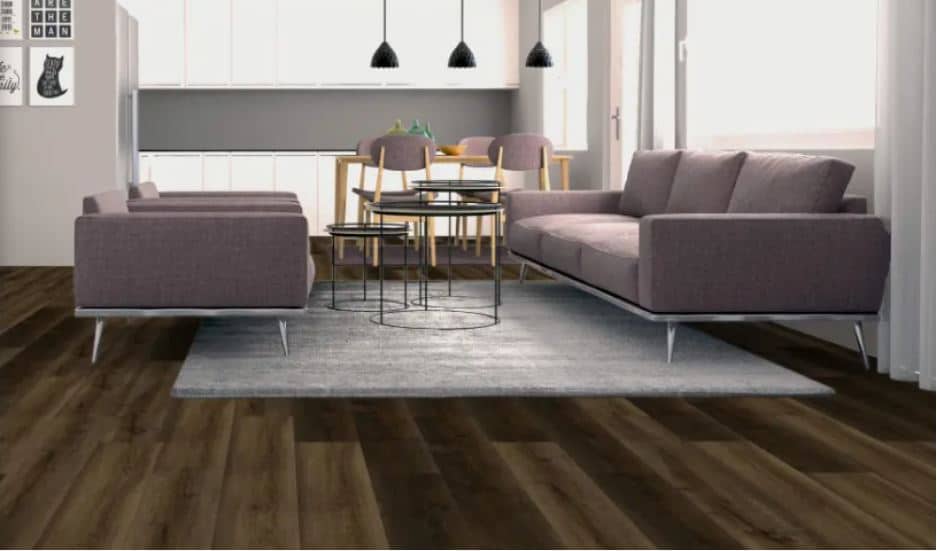 Depending on the collection, Proximity Mills offers loose-lay luxury vinyl planks that are recyclable and pet-friendly. They come in low to high shade variations in tile or wood looks and most have a 22-mil wear layer thickness. They also provide commercial warranties of 7-10 years.
Check out our Proximity Mills Brand Review here.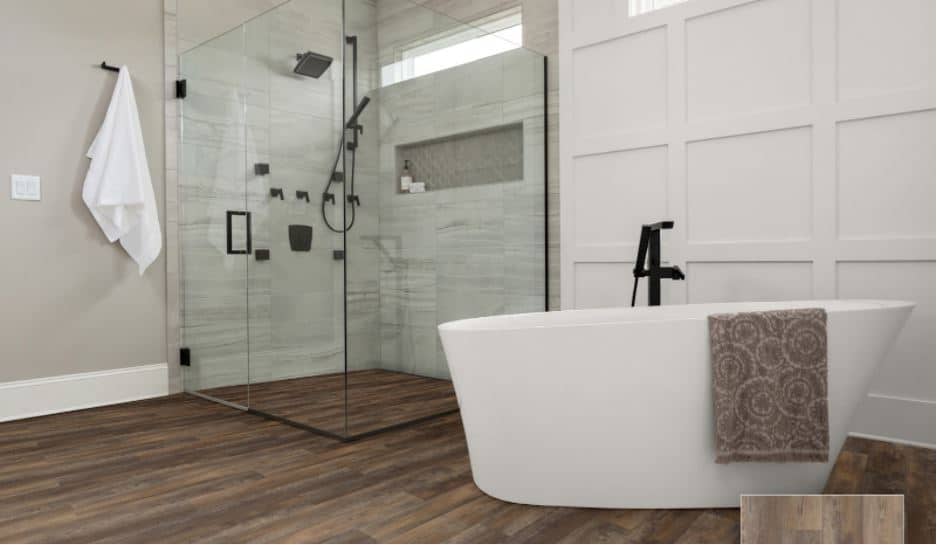 Another popular brand in the flooring industry, Shaw claims to sell 100% waterproof and FloorScore Certified float/glueless vinyl planks. What's great with their floating vinyl planks is that they come in various color shades, finishes, sizes, and wear layer thickness. They offer wood, tile, and stone looks.
Check out our Shaw Luxury Vinyl Plank Flooring Review here.
NOTE: You can find flooring visualizers on the websites of each brand. Their visualizers allow you to choose a room and a flooring style. After that, they will generate the expected look for you. You can also upload your own image.
FAQs
How Much Does Loose Lay Flooring Cost?
The price will depend on what brand and wear layer you choose, but planks can cost around $3 to $12 per square foot or more. If you want more specific pricing, you can request a quote from us so we can help you plan ahead.

Is Loose Lay Vinyl Flooring Waterproof?
Luxury vinyl planks used in loose lay flooring are designed to be moisture resistant and waterproof. This makes them ideal for use on floors that get wet regularly like your bathroom. In case water does get through, you can easily dry out wet areas by lifting the planks.

Do Loose Lay Vinyl Planks Shrink?
No, they won't shrink or expand even in humid conditions. This means that they won't move given that you have installed them properly. As we've mentioned before, they are dimensionally stable and thus, are not affected by changes in temperature or humidity.
Finally, Is Loose Lay Vinyl Flooring Good?
There are a few serious downsides to choosing loose lay vinyl flooring, but they offer more advantages than disadvantages. This is why we recommend loose lay LVP to DIYers who want an easy way to install their flooring but still want to save money. Just make sure to follow the recommended installation instructions from your manufacturer to avoid future problems.
Feel free to reach out to us if you have any questions and we'll get back to you as soon as possible!
Back to Top