Rescuing a puppy from the shelter is one of the most rewarding experiences you can have in life. Looking into giant 2 month old puppy dog eyes gives you an unparalleled sense of satisfaction you've never had.
You're a part of his life now and he's a part of yours. You can't imagine ever getting mad at such a precious creature.
Until you remember that he's not potty trained.
Pee happens, and you can only do so much to mask the odor with your store bought carpet spray. No matter what you do, your pup can still smell his scent; don't worry, he returns with a vengeance every hour or so to remind you of that.
You need a carpet steamer and you need one fast.
Since you're on a time crunch, here are the 6 best steam cleaners for carpet on the market today:
Our Top List: The 3 Best Steam Cleaners for Carpet
Before we go into our full-length reviews, let's break it down and see what the best of each category has in store for us.
We have our top pick, followed by our best professional grade cleaner, concluded with our best small steam cleaner.
Without further ado, your potty training companions: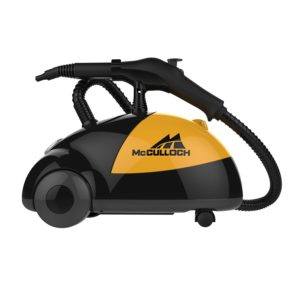 The McCulloch is number one in our wallets and number one in our hearts. This isn't a budget pick because there's nothing about this steamer that screams "budget", besides the low price.
This steamer may be small, but its size makes it that much easier to move around when cleaning virtually every surface in your home.
Our number one pick has more options for cleaning than a Swiss army knife and can do it all without any harmful chemicals. Parents can rest assured that the McCulloch will do no harm (except maybe getting your house a little too clean).
Sleek and sturdy, the McCulloch is ready to take over and play the part of lead cleaning tool in your home.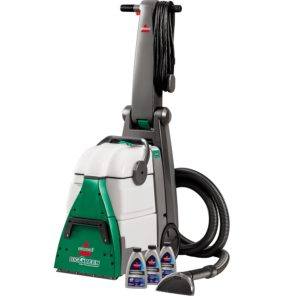 You may be wondering why this product is called the Bissell Big Green. It'll all make sense when we review our next product, so stay tuned.
This carpet steamer is optimized for home, but it's more than strong enough for commercial use, too. The proof is in the dirty water once you're finished; you'll sure see that this machine does work when all is said and steamed.
The Bissell Big Green can take on any carpet and get it at least 3 shades lighter than what it was before. (Okay, this fact isn't scientifically proven by Bissell, but hey,  it could happen.)
With a specialized tough stain tool and the built in extra large DirtLifter PowerBrush, the Bissell Big Green is optimized to get every single stain out of every carpeted surface. Period.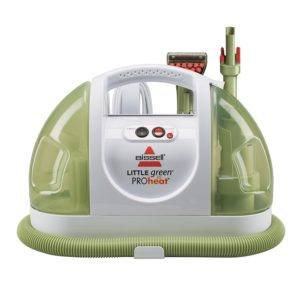 Just in case you were wondering, the Little Green does an excellent job at the things that the Big Green doesn't. If you need a spot and upholstery cleaner for those tiny messes, you can rest assured that the Little Green picks up where the Big Green leaves off.
Because these two machines are two peas in a pod, we decided to put them both on our top list.
Though at the same tank capacity as the McCulloch, the Little Green is not optimized for all floor types. That just means that the Little Green is really great at a few things rather than being good at everything.
With a deep scrubbing brush and a small crevice tool, the Little Green is just as mean to dirt and grime as its larger counterpart.
What to Look For In A Steam Cleaner for Carpet?
Depending on what your needs are for a steam cleaner, there are a few different types that you can choose from.
Here are the most common types of steam cleaners you'll find:
Upright Steam Cleaner
Professional Steam Cleaner
Portable Steam Cleaner
Upright steam cleaners are just like upright vacuums except, well, they steam instead of vacuum. These are pretty easy to maneuver and clean full floors with.
Professional steam cleaners are like upright steam cleaners that have spent a lot of quality time at the gym. They are the strongest cleaners you'll find and will deep clean your carpets like no other can.
Portable steam cleaners are those that are on the smaller side. They're perfect for spot cleaning, cleaning upholstery, and taking on stains in the car.
All 3 kinds of cleaners have their unique purposes, and some even take the form of more than one of the above.
If you're steaming to maintain cleanliness or to fix your carpets haven't seen soap in a decade, there's a steam cleaner out there for you.
What to Expect When Spending More?
More money means more features and more scrubbing power. Especially when it comes to carpet cleaners, the more money you put in, the cleaner floor you'll have.
When on a budget, your best bet for a steam cleaner is to get a small portable one. These will be no more than $150 at most, and will give you the power you need to spot clean your floors and upholstery.
There are some small steam cleaners that also have a large head attachment that can power through cleaning your entire floor. The portable cleaners with extra attachments tend to be more expensive, like upright steam cleaners are.
Upright cleaners tend to be more expensive than portable steam cleaners, but there are some uprights that are in the portable cleaner price range. Uprights on the cheaper end will typically have only one or two functions.
Upright cleaners that are more expensive will have extra hose attachments or other special features that set it apart from other similar cleaners.
Professional steam cleaners are an investment, and are nearly impossible to find under $350. Though costly, they will last for years and will clean your floors as if a professional were doing it instead of you.
When all is said and done, you don't have to spend big dollars to get big results. What you spend ultimately depends on your family's lifestyle and what your carpet cleaning steamer needs are.
Rankings and Reviews
If you're getting nervous about the silence in the house, go ahead. We'll give you time to find your dog so he doesn't end up having another accident by the end of the article.
We're glad that you found your pup without any further damage to your floors. Educating your dog on how to clean up after his own messes is a very necessary part of the potty training process, so we're happy to help.
Here are our top steam cleaners for carpet picks: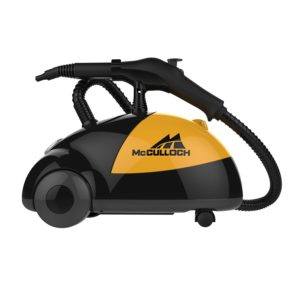 Weight: 15.1 pounds
Tank capacity: 48 ounces
The high points: 8 minute heat up time, 45 minutes of steam, 18 accessories for steaming
The not so: hose cannot be replaced without replacing entire unit, some attachments may scratch surfaces
If your dating profile says "looking for someone that can do it all", the McCulloch just may be your match made in heaven.
Are we saying you should go date with a steam cleaner? Oh, goodness no.
Are we saying you may want to take your steam cleaner on a date after seeing everything it can do? That's a legitimate possibility.
The McCulloch is small, lightweight, and has the power of a steamer that's much larger than it. With an attachment for every occasion, the McCulloch is our pick for most versatile steam cleaner on the market.
The best part? The McCulloch is in most everyone's price range, which means you don't have to save for months on end to get that stuck on grime out of your grout.
What Reviewers Say About It?
Reviewers say that they've finally found an industrial grade product at a household product price, which they love.
Though small, this machine has all of the bells and whistles and the power of a steam cleaner that's much larger. They love that it's still easy to maneuver even when the tanks are completely full.
The main selling point is that you can use this product to steam everything from grout to carpeting without any chemicals, which makes it a pet and family friendly product.
What's Good?
You can steam your entire home in under an hour including heat up and clean up time using the McCulloch. Most other steamers take far longer to do the job, especially large professional grade steamers.
It can be used on virtually any surface in your home, including carpet, hard floors, bathroom fixtures, kitchen appliances, etc. You name it, it cleans it.
There are 18 separate attachments that you can use with the McCulloch. Each attachment is for a specific cleaning purpose, which means it's probably best to read the instruction manual instead of guessing and checking for best results.
What Could Be Better?
If a part of your McCulloch happens to break, there's a likely chance that you won't be able to get it fixed. Most of the parts, including the hose, don't have replacements.
That being said, you'll need a whole new unit if something were to happen to your steamer. Luckily for you, this only happened to a handful of our reviewers after extensive usage.
The brass utility brush head that's included is awesome for getting that really stuck on grime off of any surface, however, it may be a bit too powerful for what you intend on cleaning. This attachment scratches many surfaces, such as stainless steel, so proceed with caution.
How Does It Compare in Value?
The McCulloch is one of the most affordable steamer options out there, which is one of the reasons it's so popular among reviewers.
This steamer may be low in price compared to similar models, but it's absolutely high in quality. It certainly does the job of a steam cleaner twice (or maybe even three times) the price.
How Has It Improved?
There are other McCulloch products on the market, but each one serves a distinct purpose that the one we've chosen doesn't.
The larger McCullochs only add a variable steam option and a larger tank for a sizeable price increase. Even without those two upgraded options, this steam cleaner does a fantastic job, which is why we chose it as our number one.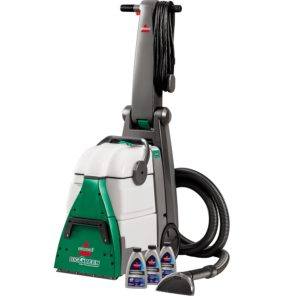 Weight: 52.5 pounds
Tank capacity: 1.75 gallons (AKA 224 ounces)
The high points: out-cleans the leading rental machine, has tough stain attachment, includes deep scrubbing brush head
The not so: expensive, large and bulky
So, we heard that you're tired of having to rent a professional grade steamer every few weeks to get those pesky puppy stains out.
With the Bissell Big Green, the carpets in your home (and business) will be certified spotless.
The Bissell Big Green is certified better than the leading rental machine, based on the visible brightness of the carpet. You're getting your a carpet cleaner that does a better job than anything you'll find on store shelves.
Though it be large, it be nimble. Nearly anyone can use the Big Green to clean without any hassle at all.
If you're looking for a solid investment in a product that will be there for you year after year, the Big Green is what you'll want to buy.
What Reviewers Say About It?
Reviewers don't even care how large the machine is, all they care about is how well it cleans and how it turns their carpet a shade of white they've never seen before.
They are so pleased with the quality of the carpet cleaner that they don't even mind that only carpet and upholstery are the only things they can clean. They're more than happy to shell out the cash for an ultra specialized heavy duty cleaner.
Reviewers also love that the Bissell Big Green cleans when you push and pull it, cutting your cleaning time in half.
What's Good?
Based on tests conducted by Bissell, the Big Green outperforms every rental machine on the market. You'll see that the Big Green actually cleans more when it comes to color reflectance and the brightness of carpet fibers.
In normal terms: the carpet was sparkling more after using the Big Green compared to using any other brand.
The roller brush and tough stain attachment are also major plusses. When using the Bissell Big Green, those super hard to reach places deep in the fibers of your carpet are no longer super hard to reach.
What Could Be Better?
The size is the main downfall of the Bissell Big Green. Weighing in at over 50 pounds, the "big" in the machine's name is quite fitting.
When using the steamer, it certainly doesn't feel that heavy;  it's quite easy to maneuver and turn for something of that size. The Big Green will not be able to fit into tight spaces, so you'll need to have a furniture rearranging party when you break it out.
The other downfall is that it's an investment. Most people won't want to spend nearly $400 on a steamer, so it's far from being an impulse buy.
How Does It Compare in Value?
Compared to renting a machine from your local grocery or hardware store, this machine's performance isn't even in the same galaxy.
By purchasing a Bissell Big Green, you're getting what has been deemed by many the overall best steam cleaner for carpets on the market. Since the Bissell will last for years and years once purchased, it's a fantastic investment for your home or business.
How Has It Improved?
The Bissell Big Green Commercial is the more expensive and newer counterpart to the Bissell Big Green we've reviewed above.
The commercial version is more expensive, has a shorter warranty, and needs every accessory (including the hose) to be purchased separately.
We've determined that the Bissell Big Green is the better of the two steamers, leading us to believe that newer isn't always better.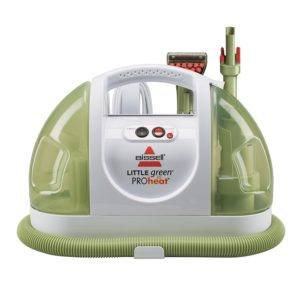 Weight: 11.6 pounds
Tank capacity: 48 ounces
The high points: can clean areas like cars and sofas like most cleaners can't, spraying crevice tool
The not so: residue will build up in the tubing without proper cleanings, only useful for spot cleaning
The Bissell Little Green is a Pro at turning up the Heat you need to steam away the dust from everyday life.
Small handheld steam cleaners are the perfect sidekick to large professional cleaners, like the Bissell Big Green we reviewed just above.
Our Little Green pick cleans areas that even the most portable of steamers can't get to. With the addition of the new spraying crevice tool, the range of cleaning of the Bissell has gone from small to smallest.
To make things even more convenient, the Little Green sprays and sucks in one step to speed up the dreaded drying process.
Parents everywhere have a reason to rejoice because the Little Green has brought them the solution to the cleaning dilemmas they didn't expect answers to. (Yes, even pet parents, too.)
What Reviewers Say About It?
Reviewers, especially with pets, are head over heels for the Little Green. They can clean literally mess their pet makes in a few short minutes.
Based on reviews, this machine can clean any fluid you can think of, and it can do it with grace. (Yes, it can clean those fluids, too.)
Overall, the little green is a hit when it comes to cleaning up small (or not so small) areas of your carpet or upholstery.
What's Good?
When it comes to cleaning, the Bissell Little Green has you covered. Because it's practically impossible to clean your car with your full sized steamer, the Little Green is there to reach those small places.
You do need to plug this product in, but once you do, cleaning is as simple as pressing a button. Areas like your sofa and car will no longer be off limits to your steamer.
The spraying crevice tool is one unique to the newest Little Green, which makes cleaning areas like the crevices between sofa cushions simple.
What Could Be Better?
If you're looking for a full floor cleaner, this isn't the steamer choice for you. There are no attachments that would make steaming your entire floor easy with the Little Green.
Some reviewers say that the residue in the cleaner builds up after 3 to 5 uses, and that a smell will develop if you don't deep clean your Little Green every time you break it out.
Though it may be easier to sit the machine on the shelf until the next spill without doing a deep cleaning, remember what you took the product out to clean in the first place. Chances are, you should flush your Little Green with hot water to get the gunk out.
How Does It Compare in Value?
If you look at comparable machines, the Little Green is maybe $10 to $20 higher in price. Is the extra few dollars worth upgrading to the Bissell?
Absolutely.
The Bissell is a much higher quality product without adding too much to the price tag. If you were to use a cheaper cleaner followed by a cleaning of the Bissell, you'd see a difference.
The Bissell gets deep down into carpet fibers and picks up grime left behind by its competitors, which makes it the best choice for portable steam cleaners.
How Has It Improved?
The Bissell Little Green ProHeat has the attached spraying crevice tool, which is one of the smallest tools we've seen when it comes to steaming.
The original Little Green does not have this attached feature, which has proven itself to be incredibly useful.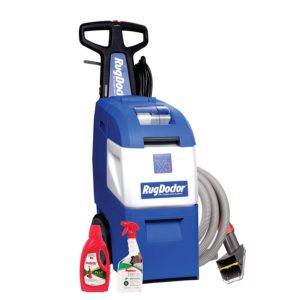 Weight: 50.3 pounds
Tank capacity: 3 gallons (AKA 384 ounces)
The high points: gets up to 89% of dirt out of your carpets, works as well (if not better) than a Rug Doctor rental
The not so: bulky, doesn't clean on the back and forth
Spray, scrub, extract: These are the 3 simple words that Rug Doctor uses to describe their professional grade X3 cleaner.
Big enough for industrial use, the X3 is one of our top steamer picks because of how well it gets the cleaning task at hand done.
Loyal renters of Rug Doctors for years have taken the plunge and decided that purchasing a Rug Doctor was the right move for them.
Based on Rug Doctor renter reviews, buying one of these bad boys of carpet cleaning is probably the right move for you, too.
What Reviewers Say About It?
Many reviewers were loyal Rug Doctor fans before going ahead and purchasing the Rug Doctor X3. What they found was that the X3 works much better than any Rug Doctor they rented before.
Reviewers also love that there is a small hose attachment tool that allows you to clean everything from couches to the inside of your car.
What's Good?
This carpet cleaner would get a solid B+ when it comes to cleaning dirt out of your carpets; luckily for you, a B+ is an A++ in the carpet cleaning world. You'll find that the Rug Doctor X3 gets up to 89% of the ground in dirt out of your carpets.
Another thing that the X3 has going for it is that you won't need to go out and rent a Rug Doctor from your local WalMart ever again. This Rug Doctor works better than any rental you'll be able to find in your neighborhood.
What Could Be Better?
This is definitely a competitor in the heavyweight category of carpet cleaners because boy, is it heavy. When we mean heavy, we mean it may be difficult for the average person to push it around without difficulty.
Unlike the Bissell Big Green, this cleaner doesn't clean on the back and forth; it will only when you pull it backwards. Though the energy from the rotating brush head does give you a bit of 'oomph, it won't help if you have ever had trouble vacuuming in the past.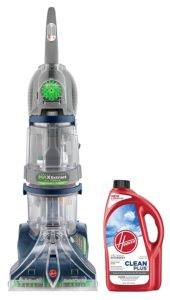 Weight: 34.2 pounds
Tank capacity: 1 gallon (AKA 128 ounces)
The high points: can clean everything from tile to carpeting without changing tools
The not so: tank will leak if not placed on properly
For someone that's looking to free up some closet space by getting something that can do everything, this cleaner is what you're looking for.
Despite the fact that we're reviewing carpet steamers, the All Terrain cleans carpets well enough to make it to our top list. The fact that it can clean everything else is just a nice little bonus.
The ability to clean all floor types and the auto rinse feature of the All Terrain will cut your cleaning time drastically.
After all, wouldn't you rather spend more time playing with your puppy instead of cleaning up after him?
What Reviewers Say About It?
Reviewers love the fact that this one of the smaller upright steamer options. Those with arthritis seem to have no problem at all using the easy to push All Terrain.
One of the major cons of traditionally deep cleaning your carpets is that they'll be left damp for hours after you finish rinsing your tank. One massive pro the All Terrain has is that your carpets will be dry an hour after cleaning.
What's Good?
Not having to unplug and plug in two separate cleaners while doing your weekly deep cleaning is more than enough reason to invest in the All Terrain.
There are 2 separate head attachments that are optimized for upholstery and for getting tough stains off of hard surfaces, like shower doors. You won't even need an additional small steamer when buying this Hoover.
What Could Be Better?
The All Terrain may clean both hard and soft flooring, but that ease of cleaning comes at a cost. Some users said that their tanks were leaking and they couldn't figure out why.
Crafty users of the All Terrain figured out why their machines weren't working as well as they should have been. If not placed on the cleaner the correct way, the tanks will leak water all over your floors.
If you take a bit of extra time to get to know your Hoover well, you'll learn that its quirks are easily fixable by carefully placing the water tanks in the correct spot.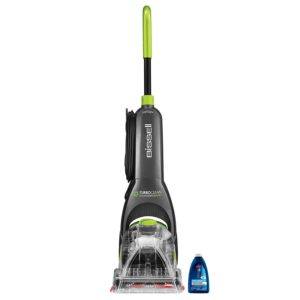 Weight: 12 pounds
Tank capacity: .5 gallons (64 ounces)
The high points: ultra lightweight, easy to use
The not so: have to heat water outside of the unit, may have to fill tank multiple times during a cleaning
When one of Bissell's employees adopted their lovable dog Shaggy, things changed around their house. Namely, their carpets were a lot dirtier than before they brought their fuzzy friend home.
Sound familiar?
Designed entirely with pets in mind, the Turboclean is perfect for both spot cleaning and carpet maintenance with pets.
The Turboclean is compact enough for apartments and starter homes because the collapsable handle lets this already small and lightweight unit take up even less space in your home.
What Reviewers Say About It?
Many found that the Turboclean is a steamer best suited to maintaining your floors once you get them deep cleaned. A common suggestion was to rent a Rug Doctor, clean your floors, and then maintain your already clean floors using your Bissell.
The real reason everyone loves this product is because it's easy to pick up and take around your home. Bulky cleaners are not ideal for climbing up stairs; it's easy to take your Turboclean to wherever your dirty carpets are.
What's Good?
12 pounds is nothing in the steam cleaner world, especially when it comes to full size upright steamers. It'll be a breeze pushing this cleaner around your soon to be spotless floors.
The Turboclean is also easy to use. For people who want a no frills cleaning experience, you'll find that the one setting on this carpet steamer is all you'll need to get the job done.
What Could Be Better?
In order to steam your rugs properly, you'll need hot water. Seems easy enough, right?
With this unit, you'll need to heat up your water before pouring it in. This can be a bit frustrating when you may need to fill up your unit multiple times to completely clean the floors in your home.
The Verdict?
Your new furry friend stands no chance against any one of these 6 best steam cleaners for carpet.
The McCulloch is our best overall because of its versatility and ability to do all carpet steaming jobs from large to small. The Bissell Big Green and Little Green go hand in hand and make an excellent carpeting steaming duo.
You now have everything you need to make your steam cleaner for carpet decision. Since your pup left you a few steamers ago and they've been eerily quiet, you may need this a bit more than you realize.
Thank goodness for 2 day shipping, am I right?