Whether you are looking for storage or a way to extend your living space, basements offer a great option for expanding your home. The right flooring can dramatically change the look and feel of your basement and give it an entirely new purpose.
But, not just any floor will do, as basements tend to be a damp area of the home. This means choosing the best floor not just based on aesthetics but also something that can stand up to the damp and won't become a health hazard due to mold and mildew.
Best Flooring Options For Basements
Carpet Tiles
If you are looking for a very versatile, easy to install, and cost effective choice then look no further than carpet tiles.
Top Brand:
After extensive research, we found Newton carpet tiles to be the best and our top pick. They are a trusted brand and are backed by a 5 year warranty. Cost ranges from $1.30 – $3.29 per square foot making it a cost effective solution for your basement. The carpet tiles come in sizes of 18″ x 18″ or 24″ x 24″.
We recommend ordering free samples to get a feel for the product. If you have further questions or need more information please contact the Floor Critics team.
Learn more about Newton:
Key Benefits:
Self adhesive: Just peel and stick and you are done installing!
Extremely durable: Carpet tile can be used in residential, commercial, and outdoor applications. It naturally resists stains, soils, and fading so there is minimal time spent maintaining.
FusionLock: Most brands are guaranteed to never fray, zipper or unravel
Variety of colors: There are many colors and styles to choose from or you can mix and match
Eco-friendly fiber: 100% PET fiber made from purified recycled bottles
Below are few options from our trusted partner at About Floors n' More.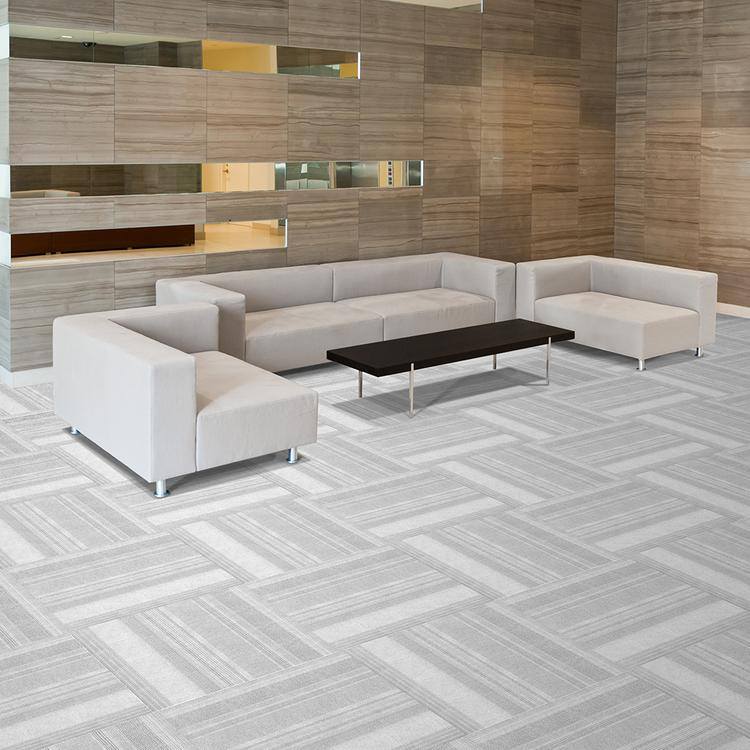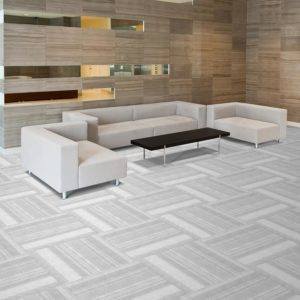 Newton Issac 24″ X 24″ Premium Peel And Stick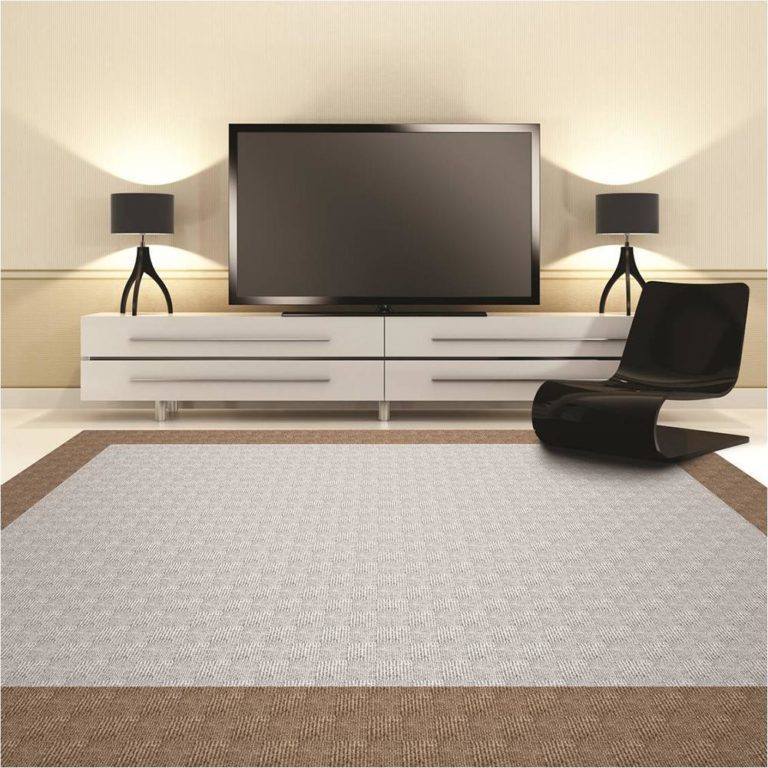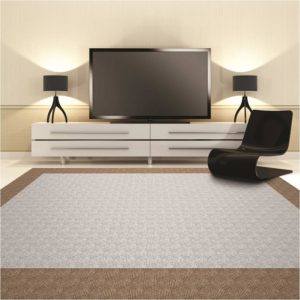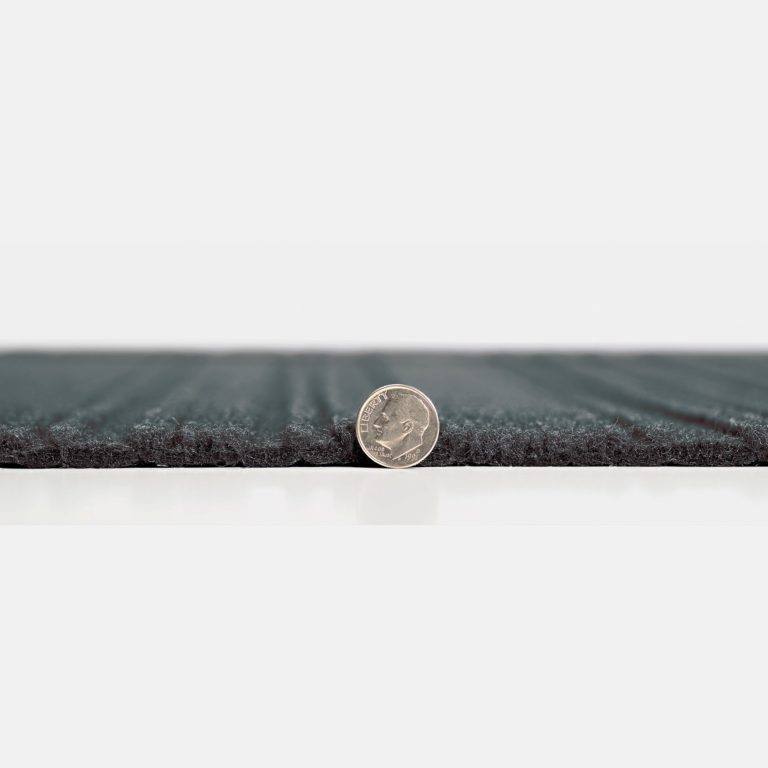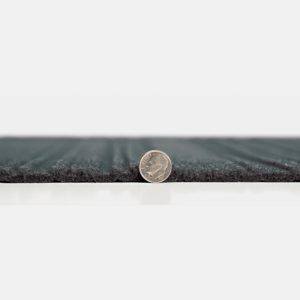 Floor Tiles With A Vapor Barrier
The best flooring for a basement is one that addresses most, if not all, of the issues this area of the house is typically fraught with. And floor tiles with built-in vapor barriers may do just that.
These tiles come in many different varieties. You can choose either carpet if you are looking to make the floor a little bit warmer under your feet or ones that mimic different natural stones if you want a more durable floor.
They have molded plastic bases that raise the tiles slightly off the concrete slab. This allows the concrete floor beneath them to breathe.
By using this type of flooring, you can help prevent the growth of harmful mold and bacteria in your basement.
Floor tiles with built-in vapor barriers are also very easy to install. They are modular and interlocking.
So, you just snap them together to build your floor. And, because they snap together so easily, you can also take them apart easily whenever you may need to do so.
If a modular tile gets a bit too dirty or wet, just pull it out, clean it, and snap it back into place. And, since they're raised, they also work well on slightly uneven floors.
These tiles are easy to cut for areas of the basement where a full tile just won't fit. A jigsaw with a fine-tooth blade will get the job done.
Another benefit of floor tiles that come with a vapor barrier is that they are quite affordable. So, you won't break the bank if you make this your basement flooring choice.
Despite all the advantages of floor tiles, there is a downside.
Because these products are not natural, you do run into the issue of VOCs and other chemical compounds. Fortunately, many manufacturers are conscientious of this, and you can find floor tile companies that have made efforts to be more eco-conscious.
Best Brands
Modutile offers a range of tiles with a polymer base and vinyl top that snap into place on your floor. They cost between $3.00-$4.50 per square foot and come in 12×12, 18×18, or 23×23 inch options.
ThermalDry Basement Flooring Systems are made entirely from reinforced plastic and use an underlayment system that creates a moisture and thermal barrier so the floor will feel eight to ten degrees warmer than the concrete slab.
They have a built-in drainage plane and a low profile for maximum head clearance. These floors generally cost between $5.00-$8.00 per square foot.
Place N' Go basement floor tiles are made from resilient recycled plastic that resists moisture. The underlayer has a waffle design that means it can also be laid over uneven surfaces. It uses a simple lock mechanism, so they are easy to both install and remove. These tiles cost between $6.00-$8.00 per square foot.

Floating Floors
Floating floors are any type of floor that is not nailed or glued down to the subfloor (so the floor tiles above are also a floating floor). They rest on top, which means you can install a moisture barrier between your basement's slab and the floating floor.
Simply put: it's a good idea to have this kind of protection if you choose floating floors because basements often attract moisture.
The good news: this opens up the opportunity to install certain types of flooring in your basement that you may not have considered before.
Not all floating floors are suitable for a basement. However, some interesting options abound, such as:
If you choose one of these types of floating floors, look for materials that are waterproof or highly water-resistant. And, for the cork, engineered hardwood, and vinyl, these products must be sealed correctly.
Cork is a soft material and can retain moisture. You'll want to harden and protect your cork by sealing your floors after install.
A good polyurethane seal will protect your engineered hardwoods, laminate, and luxury vinyl flooring. And many of these flooring options come pre-sealed.
If you plan to turn part of your basement into a playroom or bedroom, you may want a softer surface. Carpet tiles are another floating floor option that works for basements.
The carpet tiles that work best for basements are low-pile and constructed of man-made, water-resistant materials such as nylon or polyester.
To summarize: various types of floating floors work well in basements as long as 1) they are properly sealed and 2) they are installed over a moisture barrier underlayment.

Ceramic Tile
Ceramic tile is a highly durable, water-resistant flooring that works very well in basements.
Why? Because as long as it is glazed, water cannot penetrate your tile floor.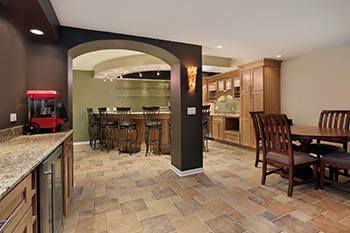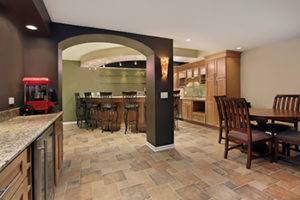 Plus, ceramic tiles come in so many varieties and colors; there are even some that look like wood. So, you have a lot of options to choose from.
And the tiles are not susceptible to mold or mildew growth. However, your grout can be vulnerable to mold.
This can be avoided if you routinely treat your grout with a water barrier sealant. Once a year should be fine for this.
The best way to install ceramic tile in a basement is directly over a concrete slab. If you use a plywood subfloor, you risk the plywood warping if water does end up reaching it.
For added protection, even though ceramic holds up well against water, you can install a water barrier layer between the subfloor and your tiles.
Keep in mind, however, that ceramic tile can be hard and cold. If you plan to use your basement often, you might want to accommodate for this.
Put down rugs in areas of the basement you plan to use frequently. You can also have a radiant heating system installed underneath the ceramic tiles.

Epoxy Sealed Concrete Flooring
Are you in the market for something low maintenance, inexpensive, and easy to install? If so, you might want to consider an epoxy sealant over your concrete floors.
But, just note: there is a trade-off. The floors will remain hard and cold, forever (well, at least in terms of the life of the concrete).
However, epoxy is not affected by water damage. Water sits on top of it and, if it isn't a lot of water, it is easily removed with a shop vac.
Epoxy is also highly resistant to germs and bacteria. With regular sweeping and the occasional wet mop, your floors stay clean.
Epoxy protects your concrete flooring from cracks or stains. And if you eventually decide to install another type of flooring, it can easily go over the epoxy.
There are many options for colors and patterns for epoxy. So, whatever look you are going for, you can probably find an epoxy that will complement it.
Epoxy flooring can cost anywhere between $3.00-$7.00 per square foot depending on the specific options you choose.
On the downside, prepping your floors to install epoxy can be labor-intensive. And the smell of it is quite strong.
However, once the epoxy has dried, the ammonia scent will fade away. If you are looking for an easy, inexpensive, and water-resistant way to finish out your basement, epoxy may be a good fit.
Warning! While epoxy is great for protecting your concrete slab from water sources from above, it should not be used if moisture is coming up from below through your concrete slab. Because the epoxy is watertight, it traps the water within the concrete slab. This can lead to a pressure build-up that can damage your slab.
Challenges With Basement Flooring
The big challenge with basements is that they are below ground level, which means they are generally exposed to damp. This can both undermine the integrity of any flooring you put down, and the wrong flooring can risk your health if you spend much time in your basement space.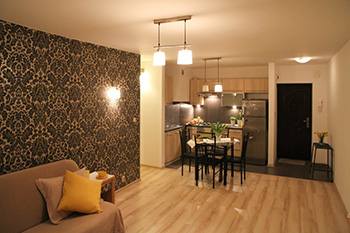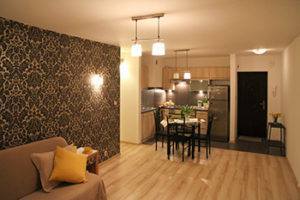 This means you will need to steer clear of most natural materials, such as wood flooring. Not only do these materials tend to warp when exposed to water, but mold and mildew also love natural materials. This can easily build up under the floorboards, release into the air, and quickly start to compromise your health.
So, if your dream was to lay hardwood floors in your basement, you can dismiss that right away!
Rather, you need to look for flooring that is "below grade" flooring. This does not refer to cheap flooring but rather flooring that is appropriate for use below ground level. This will generally mean floors that are:
Made from hard materials rather than something such as carpet.
Made from inorganic materials that are resistant to mold and mildew.
Monolithic materials that lay in a single layer rather than multiple layers, as these will dry faster as they are less likely to trap water.
While this list of requirements might sound quite limiting, there are actually a lot of amazing flooring options that fit the bill.
Why Your Basement Flooring Needs Protection Against Moisture
So, why so much fuss over dampness and moisture in the basement? One reason is because many people – surprise, surprise – actually like to use their basements.
Basements can be used to add an extra bedroom. Or maybe you want to build out a laundry room, a children's playroom, or even a man-cave. And if you plan to spend time in the basement, it needs to be safe to occupy.
If you aren't mindful of moisture protection when you finish out or remodel your basement, you are putting yourself and anyone else who spends time down there at risk for health issues.
Mold, mildew, and other harmful bacteria can grow beneath your flooring.
How does this area attract so much moisture? It mostly has to do with your basement's location in the home.
Some of the sources of water that find their way down to the basement include rain or groundwater, washers and dryers that aren't properly vented, or from a basement bathroom. Exterior humid air can also enter the basement and condense with the cool air inside.
Does your basement have a problem with moisture? Check these five symptoms:
Damp and humid air
Visible water on the floors or walls
Foul, musty odor
Visible signs of mold or mildew
Rotted or decaying wood
You can also conduct a simple moisture test to see if moisture is coming up from below your concrete slab. Simply take a piece of plastic sheet roughly 16×16 inches and tape it down onto the floor and seal all the edges with the tape. Wait 24 hours, come back, and remove the tape. If there is moisture on the plastic, or black marks on the floor, the moisture is coming from below.
This can change your flooring options. For example, epoxy will be a poor choice as it will lock the moisture into the concrete slab, potentially damaging the slab. Tiles with a vapor barrier will be a better choice as they allow the concrete slab to breathe.
While new flooring may not fix all of these issues, installing a proper floor is one of the ways to help protect your basement.
Ways To Address Moisture In Basement Flooring
There are several ways you can protect your basement floor from moisture. The simplest option is to go with a flooring choice that's impervious to water.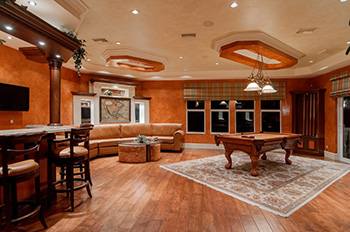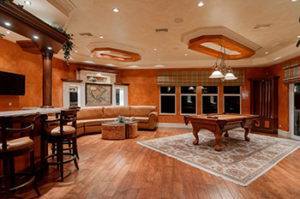 Go with an epoxy sealant over your concrete and use a shop vac to clean out any puddles you find on-the-spot. Water can't penetrate ceramic tile, so it can be cleaned up the same way.
However, that kind of 'look' isn't for everyone. And depending on what you want to use your basement for, concrete may not be the most practical flooring, either.
A moderately easy solution is to choose floor tiles with the built-in vapor barriers that were mentioned earlier in this article. They allow the concrete beneath to breathe, and you can easily remove individual tiles to clean up further if needed.
Another way to combat moisture in basement flooring is by installing a moisture barrier between the concrete and your flooring. This option opens up lots of additional choices in flooring.
A moisture barrier is installed over the slab and come in several varieties, such as:
Roll-down plastic sheets
Felt sheets
Adhesives that inhibit moisture
Coatings of moisture-protective paint
The best moisture barrier protection is dependent upon the type of flooring you plan to install.
What To Do If Your Basement Floods
While most basement flooring is designed to stand up to the toughest elements, it may not survive a flooded house. There's just not a lot you can do about that.
So, if you are in an area that is prone to flooding, you should factor this in when choosing your flooring. You'll almost assuredly want to go with one of the waterproof options.
(If you don't, then you will probably have to discard your flooring and start over.)
The good news is you can take measures to help prevent your basement from flooding.
Make sure your house is properly graded and install a drainage system. Sump pumps can also get water out quickly and prevent further damage to flooring and furnishings in your basement.
If flooding is a common occurrence in your basement, make sure you not only have the right new flooring but also have the right contingency plans in place before you begin your new install.
Preparing Your Basement Subfloor
Whatever flooring option you choose, you will need to appropriately prepare your concrete subfloor before putting anything down. This basically means ensuring your subfloor is clean, level, dry, and structurally sound.

Cleaning
While it is important to have a clean surface no matter what flooring you put down, this is especially important if you will lay anything that adheres to the floor, such as epoxy or ceramic tiles.
For most other types of flooring, you can just thoroughly clean the floor, perhaps with the help of a steam cleaner.
For anything that will adhere to the floor, you will want to clean the floor of any other paint, products, or sealers. It can be a good idea to use a concrete grinder, which will also leave the floor with a slightly rough surface, to which the new floor will better adhere.

Leveling
It is important to have a level floor not just for aesthetic reasons. Unevenness in the floor can limit where you can put furniture and can also lead to water accumulating in small pools.
A floor is generally considered level when it is within 3⁄16 of an inch for every 10 feet. You can check this with a leveler. You can grind down any bit with a concrete grinder and low areas can be filled with self-leveling concrete.

Dry
Testing the dryness of your floor can help you make the right floor decision. If you have a very dry basement, you might be able to get away with some nice engineered hardwood floors. If there is a lot of moisture, you will want a more water-resistant option.
There are a variety of different moisture testing kits available. If there is a lot of moisture, there are several courses of action you can take, such as applying a dampening agent and using a dehumidifier.

Structurally Sound
Cracks and crumbling are a sure sign your floor is not structurally sound, and therefore, might not have the strength to hold furniture and people. If you see any signs of structural damage, it is generally time to call a professional. Significant spider cracking or cracks more than ⅛ of an inch wide should ring alarm bells.
FAQs About Basement Flooring
What Is The Cheapest Way To Finish A Basement Floor?
A simple concrete sealer of concrete floor paint is the cheapest way to refresh your basement floor. But it doesn't last long, doesn't protect your concrete slab, and will leave your floor with that cold, basement concrete feel. An epoxy flooring is still affordable but will protect your concrete slab, but again, it is a cold, hard flooring option.
If you are looking to turn your basement into a living space, you might want to consider a floating floor option, such as LVP flooring or engineered hardwood. Whatever you choose, make sure you go with a waterproof or water-resistant option.

What Is The Best Waterproof Flooring For A Basement?
If you are looking for waterproof flooring for your basement, epoxy and ceramic tiles should be at the top of your list. If sealed properly they can retain their integrity even if your floor floods.
If moisture is coming up from below your concrete slab, you will want to consider a flooring option that lets your floor breathe, such as tiles with a vapor barrier.

What Is The Best Flooring For An Uneven Basement Floor?
Many floating floors have an underlayment layer that can help reduce the importance of minor imperfections in the evenness of your floor structure. For a basement, consider LVP flooring or tiles with vapor barriers.

Can Mold Grow Under Vinyl Plank Flooring?
Yes, if moisture is coming up from below, mold and mildew can develop on your concrete slab beneath your floating floor, including Vinyl Plank flooring. This can be extremely dangerous as mold and mildew can be toxic to breathe in, and as the floor is covered, you may be unaware of it. This is why it is essential to check your concrete slab for moisture before laying your flooring.

Should A Concrete Basement Floor Be Sealed?
It is a very good idea to seal your basement floor, whether you plan on laying a new floor or not, as it can provide significant moisture protection.
If you want to check to see if your slab is already sealed, simply pour water onto the concrete. If the water beads and stays in place, your concrete has been sealed. If the water soaks into the concrete, then it has not been sealed.
In Conclusion
To find the best basement flooring, first consider your basement's ultimate purpose. This will have a big impact on what type of flooring material you choose.
Next, of course, is your budget.
Once you know what you plan to use the area for and how much you can spend, it will be easier to narrow down the field of options to find the flooring type that is best for you.
If you plan to create a second living area, playroom, or bedroom in the basement, there are many stylish options for floating floors and floor tiles.
And if your water issues extend beyond moisture and your basement occasionally floods, epoxy or ceramic tile will save you the time and headache of having to replace the flooring again.
As long as you know your options, and make an informed decision, you will surely find the best basement flooring for your home.
Have questions about what to consider for your basement's floors? Or, perhaps you just finished an install. What tips might you have for others who are in the middle of their own project? Leave a comment below!