If you're looking to remodel your basement, you're probably trying to find the best flooring for basements. The good news is that there are numerous flooring options you can look at. But, not just any floor will do, as basements tend to be a damp area of the home. This means choosing the best floor not just based on aesthetics but also something that can stand up to the damp and won't become a health hazard due to mold and mildew.
After working with numerous flooring options for quite a while, we are ready to give our recommendations and present you with the eight best choices for your basement. We've also included a buyer's guide to prepare you before you start shopping, and we get into detail about the challenges you might face when choosing a floor for the basement. Keep on reading to find out more about these eight flooring options.
What Flooring Is Best for a Basement?
1. Vinyl for Basement Floors
Vinyl is one of the best if not the best flooring for a basement floor. Vinyl plank flooring is a great choice as the flooring is durable, has waterproof options, easy to install, and affordable option that can give you the look of more expensive hardwood or tile. A brand worth checking out is Newton. They are a value brand that offers 9 different collections of quality vinyl planks that closely mimic the look of real hardwood.
Benefits of Vinyl Flooring
Durability: It does not scratch easily, higher quality vinyl planks and tiles have through-body coloring, meaning that if they scratch, the damage is less visible
Water Resistant: Is 100% water and moisture resistant which is an advantage over traditional hardwood floor; WPC and SPC vinyl planks are 100% waterproof (note the distinction between water resistant and proof).
Installation: Most vinyl planks come pre-fitted with click & lock installation: locking mechanisms that click into place like a jigsaw puzzle.
Price: Cheaper than hardwood floors while offering a similar look, beware of bargain brands where quality has been a known issue with many brands. Product cost ranges from $1.00 to $4.00 sq. ft. with installation adding another $2.50 per sq. ft.
Style: Endless options of colors, patterns, and textures to match your décor, ask for samples.
Read more: Vinyl Plank Buying Guide
2. Carpet for Basement Floors
Basement carpet is a very good option if your basement has little to no moisture and you are looking for warm feeling room that is well insulated.
Benefits of Carpet Flooring
Warm and well insulated: For many homeowners, steeping on to a cold, hard floor in the middle of winter is not a pleasant experience. With basement carpet, it will be warm and cozy feel.
Safe: If you have kids or elderly people in the household, basement carpet is a safe option as it can lessen the impact of a fall.
Comfortable: If you are using your floor to sit on even occasionally, carpet is clearly a better option than any hard flooring.
Nosie reduction: carpet is absorbent and can greatly reduce sound when compared to hard flooring.
Styles: There are endless options of colors, textures, and thickness and all prices ranges.
Read more: Carpet Buying Guide
3. Engineered Hardwood for Basement Floors
You may want hardwood flooring throughout your home, including your basement, but remember that hardwood flooring is not the right option as it damages when exposed to moisture and humidity. Engineered hardwood is an alternative solution for basement flooring as it offers the look and feel of real hardwood, but is less sensitive to moisture and humidity. It is still very important to waterproof the subfloor and fix any cracks before installation.
Benefits of Engineered Hardwood Flooring
Installs over concrete: You can glue or float engineered hardwood over concrete. You can also find planks that having locking mechanisms.
Less sensitive to moisture and humidity: Engineered hardwood has different payers (wood veneer on top and the core layers are made of plywood, particleboard, or fiberglass. If the floor is exposed to high humidity, each layer counteracts the other layers tendency to swell or shrink.
Can be refinished: With a high quality product, you can refinish your engineered hardwood once or twice (solid wood can be refinished up to seven times on average)
Read more: Engineered Hardwood Buying Guide
4. Laminate for Basement Floors
Waterproof laminate flooring is an ideal cost effective option to cover your basement floor. It is very important to ensure waterproof option is selected as moisture can ruin a laminate floor. Just a few years ago, there were not any waterproof laminate options. As with engineered hardwood floor, it is important to waterproof the subfloor prior to installation.
Benefits of Laminate Flooring
Easy to install: As long as your subfloor is in good condition, you can float your laminate floor over your existing floor.
Waterproof: Several companies such as Armstrong and Tarkett are now creating waterproof laminate flooring which allows them to be good candidates to put in your basement.
Cost: Laminate floors range in price from $1 to $11 per square foot. That is a big range so the advice is to shop around and test out samples.
Read more: Laminate Buying Guide
5. Ceramic Tile for Basement Floors
Ceramic tile is a highly durable, water-resistant flooring that works very well in basements. Why? Because as long as it is glazed, water cannot penetrate your tile floor. Plus, ceramic tiles come in so many varieties and colors; there are even some that look like wood. So, you have a lot of options to choose from.
Benefits of Ceramic Tile Flooring
Durability: With proper care, ceramic tiles can last for more than 50 years and are not susceptible to mold or mildew growth
Water resistant: Even though ceramic tile holds up well against water, you can install a water barrier layer between the subfloor and your tiles.
Styles: There are numerous options for different styles and many offer a custom, high-end look
Keep in mind, however, that ceramic tile can be hard and cold. If you plan to use your basement often, you might want to accommodate for this. Put down rugs in areas of the basement you plan to use frequently. You can also have a radiant heating system installed underneath the ceramic tiles.
Also, ceramic is a much better alternative than porcelain tile. Porcelain is gorgeous, but it's quite costly. This is a material that can break easily if objects fall on it, which is why most people avoid it for the basement.
Read more: Wood Look Tile Buying Guide
6. Concrete for Basement Floors
The existing concrete flooring in you basement may be a good option for your basement floor. By simply hiring a professional to smooth your existing concrete floor and stain/paint it, it could be a good cost effective option.
Benefits of Concrete Flooring
Don't have to worry about flooding damage: If the concrete floor is properly treated, water will not damage the floor.
Cost savings: By keeping the existing concrete floor, you will not have to spend money on a floor that goes on top of it.
Style: Concrete has the ability to be painted, stained, etched, and rugs can always be added on top for a contrasting look
Read more: Self-Leveling Concrete
7. Epoxy for Basement Floors
If you are looking low maintenance, inexpensive, and easy to install basement flooring you might want to consider an epoxy sealant over your concrete floors. Note there is a trade-off. The floors will remain hard and cold, forever (well, at least in terms of the life of the concrete).
Benefits of Epoxy Flooring
Not affected by water damage: Water sits on top of it and, if it isn't a lot of water, it is easily removed with a shop vac.
Highly resistant to germs and bacteria: With regular sweeping and the occasional wet mop, your floors stay clean.
Protects concrete flooring: Concrete will be resistant to cracks and stains and other types of flooring can easily go over the epoxy.
There are many options for colors and patterns for epoxy. So, whatever look you are going for, you can probably find an epoxy that will complement it. Epoxy flooring can cost anywhere between $3.00-$7.00 per square foot depending on the specific options you choose.
On the downside, prepping your floors to install epoxy can be labor-intensive. And the smell of it is quite strong. However, once the epoxy has dried, the ammonia scent will fade away.
Warning! While epoxy is great for protecting your concrete slab from water sources from above, it should not be used if moisture is coming up from below through your concrete slab. Because the epoxy is watertight, it traps the water within the concrete slab. This can lead to a pressure build-up that can damage your slab.
8. Rubber and Carpet Tiles for Basement Floors
Rubber or carpet tiles with built-in vapor barriers can be a great option for basement flooring. This type of flooring can be a simple weekend DIY project. By using this type of flooring, you can help prevent the growth of harmful mold and bacteria in your basement.
Benefits of Rubber or Carpet Tile Flooring
Many varieties: You can choose carpet tiles if you are looking to make the floor a little bit warmer under your feet or rubber tiles if you are looking to setup a section for a play area for the kids or a gym. There are also many tiles that mimic different natural stones.
Easy to install: most tiles are modular and interlocking so they can be laid quickly and without many tools. They can also be easily taken apart if you choose to replace the tile floor with something else.
Affordable: Carpet or rubber tiles will cost significantly less than most all other basement flooring options
Because these products are not natural, you do run into the issue of VOCs and other chemical compounds. Fortunately, many manufacturers are conscientious of this, and you can find floor tile companies that have made efforts to be more eco-conscious.
Best Brands
Modutile offers a range of tiles with a polymer base and vinyl top that snap into place on your floor. They cost between $3.00-$4.50 per square foot and come in 12×12, 18×18, or 23×23 inch options.
ThermalDry Basement Floor Systems are made entirely from reinforced plastic and use an underlayment system that creates a moisture and thermal barrier so the floor will feel eight to ten degrees warmer than the concrete slab.
They have a built-in drainage plane and a low profile for maximum head clearance. These floors generally cost between $5.00-$8.00 per square foot.
Place N' Go basement floor tiles are made from resilient recycled plastic that resists moisture. The underlayer has a waffle design that means it can also be laid over uneven surfaces. It uses a simple lock mechanism, so they are easy to both install and remove. These tiles cost between $6.00-$8.00 per square foot.

What is the Best Flooring for Basements That Flood?
If your basement is prone to flooding or excessive moisture, do your diligence to select the correct type of basement flooring. It is important that you select a waterproof or moisture resistant floor otherwise you could run into several issues such as mold and mildew in addition to the extra costs to replace the existing floor. Our top recommendations are:
Concrete
Ceramic Tile
Vinyl
Rubber Tile
Basement Flooding Tips
If you're aware that your basement is prone to flooding, we wanted to share a few insightful tips to protect your floors from floods and create a safer space.
Get A Dehumidifier
Dehumidifiers are an excellent investment for humid basements. These machines will reduce the humidity levels in your rooms, and the size you'll need depends on the size of your basement.
Seal The Floors And Walls
By sealing the floors and walls, you'll sleep much better at night. This is a step to take before you notice leaks in your basement.
The waterproof sealant will act as a barrier, preventing moisture from getting from wall or concrete cracks to your floors. Floor sealants create a barrier on the floor surface and won't allow water to penetrate easily.
What is the Best Waterproof Basement Flooring?
The best option for waterproof basement flooring is sealed concrete. As long as the concrete floor is properly sealed and treated you can have the comfort that water will not damage the floor. Sealing a concrete floor is fairly affordable. It costs around $25 per gallon or about $0.15 per square foot. An alternate option to sealed concrete is epoxy.
Challenges With Basement Floors
There are many basement floor ideas available out there, but are they all suitable for your basement? The answer is no! That's why we wanted to talk in-depth about the challenges you'll possibly face when picking the best basement flooring.
Humidity And Moisture
A problem many homeowners encounter in their basements is humidity, moisture, and flooding. Unfortunately, moisture can come in through cracks of your home's foundation, get to the basement, and cause trouble. Moisture and humidity can travel through the walls as well, so the only way to prevent severe damage is to be protected right from the start with suitable floors.
The best flooring for a basement is resistant to moisture, can withstand humid air, and won't be easily damaged if a flood happens. For example, even the best carpet for basements won't last long in a humid environment.
Ceiling
Most basements don't have high ceilings; therefore, you should research basement flooring ideas that won't increase the height of your floors too much. For example, if you opt for rubber floor tiles for your basement, you can choose between various thicknesses and opt for the thinnest alternative.
If you want a more durable alternative for the basement, floor tiles are an excellent choice. The thickness of tiles varies between ½ inch to ¾ inches so they won't elevate your floors too much. Unlike rubber interlocking floor tiles for basements, ceramic and porcelain tiles are a little more challenging to install but are more durable.
Level
Subfloors always have to be leveled, regardless of which flooring you choose for your basement, so before you even start looking for floors, check to see if the subfloors are leveled and fix any imperfections you find. If there are any cracks in the concrete, or other significant damage, consult a professional. Smaller cracks and minor damage can be treated with an elastomeric sealant, so before getting the answer to your question, "What is the best flooring for a basement floor?", take a look at the concrete slab, level it, and fix it.
Do Your Basement Floors Need Moisture Protection?
Your basement floors need moisture protection. Even if you can't see moisture in the room, it is almost certainly present. As we mentioned, water can get to your subfloors via cracks in the foundations or the walls. Even the best flooring for your finished basement won't survive high moisture levels, leaks, and flooding on its own; however, you can prevent irreparable damage by adding a moisture or vapor barrier.
Basements can be used to add an extra bedroom. Or maybe you want to build out a laundry room, a children's playroom, or even a man-cave. And if you plan to spend time in the basement, it needs to be safe to occupy.
If you aren't mindful of moisture protection when you finish out or remodel your basement, you are putting yourself and anyone else who spends time down there at risk for health issues. Mold, mildew, and other harmful bacteria can grow beneath your flooring. How does this area attract so much moisture? It mostly has to do with your basement's location in the home.
Some of the sources of water that find their way down to the basement include rain or groundwater, washers and dryers that aren't properly vented, or from a basement bathroom. Exterior humid air can also enter the basement and condense with the cool air inside.

Does your basement have a problem with moisture? Check these five symptoms:
Damp and humid air
Visible water on the floors or walls
Foul, musty odor
Visible signs of mold or mildew
Rotted or decaying wood
You can also conduct a simple moisture test to see if moisture is coming up from below your concrete slab. Simply take a piece of plastic sheet roughly 16×16 inches and tape it down onto the floor and seal all the edges with the tape. Wait 24 hours, come back, and remove the tape. If there is moisture on the plastic, or black marks on the floor, the moisture is coming from below.
This can change your flooring options. For example, epoxy will be a poor choice as it will lock the moisture into the concrete slab, potentially damaging the slab. Tiles with a vapor barrier will be a better choice as they allow the concrete slab to breathe.
While new flooring may not fix all of these issues, installing a proper floor is one of the ways to help protect your basement.
How To Avoid Moisture Damage
Moisture is a common problem for basements, so here are a few things you can do to prevent damage to your floors:
Vapor Barrier
Tiles with a vapor barrier create spaces between the concrete slab and the floors. Air will circulate through these gaps, ensuring that moisture can be reduced or eliminated before it causes damage.
Moisture Barrier
Although adding a moisture barrier can increase your costs, it's one of the best ways to ensure your floors are safe. This barrier is installed between the floor and subfloor and does exactly what the name suggests.
There are various forms of moisture barriers, and which one you choose mainly depends on the type of flooring that will go on top of it. It can come in the form of sheets, adhesives, or coatings.
Waterproof Floors
One way to avoid moisture damage to your basement floor is to find a waterproof basement flooring option. The top four choices include a roll-out flooring cover, tiles with a vapor barrier, ceramic tiles, and epoxy-covered concrete floors.
Although floating floors are good alternatives for some basements, they can easily be damaged by moisture. Imagine investing in cork flooring for your basement: each time there's moisture or leakage, the cork will be exposed and these conditions will shorten its lifespan. Another option to avoid if you have high moisture levels is carpet tiles for your basement floor. Carpets absorb liquids, so you might end up stepping on a wet surface that can later become a breeding ground for bacteria, mold, and mildew.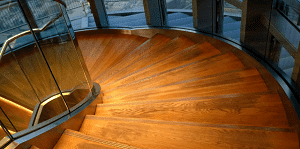 How To Prepare Your Concrete Subfloor
You have to take a few simple steps before you start installing your new tile, rubber, laminate, epoxy, or vinyl floor tiles for the basement. Here's how to prepare the concrete subfloor so that you're as protected as possible:
Clean
The first step of preparing your concrete subfloor is cleaning it. Remove all dirt, dust, and other particles that can interfere with the moisture barrier, paint, or adhesives that you'll be applying on top of the concrete slab.
A concrete grinder is a great tool that will create minor imperfections on the concrete surface; these "imperfections" are actually a good thing, and allow the sealers and adhesives to create an even stronger bond.
Dry
You have to let the concrete dry at least two months after pouring it. Yes, this is a lot of time to wait for new floors, but you have to ensure that you're doing what's best for your basement. You can check whether it's dry using the Standard Test Method for Indicating Moisture in Concrete by the Plastic Sheet Method (ASTM D4263-05).
Put a plastic sheet on top of one part of the basement concrete, and tape it to the slab. Wait for three days before you measure the relative humidity with a dew point hygrometer. The results you need depend on the flooring you'll install on top of the concrete, and you can easily find the standardized scale online or consult with your flooring manufacturer.
Damp Proof Membrane
Adding a vapor barrier or a moisture membrane should be your next step. These two layers will protect the subfloor and floors from moisture damage and make the present moisture disappear faster.
Level
The final step before adding the floors is leveling the concrete surface. Your concrete subfloor should be clean, without damage, cracks, grease, adhesive, extra paint, etc. If there are any cracks, you will have to fix them and level out the parts that aren't level already. So, is there a "best" flooring for a concrete basement? Not really; homes are too different. There are various options you can install over concrete, depending on your preferences, budget, and the look you want to achieve. Our top four choices include ceramic tiles, roll-out flooring cover, epoxy-covered concrete, and tiles with a built-in vapor barrier.
Structurally Sound
Cracks and crumbling are a sure sign your floor is not structurally sound, and therefore, might not have the strength to hold furniture and people. If you see any signs of structural damage, it is generally time to call a professional. Significant spider cracking or cracks more than ⅛ of an inch wide should ring alarm bells.
Buyer's Guide for Basement Flooring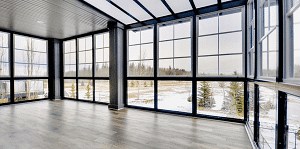 Choosing the best basement flooring is hard, considering how many options there are available on the market. To make things even more confusing, there are numerous alternatives for each flooring type. If you're overwhelmed with the choices, this buyer's guide will help you understand the options.
Maintenance
Everyone loves low-maintenance flooring, no matter the room where it's installed. Most types of floors meant for basements are easy to take care of. Before you decide which one you want, educate yourself about the maintenance and whether it requires special cleaning tools or solutions.
If you opt for carpet for your basement, you might need to put in a little more effort to keep it clean. If the basement is a high-traffic area in your home, some family members will enter with their shoes on. In other words, you should be prepared to vacuum frequently.
Although carpet is an attractive alternative, it's usually high maintenance for high-traffic basements.

Durability
If you decide to invest in a new basement floor, it should be made of durable material. Most people just go for the most affordable option, thinking that this is a room no one will see and will rarely be used. But, since basements are often victims of mold, mildew, and moisture, they require flooring that will withstand various conditions, temperature changes, and dampness, and will last a long time.

Water-Resistance
This is one of the most important factors that come into play when choosing the best type of flooring for your basement. Basements are rooms that are often targeted by moisture and floods. That's why most households decide to install water-resistant floors.
If there's moisture, chances are you'll soon notice mold and mildew. Floors that are not resistant will be targeted by mold and mildew and can be destroyed in time.
Before installing or deciding on any flooring type, you should do a moisture check. The procedure is quite simple– you'll just need a garbage bag and tape. Use scissors to open a garbage bag, lay it on the basement floor, and tape it down along the edges.
After two days, you should go down to the basement and check if there's moisture gathered under the bag. This will let you know whether you need to add other devices to help with the moisture, such as a dehumidifier, or hire professional help.

Subfloor
Not all flooring types can be installed on top of any sub-floor. You need to find out if the floors you like are suitable to use with the floors already in your basement. Rubber flooring, for example, can be installed directly over most types of subfloors.
Some types of floors need an underlayment before they're installed. Don't forget to calculate the underlayment in the total cost of the flooring and find one that is resistant to moisture.
Engineered wood flooring requires an underlayment. This flooring type is already an expensive investment, and when you add the underlayment, it gets pretty costly.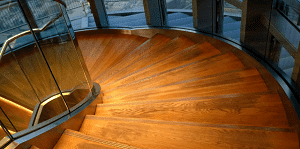 Ceiling Height
When the basement ceiling is very low, you should not install flooring that takes a lot of vertical space. Check the thickness of various flooring types and opt for a thinner one. That's how you'll save space and get a little extra height. Although this won't be the deciding factor, it's still something to think about.

Purpose
This one might sound strange, but the purpose of your basement is really important. If it's just going to be a storage room, you don't have to invest in the most expensive flooring. But, if you're going to spend time with friends down there, you probably want some extra padding for your feet.
If this will be your future playroom or family room, you need a flooring type that will be easy to clean, be warm, comfortable for the feet, and look good too. A smart idea is to choose two different flooring types for the ultimate result. If your budget allows and it's essential to the room's purpose, you should invest in two kinds of floors—for example, tile and carpet.
If you'll be using the basement as a laundry room, the most important thing is to find a floor that is waterproof. The laundry machines will release steam, so you want to protect this room from mold and mildew with the appropriate flooring type.

Price
Before you decide which floor is the best option for your basement, try setting a budget. You shouldn't opt for the cheapest floors that you'll find. Once you install them, you want these floors to last for decades.
That's why you should think of all the other factors, especially durability and water resistance. If the floors you like are affordable, durable, and water-resistant, there is no reason why you shouldn't purchase them.
For example, carpet is one of the most affordable flooring options. Although it looks great and it's warm, it's not as durable as porcelain tile, is hard to maintain, and it's not water-resistant. But, if your basement is dry and you need extra cushioning and warmth, then carpet should be your choice.
FAQs About Basement Floors
What is the cheapest way to finish a basement floor?
A simple concrete sealer of concrete floor paint is the cheapest way to refresh your basement floor. But it doesn't last long, doesn't protect your concrete slab, and will leave your floor with that cold, basement concrete feel. An epoxy flooring is still affordable but will protect your concrete slab, but again, it is a cold, hard flooring option.

If you are looking to turn your basement into a living space, you might want to consider a floating floor option, such as LVP flooring or engineered hardwood. Whatever you choose, make sure you go with a waterproof or water-resistant option.

What is the best waterproof flooring for a basement?
If you are looking for waterproof flooring for your basement, epoxy and ceramic tiles should be at the top of your list. If sealed properly they can retain their integrity even if your floor floods.

If moisture is coming up from below your concrete slab, you will want to consider a flooring option that lets your floor breathe, such as tiles with a vapor barrier.

What is the best flooring for an uneven basement floor?
Many floating floors have an underlayment layer that can help reduce the importance of minor imperfections in the evenness of your floor structure. For a basement, consider LVP flooring or tiles with vapor barriers.

What is better for basement vinyl or laminate?
We would choose vinyl over laminate for basement floors. They are very durable, affordable, and a great option if your basement is not prone to flooding.

What is the warmest flooring for a basement?
Carpet is a great option if you are looking for a warm floor. Unlike concrete or other hard floors that can be very cold especially in winter month, carpet is a much warmer option. Carper paired with a rigid form subfloor will add to the warmth of the floor.

Can mold grow under vinyl plank flooring?
Yes, if moisture is coming up from below, mold and mildew can develop on your concrete slab beneath your floating floor, including Vinyl Plank flooring.
This can be extremely dangerous as mold and mildew can be toxic to breathe in, and as the floor is covered, you may be unaware of it. This is why it is essential to check your concrete slab for moisture before laying your flooring.

Should a concrete basement floor be sealed?
It is a very good idea to seal your basement floor, whether you plan on laying a new floor or not, as it can provide significant moisture protection.

If you want to check to see if your slab is already sealed, simply pour water onto the concrete. If the water beads and stays in place, your concrete has been sealed. If the water soaks into the concrete, then it has not been sealed.

How do you clean the basement floor?
This will depend on what type of flooring you have. If you have tiled or concrete flooring you can either use a microfiber mop or a wet dry vacuum to clean up your floors. The benefit of tiled or concrete flooring is that they don't stain. Additionally, it's easy to remove dirt from smooth flooring such as sealed concrete or tiles because they're not porous.

How do you level the basement floor?
If you're layering concrete flooring you'll need a series of rails. Space the rails apart and infill the rails with leveling compound. Bring the compound higher than the rails and use a screed to level out the concrete. Make sure the compound is even with the top of the rails. 

You can also use a subfloor to even out your flooring. There are tiles that come with shims that will help level out slight floor unevenness.

Should I seal my basement floor?
Yes, you should seal your basement floor if you want to protect it from moisture and mildew. This is especially true if you have concrete basement floors because concrete is porous. The sealant will prevent mold growth and increase the longevity of your concrete floors. You should use a low VOC concrete sealer to prevent the build up of chemicals in your home.

How do you install flooring in the basement?
How to install your flooring will depend on the type of flooring you choose. If you're installing tiles, you'll need to layer your concrete, then your tiles, and then you'll need to add grouting. 

For concrete flooring, determine how thick you want your concrete to be and then make corresponding marks around your wall. To reinforce the concrete you'll need rebars that are half an inch thick and lay them out in a grid so that each block is 4 square feet in size. Then pour your concrete on top and even it out with a screed. 

How much does it cost to level a basement floor?
It will depend on the method you use, but on average you can expect to pay between $1,000 to $15,000 to level out a 600 square foot basement. The price includes labor and material costs.
Conclusion
To find the best basement flooring for basements, first consider your basement's ultimate purpose. This will have a big impact on what type of flooring material you choose.
Next, of course, is your budget. Once you know what you plan to use the area for and how much you can spend, it will be easier to narrow down the field of options to find the flooring type that is best for you. If you plan to create a second living area, playroom, or bedroom in the basement, there are many stylish options for floating floors and floor tiles.
And if your water issues extend beyond moisture and your basement occasionally floods, epoxy or ceramic tile will save you the time and headache of having to replace the flooring again. As long as you know your options, and make an informed decision, you will surely find the best basement floor ideas for your home.
Have questions about what to consider for your basement's floors? Or, perhaps you just finished an install. What tips might you have for others who are in the middle of their own project? Leave a comment below!
Back to Top