Hardwood floors are a large investment. You don't want to ruin your expensive floors by choosing the wrong mop. So what are the best mops for hardwood floors?
Read on as we share our top 10 hardwood mop picks of 2022 and discuss how each performed in our testing. We also provide useful buying advice to help you choose the best mop for your hardwood floor.
Our Top Picks
Hardwood Mop Buying Advice
Mop Category: Manual
Cleaning Effectiveness: A
Ease of Use: A+
Value: A+
Weight: 4.65 lbs.
Head Type: Flat
Cleaning Width: 18 inches
Handle Length: 42-70 inches
The Microfiber Wholesale Professional Mop is our top overall pick for the best mop for hardwood floors. The mop is simple and just works out of the box. Unless you have extreme cleaning needs, there is no need to spend a fortune on a more expensive mop.
Pros
Best overall. It's very easy to use/setup, has an extra wide cleaning head, and is reasonably priced.
Customer support is 5 stars! They answered our message within a couple hours and provided helpful guidance.
The handle length is made for people of all sizes and has an extended reach of 70 inches so you can get to tough to reach spots without hurting your back!
Cons
Sometimes difficult to get very stubborn stains out as the scrubbing power could be stronger.
The extra wide cleaning head does not fit into most mop buckets so a spray bottle must be used.
Key Differentiating Factor vs. Competitors
The 18 inch cleaning width was one the largest of any of the top hardwood mops on our list. It definitely helps speed up cleaning times. They also make a 24 inch version!
Useful Tips From Our Testing
Ensure you cover the mop head completely over the base as it can be a tight fit which if not done properly can nick your floor and walls.
If you run into any issues, contact Microfiber Wholesale customer service. They are very responsive and will make it right.
We noticed minor streaks when cleaning hardwood with the pads. You can always order another brand of microfiber pads if this happens to you.
Ensure your wash the mop pads using the gentle cycle or alternatively hand wash them to extend the useful life.
Cleaning Effectiveness
The Microfiber Professional Mop excelled at picking up dust off the floors. When used under a dirty sofa, it was able to collect the dust with only a few passes. Note we did have to shake off the dust after the first pass before using it again as it picked up a lot. For a deeper clean, the included wet pad works well. You simply wet the pad under a sink and wring it out and attach it to the mop head.
For tough stuck on stains, we had to use quite a bit of force to remove the stain so just something to be aware of.
As an added bonus, you can use the swivel lock and use the mop on walls.
Design
The design is simple and not complicated. It's a very effective design that just works. What we liked best about the design was the handle length of 70 inches and the 18 inch cleaning width. These features allow you to clean your floor much more quickly than traditionally mops and also clean in hard to reach places like under furniture without bending.
While the large cleaning head is beneficial is most cases, it does cause issues when trying to reach small places and also fitting into a bucket if you try to dip the wet pad in water.
Best Uses
Can be used on almost all floors such as hardwood, laminate, tile, stone and concrete floors.
We found this mop best for anytime you need to get a quick clean done for things like pet hair and dust.
Other Models
Microfiber Professional also makes a 10 inch mop used for walls as well as a 24 inch mop for larger jobs or commercial uses. The only difference is the size of cleaning head. In addition, they also make microfiber string, tube, and synthetic mops that are more catered to the commercial cleaning market. We do not recommend using those for residential hardwood floors.
Mop Category: Manual
Cleaning Effectiveness: A
Ease of Use: B
Value: A
Weight: 4.27 lbs.
Head Type: Flat
Cleaning Width: 12 inches
Handle Length: 45 inches
If you are looking for a hardwood mop that can handle both wet and dry jobs, the Spot Less Flat Mop is our pick. Spot Less is a newer brand that offers a useful dual chamber cleaning bucket that can wring out a dirty mop head in a separate chamber and keep cleaning uninterrupted.
Pros
Dual chamber bucket is what sets this mop apart from others. It has a clean water chamber as well as a dirty water chamber so dirty water will not mix with clean water.
Comes with 5 microfiber mop pads! That is more than we have seen with any other product we tested.
High quality construction. The mop and bucket is built to last.
Cons
The instruction manual that came in our box was hard to read and did not provide too much useful information.
Replacing the microfiber pad is not super straightforward.
Key Differentiating Factor vs. Competitors
Dual chamber bucket system that wrings the dirty mop pad into a separate chamber.
Useful Tips From Our Testing
If you have issues putting on a replacement mop pad, ensure you snap the red plastic ends in after putting the mop pad on. While it takes longer than mops with Velcro only, the extra locking mechanism ensures the pad will not come loose.
You do not need to fill the bucket more than half way. We were able to clean a 1,500 square foot area with half a bucket of water. Plus it makes it easier to move if you have lots of rooms to clean.
Cleaning Effectiveness
We gave The Spot Less Flat Mop an A grade. It handled both dry and wet cleaning very well. It was able to pick up dust, pet hair, and small particles of dirt with ease. We were impressed in its ability to remove tougher stains like shoe scuff marks and liquids we let sit overnight. The wringing mechanism on the bucket worked extremely well and allowed us to remove dirt from the mop and avoid spreading it to other parts of the floor.
Design
The overall design of the mop and bucket is excellent. However, getting the map pads on was not the easiest. But once on, they worked perfectly. In addition, we hope the company updates its instruction manual to provide better instructions that actually state how to use the mop. Furthermore, the telescoping arm fits behind and under furniture. It's easy to maneuver and carry to different house levels and store.
It comes with a 360-degree swivel head that changes direction easily and helps you get to those confined spaces.
Best Uses
Floors that need wet and dry cleaning such as the kitchen, bathroom, and mudroom.
Safe to use on any type of flooring surface. Be sure not to put too much water onto the hardwood floor as it can cause damage.
Other Models
Spot Less only makes the flat mop. They currently do not have any other mops in their product line.
Mop Category: Spray
Cleaning Effectiveness: A-
Ease of Use: A+
Value: A+
Weight: 3.84 lbs.
Head Type: Flat
Cleaning Width: 10 inches
Handle Length: 46 inches
The Swiffer WetJet Hardwood Floor Cleaner is choice for the best hardwood mop with disposable pads. There's a reason Swiffer has been the most popular disposable cleaning system for many years. It does what it promises and allows you to get rid of the result in the trash with ease.
Pros
Lightweight. The mop weighs just 3.84 pounds so is easy to move around to all parts of your home.
Durability. I've personally had my Swiffer for over three years and it is still working perfectly. Many other reviewers have had a similar experience.
Perfect for quick jobs such as cleaning pet hair or picking up dust.
Cons
The pads are not meant to handle heavy jobs and repeated scrubbing. We found they to come out of place and tear when pushed hard.
Replacement pads can cost around $10 for 20 pads so on-going costs can get expensive if you plan to use the mop frequently.

We were not fans of the

smell of the wood spray

that was included.
Key Differentiating Factor vs. Competitors
The Absorb + Lock technology traps the dirt deep in the pad so it doesn't get pushed around and scratch your floor.
Useful Tips From Our Testing
If you don't want to keep paying for cleaning solution, you can make a homemade solution. All you need is 1 cup white vinegar, 1 cup water, and 3 to 5 drops of dish soap like Dawn that you mix together. Note: Swiffer makes it very hard to take the cap off their bottle (go figure!), but simply put the cap in boiling water for 90 seconds and use a thick towel to twist off the cap and fill it with your homemade solution.
If you find that your hardwood floors have streaks after cleaning them, you can wrap a towel around the mop head and clean again, the streaks should even out.
Cleaning Effectiveness
The Swiffer WetJet was able to easily handle light grime, dust, and pet hair. We found we were able to clean faster with the Swiffer than the manual mops we tested (when using a floor cleaning solution). The reason was because the Swiffer sprays a perfect even mist on the floor and we didn't have to manually use a spray bottle or bucket.
Swiffer uses smart label on their packaging to show consumers all ingredients in their products.
Design
Very simple design that makes it easy to use. The handle length at 46 inches is nice and it maneuvers into corners well. We did wish the 10 inch cleaning width was longer but it was not a deal breaker for us.
Best Uses
This product is designed specifically for finished hardwood floors.
Other Models
In addition to this hardwood floor cleaner mop, Swiffer also makes mops for Vinyl, Tile, and Laminate floors. They have the same features, but the cleaning solution is different than the hardwood version.
Mop Category: Spray
Cleaning Effectiveness: A-
Ease of Use: A-
Value: A+
Weight: 5.8 lbs.
Head Type: Flat
Cleaning Width: 16.5 inches
Handle Length: 51.5 inches
If you are in need of a hardwood spray mop, the Bona Hardwood Floor Spray is our pick. It is made by a brand that has been in flooring business since 1919. The mop's large cleaning area, refillable cartridge's, and machine washable pads will help make your hardwood floors shine.
Pros
Comfortable secondary grip handle. Often times with long handles, it makes controlling a mop difficult, but the unique second grip Bona has added really provides comfort and control when cleaning.
No batteries needed! Unlike the Swiffer WetJet, the Bona mop does not require any batteries. You simply squeeze the lever on the handle.
If anything goes wrong, Bona's customer service is great.
Cons
Bona claims its pads can last up to 500 washes, while that may be true in some cases, our pad definitely looked fairly used after two washes. So just be ready to buy replacement pads sooner.
It is heavier than other similar mops which makes moving it around your home a little bit more difficult.
Key Differentiating Factor vs. Competitors
The amount surface area you can cover and the speed which you can deep clean your hardwood floors. The 16.5 inch cleaning width combined with the 34 ounces of cleaning solution it can hold makes this mop a powerhouse that can clean large spaces in a small amount of time.
Useful Tips From Our Testing
If you try to press the spray trigger frequently, the mop's pressurized bag-in-bottle system needs a bit of time to catch-up before it allows more cleaning solution to spray out.
Cleaning Effectiveness
The Bona hardwood spray mop handles all the usual tasks like pet hair and dust. We were surprised how much grime it picked up on floors that looked fairly clean to us when we started. What we liked most is that it really made your floor shine and did not leave a streak. We also found that the Bona spray mop provides a deeper level of clean than a manual mop in the same amount of time.
Design
While the Bona hardwood mop has a similar look to other spray mops, the R&D team at Bona has done a terrific job with the design of this mop. First, it is very easy to assemble and all pieces make a clear clicking sound to let you know the pieces are in place. Second, the canister holding the spray fluid is sealed tight with a rubber o-ring connection and it holds 34 ounces of cleaning solution. Finally, the rubber corners on the mop pad are a nice touch as they help prevent dings and scratches.
One minor drawback in the design is that is mop is a bit heavy at 5.8 pounds, but we did not find this to be a huge disadvantage. Another area for improvement is the spray trigger. We found it hard to pull with one hand.
Best Uses
This product is designed specifically for finished hardwood floors, but can be used on other surfaces like laminate or engineered hardwood.
Other Models
Bona does offer another hardwood spray mop called the Bona PowerPlus Premium Motion Spray Mop. it is targeted at consumers who want a deeper clean and provides a vibrating mop head. The more basic version already does an excellent job so we don't feel it's worth paying extra for the new version of the mop.
Mop Category: Steam
Cleaning Effectiveness: A-
Ease of Use: A+
Value: B+
Weight: 6.82 lbs.
Head Type: Flat
Cleaning Width: 12 inches
Handle Length: 28.6 inches
The Bissell PowerFresh Steam Mop is one of the best selling steam mops on the market today. Steam mops are getting more popular and they are beginning to replace traditional mops. We found this Bissell steam mop to be a great entry level steam cleaner.
Related: See our reviews of the best steam mops.
Pros
Great at removing tough stuck-on stains like coffee or juice.
Great ergonomics. The Bissell was very easy to use and they steam flowed by itself vs. having to pump it.
Can stand upright on its own. While this may seem minor, we found it very helpful and were surprised that other brands such as the Shark do not have this simple feature.
Cons
Unlike the Shark steam mop, the Bissell's mop is not two sided so you will you will need to clean or replace your mop head more frequently on larger jobs.
Water container requires a strong hand to remove. You need to squeeze it and pull it down.
Key Differentiating Factor vs. Competitors
Comes with a scrubbing brush called the Easy Scrubber that can be retracted to get tougher stains out in grout and crevices.
Useful Tips From Our Testing
Be sure to change your cleaning pads if you are cleaning different types of stains. For example, if you steam mop over juice stains, then change the pad before moving on to other areas or your floor will be sticky.
We recommend getting a fragrance disc that you can insert in the steam mop. We were actually able to notice the pleasant spring breeze scent.
Cleaning Effectiveness
The Bissell PowerFresh Steam Mop does a great job cleaning floors on the first pass. We tested with juice and coffee stains that came out right away. However, it is worth dry mopping large debris before steam mopping.
The PowerFresh worked just as well as much more expensive hard floor cleaning vacuums. There are three steam settings depending on the type of job and the steam starts in about 30 seconds. Surprisingly, the amount of water used on the high and low setting was almost the same.
Design
The Bissell felt very comfortable in our hand. Steam flowed automatically so there was no need to pump. Unlike other competitors, the Bissell PowerFresh has an on/off switch which is helpful. Another design feature that sets it apart from its competitors is its ability able to stand upright on its own. It comes in handy if you need to take a phone call or attend to kids or pets while steam mopping.
We do hope future models make it easier to remove the water container as it took at strong hand to remove.
Best Uses
This product can be sued a a variety of surfaces such as sealed hardwood, tile, ceramic, vinyl plank, and natural stone.
The only thing picking up water is the cleaning pad on the machine head, which means you stand the chance of wetting the wood at seams and gouges. For this reason, this product is not a good choice for you if you have old, damaged floors.
Other Models
Bissell makes many other higher-end steam mop models, but with steam mops, less features are better in our opinion. We found many higher end features like a vibrating mop head are more of a marketing gimmick.
Mop Category: Robot
Cleaning Effectiveness: A-
Ease of Use: A+
Value: A+
Weight: 4.85 lbs.
Head Type: Flat
Cleaning Width: 10.6 inches
Handle Length: NA
We feel the iRobot Baarva Jet M6 is the best robot mop for hardwood floors. If you are looking for an automated mopping experience, read our review below.
Pros
Once setup, the it provide a truly automated mopping experience. You can sit back and sip your coffee while the Braava Jet M6 mops your home. An added benefit is that it pairs with new model Roomba vacuums such as the Roomba s9+ or the j7+ so you first have floor vacuumed and then the mopping will start automatically.
Amazing app that we found to be best in class. From mapping to defining keep out zones to scheduling cleaning, the mop is very easy to use and setup. It also connects with Amazon Alexa and Google Home.
Recharge and resume feature. If the mop runs out of battery, it will go back to its base, charge, and resume right where it left off.
Cons
Not cheap. It is one of the most expensive robot mops on the market today.
If not used frequently, the spray nozzle can get clogged. We think is due to the type of cleaning solution that is provided.
Key Differentiating Factor vs. Competitors
Has the ability to define keep out zones and avoid things in its path such as pet poop! Just think about the robot mop going over pet poop and smearing it all over your floors!
Useful Tips From Our Testing
It is important to map out a lot of small areas to clean versus trying to clean your whole home in one go. The reason is because the mop pad will get dirty and eventually start to spread dirt around the home. If you plan to clean large areas, ensure you remove the mop pad and clean it in between jobs.
If you see streaks on the floor after the mopping is done you can try the following. Use very warm distilled water and turn the water spray down to the lowest setting on the app. iRobot also says you can use Bona Hardwood Floor Cleaner if needed.
Opt to buy the optional reusable pads so you don't have to keep spending money on disposable pads.
Cleaning Effectiveness
The Braava Jet M6 did a great job in our cleaning tests for both wet and dry mopping. It removed dried coffee and juice stains perfectly. For reference, the Roborock E35 mop took twice as long to clean the stains and did not remove them fully. The app allows for the mopping behavior to be set as standard, deep (for tough messes), and extended coverage (for light messes). The settings tell the mop how fast to clean the floors. Just note if you choose the deep clean mode, it can take over an hour to clean one room.
Design
We found the design to be very functional. The square shape vs. more typical round shapes was better for getting into corners. The top mounted camera allowed for the Baarva Jet M6 to map the room perfectly. We did not see any instances of the mop getting stuck under furniture.
We would like to see an automated mop pad cleaning feature in future models.
Best Uses
This product is designed for all types of hard flooring surfaces.
Other Models
iRobot Roomba has two other, lower-end robot mops, the Braava Jet 240 and the Braava 380t. We feel it is worth spending more to buy the Braava Jet M6 for the following reasons:
You are able to create clean zones and keep out zones. We feel this is the single must have feature as you can easily select areas you want the robot to avoid such as where you have pet food or where you have lots of cables.
Get personalized cleaning recommendations. The robot will suggest ideal cleaning times such as when you leave for work. It is able to learn your cleaning habits and helps you automate your cleaning needs.
If you choose to also buy a Roomba vacuum such as the Roomba s9+, the Braava M6 can sync with the vacuum and start right after the vacuum has completed its job. Talk about advanced automation!
Mop Category: Manual
Cleaning Effectiveness: A-
Ease of Use: B+
Value: B+
Weight: 5.3 lbs.
Head Type: Spin
Cleaning Width: 11.5 inches
Handle Length: 24-48 inches
If a simple bucket and mop will do for your hardwood floor cleaning needs, this affordable system made by O-Cedar is worth a try.
Pros
Picks up pet hair, dust, and pebbles with ease and does not leave the floor slippery.
Spin feature. You are able to select the level of dampness based on how much you step on the foot pedal. We suggest pumping the pedal about 10 times before using on hardwood floors to ensure the mop is not too wet.
Sturdy construction.
Cons
The mop head is made of plastic and makes a light sound. We did not notice any damage to the floors, it was just more annoying.
We felt the price was a little high for the basic mop that you get. The spinner must be where more of the manufacturing cost comes from.
Key Differentiating Factor vs. Competitors
The pedal system to wring the mop is why you would want to buy this mop over other spin mops. We do not suggest getting a spin mop with older hand press technology.
Useful Tips From Our Testing
Do not fill the water above the suggested water line. Doing so can cause the bucket to feel off balance and cause a spill.
Lightly shake the mop after spinning it so the mop is not bunched up. This helps prevent the top of the mop head from scraping the floor.
Cleaning Effectiveness
This mop was able to clean faster than the spray mops we tested as we did not have to keep spraying solution onto the floor. It picked up liquid messes such as juice and did not spread the mess around to other areas.
We did have issues getting rid of tougher stuck-on stains. It was hard to apply enough force to remove the stains and we had to end of up using a separate scrubber to loosen the stain.
Design
The O-Cedar EasyWring is made with quality components. The pedal is very sturdy and does not splash, the bucket is durable, and the mop is lightweight. We found the triangle mop head design to be useful as it allows for the mop to get into corners. The mop head is machine washable and can be easily be removed from the base by stepping on it.
The handle was not as comfortable as we expected. Having a rubber grip handle would have been better. In addition, having more microfiber near the mop head could help prevent floor scratches.
Best Uses
This product is designed to be used on all hard surfaces. Keep in mind that for hardwoods, the floor should be sealed before using any wet mopping system. Make sure you dry the surface afterwards to avoid film and damage.
Other Models
O-Cedar makes one other spin mop called the EasyWring RinseClean Spin Mop System. It is different than the the model above as it has a two tank bucket system to separate clean and dirty water. The extra cost for this could be justified if your cleaning needs involve large rooms or large messes where you need to clean your mop head often.
Mop Category: Manual
Cleaning Effectiveness: B+
Ease of Use: A
Value: B
Weight: 2.11 lbs.
Head Type: Sponge
Cleaning Width: 10 inches
Handle Length: 52.5 inches
Sponge mops are typically used on tile floors, however, they can be used on sealed hardwood floors as long as the sponge is properly wrung out. Our pick for the best sponge mop for hardwood floors is the Casabella Original Sponge Mop.
Pros
Cellulose sponge head has good texture to get effectively get dirt and grime off floors.
Gets most of the water out of the mop. A common complaint with other sponge mops is that they leave too much water on the mop and floor drying therefore takes a long time.
Great company! Customer service at Casabella responded to our query within 15 minutes. Furthermore, the mop coms with a lifetime warranty!
Cons
After a half day of use, we noticed the sponge starting to separate in the middle. We think this may be from using the wringing function frequently.
You need to properly maintain and clean a sponge mop to avoid the spread of bacteria.
Key Differentiating Factor vs. Competitors
The craftsmanship of the mop handle and base paired with the amazing customer support.
Useful Tips From Our Testing
If you are having issues with the sponge, you can try the O-Cedar Power Scrub as a replacement.
Cleaning Effectiveness
The Casabella sponge mop does a good job getting dust and hair off the floor, but you must sweep your floors first to get larger pieces of grit cleared. Compared to the Swiffer, we liked that the Casabella sponge mop picks up the dirt versus just pushing it around.
Design
The mop feels very sturdy and comfortable in your hand. It is made in Italy and constructed with a steel handle. The major complaint we have is the quality of the sponge used. We expected it to last longer.
Best Uses
Most common use case is for hard floors such as tile. Sponge mops can be used on hardwood floors as long as the mop head is wrung out.
Other Models
Casabella only makes this one sponge mop. From what we can tell, prior version made before 2019 had a 12 inch cleaning width vs. the current 10 inch width. So if you are using an older model, ask about the size of the replacement sponge head before ordering. They do also make spray mops, rollers mops, and spin mops.
Mop Category: Manual
Cleaning Effectiveness: A
Ease of Use: A+
Value: A+
Weight: 1.2 lbs.
Head Type: Flat
Cleaning Width: 18 inches
Handle Length: 35 to 60 inches
The Turbo Microfiber Dust Mop is one of the best selling dust mops. It's an easy to use mop that is built to last. It is our top pick for best dust mop for hardwood floors.
Pros
Mops pads are compatible with competitors such as Swiffer, Bissell, Bona, and O-Cedar. It comes with 2 microfiber pads and 2 scrubbing pads.
Super lightweight and comes with a handle that can reach 60 inches.
Cons
The large 18 inch cleaning head makes it tough to clean smaller nooks and crannies.
Microfiber pad does not pick up sand well so you will need to sweep or vacuum prior.
Key Differentiating Factor vs. Competitors
Weighs only 1.2 pounds so you can move it through the house easily.
Useful Tips From Our Testing
Ensure you position the mop pad properly over the head else it will expose the aluminum which could scratch your floor.
If you plan to wet clean, you will need to find a bucket that can fit an 18 inch mop or will need to flip the mop vertically.
Cleaning Effectiveness
The reusable scrubbing pads set this dust mop apart from other dust mops. While most dust mops can tackle light job, we were impressed by this mop's ability to remove stuck-on food spills from hardwood floors. It is worth noting that the scrubbing pad is not meant to absorb liquid spills.
Design
This ultra lightweight mop can be used by almost anyone, from kids to the elderly. We did find it difficult to extend and shorten the mop handle as the twisting function seemed to get stuck.
Best Uses
Best for hardwood, laminate, tile, bamboo, and vinyl.
Other Models
This is only mop made by Turbo Mops.
Mop Category: Manual
Cleaning Effectiveness: B+
Ease of Use: A+
Value: A+
Weight: 1.1 lbs.
Head Type: Microfiber Stripes
Cleaning Width: 10 inches
Handle Length: 55.2 inches
Our top pick for the best budget mop for hardwood floors is the Libman Wonder Mop. Don't let the small price tag fool you, it packs a lot of features which we describe below. .
Pros
It's very affordable and is a great option for quick cleaning jobs like picking up pet hair or cleaning pet urine off the floor.
Weights just over a pound. Provides great portability around the house.
Simple, easy to use wringing mechanism.
Cons
Not meant to be used for tough jobs that require a lot of force and scrubbing.
Key Differentiating Factor vs. Competitors
Budget friendly. This mop is typically found for under $10.
Useful Tips From Our Testing
Consider buying this mop if you mainly have small, lightly soiled areas to clean. You cannot expect it to be best mop you have every used.
Cleaning Effectiveness
This mop works as expected. It's perfect for quick, light jobs. We found it did a decent job picking up pet hair, liquid, and dust off the floor.
It's difficult to apply pressure to the mop when cleaning so therefore we do not recommend you use it for tough stuck-on stains.
Design
You no longer have to touch dirty water with this mop. Simply wet the mop, twist the wringing sleeve to let the excess water out, and start cleaning. You can easily remove the head when done and throw it into the washer. At this price point, there is not much we don't like about this mop.
Best Uses
Great for laminate, stone, marble, vinyl. Can be used on sealed hardwood, but ensure not too much water remains on the mop.
Other Models
Libman makes one other model of the Wonder Mop called the Heavy-Duty Wonder Mop. It's mop head is 45% larger and it has a thicker steel handle when compared to the original Wonder Mop. It costs a few dollars.
Side by Side Comparison
Product
Our Rating
Mop
Category
Weight
Head
Type
Cleaning
Width
Max Handle
Length

Microfiber Professional Mop
View on Amazon –>
View on Walmart –>
Best Overall

Overall: 4.9
Cleaning: A
Ease of Use: A+
Value: A+
Manual
4.65 lbs.
Flat
18 inches
70 inches

Spot Less Flat Mop
View on Amazon –>
Only sold on Amazon
Best Flat Mop

Overall: 4.7
Cleaning: A
Ease of Use: B
Value: A
Manual
4.27 lbs.
Flat
12 inches
45 inches

Swiffer WetJet
View on Amazon –>
View on Walmart –>
Best Mop with Deposable Pads

Overall: 4.8
Cleaning: A-
Ease of Use: A+
Value: A+
Spray
3.84 lbs.
Flat
10 inches
46 inches

Bona Spray Mop
View on Amazon –>
View on Walmart –>
Best Spray Mop

Overall: 4.8
Cleaning: A-
Ease of Use: A-
Value: A+
Spray
5.8 lbs.
Flat
16.5 inches
51.5 inches

Bissell PowerFresh Steam Mop
View on Bissell –>
View on Amazon –>
Best Steam Mop

Overall: 4.7
Cleaning: A-
Ease of Use: A+
Value: B+
Steam
6.82 lbs.
Flat
12 inches
28.6 inches

iRobot Baarva Jet M6
View on Amazon –>
View on iRobot –>
Best Robot Mop

Overall: 4.6
Cleaning: A-
Ease of Use: A+
Value: A+
Robot
4.85 lbs.
Flat
10.6 inches
NA

O-Cedar EasyWring Spin Mop
View on Amazon –>
View on Walmart –>
Best Spin Mop

Overall: 4.7
Cleaning: A-
Ease of Use: B+
Value: B+
Manual
5.3 lbs.
Spin
11.5 inches
48 inches

Casabella Sponge Mop
View on Amazon –>
View on Walmart –>

Best Sponge Mop

Overall: 4.5
Cleaning: B+
Ease of Use: A
Value: B
Manual
2.11 lbs.
Sponge
10 inches
52.5 inches

Turbo Microfiber Dust Mop
View on Amazon –>
View on Walmart –>
Best Dust Mop

Overall: 4.9
Cleaning: A
Ease of Use: A+
Value: A+
Manual
1.2 lbs.
Flat
18 inches
60 inches

Libman Wonder Mop
View on Walmart –>
View on Home Depot –>
Best Budget Mop

Overall: 4.8
Cleaning: B+
Ease of Use: A+
Value: A+
Manual
1.1 lbs.
Stripes
10 inches
55.2 inches
Types of Mops
Flat Mops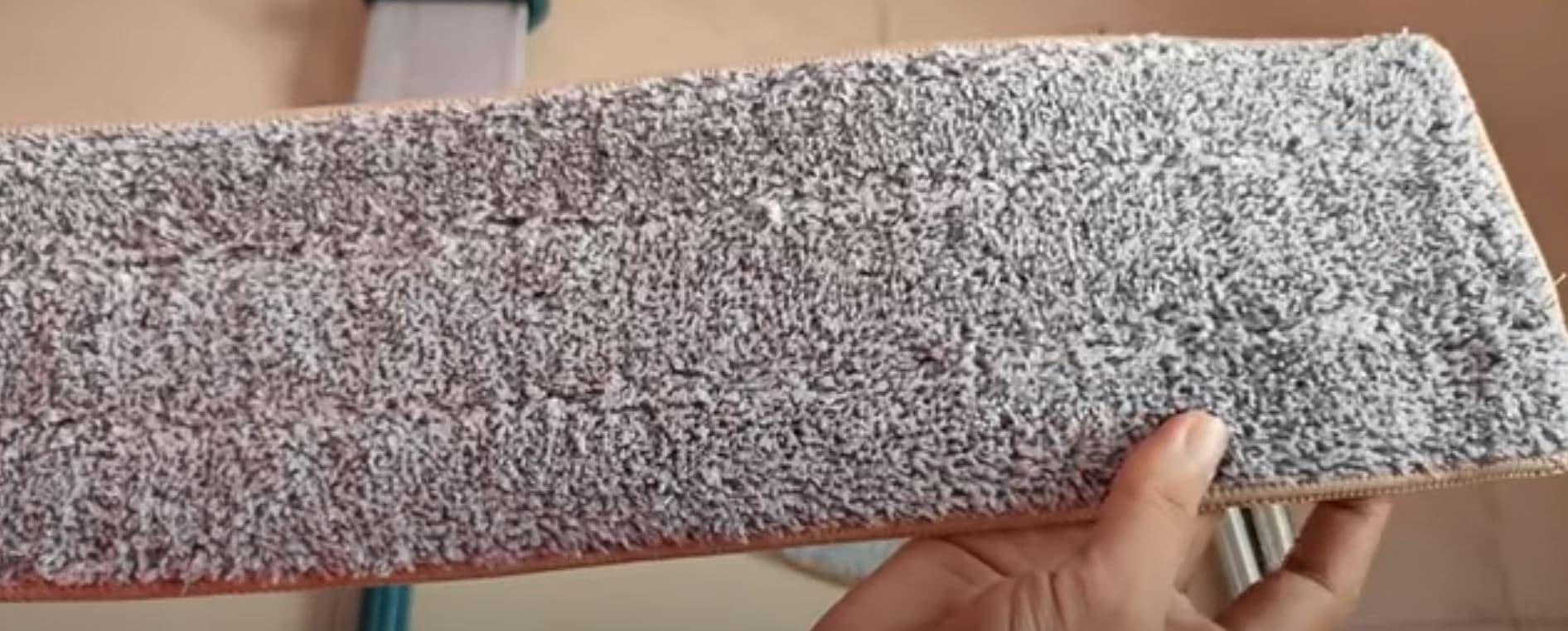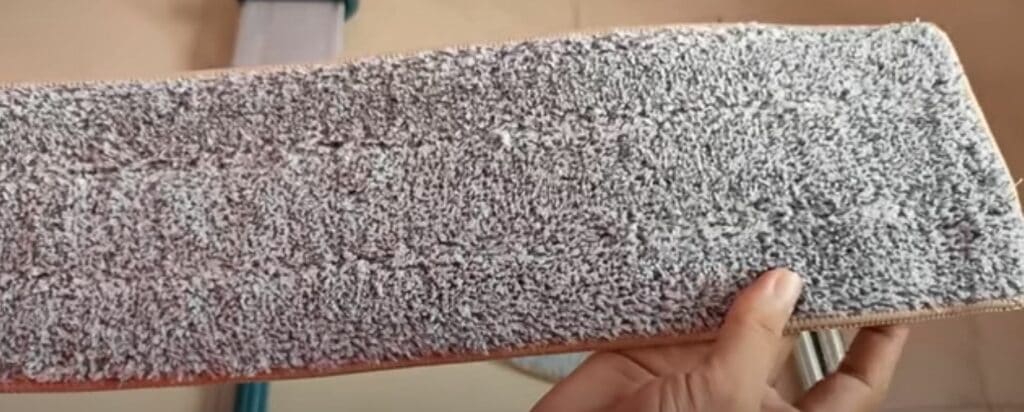 A flat mop is a flat, rectangular piece of cloth that can be used to absorb water or liquids. It is often made from cotton or synthetic fibers and has a basic hem around the edges with an attached loop for easy hanging.
Flat mops can be used in most areas of a home. Their flat shape allows for excellent contact with flat surfaces like floors, counters, tables, and tabletops. They are often used to wipe up spills or to damp-mop hard surfaces.
Disposable Mops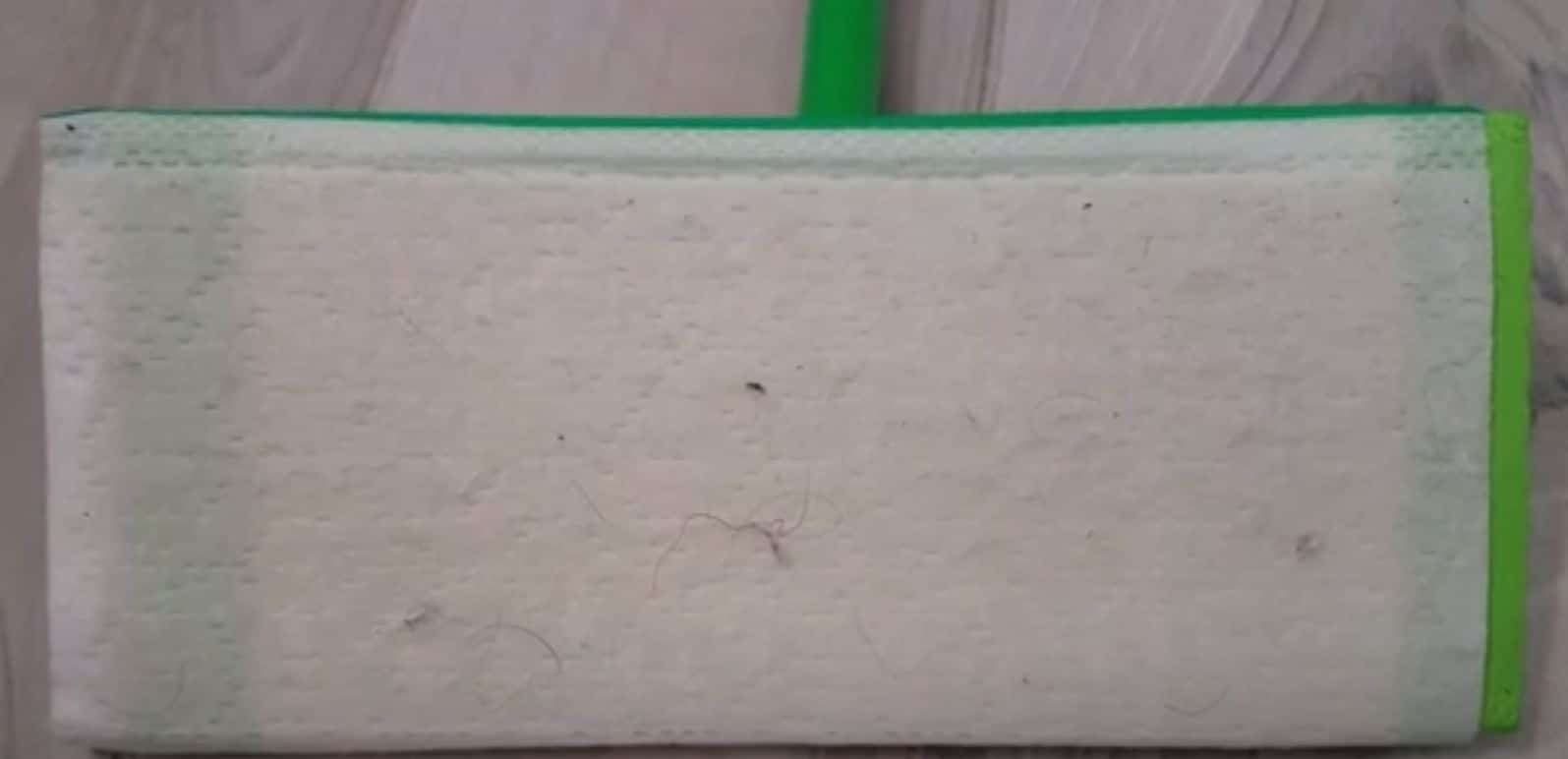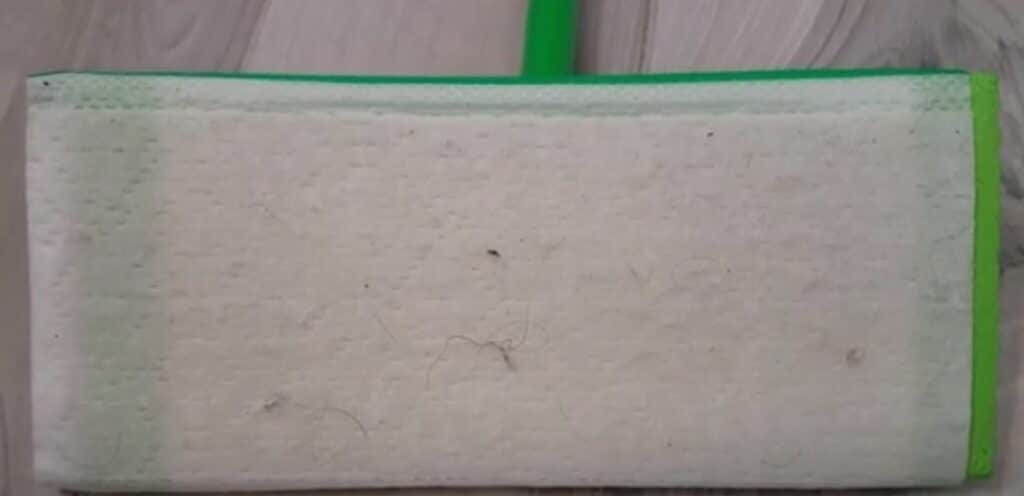 Disposable mops are disposable replacements for normal mops that you would use to clean your floors. These products are cheap and designed to be used once before being thrown away.
They're ideal if you're just looking for a quick way to clean up spills or dry-mop your floor with minimal effort.
Spin Mops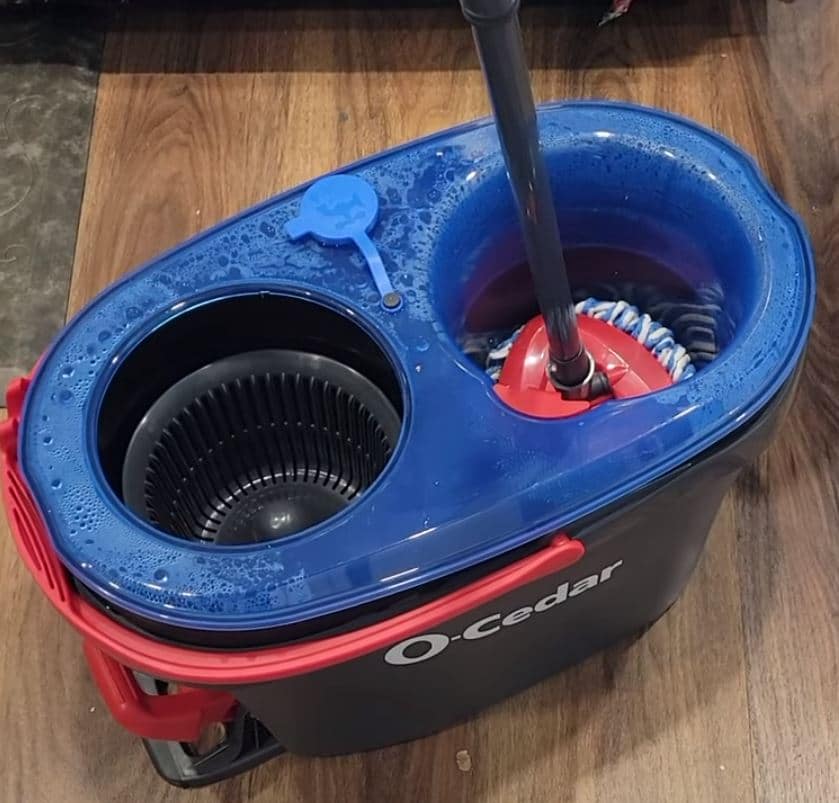 Spin mops are a type of mop that can be used to clean hardwood floors. Spin mops have been popularized in households because people do not have to constantly wring the mop head to remove excess water from hardwood floors.
The design of spin mops allows them to get rid of excess water by having a centrifugal force that the user can either manually spin or in some cases use a foot pedal. This type of design results in hardwood floors not being exposed to excess water.
Spray Mops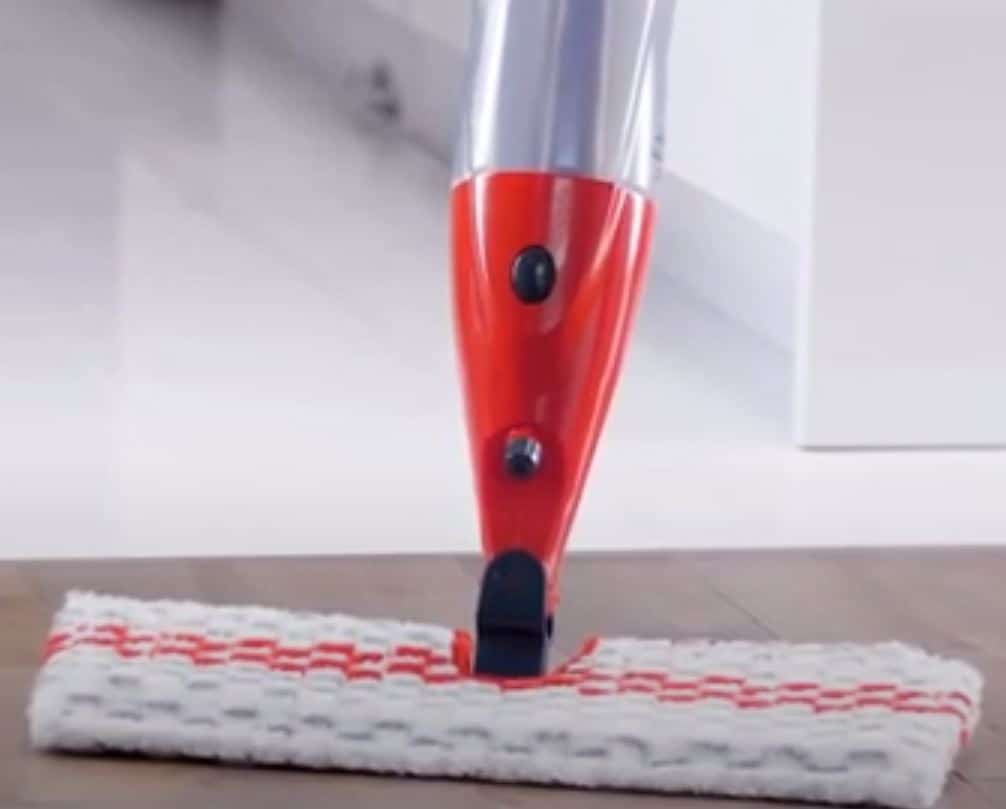 A spray mop has the same structure as a traditional mop but also has a device on it that sprays liquid onto your floors. With a spray mop you don't have to dip the cleaning tool into a bucket of water to clean your floors; simply use the spray trigger to disperse a fine mist of water or cleaning solution on your floor and then use the mop to remove dirt.
The benefit of a spray mop is that it allows you to put any cleaning solution inside the container.
One of the benefits of spray mops is that they're ideal for sensitive floors such as vinyl or laminate. You can also use them to clean hardwood floors. Saturating vinyl or laminate with water can cause the floors to warp or buckle, and applying too much water on hardwood floors can cause them to swell. Since you can control the amount of water you use with a spray mop, it's the ideal cleaning tool for hardwood, laminate, and vinyl flooring.
Pros
Doesn't scratch floors
You can use any cleaning solution with the spray mop
Ideal for sensitive floors such as vinyl or laminate
Easy to use
No reusing dirty water
Cons
Can be expensive
Some models can be heavy
String Mops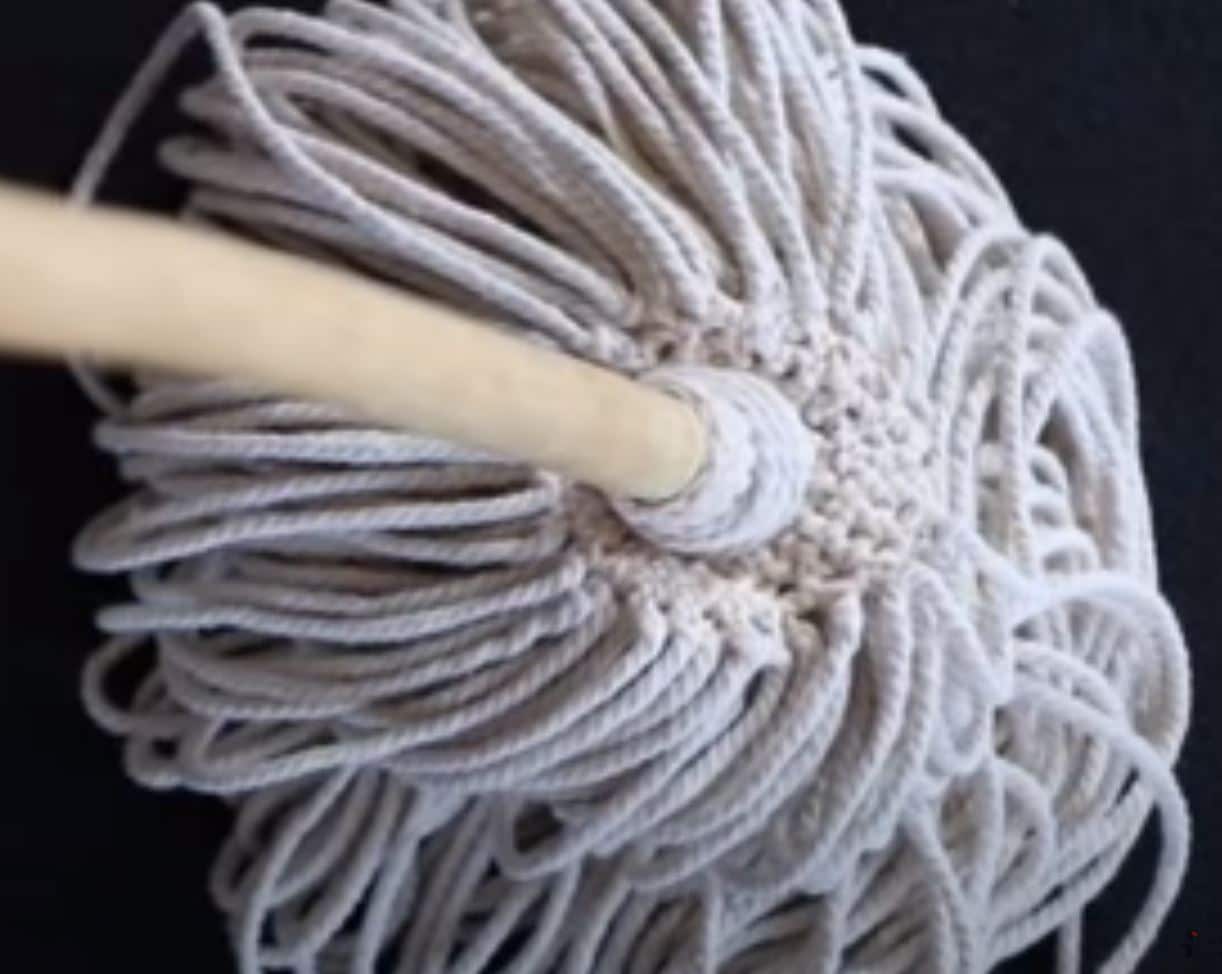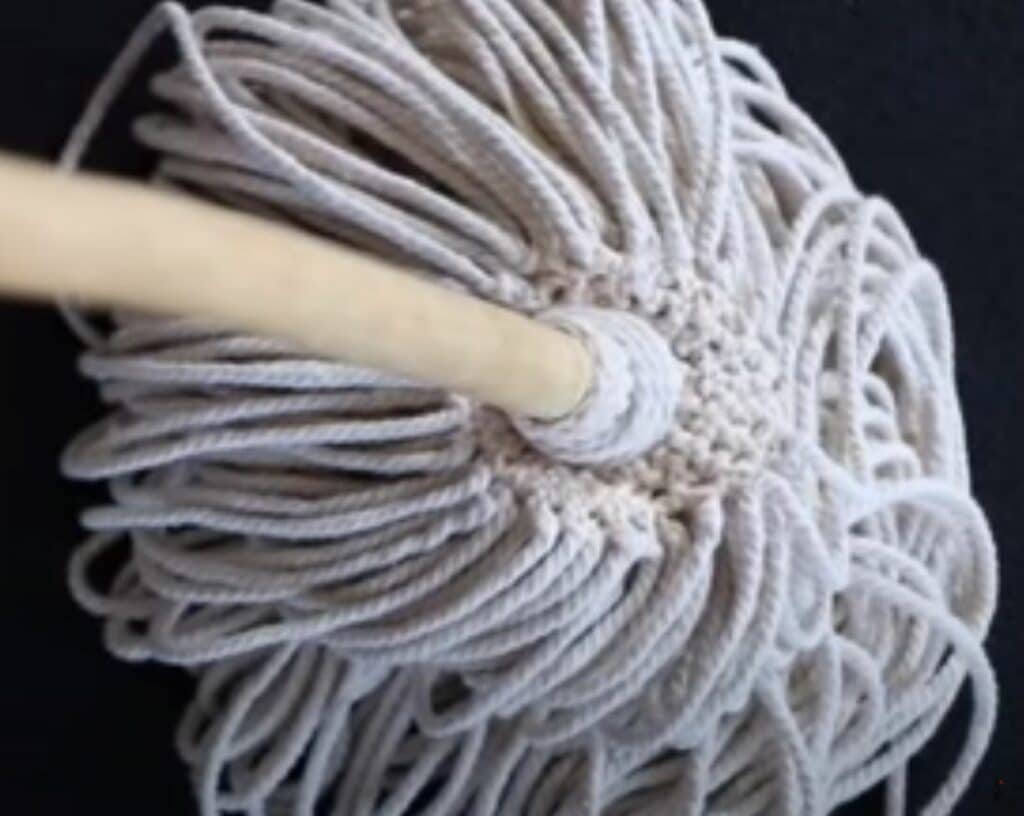 String mops work well with hardwood floors because they lightly brush across surfaces and do not scratch them. This makes them ideal to use on hardwood floors.
String mops clean by trapping dirt in special fibers and can be soaked in water or chemical solutions. To use, wet the string mop thoroughly and wring it out so that it is not dripping. Then apply hardwood floor cleaner to the hardwood floors with the string mop by wiping back-and-forth in one direction which will get rid of dirt, grime, hair, dust, food particles, pet dander, allergens, etc.
Sponge Mops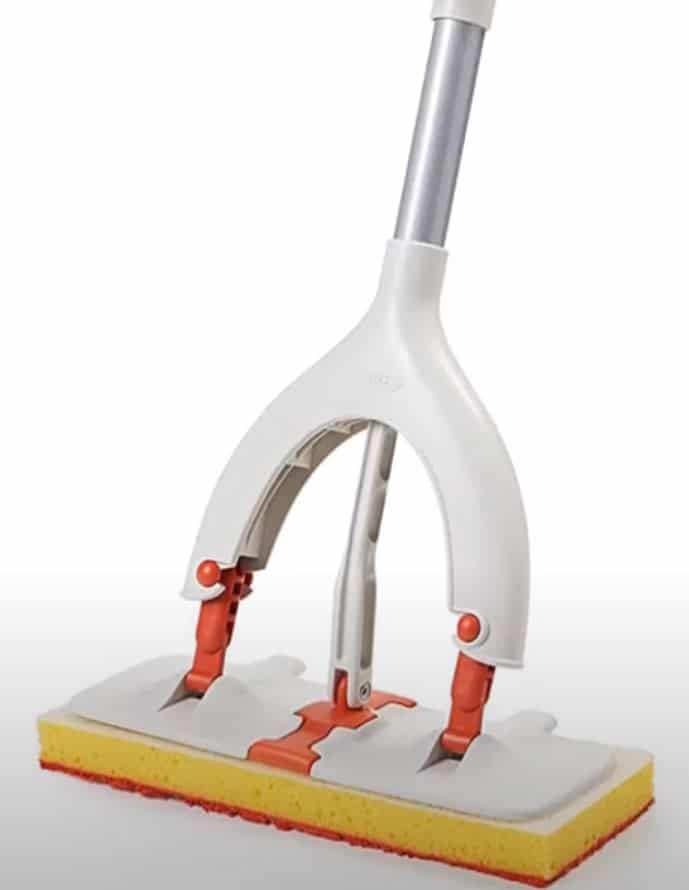 Sponge mops are synthetic, handheld mop heads with an absorbent sponge attached to the top of them. They work by trapping dirt and dust inside the sponge until the sponge itself is washed or replaced.
Sponge mops can be used on hardwood floors. One of the main advantages of using sponge mops on hardwood floors is that they can be used with just water, which allows hardwood floors to be cleaned without the use of chemicals.
Sponge mops are also easy to clean because not only can they be thrown into a washing machine for cleaning.
Strip Mops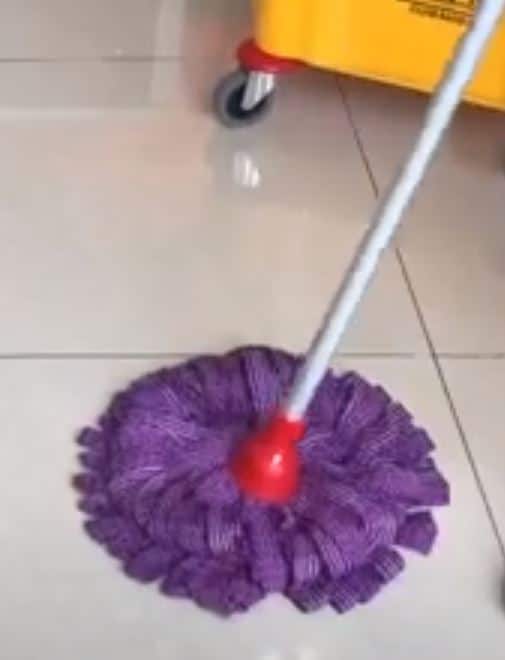 Strip mops are made of strands or loops of tightly bound fibers rather than tufts. They are more absorbent than string mops and more durable than sponge mops. Although some hardwood floors can be mopped with strip mops, they should not be used on any floor that has been waxed because the strip will "strip" the wax from the hardwood floor. Additionally, strip mops are not the best choice for hardwood floors because they tend to leave streaks.
Steam Mops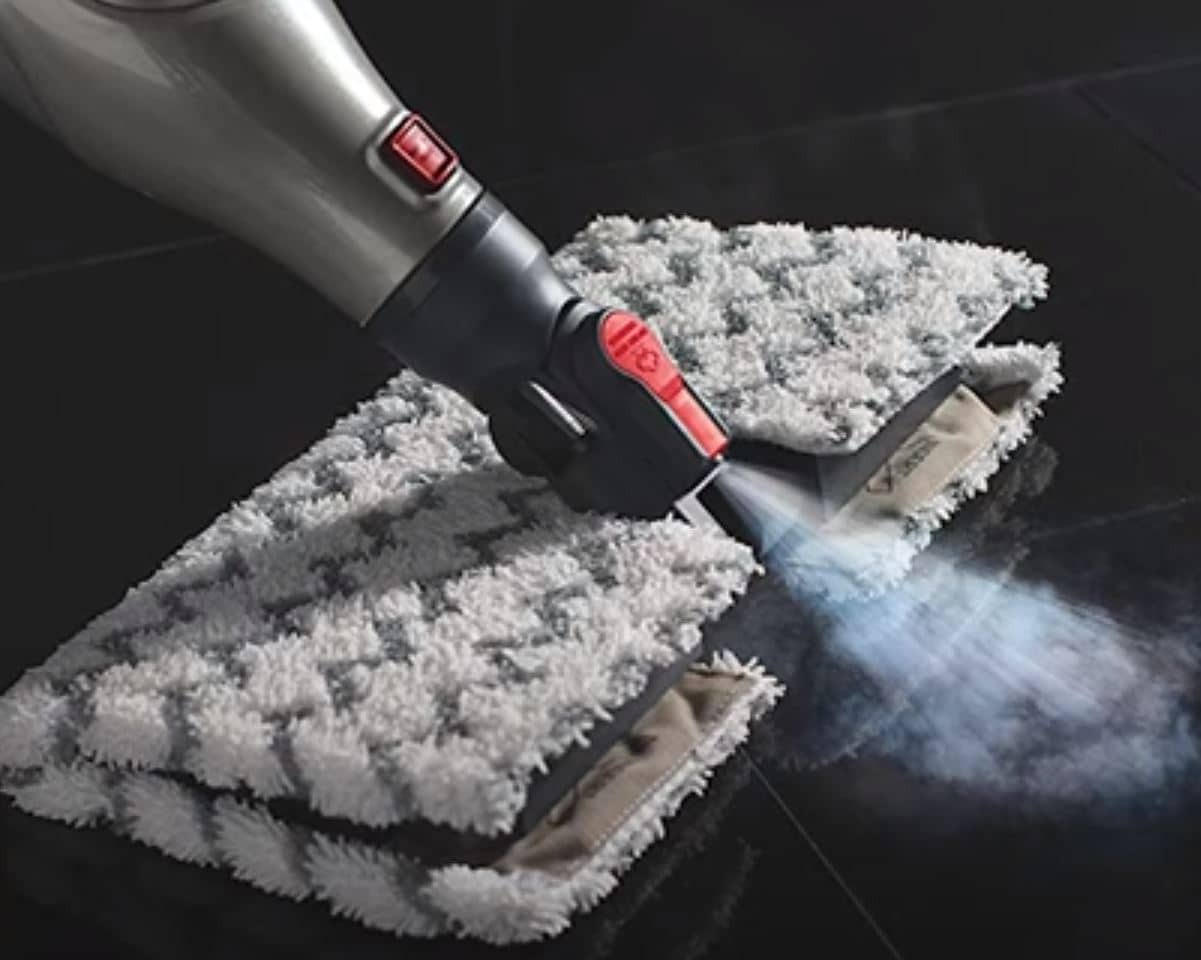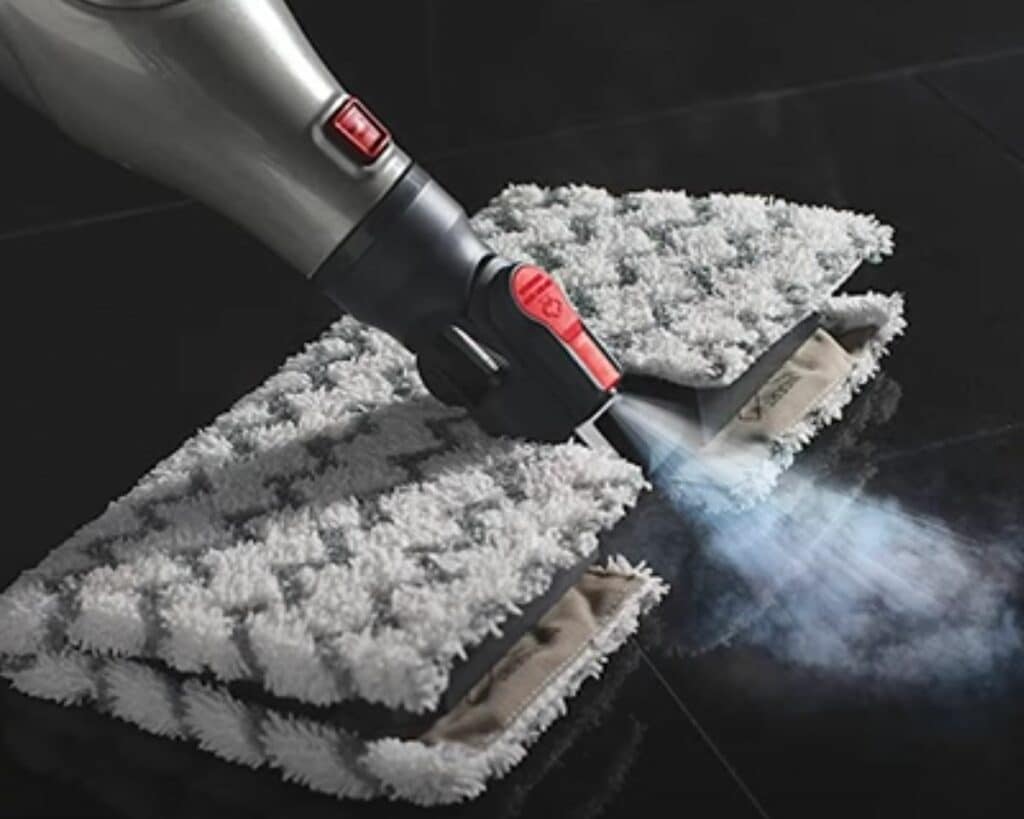 A hardwood steam mop creates hot steam that's used to remove thick and stubborn dirt off of hard floors. Unlike spray mops or traditional mops, this cleaning tool can also be used to sanitize carpets by killing dust mites. With a steam mop you don't have to use bleach or other cleaning aids because the hot steam removes dirt easily and disinfects your floors.
The steam that comes out of a steam mop is hot enough to kill harmful germs and bacteria such as E. Coli, salmonella, and Staphylococcus. It's also the ideal cleaning tool to remove mold growth on floors and in corners.
One downside to steam mops is that you can't use them on laminate or vinyl flooring, especially on glue down installations. The hot steam will cause the vinyl or plank flooring to peel or bubble.
Steam mops are ideal for carpets (high or low piles), natural stone flooring such as marble, slate or granite, and tiles such as ceramic or porcelain. You can also use steam mops on hardwood floors but they must be sealed hardwood. If you use steam mops on unsealed hardwood it can cause the floors to swell or develop wood rot because of excessive moisture.
Read your manufacturer's manual before using steam on hardwood floors!
Pros
Santizes floors
Removes mold growth
Can be used on patio floors
Kills dust mites in carpets
Deep cleans to remove stubborn stains
Cons
Not suitable for laminate or vinyl floors, and some hardwoods
Can be expensive
Robot Mops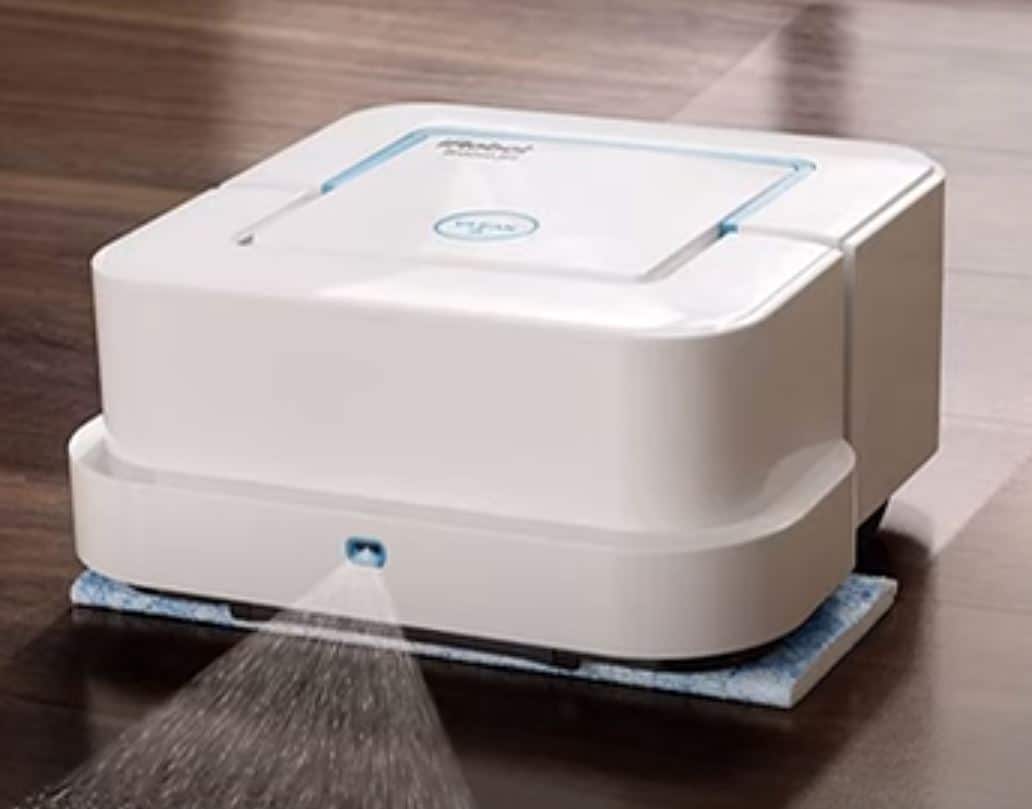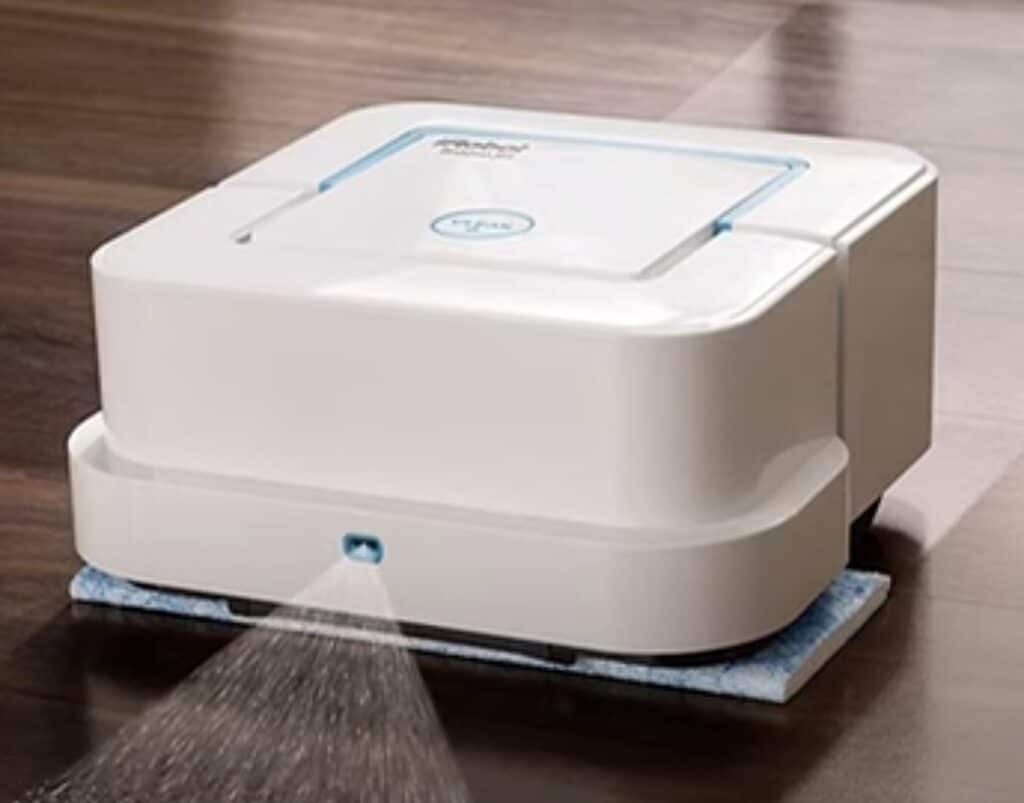 A robot mop is a robot that can be programmed to automatically sweep and mop hardwood floors. Typically, robotic vacuum cleaners are designed with hardwood floors in mind as they offer an affordable way to keep hardwood floors looking clean without the labor-intensive process of daily mopping.
Robot mops are typically small and lightweight enough to fit in hard-to-reach spaces around a home. With advances in technology, robot mops are getting better and better each year.
Wet vs. Dry Mop
A dry mop gathers up dirt, debris, and other hardwood floor particles without water or unnecessary liquids. Dry mopping is better for light jobs and everyday cleaning.
Wet mopping hardwood floors is a great alternative to dry mopping. When wet mopping hardwood floors, ensure the wood is sealed before beginning. Water can damage hardwood floors due to its high moisture content. Wet mopping is typically done by using water and a hardwood floor cleaner and then wiping or buffing dry with a cloth.
Corded vs. Cordless Mop
A corded mop is attached to a power outlet. One can move the cord around while mopping to have more freedom, but must remain within range of the cord's length. The cord can be an obstruction if it isn't long enough or doesn't have room to work. This type of mop does not need batteries, which is a plus. Steam mops are corded as they need to heat the water.
Cordless mops, like robot mops, use batteries and do not need to be plugged into an outlet to work. However, battery life and charge time may cause problems for some people. A cordless mop can run out of power in the middle of mopping and must be charged before using again.
Wringing Mechanism
A wringing mechanism helps to remove extra water from the mop head. The type of wringer is an important consideration when looking for a mop to buy. Pedal assisted wringers like the O-Cedar mop we reviewed above will take care of the heavy lifting, while mops with a hand wringer must be twisted or pulled to squeeze out excess moisture.
Floor Cleaning Solutions
Not all cleaning solutions are good for hardwood surfaces so always spot test in a small area to ensure you won't damage the finish or leave behind a film that hides the floor's luster. See our in-depth guide on how to clean hardwood flooring.
Commercial cleaning solutions specifically designed for hardwoods are multipurpose. They clean the debris clinging to the surface through chemical reactions breaking the bonds that bind it to the finish. If allergies to chemicals or sensitivities to scents are issues in your household, look for naturally-derived nontoxic products easily accessible on store shelves and online.
Some mop manufacturers have proprietary cleaning solutions in disposable bottles that fit into their stick or automated systems. If that stuff smells in a way that's disagreeable to you, that mop system isn't for you. Test how strong the scent is to your nose before investing in a limited product system.
If your household includes babies or floor-bound pets, make sure that the chemicals you pick are baby or pet-safe in terms of residue left behind. Babies stick hands in their mouths while crawling. Pets lick, well, everything. You get the picture.
There are also some simple homemade cleaning solutions that can be used. A common favorite if mixing a few drops on dish soap with water.
Maneuverability
The maneuverability of a mop is an important buying consideration. Some key consideration are:
360 degree swivel head to be able to twist around furniture and other obstacles
Adjustable handle length so you are able to get to hard to reach places
Ensure the mop itself is not too heavy
Corded vs. cordless mop as discussed above
Ask yourself if you plan to do wet mopping where you will need a bucket
Other Considerations for Selecting a Hardwood Mop
It's also important to consider your existing flooring and your lifestyle needs.
Manufacturer Recommendations
If your hardwood flooring is new, your brand manufacturer will have an opinion about what works best. Often this is a proprietary spray or mop application product. Don't shy away from using those, and make sure you're using them correctly.
Sometimes, though, we don't like the product, chemicals, or results these cleaners bring into our homes. Likewise, a specialized mop that ends up being a costly investment might not be practical for day-to-day cleaning. If you can find a mop with the same features, you can avoid the pricey option altogether.
Warranty of Your Floor
This gets tedious because it involves reading the fine print of your warranty to learn if you are only supposed to use XXX but not expose the surface to YYY.
Ask a product rep or salesperson what the manufacturer requires. You might end up hearing a recommendation that pleases you but check the fine print anyway.
Mopping Frequency
While all of us would like to believe we'll keep our hardwoods clean, life intervenes and moves the cleaning task down the priority list. Before buying the most expensive mop on the market, understand how often you will truly need to use it. A mop system that's easy to use will make meeting those special needs a breeze rather than a dreaded chore.
Finish of Your Hardwood Flooring
Durability and density vary in hardwood finishes. Some are thick sealed layers impermeable to any liquid, while others are a light shellac designed to provide shine and luster but little protection. If you've had your floors refinished, you want to consider the product that's been used in your mop decision.
We'll note this frequently. Use what the manufacturer recommends if you have new or refinished hardwood. If you don't know what's on the wood, use a process (mop and cleaning solution taken together) that leaves it with no evident residue but a shine behind.
Age of Your Wood Floors
I have both old hardwood (circa 1960) and new hardwood (circa last year) in my home. The old is worn and discolored in some places, and deeply gouged in others. The new is still pristine (crossed fingers).
I can use the same mop and cleaning combo in both areas, but with vastly different results. On the new hardwood, it polishes nicely on a single pass. In the old section, though, it can take multiple passes to achieve the same effect.
Even when older wood is refinished, it won't be as sturdy or durable when it comes to cleaning. You might need to take more time and effort with it, so plan for an easier cleaning mop too. In all cases, use the cleaning that matches the hardwood's needs.
FAQs

Is it bad to mop hardwood floors?
Dry mopping with a dust or microfiber mop is perfectly fine for hardwood floors. However, you need to read your manufacturer's recommendation if you plan to use a wet mop or steam cleaner.
Is it OK to use vinegar on wood floors?
No, vinegar is an acid that can ruin the top layer of hardwood floors and reduce the shine.
Back to Top