Put an end to the back-breaking bends! We have a review guide for the six best mops for hardwood floors. This will satisfy the full spectrum of clean floor connoisseurs.
There's nothing as basic as a mop and bucket when it comes to the (endless) pursuit of spotless floors. It can do the trick. By trick, we mean hold water and soap in a large container. Add a stick with cloth on it to assist in the formerly labor intensive process of traditional & engineered hardwood floor cleaning.
Innovation and technology has led us down a path of ever-improving designs and concepts, one where we can choose to wring our mop heads dry without having to touch them. We can harness the power of boiling water with our light and misty steam spray that kills all of the germs, well, 99.9% of them, on contact.
From electrically-powered steamers, power scrubbers and some with on-board cleaning solution sprayers to the more familiar mops with their fancy water-wringing buckets, the realm of mopping equipment has never been so exciting.
Rankings
How We Ranked the Best Mops for Hardwood Floors
We dove into rigorous research into the massive market of mops for hardwood floors. We have narrowed it down to six mops that seem to know what's up when it comes to whisking away smudges and smears of dirt and grime that seem to so aggressively adhere to our floors.
Within the expansive market of mops for hardwood floors, three main cleaning methods rise to the top. Moisture is certainly an enemy of a wood floor. So when providing some much needed maintenance to the floor, keeping it dry in the process is of top concern.
Pad and mop head materials made of microfiber seem to help with moisture control. Steam-powered hardwood mop systems are ideal for minimal water-to-wood contact.
Steamers, powered scrubbers and manual mops are the most common and, seemingly, most effective ways to eradicate gross grime and floor dirt in the most efficient and easy-to-use manners.
Our world leans more and more each day towards balancing price and quality with re-usability and efficiency. We've considered these factors to help zone in on products that align with what most floor-scrubbing stewards need out of a floor cleaning device.
Ease Of Use

Weight and Maneuverability
Moisture Management

Value

Features and benefits

Reusable, washable mop heads vs. disposable
Mop head material
Noise levels
Cleaning path coverage

Price
Quality of construction and materials

Cleaning Method

Steam vs. traditional cleaner and water
What to Expect When Spending More
The range of prices and products in the mop market is vast. In addition, with a higher price tag comes technology and automation.
Steam mops, in addition to regular hardwood vacuuming, allow for easy and sanitary floor cleaning. They eliminate the need to use any added soap or cleaners. With this simple, cost-effective function comes a higher price tag.
Most mops and steamers now come with washable, reusable mop heads or pads. This tends to be a marker of a higher quality product. Some users prefer the disposable pad option, so some manufacturers offer both reusable and disposable replacement pads or mop heads to satisfy the full scope of consumer demand.
As always, durability and quality of materials come into play when exploring the pricing spectrum of mops for hardwood floors. There are plenty of "throwaway" mops on the market, made of inexpensive plastics and screws and priced dramatically lower than other more well-built products on the market. In the mop market, a rise in the price tag usually indicates a rise in quality, too.
Rankings & Reviews
Most mop movers are looking for lightweight, easy-to-maneuver floor swishers, so we've zoned in on mobility as a primary determining factor for our rankings. Price points are also heavily factored into the way the rankings shake down, as are consumer reviews from various marketplaces.
Things got a little sudsy before they got shiny while mulling through the options, but alas, we've arrived at our list of the six best mops for hardwood floors.

Weight: 11 lbs
Power Source: Electricity, plug in
The high points: Use with any cleaning solution, Washable mop pads
The not-so: High price tag, Heavy when not in use
The Bissell SpinWave Powered Hardwood Floor Mop quickly rises to the top of the list. This sleek, slim scrubbing machine
eliminates the need to provide much, if any, muscle
when striving to eliminate sticky residues and dirt from a wood floor.
Powered scrubbing heads help eliminate up close and personal encounters with mud and mashed potatoes that have found their ways to the surface of once polished and pretty hardwood floors. Scrub operators can stand aside-well not too far to the side, someone still has to hold the handle-and watch as the dirt disappears in a swirling, sudsy cyclone of clean.
The relatively large 14" cleaning path that the triangular shaped scrub heads cover allows mop operators to efficiently move through a floor maintenance session quickly.
You can use any type of floor cleaner in the large 28 oz. on-board tank that holds the water-cleaner mixture. A spray trigger is located conveniently on the handle of the mop, The spray trigger expels cleaner in front of the path of the power scrubbers.
The Bissell SpinWave Powered Hardwood Floor Mop is a bit on the heavy side, weighing in at around 11 lbs. Because it's a powered machine, though, during operation, the mop does the work while the user merely provides direction.
A versatile little floor scrubber, the Bissell SpinWave mop comes with soft microfiber pads, best for delicate hard surfaces like sealed wood and tiles. It also has coarse scrubby pads designed for heavier-duty cleaning applications.
What Reviewers Say About It
Consumers seem to generally love the Bissell SpinWave mop. Many reviewers laud the machine's ability to blaze through floor dirt and grime. It leaves floors looking spotless, sometimes even polished.
Reviewers mention the storage tray that comes with the mop. It is a favorite accessory among the SpinWave owner community.
The sleek design of the mop helps it to stow away easily. In addition, the included storage tray keeps it upright and ready for action.
Some users report having issues with circular streak marks left behind by the pads. It's difficult to isolate why some have this occurrence when most do not, but it could be related to the cleaning solutions being used.
What's Good?
This floor-scrubbing backsaver of a machine, though motored, is extremely quiet and flows flawlessly acoss dirty surfaces, leaving a path of squeaky clean floors in its wake.
The microfiber and scrubbing pads that come with the mop are washable. They can be reused for many cleaning sessions to come before needing to be replaced. Replacement pads are readily available from multiple resellers. Owners recommend buying a couple extra pads right off the bat.
The swivel handle allows this mechanical mop easy access to under low-lying furniture. It aids in added mobility when perusing around the room for hidden grime havens.
What Could Be Better?
The scrub heads are a bit bulky compared to a tradition mop head. It can create some issues with negotiating tight corners. While there are many benefits to this sizeable set of scrubbers, this is a down side.
A few users report having issues with the spray nozzle control, finding that they need to tip the handle occasionally to get the cleaner mixture to release from the mechanism.
Lightening the overall weight of the mop couldn't hurt, though it may be difficult to get it much lighter, as the motor is accounting for a bulk of the weight.
How Does It Compare in Value?
The Bissell SpinWave mop ranks mid-range on the residential mop pricing scale. The price seems somewhat justified with the multiple scrub pads and the powered technology, but it still drags down the overall value of the mop. With this mop, you are paying for what you get.
The ability to use a variety of self-made or store-bought cleaners and control and mix the ratios as needed is a convenient feature that goes a long way when it comes to value. Also, the included washable scrub pads help save money on repeat replacement material purchases for items essential to the product's operation.
How Has It Improved?
The SpinWave mop is a relatively new addition to the Bissell brand. There haven't been many improvements or changes made.
Colors and body styles have been modified over the years. The addition of multiple sets of various styles of scrubber pads is a welcome upgrade.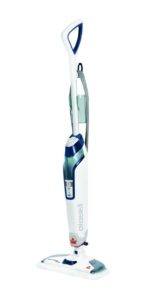 Weight: 5.7 lbs
Power Source: Electricity, plug in
The high points: Price, Easy to Maneuver, Extra Brush for Scrubbing
The not-so: Durability, High Steam Setting Difficult to Manage
Steam and microfiber combine to make a dream team when it comes to a
safe, sanitary and easy cleaning session
with the Bissell PowerFresh Deluxe Steam Mop.
The PowerFresh Deluxe steam mop has two steam settings to allow for customized steaming sessions. With a hardwood floor's aversion to dampness, the ability to control the steam is key by sanitizing floors while minimizing the amount of water coming in contact with the floor.
The 12" wide cleaning path of the mop pad is adequate without becoming too bulky. It can cover a sizeable amount of disgusting floor surface with sanitizing, dirt-lifting steam.
Add an extra layer of effect to cleaning day by dropping in a scented disc into the PowerFresh mop's allocated scent disc holder. It'll throw a little bit of Spring Breeze freshness into the mix, you know, so everyone knows you cleaned.
The easy-fill stationary water tank holds 19 oz. It heats water to the point of steaminess in less than 30 seconds. A little measuring cup is included with the steamer to make water refills as seamless as possible.
A SpotBoost brush comes incorporated into the handle of the steam mop. It allows a user to break away and scrub an occasional stubborn sticky spot.
What Reviewers Say About It
Most reviewers report good experiences with the PowerFresh Deluxe Steam Mop. Users report being able to add more water to the holding tank while the machine is still hot. They prefer the stationary tank over a previous model's removable (and breakable) tank.
Everyone agrees that tap water is a big no-no in a steam machine. Reports of calcium build up and other degradations drive home the importance of using only distilled water in the steamer. It may be a slight inconvenience to maintain a special supply of water for the machine, but it'll probably extend the lifespan of the steamer tenfold.
Bissell PowerFresh Deluxe Steam Mop users love the SpotBoost brush. Many owners report being able to pause in the pursuit of cleanliness to nab a grimy, ground-in dirt pile with the SpotBoost brush. Then they continue on their journey to the floor-polished land.
What's Good?
The Bissell PowerFresh Deluxe Steam Mop is small and stowable, easily tucked into a cozy closet corner. Its lightweight design makes it an airy assistant when dabbling or all-out deep cleaning with this steamy system.
The PowerFresh Steam Mop's power cord is of substantial length, coming in at around 25 feet. There'll be no slowing down Sir-Mops-A-Lot in the slaying of dirt, grime and 99.9% of germs with this scorchy, steamy floor cleaning machine.
Washable, reusable microfiber mop pads are durable. People can use them for a reported hundreds of cleaning sessions before replacing them.
Replacement pads are available from multiple sources. Many users recommend buying extras right away to stock the microfiber arsenal for extended, deep cleaning needs.
The PowerFresh mop produces steam almost instantly. There's no waiting for clean with this machine.
Water is heated to the point of steam in less than 30 seconds of turning the machine on. A handy little light is illuminated when it's ready to go.
What Could Be Better?
The mop heads are handy and reusable. However, some users report having issues with the pad getting stuck. It can become difficult to move at times. More stability in the mop head would help ease the occasional friction-based situations.
Though the PowerFresh Steam Mop features two steam settings, sometimes high can be a bit too high. Some operators using this setting have experienced excessive amounts of steam that quickly return to water form on their poor hardwood floors. A bit more variation within the settings, or maybe even a third option could be handy in these situations.
There have been reports of some durability issues with the mop. There is an underlying theme of failures occurring early on in the mop-mopper relationship.
The good news is that it seems that if you make it past the first few uses without issues, you and your mop should be looking at a long life together filled with steamy, sanitizing cleaning sessions.
How Does It Compare in Value?
In the steam mop market, the Bissell PowerFresh Deluxe Steam Mop is definitely a decent value. This sleek steamer is capable of covering a lot of bases that are found in its higher-priced competitors, like reusable pads and adjustable steam settings.
The little SpotBoost brush adds a speck of value, making this steamer a slightly more versatile machine than some of the other steam mops on the market. The easy-fill tank with measuring cup and the scent disc holder are also minor perks. These kick up the value of the PowerFresh mop a bit.
How Has It Improved?
The Bissell PowerFresh Deluxe Steam Mop has seen some improvements over the years.
In previous models, the water tank was removable. While this seems convenient enough, it actually caused more trouble than good. Incorrect tank placement created leaks.
Mechanisms broke and rendered the unit useless. Bissell fixed this by creating a durable but stationary tank that most owners seem to prefer.
The SpotBoost brush has gotten bigger. As we all know, bigger brushes are almost always better.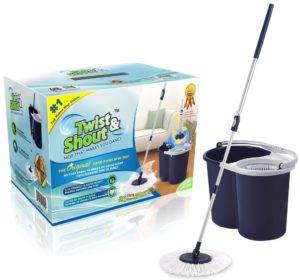 Weight: 4 lbs
Power Source: Manual
The high points: Price, Lightweight, Durable
The not-so: Extra baggage to operate (bucket)
There's just something about the
old-fashioned mop and bucket scenario
when it comes to interacting with and eliminating dirt and grime from heavily-traveled hardwood floors.
The Twist and Shout Spin Mop delivers on this traditional front while bringing in some key modern tweaks to make the mopping experience a little easier. The bucket spins at speeds rated at up to 2,500 rpms, or 28 miles per hour.
This whooshy, pump action, self-wringing mop and bucket system is pretty ideal for hardwood floor applications, removing excess water at the speed of, well, a reasonably-paced car traversing a city street. It doesn't sound as fast when we put it that way…
The washable microfiber mop head is reusable. Some owners report being able to get over a year's use out of one mop head. The super soft and absorbent material is perfect for swiping the streaks and dirt off hardwood surfaces.
An adjustable, telescopic handle allows users to customize the reach and position of the Twist and Shout spin mop from 44"-55" in length. This creates some versatility in cleaning applications. It can hopefully make it easier for the taller Twist users to navigate while swishing suds around.
What Reviewers Say About It
The Twist and Shout mopping system gets mostly rave reviews. Users love not having to touch the yucky mop head between floor swipes.
Some consumers recommend taking it easy on the cleaning solution, as the nearly warp speed (okay it's not that fast) spin action can churn up quite a bit of bubbly, sudsy water. Less is more with the soap here.
Quite a few owners express dislike for the off-brand replacement mop heads. They stress the importance of sticking the with manufacturer's brand heads. According to some reports, generic mop heads seem to shed their fibers frequently. Some users report that they don't wash up as nicely as the factory-issue versions.
The Twist and Shout Mop is also an impressive wall washing device. Consumers report using the adjustable handle and dry mop head to dust walls. Then they follow up with a good, solid wall scrubbing session.
What's Good?
The Twist and Shout Mop seems to be well-built and durable. It is able to perform while using minimal moving parts.
A heavy-duty aluminum alloy handle, the lack of a foot pedal to operate the spin function, and industrial grade plastic help to increase product longevity and eliminate headaches associated with lesser quality materials.
The handle bends to a 180° angle, allowing the mop to tap into hard-to-access areas where dirt and dust typically take up long term residency.
What Could Be Better?
There can be some struggles with the mop head tipping over on top of itself during the push-and-pull process. It would help if the manufacturer introduced a fix to help minimize the occurrences of this less than desirable, floppy mop situation.
Apparently some moppers get a little too into the whole twist and shout action and the handle can unscrew itself from the mop head attachment area. The mop-erator (yeah, I said it) cannot be at fault for this scenario, as the manufacturer encourages this exuberant behavior during cleaning quests.
The price could be a little lower. After all, this is a mop and a bucket. We'll concede, though, that there are some simple but ingenious design aspects of the system that are worth something more.
How Does It Compare in Value?
The Twist and Shout Mop and Bucket is of decent value within the upgraded spin mop market. The industrial grade materials and heavy duty handle boost the value of this system compared to other comparable products.
A lifetime replacement part warranty on the Twist and Shout Mop propels it a few more notches up the value scale. This helps to justify the slightly high price tag for this mop and bucket system.
How Has It Improved?
The manufacturer has made a few improvements over the past product generations of the Twist and Shout Mop and Bucket.
They incorporated an anti-spill feature into the bucket. That prevents excess water from escaping its holding tank and creating a potentially damaging and hazardous puddle on the floor.
They added a thicker, heavier handle with an increased telescopic range. They also bumped up the plastic in the product's construction to industrial grade for added durability.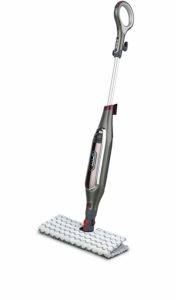 Weight: 5.78 lbs
Power Source: Electricity, plug in
The high points: Lightweight, Washable Pads
The not-so: Price, Top heavy, can tip
This
genius of a steam mop is helpful on all hardwood floor cleaning fronts
. The Shark Genius Steam Pocket Mop and Hard Floor Cleaner is designed to eliminate as many of the negative aspects associated with floor mopping as possible.
A powerful Steamblaster nozzle directs high-powered steam streams from the front of the mop, allowing users to concentrate on a specifically sticky situation with extra cleaning power.
The Genius Steam Pocket Mop's sleek gray body style and lightweight build makes this little but feisty floor cleaning machine easy to maneuver and store. Nearly silent operation lets users clean when they can without having to worry about disturbing an otherwise peaceful atmosphere.
What Reviewers Say About It
Reviewers generally enjoy their steam times with the Genius Steam Pocket Mop, reporting quality dirt and grime removal capabilities and excellent spot cleaning results.
There are a few complaints about the water tank not being removable. While in other similarly-styled products' reviews, users like the stationary tank, for some reason the way the Shark Genius' tank is set up doesn't appeal to a few users.
Tons of reviewers rave about the lightweight design of the Shark Genius. Many owners insist it has to be one of the most mobile steamers on the market.
What's Good?
The Genius Steam Pocket Mop's dual-sided mop head design lets moppers flip the dirt grip pad back and forth to promote full coverage cleaning. The steam is evenly distributed throughout the pad pockets for an even, effective spread of steam.
The mop's Touch-Free Technology has to be one of the best innovations within the steam mop industry. A Genius mop user doesn't have to touch a mop pad at almost any point of the cleaning process with this feature.
At the pull of a lever, a pad can be picked up. You can secure it to the mop. When cleaning is complete, the pad can be just as easily released from the mop head. You can just drop it into the laundry pile.
Adjustable heat settings let moppers decide the best temperature and intensity of steam that they require for the task at hand. This is helpful for different flooring applications. Some users even report using the steamer to clean throw rugs and low-pile carpets from time to time.
What Could Be Better?
The Shark Genius Steam Pocket Mop doesn't have an on/off button, so you're either fully committed or you're unplugged with this one.
While it's probably not really necessary to have a switch based on the simple function of the steamer, people like buttons, especially red ones. So maybe a bright red on/off button could bring an added level of satisfaction to some users.
The heat adjustment controls are placed on the lower part of the steam machine, making it a slightly inconvenient and sometimes warm spot to be making changes to the steam settings.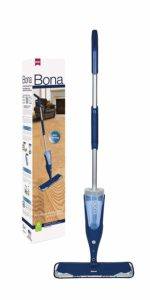 Weight: 5.2 lbs
Power Source: Manual
The high points: Price, Lightweight
The not-so: Quality and Longevity
The Bona Hardwood Floor Spray Mop Premium is a l
ightweight, manually powered floor mop
designed specifically for use on hardwood floors.
A large 17" wide microfiber cleaning pad spans a lot of floorspace and leaves floors sparkling and clean, with no residue left behind. A trigger on the handle of the mop can be pulled to release cleaning solution on demand, allowing the user to adjust amounts and frequency.
Bona makes a variety of cleaning solutions designed to be used with their mopping machines that are non-toxic and specially formulated for different cleaning applications. Mop head pads are also available in different formats and styles, such as disposable pads and pads made for dry dusting.
What Reviewers Say About It
Bona owners seem to appreciate the mop's low profile, lightweight design and also rave about how easy it is to pop the mop out and do a quick clean up and then send it right back to the storage closet.
Quite a few users commented on the mop pads being difficult to secure to the mophead. According to these consumers, Velcro secures the pad and only attaches on two of the four sides of the mop head. This was deemed to be a subpar system to some mop-erators (there it is again).
The brand-specific Bona cleaner solutions are well-loved among the Bona community and while one could probably rig up a set up to allow for other solutions to be used, most owners report best results when using the Bona brand supplies.
What's Good?
The microfiber cleaning pads are machine washable. You can reuse them over the course of quite a few cleanups before you need to replace them. Replacement pads are available from different retailers and should be easy to stock up on if the need should arise.
The whisper quiet operation is a huge bonus. It is one of the reasons this mop is a favorite in households that need to be maintained when some of the house is asleep.
Again, the lightweight, easy to move design also allows this mop to be transported easily to sticky situations and muddy messes throughout the house.
The solution cartridge has been improved over the years and is made of more durable materials and makes a "click" when properly secured.
What Could Be Better?
There seems to be some issues with where the handle meets the mop head. There is a weak point in the joint and under certain pressure, the handle can be stripped away from the head, rendering the mop pretty useless.
The mop pad adherements could be better. As noted previously, there are only two sides of the pad secured to the mop head, which can cause pads to dislodge during cleaning. This also inhibits the pad's ability to effectively apply force in some parts of its coverage area.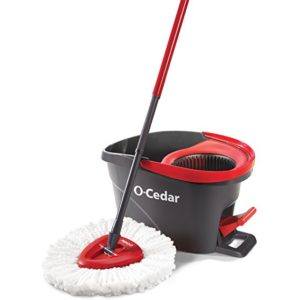 Weight: 5 lbs
Power Source: Manual
The high points: Price, Easy to Use
The not-so: Cheap construction
We'll end the list with the O-Cedar EasyWring Spin Mop and Bucket. This rendition of the mop and bucket system is pretty
fun to operate
and can be a
serious help to moppers with limited mobility
.
Users do not have to do any hand wringing or arm movement with this setup, short of the active mopping motions. Put the mop in the bucket of water, transfer to the spin side and go to town with the foot pedal.
In seconds, the mop will emerge clear of most grime and debris, and just damp enough to do some more dirt destroying damage.
The triangular shaped mop head fits in tight spots and rotates 360° to allow for maximum floor cleaning coverage. This microfiber mop head is also washable. You can use it dozens of times before replacing it.
What Reviewers Say About It
Users report that you should fill the bucket with water only about halfway. This will prevent suds and splashes from overflowing during the spin process. Apparently, excess water can also impede the spinner's ability to dry the mop.
The microfiber mop head may shed some fibers during the first couple uses, but seems to stop the shedding process soon after these initial uses.
A couple reviewers mention that they like the ability to control the level of mop head moisture by accelerating or decelerating the foot pedal speed.
What's Good?
You can use the O-Cedar EasyWring Spin Mop in wet and dry applications. It makes an amazing wall and floor duster, in addition to its traditional mopping capabilities.
You can use its telescopic handle, with a wide range from 24"-50", to adjust the length to your specific needs. The bucket incorporates a splash guard to help prevent the escape of unintended water and soap.
What Could Be Better?
The manufacturer could improve product durability. There are reports of broken foot pedals, flimsy handles and just a cheap feel in general to the mop and bucket system.
The price is a bit lower compared to other similar spin mops, so at least this potential lack of lifespan seems to be about par for the price point.
Due to the nature of the spin process, with force being applied via foot pedal to power the action, a more stabilized base wouldn't be a bad thing. Some users voice concerns over the potential hazard that the pedal motion combined with a tipping bucket could create.