Shark vs. Roomba, who makes the better vacuum? You might be thinking about getting one for your home, but you're not sure which type to get.
We reviewed the top models from both brands and will compare Shark vs. Roomba vacuum cleaners in this article, so that you can find the right robot vacuum for you!
Roomba vs. Shark: What Brand Do Consumers Prefer?
When it comes to robot vacuums, Shark and Roomba are two of the most popular brands on the market. However, consumers around the world prefer the Roomba brand more than the Shark.
iRobot, the company that owns the Roomba vacuum cleaner, said that the North American market for vacuums costing more than $200 was $963 million in 2020. The company had a staggering 75% share of the North American market. The chart below shows how much of the market share iRobot has in different regions around the world.

Our reviews revealed one clear winner. Read on as we discuss both the Roomba and Shark product lines and compare the brands head to head, ultimately choosing our winner.
Roomba Robot Vacuum Cleaners – Which Product is Right For You?
iRobot was founded in 1990. Their first product was a free robot that would clean floors without supervision. They have been at the forefront of robotic technology ever since, and their Roomba series of products has changed how people view home cleaning.
We compare the Roomba models below:
Introduced: September 2021
Weight: 7.49 lbs.
Dimensions: 13.3 inches wide x 3.4 inches high
What we like: Best-in-class navigation technology
What we don't: It's a big investment
iRobot's newest addition to their vacuum cleaner lineup is the Roomba j series. The Roomba j7 and j7+ identify and avoid obstacles like pet waste and charging cords, making it the perfect choice for busy families or anyone who wants to declutter their home without lifting a finger! The j series is the replacement for the Roomba i7 which is no longer sold by iRobot.
Pros
A lot of brands praise their robot vacuum navigation technology, but few can match the PrecisionVision Navigation from Roomba. It uses artificial intelligence and a front-facing visible light camera to avoid things like power cords and pet poop. Yes, large companies such as iRobot spend many years developing technology that can help avoid nightmares like a poop spreading incident!
Cons
The main disadvantage of the Roomba j7+ is that it is more expensive when compared to other robotic vacuum cleaners on the market. Additionally, our tester's young infant was awakened by the noise of the vacuum.
The only difference between the Roomba j7+ and the j7 is that the plus model has a separate clean base with a self-emptying dock.
Introduced: May 2019
Weight: 8.15 lbs.
Dimensions: 12.25 inches wide x 3.5 inches high
What we like: Incredible suction power
What we don't: Most expensive model made by Roomba
The Roomba s series is the ninth generation of Roombas from iRobot. It offers a number of improvements and benefits over older Roomba models, including:
A more powerful motor for greater suction power
Improved navigation that allows the Roomba to clean more efficiently and effectively
The ability to recharge itself automatically when the battery runs low
A dustbin that can be emptied without having to remove the entire robot vacuum cleaner from where it is cleaning
Pros
There was a lot to like about the Roomba s9+! This model had the highest suction power of any robot vacuum we have ever tested. The Roomba s9+ uses a brushless DC vacuum motor and is equipped with AeroForce Performance Cleaning System, which provides up to ten times more air power than Roomba models without this feature. If you are looking for a robot vacuum that can deep clean, look no further than the Roomba s9+. In addition, it has a cleaning path width of 10.7 inches, the largest of any Roomba vacuum.
In our deep carpet cleaning and pet hair tests, the robot's cleaning performance was 92%, the highest we have seen. The brushes being close to the ground and the high suction are a direct reason for this. In fact, there were barely any tangles of pet hair on the brushes (there was some pet hair on the axels, however).
Cons
Be prepared to pay a staggering amount of money for the Roomba s9+. It is currently the most expensive model made by Roomba. We feel the high cost is justified as the Roomba s9+ truly automates home cleaning and has a cleaning performance that is one of the best, if not the best, of any model we have tested. If you are looking for something cheaper, we suggest going with the Roomba s7+, which has good cleaning performance and arguably a better camera.
Introduced: September 2018
Weight: 7.44 lbs.
Dimensions: 13.26 inches wide x 3.63 inches high
What we like: Good alternative to the more expensive Roomba i7+
What we don't: Cannot define keep-out zones
The iRobot Roomba i Series is a powerful robotic vacuum cleaner that is designed to clean your floors quickly and efficiently. The iRobot Roomba i Series comes in a premium model (i7) and a less expensive model (i3 and i3+). Note: the Roomba j7 described above replaced the i7 model.
Pros
The iRobot Roomba i3+ is one of the company's more affordable Roombas that comes with a self-emptying bin that iRobot claims captures 99 percent of mold, dust mites, and pollen. Versus previous generations, the Roomba i3+ has a longer battery life and a larger dustbin. In our cleaning tests, it received a 84% score which was the same score we gave the more expensive Roomba i7+. The reason the Roomba i3+ is cheaper than the i7+ is because it does not have the vSLAM navigation technology found in the i7 and instead uses a downward optical encoder and gyroscopes (that just means it has a floor tracker vs. a camera mounted on top). We did not find this to affect the Roomba's ability to map cleaning spaces, but it does impact its ability to see some objectives in its path.
Cons
The main issue with the Roomba i3+ is that it does not allow you to define no-go zones on the mobile app. This is due to not having a top-mounted camera as discussed above. If this is an important feature that you need, it would be worth looking at the Roomba i7+ or the Roomba s9+. In addition, the Roomba i3+ does not offer selective room cleaning, which both the Roomba s9+ and i7+ offer.
Introduced: September 2018
Weight: 7.2 lbs.
Dimensions: 13.3 inches wide x 3.6 inches high
What we like: Excellent cleaning performance at a reasonable cost
What we don't: No onboard camera or charge and resume feature
The iRobot Roomba e Series is a budget-friendly option that still offers plenty of features. It's perfect for people who want to try out robotic vacuuming without spending too much money.
Pros
The Roomba e Series is a budget-friendly option that still offers plenty of relevant features, even though the model was first introduced in 2018. The Roomba e5 replaced the 800 series which was introduced in 2013. Additionally, the Roomba e5 comes with a virtual wall barrier. This helps to keep the robot in one room while it's cleaning and prevents it from going into areas that you want to avoid. In short, it is good for small areas and for those who do not require the latest features.
Cons
The Roomba e5 doesn't have an onboard camera like newer models released in recent years. This can make it difficult to know what areas need to be cleaned. Another disadvantage of the Roomba e5 is that it does not have room mapping technology so it will map rooms in a random pattern. This means that it can take significantly longer to clean an un-mapped house. For reference, the newer Roomba s9+ has a whopping 8x more suction power than the Roomba e5, which shows how much technology evolves over time.
Older Generations of the Roomba Vacuum
900 Series – Seventh Generation (2015)
800 Series – Sixth Generation (2013)
700 Series – Fifth Generation (2011)
600 Series – Fourth Generation (2012 and 2017)
500 Series – Third Generation (2007)
400 Series – Second Generation (2004)
Original Series – First Generation (2002)
Shark Robot Vacuum Cleaners – Which Product is Right For You?
SharkNinja was founded in 1993 by Mark Rosenzweig. Today, SharkNinja is a leading manufacturer of vacuum cleaners, kitchen appliances, and other home cleaning products. Shark produces various types of vacuums (upright, handheld, cordless, robot, corded stick) and other products such as mops, irons, and air purifiers. Although Shark hasn't been in the robot vacuum game for a long time, their range is impressive.
We compare the Shark models below:
Introduced: September 2021
Weight: 20.9 lbs.
Dimensions: 13.7 inches wide x 4.1 inches high
What we like: Handles daily cleaning effectively
What we don't: Buggy mobile app
The Shark AI Robot Vacuum is a high-end option that offers excellent cleaning performance. It has an intelligent sensor system that helps it navigate around your home and avoid obstacles. The vacuum also has a powerful motor that can quickly remove dirt and debris from your floors.
Pros
The Shark RV2502AE is perfect for homes with pets or small children where daily cleaning is needed. The LIDAR system mounted on the top of this model provided almost 100 percent coverage in our test room, and the robot did great at following no-go zones. It also has a large, self-emptying charging base, which can hold 60 bins worth of dust. There is no bag needed so you can save nearly $100 each year not having to buy replacement bags.
Cons
One area of the Shark RV2502AE we were disappointed in was the mobile app. It seemed very buggy, and we had to force close the app several times to get it to work. We also found that the robot did miss finding its charging base a couple of times in our test. In addition, there is no real-time monitoring of the cleaning which you would expect as a standard feature in a high-end model like this. We hope future software updates can solve these issues. Finally, while the LIDAR technology worked well most of the time, it does not prevent 100 percent of bumps into other objects so it is important for users to define no-go zones to ensure the robot does not get stuck or scratch the plastic on the front of the vacuum.
Introduced: October 2019
Weight: 5.7 lbs.
Dimensions: 12.6 inches wide x 3.5 inches high
What we like: Hair does not get stuck on the roller
What we don't: Not able to set no-go zones
The Shark IQ Robot Vacuum is the best-selling Shark model. It has one of the highest suction rates of any robot vacuum on the market which makes it a perfect choice for deep cleaning jobs. The Shark IQ is equipped with a self-cleaning brush that automatically removes hair and debris.
Pros
How much time have you wasted removing tangled hair from a vacuum roller? With the Shark IQ RV1000 you will not have to do that anymore! The no hair wrap technology pulls in all types of hair from any surface without letting it wrap on the brush roller. Our tests confirmed this claim. And if you have pets, the high-efficiency filter captures dust and pet allergens. It is worth pointing out the Shark IQ RV1000 delivers the same cleaning performance as much more expensive models such as the Roomba i7+.
Cons
The Shark IQ RV1000 Shark Robot Vacuum does not allow no-go zones to be defined which can be pretty annoying if you have areas that you do not want the robot vacuum to go.
Introduced: 2018
Weight: 5.51 lbs.
Dimensions: 12.6 inches wide x 2.6 inches high
What we like: Adequate for very light cleaning
What we don't: Lacks many standard features
The Shark ION Robot Vacuum was the first robot vacuum from Shark that debuted in 2018. Robot vacuum technology has greatly improved in the last few years so this vacuum does not feature newer AI technology or mapping capabilities. However, it is perfect for quick cleanups in small areas where high performance isn't needed. The vacuum has below-average suction compared to models introduced in the last year or two.
The Shark ION robot vacuum is a decent option only if your cleaning needs are for very light messes and small areas. It is the cheapest model from Shark and we feel the low price reflects its lack of features and cleaning ability.
Shark vs. Roomba Comparison Table
*Amount of debris picked up in our testing.
Best High-End – Roomba s9+ vs. Shark AI RV2502AE2
We chose the Roomba s9+ as our winner for the following reasons:
Far superior suction power makes it a better choice for deep cleaning and homeowners with pets
Mobile app works flawlessly and also remembers up to ten floor plans
Better battery life than the Shark
Square design and wider cleaning surface cleans edges and corners better
Best Mid-Level – Roomba i3+ vs. Shark IQ RV1000
We chose the Shark IQ RV1000 as our winner for the following reasons:
Incredible suction power at 23 CFM that picks up heavy debris like sand with ease
Cost is significantly cheaper than the Roomba and it offers better cleaning performance
Best robot vacuum we have tested for pet hair – leaves the brush hair free
Better climbing ability when going from one surface to another
Best Budget – Roomba e5 vs. Shark ION RV750
We chose the Roomba e5 as our winner for the following reasons:
Scored well in our cleaning performance test (84%) even though the model was released in 2018
While more expensive than the Shark, it provides a much better return on investment than the Shark ION 750 which does not do a good job at all
Shark vs. Roomba Head to Head Buying Guide
Cleaning Performance – Shark Robot Vacuum vs. iRobot Roomba Vacuum
Suction Power and Dust Collection
While most Shark vacuums have a higher overall suction power than Roomba (~20 CFM vs. ~7 CFM), the cleaning performance of Roombas is superior. Roomba's patented dual brush technology is a major reason why it is much more effective in deep cleaning flooring such as carpet. All Shark models only use a single brush. It is worth noting that newer Roomba models such as the s9+ have 22 CFM of suction power and are paired with a dual brush which makes it an incredible robot vacuum.
In short, do not base your buying decision solely on suction power as the brush technology is just as important and can allow lower suction power vacuums to do a better overall job.
Pet Hair Cleaning Performance
We're a team of pet owners and pet lovers, so we decided to test Roomba and Shark vacuums to see whether they're suitable for pet hair.. We were very impressed with the Shark IQ RV1000 and the Roomba s9+ in this category. We give Shark a slim advantage here as the self-cleaning brushroll technology tackles long hair with no hair wrap on the brush.
See our detailed review of best flooring for pets.
Carpet Cleaning Performance
Both the Shark and Roomba do a great job picking up debris on the surface of the carpet. However, for deep cleaning carpet, the Roomba comes out ahead as it has the dual brushes that dig deep into the carpet fibers.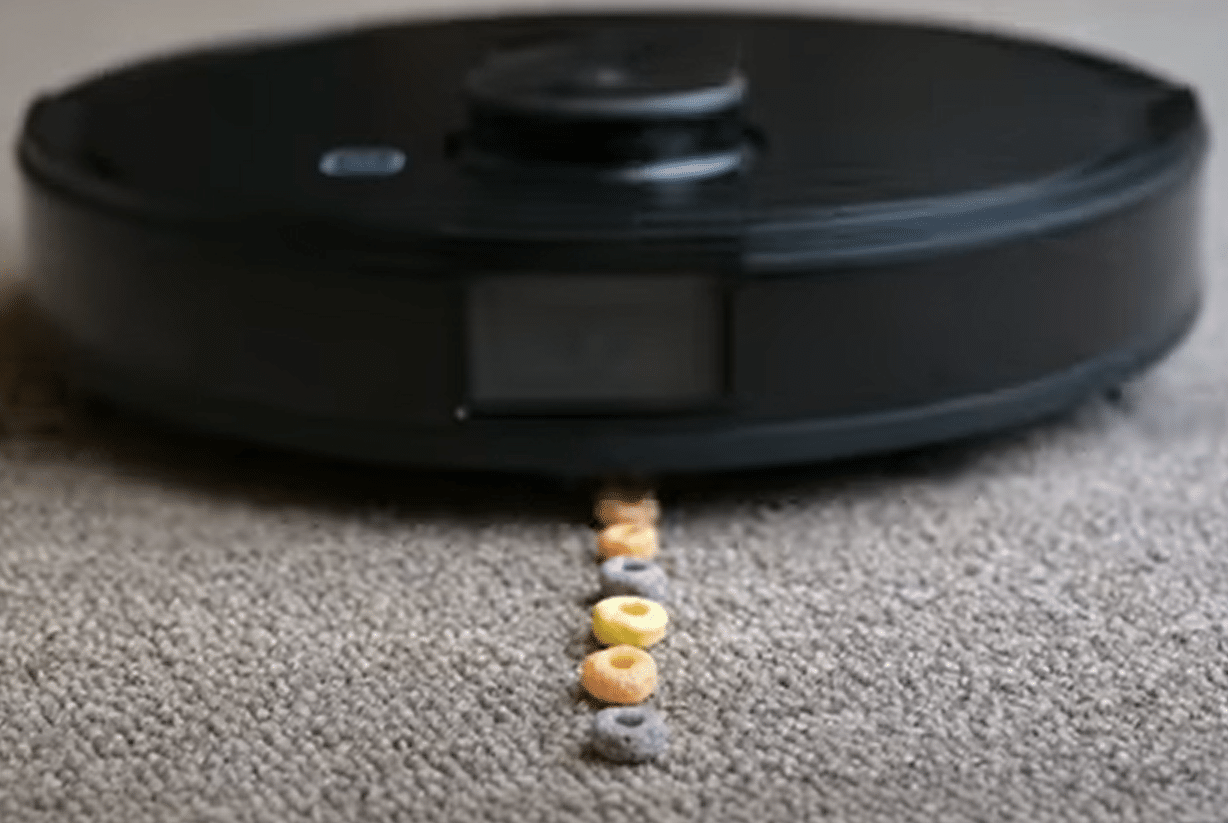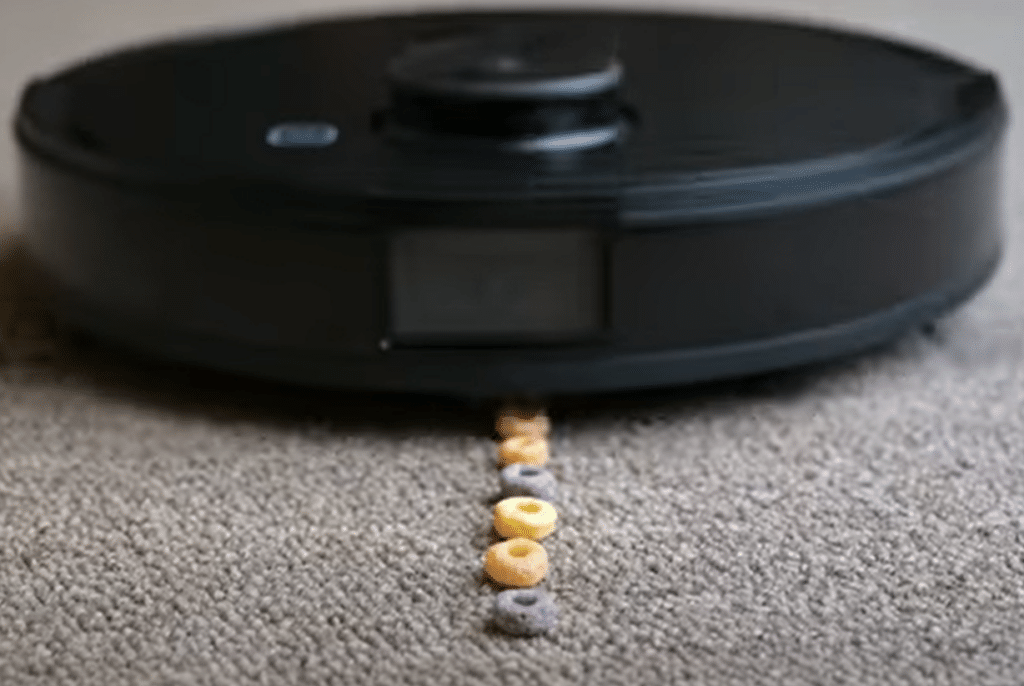 Hard Floor Cleaning Performance
We did not see a noticeable difference in performance on hard floor cleaning. We would give a slight advantage to the Roomba as we noticed it did not blow dust or debris as much as the Shark with the air flow produced.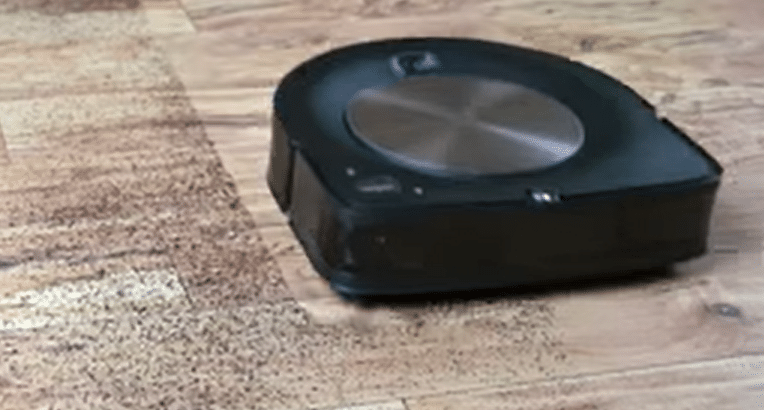 Design – Which Product is Easier to Use: Shark or Roomba?
Aesthetics
These two brands specialize in creating aesthetically pleasing robot vacuums that won't ruin your modern home interior. Most of the robots come in an elegant black color; some even feature stunning gold details. They are mostly designed in a round shape that is recognizable for most robot designs.
There is an exception to the round-shape rule, however. The Roomba s series is built a little differently and is more D-shaped which helps clean corners and edges better.
If you would like to personalize your Roomba, they offer a customization option for a skin to put on the top.
Size
When it comes to size, generally, Shark vacuums are slightly smaller. That usually makes them more lightweight, and they take up less space. The difference is minor, though, at just a fraction of an inch.
If you have very low clearance areas, you should check their height and dimensions before purchasing.
Weight
Shark vacuums are lighter than Roombas. Of the products we reviewed, they were ~2 lbs. lighter (expect for the Shark AI which was significantly heavier than any model we tested). We feel this is a less important consideration if you intend to keep your vacuum on one floor.
Brush Rolls
Roomba robots have two brush rolls, while Shark vacuums come with a single long brush roll. The two Roomba brushes rotate opposite to each other, allowing them to get as much dirt as possible. This is a very important difference and one reason why Roomba vacuums overall perform better than Shark.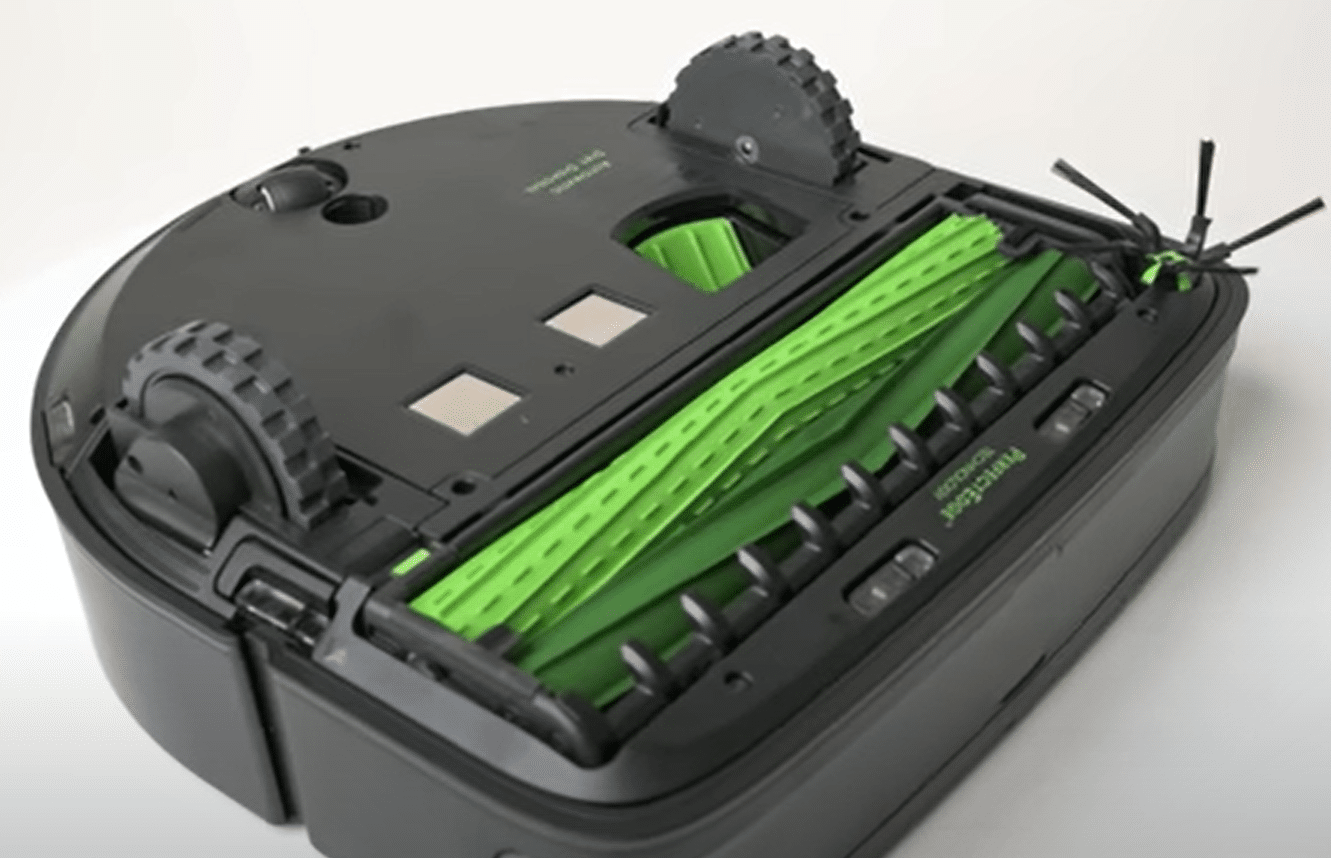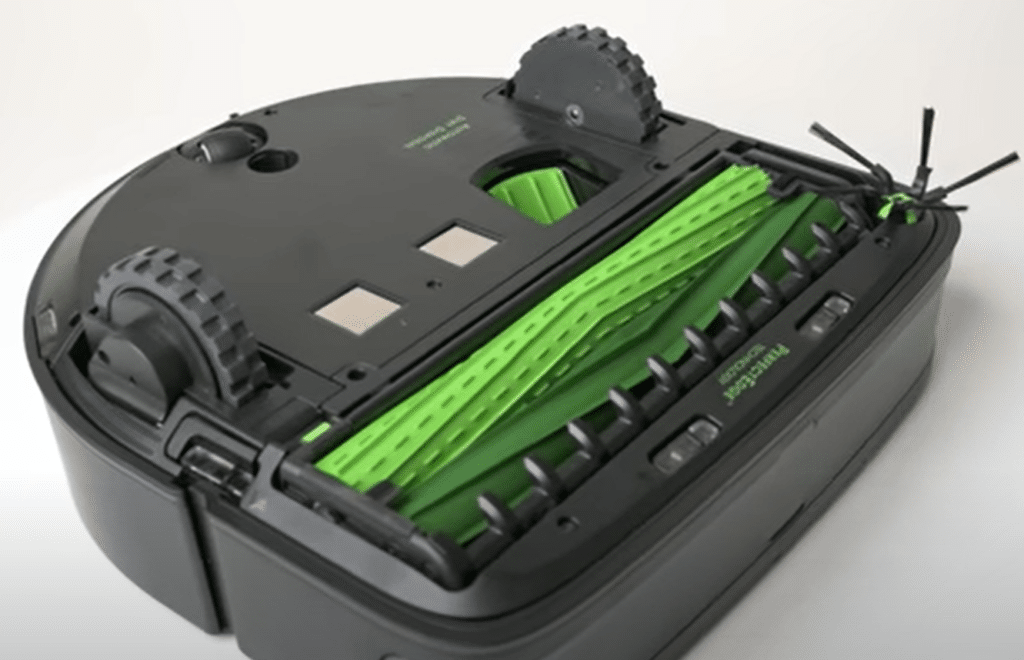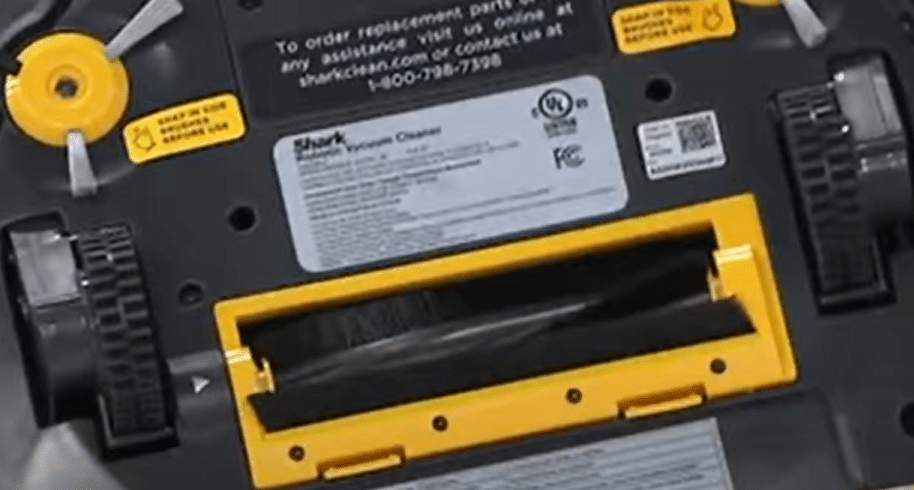 Some Shark models are also equipped with self-cleaning brushes. This is important for families with pets because pet hair gets tangled in cleaning brushes very easily. These self-cleaning designs are the signature for Shark.
Roomba, on the other hand, uses rubber brushes without any bristles. When the two brushes rotate in opposite directions, they prevent hair or debris from sticking to their surfaces. This technology works extremely well on carpet floor and gives Roomba the edge there.
The side brush situation is a little different. Roomba robots have a single side brush, while Shark robots have two. These side brushes are responsible for pulling up debris from corners and edges. The number of side brushes isn't as important with Shark robot vacuums because they only clean edges on one side due to their unique shape.
Dustbin Size
This is an essential feature because it determines how often you'll need to empty the dustbin and how much debris it can collect. If you live in a large house that requires frequent cleaning, we recommend getting a model with a large dustbin capacity. In general, Roomba vacuums are equipped with bigger dustbins.
Shark offers bagless designs that don't have any additional costs for bags and are easier to maintain. All you need to do is clean the canister from time to time, and that's pretty much it.
One notable downside of Roomba robots with a self-emptying base is they use bags that you'll need to replace once they're full. Expect to spend close to $100 each year on new bags. It's true that using bags is more hygienic, but some people don't like how unsustainable that option is and hate having to spend extra on purchasing them frequently.
Roomba and Shark have models with dustbins the owner has to empty, but they also offer self-emptying containers. This is primarily the case with more expensive, high-end vacuums of each brand, but if you hate having to empty the dustbin, they can be a worthwhile investment.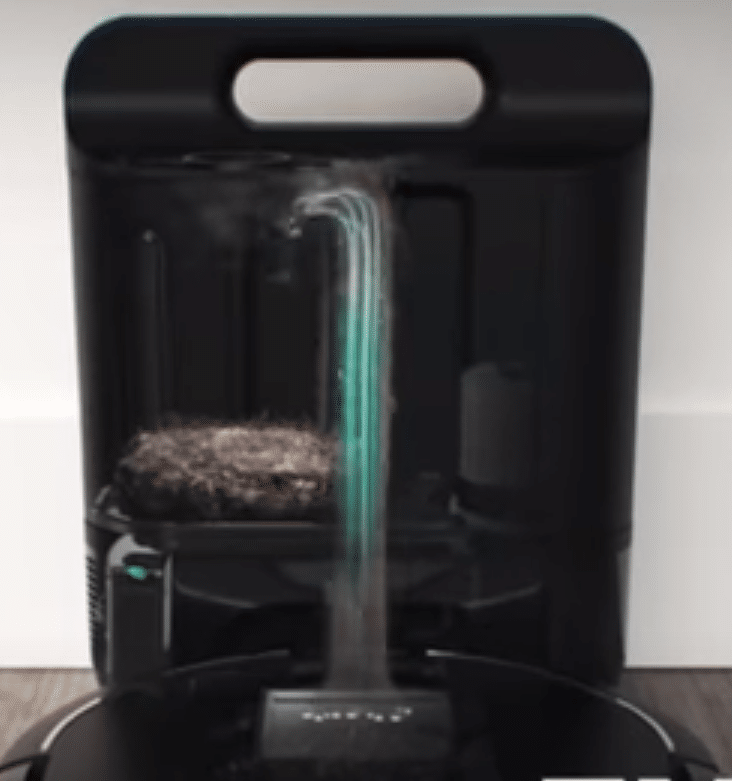 Mapping and Navigation
Roomba's use vSLAM (visual Simultaneous Localization and Mapping) which uses computer vision in parallel with the robot camera. Note that lower end models like the Roomba e5 do not have an onboard camera and therefore do not have have navigation mapping technology and follow a random pattern.
Shark's use AI laser navigation and IQ navigation. The AI navigation technology is their newest which offers the ability to detect objects greater than 2.8 inches tall and also select no-go zones. Similar to Roomba, lower end models like the Shark ION do not have mapping technology.
Advantages of the LIDAR/AI laser vs. the vSLAM technology:
Can clean rooms 20% faster than camera based robots
Can map a room or area after one run vs. taking two to three runs for non laser based models
Does not need the lights to be on in the room to work
Disadvantages of the LIDAR/AI laser vs. the vSLAM technology:
Cameras provide more data so the vSLAM robots will be able to make better decisions
Creates false barriers so would not go under a bed or sofa if there was a skirt
Overall, our tests found that Roomba has the advantage for navigation and mapping. It was able to map rooms faster and with more accuracy. The app functioned much better as well.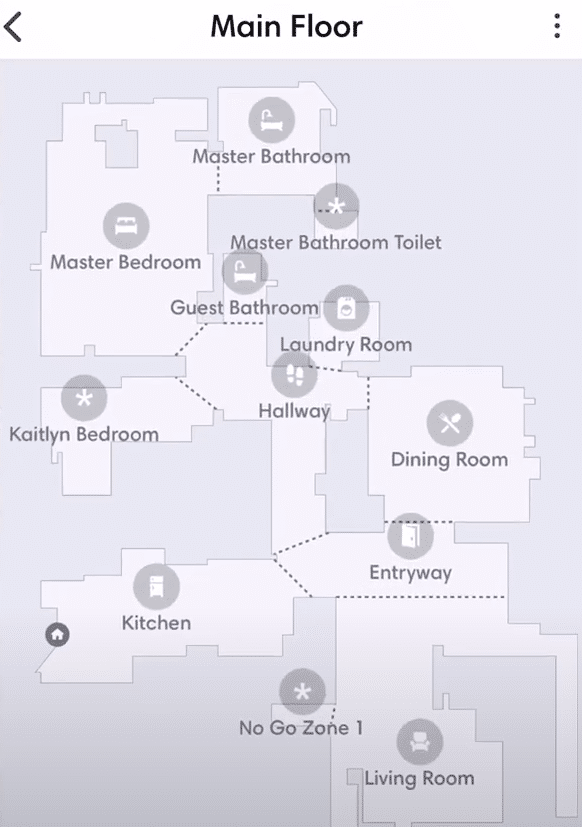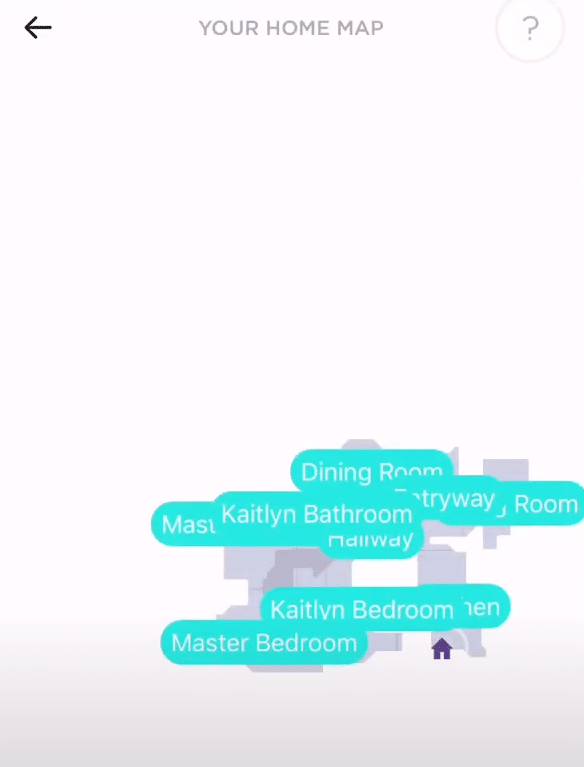 Keep Out Zones
The ability to select no-go zones is a very important factor to consider. Having the ability to select no-go or keep out zones on the app can save you a lot of heartache. Luckily all of the high-end models for both Roomba and Shark we tested had this feature. We feel it is worth spending extra for this key differentiating feature.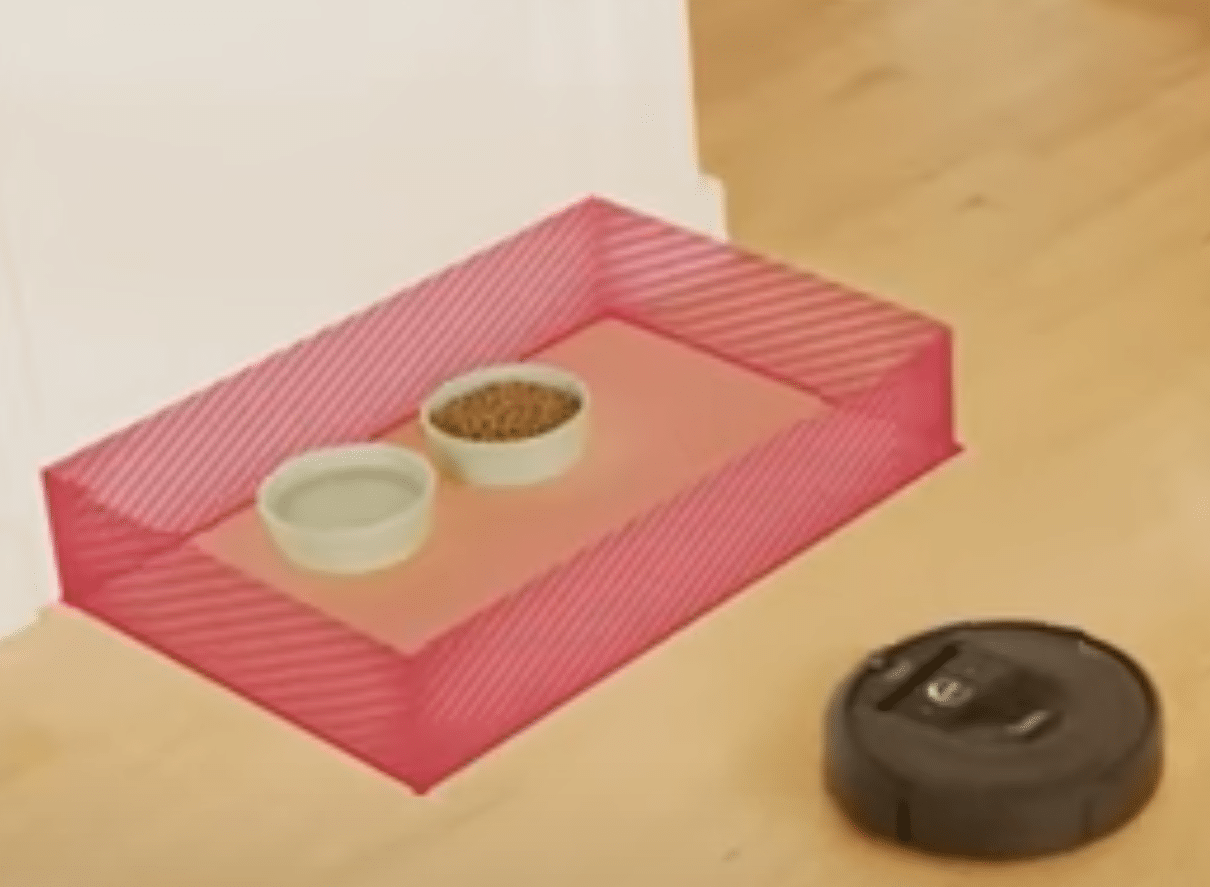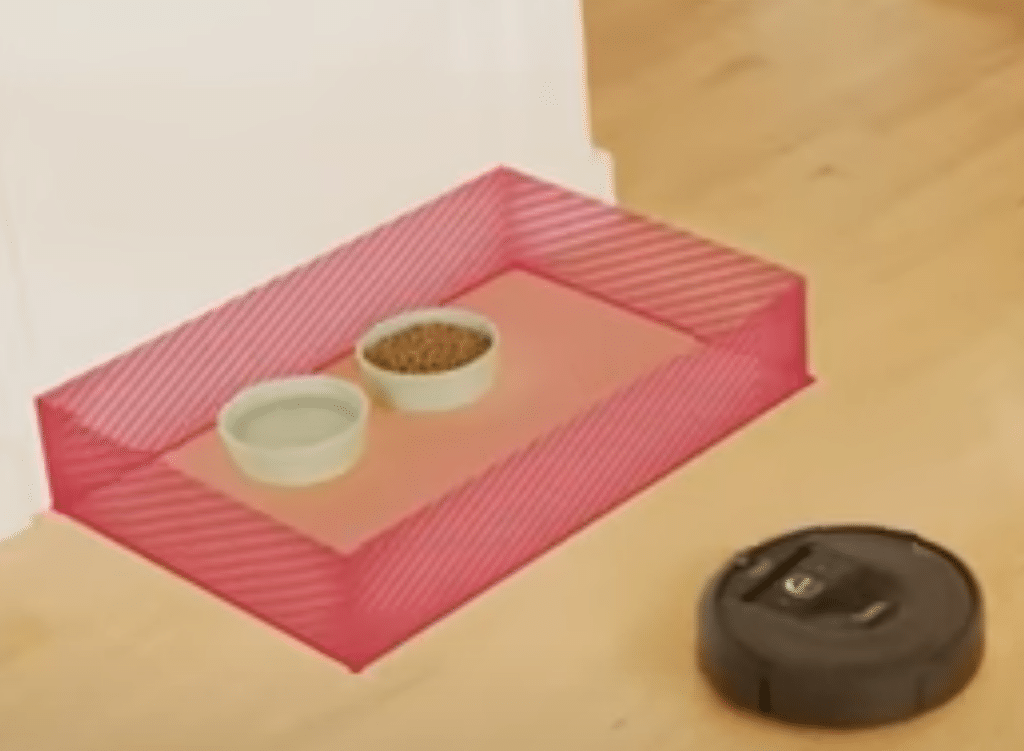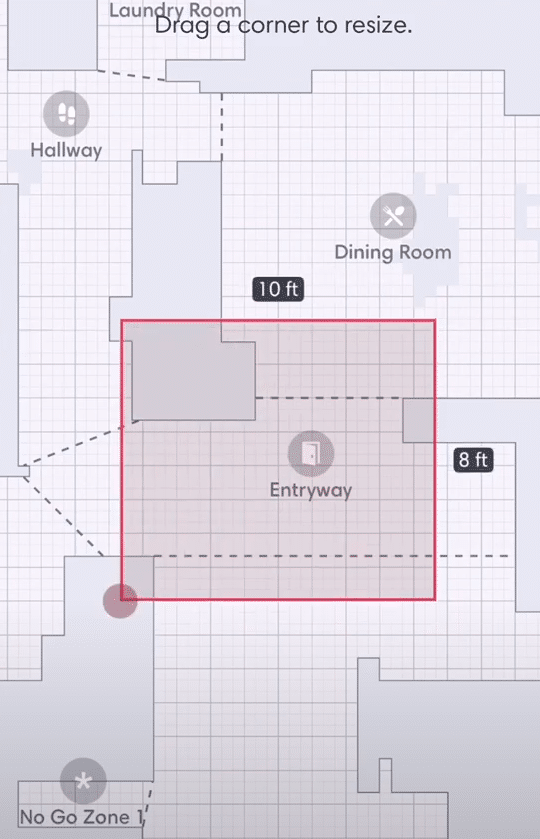 Cleaning Time and Battery Life
Roomba robots have a longer cleaning time compared to Shark robots. Their average cleaning time is 90 minutes for smaller models, while the advanced ones can clean for 75 minutes.
In some cases, Roomba vacuums will run out of battery before the estimated run time. This happens because Roomba models have a special feature that notices dirt and areas of your home that require more attention.
When the sensors see a dirty area, the vacuum will focus on cleaning it and spend more time and power there. The robot will also increase the suction to get all the debris and particles that make the carpet dirty. So, when this happens, your Roomba will run out of battery faster, and it will need to recharge.
Shark robots are equipped with high suction, which wastes their battery life quite fast. That's one of the reasons why these robots have a shorter running time. They're a good alternative for smaller houses because they'll finish the job without stopping for an empty battery.
The average cleaning time of Shark vacuums is one hour.
When Roomba and Shark robots run out of battery, they go back to their charging dock. If you invest in a more expensive Roomba or Shark vacuum like the Shark AI or Roomba j7+, it will resume where it left off. The more budget-friendly models like the Shark ION or Roomba e5 will start cleaning again once they're charged, but not exactly where they left off.
Control & Connectivity – Why App Functionality is Critical
WiFi
All models in our test group above have Wi-Fi connectivity.
App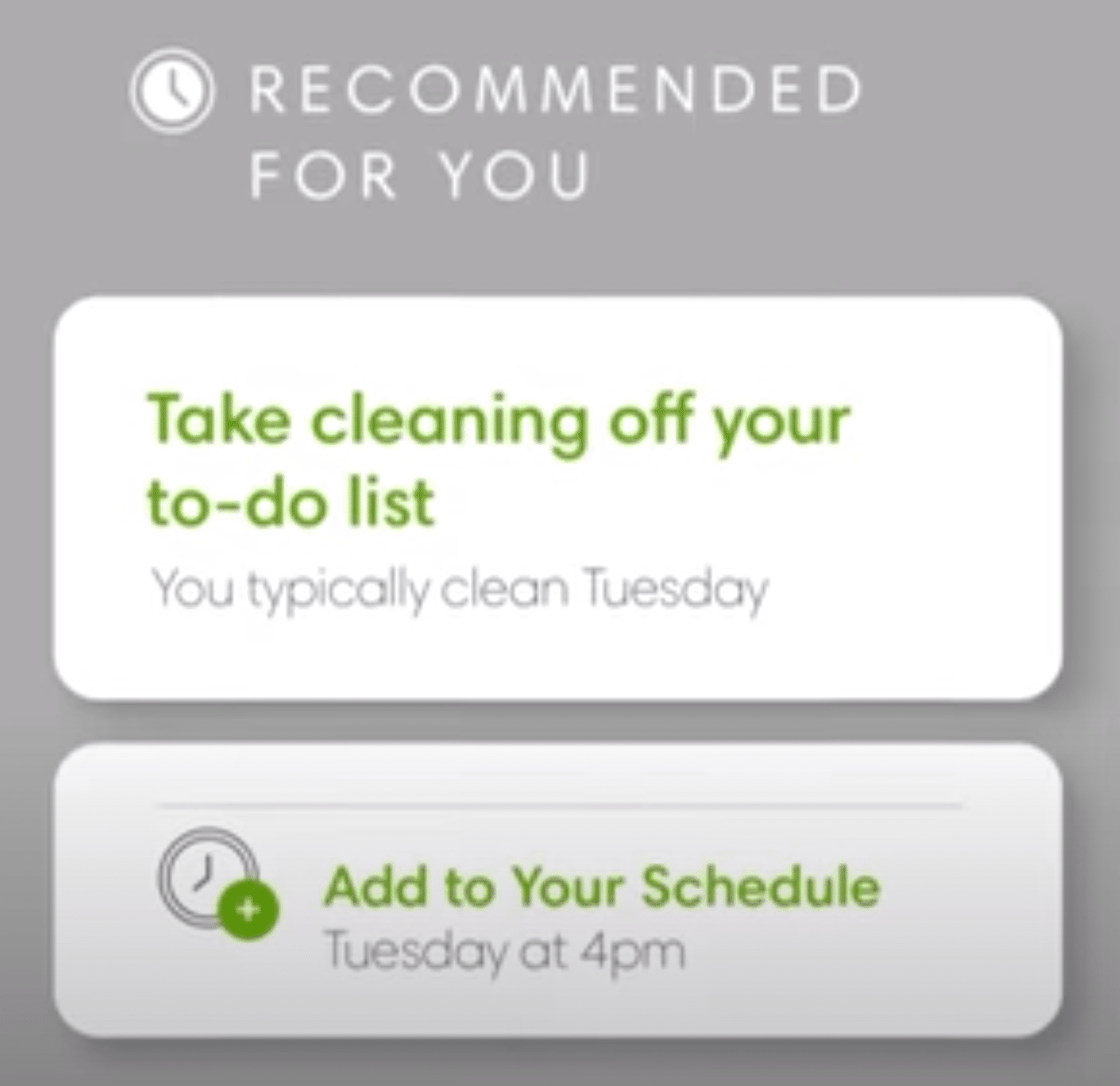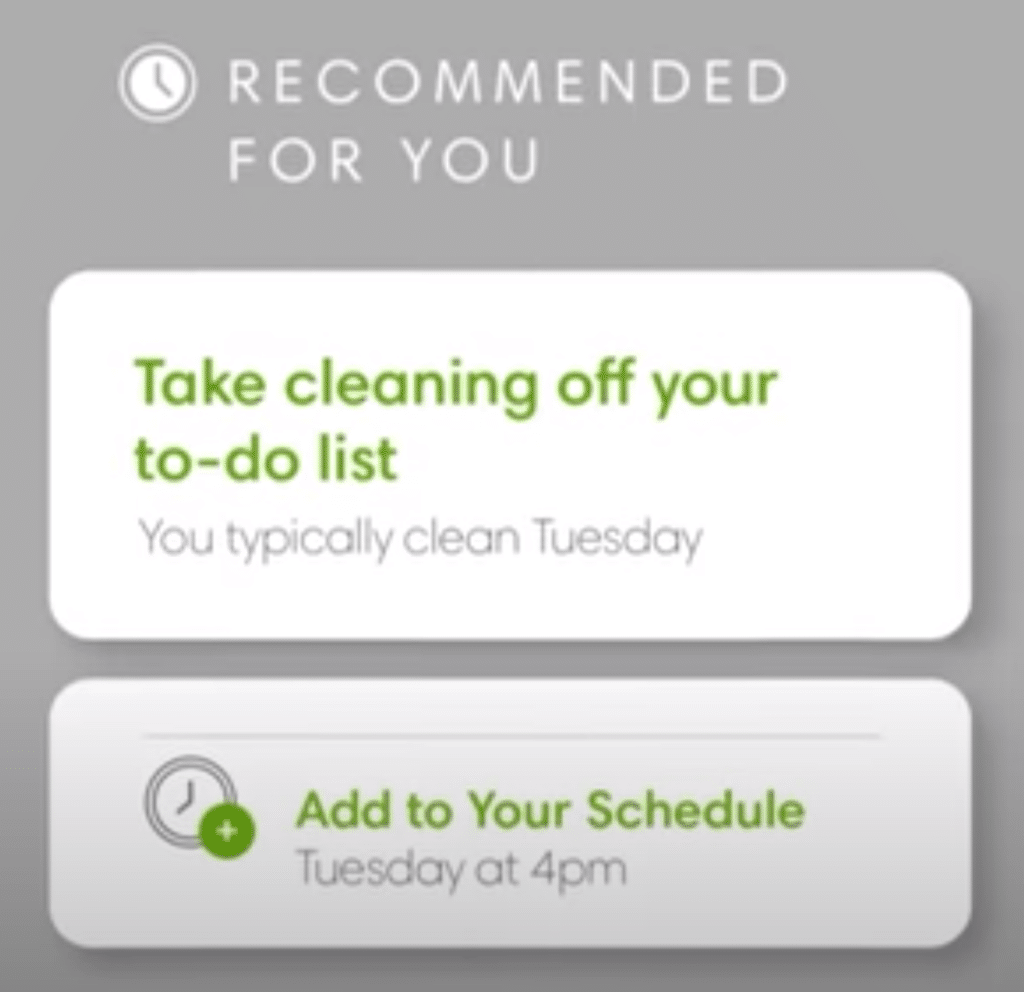 Both Shark and Roomba allow their newer models to be voice-controlled via Amazon Alexa or through Google Assistant. We felt the app from Roomba was superior to Shark.
In November of 2021, Roomba launched the Genius Home Intelligence platform. This takes scheduling your robot vacuum to a whole other level. For example, if you go out for a stroll, your Roomba can begin cleaning. These routines are set up to function with IFTTT triggers, so they can be used with other devices you may already have, such as smart locks, thermostats, and cameras.
While the Shark app does not have all the features of the Roomba, it still connects to an app on your phone for a variety of instructions in the palm of your hand. You may set up cleaning sessions and instruct your robot vacuum where to clean on your interactive map. You may also control special areas where you want your robot vacuuming to focus while keeping it away from sensitive places.
Price – The Difference Between the Roomba and Shark is Surprising
In general, Roomba robot vacuums are around double the price of Shark vacuums. There is no doubt that iRobot Roomba is one of the most reputable manufacturers of robots and continually invests in making the highest quality products available on the market.
Shark is a great brand too, and it offers much more affordable robot vacuums. Their products have advanced designs and come with a range of features that will prove they're great at cleaning your home.
If you have a limited budget, you can either opt for one of the cheaper Roomba designs or go for a Shark vacuum. Please take a close look at models that are more than a few years old as technology has changed a lot.
If you consider how higher-end Roomba robots are simply better at cleaning floors and carpets, it's a good idea to pay more to get more. Even the most affordable Roomba options are superior to numerous robot vacuums available on the market.
Maintenance & Durability – Does the Shark or Roomba Hold Up Better?
Both Roomba and Shark vacuums have proven to be easy to maintain. The great thing about both manufacturers is they design robots with parts that are easy to remove, clean, and then put back in. In other words, even if your vacuum has a messy wheel or a dirty brush roll, you'll be able to take it out and clean it within minutes.
The durability of each brand is another thing to take into account when considering which vacuum cleaner will be the right fit for you. The overall construction of the Roomba felt more durable than the Shark. However, we have not done a long-term test to see which lasted longer.
Customer Service
Shark customer service number is: 1-877-581-7375. They offer feature where they can you which we found convenient.
Roomba customer service number is: 1-877-855-8593 or they can be reached at their support site.
Alternative Robot Vacuum Brand Options
There are several brands of robot vacuums on the market. See our review of the best robot vacuums.
Shark vs. Roomba – The Overall Winner is…
Our winner is Roomba! Roomba is a superb brand of robot vacuums that continues to innovate and is the industry standard. If you put the higher prices aside, these vacuums excel in most other categories, no matter which brand you compare them to. Roomba vacuums have a long run time, are extremely powerful, pick up dirt with ease, are sleek, and are easy to clean.
If you have any comments or first-hand experiences with Roomba or Shark, please post them below or share your pictures via our social media.
Shark vs. Roomba – Frequently Asked Questions
Which brand of robot vacuum is the best?
If we had to pick one brand, we would choose Roomba. They provide superior cleaning performance over all other brands and continue to innovate at a rapid pace.

Are Roombas worth the money?
Yes, despite their high price, Roomba's are worth the investment as they deliver top-of-the-line performance that will automate your vacuuming needs.

How long does it take for Shark to map a house?
It takes about 7 to 15 cleanings for a Shark to map a house.

Are Roombas noisy?
They are less noisy than upright vacuums. Roombas typically run between 60 to 70db depending on the model. 70db is as loud as a dishwasher or washing machine.

Are robot vacuums as good as normal vacuums?
Not yet, robot vacuums do not clean as well as normal vacuums. The suction level of normal vacuums is much higher. However, new models such as the Roomba s9+ are becoming more powerful and over time we expect robot vacuums to close the gap.

Can a Shark robot clean multiple floors?
Shark robot vacuums aren't designed to map multiple floors. Most of the awesome features of Shark — voice commands, scheduling, in-app no-go zones, and the like — are only applicable to one floor in your home.

Can Roomba clean in the dark?
While you technically can use Roombas in the dark, this is not an efficient way to use these robot vacuums as they will struggle to get the job done without light. They require a steady source of ambient lighting to perform properly

Is Shark or iRobot better for pet hair?
Both are great options. The Shark IQ and the Roomba s9+ are two great options for dealing with pet hair.
Back to Top