Sharks: one of the most dominant predators of the ocean. Even though more people die annually from vending machines than shark attacks, they still instill a bit of fear in each and every one of us.
Shark Vacuums: won't scare the average person, but are definitely frightening to dust bunnies.
If you're in the market for a new vacuum and the Shark brand has been on your mind, there's probably a good reason why.
All of the Shark vacuums that we reviewed can be used on both carpet and hard floors, and all of them have special features that no other vacuums in their respective price ranges have.
Intrigued?
Let's test the waters and see what Shark has to offer. Here's a brief overview before we dive deeper (no pun intended) into the 6 best Shark vacuums on the market:
Our Top List: The 3 Best Shark Vacuums
All Shark vacuums pack a real bite when it comes to pure cleaning power, which means that the top picks were difficult to narrow down. Thankfully, the process of picking the best went swimmingly.
We've broken down our top picks into our top overall Shark, the best cordless Shark, and the best budget Shark:

If you've started to become skeptical of any brand that puts "pet" in their vacuum's name, don't fret. The Shark Rotator is anything but an imposter and you can even feed it after midnight.
The Rotator Lift-Away is the original upright to canister vacuum. You probably thought transformers were just in the movies, but not with the Shark around.
With the specialized TruePet mini tool, you'll trap dust and allergens just like Bill Murray did with ghosts.
You'll want to lift up your boombox and tell everyone in the neighborhood how much you love the Rotator once you realize that you can clean from your baseboards to your ceilings with this single versatile tool.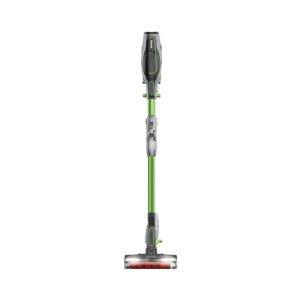 If you're looking for a new limbo partner, Shark created the perfect robot to help you win. Okay, maybe they didn't create the IONFlex for that reason, but it is a nice added touch when your vacuum has a party trick.
Cordless vacuums have been known to be less powerful than upright vacuums, but the IONFlex proves the deniers wrong. This Shark is just as powerful as many leading upright brands.
Cordless vacuums have also been known to stop working halfway through a cleaning session because their batteries have died. The IONFlex gives you the option to switch out batteries whenever you want to, which means less time waiting and more time doing the limbo.
Cordless vacuums have also also been known to be light and easy to maneuver. Our top Shark cordless pick is ultra-lightweight and makes cleaning easy.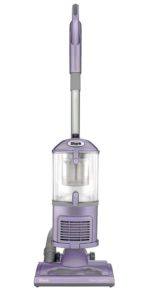 When you think budget, you probably think of McDonald's or Taco Bell. Is the best budget Shark only going to be dollar menu quality?
Most certainly not. Buying a Navigator is like finding a 3 course meal at a 4 for $4 price.
You'll get all of Shark's best features with the Navigator, like Lift-Away technology and a HEPA allergen filter. Attachments for dusting and small spaces are also included with this almost too good to be true machine.
The Navigator's quality cannot be compared to anything in this price point, no matter what brand you're looking at.
What to Look For In A Shark Vacuum?
If in the market for a Shark, you should know a few things about each of the types of vacuums you'll encounter. Here are the general model types that you'll have to decide between:
Upright Lift-Away Vacuums
Ultra-Light Vacuums
Robot Vacuums
Hand Vacuums
Lift-Away vacuums are unique to Shark in that they were the first uprights on the market to transform into a canister vacuum. This allows for easy cleaning of small spaces and stairs with your regular vacuum.
Ultra-light vacuums can be either corded or cordless. These vacuums are great for cleaning everything from your baseboard to crown molding by only changing  head attachments.
Robot vacuums are exactly what you'd expect them to be. They're adorable little circles of cleaning power that keep your house tidy when you don't feel like it.
Hand vacuums are also exactly what you'd expect them to be. Hand vacs are perfect for cleaning cars, upholstery, and stairs – and can be corded or cordless.
Though each Shark type will have its own pros and cons, with a Shark, you can expect a versatile product with amazing sucking power no matter what you buy.
What to Expect When Spending More?
At least one of the vacuum types above sound like something you could use in your home, right? Well, how much money can you expect to spend when splurging on a robot rather than a hand vac?
The lower end of the price spectrum includes hand vacuums. These are small and have a limited function compared to the other vacuums on our list, which is why you can find these for under $100.
Lift-Aways vary drastically in price; The cheaper end of the Lift-Aways will be in the low $150s, but the higher end models can run up to $300. Depending on the features you want and the power of your vacuum, the price will fluctuate.
Ultra-Lights also vary drastically in price; the less expensive models will be corded and the more expensive ones will be cordless. They range from about $150 for a corded model to $450 for a cordless model with 2 batteries.
The robot vacuums by Shark start at the highest price point. You won't be able to find one for under $300, but never vacuuming again vary may well be worth the investment.
Shark's price points overall are much lower than similar competitors, which means that whichever kind of Shark you do end up purchasing, you'll be getting a deal.
Rankings and Reviews
If your home is swimming in allergens right now, chances are, you need a Shark to swim in and save you.
We've researched the top Shark vacuums and have broken down our top 6 picks, with at least one pick from each category above.

Weight: 15.4 pounds
Power source: corded
The high points: Lift-Away technology, swivel steering, carpet to hard floor cleaning
The not so: hands may hurt after holding the handle, stick is not adjustable
Nothing beats the original. This is Shark's first full sized Lift-Away, and it is here to stay.
Shark claims that their Rotator Lift-Away "delivers unparalleled floor-to-ceiling cleaning power", and based on what we've read, we have to agree.
The Rotator dusts hard floors, cleans carpeting, traps dirt and allergens in the canister, reaches under couches, and nimbly steers around any obstacles in its way.
If you're a canister gal, the Rotator has you covered; If you're more of an upright kind of guy, the Rotator has you covered, too. The classic Lift-Away feature converts your upright into a canister vac back into an upright in no time.
At a mid range price point, the Rotator is the best quality vacuum you'll be able to find under $300 from basically any brand. You can probably see why it's our top pick for Sharks, right?
What Reviewers Say About It?
Reviewers say that there is little to no difference between this vacuum and any higher end model like a Dyson or a Rainbow.
Some professional cleaners have tested this model Shark head to head with brands like Miele and Kirby and have found that there's no difference between the quality of this lower priced product and those super high end models.
Overall, one of the coolest features this Shark (and some other models that we'll review later) has is the fact that it can convert from a traditional upright to a canister vac. You no longer have to choose between the two, because you've got your two in one.
What's Good?
The unique Shark Lift-Away technology originated in this model. This is the super cool feature that transforms your average upright vacuum to a canister vac, which is also another cool vacuum party trick.
The steering of this vacuum when in upright mode makes the Rotator an agile one. Your Shark may look like it's about to topple over with the intensity of its turns, but you can rest assured that your Shark can handle it.
The Rotator can also clean hard and carpeted floors. There is a switch on the handle that lets you change between the vacuuming options as to not scratch your hardwood, vinyl, or tile.
What Could Be Better?
Some, especially with arthritis, say that the handle is not ergonomic and hurts hands after a while. The handle is made of hard plastic and pushing the button to switch between floor modes gets tough after a while.
The good news is that one forward thinking reviewer said that when she uses the Rotator Lift-Away for her cleaning business, she wears garden gloves to make cleaning more comfortable. It may be weird, but you have to admit, it's a creative solution.
Another con is that the stick handle is not adjustable and some may find it too long to comfortably vacuum when in canister vac mode. This may mean that if it's the kid's turn to vacuum, they may have a legitimate excuse as to why it's difficult to.
How Does It Compare in Value?
The Rotator Lift Away is one of the mid-range Lift-Away models. Against other Shark brands, the value you're getting from this vacuum far exceeds the price point of it.
Compared to vacuums by other brands, the Shark gives you much more for your money. You won't be able to find any Dyson within this price point, nonetheless a Dyson that can clean this well at this price point.
How Has It Improved?
Over the years, the Lift-Away technology has been taken from the Rotator and has been used in virtually all Shark upright vacuums now available. This Shark is the one that has improved all others.
There are other Shark vacuums with other additional features (like an anti-allergen dust brush), but the price difference between those models and the Rotator doesn't make up for the extra accessories.
The Rotator already features HEPA filtration, which means that 99.9% of dust and allergens are trapped inside the vacuum when in use. Spending an extra $100+ on the newest model doesn't make financial sense when effective allergy technology is already present in the original.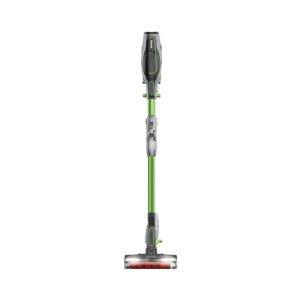 Weight: 8.7 pounds
Power source: cordless
The high points: cordless, can use more than one battery, flexible
The not so: dirt cup capacity small, doesn't stand on its own
Most Sharks are beasts when it comes to cleaning multiple types of flooring, and the IONFlex is no exception.
The DuoClean's dual cleaning heads are the perfect combination. The bristle brush deep cleans carpets, while the smaller soft brush roll pulls in larger debris and gives your hard floors (like tile) the polishing they deserve.
You'll receive an upholstery tool with your purchase, which will allow you to deep clean every cushion in your home. The duster crevice tool will let you get in between those cushions, too.
Allergens beware: The anti-allergen dust brush will help trap dust before it gets back into the air and into your nose. You'll make your money back on this vacuum due to the fact you won't need nearly as many tissues during deep cleanings.
With features not offered on any other cordless vacuum on the market, the IONFlex is sure to bend its way straight into the vacuum shaped hole in your heart.
What Reviewers Say About It?
Reviewers say that the suction power of this vacuum is comparable to upright vacuums, which is always one of the concerns many have with cordless vacuums. This one loses no power from not being plugged into the wall.
The battery takes about 3.5 hours to charge and will last for about 20 minutes, which means that if you don't have a second battery, you may not be able to vacuum your entire space.
Reviewers found that they were usually able to finish the job within a single battery's life, but some with a second story recommend purchasing two so you can finish it all at once.
There is a cool down period where the battery won't charge if you plug it in to avoid overheating, so a second battery (or an entirely free afternoon) is the recommended solution to this problem.
What's Good?
One of the main complaints for cordless vacuums is that the battery doesn't last. What did Shark do to remedy that problem?
Shark has now given you the option to get two (or three) batteries to clean your whole home in one go. There's no more waiting since you can charge while you're vacuuming.
The other main pro of the IONFlex is that your vacuum can bend like no other we've seen before. If you look at the pictures, you may need to take a double (or triple) take to fully realize what this vacuum can do.
You won't even need a separate attachment to reach under couches and dressers. With the flexible handle, those functions are integrated into your main vacuum.
What Could Be Better?
If you're a generally unbalanced person and find yourself dropping things every so often, the Shark IONFlex may exacerbate your problems. This vacuum is very much top heavy and won't be able to stand on its own.
That being said, having the weight at the top is very helpful when you are bending your vacuum to get to hard to reach places. If it were distributed evenly, I think that there would be less freedom to bend the vacuum in the way it needs to.
The dirt cup of the IONFlex is also quite small, as noted by one reviewer. You will most likely need to empty your vacuum multiple times while cleaning your whole home.
It's a good thing that seeing dirt come out of your canister is such a satisfying feeling. Some may even think it's a pro that you get to experience that feeling multiple times a cleaning session.
How Does It Compare in Value?
Compared to any cordless Dyson, there are some features that the Shark does much better. The price point between the two is comparable, so all differences are in the value for what you're paying.
The Shark has removable batteries, the Dyson does not. The Shark has a flexible handle, the Dyson does not. The Shark has two rolling heads, the Dyson does not.
Depending on what you're looking for, this Shark can swim with the big boys of the vacuuming world.
How Has It Improved?
Compared to earlier Shark cordless vacuums, the IONFlex has a flexible handle that you won't be able to find on any other vacuum.
The IONFlex also has two roller brushes, one specified for picking up the big stuff and one for the little stuff, which means that your floors will be cleaner with the newer version of the Shark cordless.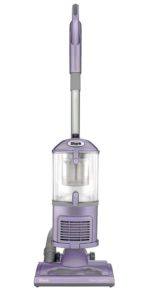 Weight: 12.5 pounds
Power source: corded
The high points: low price point, Lift-Away technology, lightweight
The not so: short hose, will scratch laminate or wood if you forget to turn off the brush roller
Vacuums that are lightweight, can clean hard to reach areas, and that keep you from sneezing are the absolute ideal. Thankfully, our best budget pick, the Navigator, excels in all 3 categories.
Light? How about 12.5 pounds?
Hard to reach areas? Lift-Away technology coupled with a multitude of hose attachments are all you'll need to reach into the nether that is under your bed.
Allergies? No more pregaming with Benadryl because HEPA filtration is there to keep you from breathing the dust back in.
All that combined with a price that can't be beat is what makes the Navigator anything but a typical budget vacuum cleaner.
What Reviewers Say About It?
Quite a few Navigator reviewers came back years after their first review to update potential buyers about their experiences with the brand.
From what we can tell, the Navigator is like a fine wine. It ages well over time and keeps performing year after year like it did on day 1.
Many switched from more expensive and better known vacuum models to this little vacuum that could. Many also say that this is the best vacuum that they've used in years.
Don't let the price deceive you. Reviewers bought this vacuum because of the price, but kept it around because of its dependability.
What's Good?
People who have switched from another vacuum to the Navigator are thankful that this vacuum is light on their wallets and on their arms.
The Lift-Away technology is alive and well in the Navigator, transforming your ordinary upright vacuum to an ultra-portable lightweight vacuum.
People with allergies, like with most Shark vacuums, will be in the clear. The HEPA filter traps 99.9% of allergens before they have the chance to drift back into the air.
What Could Be Better?
When in Lift-Away canister mode, you'll be able to take your Navigator to new heights. Namely, vacuuming your way up the stairs.
When doing so, many thought that the hose connecting the main part of the vacuum and the head was a bit too short. For a vacuum so lightweight, smaller parts are to be expected.
One reviewer noted that the bristles on this brush roller seem shorter than those of other Shark vacuums. She forgot to turn off the roller function on the Navigator when switching floor types and ended up scratching her wood.
This little vacuum can clean bare wood beautifully, but it's essential that the rolling function is switched off before doing so. Our suggestion is to keep this function off at all times as your default, and then switch it on for carpeted areas so if you forget, your floors will be safe.
How Does It Compare in Value?
This vacuum is inexpensive. Like, really inexpensive when considering how much Sharks and comparable models normally are.
For the price, you're getting a vacuum that cleans incredibly well. You'll be surprised, like many reviewers were, when they used this for the first time and had to empty it 3 or 4 times to get all of the hair and dirt out of their home.
For the price, you won't find a better value.
How Has It Improved?
There is a professional version of the Navigator, which includes more accessories and a dusting function for hard floors. Most, if not all, of these accessories can be purchased separately after buying the basic Navigator.
Overall, the specs and the body of the Navigator are exactly the same from model to model. Depending on if you want small extras like a longer cord length, you may consider getting a newer version.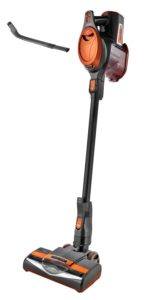 Weight: 7.6 pounds
Power source: corded
The high points: small and portable, can convert into a hand vac
The not so: small dust container, very top heavy
As all good Shark vacuums do, the Rocket upright cleans hard surfaces (like a good laminate-friendly vacuum should) and carpets with the touch of a switch. If a single two in one feature wasn't enough, the Rocket upright also converts into a portable handheld vacuum.
Double the two in one features means double the cleaning challenges you'll be able to conquer with your new Shark.
What Reviewers Say About It?
Though top heavy, reviewers love the fact that the Rocket acts like, well, a rocket, and practically propels itself across the floor with its suction strength.
Reviewers also love that they can reach areas, like under the fridge, that they've left to collect dust in the past. The specific product made for this purpose, the extendable under appliance wand, has changed cleaning for the better.
What's Good?
If you prefer going to the gym for your workouts, the Ultra-light will help you get the much needed break you deserve on your rest days. At under 8 pounds, even the smallest of the bunch will be able to join in and help you with the chores.
If you're not a fan of taking out your entire vacuum to clean up something small, the Rocket upright converts into a portable vacuum. You won't have to drag out the entirety of the already small unit to your car when a certain someone drops their happy meal and your back seat is covered in salt.
What Could Be Better?
Like the cordless IONFlex we reviewed earlier, the Rocket upright is very top heavy. When cleaning, it can be a hassle to find a piece of furniture or a wall to rest your machine against if you need pause to do something quickly.
Also like the IONFlex, the dust container is quite small. For an apartment that can be cleaned without unplugging the vacuum once, one reviewer needed to empty the dirt container several times.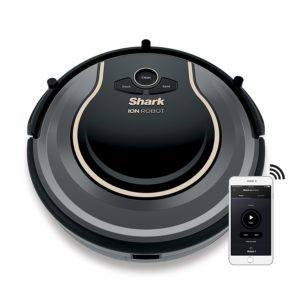 Weight: 5.51 pounds
Power source: cordless, charges itself in the corded dock
The high points: you never have to think about vacuuming, can block off unwanted areas with magnetic tape
The not so: can get stuck on high pile and shag carpet
Could we have finished the best Shark vacuums list without adding one of the latest and greatest members of the Shark cleaning family? Of course not.
The Shark ION robot cleans, docks, and recharges automatically. What more could you ask from a vacuum than to have it do it all for you?
What Reviewers Say About It?
The main thing that reviewers say is that they love that they don't have to do any vacuuming whatsoever or even think about vacuuming. Everything you need to run your vacuum is programmable through an app on your phone.
They also say that their ION robot cleans just as well as a Roomba that's twice the price. Here Shark goes again, giving you a great value for the price.
What's Good?
One unique feature to this robot is that there is a pack of magnetic tape included so your ION robot doesn't get stuck in unwanted areas. If you have a desk with tons of wires underneath, you can put a piece of this tape along the floor to keep your ION safe from entanglement.
The ION robot is also fully integrated with Amazon Alexa and your smartphone, so you don't even need to fidget with the docking station or ION robot itself after the initial set up phase.
What Could Be Better?
The ION robot gets caught on long carpet fibers, so if you have rugs that are high pile, this may not be the Shark for you.
Also, if you're looking for something that will give your home a deep cleaning, this isn't the product for you either. The ION robot is perfect for in between deep cleanings, but isn't sufficient in itself to keep your house spotless.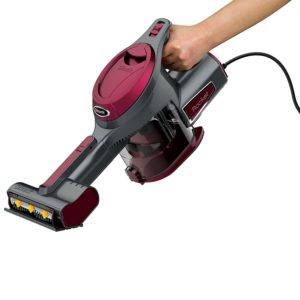 Weight: 3.7 pounds
Power source: corded
The high points: attachable hose to get even harder to reach places, motorized head tool
The not so: very specific in its usage
The Rocket hand vac is a great addition to your Shark vacuum family. If your upright isn't specialized for upholstery or you find it difficult to clean stairs, this is the companion you need to supplement your cleaning regimen.
With 15 feet of cord and less than 4 pounds total, this super lightweight hand vac has everything you need to make cleaning the details of your house less tedious.
What Reviewers Say About It?
Reviewers agree that this is by far the strongest hand vacuum that they've purchased. More than one reviewer said that they enjoyed recycling their old weak cordless vacuum much more than they thought they would once they bought the Rocket hand vac.
Pet parents especially are thrilled with how well the Rocket hand vac sucks up pet hair. Upholstery in their homes has never looked better.
What's Good?
For a portable vacuum, the Rocket hand vac has a lot of features that their competitors don't.
One of the unique features is that there is a hose attachment, which gives you a little extra length to reach hard to access places.
Another unique feature is that there is a motorized head attachment, which works well for large areas on the floor of your car or for the treads of your stairs.
What Could Be Better?
When purchasing a hand vacuum, you need to remember that the purpose for it is to be a hand vacuum and that's about it. You'll be able to clean stairs, cars, and hard to reach places, but not the entirety of your living room floor.
You won't be able to purchase an attachment to clean your entire floor with this vacuum, unfortunately. Though, you should keep in mind what the Rocket hand vac does, it does well.
The Verdict?
Our top shark pick is an all around superstar, our best cordless pick has features no other cordless vacuum does, and our best budget pick competes with vacuums 2 or 3 times the price.
Shark has perfected the art of offering high quality products at a price that's unbelievable to most consumers.
It's easy to see now why those dust bunnies are terrified.