Shark has become known as the value brand in an otherwise crowded, competitive market. These days, that value is related more to price point and the distribution channels it services rather than any shortcuts in the product. Depending on what your cleaning needs are, we have a high performance, quality solution for you in this comparison of the best Shark vacuums.
To cover the big picture, you should know that it seems all Sharks are effective on both carpets and solid surfaces. Some handle both well, and some are designed for one over the other or for different types of messes. Bagless seems the direction Shark (and everyone else) is taking, lowering your maintenance costs even more.
Which Shark vacuum will be the best for you? It can be hard to tell, because these are shipped with subtle differences in packaging and accessories depending on where you buy them. As long as you rely on a reputable dealer, you should find the vacuum of your dreams (or at least add to your wish list) from this guide.
8 Best Shark Vacuums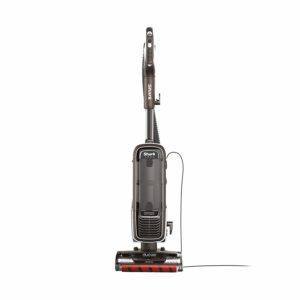 Style: Upright
Ergonomics/Ease of Use: A
Cleaning Effectiveness: A
Dust Bin: A
Accessories: A
Weight: 25.0 lbs.
This Shark wins our vote as the best vacuum to span any number of household cleaning needs. It excels at moving between surface types and modes. DuoClean is a two-brush roller system that deep cleans carpeting and softly polishes hardwoods.
If hair wrap on your vac brush is an issue you hate to face, the Zero-M system cleans that for you (though some reviewers say this does not work as well as they wished). Removing the mess means the system cleans more thoroughly on one pass. It also boasts a sealed air system with HEPA filters, leaving behind no allergens or odors despite whatever the vacuum sucks up.
A lift-off handheld system is built into the upright vac handle, with attachments for crevices, furniture upholstery, and more. The dust canister detaches when you need to duck under low furniture too. It has a range of solutions for multiple uses, and with a 30-foot long cord, it can reach them without constantly changing your plug.
A few users note that the hose can feel stiff and difficult to extend. Others say they find it difficult to keep the accessories attached in the designated places on the upright unit. Even with their issues, though, they note this Shark has super suction and cleaning power to cover all their flooring needs.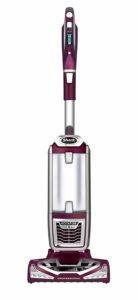 Style: Upright
Ergonomics/Ease of Use: A
Cleaning Effectiveness: A
Dust Bin: A
Accessories: A
Weight: 15.4 lbs.
If pets are members of your household, you'll want this Shark to help with the dry messes they leave behind. The rotator steering system makes moving around furniture and into corners easy to achieve. The dust canister lifts off the upright unit to help you move under low places too.
Pets can often track in small leaves and clumps of dirt, and this vacuum is up to the challenge of picking those up. It has a special head setting for vacuuming hardwood floors so that larger pieces of debris won't be pushed around or fly out to the side. Fuzz on furniture also won't be a problem with the motorized brush you can add to the hose or use as a handheld.
The pet motorized tool has also been great for those area rugs that are too thin for a conventional vacuuming. This upright does the job on pet dander and odors they leave behind with its sealed allergen air system and washable HEPA filter. The suction proves to be amazing according to users.
Note that this vacuum does not have Shark's Zero-M technology to clean pet (and human) hair off the roller brush. Some users aren't happy with the length of the hose at just over six feet. Overall, though, most reviewers say this vacuum provides an effective solution for their pet-parent needs.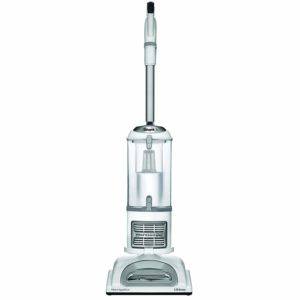 Style: Upright
Ergonomics/Ease of Use: A-
Cleaning Effectiveness: A
Dust Bin: A
Accessories: A
Weight: 13.7 lbs.
If your flooring transitions frequently from solid to carpet and back again, consider using this Shark to cover both with good cleaning power. The brush head is designed to perform deep cleaning on carpets, gentle cleaning on solid floors, and shut off completely if needed. While the weight is not light, the structure of this vacuum makes it easy to carry between floors in your home.
The air filtering system includes two in-process filters and a HEPA filter to remove allergens and dust. All three are washable so you aren't spending money replacing disposable filters. Swivel steering moves around furniture legs and into corners.
The Lift-Away handheld system utilizes the wand handle, a shorter hose, and multiple head attachments. These pick up dust off the furniture and cobwebs from the ceiling corners, and used with the smallest attachments, conquer carpeted stairs effectively. Reviewers note the suction is great on all surfaces.
This unit can be considered loud if you're sensitive to sound. It requires storage space for the upright and all of the accessories. Overall, though, it is the best for those of us wanting one vacuuming solution for varied floor surfaces.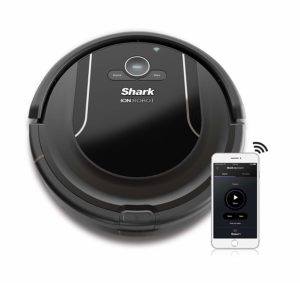 Style: Robot
Ergonomics/Ease of Use: A-
Cleaning Effectiveness: A-
Dust Bin: B
Accessories: N/A
Weight: 5.5 lbs.
If you want to vacuum without touching the vacuum, this Shark robotic system will be your treat. With side arms for the edges of the room and dual brushes to attack both carpet and solid floors, it can cover whatever space you need, even while you're not there to supervise. It has a quiet mode for those times when it's running under your feet.
The dust bin on this machine isn't as large as other robots' bins, which means you will be emptying it more often. It vacuums pet hair and removes it from the brush head without your intervention. It also does a good job on larger pieces of debris like crumbs or leaves.
This system features built-in navigation that learns where it's supposed to clean using an eyesight system to avoid furniture and obstacles. Its low profile means it can get under the sofa and chairs too. You can program this with your Alexa app even when you're away from home.
Moving the robot from floor to floor in the house is a manual process. Users love the cleaning suction this unit provides but note that an average single story might require two passes with a charge in between to get the job done. It returns to the place it stopped vacuuming when it recharges.

Style: Stick
Ergonomics/Ease of Use: A-
Cleaning Effectiveness: A-
Dust Bin: B
Accessories: B+
Weight: 9.9 lbs.
Sometimes, you'll see this vacuum listed as an upright in the name, but don't let that label fool you. This is a corded (30 feet) stick unit with detachable handheld flexibility built in. The dust cup and motor can be plugged into the motorized attachments for mini cleaning power with strong suction.
One DuoClean brush head performs deep cleaning on carpets and rugs, while the softer brush picks up larger pieces of debris and dust on solid floors. The toggle to change between the two is a floor switch. Unfortunately, if you're picking up a lot of dirt, you may need to empty the smaller dust cup frequently, a one-touch process over the trash.
Users like the LED light to help you see what's in front of the brush head, especially when it comes to dust on hardwoods or laminate. Some note that the ultra-light in the name is a misnomer, and sometimes it can feel like you're still wrestling with a giant on carpets. It comes with a short list of accessories that meet most common cleaning needs.
If storage space is at a premium and your floor plan isn't large, this vacuum fits nicely into closets or corners. Note that it comes with different accessories, depending on which model number you buy. The HV382 has the full set of everything.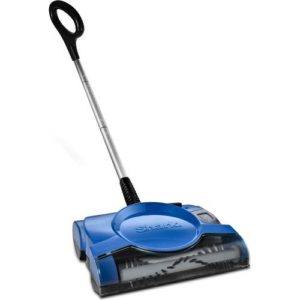 Style: Stick cordless
Ergonomics/Ease of Use: B+
Cleaning Effectiveness: A-
Dust Bin: B
Accessories: N/A
Weight: 4.25 lbs.
This floor & carpet sweeper fills a specific need in the cleaning spectrum, the one where you have light messes on carpets or solid floors, and you want a quick way to pick them up. This Shark is known to be quieter than a regular vacuum with a foot-wide brush head to get the job done quickly. It maneuvers easily over relatively flat surfaces.
The powered two-speed brush head is designed to pick up what's in front of the machine as well as anything stuck along a wall with what Shark calls a squeegee. The handle folds down to stretch under furniture. While it is designed for heavier debris as well, users note that it's most effective for lighter messes.
Consider any place where regular light sweeping would be needed, such as under the kitchen table or around a craft area, and you'll understand where this unit is most effective. It is not designed for deep cleaning or major debris in thick pile (for that, look into a shag carpet friendly vac). If you need to sweep up light messes frequently throughout the day, this can accomplish the task with ease, as long as you empty the dust cup regularly.
The power plug can be a challenge, since it is a small port and it sometimes difficult to seat it correctly. Reviewers say it maintains a great charge to cover a 500 square foot space. For your home's or workplace's little messes, this Shark will clean things up fast.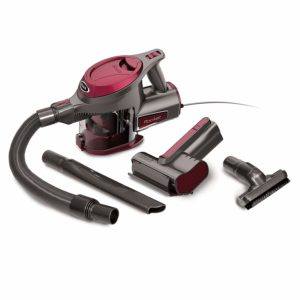 Style: Handheld
Ergonomics/Ease of Use: A-
Cleaning Effectiveness: A-
Dust Bin: B
Accessories: A
Weight: 3.7 lbs.
We all have a need for a handheld with multiple attachments like this Shark. Its light weight and ease of handling encourages its use for upholstery in the house or the car, with special attention for pet fuzz with the mini motorized head. The hose can extend your reach, or you can keep the head on the unit for maximum suction.
The cord is 15 feet long, which some might find to be too short to reach those out of the way places. Add the hose to that length, though, and you will probably find it to be adequate. Because this is a handheld unit, the dust cup is small, though it does empty over the trash with a press of a button.
Vacuuming stairs is another area where this Shark shines, since it is easily portable for the long climb and crevice tool for the corners. While it does not have a sealed air system, the filters are washable, making it easy to keep them clean and help with overall air quality. Suction is good for such a little machine.
Some users were not satisfied with the suction level, though, and found the brush head difficult to keep clean. Others say it's more than enough for them to vacuum their cars, or keep small apartments or RVs clean. As a partner to a larger full-sized machine, this handheld does a good job filling its niche in the Shark product line.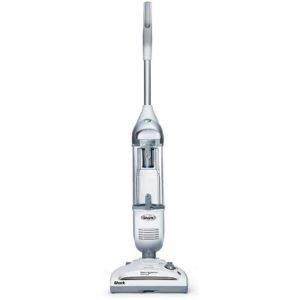 Style: Upright cordless
Ergonomics/Ease of Use: A-
Cleaning Effectiveness: B+
Dust Bin: A
Accessories: B
Weight: 7.5 lbs.
As in any budget vacuum model, this Shark is a stripped down version of some of the larger cordless uprights in the brand line. It does have some big advantages, though, including the fact that it is rechargeable (four hours to a total charge) and provides a decent version of most major features. Suction is adequate for most basic needs.
Users do note that the suction works well for common carpet messes and dusty floors. However, if you plan to clean up landscape bark, cat litter or dry cereal spills, it may spit out some pieces rather than pick them up. The head swivels independent of the upright body, a feature some like for its maneuverability and others find annoying.
The brush head is easy to remove, clean and reinstall, as is the washable filter. Reviewers note that keeping the brush clean is important, because a hair-clogged brush will pick up nothing. It does a good job on dust as long as the dust bin is not overfilled.
Overall, if you don't want to invest in a lot of machines (P.S. make sure to recycle your old vac) and don't have regular heavy-duty vacuuming needs, this machine should cover it. Note that battery life depends on what cleaning settings you're using. It is a good choice for those of us who don't need deep vacuuming on a regular basis in a large household.
The Complete Shark Vacuums Buyer's Guide
What Makes Shark Vacuums Special
Shark positions its vacuum brand as the high quality, price-sensitive competitor in the market (compared to Dyson, others). Design features have improved steadily over the years, on par with or exceeding those of other more expensive manufacturers. But that's not enough to set them apart, so what does?
In a single word, it's this: selection. You have a model for any conceivable use and most cover multiple functions. Cleaning carpet and hardwood is a constant standard, but then so are cleaning up after pets and destroying allergens.
Even within the Shark brand, some units are better than others for specialized needs. Our comparison stresses the best models for a niche use, but don't let that fool you. Most of these warrior machines cover a lot of ground-in dirt with ease.
Corded versus Cordless Power
There's been a long continuing debate about which is better, a corded or a cordless vacuum. Corded vacs can run forever because there's no battery to run out of juice. However, if you're trying to dodge obstacles, the cord can become annoying.
Cordless models are known for being able to clean difficult spaces, like carpeted stairs, as well as getting into corners. Advances in Shark battery design means they can last longer on a single charge, and they recharge faster. Still, not having enough power to finish your cleaning project can be a hassle.
Some people want both, which means two vacuums, and I'm one of them. I have a large corded model for heavy-duty carpet cleaning, laminate vacuuming, and hardwood and tile clean-ups. The cordless model is for the smaller messes in between, but I've been known to do the whole house with a cordless vacuum without a problem because battery power has become that good.
Maneuverability
How well a vacuum moves back and forth across the surface it is cleaning depends on a few factors. First is the movement mechanism guiding the head, either wheels that can move in a single axis direction or a rotational ball that moves in multiple directions. Sometimes it's a combo of the two, adding flexibility that can also lead to wrestling matches on deeply sculptured carpets.
A rotational ball can help you change directions, but some users complain they are harder to direct in thick pile or deeply grooved surfaces. Straight wheels can mean you're struggling around furniture and other obstacles. It's a matter of personal preference for your types of surfaces and style of cleaning.
Upright versus Stick
Upright vacuums have their bulk in the handle attached to the head. The head beats the rug or sucks up debris from a flat surface, moving it into a dust bin that's in the handle along with the motor. It's convenient to have greater power and larger dirt bin, but the trade-off is that these machines are much bigger than others.
Sticks have much smaller versions of everything. The suction power isn't as intense and your battery (or corded engine) doesn't pack the same punch. If you can live with a narrower cleaning head, this isn't a problem, particularly if you only need to cover small spaces.
Both types come as corded (usually 15 to 30 feet long) or rechargeable cordless models. Cordless units run on batteries that add some weight to the handle, and some are known to have longer lives between charges than others. If your vacuuming need is small, though, it can usually get the job done.
Dust Catching
Dust bin size is clearly related to the overall size of your machine. It's best not to test that size, though, because you could be removing materials from a bagless bin with your hands if it's jammed. It's also best to deposit the debris in the trash as soon as you can (avoid the kitchen can) because everything you remove will carry an odor you don't want to spread around.
Air Filtering
This is perhaps the greatest advancement in recent years, the ability to filter the air moving through your vacuum, removing pollen and pet dander. This is accomplished with the use of HEPA filters to remove particles and allergens from the air moving through the machine, releasing fresh clean air as exhaust. Some machines even come with added air fresheners leaving the scent of your choice behind.
HEPA and other filters come as washable or replaceable. The washing instructions include a reminder to let the filter dry completely before use. Some vacuums are known to need new filters more frequently than others, something we note in our comments if it's an issue.
Why Pick a Shark?
Clearly, Shark has built up a significant reputation as a quality product. It is widely available, and if you happen to need a repair, you can find that service in most major markets. These machines are reliable, though, and you probably won't need service over the life of your vacuum.
FAQs about Shark Vacuums
Shark vacuums come in a range of styles with specific purposes in mind. Some are also more multipurpose, so it's important to think about how you plan to use it to clean your home. Here are some of the common questions you should ask yourself as you consider your Shark purchase.
What kinds of surfaces will I be cleaning?
If your flooring is wall to wall carpeting, you'll want to pick a machine known for deep cleaning and ease of use under and around furniture. Rugs and carpets with thick, textured or sculpted pile will create more resistance to the vacuum head, so you'll want to pay attention to how well it maneuvers. Longer pile (long fibers) can become stuck in the brush head too, so you might need to lift the head to a height that doesn't interfere.
If you're primarily cleaning hardwood, vinyl and tile, you'll want a machine with an adjustable head to pick up the debris without spreading it out the other side. Larger pieces can slingshot out the back if you're not matching your head setting to the surface. Here, too, you'll need to consider deeper grout lines in tile or textured surfaces and how difficult it will be to move over those.
Mixed surfaces become more of a challenge. You'll definitely want an adjustable head, and you'll need to remember to change the setting because this does not happen automatically. However, the flexibility of being able to clean both kinds of areas will make your life easier in the long run.
How big is my floor surface?
The size of space you need to clean plays into your Shark decision in the power of the vacuum you choose and how easy it will mean to move around. A single level condo with relatively small surface area can be covered with a cordless with ease. A multistory house with lots of carpet might point toward a larger unit, but then you'll be moving it from level to level.
If you're toting this vacuum between floors, keep its weight in mind. If you need the benefit of allergen removal in a small space, you might buy a larger machine for its HEPA filters even if it's more power than you need. The good news is that there is a Shark that meets your needs, no matter what.
How much dirt is tracked into my home?
We used to live on a dusty ranch and the battle between me and the layer of freefall was a constant chore. I could see what was on the tile floors, and I could only imagine how dusty the rugs were as well. Having a powerful tile vacuum and using it often was a must.
Urban cleaning needs are a little different, with more concerns about what I can't see on the floor surfaces than what I can. The dogs still bring in leaves and dirt, but now I'm more worried about allergens and street dirt tracked inside. Vacuuming as often isn't a necessity, but I still have good machines that move easily so I can if I want to.
The third dirt category is less track and more creative spirit. If you have art projects in your house that bring about spills like beads, glitter or bits of yarn and fabric, you will want a more powerful vacuum to help. Plus, you'll probably want a handheld or cordless stick unit for quick clean-ups.
What special needs do I have, like cleaning up after pets or removing allergens?
Even the dogs that are said to be shed-free leave behind dander or bring in pollen, and at some point in every year, Mother Nature gifts us with all sorts of things that float and settle on our floors. If people in your house are highly allergic to any of this, you'll want a vacuum with allergen cleaning power and HEPA filters. You want ease of use too, so that you can clean more often.
If anyone in your house has long hair (human or critter), some amount of hair will shed to the floor. At high shedding season, your cat or dog may produce enough to knit a sweater. Buying a machine with a brush head that self-cleans, removing hair that otherwise tangles on the roller, will be a given.
How often will I be vacuuming?
Do any of us vacuum as often as we should? If you are one of those determined people who actually can tackle this task on a frequent basis, we salute you – and recommend you buy a Shark with ease of use in the forefront. Frequency of vacuuming plays into many issues around machine selection, including suction strength (making a single pass being less difficult than multiple ones), dust bin size (to hold everything you vacuum up – see our upright vs canister vac comparison), and machine style.
Does this model have the attachments I need?
Not all Sharks come with a full array of accessories and tools. If you need to vacuum pet hair off the furniture on a frequent basis, a motorized mini head designed for that will make your life easier. If you have cracks and crevices that need work, a narrow head will help there.
Other popular items are extensions to reach the tops of drapes and rods or ceiling fans, and tools to make steps easier. Some of us take the vacuum outside, too, and clean the inside of the SUV or car. As part of your needs list, consider what else you'll be using the vacuum for to make sure you will have the attachment you need.
Where can I store my vacuum and accessories?
The closer your vacuum can live to where the action is, the more likely you will be to use it, and that's the point of buying it in the first place. However, if your coat closet already resembles a mini car stuffed with too many people and the basement is out of sight, out of mind, you'll want to consider how much room you need for the vacuum and its accessories.
If you live in a small apartment or condo, space is already at a premium, so a cordless stick vac is often a great choice. Uprights require the greatest amount of storage room, and rechargeable systems need to be close to a power plug. It's a trade-off depending on your particular needs.
Is a robot system enough for regular cleaning?
Robot systems are good for general cleaning in a household that doesn't become too messy, is too large, or has multiple floors to clean with a single unit. They lack significant dust bins and unlimited power. Depending on how much terrain they'd need to cover, it could take a couple of recharging rounds to get it all done.
People wonder too if they'll fall down stairs or over edges. Robot systems have visioning systems to see where they're heading and see stairs as empty black space, so they stop – or you can place sensors to tell them to stop at a point. They use this same eyesight to maneuver around furniture legs and other obstacles, and some people note that they aren't always as good at cleaning around chairs since they're regularly displaced and moved.
Selection Criteria for Shark Vacuums
Our comparison lists Shark vacuums for every major purpose and kind of floor cleaning. Not all have every feature for every situation, so take inventory of what your needs will be. Based on that, you can find a match based on our grades in the following categories.
Style
We have Shark uprights, sticks, handhelds, and robots on our list. You might want one that's more multipurpose or a couple to meet different needs. Style equates to storage size as noted previously, along with weight and cleaning power.
Ergonomics/Ease of Use
Letter grades have been assigned based on how easy it is to move the vacuum during regular cleaning. Sometimes the reason a machine is graded lower is exactly the feature you need for your kind of flooring, so there's no "bad" grade per se.
Cleaning Effectiveness
It would be easy if there was a common measure of suction noted for each machine, but cleaning ability is about more than power. Brush type, head size, and other features also come into play. Our letter grade here is based on how well the machine matches the common features you'll need.
Dust Bin
It's better to empty a bagless bin frequently (watch the marks on the side of the dust canister) because that's when the vacuum is at its most effective. Shark recommends avoiding an overfill situation for best power. Grades are based on overall dust bin size and how well it works for common use.
Accessories
Our grade here indicates if the vacuum can use a plethora of tools or if you're limited in your selection. We note in the comments if special attachments are available. When in doubt, look for the machine with the most accessories since you're highly likely to find something designed for the unique purpose you have in mind.
Weight
If you're carrying your vacuum between floors, you'll definitely want to pay attention to this statistic. Likewise, someone who needs to clean frequently will also want to know how heavy a unit might be. Weights for rechargeable vacuums and robots are for the vacuuming unit only, not including the recharging station.