Upright vacuums are a classic choice for the family that needs their vacuum to do it all. From stairs to cars, upright vacs are versatile enough to get any job done.
Do your stick vacuums seem to break in half just by looking at them? Do canister vacuums always find a way to fall over and spill on your freshly vacuumed floors? Find your handheld vacuum freezes up each time it sucks up a single frosted flake?
Maybe you're just looking for vacuum love in all the wrong places. Our guide covering the 6 best upright vacuums just might be able to help.
If vacuum dating profiles were a thing, we're sure that you'd "swipe right" and say yes to at least one of the upright vacs on our list. From budget vacs to high rollers, there's an upright vacuum that fits your lifestyle and tastes.
Don't give up on love just yet. Take a look at our 6 eligible upright vacuum bachelors below and give vacuuming another chance.
Rankings
What to Look for in an Upright Vacuum?
Because upright vacuums are a fan favorite of cleaning lovers everywhere, it can be difficult to distinguish between an extraordinary one and one that's just so-so.
Here are some of the features different upright vacuums might have:
Optimized for pets
Retractable cords
Converts to handheld vac
Multiple layers of filtration
Works on multiple floor types
If you have pets, you'll want to find a vacuum that has tools specifically for cleaning pet hair. This could mean looking for something with strong suction or a specific pet hair tool to clean upholstery.
Retractable cords are a user-friendly option that saves the hassle of spending half the day rewinding 30 feet of cord. Vacuums that convert to a handheld save you time by you not needing to break out another product during a cleaning session, and saves you money because you won't need to buy a separate machine.
Filtration is vital to keeping every allergy-ridden person in your home happy and tissue-free. If you have multiple kinds of floors in your home, you'll want to take that into consideration, too.
When finding your perfect upright vacuum, you'll want to make sure the one you want to purchase has the right features for your home. Be sure to prioritize and figure out what features make the most sense for you and your family.
What to Expect When Spending More?
No matter the cost of your vacuum, you can find a model that cleans hardwood and carpet well. The price differences of uprights all lie in the suction power of the vacuum and the durability of the machine itself.
Lower end upright vacuums will usually be made of cheaper materials, like plastics. Because of this, you can expect budget upright vacuums to be lightweight, but not extremely durable.
Mid-range upright vacuums will typically be a bit more heavy-duty. They will have better suction than the lower end vacuums and will have hose attachments that perform better than their lower end counterparts, as well.
Expensive upright vacuums will have the best suction of all, no questions asked. These will typically be the most user-friendly and will have features that you may not even realize make cleaning easier.
Upright vacuums in every price range will have variations of the same features, so don't worry if a retractable cord is the only thing on your vacuum bucket list. We're sure there's a model in your price range that can do just that.
Full Research & Reviews
Now that you know what upright vacs are all about, get ready to mingle.
Here are our 6 best upright vacuums: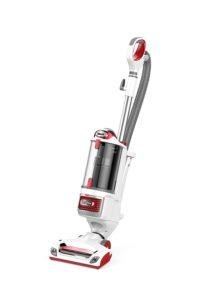 Weight: 15.5 pounds
Power type: Corded – 30 feet
The high points: Vacuums carpet, tile and other hard floors, premium pet power brush, HEPA filtration, lift-away technology
The not-so: Warranties can get tricky, filter may need to be replaced often, it's difficult to replace a single part of the vacuum
For a serious clean, the Shark Rotator gives you the results you've been waiting for. From the reviews online, it's extremely clear that the Rotator is cleaning professional-approved.
If this vac is the vacuum of choice by hundreds people who clean for a living, it's more than proven itself to be your vacuum of choice for everyday messes.
This corded upright vacuum cleans hard floors, carpets, and stairs without a problem. If the lift-away technology of the Rotator doesn't impress you, there may not be many vacuum features out there that will.
As a family-friendly vacuum option, the Rotator has your back… actually, nose. For those with allergy sensitivities, the pet power brush and HEPA filtration save you and your loved ones from the dreaded sniffles.
The professionals got it right by saying that the Rotator was the best value you'd be able to find in an upright.
What reviewers say about it?
Users say that for the suction the Rotator has, the noise the Rotator makes is essentially non-existent. This Shark vacuum may be hefty, but users love how quiet it is when it's on the job.
One small feature the Rotator has that many other vacuums don't is a cord hook to hold your cord out of the way as you're vacuuming. This frees your non-handle-holding hand to allow you to carry a cup of coffee or cocktail as you're whizzing around your home.
The "headlights" feature of the Rotator is a unique touch that many users have never seen before. Reviewers love that they can see what they're about to pick up before passing it over and sucking it up into the large dust container.
What's good?
For your modern home, you'll typically want a vacuum that can do it all. Having a separate vacuum for laminate, for carpets, and for stairs is cumbersome (and takes up a lot of precious closet space).
The Rotator cleans hard floors and carpet with ease. The lift-away technology is especially useful when it comes to carrying your vacuum around to clean areas like your stairs that are typically not upright friendly.
The pet power brush is unique to the Rotator. It attaches to the nozzle of the hose and agitates the pet hair and dirt in your upholstery to get all of the grime out easily.
The Rotator contains not one, not two, but three filters to keep all of the dust you're picking up in your vacuum where it belongs. Allergies have nothing on the Rotator's extremely effective HEPA filtration barrier.
What could be better?
There seems to be a bit of disconnect between Shark and their customer base. If users have a problem with their vacuum, they find it's difficult to get the answers they need from the manufacturer.
The way warranties work when buying a Shark is that if you get it anywhere other than the Shark website, you have a shorter warranty (and one with less coverage, too). Before buying, you need to make sure the Shark you're buying has the amount of protection you know you'll need.
If reusable filters set your eco-friendly heart on fire, you'll love the Rotator. The only downside to reusable filters is that when it comes to the Rotator, they need to be replaced more frequently than you'd expect.
Should your Rotator need a replacement part, Shark more than likely won't be of much help when it comes to fixing it. Most times, you'll need to return the entire unit and get a new one instead of fixing a single part, which can be a bit of a hassle.
How does it compare in value?
Compared to many other vacuums in this price range, few have the cleaning power of the Shark Rotator.
Many have compared the quality of the Shark to that of a Dyson, which shows how much bang you're getting for your buck. There are dozens of reviews comparing the two, which shows that the Rotator is definitely a Dyson level competitor.
How has it improved?
Compared to the original Rotator, the Rotator Professional has a wider head, which makes it easier to pick up debris fast. You'll need to make less passes to get the same amount of clean, which ends up being a real time saver.
Other older Sharks don't have features like LED lights, swivel steering, or HEPA filtration. For those reasons (and other reasons we've already mentioned above), this Shark is above and beyond the rest.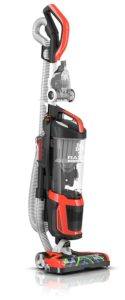 Weight: 11.8 pounds
Power type: Corded – 25 feet
The high points: Attachments held on vacuum, works on hard floors and carpet, very easy to maneuver
The not-so: Loss of suction for attachments, may topple on its own, small dirt cup
For precision cleaning on a stick vacuum budget, the Dirt Devil Razor is the upright vacuum you need.
Our best under $200 budget vac pick gives you everything you'd expect a vacuum twice the price might have. The Razor offers carpet to hard floor cleaning and all the attachments you'll need to keep even the smallest of crevices clean & dust free.
The Razor lives up to its Dirt Devil name. It's essentially the enemy of grime and sucks up everything and anything that gets in its way.
At 11.8 pounds, the Razor is lightweight and easy enough to use by anyone in the family. The hose attachment lifts with a single button push, which goes to show you how user friendly the Razor really is.
For spotless on a budget, the Razor is the upright for you.
What reviewers say about it?
A seemingly simple design feature can make all the difference. Users love this vacuum in part because all of your attachments are connected to the vacuum, and they're right at your fingertips when you need them most.
If you can fill a car with gas, you know how to use the hose function of the Razor. The hose is easy to detach from the body because of its unique design, which again, is incredibly user friendly.
Reviewers love that this vacuum is lightweight, but doesn't feel lightweight. It has the quality makings of a vacuum that's heavy duty, without all of the extra heavy duty weight attached.
What's good?
If you're a bit forgetful, the Razor makes sure you'll never lose the attachment you need again. You'll be more than ready to take on the cleaning world with all of the attachments for the vacuum stored right at your fingertips.
For homes with both carpet and hard floors, you're in luck. The Razor can handle it all, especially because of the specially designed for Dirt Devil SPIN4PRO premium brush roll.
The low profile and easy swivel of the Razor also mean you don't need to go to the gym everyday to move your vacuum around easily.
What could be better?
The plus: All of the attachments are located on the vacuum itself. The con: each attachment's suction isn't as strong, as a result.
The way the brush head is designed is that it slides down the hose and locks in to crevices at the head of the hose. Because of those tiny crevice holes, there is some loss of suction when using the attachment.
When needing to take a quick break while vacuuming, be sure to lean your Razor against a table or the arm of your couch. This Dirt Devil is known for losing its balance and toppling over.
If your home is large, this small vacuum will need to be emptied multiple times per cleaning. This one isn't as much of a con as it is minor setback as long as you have a trash can at the ready.
How does it compare in value?
There's a reason the Razor made it to the top of our list. For the price point, the Razor is above and beyond anything else out there.
Many other vacuums in this price point will actually be stick vacuums, which are generally lighter than uprights and also generally don't have the best suction. This vacuum outpowers any other vac in its price range easily.
How has it improved?
Though we've reviewed the original Razor above, there is a version of the Razor with a pet attachment that you can use to get even more hair from upholstery. For the price difference between the two, we decided the original Razor was the better deal.
Other than that minor pet attachment improvement, the Razor has stood the test of time and has proven itself to not have needed any major changes in design. It was designed entirely with users in mind at the start, meaning updates will only come when technology significantly improves.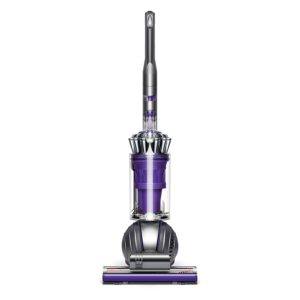 Weight: 17.35 pounds
Power type: Corded – 35 feet
The high points: Has the certified best suction at the vacuum head, long cord, self-adjusting cleaner head, turbine tool
The not-so: Difficult to clean longer carpet, hose is stiff
When you're the best, you don't need to keep comparing yourself to the rest. The Dyson Animal 2 has rightfully earned the title as the best in suction.
With the certified best suction on the market (yes, they really conducted studies proving this), the Animal 2 is the best uprights have to offer.
This high-end pick has it all, including everything you'll need to clean your upholstery, stairs, and wood-look tile. Seeing all of the dirt you've collected at the end of a vacuuming session makes cleaning fun and satisfying with the Animal 2.
Though this is not a lightweight model, it's not hard to move around. The Animal 2 is sturdy, but the ball technology in the head makes maneuvering simple.
If you want the best of the best, the Animal 2 is it. Just be prepared for the hefty price tag that comes along with the greatest innovations currently available.
What reviewers say about it?
Reviewers love the ease of use that comes along with the Animal 2. The ball technology of the vacuum makes it extremely easy to maneuver around corners and furniture even though it's not low profile.
Another feature that makes users' lives easier is the long cord. You'll never need to worry about finding an extension cord to make it to the other side of the room when you have 35 feet to work with.
Users can feel the difference the higher price tag makes. The Animal 2 feels like an expensive, durable, luxe product compared to other, more cheaply-made vacuums.
What's good?
For the literal best suction in the upright vacuum game, the Animal 2 is your only pick. Compared to every other upright out there right now, you are guaranteed to not find a vacuum with better suction.
This Dyson vacuum can be relied on for both hard floors and carpeting, which means that you'll be going over bumps from floor type to floor type. The self-adjusting head makes transitioning from room to room simple.
The attachment that users love the most is the turbine tool. You can think of the turbine tool as a mini upholstery deep cleaner that sucks the fur out of your "fur"niture.
What could be better?
If you have a whole home full of shag carpeting, this is not the vacuum for you. I repeat: this is not the vacuum for you.
Having the strongest suction in the world is great and all… until you can't move your vacuum because it's stuck to your carpet. When going over plush carpeting, the suction of the Animal 2 will suck the carpet into the vacuum so much that you won't be able to move your vacuum back and forth to clean.
Area rugs have also had their corners sucked up into the Dyson, which takes fibers from it and leaves you with a patchy ruined rug. Other than that, you know… minor problem, having the strongest suction in the world poses no issues.
The only other small, yet notable, complaint reviewers had for the Animal 2 was that the detachable hose was a bit stiff and hard to stretch when using the crevice attachment.
How does it compare in value?
Since this vacuum does have the best suction in the world, literally no other vacuum can compare. Considering the power you're getting, the price of this high-end model is very much worth what you're paying for the Animal 2.
Yet, the price does put this vac in a different echelon than the other models we discuss in this Floor Critics guide. Not everyone is going to look to spend quite this much in this category, and there are truly great (though, perhaps inferior) options available at significantly lower price points – hence our #3 ranking.
How has it improved?
The difference between the Animal and the Animal 2 is all in the suction.
Though the Dyson Animal had great suction to start with, it was not "award winning". The Animal 2 was designed to be the best in the world, and it now has the title to show for it.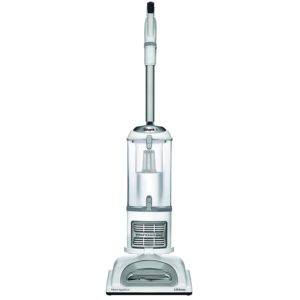 Weight: 13.7 pounds
Power type: Corded – 30 feet
The high points: Hard floor hero, HEPA filtration, lift-away technology
The not-so: Vacuum hose is very short, awkward cord placement
If the Shark Rotator isn't the dust cup for you, the Shark Navigator might be right up your alley. This Shark is lightweight, nimble, and ready to clean your floors.
The Navigator cleans carpet easily, but hard floors are where the Navigator really shines. You can dust your floor with the hard floor hero attachment, leaving your floors sparkling between full vacuum sessions.
What reviewers say about it?
Reviewers like the Navigator, but wish that it had some of the features that the Rotator does. One reviewer mentioned that she would have loved the addition of LED lights to see the floor she was cleaning better.
Reviewers also like that the Navigator is easy to maneuver and is lightweight, but some mentioned that it's too large profile to reach under large pieces of furniture. Aside from that fact, users say the Navigator is one of the most intuitive vacs they've ever used.
What's good?
The hard floor hero is the Navigator's signature move. The hard floor hero is specifically designed to capture large debris that might otherwise not be sucked up with the vacuum, which makes it perfect for kitchen flooring.
Speaking of Shark specific innovations, the lift-away technology is another main feature of the Navigator. With lift-away, you're able to transition your full upright to a portable canister vac in seconds; this makes vacuuming stairs and upholstery a breeze.
HEPA filtration is also always a plus, leaving your home clean and your air dust free until your next cleaning session.
What could be better?
Though there are crevice tools to use, the hose on the Navigator makes it difficult to use them. The hose on this Shark is short and does not stretch well at all. This makes cleaning stairs and couch cushions more of a hassle than it should be.
The cord placement also makes detaching the hose an ordeal in itself. To remove the hose, you must first unwind the entire 30 foot cord to get to it.
If you hate tripping over cords while using the hose, you may choose to wrap the cord back up around the vac while you're cleaning. If you choose to do that: when you're done, you'll need to completely unwind it again before re-attaching the hose. *Yikes*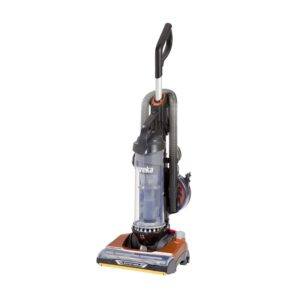 Weight: 20.7 pounds
Power type: Corded – 27 feet
The high points: Retractable cord, self-cleaning brushroll
The not-so: Very heavy, hose attachments fall off as you move around
You'll want to shout Eureka when you plug in this upright vacuum for the first time. The Eureka Brushroll Clean is a low-cost vacuum with high-cost power.
You'll get premium features like a self-cleaning brushroll and a retractable cord, without the typical self-cleaning brushroll and retractable cord price with this Eureka. No job is too hairy for the heavy duty Eureka to suck right up.
What reviewers say about it?
Reviewers love that the Eureka can handle large amounts of pet and human hair that few other vacuums can. You won't need to worry about your suction declining when you have a machine this strong.
Users also love the reusable and rewashable filters found in the Eureka. Eco-friendly features that won't cost the users more in the long run are always appreciated.
What's good?
One unique factor of the Eureka is that the long 27 foot cord cleans right up after itself once you're done. With the push of a button, the cord retracts into the vacuum, saving you the hassle of needing to do it yourself.
The self-cleaning brush roll is another feature that most people agree all vacuums should have. You'll never need to take the scissors to the roller of the Eureka because with a single button, the job is done for you.
What could be better?
This vacuum has a lot of extra features, which makes it heavy. Like, really heavy.
At 20.7 pounds, the Eureka is not a vacuum that many people can actually use comfortably. If you have any issues vacuuming as it is with your current lighter vac, this heavy model may not be the best fit for you.
The hose attachments are located on the vacuum itself, which makes finding what you need easy. The only downside to this accessibility is that the hose attachments may fall off of the vacuum as you move around your home.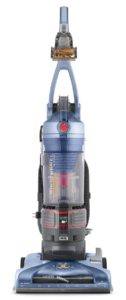 Weight: 18 pounds
Power type: Corded – 25 feet
The high points: Folding handle, carpet height adjustment, pet hand tool
The not-so: Heavy and bulky, may need to update the belt, need to remember to manually adjust the carpet height
Many pet hair vacuums don't live up to their name, but the Hoover WindTunnel Pet certainly does. Those who consider themselves crazy cat households even boast about how great the WindTunnel is.
With nifty features like the pet hand tool specifically for upholstery, the WindTunnel is optimized for you and your undeniably furry home. Luckily for you, even if you don't have pets, the WindTunnel doesn't discriminate and will pick up any kind of dirt it can find.
What reviewers say about it?
Reviewers love that there are no guessing games when it comes to the Hoover. If the hose or vacuum gets clogged for any reason, a warning light will come on, telling you that it's time to stop and make sure everything's okay.
Since the WindTunnel does best with regular cleanings, it's a plus that reviewers say it's not too much of a hassle to take apart. Reviewers say you shouldn't have any problems with the WindTunnel with monthly (or bi-weekly) upkeepings.
What's good?
The WindTunnel is incredibly easy to use. The carpet height adjustment feature makes it easy to go from surface to surface in your home without much effort at all.
The folding handle of the WindTunnel proves that if you have a small space, you still have room for an upright vac. The vacuum handle folds nicely in half, meaning your small storage closet has more room for whatever you actually need to store.
What could be better?
The only major con listed by some users was the weight and the bulk of the machine. At 18 pounds, the WindTunnel may not be the easiest to push effortlessly around your home. Yet, we're still talking a couple pounds lighter than the Eureka beast vac at #5.
Some users also noted that they needed to replace the belt in their WindTunnel anywhere from a few months to a few years after their purchase. Unfortunately, this seems to be a regular occurrence.