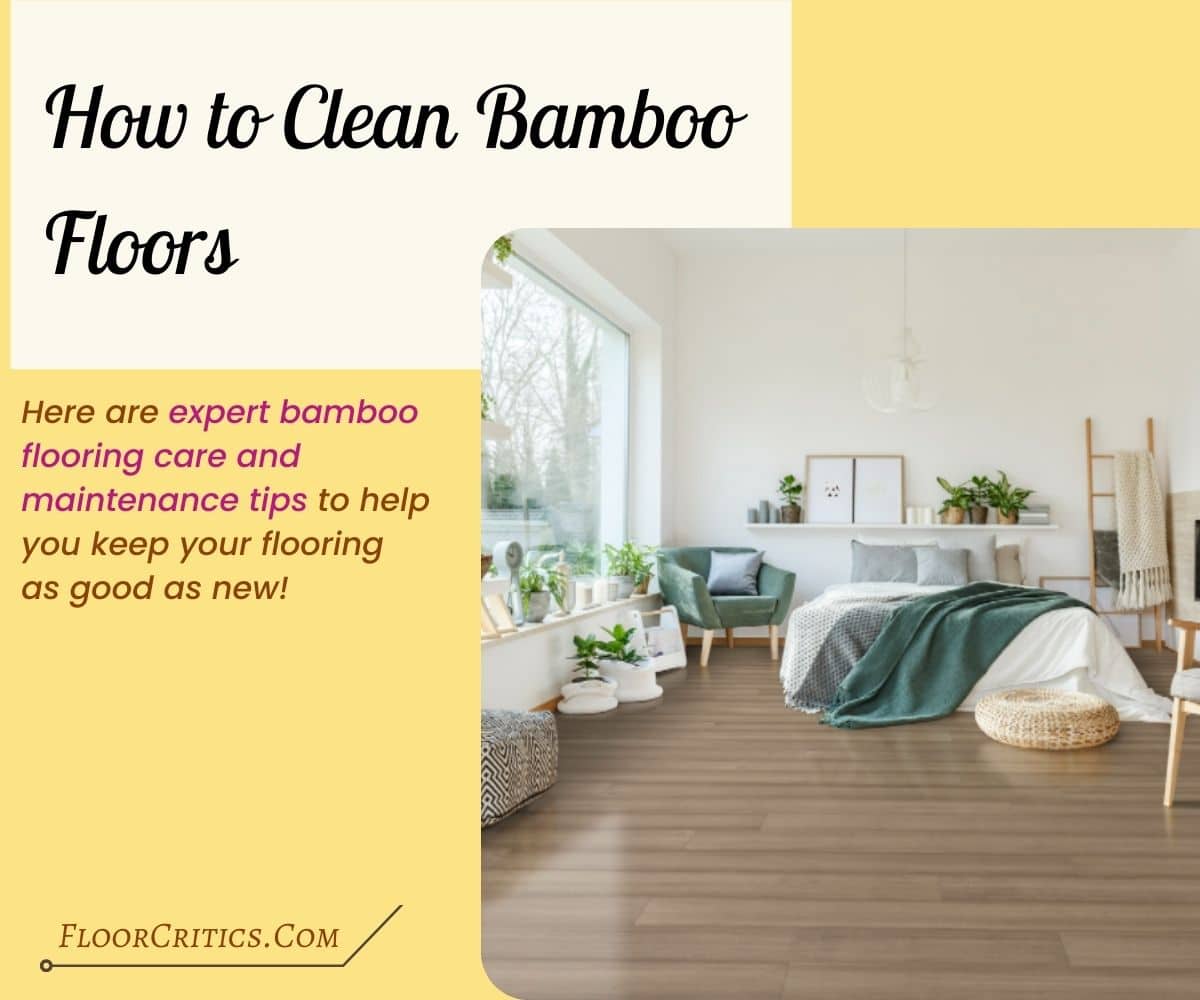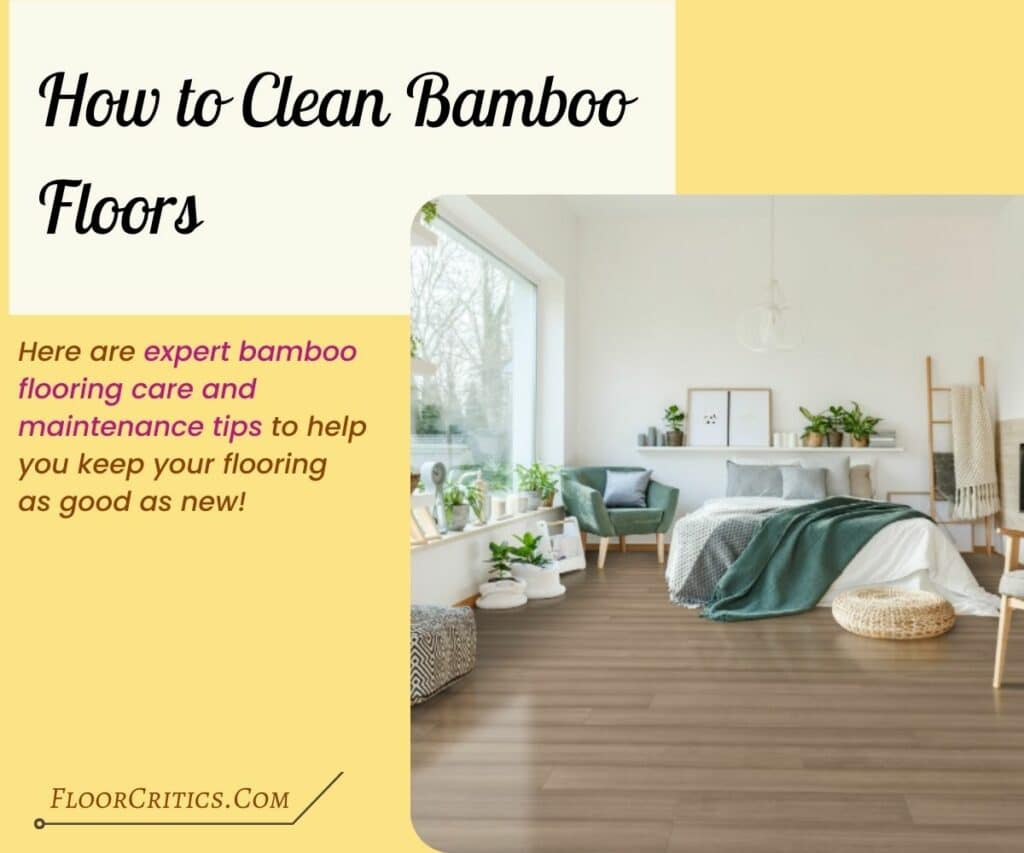 Are you on the hunt for tips, tricks, and advice relating to how to clean bamboo floors?
Today, we will teach you the different ways in which you can—and should—care for your bamboo floor as well as introduce you to the best products for the job.
Bamboo Floor Cleaning Advice: Best Way to Clean Bamboo Floors
Always check with your flooring manufacturer before cleaning your floor to avoid voiding your warranty if you accidentally used products that are not recommended by your manufacturer.
Bamboo flooring is scarily strong, beautiful to look at, and available in an assortment of styles and finishes, so it's definitely got a lot going for it. But its unique makeup means that scratches, dings, dents, and footprints on bamboo flooring come hand-in-hand with this stunningly sustainable flooring option.
So when you clean, it is best to take precautionary measures to prevent damaging your flooring. Here are the general steps to follow when cleaning bamboo flooring. These are also applicable for cleaning engineered bamboo floors.
What You'll Need
Floor protectors for moving objects
Soft-bristle broom
Dustpan
Vacuum with a hard floor setting or attachment
Bucket
Microfiber mop
Cloth rags
pH neutral wood cleaner
Pro Tips:
Before you begin to clean your bamboo floor, it's a good idea to do a little research about the kind of bamboo floor you have. Some things to look for are the bamboo strand type, construction, and finish type.
There are some special cleaning considerations depending on the type you have. For example, vertical or horizontal strand bamboo, either engineered or solid, tends to be softer and dents more easily.
Therefore, you will want to take special care when moving furniture. Look for cleaning tools that are designed to be gentler on a floor.
Steps on How to Clean Bamboo Flooring
Now that you have gathered your arsenal of cleaning tools and supplies, it's time to get to work. In a few easy steps, your bamboo floor will be sparkling clean.
Step #1: Install floor protection before moving furniture.
Before you get started cleaning, it's a good idea to assess your current floor protection situation. This is a step that is commonly overlooked and can keep your bamboo floor from looking worn beyond its years and prevent undue costly damage.
If you haven't already, this is a good time to install any floor protection on your furniture.
If it's a deep-cleaning day, prep your furniture for moving, utilizing coasters, pads, or blankets. Heavy quilted moving blankets also work well for sliding large pieces without damaging your floor. Everything from your smallest ottoman to your largest antique armoire should have something under the feet or base. This protects your floor from dents, scratches, and gouging.
It's always a good idea to save your back when moving bulky items. If you have a friend who owes you a favor, now is the time to call it in.
If you have a lot of furniture to move in a small space, it can be helpful to shuffle it all to one side of the room, clean, then repeat the process on the other side of the room.
Step #2: Grab your broom, vacuum, or dust mop and prepare to remove the grime.
When you only need to spot-clean or don't feel like dragging out the vacuum, it's a good idea to have a broom on hand. While there's nothing necessarily wrong with your good old-fashioned bristle broom, it may only do a mediocre job of cleaning your floor.
A microfiber dust mop is a welcome alternative to a bristle broom. Dust mops feature a flexible microfiber head that works like a magnet to attract dust, dirt, grime, and hair. It lifts away dirt and debris more effectively than a traditional broom that tends to just push the dirt around.
A dust tile mop is a must-have if your floor has a textured, matte, or hand-scraped finish. In addition, the soft microfiber will not damage your floor with prolonged use.
It's also handy to have a dustpan and hand broom for small messes, spot-cleaning, and picking up the dirt pile left from sweeping.
If you are vacuuming, you should always inspect the wheels for embedded sand, dirt, and gravel. These abrasive materials stuck in the wheels can act like sandpaper on your floor and can scratch and gouge the finish.
Whether vacuuming or sweeping, you can maximize your effort by going with the grain of the bamboo. Pay extra attention to the plank joints where dirt likes to hide.
Tips:
Sweep/vacuum your floor regularly to remove dust and dirt that can scratch your floor.
You will want to look for a dust mop that has a sturdy handle and not too many moving parts that could break.
Also, look for a dust mop that has a machine-washable cover. Then, buy a few replacements in the event the included one wears out or gets damaged.
Don't use standard vacuums as their rotating brushes can create dents and tracks over time. In addition, avoid any heavyweight vacuum. The older styles primarily made of metal are generally a no-go.
Your vacuum should be lightweight. A lightweight vacuum can be easily lifted with one hand.
The vacuum should also have a removable or no-beater bar. The use of a beater bar can cause undue damage to your floor.
Additionally, the vacuum should have enough suction power to lift dirt from floor joints. If you have pets, look for a vacuum specifically designed for picking up pet hair.
Stick-style uprights, canister-style, and in-home vacuum systems with the mentioned features work well on bamboo floors and other surfaces in your home.
Check out our review of the best hardwood vacuums here too.
Step #3: Mop your floor.
A good mop can save you time and save your bamboo floor. It may be time to retire your old string mop and pick up one made of nearly magical microfiber.
Many dust mops can be used wet or dry, but it's only recommended to do this in a pinch. It's better to have a dedicated wet mop that's cleaned before each use.
These wet mops either have a flat head or one made of strips of microfiber that more closely resemble a string mop. While these both get the job done, the flat-head mop will cover more surface area in a shorter time and remove the most moisture from your floor in one swipe.
Again, look for a model with a sturdy handle, minimal parts, and a washable head.
When mopping, inspect the mop for any loose or broken parts that could scratch your floor. If your floor cleaner didn't already come in a spray bottle, dilute if concentrated, then pour into a clean, directional spray bottle.
Working in small sections, spray a small amount of liquid on the floor. Then, using figure-eight motions with the grain, work backwards toward the next area or door. This method picks up the most grime without allowing moisture to linger on your floor.
Choosing a Bamboo Floor Cleaner
If you ask around or even do an internet search, there seems to be a lot of confusion about what you should use to clean your bamboo floor.
In general, most cleaners that are appropriate for use on a hardwood floor are also safe to use on your bamboo floor. However, there are many products marketed for hardwoods and bamboo that are, in fact, not safe to use. Therefore, it's important to read the package thoroughly and look for a few key items.
If you are unsure of what to use, check with your flooring manufacturer for their recommended cleaning products.
Tips:
Make sure to wring the mop out totally.
Damp-mop your floor weekly.
When mopping, avoid saturating your bamboo with water or too much cleaner. This can cause the planks to swell, split, delaminate, or buckle. There is no way to repair water damage other than replacement.
The most important factor is that the floor cleaner should be pH-neutral. This is the safest bet to preserve your floor finish. Anything too acidic or alkaline can damage your floor.
Some floor cleaners come in concentrated solutions that you must dilute before use. Make sure to follow the directions. It's best to use distilled water for diluting.
It's always best practice to test out a new floor cleaner before you go spraying it everywhere. Find an inconspicuous corner or closet, spray a small amount of cleaner, and let it sit for a minute or two. Then wipe away and inspect the area for discoloration, bubbling, or delamination. Use the cleaner only once you have concluded that it is safe for your bamboo floor.
It's also important to note that floor cleaners should be reserved for deep cleaning and disinfecting purposes. A spritz of water is typically all you need to spot clean.
Step #4: Allow Your Floor to Dry.
Air drying your floor is the best way to do it before allowing foot traffic. If you find your floor isn't drying quickly enough, you can go over it with a clean, dry mop and add a fan or open windows to help circulate air.
Tips:
Don't dry your floor manually using a towel or rag as this will produce swirl marks.
One Final Tip: Believe it or not, the best way to spend less time cleaning your floor is to do it more often.
Spot cleaning is the best way to keep your floor looking new and spend fewer weekends deep cleaning.
You can buy cheap dustpan and broom sets to keep in bathrooms, the kitchen, and other high-traffic areas. Also, stash a few small spray bottles of your favorite floor cleaner or simple distilled water for cleaning up on the go.
In addition, you might also be able to get some ideas from the detailed video below of bamboo flooring being professionally cleaned:
What to Clean Bamboo Floors With
Below are our suggested products when cleaning your bamboo floor:
DIY Cleaning Solutions
When coming up with ways to protect bamboo floors, remember that bamboo floor cleaners are specifically designed to clean bamboo floors, so they're up to the task. You can, however, create your own safe DIY bamboo floor cleaner should you want to.
Note with either of the solution below, ensure you wring the mop out so it is almost dry as you do not want to get excess moisture on the bamboo floor.
One DIY bamboo floor cleaner option is to mix a splash of Castile soap with warm water to form a mild cleaning solution. Once the floor has been mopped, allow it to dry before using a dry cloth to buff it back to beauty.
Another option is to mix two ounces of a gentle pH balanced cleaner with one quart of warm water. Mop the solution on the floor and remember not to over saturate. Let the floor air dry. A microfiber towel can be used if there is excess moisture.
What Not To Do When Cleaning Bamboo Flooring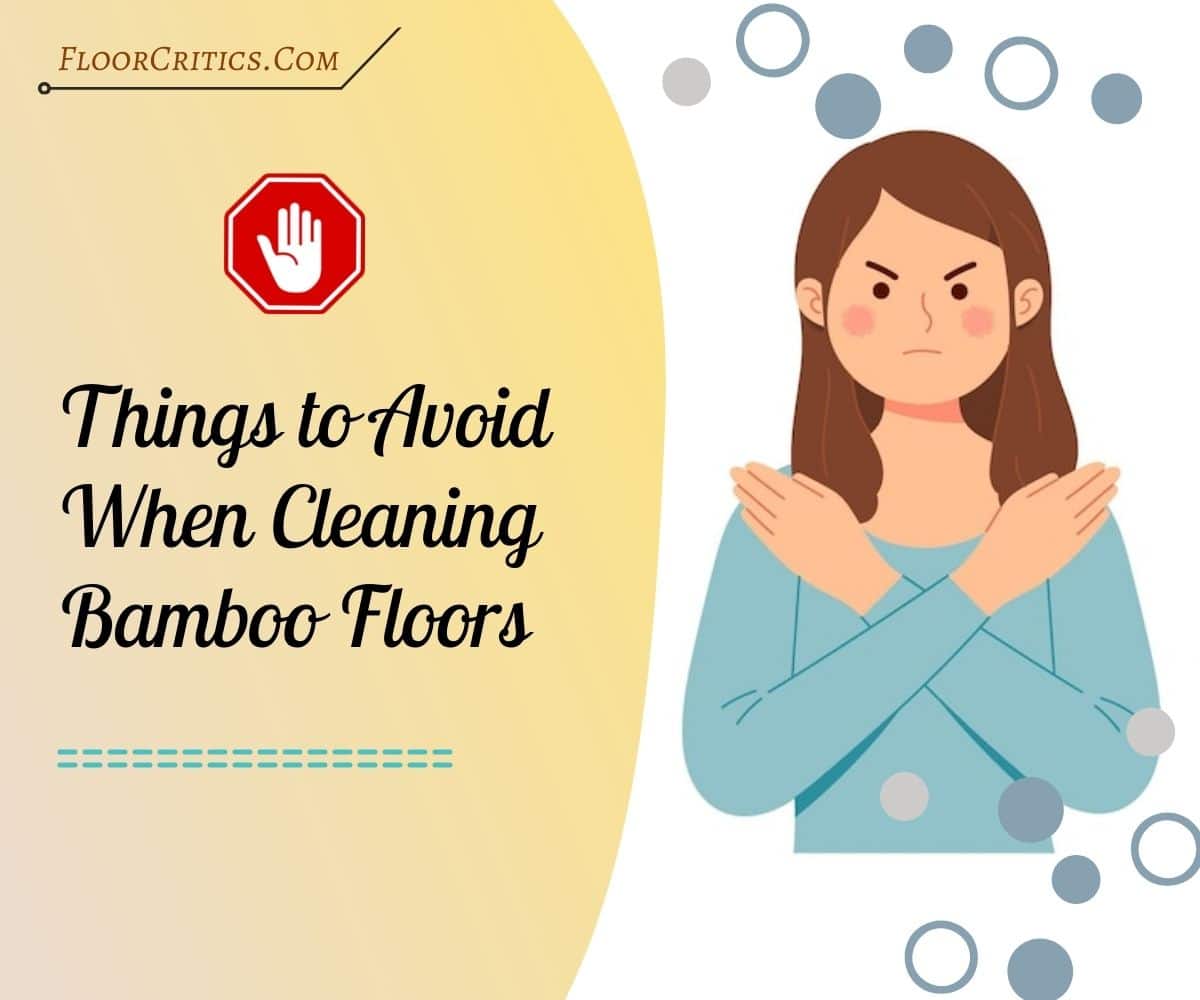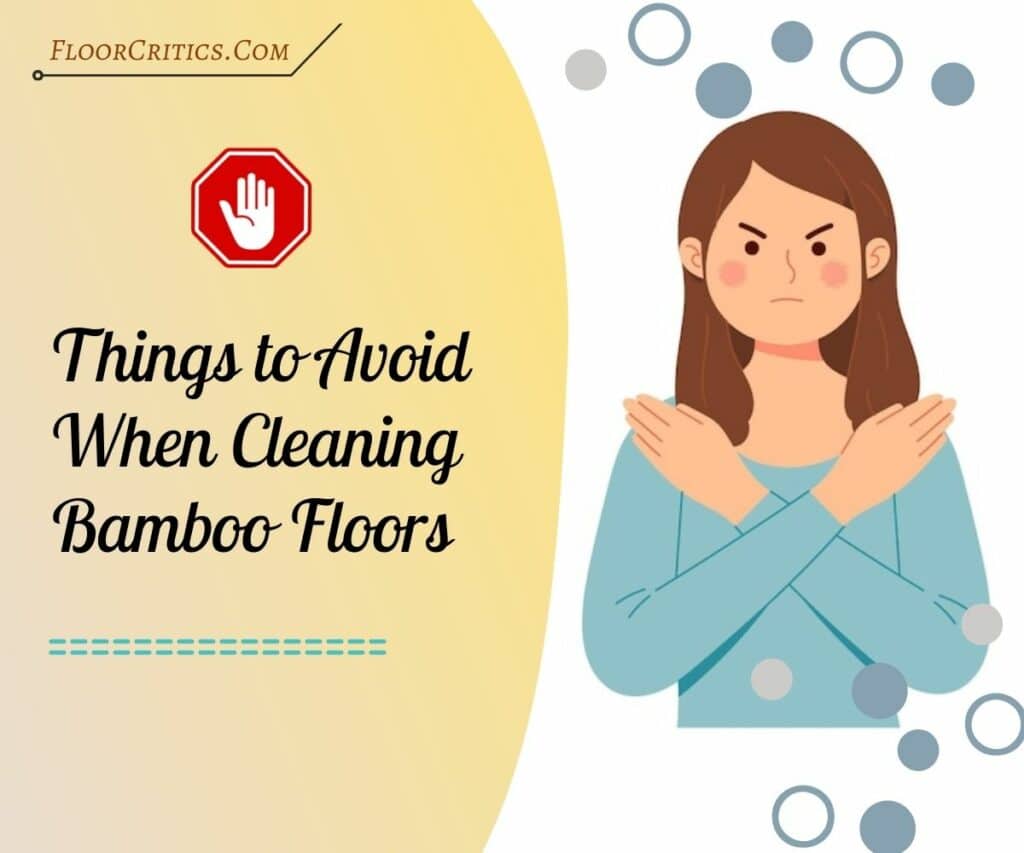 "Do not use cleaning methods or products not designed for timber floors such as scouring pads or cleaners that may contain abrasives, soaps, waxes, ammonia or silicone. Specific timber floor cleaning products are available and should be used."

Australian Timber Flooring Association
Now that you know how to clean your bamboo floor properly, let's talk about what not to do. These common mistakes we've all been guilty of can, at the least, make your floor look dull and worn. At the worst, these blunders can cause irreparable and costly damage.
Abrasive Cleaning Tools
Avoid using any cleaning tool that is rough or abrasive. Leave the scrubbing sponge in the sink with the dishes. This same rule applies to brooms, mops, and vacuums with stiff bristles or scrubbers.
Acidic Cleaners and Furniture Wax or Polish
There are many cleaners and products to steer clear of when mopping. They may claim they are safe for bamboo or hardwoods, but they may also do irreparable damage to your floor finish or leave a milky residue that's nearly impossible to remove.
Avoid using ammonia, bleach, abrasive cleaners, waxes, furniture polish such as Pledge, Swiffer WetJet, waxes, oil soap, pure undiluted Castile soap, baking soda, Mop & Glo, solvents, Pine-Sol, rubbing alcohol, and anything designed to clean your bathroom, oven, or car.
In addition, you may have read a lot of cleaning guides and videos recommending vinegar, but it is better to avoid it. Vinegar when not diluted properly, along with other acidic cleaners, will cause discoloration and strip off the finish of your bamboo floor, leaving your floor susceptible to damage.
Although you can use specific polishes or waxes, always check with your flooring manufacturer if what you are using is recommended by them. Or else, you will end up staining or damaging your flooring. Also, your warranty might become void if you use a stain or finish that your flooring manufacturer doesn't approve.
Steam Mopping
Never use a steam mop on a bamboo floor. The heat drives the moisture deep into the floor and can cause water damage on a much deeper level and faster than a forgotten spill. Damp mopping is a far better alternative for bamboo floors.
Latex or Rubber-Backed Mats
These mats will trap moisture and damage or discolor your floor.
7 Preventive Bamboo Flooring Care Tips: Dos and Don'ts
Clean up spills immediately to prevent the liquid from penetrating the wooden fibers, especially if you have carbonized bamboo flooring. Just wipe the spill with a soft cloth, clean the spot with a damp rag, and allow it to air-dry.
Protect your floor using colorfast mats, runners, carpets, or area rugs.
If you have pets, particularly large dogs, don't let their nails get too long. This creates lots of small surface scratches and even gouges. Your bamboo and your pooch with thank you.
Remove outdoor footwear before walking on your floor. We recommend making your floor a barefoot zone.
Place furniture sliders or colorfast felt under your furniture. On larger pieces, consider a mesh rubber shelf liner to allow the floor to breathe so that moisture does not become trapped beneath the rubber.
Maintain the humidity level in the room within 30-50 percent to prevent your floor from swelling, drying, or cracking.
In areas where the bamboo floor receives a large amount of direct UV exposure, consider fitting your windows with curtains. This can prevent finish discoloration or warping. If you don't wish to obstruct your view, look for a light-filtering option.
Expert Bamboo Flooring Cleaning Advice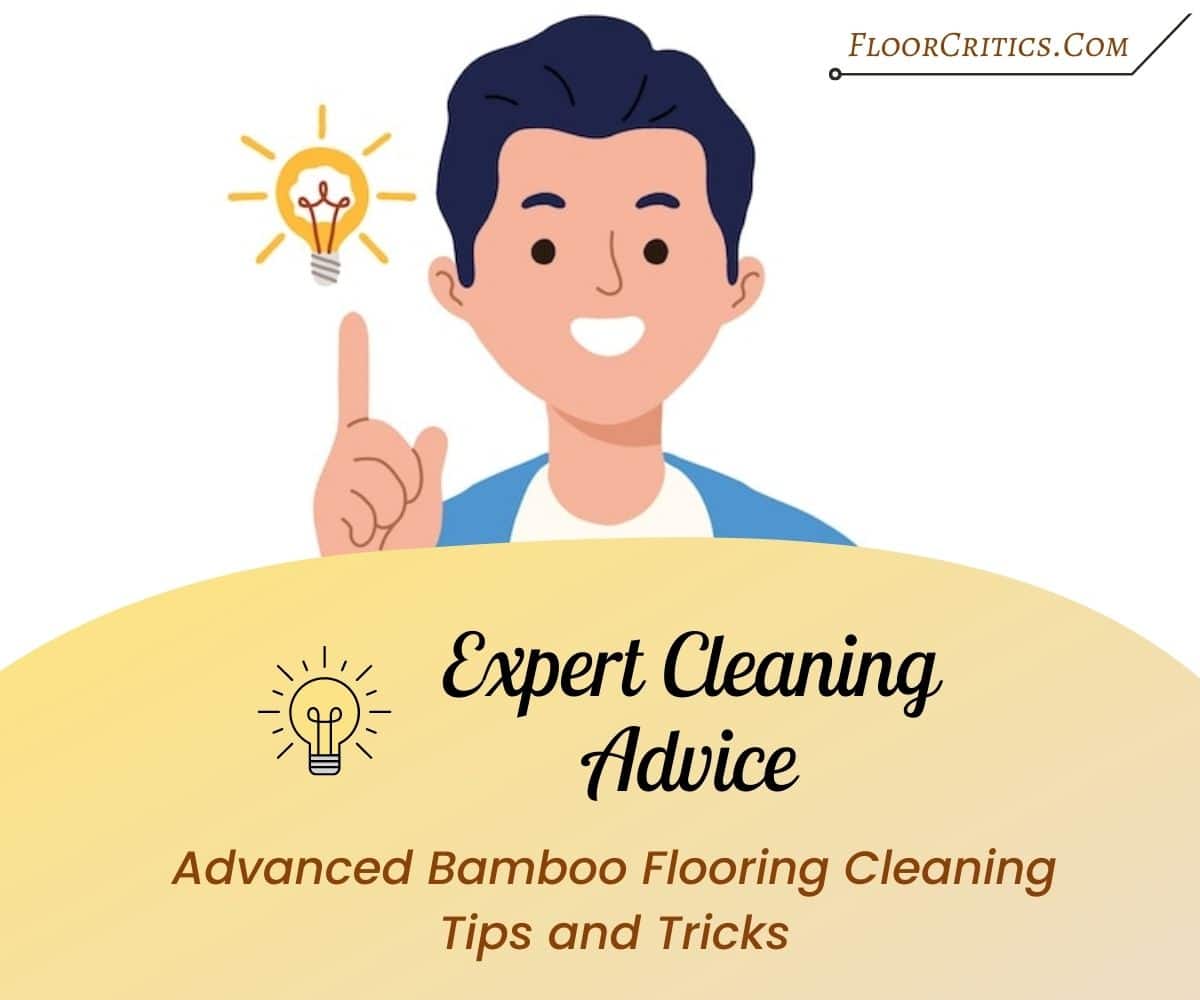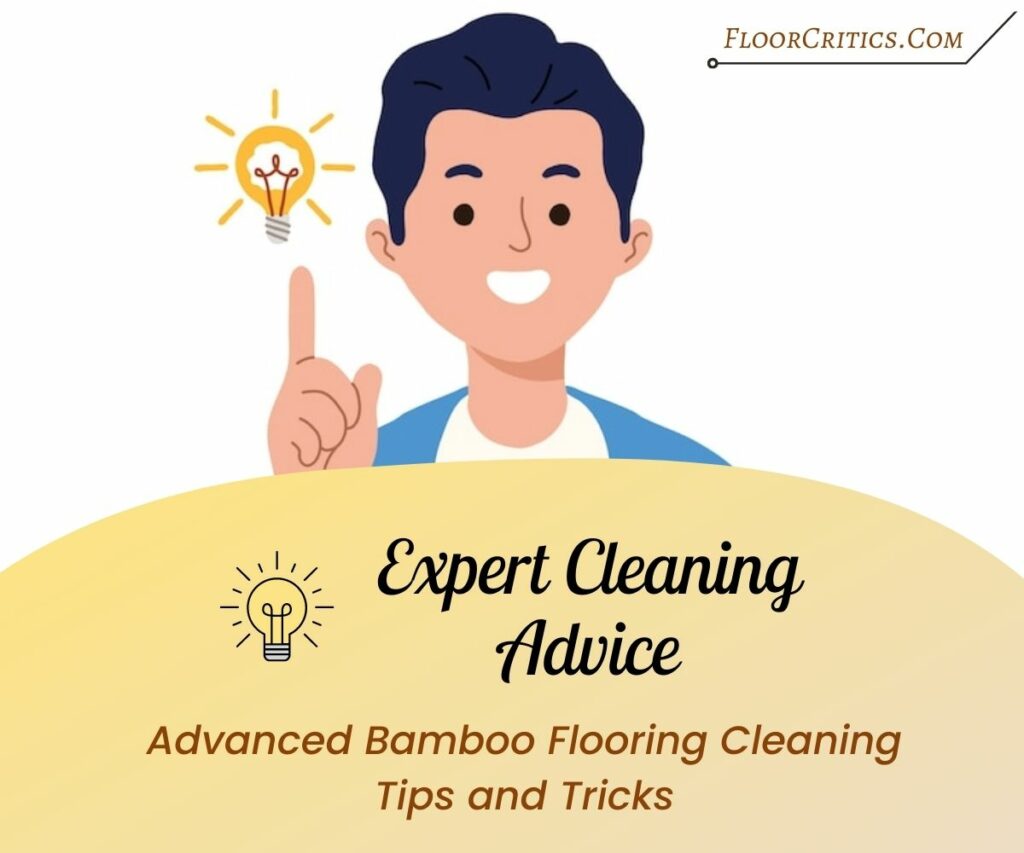 Aside from routine cleaning, here are other advanced tricks from the pros that you can also follow:
How to Remove Stains, Scuffs, and Scratches From Bamboo Floors
Stains
For surface stains or light discolorations, using a floor cleaner like Bona will remove the stain.
For tougher stains that went deep into the flooring, you might need to sand the spot. However, you'll need to refinish it so that it would look like the rest of your flooring. Better hire a professional if this is the case.
Scuffs
You can rub the scuff away using a microfiber cloth applied with a small amount of hardwood floor cleaner. After that, dry the spot thoroughly.
Scratches
Getting scratches out of bamboo flooring can be difficult, but it's not impossible. All it takes is five steps and your bamboo flooring will be scratch-free—or at the very least look better than before. For light scratches, use a floor cleaner like Bona with a white cloth and buff the scratch.
For deeper scratches, you can follow the steps below. We recommend a trained professional to do this.
First things first, your need to clean the area (using one of the methods you learned today).
Second, wipe the floor dry using a paper towel.
Third, you must use fine-grit sandpaper to gently sand over the scratched area.
Fourth, fill in the scratch using foam brush paint and wood filler.
Finally, once the wood filler is dry, coat it with a thin layer of polyurethane to seal it up for good and prevent future scratching.
Tips:
Always sweep up debris from your floor first before removing stains, scuffs, or scratches to avoid grinding dirt into your floor during the treatment.
Specialty Bamboo Flooring Cleaning Advice
How to Clean Bamboo Floors Without Streaks
1. Use a damp microfiber mop when cleaning.
2. Avoid using soaps, furniture polish, waxes, silicones, and other products that can leave streaks.
How to Make Bamboo Floors Shine
1. Dry mop or vacuum the floor.
2. Mix 1/2 cup of lemon juice, 3/4 cup of olive oil, and 1 gal. of warm water in a bucket.
3. Mop the solution on the floor (do not over saturate).
4. Let the floor air dry.
5. Use a white cloth to buff the floor.
Professional Bamboo Floor Cleaning Service
If you don't want to go through the hassle of cleaning large areas of bamboo floors and have to deal with tougher stains or other bigger problems, we highly recommend hiring a professional. You can also request a free quote from us.
FAQs
How Often Should Bamboo Floors Be Cleaned?
Generally speaking, you should clean your bamboo floors on an "as and when needed" basis. Naturally, any and all spills need to be cleaned up immediately or as soon as they are noticed.  Meanwhile, mopping bamboo floors with a microfiber mop should take place once a week or so.

Of course, there are certain factors such as foot traffic and the type of room that impact how often a bamboo floor should be cleaned. For instance, mud rooms, main bedrooms, front hallways, and family rooms that are used numerous times a day will require daily cleaning.

But the spare bedroom or the home office that only gets used a couple times a week? The bamboo flooring in those types of rooms can be done as infrequently as once a month. However, to be on the safe side and ensure that your bamboo floor is kept looking beautiful, I recommend adding the cleaning of your bamboo floor to your weekly chores list.

Is Bamboo Flooring Waterproof?
No, bamboo flooring is not waterproof. It is also sensitive to humidity. That is why we recommend not allowing liquid to settle on your floor. However, it does a better job at resisting moisture compared to other types of hardwoods.

"Bamboo flooring, being a grass, will resist moisture better than other hardwoods like oak and maple, making it a great choice for many areas of the home except highly wet areas like a bathroom." – Floor Covering News

Can I Use Vinegar On Bamboo Floors?
As mentioned earlier, you should avoid using vinegar and other harsh cleaners, natural or not, to clean your bamboo floors.

Can I Use Swiffer WetJet on Bamboo Floors?
As we've said before, it's not recommended to use Swiffer WetJet on bamboo floors. It can leave brush marks on your floor.
Can Murphy's Oil Soap Be Used on Bamboo Floors?
No, vegetable oils such as Murphy will cause streaking and ruin your floor's finish.

Why Does My Bamboo Floor Look Dull?
Sometimes, no matter how well or how often you clean your prefinished bamboo floor, it may look dull. There are three possible causes of this: age, dirt, or the use of improper cleaning products. Discoloration and loss of shine are part and parcel with aging (for humans and bamboo floors alike!), while bamboo floors that see a constant stream of muddy boots are likely to darken in color.

The third and final reason for dull-looking bamboo floors is the one that is easiest to fix. That's the use of improper cleaning products. When you use the "wrong" products consistently, a film will build up. Over time, this film results in dreary, dull-looking bamboo floors that only a sanding and refinishing session stand a chance of rectifying.
Final Thoughts
As you can tell, cleaning a bamboo floor is by no means an easy feat, but boy oh boy is it worth the effort. By arming yourself with the proper knowledge, tools, and products needed to clean, maintain, and properly protect your bamboo floor, you're all but guaranteed a beautiful floor for years to come.
Do you have any of your own bamboo floor cleaning tips or tricks you'd be willing to share with your fellow readers? Or have you tried something that didn't work and want to save others from making the same mistake? Either way, let us know in the comments section down below!
Back to Top