Are you on the hunt for tips, tricks, and advice relating to how to clean bamboo flooring? Well, you can put down the spear and retire your bow because today's article will be discussing just that. If you're the proud owner of a bamboo floor, you'll know that cleaning it can leave you frustrated, exhausted, or plain old bamboozled.
Bamboo flooring is scarily strong, beautiful to look at, and available in an assortment of styles and finishes, so it's definitely got a lot going for it. But its unique makeup means that scratches, dings, dents, and footprints on bamboo flooring come hand-in-hand with this stunningly sustainable flooring option.
Today, I'll teach you the different ways in which you can—and should—care for your bamboo floor as well as introduce you to the best products for the job. Be sure to read to the end as I'll be covering all of the following to make sure your new title will be "proud owner of the cleanest bamboo floor of all time:"
Tools & Supplies Needed
Before you begin to clean your bamboo floor, it's a good idea to do a little research about the kind of bamboo floor you have. Some things to look for are the bamboo strand type, construction, and the finish type.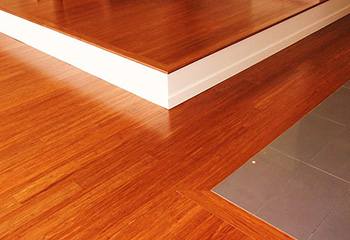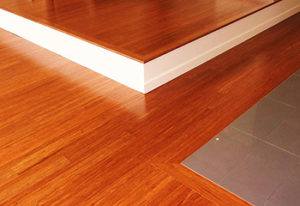 There are some special cleaning considerations depending on the type you have. For example, vertical or horizontal strand bamboo, either engineered or solid, tends to be softer and dents more easily.
Therefore, you will want to take special care when moving furniture. Look for cleaning tools that are designed to be gentler on a floor.
Floor Protection
Before you get started cleaning, it's a good idea to assess your current floor protection situation. This is a step that is commonly overlooked and can keep your bamboo floor from looking worn beyond its years and prevent undue costly damage.
Everything from your smallest ottoman to your largest antique armoire should have something under the feet or base. This protects your floor from dents, scratches, and gouging.
You can use rubber caps or felt pads on furniture legs. On larger pieces, consider a mesh rubber shelf liner to allow the floor to breathe so that moisture does not become trapped beneath the rubber. This same principle should be applied to your area rugs and entry mats.
If you move the larger items semi-frequently for deep cleaning, it's helpful to invest in a set of furniture-moving coasters that can be left under furniture or removed when finished. Heavy quilted moving blankets also work well for sliding large pieces without damaging your floor.
In areas where the bamboo floor receives a large amount of direct UV exposure, consider fitting your windows with curtains. This can prevent finish discoloration or warping. If you don't wish to obstruct your view, look for a light-filtering option.
Product
Features
Availability
Price
Allstar Innovations EZ Moves Furniture Moving System for Carpeted & Hard Floor Surfaces, Move Heavy Furniture Quickly & Easily, As Seen on TV (1 Lifter Tool & 8 Sliders)

Includes medium-sized furniture sliders for use on multiple surfaces
Includes a furniture lifting lever on castors
Good for medium to large bulky furniture items

In-store and online at Walmart, Ace, Amazon, and more.
$-$$
Scotch Heavy Duty Felt Pads, Furniture Pads for Protecting Hardwood Floors, Round, Gray, 1-in Diameter, 48 Pads

Long-term floor protection solution
Self-adhesive
Inexpensive
Falls off easily, may require replacement

Widely available in-store and online at big box and local retailers.
$

Auto Amazon Links: No products found.

Filters direct UV exposure without obstructing too much view
Available in several colors and sizes
Does not block heat from sun
Does not function as a privacy curtain

In-store and online at Bed Bath & Beyond as well as other Solar Shield brand retailers.
$$
Vacuums
A vacuum is the most popular and fastest way to lift dirt, sand, and grit off your floor. A good quality vacuum can cut your cleaning time in half.
When it comes to cleaning your bamboo floor, though, not all vacuums are created equal. There are several specific features your new vacuum should have. We did the homework for you so you won't be swindled out of your hard-earned cash by the vacuum salesperson.
First, your vacuum should be lightweight. A lightweight vacuum can be easily lifted with one hand. Use of a heavy vacuum can create dents and tracks over time.
The hardwood vacuum should also have a removable or no-beater bar. The use of a beater bar can cause undue damage to your floor.
Additionally, the vacuum should have enough suction power to lift dirt from floor joints. If you have pets, look for a vacuum specifically designed for picking up pet hair.
Stick-style uprights, canister-style, and in-home vacuum systems with these features work well on bamboo floors and other surfaces in your home.
Product
Features
Availability
Price

Auto Amazon Links: No products found.

Lightweight Stick style
V-shaped design captures dirt in crevices
Swivel head
Bagless
Suction designed to pick up pet hair

In-store and online, Kohl's, Amazon, Home Depot
$

Auto Amazon Links: No products found.

Converts from stick vacuum to hand vacuum
Bagless
One brush attachment

In-store and online, Amazon, Lowe's
$$
Miele Blizzard CX1 Turbo Team Bagless Canister Vacuum Tech Blue (41KCE042USA)

15 lb. canister
Bagless
Attachment kit
HEPA Microfilter

In-store and online, Bed Bath & Beyond, Amazon
$$$
Brooms
When you only need to spot-clean or don't feel like dragging out the vacuum, it's a good idea to have a broom on hand. While there's nothing necessarily wrong with your good old-fashioned bristle broom, it may only do a mediocre job of cleaning your floor.
A microfiber dust mop is a welcome alternative to a bristle broom. Dust mops feature a flexible microfiber head that works like a magnet to attract dust, dirt, grime, and hair. It lifts away dirt and debris more effectively than a traditional broom that tends to just push the dirt around.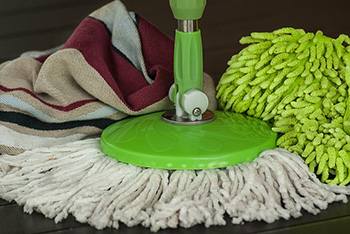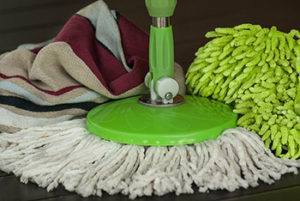 A dust tile mop is a must-have if your floor has a textured, matte, or hand-scraped finish. In addition, the soft microfiber will not damage your floor with prolonged use.
Thankfully, dust mops are inexpensive and readily available. Unlike other cleaning tools or appliances, the quality doesn't vary as widely. However, you will want to look for something that has a sturdy handle and not too many moving parts that could break.
Also, look for a dust mop that has a machine-washable cover. Then, buy a few replacements in the event the included one wears out or gets damaged.
It's also handy to have a dust pan and hand broom for small messes, spot-cleaning, and to pick up the dirt pile left from sweeping.
Product
Features
Availability
Price

Auto Amazon Links: No products found.

Jointed handle allows cleaning under furniture
Washable microfiber head
Flexible edges for tight spaces

In-store and online, Amazon, Local Hardware Stores, Big Box Stores, Bissell.com
$

Auto Amazon Links: No products found.

Handles and head are made of bamboo
360-degree swivel head
Washable microfiber covers
Comes with hand duster

Online at Amazon
$$
Mops
This is one tool you don't want to skimp on. A good mop can save you time and save your bamboo floor. It may be time to retire your old string mop and pick up one made of nearly magical microfiber.
Many dust mops can be used wet or dry, but it's only recommended to do this in a pinch. It's better to have a dedicated wet mop that's cleaned before each use.
These wet mops either have a flat head or one made of strips of microfiber that more closely resemble a string mop. While these both get the job done, the flat-head mop will cover more surface area in a shorter time and remove the most moisture from your floor in one swipe.
Again, look for a model with a sturdy handle, minimal parts, and a washable head.
Product
Features
Availability
Price
Bona Hardwood Floor Premium Spray Mop

Cleaner and mop in one
Washable microfiber head
Gentle on floors
Cartridge and mop head cover refills available

In-store and online, Home Depot, Amazon
$-$$

Auto Amazon Links: No products found.

Wide head
Washable microfiber cover
Inexpensive

In-store and online at Walmart, Amazon
$
Bamboo Floor Cleaning Products
If you ask around or even do an internet search, there seems to be a lot of confusion about what you should use to clean your bamboo floor.
In general, most cleaners that are appropriate for use on a hardwood floor are also safe to use on your bamboo floor. However, there are many products marketed for hardwoods and bamboo that are, in fact, not safe to use. Therefore, it's important to read the package thoroughly and look for a few key items.
The most important factor is that the floor cleaner should be pH-neutral. This is the safest bet to preserve your floor finish. Anything too acidic or alkaline can damage your floor.
Some floor cleaners come in concentrated solutions that you must dilute before use. Make sure to follow the directions. It's best to use distilled water for diluting.
It's also important to note that floor cleaners should be reserved for deep cleaning and disinfecting purposes. A spritz of water is typically all you need to spot clean.
If you are unsure of what to use, check with your flooring manufacturer for their recommended cleaning products.
Let's look at a few appropriate cleaners for bamboo floors. Later, we will discuss what not to use.
Product
Features
Availability
Price
Bona Hardwood Floor Spray Mop Premium Bonus dusting Pad

Available in spray and concentrate
Non-toxic, biodegradable
Safe for most wood floor finishes
Most popular and widely recommended

In-store and online, Amazon, Home Depot, Lowe's
$
Pallmann Hardwood Floor Cleaner 128 oz Concentrate

Available in large and small bottles
Non-toxic, biodegradable
Streak-free
Appropriate for all non-wax floor finishes

In-store and online at Amazon, Pallmann.us
$$
Better Life Natural All-Purpose Cleaner, Safe Around Kids & Pets, 32 Fl Oz (Pack of 2), 2409C

Safe for bamboo and other sealed floor finishes
Available in different sizes pre-mixed bottles
VOC-, surfactant- and petroleum-free
Mint Scent
Not tested on animals

Online at Amazon
$
What To Do
Now that you have gathered your arsenal of cleaning tools and supplies, it's time to get to work. In a few easy steps, your bamboo floor will be sparkling clean.
1. If you haven't already, this is a good time to install any floor protection on your furniture.
If it's a deep-cleaning day, prep your furniture for moving, utilizing coasters, pads, or blankets.
It's always a good idea to save your back when moving bulky items. If you have a friend who owes you a favor, now is the time to call it in.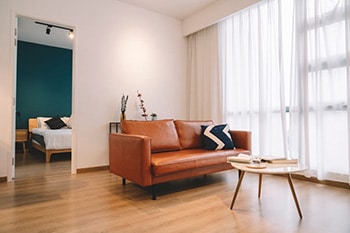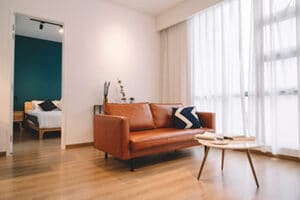 If you have a lot of furniture to move in a small space, it can be helpful to shuffle it all to one side of the room, clean, then repeat the process on the other side of the room.
2. Grab your vacuum or dust mop and prepare to remove the grime.
If you are vacuuming, you should always inspect the wheels for embedded sand, dirt, and gravel. These abrasive materials stuck in the wheels can act like sandpaper on your floor and can scratch and gouge the finish.
Whether vacuuming or sweeping, you can maximize your effort by going with the grain of the bamboo. Pay extra attention to the plank joints where dirt likes to hide.
3. Attach a clean mop head or cover to your mop.
Inspect the mop for any loose or broken parts that could scratch your floor.
If your floor cleaner didn't already come in a spray bottle, dilute if concentrated, then pour into a clean, directional spray bottle.
It's always best practice to test out a new floor cleaner before you go spraying it everywhere. Find an inconspicuous corner or closet, spray a small amount of cleaner, and let it sit for a minute or two. Then wipe away and inspect the area for discoloration, bubbling, or delamination.
Once you have concluded the cleaner is safe for your bamboo floor, it's time to make it shine.
Working in small sections, spray a small amount of liquid on the floor. Then, using figure-eight motions with the grain, work backwards toward the next area or door. This method picks up the most grime without allowing moisture to linger on your floor.
If you find your floor isn't drying quickly enough, you can go over it with a clean, dry mop and add a fan or open windows to help circulate air.
4. Believe it or not, the best way to spend less time cleaning your floor is to do it more often.
Spot cleaning is the best way to keep your floor looking like new and spend fewer weekends deep cleaning.
You can buy cheap dustpan and broom sets to keep in bathrooms, the kitchen, and other high-traffic areas. Also, stash a few small spray bottles of your favorite floor cleaner or simple distilled water for cleaning up on the go.
5. Stand back and enjoy your sparkling clean floor.
While your home may not always look fit for a full-color spread in a home improvement magazine, bask in these moments where it comes close.
What Not To Do
Now that you know how to clean your bamboo floor properly, let's talk about what not to do. These common mistakes we've all been guilty of can, at the least, make your floor look dull and worn. At the worst, these blunders can cause irreparable and costly damage.
First, avoid using any cleaning tool that is rough or abrasive. Leave the scrubbing sponge in the sink with the dishes. This same rule applies to brooms, mops, and vacuums with stiff bristles or scrubbers.
Speaking of vacuums, do not use the beater bar, as it can do just that: beat the heck out of your floor. In addition, avoid any heavyweight vacuum. The older styles primarily made of metal are generally a no-go.
When mopping, avoid saturating your bamboo with water or too much cleaner. This can cause the planks to swell, split, delaminate, or buckle. There is no way to repair water damage other than replacement.
Furthermore, there are many cleaners and products to steer clear of when mopping. They may claim they are safe for bamboo or hardwoods, but they may also do irreparable damage to your floor finish or leave a milky residue that's nearly impossible to remove.
Avoid using ammonia, bleach, abrasive cleaners, vinegar, waxes, furniture polish such as Pledge, Swiffer WetJet, waxes, oil soap, pure undiluted Castile soap, baking soda, Mop & Glo, solvents, Pine-Sol, rubbing alcohol, and anything designed to clean your bathroom, oven, or car.
Also, never use a steam mop on a bamboo floor. The heat drives the moisture deep into the floor and can cause water damage on a much deeper level and faster than a forgotten spill.
If you have pets, particularly large dogs, don't let their nails get too long. This creates lots of small surface scratches and even gouges. Your bamboo and your pooch with thank you.
FAQs
How Often Should Bamboo Floors Be Cleaned?
Generally speaking, you should clean your bamboo floors on an "as and when needed" basis. Naturally, any and all spills need to be cleaned up immediately or as soon as they are noticed.  Meanwhile, mopping bamboo floors with a microfiber mop should take place once a week or so.

Of course, there are certain factors such as foot traffic and the type of room that impact how often a bamboo floor should be cleaned. For instance, mud rooms, main bedrooms, front hallways, and family rooms that are used numerous times a day will require daily cleaning.

But the spare bedroom or the home office that only gets used a couple times a week? The bamboo flooring in those types of rooms can be done as infrequently as once a month. However, to be on the safe side and ensure that your bamboo floor is kept looking beautiful, I recommend adding the cleaning of your bamboo floor to your weekly chores list.

Can I Use Vinegar On Bamboo Floors?
As mentioned earlier, you should avoid using vinegar and other harsh cleaners, natural or not, to clean your bamboo floors. But if you're a vinegar diehard and REALLY want to use it as a bamboo cleaner, there is a way in which you can do so semi-safely to remove dried dirt and settled soil.

Mix ¼ cup of white vinegar with a quart of cold water and use it in the same way you'd use Bona bamboo floor cleaner or another proper hardwood floor cleaner. Dip a sponge (damp) or rag (dry) into the water/white-vinegar solution and wring or squeeze to remove excess liquid. Then use the sponge or rag to scrub away at resistant stains.

Note that this solution should only be applied to seriously stubborn stains or whipped out in deep cleaning sessions. It is in no way a daily cleaning solution. Also remember that vinegar—undiluted vinegar that is—is extremely strong and can strip away your floor, so use this homemade cleaner wisely.

How Do I Make A Safe DIY Bamboo Floor Cleaner?
When coming up with ways to protect bamboo floors, remember that bamboo floor cleaners are specifically designed to clean bamboo floors, so they're up to task. You can, however, create your own safe DIY bamboo floor cleaner should you want to.

One DIY bamboo floor cleaner option is to mix a splash of Castile soap with warm water to form a mild cleaning solution. Another is to mix one gallon of hot water with a tablespoon of olive oil and seven drops of an essential oil of your choosing to create a type of homemade wax that bamboo floors will benefit from, which you simply apply with a microfiber mop or cloth, remove and rinse.

Similar to the above, you could also mix a gallon of hot water, ¾ cup of olive oil, and ½ a cup of lemon juice to create a mopping solution. Once the floor has been mopped, allow it to dry before using a dry cloth to buff it back to beauty.

The last DIY bamboo floor cleaner I dare to share with you involves rubbing alcohol. Now, I know not so long ago I told you to avoid this, but if you're careful you can get away with it, as rubbing alcohol is pH neutral—believe it or not! Simply mix ½ cup of rubbing alcohol with ½ teaspoon of dishwashing detergent and 2 cups of water, and Bob's your uncle.

Why Does My Bamboo Floor Look Dull?
Sometimes, no matter how well or how often you clean your prefinished bamboo floor, it may look dull. There are three possible causes of this: age, dirt, or the use of improper cleaning products. Discoloration and loss of shine are part and parcel with aging (for humans and bamboo floors alike!), while bamboo floors that see a constant stream of muddy boots are likely to darken in color.

The third and final reason for dull-looking bamboo floors is the one that is easiest to fix. That's the use of improper cleaning products. When you use the "wrong" products consistently, a film will build up. Over time, this film results in dreary, dull-looking bamboo floors that only a sanding and refinishing session stand a chance of rectifying.

How Do You Get Scratches Out Of Bamboo Flooring?
Getting scratches out of bamboo flooring can be difficult, but it's not impossible. All it takes is five steps and your bamboo flooring will be scratch-free—or at the very least look better than before. First things first, your need to clean the area (using one of the methods you learned today) and then wipe it dry using a paper towel.

Next, you must use fine grit sandpaper to gently sand over the scratched area. Then fill in the scratch using foam brush paint and wood filler. Finally, once the wood filler is dry, coat it with a thin layer of polyurethane to seal it up for good and prevent future scratching.
Conclusion
As you can tell, cleaning a bamboo floor is by no means an easy feat, but boy oh boy is it worth the effort. By arming yourself with the proper knowledge, tools, and products needed to clean, maintain, and properly protect your bamboo floor, you're all but guaranteed a beautiful floor for years to come.
When it comes to bamboo floor cleaning options, you're spoiled for choice. Whether you stick to a tried and tested product like the Bona bamboo floor cleaner or decide to whip up your own DIY concoction is up to you. Say goodbye to footprints on bamboo flooring and hello to beautiful, vibrant, durable floors.
Do you have any of your own bamboo floor cleaning tips or tricks you'd be willing to share with your fellow readers? Or have you tried something that didn't work and want to save others from making the same mistake? Either way, let us know in the comments section down below!
Back to Top