Maybe you've always had a slate floor, or perhaps you have just moved into an older property with not-so-glorious slate floors? Either way, you will need to learn how to clean slate floors the right way.
While you may think of slate floors as being hard-wearing and easy to clean, they can quickly become a dull and lifeless surface if you don't invest in the proper care for them.
When not adequately sealed, slate floors can become like a sponge, sucking in spills to their core and become permanently stained as a result. A sealant is required to keep your slate floor spill-resistant.
Although slate floors are natural stone, a high shine can be achieved by applying a sealant coat. Conversely,  with improper care, this type of flooring can look dingy quickly. A slate floor in all its glory is a shiny surface that speaks of careful maintenance and opulence. Once it starts to lose that high-gloss sheen, it can soon look tired and worn.
What can you do once your slate floor needs a pick-me-up?
This article will review different cleaning techniques for slate floors, the best floor cleaner for slate tiles, the benefits of resealing your slate floor, and how to spot-treat slate tiles.
A Guide: How To Clean Your Slate Floors
Natural slate is a raw and "undressed" stone. It lends itself to absorbing liquids, oils, and polishes that can stain it or give it a beautiful glow. It is recommended that you keep your slate floor clean with routine daily maintenance, which involves cleaning this flooring type regularly with a mop, water, and mild detergent.
In essence, sweeping your slate floors removes debris, dust, and sand. Follow this up with washing the floor using warm water and a cleaning agent.
Instead of a mild detergent, you can also use a cleaning solvent like SCI Stone and Laminate Floor Cleaner, which is designed to be more pH-neutral and kind than other cleaners when it comes to your natural stone or slate floor tiles. It will preserve the natural beauty of your slate floor while removing any trapped or absorbed dirt and grime.
After washing the floor, any remaining moisture should be dried either by toweling it down or using the airflow from fans. Follow our detailed guide below to clean and care for your slate floors properly.
Cleaning Sealed vs. Unsealed Slate Floors: Is There A Difference?
You would essentially clean a sealed slate floor the same way as you would treat an unsealed slate floor. Slate floors and slate tiles don't technically have to be sealed, but once you have gone down this road or the previous owners committed you to this journey, you need to keep that glossy finish up to date.
A slate floor that has previously been sealed can be cleaned in the same way as a natural slate floor. Be aware that slate is porous in its natural, untreated state and can absorb fluids like red wine and juice.
Sealing your slate floor decreases its absorption, making it a little more stain-proof. However, if you allow liquids to pool or messes to set, you will still face a nasty discoloration.
The slate's stain-absorbing properties can become a nightmare for you, but using heavy-duty solvents can cause the slate to become brittle and worn down.
What To Avoid When Cleaning Slate Floors
You should avoid cleaning with vinegar, as it's not suited to this flooring type. Vinegar and solvents that contain citrus extract are acidic and can cause your slate floor to fade and become brittle. Acidic cleaners may also cause a white deposit to form as the acid reacts with the calcium in the stone.
To achieve a natural shine on your slate floor, use some oils and polishes that the slate will absorb. You should also first evaluate whether your slate floor has been sealed already or if it is in its natural state. Old sealants may require a new coat or refinish.
Items You Need To Clean Slate
Whether sealed or natural, slate floors are hard-wearing and long-lasting if you take care of them. You will require the following items to clean and maintain your slate floors:
Broom and/or vacuum cleaner (with appropriate head)
Mop
Bucket
Warm water for detergent and for rinsing
Mild detergent or slate tile cleaner
Buffing cloths or fans
Teak or olive oil, or slate floor polish
Step-By-Step Daily Care Guide For Slate Floors
The steps to clean a slate floor are reasonably straightforward, but it is essential not to skip a step, as this could lead to scratching or discoloration.

Step 1: Sweep
It is always a good idea to sweep your slate floor daily or vacuum it regularly with a high-quality vacuum cleaner with an appropriate attachment designed for hard floors. When in doubt, you can always use the same cleaning head as the one recommended for hardwood floors as these have soft rollers, which won't scratch your slate tiles.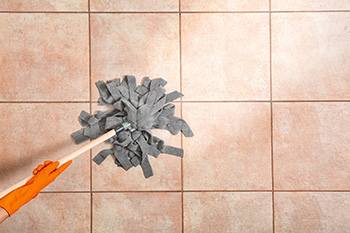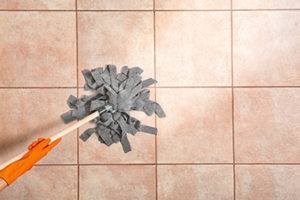 Sweeping or vacuuming will remove any loose dirt or debris that could scratch your floor when you mop. It also reduces the amount of washing you need to do to clean your floor. Daily sweeping and vacuuming will prolong your slate floor's life.

Step 2: Mopping
The second part of your cleaning routine is to simply use warm water and a mild detergent or some appropriate slate-floor cleaning product to mop your floor. Be sure to clean using an abrasion-free mop. While you can mop quite vigorously, you should not scrub so hard that brittle particles flake off of your slate tiles.
Try to mop in one direction, as this stops smaller particles from collecting in the grooves between slate tiles. Be sure to use a damp, but not wet, mop to prevent streaking on larger slate tile floors.
If you find any tough stains or embedded materials on your slate floors, you can clean this up in a number of ways, which I will cover later.

Step 3: Rinse
Once you have washed your slate floor and removed any spots that required special attention, it is a good idea to rinse the floor with plain water, as soapy residues can leave an ugly layer of buildup behind.
To do this, simply rinse your mop or fit with a new cleaning pad. Then mop as you normally would, but with only clean water. Be sure not to wet the floor too much, but you should clear away any remaining soap foam or bubbles that may have formed in the grouting.

Step 4: Dry
Your slate floor can air dry, or you can use fans to help dry it before allowing foot traffic in the space. You can also use a buffing machine to help you dry your floor if you are in a rush, though care should be taken to set the pressure at the lowest setting available.
I like the Bissell Spinwave, 2307 Cordless Hard Mop, Wood Floor Cleaner, and Buffer as it is gentle enough not to scrape or scratch hardwood floors but can buff your slate floor easily.

Step 5: Polish Or Oil
Slate is porous, which means it will absorb certain oils and waxes, giving you a beautiful luminous finish. While you may not want to polish or oil your floor each time you clean and mop, it is an essential step to add to your cleaning routine every month.
Once your slate floor is clean and dry, you can apply a thin layer of teak or olive oil to help shine up the surface. Commercial waxes and polishes are also available, though care should be taken not to coat the floor so much that the pores become clogged, as this will create an unsightly buildup.
You can choose to let this surface treatment dry naturally, or you can lightly buff with a fresh and clean buffing pad.
Slate Stain Removal Ideas
Swiftly cleaning up spills is a must to prevent stains on slate floors. Though slate floors are porous, they are more fluid-repellent once the slate has been treated. It's best to wipe up any spills immediately.
For the most part, treated slate flooring is naturally liquid-deterrent, so slate floors should not become easily marred by stains. Slate is also colorfast, so it won't stain from mild cleaning solutions.
However, suppose you are using something with high-acidity like vinegar or lemon. In that case, it can lead to surface damage as microparticles of the slate may loosen, giving you an orange peel-like surface that is unsightly on slate flooring.
Detergent
Simply take some of the detergent solution you are cleaning your slate floor with and gently scrub the area with a soft-bristled brush. Rinse before drying, and apply a surface treatment.

Baking Soda And Hydrogen Peroxide
Mixing equal parts of these two cleaning agents will give you a foaming paste. Wait until the paste stops bubbling, and then rub onto the stained area. Once the stain is lifted, wash as normal, rinse, and treat your floors.

Rubbing Alcohol
Using rubbing alcohol is also an effective way of loosening and lifting chemical stains. Simply apply using a soft cloth, rubbing firmly. Once the stain is removed, wash as usual, rinse, air-dry, and seal.
Slate Floor Cleaning FAQs
I'm sure you have some questions about your slate floors, and I have the answers!

What Is The Best Cleaner For Slate Floors?
Honestly? The very best floor cleaner for slate tiles is plain water and a little detergent. Remember to go for something mild and acid-free. That is to say, leave the lemon freshness for the kitchen or bathroom, not your slate floor.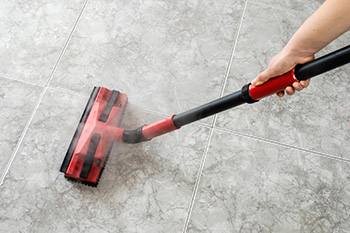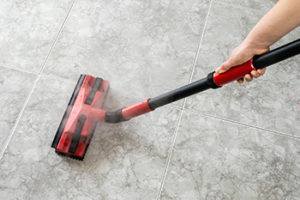 If you want to opt for a commercial solution, you can try many products such as Stone & Tile Intensive Cleaner: Concentrated Deep Cleaner. This product offers you supreme hygienic cleaning with a formula designed not to leave residue on your slate floor.

How Do You Make Slate Shine?
While an oil rub or wax finish is the traditional way of treating a slate floor and produces a certain shine, the best way to achieve a lasting shine is to apply a sealant like GlazeGuard Gloss Floor/Wall Sealer, which works well. The glossy finish is long-lasting, and it protects your slate tiles from scrapes and scratches.
When applying a sealant to natural stone floors like slate, you need to keep in mind that the sealant will make the stone more waterproof, but it will need refinishing every so often, especially in high-traffic areas.

Can I Use Olive Oil Or Vinegar On Slate?
Yes, you can use olive oil as a traditional sealant and treatment to lift natural slate colors, but it is not advisable to use vinegar. With the high acidic level of vinegar, slate floors have a chemical reaction and become brittle, forming an undesired, pitted look.
Vinegar creates a glossy shine on other flooring types, but with slate, it tends to blemish the surface, whether the slate is treated or not. The sealed slate may turn white if the vinegar reacts with the sealant coating. Vinegar may also cause the sealant to separate from the slate, making vinegar an unwise choice for cleaning slate floors.

Why Is My Slate Turning White?
When slate floors take on a white veneer, this is usually due to the slate's sealant discoloration, often the result of old age or excessive heat. Removing the sealant is a tricky process, but it is necessary to refurbish the slate floor and restore the stone's natural tones before retreatment.

Is Steam Cleaning Slate Floors A Good Idea?
A steam cleaning mop is a great way to clean and revitalize a tired slate floor. Steam gets into all the little cracks, grouting grooves, and surface irregularities characteristic of a slate surface. Slate is not as smooth as ceramic flooring, so steam mopping helps to lift hard-to-reach dirt away effortlessly.
The Verdict
Cleaning your slate floor may seem like a massive chore, but it really isn't. With some easy preparation, you can clean like a pro, leaving your slate tiles sparkly and brilliantly-hued.
With some soap and water, you can wash away buildup and dirt, creating that radiant look associated with hygiene and earthy goodness. Slate flooring is an investment since it will never perish or need replacing, as long as you maintain its natural surface and avoid damage by heavy-duty solvents, acid-based cleaners, and surface abrasions.
Have you used any of the techniques described in this article to clean your slate floor? Let us know in the comments section or leave an image and opinion of your experience with slate floor cleaning on our social media.
Back to Top