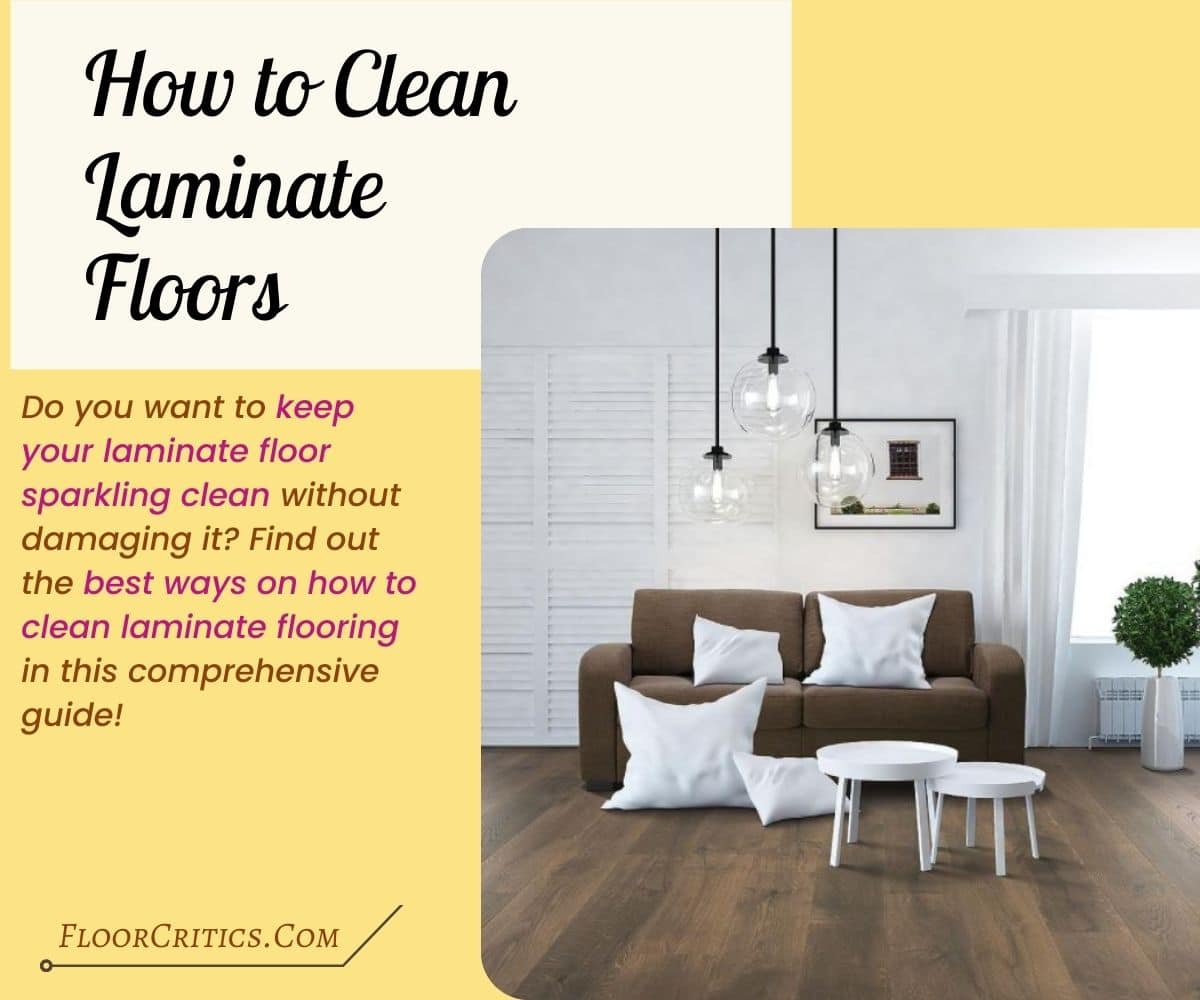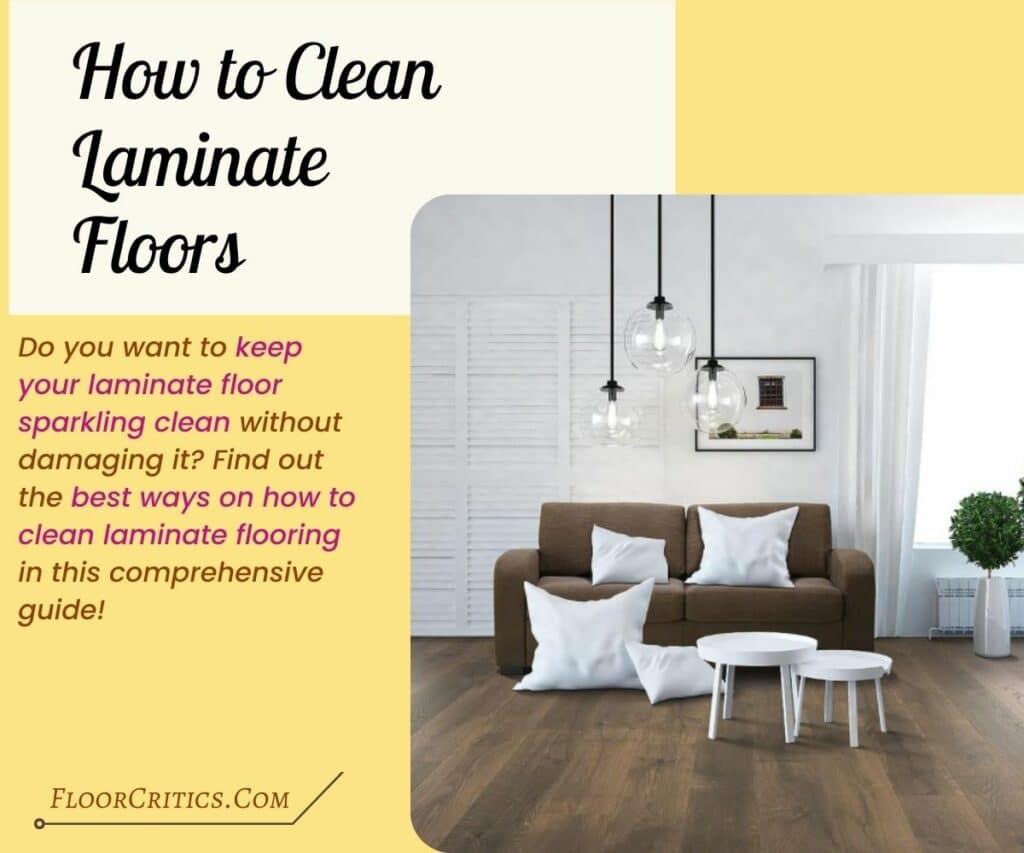 If you have laminate flooring and you want to maintain it in a way that won't damage the floor, then this article is for you. All you need are the correct tools and the best product to clean laminate floors. Keep reading to find out more about how to clean laminate floors.
Laminate Floor Cleaning Advice
"Dust and dirt act as an abrasive on a laminate's surface and seriously dull its appearance. This fact of life can be avoided by regular sweeping, dust mopping or vacuuming to remove loose dirt and grime. Either a broom or a vacuum cleaner without a beater bar will do the trick. Vacuum cleaner attachments are useful to capture dust and dirt between planks or along edges."

World Floor Covering Association
There are various ways you can clean your laminate flooring; however, it's important to use the correct cleaning tools and cleaners to avoid damaging it. Here are the steps, tools, and solutions you can use to clean laminate floors.
Steps On How To Clean Laminate Floors
1. Vacuum
For larger debris, dust particles, and pet hair a vacuum should be used on a laminate floor. Using a vacuum instead of a broom will also allow you to trap any allergens in the bag more successfully. A broom will often just lift them into the air to resettle.
You'll want to vacuum your laminate (or sweep) regularly to pick up the kind of grit that gets tracked in from out of doors. This grit, when underfoot, can scratch your floors and make them lose the shine you enjoy so much.
There are vacuum cleaner attachments you can use to suck up dirt trapped in corners or under appliances and furniture. These attachments include microfiber pads that connect to the vacuum to help capture dist missed by the vacuum's suction. This makes vacuum cleaners ideal for a speedy cleaning or cleaning hard-to-reach areas.
Tips:
If you use your vacuum cleaner for the entire floor instead of a mop or broom, be sure to turn the brush roll off (no beater bar) so that it doesn't scratch the surface of your floors.
You can also use robotic vacuums if you can afford them to speed up your cleaning.
Don't use heavy vacuum cleaners as they can scrape or chip the laminate floor's wear layer.
Use soft-brush attachments on your vacuum cleaner to prevent scratches when cleaning.
See our in-depth review of the best vacuums for laminate floors.
2. Dry Mop
Laminate floors are water-resistant but they can get damaged if you saturate your floors with water. Therefore, you'll want to use a dry mop to sweep away dirt, clean up spills or deep clean your laminate flooring.
Most importantly, you'll want a flathead microfiber mop so you don't scratch the surface of your floors. It can pick up dirt without leaving scratches and water on your floor. It also does a great job in getting deep into your floor's textured grooves.
Tips:
If you are using reusable mop heads, don't wash them with fabric softener to avoid leaving residue behind.
Dry mop your flooring to remove debris before deep cleaning it to prevent remaining dirt from grinding into your floor's surface, especially when you are using rags over your flooring.
Dry mop in the direction of the grain to avoid the appearance of streaks.
See our in-depth review of the best mops for laminate floors.
3. Apply A Cleaning Solution
Deep cleaning allows you to remove debris and stains that you weren't able to remove through dry mopping or vacuuming. To deep clean your floors you must use the correct laminate floor cleaning solutions that is specific to laminate. Using a non-laminate floor approved product will leave your floors with a haze.
Ideally, you want to use a spray-on cleaner so you can wipe it up easily with a microfiber mop or cloth. We recommend you check your warranty information before applying a cleaner to your laminate floor.
Tips:
Don't saturate the floors with the solution; you only need a light layer to wipe away sticky messes easily.
Always wipe your floor with a dry microfiber cloth after deep cleaning.
While many laminate cleaning solutions are safe to use, follow the instructions on dilution to avoid problems.
Always test whatever cleaning solution you have chosen on a small section on your laminating flooring. If you didn't observe any negative effects, you can continue using the solution.
If your flooring appears discolored after testing the solution on a small area, dilute your solution further as it may be too strong.
"Liquids and steam will damage your flooring beyond repair. For this reason never apply cleaner directly to your floor, always use a mop that is barely damp, and avoid close or prolonged contact with liquid and steam."

North American Laminate Flooring Association (NALFA)
The Marketing Manager at Armstrong reiterates some useful tips when cleaning laminate floors.
What To Clean Laminate Floors With
Cleaning Tool
Our Product Pick
Why We Like It
Vacuum
Bissell SurfaceSense Pet Multi-Surface Vacuum

– Its technology allows it to sense what floor type the vacuum is being used on and it automatically adjusts the brush roll speed.
– Multi-surface use (works well on carpet too)
– Great at picking up pet hair with the attachment
Dry Mop
O-Cedar ProMist MAX Microfiber Spray Mop

– We liked the double sided mop pad on this O-Cedar Spray Mop (can be used 100 times).
– Can be used wet or dry.
– No batteries needed.
– Can choose your preferred cleaning solution.
Commercial Cleaning Solution
Bona Hard-Surface Floor Cleaner

– Our pick for the best laminate floor cleaning solution.
– It's formulated to clean all types of hard floors, including laminate and is what our team uses.
– Does not leave behind a haze on the floor.

Note: Not cleaning solutions will work on all types of laminate flooring. ALWAYS check your manufacturer's recommendations before you use anything as not all laminate flooring is made the same way.
DIY Cleaning Solutions: How Do You Make Homemade Laminate Floor Cleaner?
If you don't want to buy a laminate cleaner to save money, there are actually recommended cleaning solutions that you can do yourself:
Cleaning Laminate Floors With Vinegar
Many suggest that an old-fashioned mix of vinegar and water is a superior cleaner to brand-name products. To make a do-it-yourself laminate cleaner, just mix a cup of white vinegar into a gallon of water.
To avoid saturating your floor with the solution, pour it into a spray bottle so you can use it sparingly when deep cleaning your laminate floors. Shake the solution well and your natural laminate floor cleaner is ready to use.
If you can't stand the smell of vinegar, remember that it will dissipate quickly. Also, remember that you can always add a few drops of essential oil in a scent you like (lemon, eucalyptus, etc.) or a few drops of good-smelling dish detergent to your spray bottle mix. The essential oil will add a fresh smell to your laminate flooring.
Just be aware that these products may dull the shine of the floor.
Is Vinegar Safe For Laminate Floors?
Yes, vinegar is a safe and natural way to keep your laminate floors clean as long as you don't use pure vinegar and follow the mixture we mentioned before. Vinegar is a natural disinfectant, so it eliminates mold growth and bacteria from your laminate floors.
Using Mild Soap or Shampoo (only for non wood laminate)
You can spot clean your floors with a gentle detergent or mild dishwashing soap. Use a soft cloth to blot and wipe away spills. You can also use baby shampoo to clean stubborn dirt off of laminate flooring.
Below are cleaning solutions you can follow:
1 gallon of water + 1 teaspoon of baby shampoo
1 gallon of water + 1 teaspoon of clear dish soap (unscented)
1 teaspoon of dish soap + 3 parts water + 1 part rubbing alcohol
These homemade cleaning solutions are not only much cheaper than a retail brand, but they are much more environmentally sustainable and do not bring extra chemicals into your home, which may help members of your family or guests who are sensitive.
Tips:
Never use the wet mopping method to clean your laminate floors because this can cause major damage to the integrity of the flooring.
Dip the mop in the solution and wring out most of the water so it's slightly damp. Mop up any dirt or spills you may see on the surface.
You can also use a microfiber cloth and dampen it with the solution.
What Not To Do When Cleaning Laminate Floors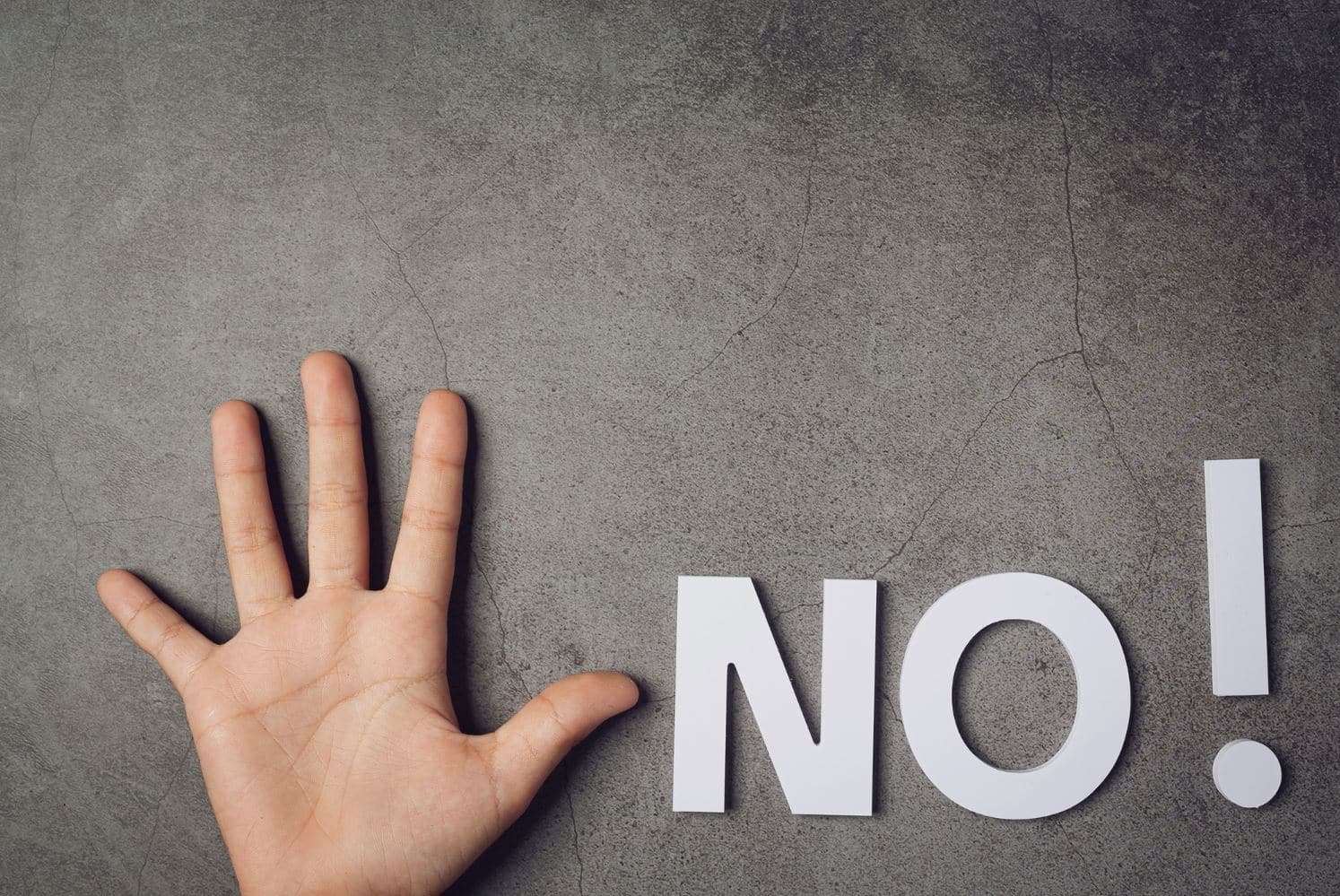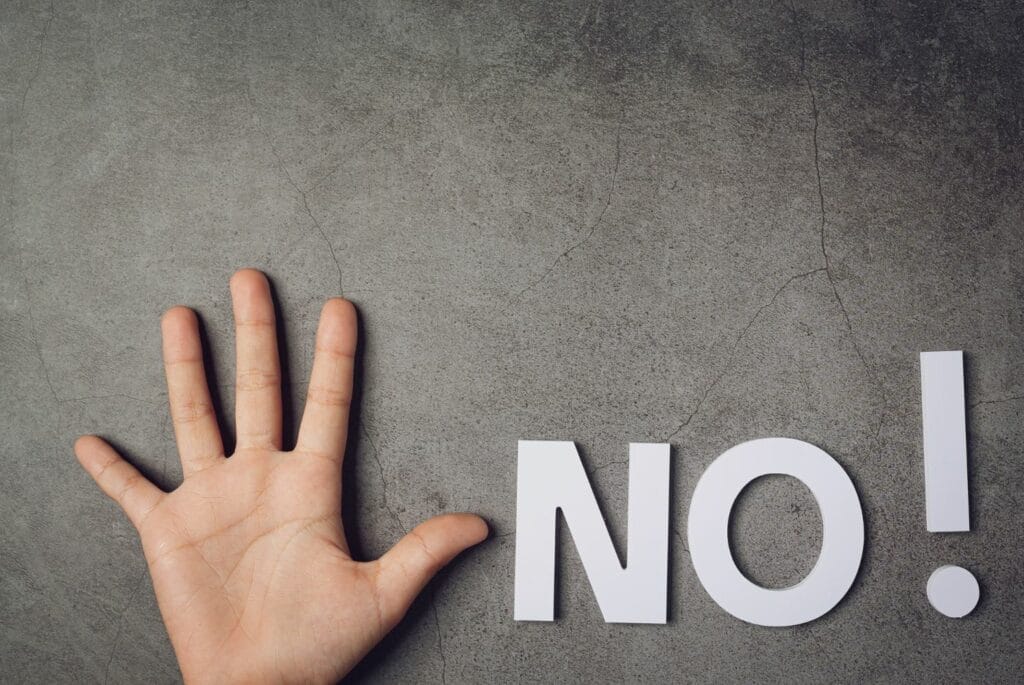 "Be very careful when choosing a cleanser for your laminate flooring. To choose a safe laminate floor cleaner there are some things you must know. First and foremost never use any type of cleaner that works by excessive amounts of liquid or uses steam."

North American Laminate Flooring Association (NALFA)
Take note that laminate flooring is made of wood particles and plastic. Thus, it is moisture and heat-sensitive. To prevent your floors from getting damaged, below are the things you shouldn't do:
Don't use bleach: It might seem like a good idea to use bleach to remove stains, but bleach can destroy the integrity of your laminate floors. It will remove the shiny coat off your laminate floors which will make them look dull, and it removes the floor's color.
Avoid abrasive cleaning tools: Laminate floors can scratch easily so don't use scrubbers or steel wool to remove dirt off of your floors.
Don't use pure vinegar: When cleaning your laminate floors, always dilute your vinegar in water first. The high acidity from using pure vinegar can strip away the laminate floor's shine.
Don't use wood cleaners: You should always use cleaners that are specifically formulated for laminate floors. Wood cleaners tend to leave streaks and a waxy residue on laminate surfaces.
Never use steam cleaners and steam mop for laminate floors: Laminate has a layer of plastic on the top. A steam cleaner is too hot for this material and will cause the laminate boards to warp and delaminate.
Avoid polishing machines: Your laminate floors come with a natural shine. Polishing machines will scratch the surface of the floors, making them appear dull.
Don't use too much water: When cleaning your laminate floors, don't use buckets of water to wash away dirt. The water can soak into the planks and cause them to warp or buckle. Don't soak your microfiber mop and don't leave puddles.
Avoid using oil soap detergent and liquid cleaning products: Liquid cleaning products can cause warping, swelling, joint line separation, and delamination.
Don't use oil-based cleaners designed for wood floors: Wood cleansers, such as Murphy Oil Soap, can leave hard to remove streaks and residue.
Never polish or wax your flooring: Waxing and polishing can damage your flooring in the long run as the product builds up on the surface, causing discoloration and dullness.
Don't use fabric softener sheets as they have chemicals that can leave a film
Don't use ammonia and chlorinated cleaners
Pro Tip: We recommend that you stay away from products that offer a "protected shine." These products will offer to not only clean your floor but also fill in scratches and scuffs. They do this by adding a film, or filler, into the product. While this may work, often these products will dull the shine on your floor by leaving that residue.
9 Preventive Care Tips: How to Protect Laminate Floors
Use wheels on your office chairs
Use doormats at entrances.
Use felt pads or furniture slides on furniture legs.
Take off cleats or heels before walking across your floor as they can leave marks.
Always trim the nails of your pets.
Use laminate-approved rug underlays only to avoid scratching your flooring.
Never slide heavy objects across your floor.
Place protective mats under heavy furniture and anything with castors.
Wipe up spills immediately.
Expert Laminate Flooring Cleaning Advice
In this section are expert tips you can follow to maintain the new look of your laminate flooring.
Before we get started with the special solutions for cleaning bad messes on your laminate flooring, we would like to emphasize the importance of testing the solvent on a small spot on your floor to make sure that it won't damage your flooring.
How to Remove Particular Stains from Laminate Floors
Although laminate floors are stain-resistant, there are some products such as nail polish or wax that can be difficult to remove from laminate flooring with a standard cleaner.
Nail polish, crayon, or shoe polish: Apply a small amount of rubbing alcohol on a cotton pad and gently rub the stain out. You can also try WD-40 or a small amount of fingernail polish remover on a white cloth. Then use a damp cloth to wipe any remaining residue.
Candle wax or chewing gum: Put a bag of ice over the wax and gently scrape off the wax with a credit card or plastic knife. Don't use metal knives because they can rip through your laminate floor.
Grease: Pour a small amount of mineral solution over the affected area. Leave to soak for 30 seconds and then wipe it away with a soft cloth.
Blood: Spray the affected area with a window cleaner. Wipe away the stain with a warm, damp cloth.
Soda, wine or ink: Pour mineral spirits onto a soft cloth and use it to wipe away ink, wine or soda stains. The sooner you attend to the stain, the easier it will be to remove.
Scuff marks: Apply a baking soda paste to scuff marks and wipe them away with a soft cloth.
Other cleaning products you can use are:
Nail polish remover or acetone: To remove tar, lipstick oil, ink, cigarette burns, shoe polish, marking pen, grime, and nail polish.
A mixture of a non abrasive household cleaner and warm water: To remove wine, juice, grease, and chocolate.
Petroleum spirit, acetone, or methylated spirit: To remove cigarette burns, nail polish, carbon, ink, shoe polish, lipstick, crayon, and tar.
Specialty Laminate Floor Cleaning Advice
How to Clean Laminate Floors Without Leaving a Film
1. Vacuum your floor to remove dirt and debris.
2. Combine equal parts white vinegar with hot water.
3. Add the mix into the spray bottle and shake.
4. Slightly dampen a microfiber mop pad and clean your floor
How to Deep Clean Laminate Floors
1. Vacuum and dry mop your floor.
2. Use a laminate floor approved cleaning product
3. Lightly Dampen a microfiber mop with the solution and clean your floor.

NOTE: Only perform a deep clean every 2-3 months.
How to Get Paint off Laminate Floor
1. Vacuum your floor.
2. Use any of the following solutions: An ammonia window cleaner or nail polish remover.
3. Allow the solution to sit for a few minutes.
4. Wipe the paint off with a microfiber cloth.
How To Shine Laminate Floors
1. Use a clean dust mop to wipe away any dirt on your flooring.
2. Then you'll need the correct laminate floor cleaning product.
3. Spray the solution on your floor or mop pad and use a dry, clean mop to clean the area.
4. Let the floor air dry (a fan can be used if needed).
5. Buff any dull spots with a white microfiber cloth.

Premixed and no-rinse laminate floor cleaners are ideal because they're easy to use. Additionally, you can use laminate floor polish, such as Bona Stone Tile & Laminate Floor Polish, for extra shine.

The Bona floor polish is a multipurpose product that can be used on tiles, marble, and now wooden laminate flooring. This product will restore the shine on your laminate flooring, and it's environmentally friendly too.

Another positive aspect about Bona is that it's non-abrasive, so it won't damage your floors. Additionally, the product has a pleasant fragrance that lasts.
How To Remove Mold From Laminate Flooring
Most people use bleach to disinfect their floors. But since this is not an ideal cleaning aid for laminate flooring, you should consider a safer alternative. Mold growth occurs when dust is combined with damp areas. When you're not cautious, mold can grow in the corners of your laminate flooring.

To get rid of the mold on your laminate flooring safely, follow these steps:
1. Sweep the area thoroughly with a soft bristle broom or dust mop.
2. Mix a cup of white vinegar in a bucket of water and add 5 oz. of rubbing alcohol.
3. If you want to add a pleasant fragrance to the solution, simply add a few drops of essential oil to the mixture. Only add 3 to 4 drops of oil because you don't want an oily residue left behind on the laminate floors.
4. Dip a clean mop in the solution and wring it out so that it's damp. Then wipe the area thoroughly.
5. To get into the corners of your floors, dip a soft cloth into the solution, wring it out, and wipe the area clean.

The acidity from the vinegar and alcohol will eradicate the mold growth on your laminate floors and prevent the organisms from growing back.

This solution works for laminate and wooden laminate flooring. It's safe to use and won't destroy the finish of the laminated surface. It's important to use soft-bristled brooms and spray mops to avoid scratching the surface of your floors. So make sure you always use cleaning tools that won't damage your laminate floors when ridding them of mold.
Professional Laminate Floor Cleaning Service
If you don't want to go through the hassle of reading a long guide and following a lot of instructions, the best option for you would be to hire a professional laminate floor cleaning company.
Hiring an experienced professional can help get the job done properly.
FAQ
What Is The Best Way To Clean Laminate Flooring?
The best way to clean laminate flooring is to use a damp cloth to wipe up spills and dirt as soon as they happen. It's advised never to leave liquids to sit on your laminate flooring for long.

For tougher spots such as oil spills or paint, dip a cloth into nail polish remover. Then wipe the spot gently until the stain is removed completely. Use a damp cloth to wipe away excess residue from the area when you're done.

What Are The Disadvantages Of Laminate Flooring?
You can't sand or refinish laminate flooring. So if there are deep grooves or scratches on the surface, you won't be able to fix these areas with sanding. That's why it's important to take care of your laminate flooring the correct way.

How Do You Clean Laminate Wood Floors Naturally?
You can use baby shampoo, unscented clear dish soap, or rubbing alcohol diluted with water. Mix the solution in a spray bottle or place it in a bucket if you're going to mop the floor. We have specified the right mixture proportions in the DIY Cleaning Solutions section of this article.

It's advised that you don't use a steam mop for the task. Use a damp mop to clean your laminate floors with the solution. 

Can You Paint or Stain Laminate Floors?
Yes, you can paint or stain your floor if you want to improve its aesthetic. Just make sure to clean it properly, sand it, repair imperfections, and prime it before painting. Check out this sample video of a DIY-painted laminate floor for your reference.

How Long Does Laminate Flooring Last?
Laminate flooring typically lasts between 15 to 25 years. But, it can be longer depending on your flooring's quality.

How Often Should You Clean Your Laminate Floor?
Your laminate flooring can last many years but only if you know how to clean laminate floors correctly. Proper maintenance is essential to keeping your laminate floors in tip-top shape for as long as possible. 

You should remove dust and debris from your laminate flooring every two days with a soft microfiber mop or soft-bristled broom. You can also use a vacuum cleaner, but make sure it is designed for hard surfaces so it doesn't scratch your floors. Deep cleaning can be done every two weeks with a laminate floor cleaner. 

If you have pets or children you may need to clean your laminate flooring every four days. 

Can you use Swiffer wet on laminate flooring?
Yes. Just be sure not to over saturate the floor.
Final Thoughts
Cleaning laminate flooring doesn't have to be a difficult task. There are affordable options such as making your own floor cleaner. Or purchase a pre-mixed cleaner such as Bona that can be used as a laminate cleaner.
Another aspect to remember is to avoid using the incorrect tools to clean your laminate flooring, such as steel wool, steam mops, or abrasive floor cleaners. Don't let water sit on your laminate flooring because it can destroy the integrity of the area.
Instead, use the tips and tricks we provided in today's article when cleaning laminate flooring. If you maintain your laminate flooring correctly, it will preserve the longevity of the finish and you'll have a clean, shiny, and even surface for many years to come.
Do you have a specific method you use for cleaning your laminate flooring? Let us know what your process is by leaving a comment below. We're always happy to hear from our readers.
Back to Top