Laminate flooring is the suitable option when you have children and animals, because it's easy to clean. Sometimes children and animals track muddy prints into the house and spills occur often. That's why you need the best way to clean laminate floors.
If you have laminate flooring and you want to maintain it in a way that won't damage the floor, then this article is for you. All you need are the correct tools and the best product to clean laminate floors. Keep reading to find out more about how to clean laminate floors.
Tools You'll Need To Clean Your Laminate Flooring
The first things we recommend are a vacuum for hard surfaces and a good microfiber laminate mop.
You'll want to vacuum your laminate (or sweep) regularly to pick up the kind of grit that gets tracked in from out of doors. This grit, when underfoot, can scratch your floors and make them lose the shine you enjoy so much. (You can also insist that people take their shoes off at the door.)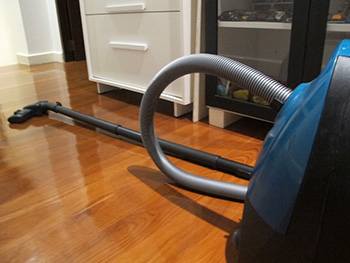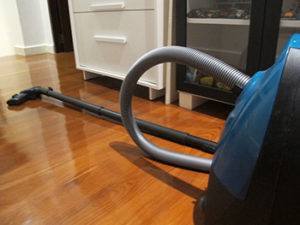 Using a vacuum instead of a broom will also allow you to trap any allergens in the bag more successfully. A broom will often just lift them into the air to resettle.
You'll also want a microfiber mop. Swiffer makes the most instantly recognizable microfiber mop, but you don't necessarily need to buy the Swiffer brand.
DIY Cleaning Solutions
Many suggest that an old-fashioned mix of vinegar and water is a superior cleaner to brand-name products. To make a do-it-yourself laminate cleaner, just mix equal parts hot water and vinegar in a spray bottle. Use the bottle to spray the floor before you mop it with the microfiber, and you're all set.
If you can't stand the smell of vinegar, remember that it will dissipate quickly. Also, remember that you can always add a few drops of essential oil in a scent you like (lemon, eucalyptus, etc.) or a few drops of good-smelling dish detergent to your spray bottle mix. Just be aware that these products may dull the shine produced by the vinegar and your elbow grease.
This homemade cleaning solution is not only much, much cheaper than a retail brand (it costs only pennies per bottle), but it is much more environmentally sustainable and does not bring extra chemicals into your home, which may help members of your family or guests who are sensitive.
Branded Cleaning Solutions
Most experts doubt that you really need to buy branded or retail cleaning solutions instead of making your own. There is also, apparently, no reason to think you have to buy the cleaning solution that is branded and marketed with the same name as the flooring you installed.
That said, some do believe that a retail cleaning solution does a better job at controlling static than homemade cleaners, and there is always the issue of smell.
If you would prefer to go with a professional cleaner, Black Diamond has been making floor cleaning products since 1997 and they get consistently high ratings from buyers. It's available on Amazon.
In the end, you may want to try more than one commercial cleaner and see which works best for you in cleaning and aroma.
Best Product To Clean Laminate Floors
We've mentioned that Black Diamond is an excellent cleaning product for laminate flooring, but is there an alternative? You may prefer ZEP 1 Gallon Hardwood and Laminate floor cleaner. This product can be used with a microfiber cloth or mop.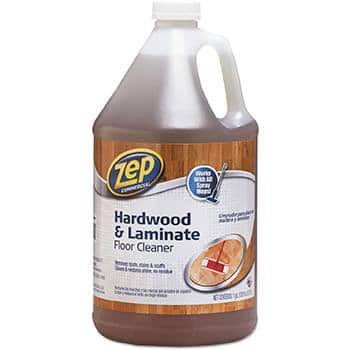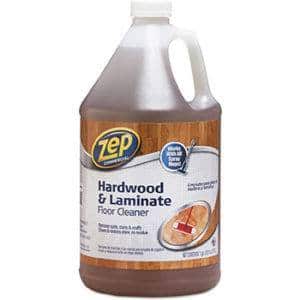 The ZEP laminate floor cleaner is suitable for large areas to clean dirt and eradicate bacteria and mold. It's a premix solution, so it's easy to use and a little of the product goes a long way. The ZEP cleaner is non-abrasive, so you can rest assured it won't scratch your floors.
You'll love that ZEP is suitable for wooden and standard laminate flooring. The concentrate is formulated to remove tough stains and spots on your laminate floors that can't be removed with standard detergents.
ZEP is a fast-drying formula that doesn't require rinsing, which makes it user-friendly. The ZEP formula comes with a spray bottle, so you can disperse the product evenly on your laminate flooring.
What Do You Use To Clean Laminate Wood Floors?
Wood laminate floors are different from standard laminate flooring. That's because real wood is used by slicing thin planks to cover your floors. There's a different way to maintain these wooden floors as opposed to standard printed laminate floors.
Since wood can swell, rot, and crack when exposed to excessive amounts of water, extra precautions are needed to take care of this type of flooring. You'll need a non-abrasive wooden floor cleaner that's premixed. Try not to use any water on your wooden floors.
Use a dust cloth or mop to wipe the floors with your cleaner. The detergent should clean your wooden laminate flooring and add a shine to the surface. To keep your wooden laminate floors healthy, use the correct floor polish such as Bona Stone Tile & Laminate Floor Polish.
The Bona floor polish is a multipurpose product that can be used on tiles, marble, and now wooden laminate flooring. This product will restore the shine on your laminate flooring, and it's environmentally friendly too.
Another positive aspect about Bona is that it's non-abrasive, so it won't damage your floors. Additionally, the product has a pleasant fragrance that lasts. You can use the Bona Stone Tile & Laminate Floor Polish using a soft mop.
Special Solutions For Bad Messes
So maybe you've spilled nail polish on the floor, or someone got shoe polish on your laminate. Resist the temptation to use abrasive cleaners like Comet or a scouring pad, as these have the potential to scratch your floor.
A few ideas for cleaning stubborn stains on laminate: You can try WD-40 or a small amount of non-acetone fingernail polish remover on a cotton ball. Either of these solvents will work for the kind of mark that won't come off with a regular cleaning solution.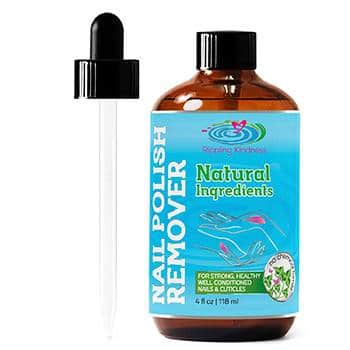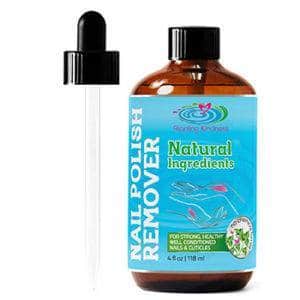 If there is gum on your floor, we recommend you cover it in ice to freeze it and scrape it off—gently!—with a non-abrasive plastic scraper.
Heel and scuff marks will also sometimes come up if you use a good, old-fashioned pencil eraser.
How To Eliminate Mold Growth On Laminate Flooring
Most people use bleach to disinfect their floors. But since this is not an ideal cleaning aid for laminate flooring, you should consider a safer alternative. Mold growth occurs when dust is combined with damp areas. When you're not cautious, mold can grow in the corners of your laminate flooring.
To get rid of the mold on your laminate flooring safely, follow these steps:
Sweep the area thoroughly with a soft bristle broom or dust mop.
Mix a cup of white vinegar in a bucket of water and add 5oz of rubbing alcohol.
If you want to add a pleasant fragrance to the solution, simply add a few drops of essential oil to the mixture. Only add 3 to 4 drops of oil because you don't want an oily residue left behind on the laminate floors.
Dip a clean mop in the solution and wring it out so that it's damp. Then wipe the area thoroughly.
To get into the corners of your floors, dip a soft cloth into the solution, wring it out, and wipe the area clean.
The acidity from the vinegar and alcohol will eradicate the mold growth on your laminate floors and prevent the organisms from growing back.
This solution works for laminate and wooden laminate flooring. It's safe to use and won't destroy the finish of the laminated surface. It's important to use soft-bristled brooms and spray mops to avoid scratching the surface of your floors. So make sure you always use cleaning tools that won't damage your laminate floors when ridding them of mold.
Cautions And Warnings
If you follow the instructions above, you'll be all set. We'd like to remind you though, of several things to avoid that can damage your floors. We've already mentioned not using abrasives like scrub pads or Comet, but here are some more tips:
Less water is better. Water can soak in and cause peeling and separation. Don't soak your microfiber mop and don't leave puddles.
Don't use bleach. Since wood laminate is porous, the bleach will soak in, causing a range of problems. Bleach will often take the shiny finish off your floors and can also stain and change the color of your floor.
We recommend that you stay away from products that offer a "protected shine." These products will offer to not only clean your floor but also fill in scratches and scuffs. They do this by adding a film, or filler, into the product. While this may work, often these products will dull the shine on your floor by leaving that residue.
FAQs
What Is The Best Way To Clean Laminate Flooring?
The best way to clean laminate flooring is to use a damp cloth to wipe up spills and dirt as soon as they happen. It's advised never to leave liquids to sit on your laminate flooring for long.

For tougher spots such as oil spills or paint, dip a cloth into nail polish remover. Then wipe the spot gently until the stain is removed completely. Use a damp cloth to wipe away excess residue from the area when you're done.

What's The Best Laminate Floor Cleaner?
Black Diamond Stoneworks is the best laminate floor cleaner on the market. The product comes in a large trigger spray bottle that helps you disperse the product evenly on your laminated floors. Black Diamond Stoneworks is premixed and doesn't require rinsing.

The product doesn't leave any streaks behind, and it gives your laminate flooring a shiny finish.

How Do I Get My Laminate Floors To Shine?
To give your laminate floors a shine, you must first use a clean dust mop to wipe away any dirt on your flooring. Then you'll need the correct laminate floor cleaning product. You can choose to use Black Diamond Stonework or another cleaning product of your preference.

Premixed and no-rinse laminate floor cleaners are ideal because they're easy to use. Simply spray the solution on your floor and use a dry, clean mop to clean the area. Additionally, you can use laminate floor polish for extra shine.

Is Vinegar Safe For Laminate Floors?
Yes, vinegar is a safe and natural way to keep your laminate floors clean. Vinegar is a natural disinfectant, so it eliminates mold growth and bacteria from your laminate floors. Simply add one cup of vinegar to a gallon of warm water.

Never use the wet mopping method to clean your laminate floors because this can cause major damage to the integrity of the flooring. Dip the mop in the solution and wring out most of the water so it's slightly damp. Mop up any dirt or spills you may see on the surface.

How Often Should You Mop Laminate Floors?
You should only mop your laminate flooring every two months. If there are spills, simply use a dry paper towel or a microfiber cloth to wipe up the mess. You can also use a soft-bristle broom to sweep away dust.

What Are The Disadvantages Of Laminate Flooring?
You can't sand or refinish laminate flooring. So if there are deep grooves or scratches on the surface, you won't be able to fix these areas with sanding. That's why it's important to take care of your laminate flooring the correct way.

How Do You Clean Laminate Wood Floors Naturally?
Add one part vinegar to three parts water and add a dash of dish soap. Mix the solution in a spray bottle or place it in a bucket if you're going to mop the floor. It's advised that you don't use a steam mop for the task. Use a damp mop to clean your laminate floors with the solution.

How Do You Make Homemade Laminate Floor Cleaner?
Take a spray bottle and add 5oz of white vinegar, 5oz of rubbing alcohol, 5oz of distilled water, and 3 to 4 drops of any fragrant essential oil. The essential oil will add a fresh smell to your laminate flooring. Shake the solution inside the spray bottle well and your natural laminate floor cleaner is ready to use.
Conclusion
Cleaning laminate flooring doesn't have to be a difficult task. There are affordable options such as making your own floor cleaner. Or purchase a pre-mixed cleaner such as Black Diamond Stonework that can be used as a wood floor detergent or laminate cleaner.
Another aspect to remember is to avoid using the incorrect tools to clean your laminate flooring, such as steel wool, steam mops, or abrasive floor cleaners. Don't let water sit on your laminate flooring because it can destroy the integrity of the area.
Instead, use the tips and tricks we provided in today's article when cleaning laminate flooring. If you maintain your laminate flooring correctly, it will preserve the longevity of the finish and you'll have a clean, shiny, and even surface for many years to come.
Do you have a specific method you use for cleaning your laminate flooring? Let us know what your process is by leaving a comment below. We're always happy to hear from our readers.
Back to Top