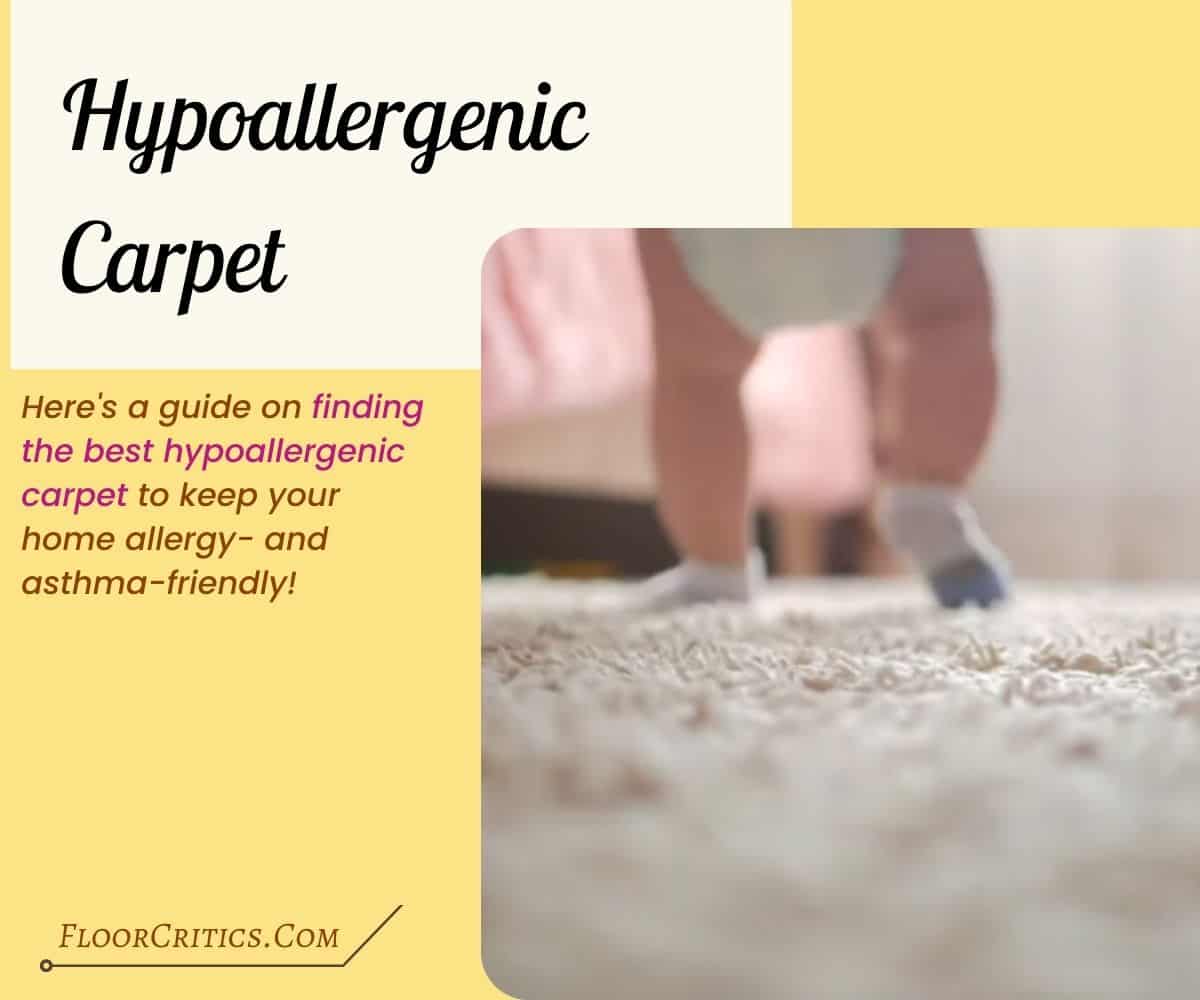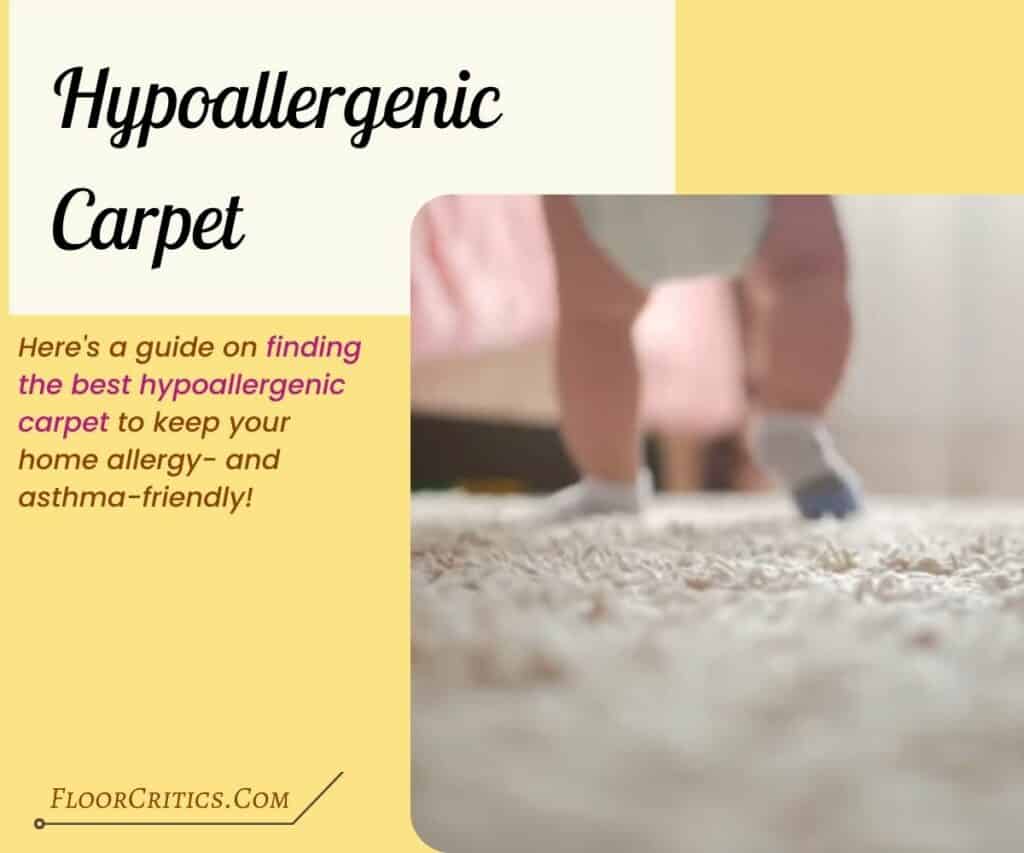 Carpets have been believed to worsen the symptoms of allergies and asthma. But according to the Carpet and Rug Institute (CRI), carpets can actually improve indoor air quality by trapping dirt, debris, and other particles. This article shares the types of hypoallergenic carpets including buying and carpet care tips to get the best carpet for allergies and asthma for your home!
So if you want to have cozy flooring while keeping an allergy-friendly environment, hypoallergenic carpeting is your best option. Let us help you find the best hypoallergenic carpet by giving you your options and tips on how to choose one here.
What Is a Hypoallergenic Carpet?
Hypoallergenic carpets do not shed and are designed to considerably reduce allergens in your home by keeping them out of the air. You can find many manufacturers today that claim that their carpets are allergy-friendly. But, their effectiveness will still depend on the type of fiber used among other factors. (More on this later!)
Types of Hypoallergenic Carpeting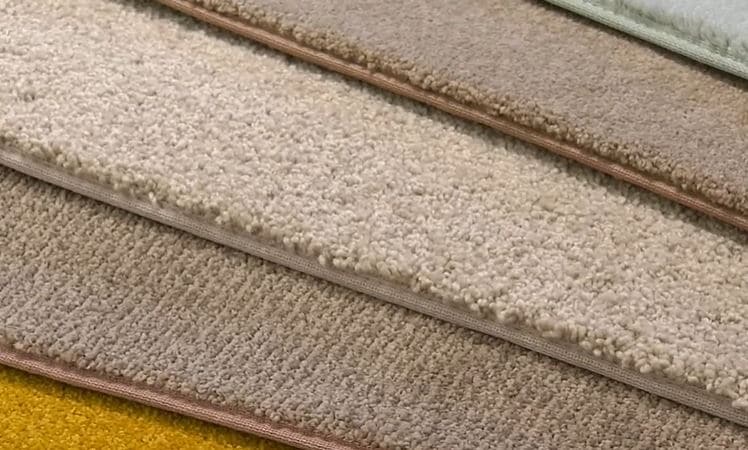 Hypoallergenic carpets are made from various materials. But, the most recommended ones are made from nylon, polyester, and wool.
Wool Carpets
Wool carpets are made from natural fibers. They are manufactured without petroleum, oils, and high-emission chemicals and have natural hypoallergenic capabilities. This allows them to trap contaminants like dust, pollen, deodorants, and cooking fumes.
Compared to synthetic fabrics, wool carpeting can quickly absorb volatile organic compounds (VOCs) and indoor air pollutants. These include sulfur dioxide, nitrogen dioxide, and chlorine. More of its benefits include:
Resistance to mold, mildew, and bacteria (but not resistant to moths)
Its dry and coil-shaped fibers prevent moisture build-up that inhibits the growth of dust mites
Better for people with skin conditions like eczema, unlike synthetic fabrics that worsen the symptoms of polyester allergies
Creates less dust particles as it wears compared to other fibers
Can withstand high traffic and is crush-resistant
Keeps your home warm during the cold months
Does not re-emit toxic contaminants and is fire-resistant
Soft and gentle on the skin
Nylon Carpets
Nylon carpets are known for their durability. They are created using tough man-made fibers. Although it is the most expensive type of synthetic carpet, it's still cheaper compared to wool carpeting. Among its benefits are:
Mildew, soil, and moisture resistance
Fade and heat-resistant
Shorter carpet fibers that are easier to clean
Causes pollen to dry out
Does not permit the growth of molds
Can bounce back so there will be no compression marks
Ideal for high-traffic areas
Comes in a wide variety of styles, patterns, and colors
Polyester Carpets
Another type of synthetic carpets, polyester carpets have significantly advanced these past years. They can provide some benefits that other carpet types cannot offer like excellent stain resistance. Other benefits include:
Cheaper installation than nylon carpets (though it's not as durable as nylon so it is not recommended for high-traffic areas)
Pleasant texture suitable for people with allergies
Resistant to mildew, molds, and moths
They repel water and are easy to clean
Hypoallergenic Rugs
The last on our list are hypoallergenic rugs which are also worth considering aside from hypoallergenic carpets. These are your best options if you are looking for smaller floor covering that is easier to clean.
Lower rugs with tighter weaves are less prone to shedding. There are also synthetic rugs that come in different colors, textures, and styles.
When to Use Natural or Synthetic Hypoallergenic Carpeting
Choose naturally hypoallergenic wool carpets if you have more budget and are not allergic to wool. It is also best for skin conditions.
Choose synthetic nylon or polyester carpets for humid areas and if you are looking for a more budget-friendly option. But, make sure that you are not allergic to synthetic materials.
Factors to Consider When Buying the Best Hypoallergenic Carpet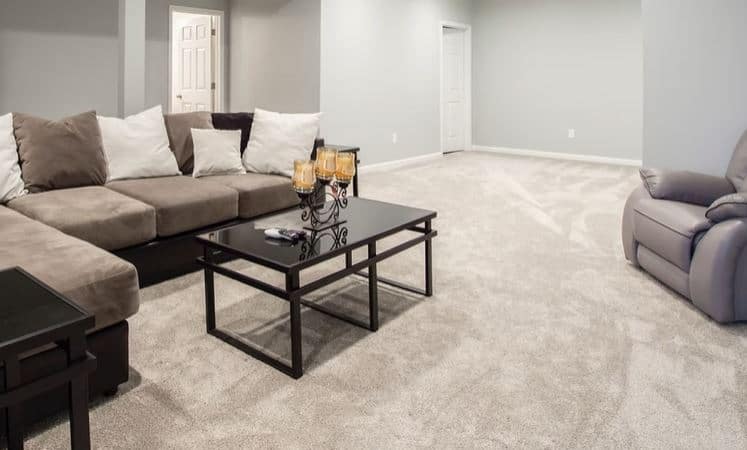 Now that you know your options, here are a few factors you can consider to ensure that you buy the best hypoallergenic carpeting:
#1 Fiber Type
The type of fiber the carpet is made of will determine how effective it will be against allergens. Some synthetic fibers like nylon and polyester are naturally mildew and mold-resistant. There are also natural fibers like wool that are naturally hypoallergenic (except if you are allergic to wool.)
#2 VOC Level
All carpets are treated using VOCs before being sold. These VOCs will be released back upon installation which causes allergy issues and can trigger asthma. Thus, you need to choose carpets with low VOC levels.
Also, find carpets with the following certifications to make sure that you are buying carpeting with low VOC emissions:
A GREENGUARD Certification
The UL GREENGUARD Certification Program recognizes products that are scientifically proven to comply with the most rigorous chemical emission standards.
"If a product has been GREENGUARD Certified, it has been tested and scientifically proven to have low chemical emissions."

Scott Steady, UL's Business Manager (Product Sustainability)
A Green Label Plus (GLP) Certification
The CRI's Green Label Plus (GLP) program identifies carpet products (including adhesive and carpet cushion) that have low VOC emissions.
#3 Underlay
A carpet's underlay is usually made from rubber, felt, foam, or jute. Do not choose natural underlay because they absorb moisture and can cause mildew and mold growth under the flooring. We recommend choosing synthetic underlay treated with antimicrobial agents.
#4 Weave Tightness
Lower and tightly woven carpets are easier to clean compared to looser carpets with thick piles. Denser weaves will also trap and accumulate less dust. Moreover, natural carpets with tight weaves are better because they can trap allergens and can be easily vacuumed.
Carpet Care: How to Maintain an Allergy-Friendly Carpet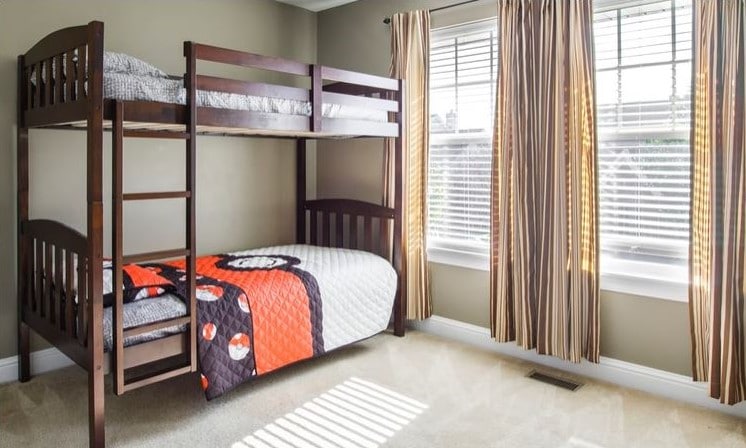 Hypoallergenic or not, you need to regularly clean your carpet to keep allergens at a minimum in your home. Cleaning your carpet helps to further reduce allergies and asthma and keep your home safe to live in.
There are two major ways you can care for your carpet:
#1 Vacuuming Your Carpet
Vacuum your carpet at least twice a week. However, don't just buy any vacuum cleaner because you might end up making problems worse. Unreliable vacuum cleaners will only collect allergens and exhaust them back into the air.
Better buy a high-quality vacuum cleaner while considering the following:
Uses a HEPA filter that can effectively remove 99.97% of even the smallest airborne particles.
Has CRI's Seal of Approval or GLP certification which guarantees that it can remove and contain debris and soil until you remove the bag or dump the bin.
In addition to vacuuming, we also recommend investing in a good carpet steam cleaner. Steam cleaning is among the best deep-cleaning methods for carpets. You can do this every six months.
#2 Using Hypoallergenic Carpet Cleaning Products
Another great method to get rid of allergens in your home is to regularly clean and shampoo your carpet. Use hypoallergenic carpet cleaners and carpet shampooers to make the process easier.
Where to Buy the Best Carpet for Pets and Allergies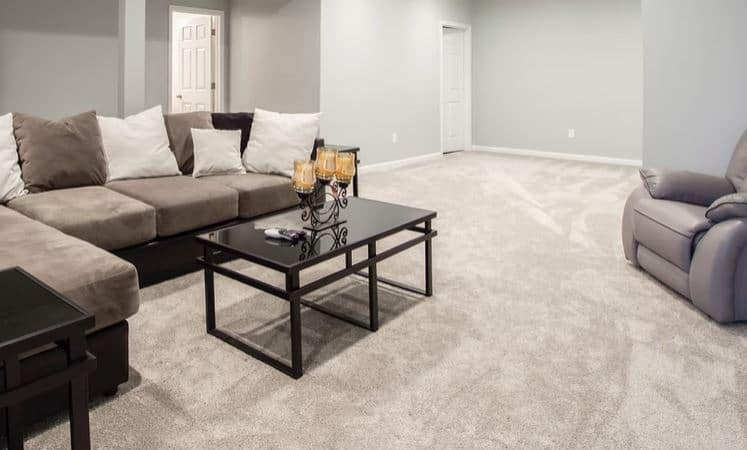 Mohawk
The best carpet for allergies we can recommend to you is the Mohawk hypoallergenic carpet. Their Air.o soft-surface flooring even won an Edison Award in 2020 in the home solutions category for consumer goods.
Here are the reasons why Mohawk's Air.o hypoallergenic carpets are the best in the industry according to them:
Certified Products
Being the only hypoallergenic soft flooring in the industry, Air.o achieved the following certifications:
Moisture-Resistant
Their unique construction doesn't absorb moisture. This inhibits the growth and spread of dust mites, mold, mildew, and other allergens.
VOC-Free and Latex-Free
They use materials that are VOC-free, latex-free, and odor-free.
Easy to Clean
They provide 50% more airflow which makes cleaning easier because they can release more pet dander, dirt, and dust when vacuumed.
100% Recyclable
They are the only 100% recyclable soft flooring you can find in the market.
Other brands you can consider are:
Shaw
Shaw's carpets which the company claims to not trigger allergic reactions. All of their carpets are also Green Label Plus certified by CRI.
Flor
Flor's low-VOC area rugs and carpet tiles are great options for those with allergies.
Hypoallergenic Carpet Costs
The retail prices of hypoallergenic carpets can range from $1-$10 per sq. ft. However, most may cost between $2 and $5 per sq. ft. Note that installation and removal of existing carpet are other costs to consider.
FAQs
Should you have carpet if you have allergies?
It is not true that you can't enjoy the cozy feeling of carpets just because you have allergies. That's why hypoallergenic carpets exist in the market to help ease allergic reactions while giving you comfortable flooring. But, make sure to have a strict carpet cleaning routine to maintain the quality of air inside your home.

What type of carpet is hypoallergenic?
Your best hypoallergenic carpeting options are those made from wool, nylon, or polyester fibers. They are naturally resistant to allergens like mold and mildew and are also moisture-resistant. However, you should also look for carpets with tighter weaves, low VOC emissions, and synthetic underlays.

What carpet is best for asthmatics?
Hypoallergenic carpets are the best for people suffering from asthma with wool carpets being the most recommended options. Wool carpets have natural hypoallergenic properties. They are also moisture-resistant which blocks the growth of allergens. Moreover, they can absorb toxic contaminants in the air, are gentle on the skin, and do not re-emit contaminants into the air.

Is wool or synthetic carpet better for allergies?
Wool carpets are better because they are hypoallergenic in nature and can block the growth of mold, mildew, dust mites, and other allergens. They are also better at absorbing VOCs in the air and are best for people with eczema. In contrast, synthetic carpets are treated with VOCs and are not ideal if you are allergic to polyester.

Do hypoallergenic carpets remove all allergens?
Although they are hypoallergenic, this doesn't mean that they can remove 100% of allergens in the air. However, they can help reduce them significantly to lower the chances of allergic and asthma attacks.
Final Thoughts
Hypoallergenic carpets do a great job in decreasing the amount of allergens in the air to reduce asthma and allergy attacks. However, you should not disregard proper carpet care to guarantee that you maintain good air quality in your home. If you need the help of a carpet or flooring contractor, feel free to drop us a message. We will get back to you as soon as possible.
Back to Top