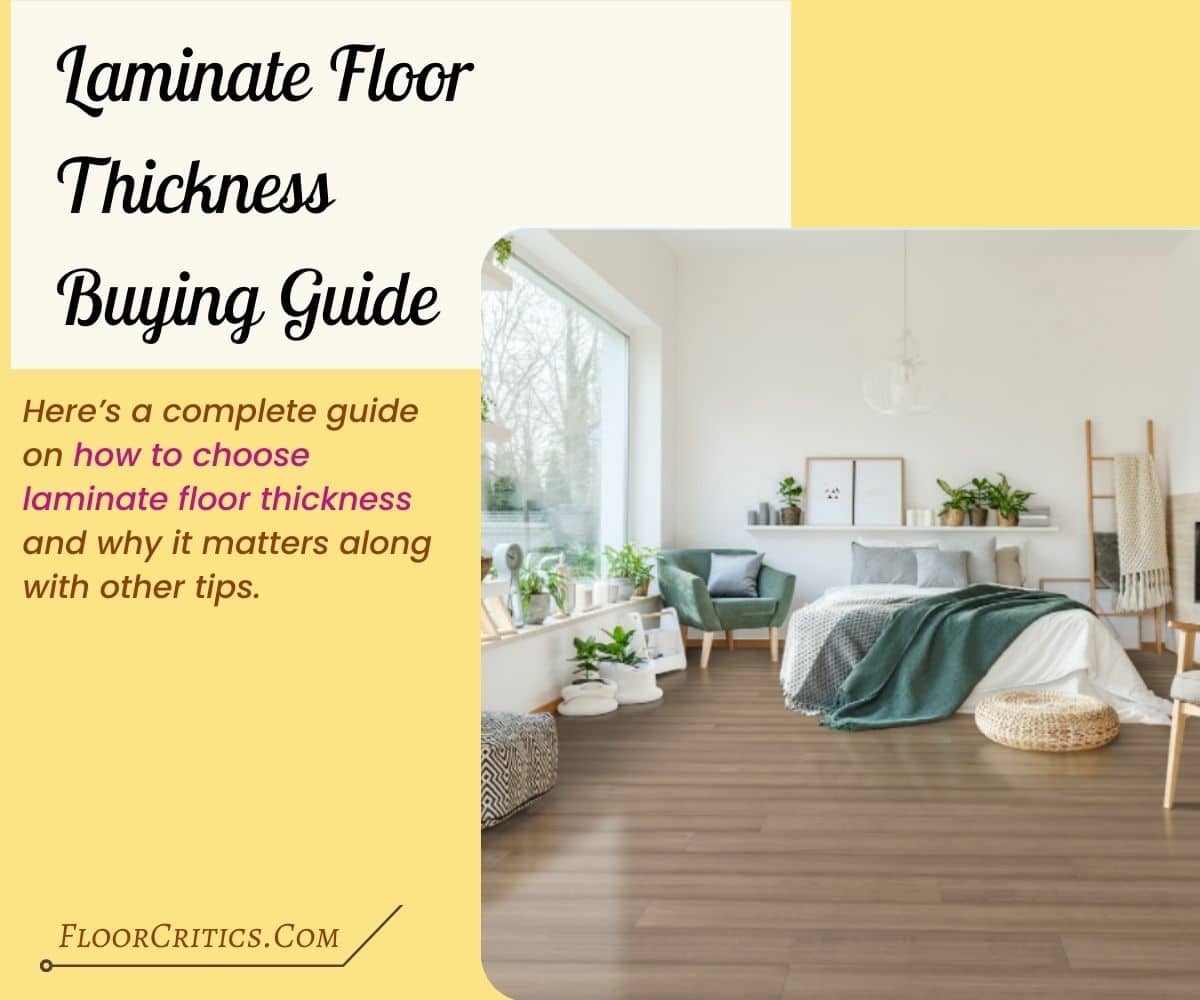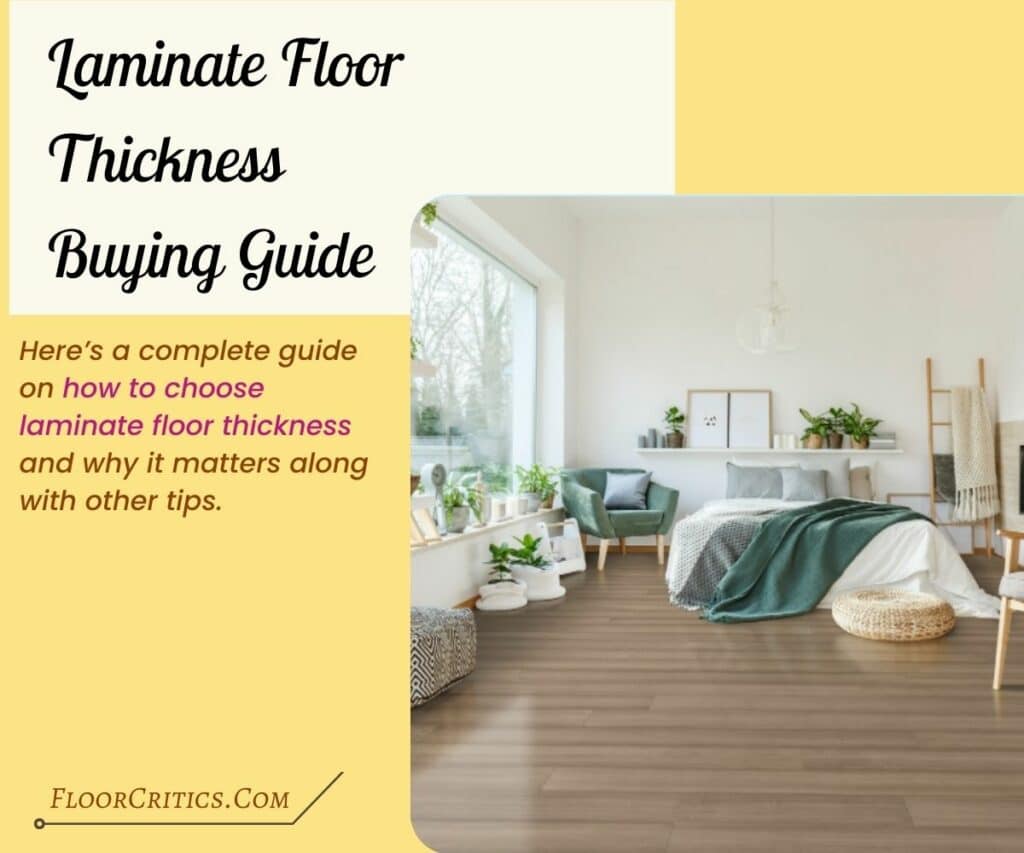 Laminate floors are among the most affordable but durable flooring options you can choose from that are easy to install and maintain. But one thing that confuses a lot of customers is how to choose the best laminate floor thickness that will give the best value without sacrificing quality.
So what are your laminate flooring thickness options? Which thickness is best? Does laminate wood flooring thickness really matter that much? We'll answer all of these questions here!
How Laminate Floor Thickness Is Measured
Laminate wood flooring thickness is usually measured in millimeters (mm). It should only include the thickness of the entire board without the underlayment or padding because it's not part of the board's construction.
Laminate flooring thickness should not include the underlayment. However, it's not new news that some laminate manufacturers who offer options with pre-attached underlayments include padding in the thickness measurement. Manufacturers (although not all) often do this to mislead customers to make their products appear thicker.
So if you are buying laminate planks with attached padding, you may find options that are up to 14 mm even if the maximum laminate floor thickness should be 12 mm. (We'll talk more about your laminate flooring thickness options later.) This means that the planks are probably 12-mm thick and have 2-mm padding.
So before you buy laminate flooring with a pre-attached underlayment, make sure to check if the stated thickness in the packaging includes the underlayment or not. But typically, there are brands that would include separate measurements for these.
Another Thing to Note..
Since the core plays a major role in the laminate flooring construction, some manufacturers will highlight core thickness which adds more to the confusion with online listings.
Take note that the core (although it comprises the majority of a laminate plank construction) is only one layer. The total thickness should include all of the layers making up the plank including the wear layer (except, of course, the attached underlayment as we've mentioned earlier).
Different Laminate Flooring Thickness Options
Most laminate planks sold in the market come in four thicknesses: 7 mm, 8 mm, 10 mm, and 12mm. You can find 6-mm planks, but it's not often available and not worth mentioning.
How Thick Should Laminate Flooring Be?
First of all, how thick is laminate flooring?
Laminate should come in 6-12 mm thicknesses, but 6-mm options are not that common. If you come across planks thicker than 12 mm, the measurement is inaccurate and probably includes the attached underlayment.
A Comparison of the Different Laminate Floor Thicknesses
Below is a laminate flooring thickness chart that summarizes the key differences between the various laminate flooring thicknesses: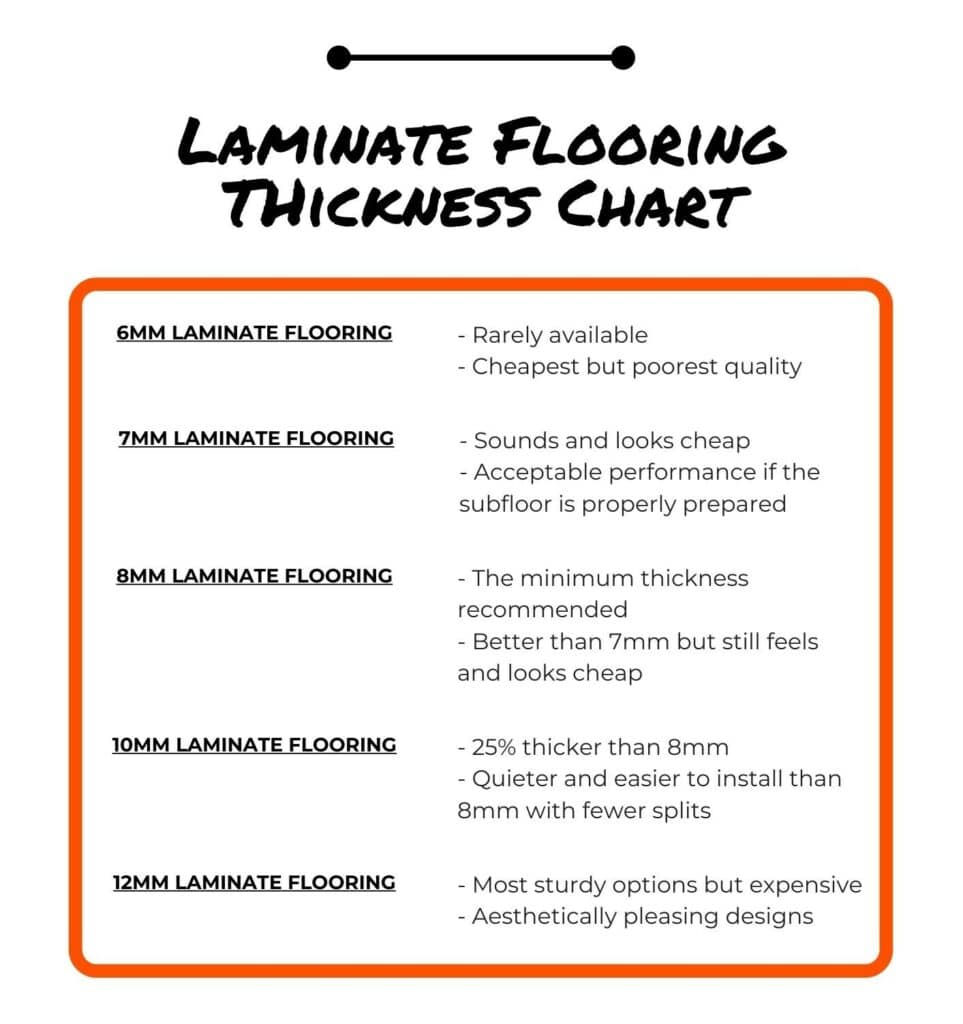 1. 6mm Laminate Flooring
6-mm laminates are not available often because the standard is 7-12mm. But if you do find one, they are not worth buying, unless you just want to lay down a cheap flooring without caring about quality.
They have low impact resistance, provide poor acoustics, and subfloor imperfections are more visible. We'll talk more about the disadvantages of thick laminate flooring in the next section.
2. 7mm Laminate Flooring
Although 7-mm laminates are thicker than 6-mm ones, they are still among the worst options. Plus, they are not widely available just like 6-mm planks.
And while you will find excellent deals on them, we wouldn't recommend buying them. They are not thick enough to last for a significant amount of time. But if you're really concerned about your budget, buying a 7-mm laminate can be reasonable as long as your subfloor is debris-free and level.
3. 8mm Laminate Flooring
This flooring is where manufacturers begin to create much better products. This means that you'll be able to find more decent options while still saving money.
In fact, though 7mm is cheaper, we still recommend a minimum thickness of 8mm for budget-conscious buyers. They're a good alternative if you find 10-mm planks too thick or expensive and 7mm too flimsy.
But although 8mm is a bit thicker, take note that you'll still have the drawbacks that you'll get in a 7-mm plank. You'll still need a properly prepared subfloor to prevent them from splitting. Also, 8-mm laminate flooring still feels plastic underfoot and is a bit louder compared to 10mm. The good thing is it is much easier to find than 7-mm planks.
4. 10mm Laminate Flooring
This may be the most widely available option in the market and is considered the best choice for most homeowners. Since it is 25% thicker than 8-mm laminates, it is obviously better in performance.
With 10-mm laminates, you'll start to get rid of the many performance issues with thinner laminates. They are quieter and look less like plastic with fewer issues in installation (i.e. less splits).
5. 12mm Laminate Flooring (The Best Thickness for Laminate Flooring)
Another commonly available laminate flooring, 12-mm laminates are the toughest and most sturdy options. These make them ideal for high-traffic and commercial applications as well as installation on flawed subfloors.
However, the gap in the performance of 10-mm and 12-mm laminates is not that big. You might still encounter the installation problems you get in 10-mm planks with 12-mm options. But still, 12-mm planks can handle more weight and are more forgiving on installation and impact resistant.
The biggest difference, though, is aesthetics. You'll find cooler and more intricate designs with 12-mm planks that feel and look more realistic. They offer more colors and patterns to fit any taste.
How Thick Is 12 mm?
12-mm laminate planks are almost ½-inch thick. This is why they feel more like real hardwood and provide better performance than thinner options as we will be discussing in the next section.
Advantages of Thicker Laminate Wood Flooring: Why the Thickness of Laminate Flooring Is Important
All laminates can provide the same performance when it comes to dent and scratch resistance. But, thicker laminates can provide better impact resistance, aesthetics, sound absorption, and insulation performance. They are also easier to install and hide subfloor imperfections better.
Does the thickness of laminate flooring matter? To answer this question, we listed the advantages that thick laminate flooring can provide below:
1. Better Aesthetics
The biggest advantage of thick laminate floors is aesthetics because it is easier to create more intricate designs with heavier flooring. In fact, 12-mm laminates offer a wider variety of designs to match any customer's taste.
2. Better Insulation Performance
Thicker boards also provide more insulation which is great for colder months.
3. Superior Acoustics
If you're concerned with having noisy flooring, thicker planks can offer superior acoustics. They will feel more like real hardwood underfoot, especially 12-mm planks. Thus, footwalls won't sound so hollow and your floor will be less echoey and squeaky.
So if you are going to install laminate upstairs, 10-mm or 12-mm planks would be ideal for cutting back on noise that travels downstairs.
4. Better Impact Resistance
Thicker boards are sturdier which provides better resistance to high-impact traffic.
Take note that impact resistance means the ability to withstand impacts from falling objects. It is different from dent and scratch resistance because this is determined by the board's top wear layer (more on this later).
So for high-traffic areas, better choose 10m or 12mm boards.
5. Easier to Install
Although thinner planks will be easier to cut, thicker boards are more structurally stable and won't chip that much when you cut them.
Also, when it comes to subfloors, thicker planks will have the following benefits:
You can install them over more subfloor types
They do better at resisting bending due to uneven subfloors
Subfloor imperfections are less noticeable
On the other hand, thinner planks (8mm and below) split easier and faster and won't last long if installed over imperfect subfloors. But if you install them properly (especially over cement or other sturdy subfloors) using the right underlayment, they can provide comparable performance with thicker options.
NOTE: While thicker planks are more versatile when it comes to subfloors, you still need to follow the limits set by your manufacturer. For instance, they may require the floor to be flat within 3/16" in a 10 ft. radius
Subfloor levelness plays a big role in the quality of the installation. Without a properly prepared subfloor, you might end up with boards coming apart over time even with thicker planks.
Durability was not included in the benefits of thicker planks. Why?
We've mentioned earlier that while thicker planks do provide better impact resistance and can handle subfloor imperfections better, this doesn't mean that they are more durable. This is because they provide the same dent and scratch resistance. We'll discuss more about this later.
Higher Costs: The Major Disadvantage of Thicker Laminate Wood Flooring
Thicker planks are more expensive, but labor costs will be the same whether you are installing a thin or thick laminate floor. However, the increase in price is minimal compared to more expensive flooring options.
The increase in cost as the thickness also increases is proof that a few millimeters do make a difference.
Thicker laminates are more expensive. But when compared to the prices of solid and engineered hardwood flooring, the price difference between thinner and thicker options is almost negligible. Although this is the case, thickness does impact the overall cost if you consider care and maintenance costs and your return on investment.
With this in mind, below are the estimated prices for different laminate flooring thicknesses as of the time of writing:
7mm: $0.79 to $1.29 per square foot
8mm: $0.89 to $2.74 per square foot
10mm: $1.89 to $3.19 per square foot
12mm: $1.99 to $4.60 per square foot
We can give you a free quote if you're looking for affordable flooring options and contractors.
NOTE: The price will depend on what brand you are buying as well as other extra features like the capability of the plank to withstand water and antimicrobial features. Waterproof options and high-end brands will obviously be more expensive. Pergo seems to offer one of the most expensive options while brands like TrafficMaster and Home Decorators offer cheaper options.
Other Disadvantages of Thicker Laminate Wood Flooring
Aside from the cost, thicker laminate can also cause problems when you install them around doorways because of their height. You may have awkward transitions when you switch from laminate to hardwood, LVP, or tile.
So if you don't want to deal with the height issues caused by thicker laminate, we recommend going for 8-mm laminates. These can be great options for any room as long as you have the right underlayment.
Laminate Thickness Matters, but Does It Guarantee Quality and Durability?
Thickness doesn't necessarily guarantee quality and durbility. We said before that although thicker planks are impact resistant, the wear layer is what plays a major role in the durability of laminate flooring followed by the core construction.
The aluminum oxide coating of laminates improves their durability and allows them to withstand scuffs and scratches. It also slows down fading caused by UV exposure. Compared to polyurethane-finished floors, aluminum oxide-finished laminate will last 10-15 years longer. In fact, a lot of major flooring brands use aluminum oxide for its superior wear resistance.
As for the core construction, laminates are made with either medium or high-density fiberboard (MDF or HDF). Laminates with HDF cores are more durable than MDF because they are denser and harder. They are also more water-resistant.
AC Rating: A Key Factor to Consider Aside From Thick Laminate Flooring to Ensure Superior Quality
For the best durability, we typically recommend an AC4 or AC5 rating for light commercial settings, but an AC3 rating will often be sufficient for businesses such as accounting offices and counselor's offices.

Floor Covering Weekly
Aside from thickness, it is also good to know other factors that affect the quality of your flooring such as the Abrasion Criteria (AC) rating. This ranges from AC1 level to AC5 level and determines how resistant a laminate plank is to scratches, scuffs, stains, and impacts.
Remember what we said earlier about the wear layer? AC Rating is associated with this wear layer. The higher the AC rating is, the more durable the flooring will be. This means that having a 12-mm floor doesn't necessarily ensure durability if the AC rating is low.
Lower AC levels would suffice for moderate-traffic areas while higher ones are suitable for commercial applications. Experts would recommend a minimum of AC3 rating even if it's for residential use.
NOTE: 10-mm and 12-mm laminates are usually rated AC3 or AC4 for residential and medium commercial applications.
Key Takeaways
Laminates come in 6m, 7mm, 8mm, 10mm, and 12 mm options. But, the general rule is to choose a minimum of 8mm to avoid installation issues.
Manufacturers will include the underlayment in the measurement so make sure to check it.
10mm and 12mm laminates are the most ideal options as they have better insulation, acoustics, and impact resistance properties.
12-mm planks have the best aesthetics with more intricate designs and feel more like hardwood.
Laminate thickness doesn't affect the durability of your flooring that much. AC rating does.
FAQ
What Is the Best Thickness of Laminate Flooring?
The best thickness for laminate flooring is 10mm or 12mm. There is really not much difference in the performance of these two, but 12-mm boards will offer a wider variety of more realistic designs.

Which Is Better 8MM or 12MM Laminate Flooring?
12mm laminate is obviously fas better than 8mm laminate flooring. With 12-mm boards, you'll have more aesthetically pleasing designs and better impact resistance. They are also more forgiving when it comes to installation because you can install them over uneven subfloors and hide imperfections better.

How Thick Is Laminate Flooring Inches?
Below are the estimated laminated flooring thickness in inches:
– 6mm ≈ 1/4in
– 7mm ≈ 9/32in
– 8mm ≈ 5/16in
– 10mm ≈ 7/16in
– 12mm ≈ 1/2in

Is It Better to Have Thicker Laminate Flooring?
Of course, it is! Thicker laminates have better quality and are easier to install compared to thinner ones, but are more expensive. They have better sound absorption and insulation properties as well as withstand impact from falling objects better.

However, take note that this doesn't mean they are of higher quality because when it comes to scratch resistance, they are usually the same. So when you buy, check the AC rating of your laminate flooring and choose a minimum of AC3 level.

Is 8MM Laminate Thick Enough?
8mm laminate is among the most chosen options because it provides ideal stability. It's not too thin and not too thick either and is enough to withstand subfloor imperfections with the right underlayment. It offers a balance between price and quality as well as gets rid of the height issues associated with thicker planks.
Final Thoughts
While laminate floor thickness impacts the performance of your flooring, we've shown you that it doesn't really have a big impact on durability. However, the major difference is that thicker planks do offer better impact resistance with 12-mm planks offering the most aesthetically pleasing designs. Hopefully, you were able to learn a lot from our guide. If you have any questions, feel free to drop us a message!
Back to Top