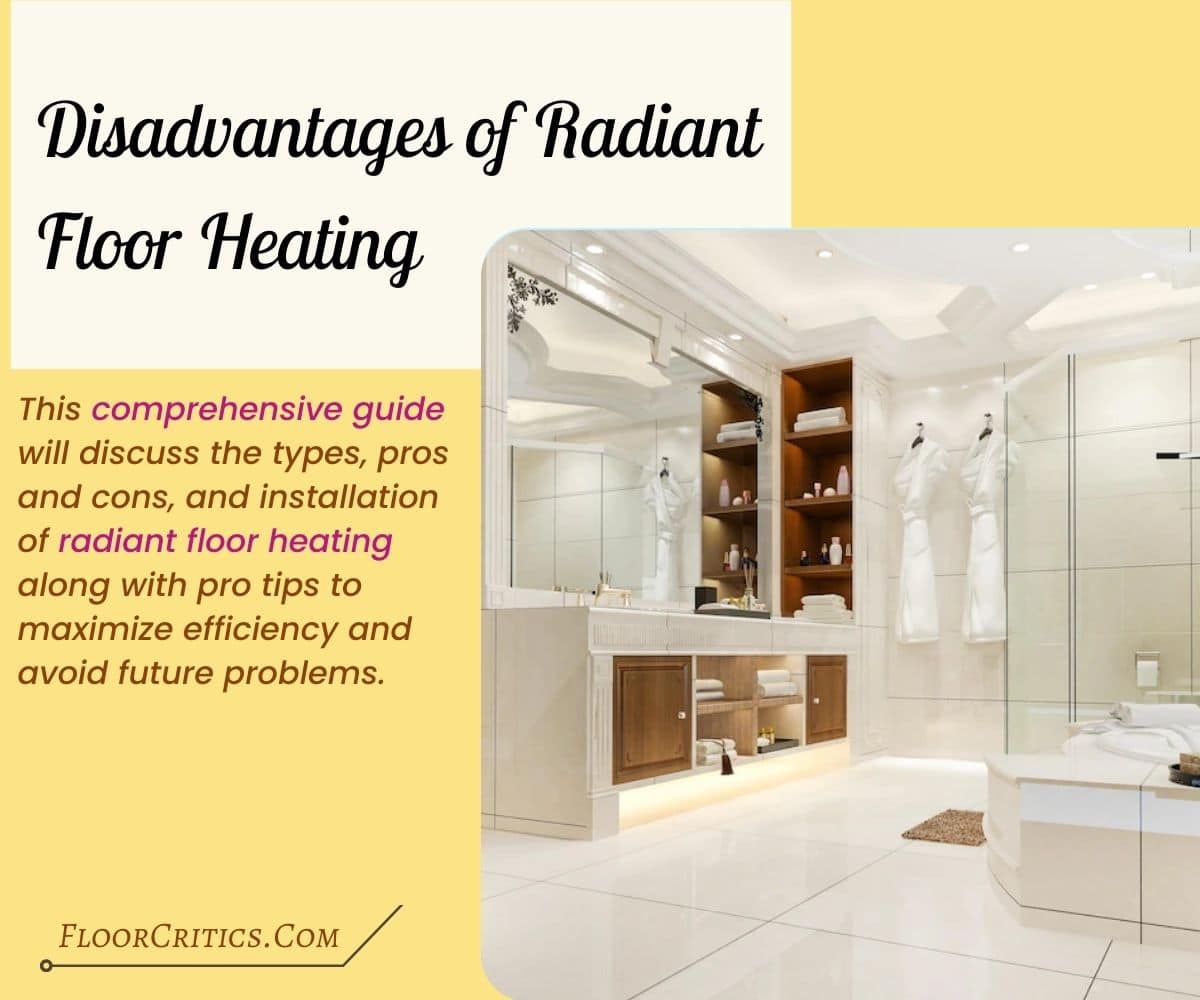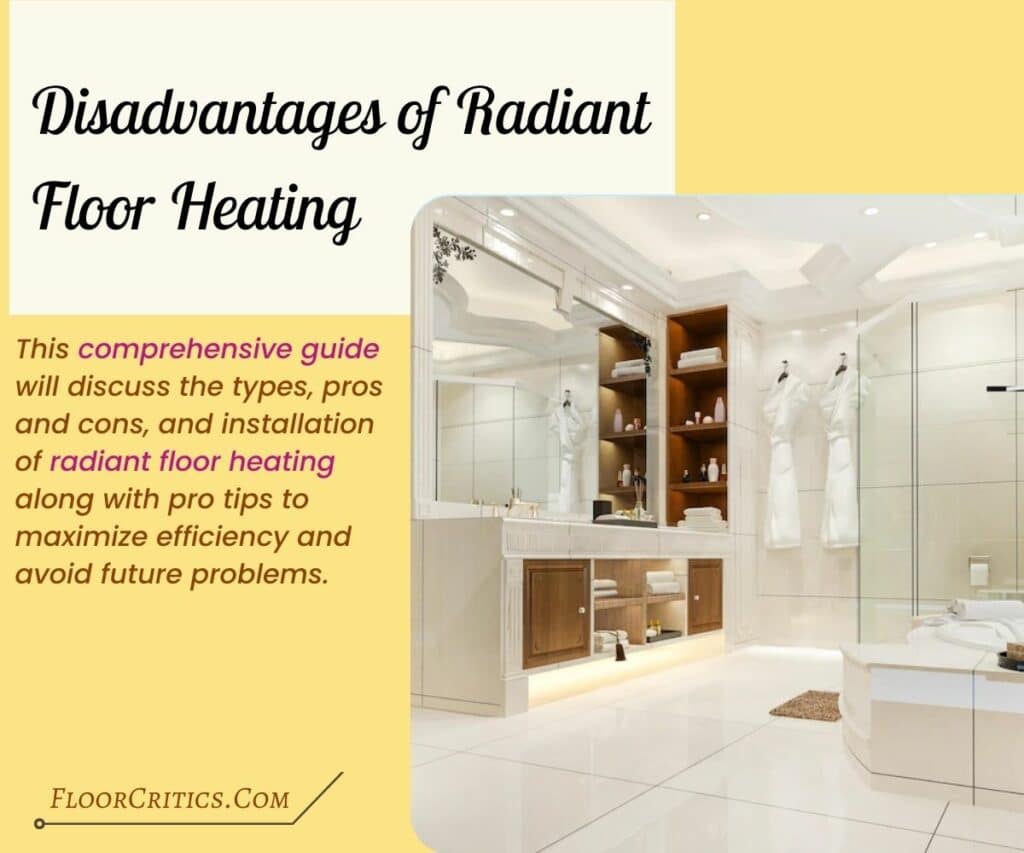 Radiant floor heating has been a popular choice for homes to provide energy-efficient underfloor heating during cold months. So if you are planning to install a heated floor, we've got your back!
Here, we'll discuss everything you need to know about the disadvantages of radiant floor heating, its risks, and how to prevent them. We'll also include its working mechanism, types, cost, heated floors pros and cons, and how to install a heated floor.
What Is Radiant Floor Heating?
Radiant heating, also called underfloor heating or heated floor, is a heating system that conducts heat to your flooring's surface to give warmth to your home.
These systems provide a good way of heating areas where it's hard to extend your existing HVAC ductwork. They are popular tile warmers because they are effective on naturally cool flooring surfaces including concrete and stone flooring.
How Do Heated Floors Work?
While traditional heating methods warm a room by heating the air, heated floors use electromagnetic waves and thermal radiation to heat floors directly. The heat will radiate up and will be absorbed by objects inside the room which helps efficiently warm the whole space.
Since radiant heating feels like the sun's warmth, people inside the room will still feel warm even if the air temperature is cooler. We'll give more details on the working mechanism of heated flooring as we discuss its types and installation method.
Heated Flooring Options: Electric vs. Hydronic
You'll find two major types of heated floors often used in many homes today: electric and hydronic radiant floor heating systems.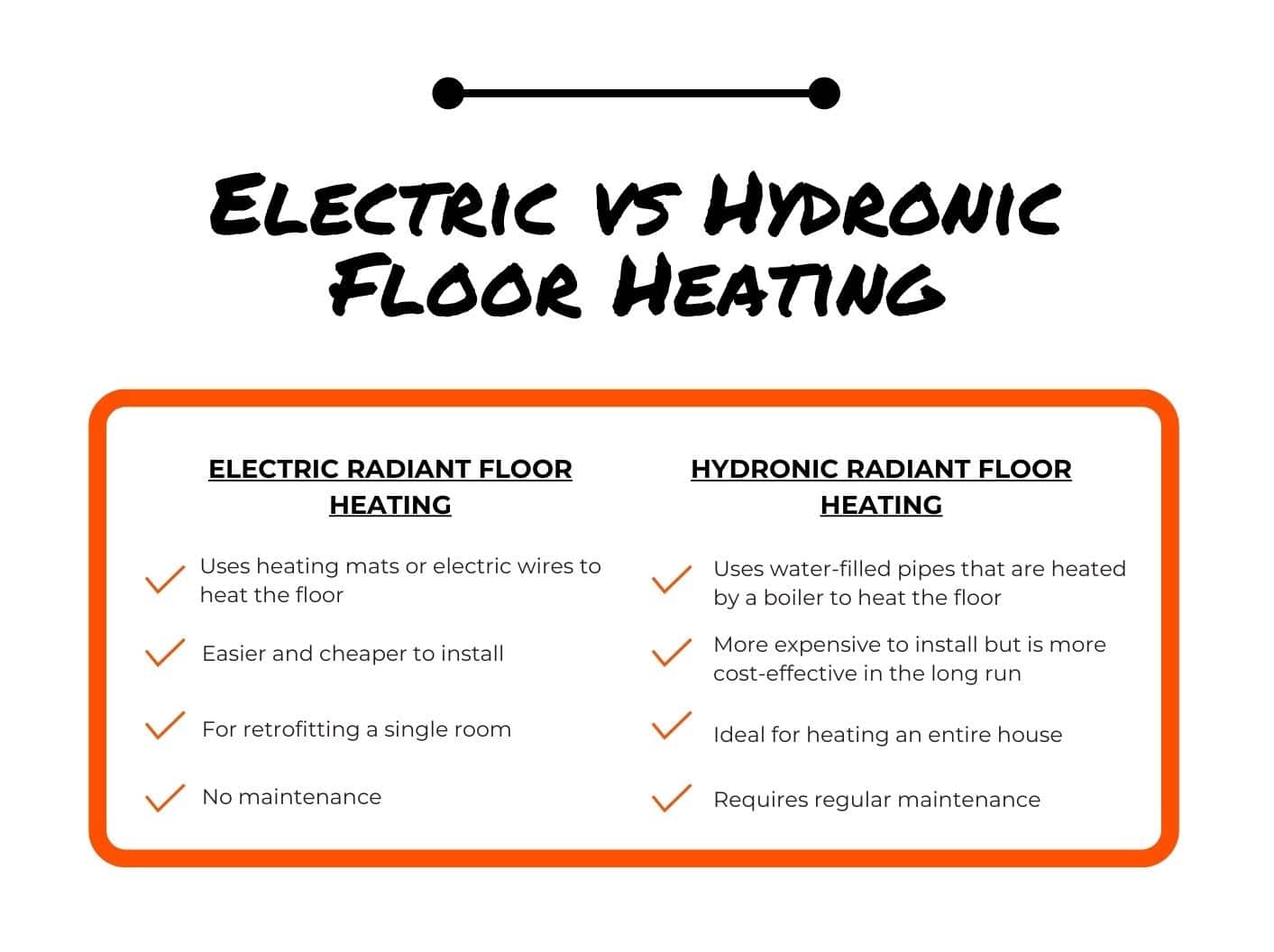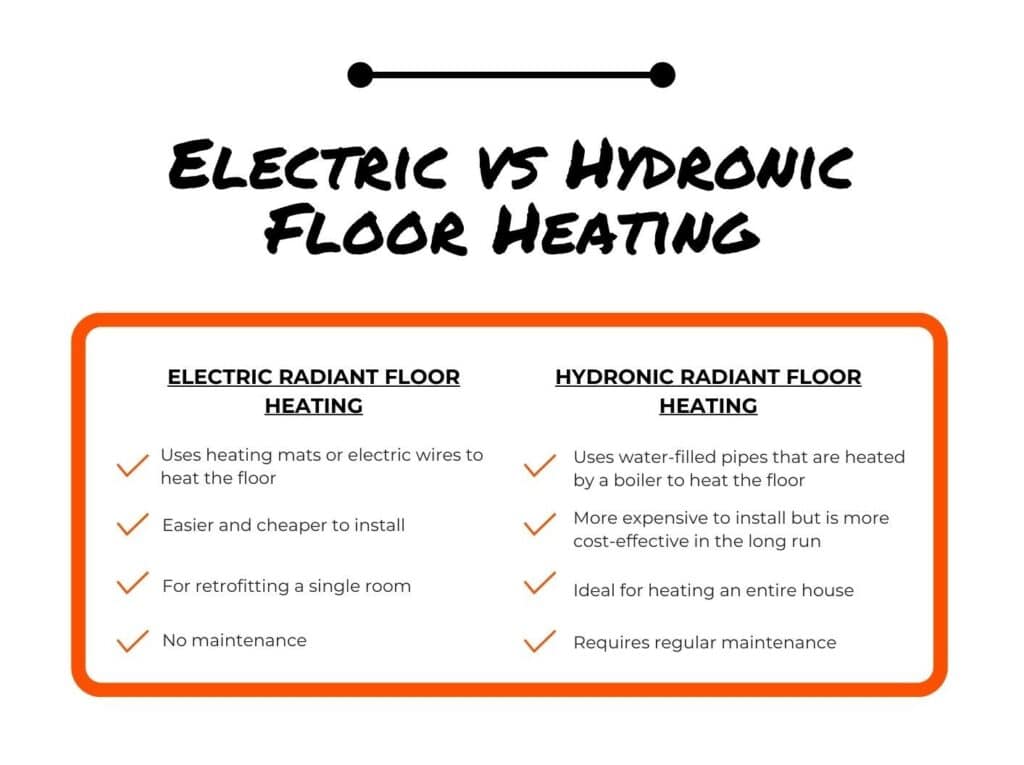 Electric Radiant Floor Heating System
Working Mechanism – Also called an in-floor electric heating system, this option heats the floor through electric heating elements (heating mats or electric wires) that are laid in a serpentine pattern.
Cost-Effectiveness – Upfront and installation costs are cheaper, but will be more expensive in the long run because it uses electricity.
Ease of Installation – These systems are popular for their easy installation that even DIYers can do it.
Maintenance – They don't require ongoing maintenance. Once you install them, they're good to go.
Heat-Up Time – The heat-up time is faster within 30-60 minutes only. So if you want to keep your electricity bills down, we recommend setting the temperature at a minimum when not in use.
Recommended Applications – They're typically supplemental and are not designed to be the only heat source in a room. Plus, they're more popular for retrofitting single rooms and heated bathroom floor installations. But, you can install them in smaller homes.
Hydronic Radiant Floor Heating Systems
Working Mechanism – Also known as hot water in-floor heating systems, hydronic underfloor heating works by pumping hot water through properly insulated pipes that allow the efficient transfer of heat to your flooring. (A boiler heats the water in the pipes first before the system pumps them through the pipes.)
Cost-Effectiveness – Upfront costs are higher because of the gas lines, pump, and boiler. But, long-term costs are less expensive compared to electric systems when used to heat an entire house or multiple rooms as they use less energy.
Ease of Installation – Installing them requires professional help and takes longer. Also, they're hard to retrofit for homes that are not outfitted with the right equipment so they are best installed during your home's construction.
Maintenance – They will need regular maintenance, especially the boiler and the pumps.
Heat-Up Time – It can take up to a whole day before hydronic heated floors completely heat up which can result in more power usage.
Recommended Applications – They're designed for heating an entire house and for those who already use water heating systems. Plus, they're ideal for off-the-grid areas or those with a high cost of electricity.
Cost of Radiant Floor Heating
One of the disadvantages of radiant floor heating is the high installation cost which will range from $6 to $20 per square foot. But, it's significantly less compared to other traditional heating systems.
Below are the estimated costs from HomeAdvisor:
Materials Costs
If you are going to install your own system and only need to pay for the heating materials, you'll be spending an average of $6 per square foot for electric options and $2 per square foot for hydronic options.
Installation Costs
Radiant floor heating costs average from $8 to $15 per square foot while hydronic options range from $6 to $20 per square foot depending on the floor size and type of floor covering.
For instance, heating a 2,300-square foot home (which is the average U.S. home size) is expected to range from $13,800 to $46,000. The more area you will be heating, the less you will be paying per square foot.
Whether you will be using heating cables, heat strips, or heated floor mats for electric systems will also affect the price. You'll also need a qualified electrician who will connect the system to your power supply.
As for hydronic heating, an additional cost of installing a boiler will range from $3,500 to $7,700 and around $770 to $1,450 for installing a new water heater.
Moreover, the type of floor covering you will be installing the heating system with will also affect the overall costs. For instance, average costs for specific types of flooring based on HomeAdvisor's data are as follows:
Hardwood or Laminate Underflooring: $15 to $20 per square foot
Heated Bathroom Floor Tiles: $20 to $40 per square foot
Heated Concrete: $15 to $30 per square foot
Contact us to get a free quote if you are looking for an installer that can match your budget.
Running Costs
Running costs will depend on your usage and the size of the heated area. WarmlyYours, the leading radiant heating systems manufacturer, specified an estimated running cost of $0.20 to 0.33 per day for their products if used 8 hours a day. This cost is for a 40-square feet full bathroom.
Other Factors Affecting Underfloor Heating Costs
Replacing or removing existing flooring
Floor joists and basements
Access to crawl spaces
Now, let's go into more detail on the heated tile floor pros and cons in the next sections.
Benefits of Radiant Heat Floors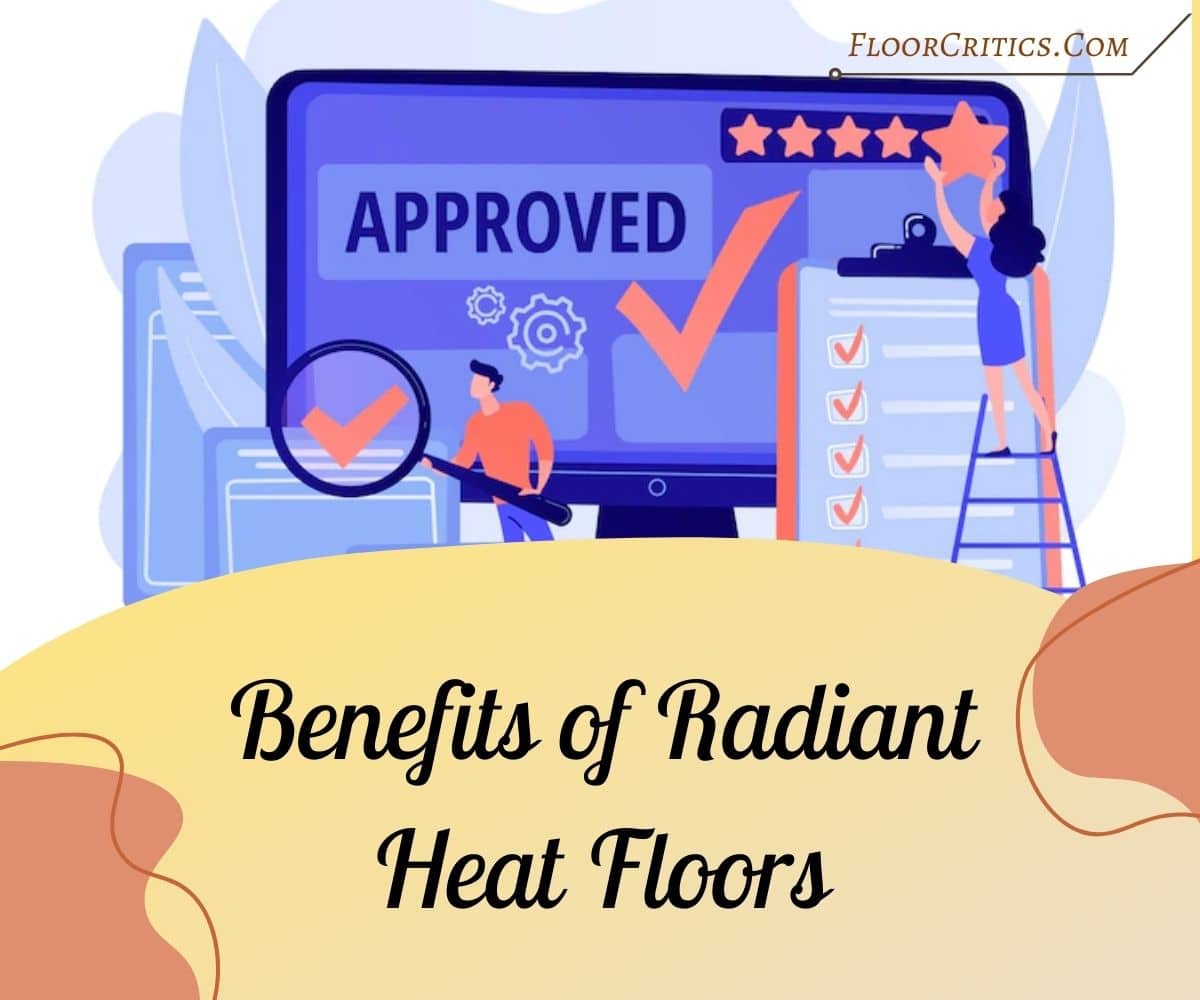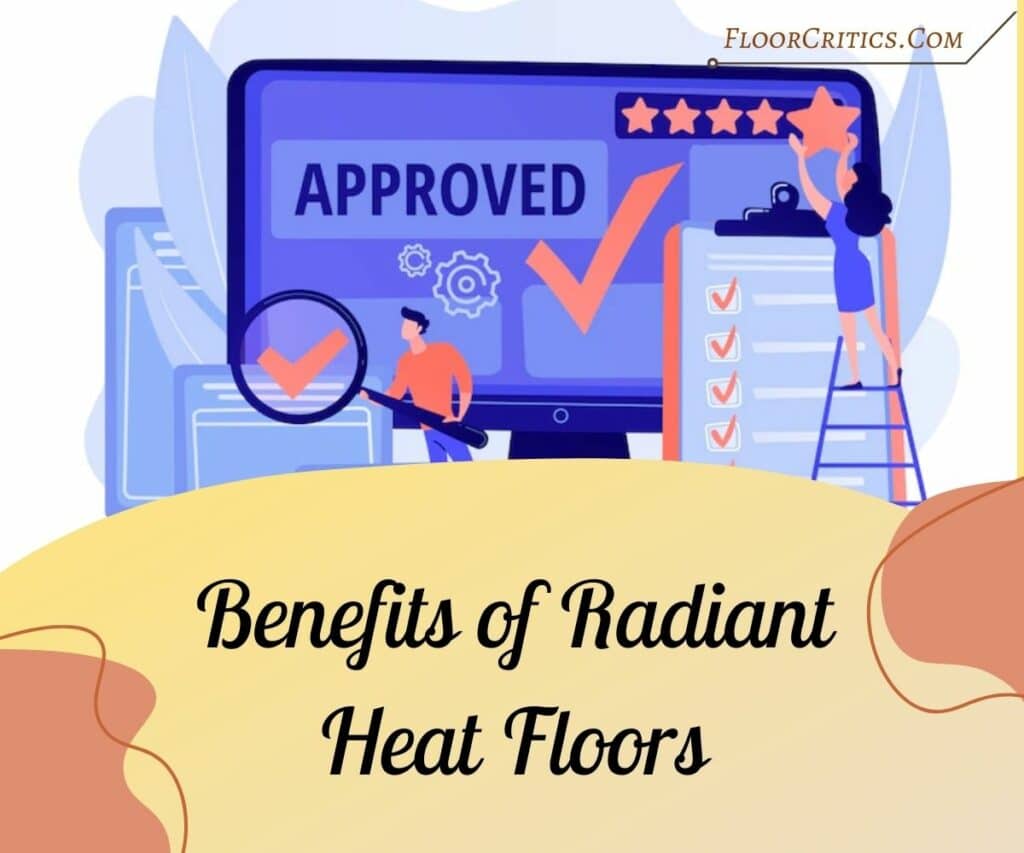 The top four benefits of underfloor heating systems are easy installation, compatibility with smart thermostats and any flooring types, and no maintenance:
1. Easy Installation
While hydronic systems don't offer the ease of installation that electric options provide, both are still easier to install as they won't need additional ductwork which is time-consuming and costly.
2. Compatible With a Smart Thermostat
You can use thermostats with electric floor-heating systems to program your floors and maximize comfort according to your preferences. There are options that can also work well with Google and Alexa for easy integration into existing systems.
For electric radiant heating systems, a thermostat along with an in-floor sensor must be installed with the electric floor heating system to minimize the effects of rapid changes in temperature.

Floordaily.net
3. Compatible With Any Flooring Type
You can use radiant heated floors with any flooring whether it's wood, tile, stone, laminate, carpet, concrete, or vinyl. This is great news if you want to want to lower your installation costs by going for more affordable flooring options.
NOTE: While you can use radiant floor heating with any floor, it's ideal to use stone, tile, or concrete (more on this later) for DIY installation. If you are using luxury vinyl, laminate, hardwood, or carpet, we recommend consulting a professional to maximize efficiency and avoid future issues.
4. No Maintenance
Electic-based systems won't generally need ongoing maintenance or servicing which saves more in costs in the long run. However, hydronic systems don't offer this benefit.
Most major electric radiant floor heating manufacturers will also offer 25 to 30-year warranties to give you peace of mind. We'll provide more benefits of radiant-heated floors as we compare them with other floor heating systems next.
Comparing Radiant Heating With Other Tile Floor Heating Systems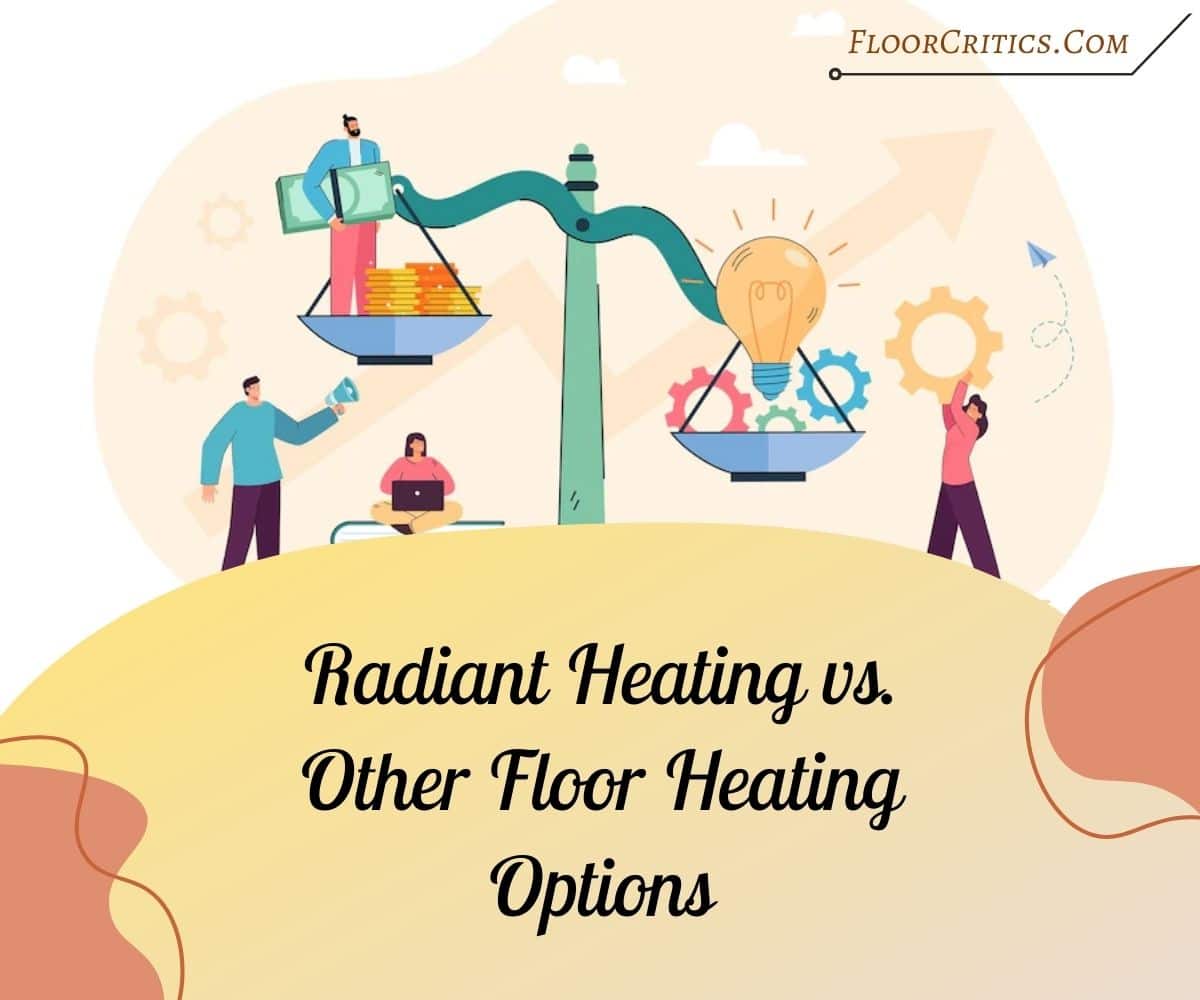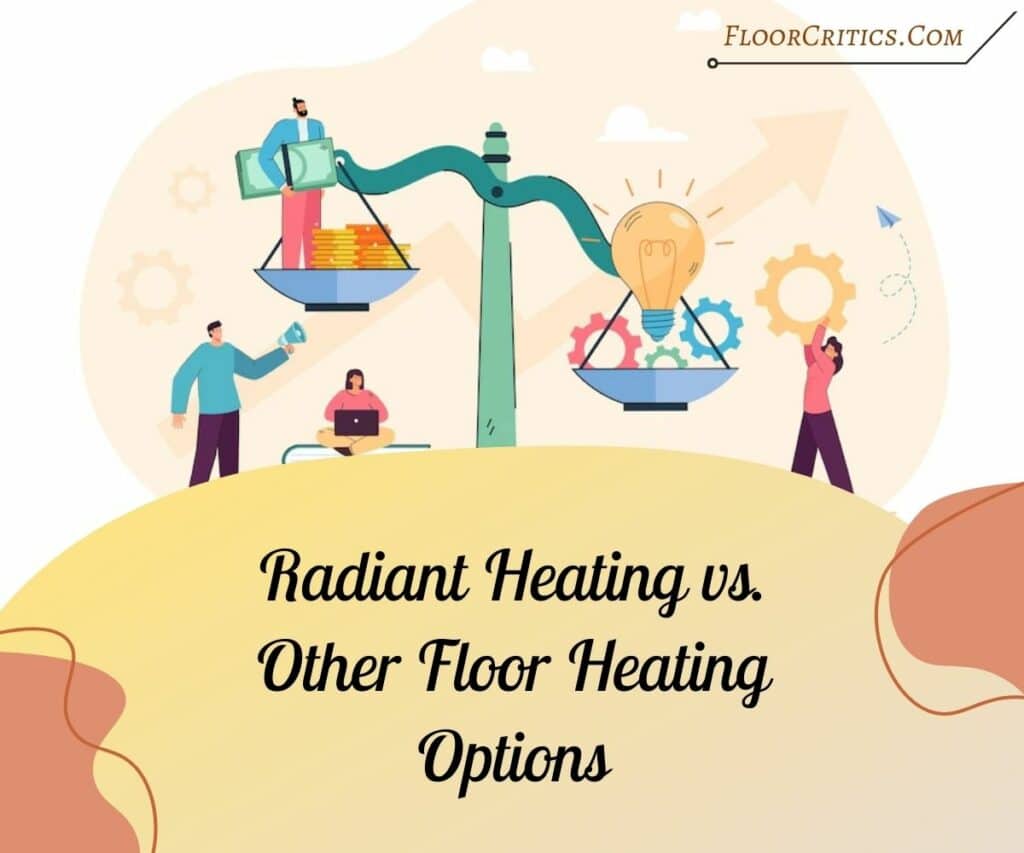 Compared to traditional floor heating systems, what other benefits can radiant heating provide? Below are the five key benefits that you'd want to know:
Radiant Heat Flooring
Other Options
Aesthetically Appealing & More Design Versatility
– Virtually invisible which makes them aesthetically pleasing
– Provides more flexibility when it comes to interior design because they won't take up space
– Other options like radiators, space heaters, and HVAC systems take up space
– Bulky systems that limit your design options because you need to plan around them
Uniform Heating
– Heats the entire floor uniformly which results in an evenly heated room
– No stuffiness or cold spots in the area
– The location of the vents used by forced-air systems determines which areas will be warmer
– Radiators heat nearby areas first which results in cold spots (areas near them also tend to be very hot)
Cost-Effectiveness & Energy Efficiency
– Electric floor systems are at least 25% more efficient compared to forced-air options
– Hydronic systems can hold more heat than air-based systems so you can operate them at lower temperatures
– Less energy loss which allows you to save around 15% on your heating bills
– More expensive installation and running costs
– Escaping heat from the area decreases the efficiency of the systems (e.g. ductwork leakage)
– They need to be operated at higher temperatures (almost twice)
Better Air Quality & Comfort
– It uses radiant heat to directly warm objects and people so it won't disturb existing allergens and dust in the room
– A safely concealed system that won't be too hot to touch
– High temperatures from radiators can reduce oxygen levels- Radiators have hot surfaces and sharp edges that can be harmful to children
– Forced-air options blow around particles while distributing heat
No noise
– Radiant heat floors are known to be very quiet
– You would hear airflow through the ducts of forced-air heating systems
– Radiators will produce creaking and gurgling sounds
Heated Tile Floor Problems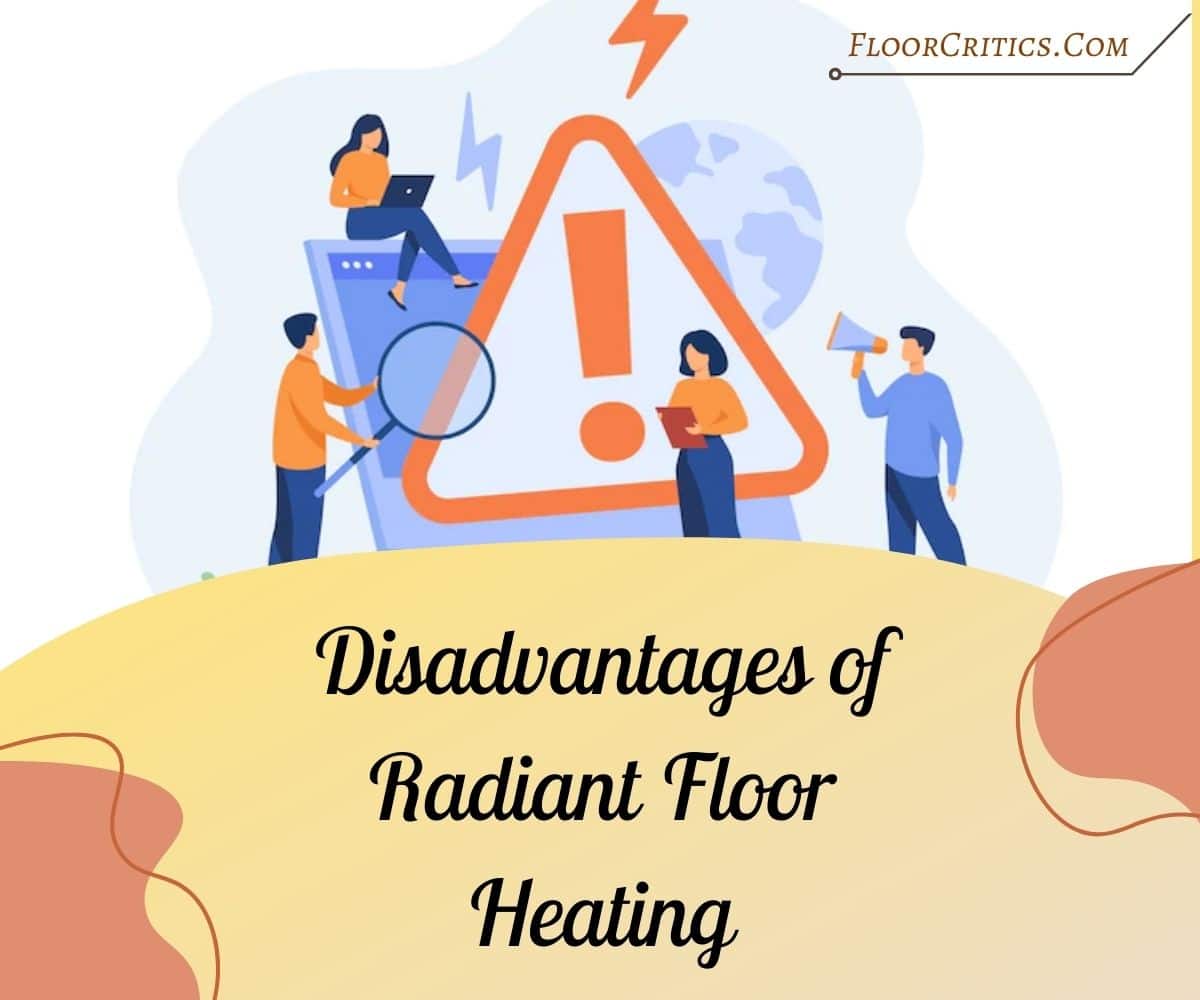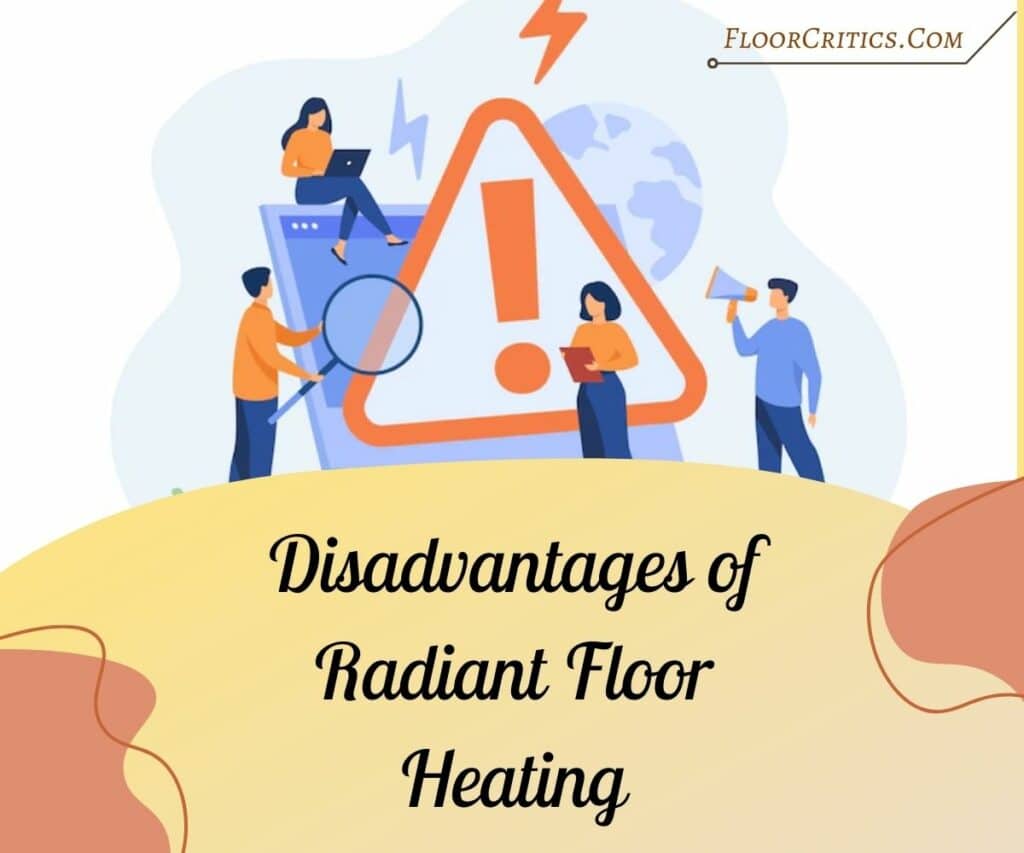 While heated floors offer great benefits, here are the major disadvantages of radiant floor heating that you should also know about:
1. Needs New Flooring
You need to remove your existing flooring before you can install radiant floor heating. This is why it's best installed for new-home constructions or when you are remodeling your home.
2. Expensive
As we've mentioned earlier, installation costs for heated floors will still be expensive even if they're more cost-effective than other options.
While electric-based heating systems are more expensive to run, operation costs will become even higher if electricity costs in your area are high. This won't usually be a problem since you can control these systems using a thermostat if you want to cut costs.
On the other hand, water-based heating system installation may cost 2-3 times higher than electric systems. But if you are heating your whole house or multiple rooms, operation costs will be lower as the rooms will be sharing the total cost.
3. Installation Time
Most heating systems will require self-leveling compounds that will take 1-2 days (or even longer for water-based systems) to dry. This prolongs the installation time of the heating system. However, you can find options that won't require any leveler or thin-set so you can install them on the same day you bought them.
4. Increased Floor Height
While you can find options that will only result in minimal elevation, most electric systems can cause up to ½ inch floor elevation and significantly more for hydronic systems. Also, insulation boards and underlayment used to maximize efficiency can add to the floor height. This may cause installation issues if you are using different types of flooring in your rooms.
Another Important Thing to Be Aware Of: Are Heated Floors a Fire Hazard?
While radiant heated floors are among the safest heating solutions you can install and have a lower risk of fire than other heating systems, improper installation can cause fires. Non-professional installation is the major factor in failing radiant-heated floor systems.
Moreover, electrical floor heating systems can cause short circuits which are hard to deal with even by professionals once electrical fires occur.
On the other hand, hydronic heating systems are less prone to fires compared to traditional radiation heaters. Although pipes can leak, PEX pipes used in these systems have no joints so it's unlikely for them to leak.
It's Advisable to Seek a Professional's Help When Installing Radiant Heat Floors to Prevent Fire Hazards
Poor heating elements and electrical wiring can lead to wire breakage and overheating over time. Also, if the system is covered with unsuitable materials and overheated near flammable objects, you'll be facing bigger problems.
So, make sure that you follow safety instructions when installing yourself. Better yet, have your heating system installed, replaced, or repaired professionally to prevent the occurrence of fires.
Heated Floor Installation: Steps & Best Tips From the Pros to Prevent Issues With Your Underfloor Heating System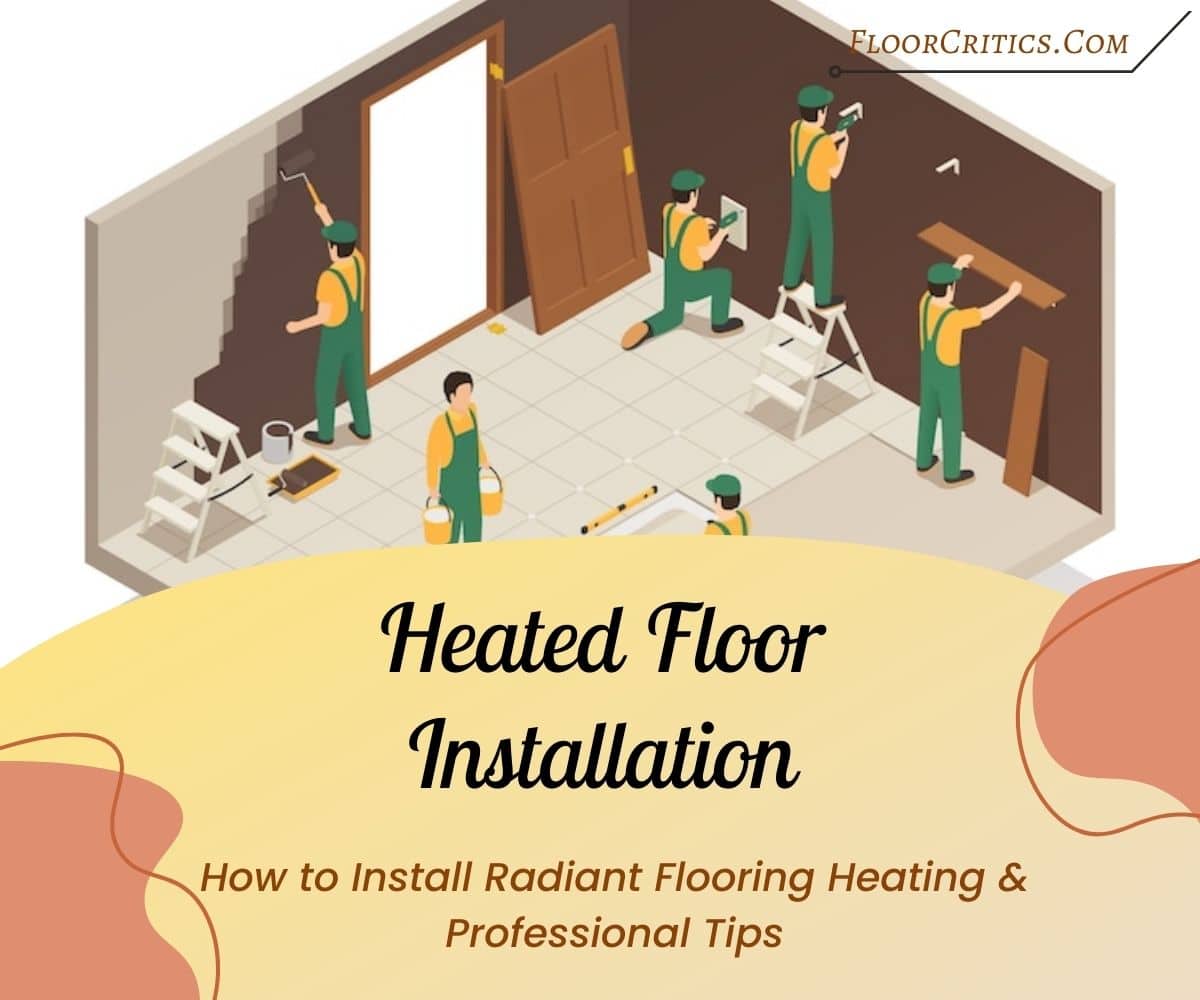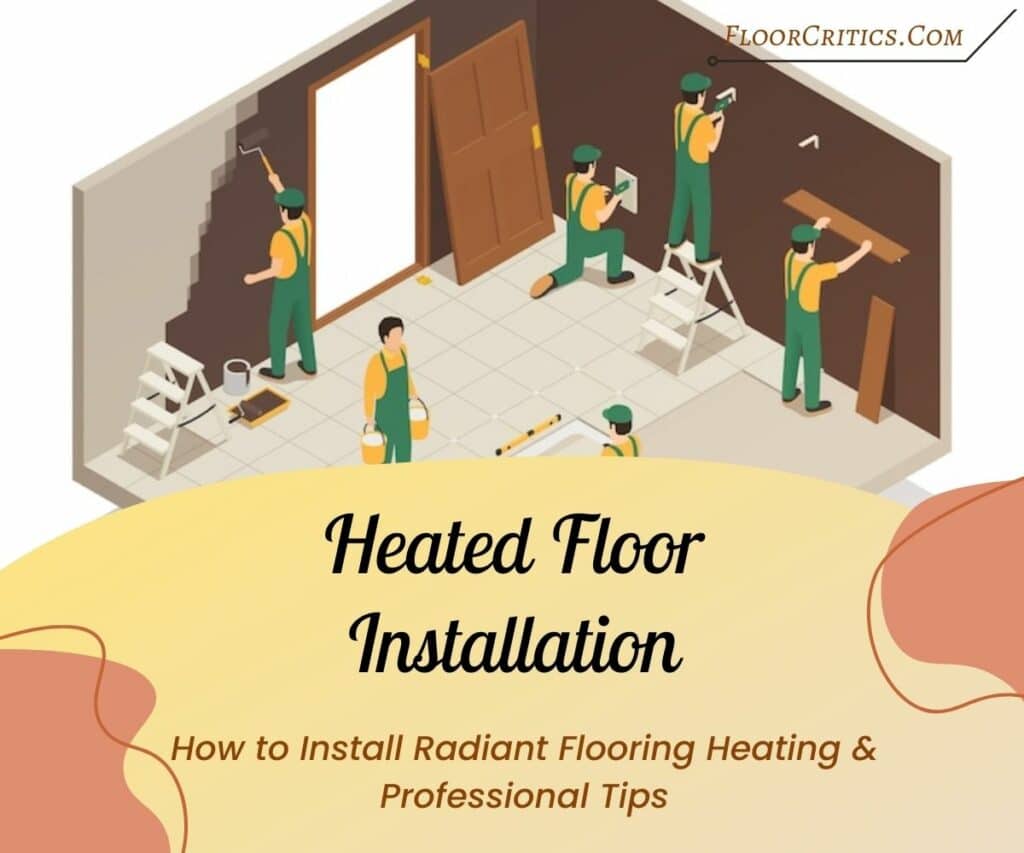 For the installation of heated tile floors, we've covered the best tips here to prevent any problems and maximize your heating system's efficiency.
Steps on How to Install Heated Floors
Here are the general steps when installing electric and hydronic-heated floor systems:
A. Electric-Heated Floor Systems
These come in rolls and can be installed either through a wire or mat-based system. In mat systems, the cables are attached to mats to make installation easier. Meanwhile, cables make heating odd turns and angles easier than mat systems.
Clean the floor thoroughly.
Install suitable insulation.
For cable systems, lay the cable 3 inches apart as you run it in a serpentine pattern across the area. As for mat systems, they are already pre-spaced so you'll just simply unroll them and make cuts on the white mesh wherever necessary so you can turn it to cover the entire room. (NOTE: Be careful not to cut the cable.)
Mats often come with self-adhesive rails or backings so you can tape them in place. Meanwhile, cable systems feature square "studs" to keep the cables in place.
Secure the system by covering it with a thin-set mortar. (There are options that won't require you to apply thin-set mortar.)
Connect the system to a thermostat and to your electrical circuit.
Cover it with your flooring of choice.
Electric System Installation Tips
Don't turn on the system until you complete all wiring and all adhesives have dried.
Make sure that you are installing a thermostat that can support an underfloor heating system.
If you have an old house, make sure that the existing circuitry can handle the load. If not, you might need to install new wiring and fuses to prevent fire hazards.
B. Hydronic-Heated Floor Systems
These systems often need mechanical engineers to create the system as they have a lot of moving parts. So here, we'll just give an overview of how they're installed.
The boiler and pipes are installed under the floor.
The pipes are installed either by:

Fitting them inside a subfloor panels' channels
Installing them over existing slabs in cement
Embedding them in concrete slabs

They can use various energy sources including solar water heaters and wood, oil, or gas-fired boilers.
Hydronic System Installation Tips
DIY installation is not recommended as this can lead to potential risks like water leaks, electrical short circuits, and issues in the system's overall performance.
Installation by someone without the right qualifications can void your warranty.
Tips for Radiant Radiant Floor Heating Installation
Here are additional tips from the pros to ensure your heating system's maximum efficiency:
1. Best Flooring for Radiant Heating
Ceramic tile is the most common and effective floor covering for radiant floor heating. Common floor coverings like vinyl and linoleum sheet goods, carpeting, or wood can also be used, but any covering that insulates the floor from the room will decrease the efficiency of the system.

Energy.gov
NOTE: When choosing floor covering for your radiant floor, certain types will be more efficient than others. For instance, tiles, stone, and concrete can withstand higher temperatures while other options will take more time and energy to achieve similar results. Also, floor coverings should be conductive and thin for your heating system to be effective.
Below are the benefits that each type of flooring can provide when installed with radiant floor heating:
Tile, Stone, and Concrete
– Conducts, holds, and distributes heat more efficiently
– Endless heat tolerance so there will be no fire hazards
– It can be installed on the same day you will be installing your heating system
– Heated ceramic tile floors are your best options if you want to ensure efficiency and safety
Luxury Vinyl Tile or Plank
– Comes second as the most popular cost-effective alternative to tile, stone, and concrete
– Can be removed and reinstalled when retrofitting your radiant floor heating system
Laminate
– Another affordable alternative that is fire resistant
– Can also be reinstalled in case your heating system needs repairs
Linoleum
– Designed to withstand high temperatures
– Neither the best nor the worst flooring but cheaper than laminate
Hardwood
– If installed properly by a professional, fire hazards, expansion, and shrinkage that can cause cracks and gaps between your flooring can be prevented
– Engineered hardwood is better for areas with high moisture levels to prevent warping, bowing, and cupping
Carpet
– Not your best option because it's not fire-resistant
– Heating won't be easy because it's a strong insulator
– Doesn't distribute heat efficiently
– If you insist on using it, better choose one with dense padding
2. Best Areas to Install a Radiant Heat Floor
Tile will always be king in terms of total sales but other flooring materials like (luxury vinyl tile) and engineered wood are going to play a crucial role moving forward, particularly as floor heating is applied to more rooms outside of the bathroom and kitchen.

Coverings
Here are the best areas where you can install radiant heat floors and why you should install heated floors in them:
| | |
| --- | --- |
| Bathrooms | Heated bathroom floors are the best applications of radiant floor heating since bathrooms mostly have lots of humidity and tile floors that make them cold. |
| Basements | Basements are cold and damp in cold months. Aside from keeping the area comfortable, the heat from the radiant floor will rise and can warm your whole house. |
| Kitchens | Kitchens also often have cold tiles and are a bit humid. Plus, they are among the most used areas. |
| Bedrooms | Bedrooms are also great to make them cozier without resorting to risky options such as space heaters and cranking up your HVAC. |
| Garages | While most people won't think about installing heated floors in their garage, it can control snow during winter times. |
| Driveways | If you live in cold areas and are having problems with ice and snow piling up in your driveway, radiant heat floors can help melt them away. |
| Sunrooms | The windows in sunrooms do keep the area cool during summer, but they can also make the room very cold during the winter months. Heating the area can make it comfortable and accessible year-round. |
3. Insulation Recommendations: Improving Radiant Heat Efficiency
To ensure the best performance of your heating system, we recommend considering using appropriate insulation. This helps improve environmental impact, prevent moisture build-up, ensure consistent and reliable heating, and lower operational costs.
4. Floor Heating Temperature: What Temperature Should I Set My Heated Floor?
You should not exceed 85°F because higher temperatures can lead to overheating which can cause damage to your floors, especially if you have finished hardwood floors. These floors are more susceptible to damage.
Also, take note that flooring aside from tile or stone can only handle a maximum temperature lower than 85°F. A temperature ranging from 75°F to 85°F is enough. The general rule is to set the temperature to five degrees higher than your desired temperature because your flooring is around 5°F warmer than the room's temperature.
Other tips we can give you are:
You can control the temperature per room to improve the energy efficiency of your underfloor heating system.
Program the system to turn off and on at specific times to optimize performance more.
Find a Professional Radiant Floor Heating System Installer
If you don't want to face installation problems and other risks with your radiant heat flooring, we highly recommend that you hire a professional flooring installer. Floor Critics can help you find a contractor that can help you ensure the safety of your flooring and maximize efficiency to keep your costs at a minimum.
FAQs
Are Heated Floors Worth It?
Under tile floor heating including, heated bathroom floors, is surely worth it. You'll save significantly more on labor costs anyway if you're planning to change your flooring. Aside from long-term cost savings compared to traditional floor heating systems, the comfort that underfloor heating will provide will outweigh their few disadvantages.

How Long Does Radiant Floor Heating Last?
If cared for and maintained properly, your heating system can last up to 35-40 years. If not, they might not last any longer than HVAC systems which don't usually reach 20 years. Making annual checks would be best just to be safe.

Do Heated Floors Use a Lot of Electricity?
Heated tiles and other flooring types will consume a lot of electricity. However, they are far more energy-efficient compared to other options in the long run.

Most heated floors will use 12 watts/hour per square foot which means that a 100-sq. ft. room will be using 1200 watts every hour. This is around 300 watts less compared to average space heaters.

If you are worried about your bills rising, better use a programmable thermostat because these feature various customizable settings that allow you to regulate the temperature in your home.

Can You Leave Heated Floors on All the Time?
Yes, you can. But of course, you would want to avoid high electricity bills. Although we advise you to keep the system on all the time during the winter months, you can control the temperature depending on activity and usage in your home using your thermostats.

Also, we don't recommend turning off your heating system completely because it will take some time for it to warm up again. It's best to keep it on but at a lower temperature so your home will be heated faster when needed.

Can Radiant Floor Heating Heat an Entire House?
Of course, it can. Hydronic heating systems are specifically ideal for heating an entire house and are more cost-effective to run compared to electric systems. You can also control the setting for each room in your home to keep running costs at a minimum.

Is Radiant Floor Heating Cost Effective?
While you will surely see your electricity bill increase with radiant-heated flooring, you'll have significant savings when it comes to your heating bill. Radiant heating may also be more expensive to install upfront, but it will give you substantial savings in the long run.

Is Radiant Heat Efficient?
If you are looking for an energy efficient floor heating system, radiant floor heating would be your best option. Since this system can evenly and consistently heat areas without energy loss compared to other floor heating systems, they are more affordable to run.
Final Thoughts
Although there are disadvantages of radiant floor heating (expensive installation costs being one of them), the long-term benefits they provide outweigh these drawbacks. Also, it's best to install radiant heat floors for new home constructions or during renovations because you will need to remove your existing flooring.
But despite these problems, radiant heating still offers substantial cost savings compared to other options like radiators and forced-air systems. However, take note that seeking the help of a professional is still best to ensure that you get the benefits you are expecting.
Back to Top