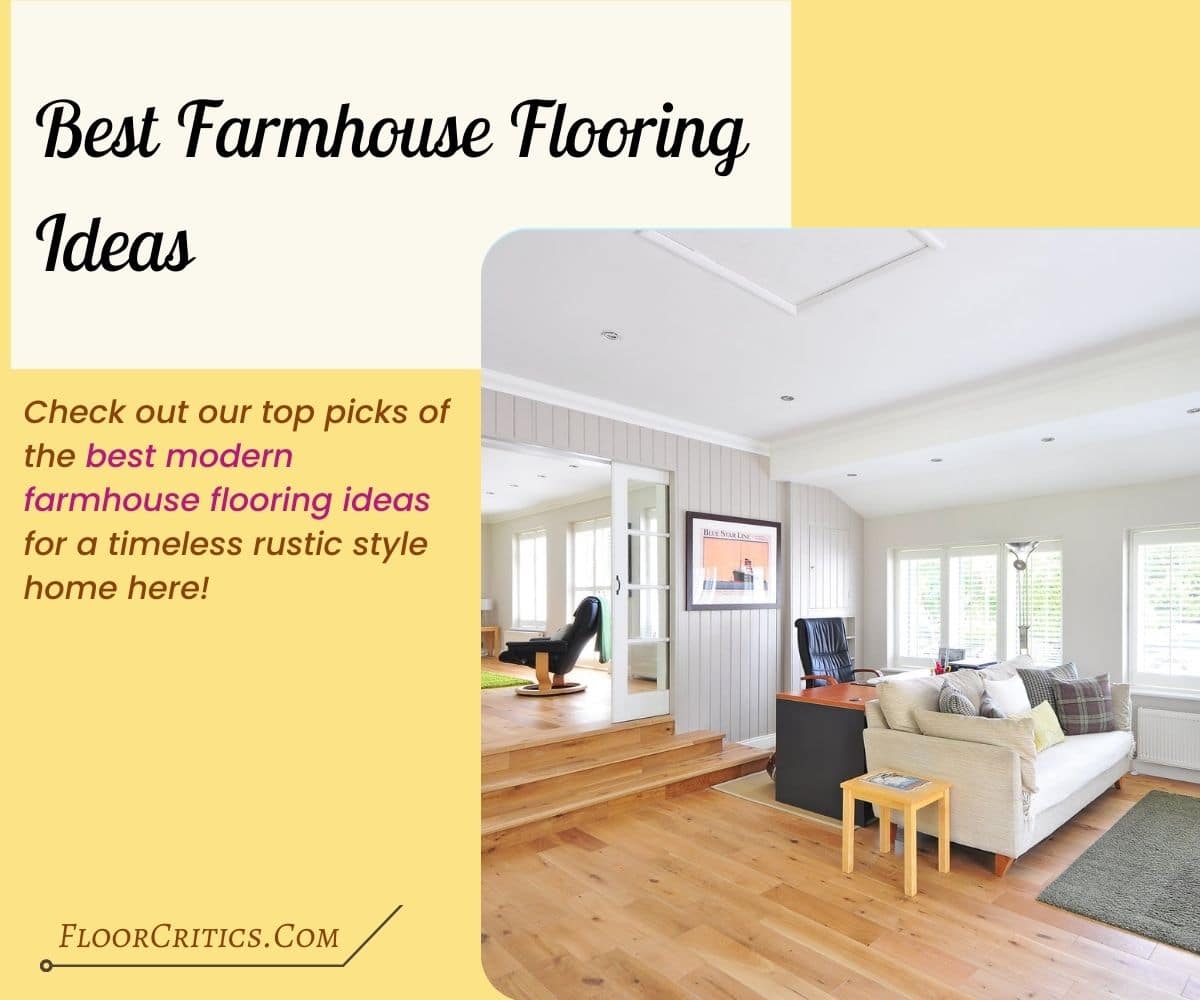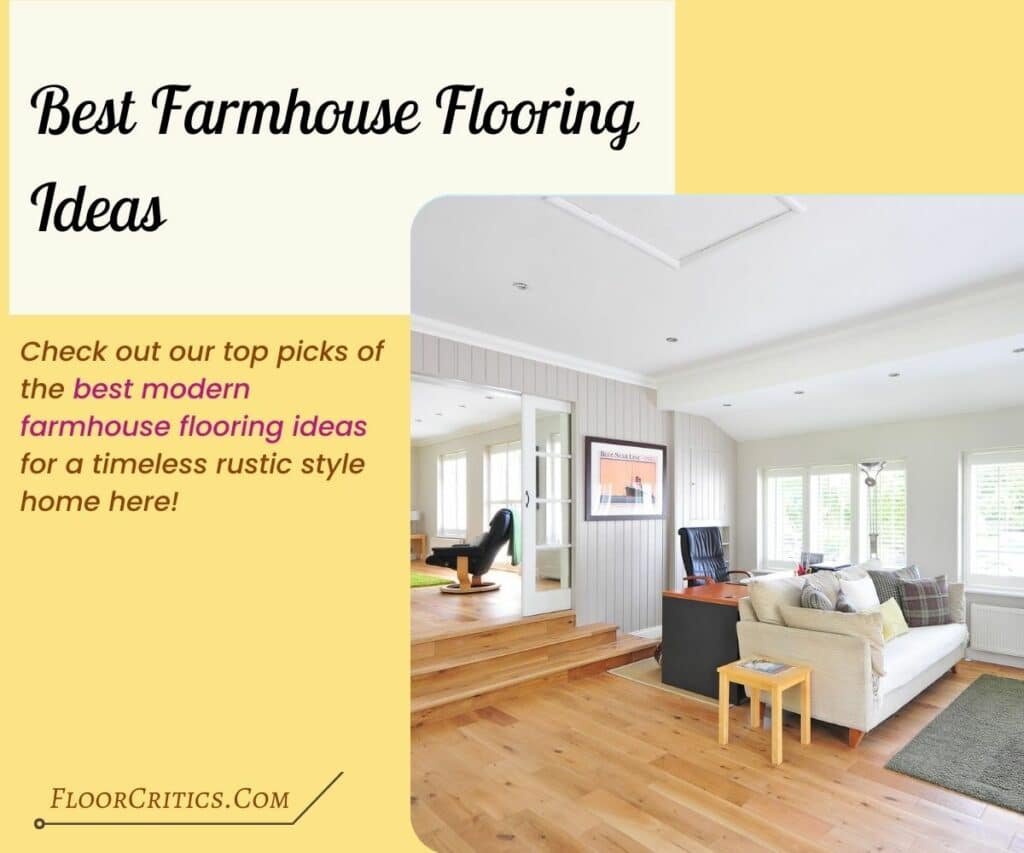 The popularity of farmhouse-style flooring has risen over the years with the trend in Southern-style rustic homes. So if you are in the search for the best modern farmhouse flooring ideas to add an old-world look to your home, we've got your back! Here, we've listed down chic farmhouse rustic flooring ideas that will never go out of style!
6 Best Types of Farmhouse Flooring to Choose From
There are many ways you can get a vintage farmhouse look even if you don't have the desirable features of traditional hardwood floors. Cheaper wood-look options like laminate, vinyl, and linoleum also exist. Carpets and tiles are also becoming excellent alternatives.
1. Farmhouse Wood Floor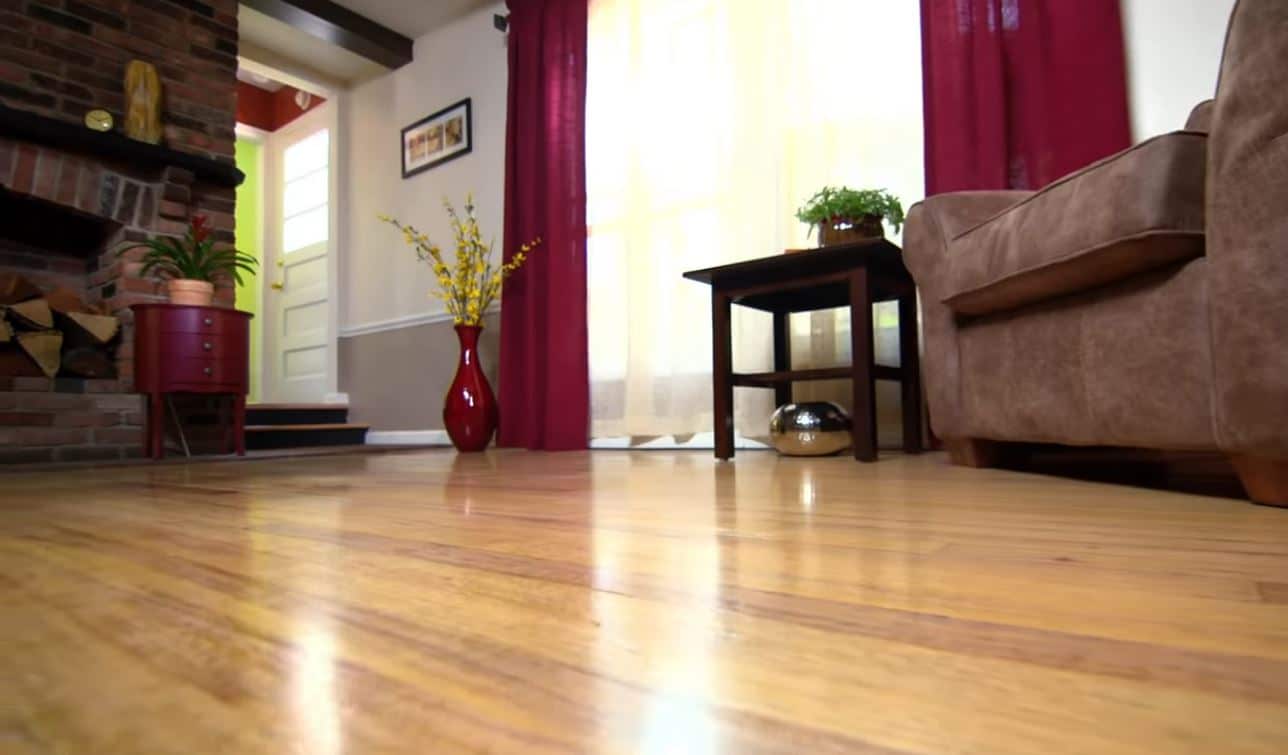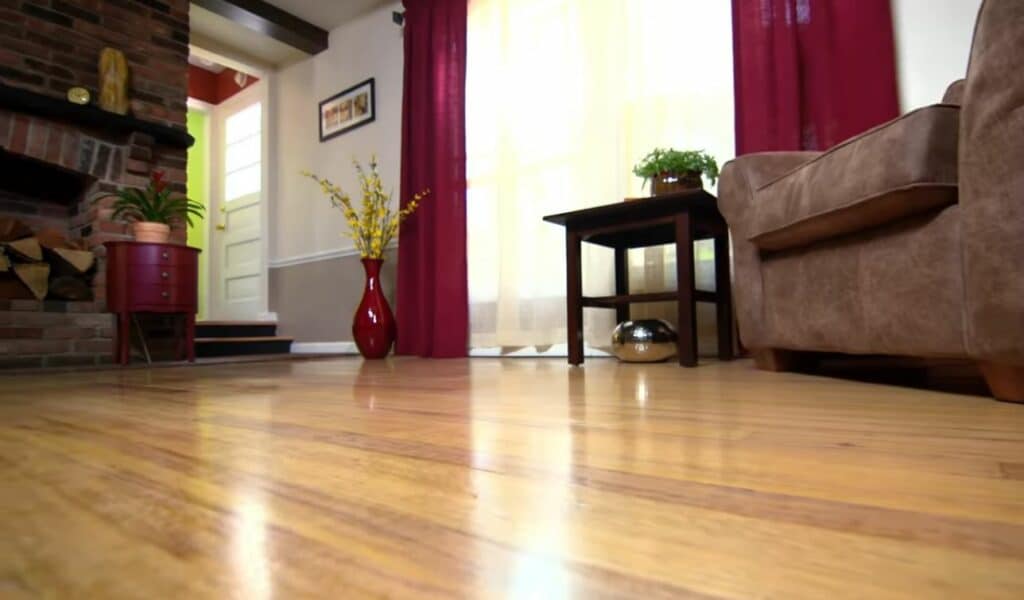 Farmhouse hardwood flooring is the most popular option when it comes to achieving that timeworn look of rustic flooring. Hardwood is luxurious, timeless, and long-lasting. They can last for many decades and they offer the best way to achieve a natural and unique look with their stylish wood grains.
Farmhouse rustic hardwood flooring also comes in various options: prefinished or unfinished solid hardwood and engineered hardwood.
Unfinished Solid Hardwood
This flooring comes as raw hardwood and offers a natural canvas that's perfect for someone who wants a completely customizable option. You can apply protective layering, lacquer, and stains of your own liking. So whether you choose hickory, maple, red oak, or other wood species, you won't go wrong with unfinished hardwood.
Prefinished Solid Hardwood
This is perfect for those who don't want to go through the hassle of applying their own coating which can be time-consuming. Prefinished solid hardwood is already stained and has a protective coating which makes installation faster.
Engineered Hardwood
While solid hardwood is made of hardwood from top to bottom, engineered hardwood is only made of a thin wood layer on top and the rest are layers of plywood. They are engineered to provide the benefits that a solid hardwood floor has but with enhanced durability and water resistance. Plus, they are more affordable and also come in different styles you can choose from.
2. Farmhouse Vinyl Flooring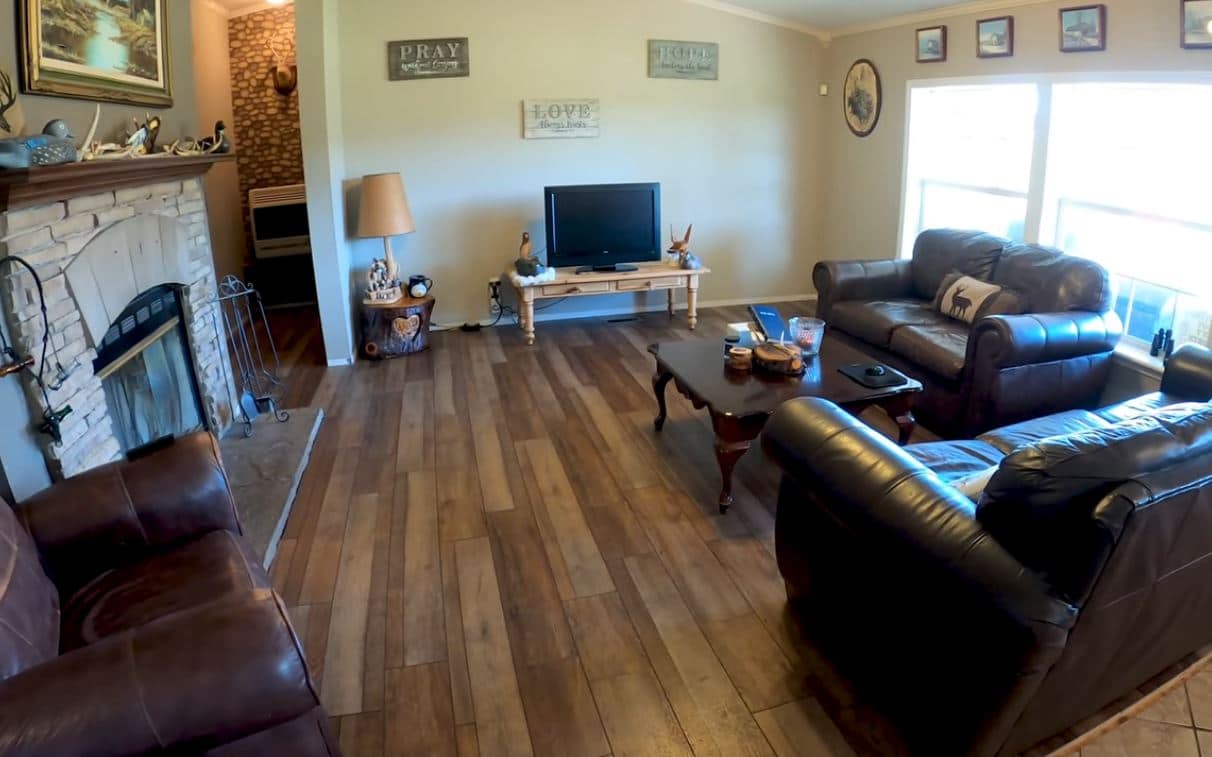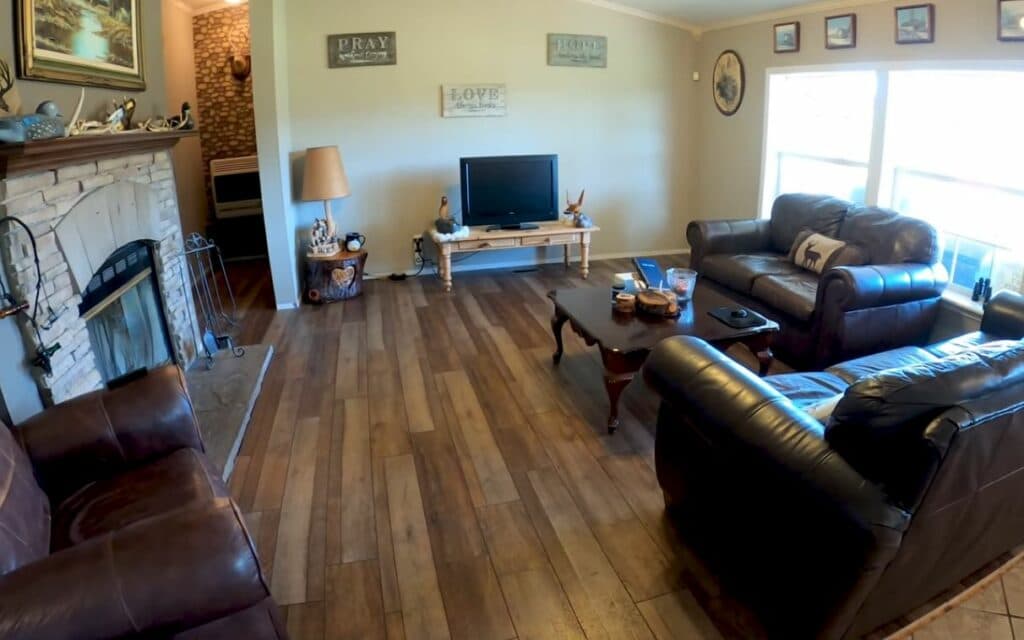 Vinyl farmhouse flooring is another popular cheaper alternative to expensive hardwood and is easier to maintain. Although it resembles hardwood, most options are either waterproof or water-resistant. So aside from its aesthetic features, they make durable flooring for moisture-prone and heavy-traffic areas like basements, kitchens, and living rooms.
In addition, vinyl comes in sheets, planks, and tiles in wood-look, stone-look, and patterned options which gives you more design flexibility.
Luxury Vinyl Planks and Tiles
Farmhouse rustic vinyl plank flooring would be your best alternative to hardwood flooring as planks are easier to install using click-lock installation. They are also compatible with various subfloors like concrete, wood, or tile which gives more convenience.
Plus, vinyl planks come with 100% waterproof options and have pre-attached underlayments to enhance comfort, absorb shock, and minimize sound. Additionally, they come in a lot of patterns that mimic real wood through registered embossing that can recreate the variations, grains, and knots of hardwood. So if you want hardwood but are looking for a cheaper but more durable option, vinyl planks would be perfect for you.
In addition to vinyl planks, there are also patterned vinyl tiles that are ideal for creating a rustic-looking bathroom.
Vinyl Sheets
Vinyl sheets are excellent choices for large spaces and busy households. Since they don't have seams like farmhouse vinyl plank flooring, they are ultra-durable and can withstand liquid spills very well.
3. Farmhouse Laminate Flooring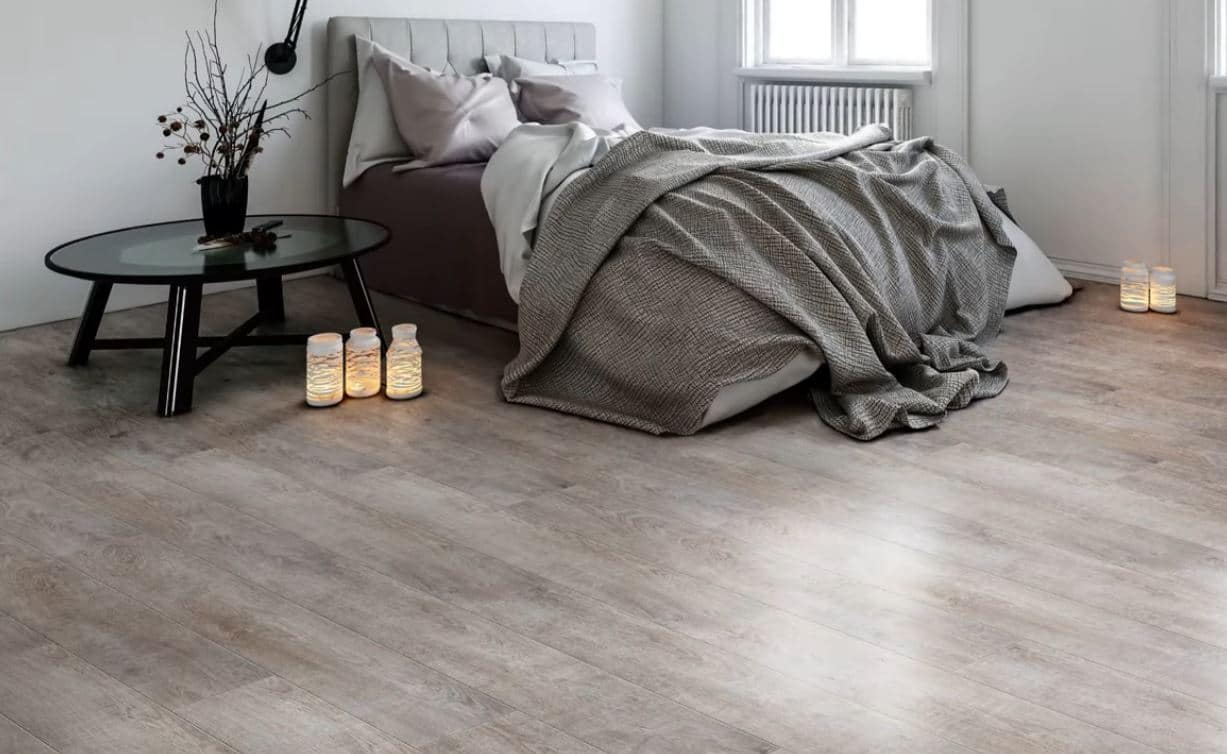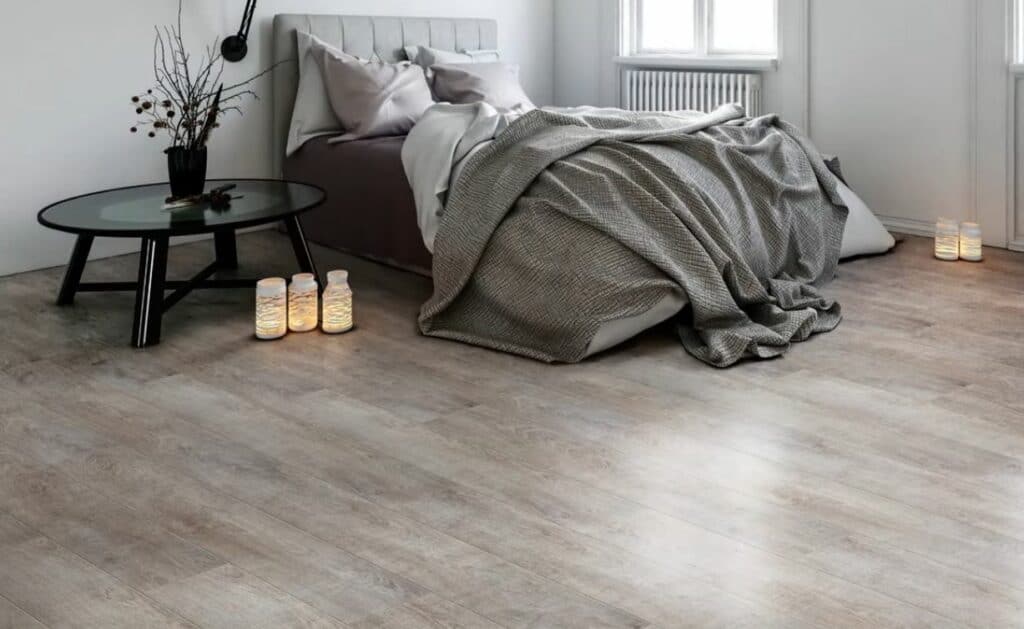 Laminate floors make great alternatives to vinyl planks as they also provide the ease of installation and maintenance as well as durability that vinyl offers.
The major difference between laminate and vinyl is that while laminate offers more realistic options, vinyl offers a larger selection of products. In fact, antique farmhouse hickory laminate flooring is a popular choice for many people.
Also, vinyl offers waterproof and more scratch-resistant options than laminate, but laminate has the edge when it comes to comfort as they are softer. Although you will find waterproof laminates, brands only make them available on their higher-end options so they are more expensive.
So if you prioritize appearance over durability, modern farmhouse laminate flooring is a good way to go.
4. Farmhouse Linoleum Flooring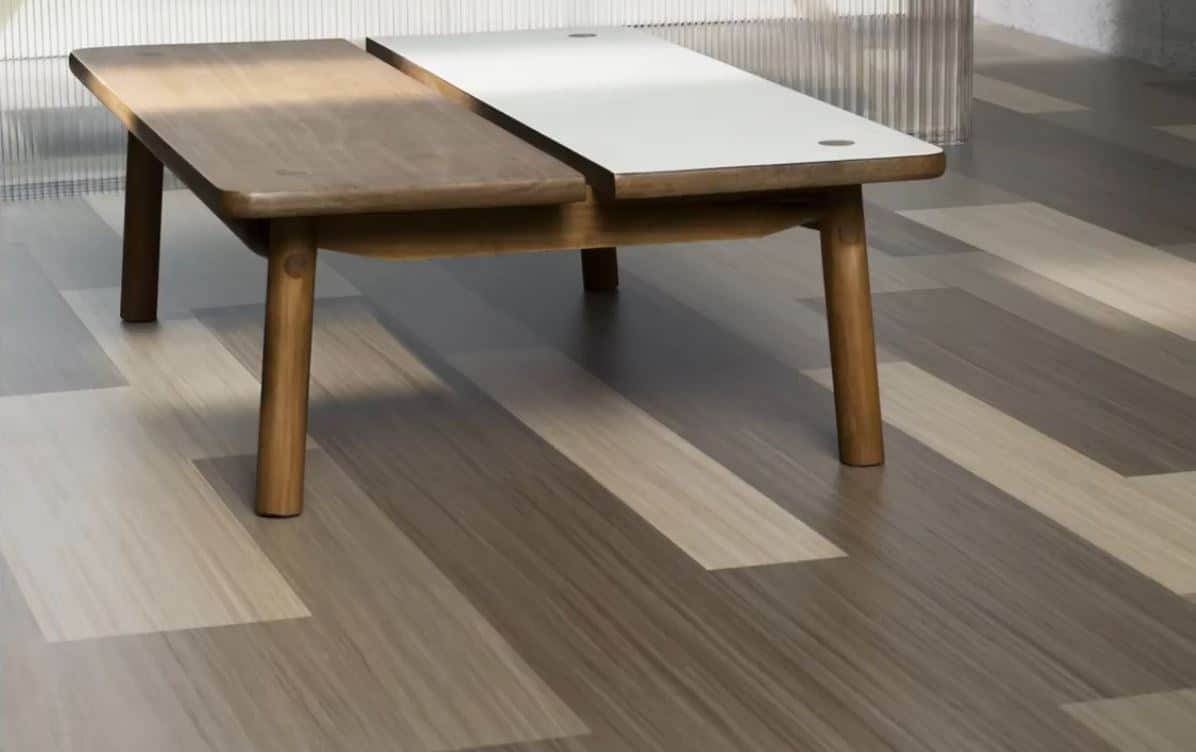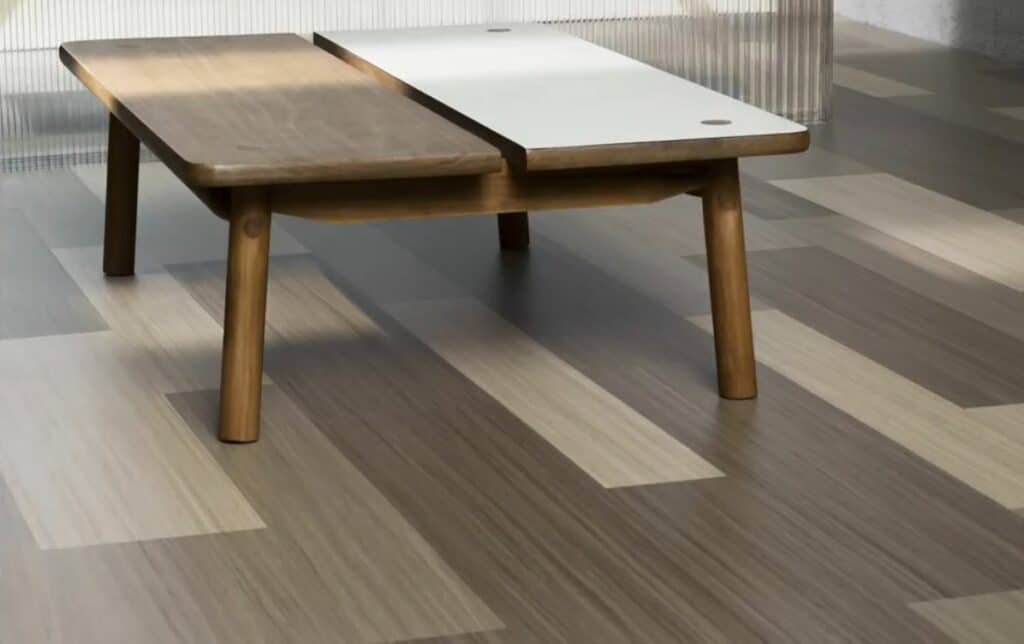 Another great alternative to vinyl planks, farmhouse linoleum floors would be perfect for those who are looking for a more environmentally friendly flooring. This is the key difference between linoleum and vinyl because vinyl is non-biodegradable.
However, vinyl is a better option when it comes to water resistance and availability of styles because linoleum is susceptible to water damage and has limited styles. But, linoleum lasts longer up to 40 years while vinyl is only expected to last up to 20 years.
Plus, linoleum can camouflage cuts and scuffs better because its color runs all the way through the plank and is hypoallergenic and anti-static. However, vinyl is cheaper, easier to maintain (linoleum is prone to yellowing and sensitive to chemicals), and more suitable for DIY installation.
5. Farmhouse Tile Floor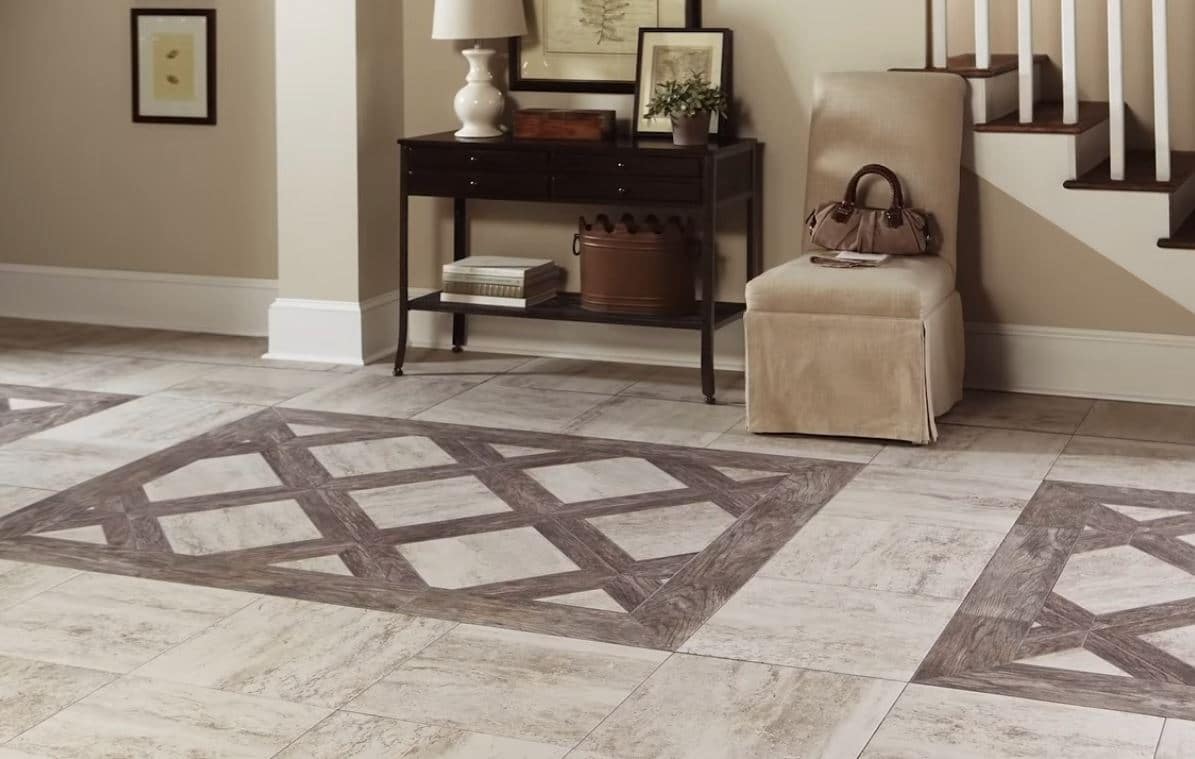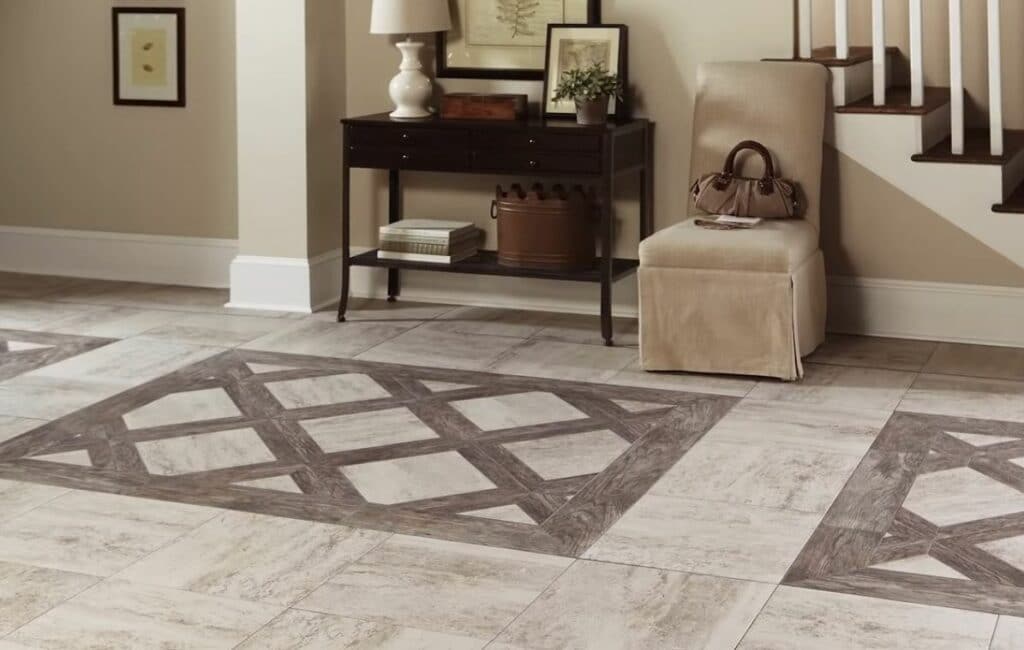 This might come as a surprise, but farmhouse flooring tile is also becoming a trend as the most durable rustic flooring option (though the most expensive one). They are also easier to maintain because there's no need to worry about dents, stains, and refinishing your flooring.
Tiles are also hypoallergenic because they don't harbor mold, dust mites, or bacteria. They also don't emit VOCs because they are made from natural materials for you to have better indoor air quality.
Lastly, tiles also come in endless designs to complement the rustic look you desire whether you want light, dark, patterned, stone-look, or wood-look options.
Stone-Look Tiles
Porcelain tiles are the most durable types of tile flooring, but classic granite, slate, and travertine will give you better rustic looks. Patterned and terracotta tiles are even better options.
Wood-Look Tiles
Tiles can also mimic wood, so wood-look tiles are great choices to get the timeless beauty of wood with the easy maintenance and durability of tile. They come in various styles including distressed and high-variation effects that make great flooring for a rustic home.
Tips: Farmhouse Tile Flooring Ideas
Since tiles are not as common as other flooring options when it comes to rustic flooring, here are some ideas you can follow to get that Southern-style look:
Install the tiles in a staggered-brick pattern to create the look of cobblestones.
Use a darker grout to make your tile flooring pop by creating a good contrast. (Darker grouts are also better than lighter grouts that stain over time.)
Pebble mosaics make a unique flooring, but you can go for large-format tiles for a simple look.
You can find more tile patterns for floors here.
6. Farmhouse Carpet Flooring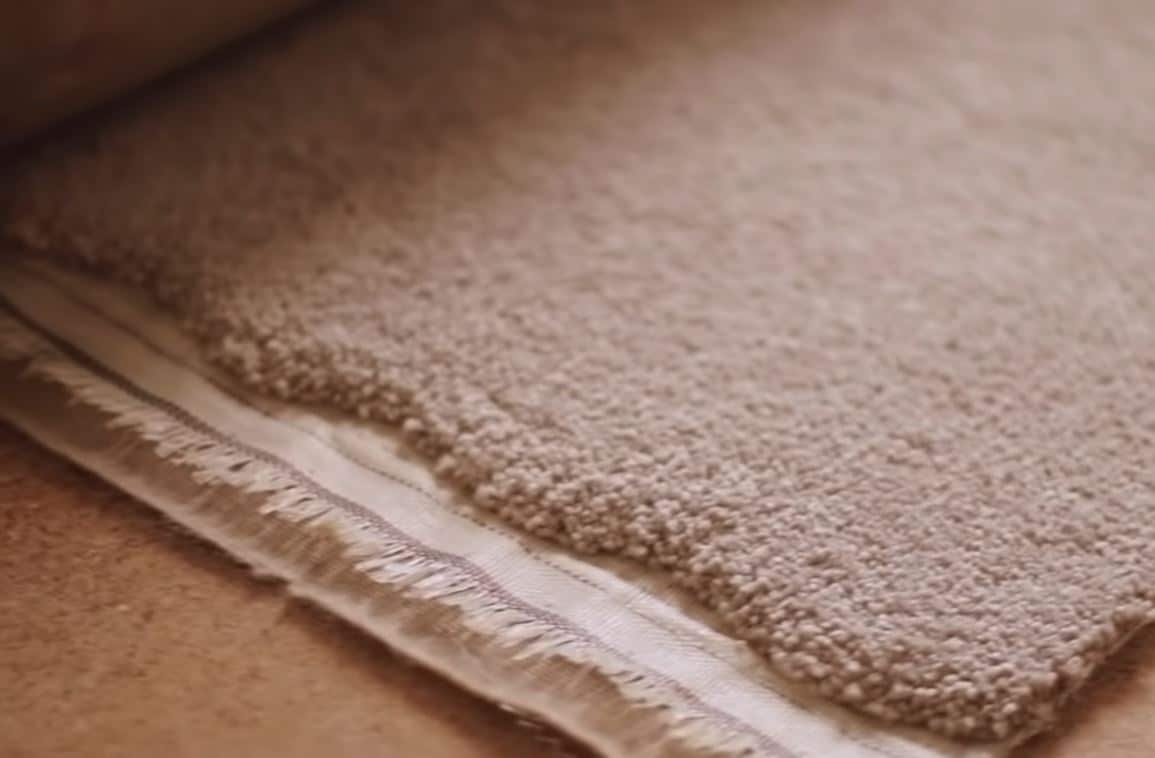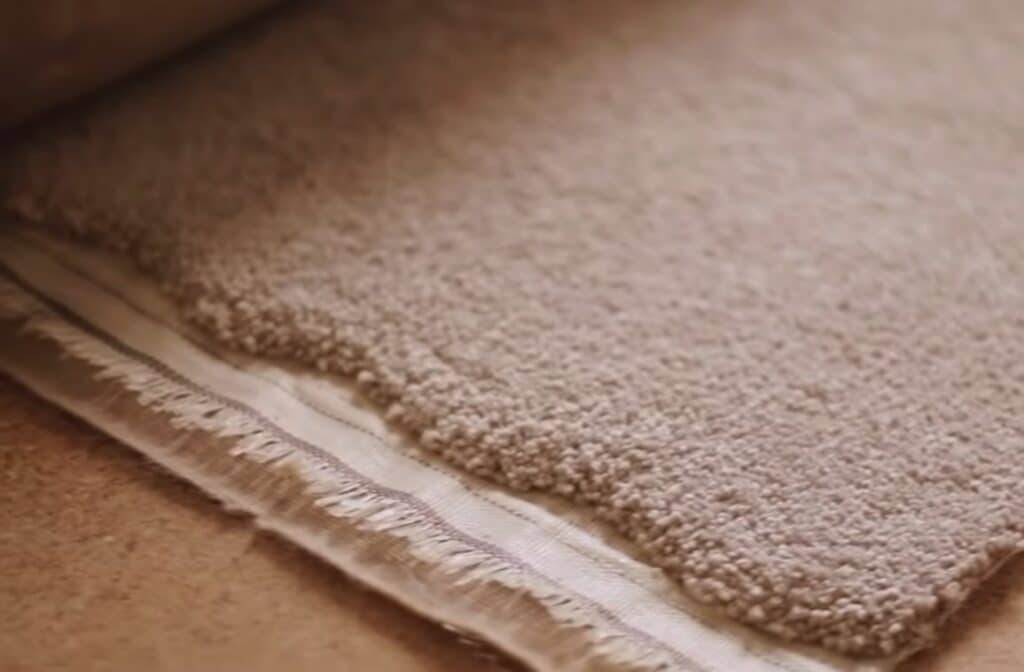 Lastly, carpets would make a cozy flooring and is a great way of integrating dimension into a rustic home. They come in tile and roll options in several pile heights, materials, and patterns. Since they have soft surfaces that are slip-resistant and sound absorbent, they are very comfortable underfoot and would make ideal choices for those with children, especially hypoallergenic options.
Tips: Farmhouse Carpet Ideas
Another non-traditional farmhouse flooring option, you might also be wondering how you can incorporate carpets into your antique-style flooring. Here are a few ideas we can give you:
When choosing farmhouse carpet colors, go for neutral tones such as gray and beige.
Stick to minimalist designs with a soft texture and subtle patterns. But, you can still choose carpets with different shades for a more elegant look that will not obstruct your existing interior design.
Your goal is to naturally blend carpeting in with the rest of the room and draw the attention of your guests upwards.
Textured carpets hide uneven surfaces, foot tracks, and dirt better so they are ideal for high-traffic areas and busy families.
If you want a more modern look, go for cut and loop carpet styles that will provide a dynamic look to your flooring.
NOTE: Durability is a major concern with carpeting, so better choose something that is stain-resistant and waterproof so pet accidents and spills won't seep through your subfloor. Nylon and polyester carpeting are the most durable carpet fiber options when it comes to stain resistance. Make sure that the carpet can handle high traffic too.
21 Modern Farmhouse Style Flooring Ideas by Room
Aside from the types of farmhouse flooring you can choose from, below are room-specific farmhouse flooring ideas that you might want to consider:
6 Farmhouse Laundry Room Flooring Ideas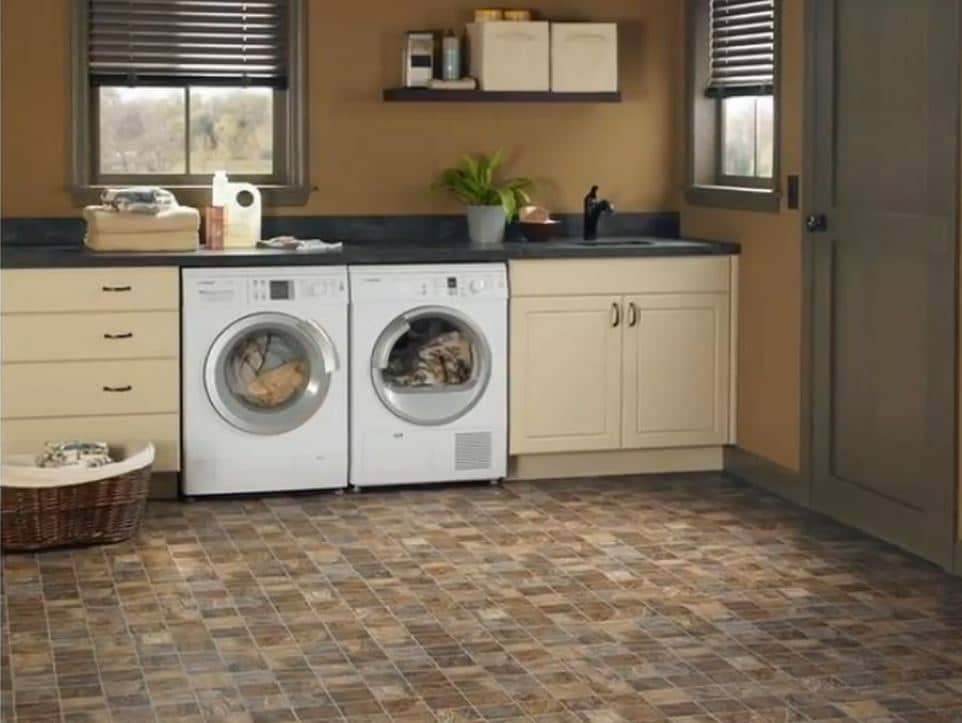 Laundry room flooring is among the most searched ideas when it comes to farmhouses. So here, we've listed quite a few farmhouse laundry room tile designs to achieve a rustic look:
Vintage Brick Flooring: Try a tan brick floor complemented with wood elements and a herringbone wall tile to achieve a retro-style look.
Black & White Patterned Tile Flooring: Pair a black-and-white tile flooring with dark appliances and cabinets to highlight your flooring.
Whitewashed Flooring: Install whitewashed flooring with the addition of shiplap walls for a coastal feel. You can also combine creamy white and soft gray tiles in a herringbone pattern to make your floor more interesting.
Mixing Patterns: Blend two different tile patterns and add accessories that will complement your floor's color seamlessly. Better choose a maximum of three shades to avoid your design from becoming too overwhelming.
"Buffalo-Style" Flooring: Lay gray and white tiles to make your floor look like a buffalo check print. Complement it with muted browns and blues to create the warmth of earth tones.
Hexagon Mosaic Tiles: Use small hexagon mosaic tiles and opt for a floral motif when decoring the room. You can also add geometric or graphic designs to add variation.
Find more farmhouse-style laundry room ideas here.
4 Farmhouse Kitchen Floors Ideas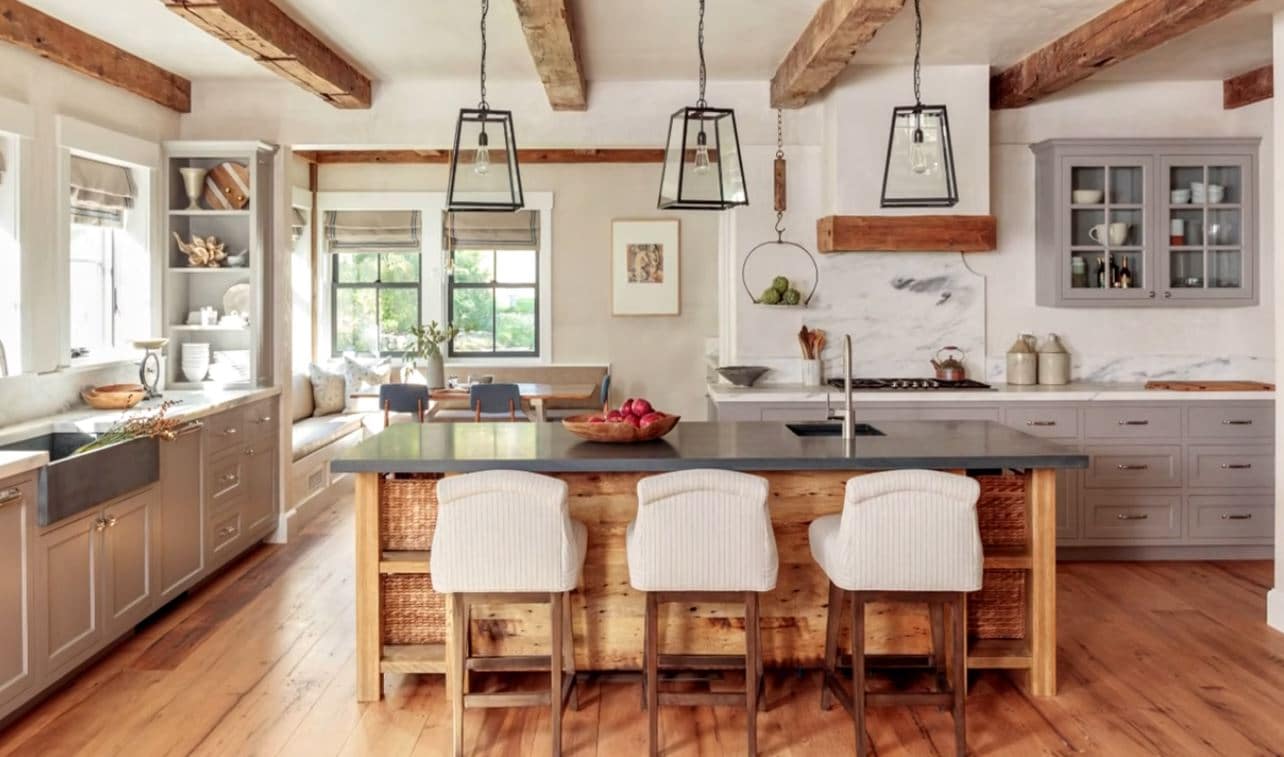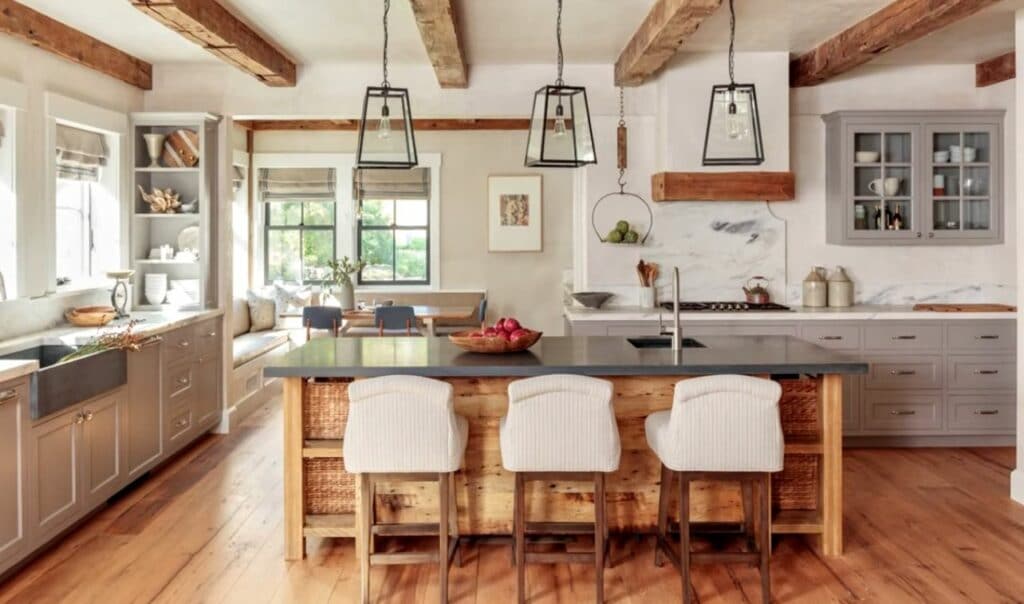 Here are more awesome ideas to create a stylish modern farmhouse kitchen flooring:
Classic White Wood-Stone Combination: If you want farmhouse kitchen tile flooring ideas, try cream-colored stone tiles paired with granite countertops and stainless steel or white appliances. Add a farmhouse charm by using wood cabinets and a paneled wood bar.
Copper Farmhouse: A dark wooden kitchen floor with a rich finish and wire-brushed look will create a cool vintage atmosphere. Walnut and mahogany would be the best options. Complement it with copper accessories like sinks, faucets, pendant lights, vases, and drinkware as well as wood cabinets.
Terra Cotta Tiles: Often linked to Spanish-style homes, terra cotta tiles can also add organic textures and spectacular natural vibes to your kitchen. Pair your flooring with white accessories to create a minimalistic look while still adding a rustic appeal.
Vintage Brick Flooring: Brick effortlessly brings an old-school vibe to your farmhouse kitchen floor. Make your brick kitchen floor more visually appealing and unique by using different hues like gray cabinets for a more industrial farmhouse look.
You can find more farmhouse kitchen floor ideas here.
5 Farmhouse Living Room Flooring Ideas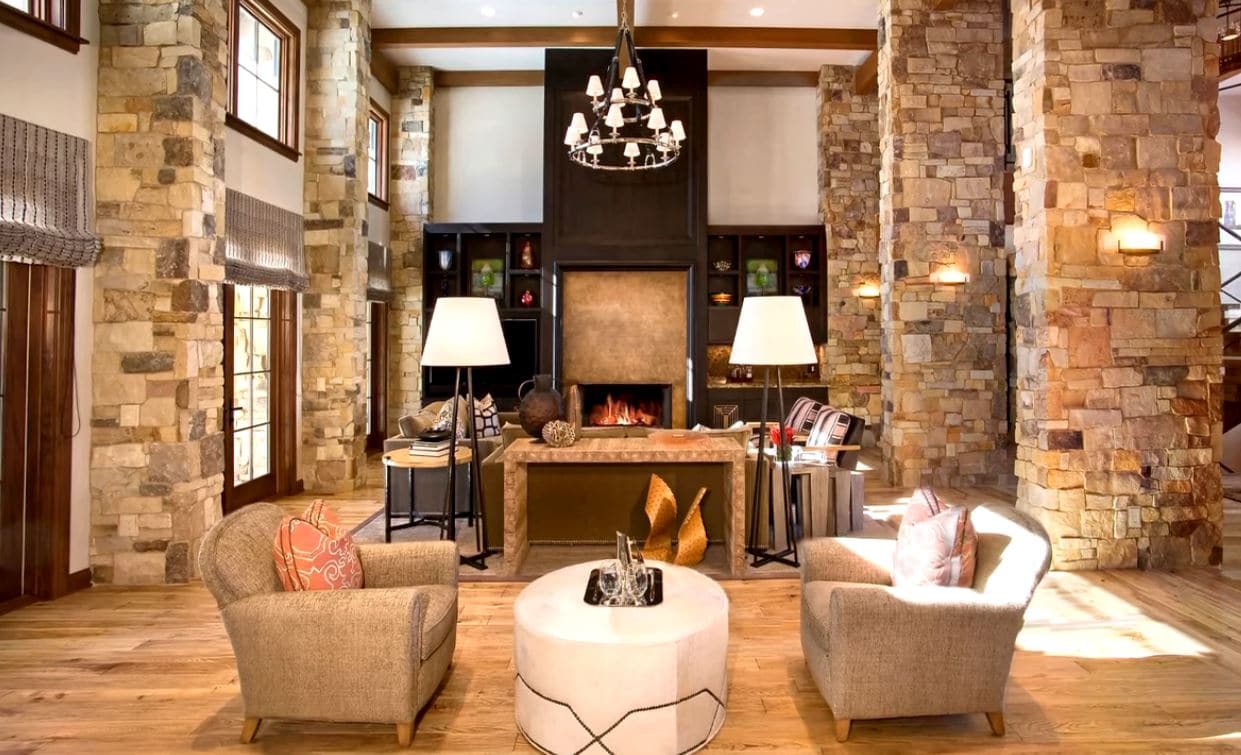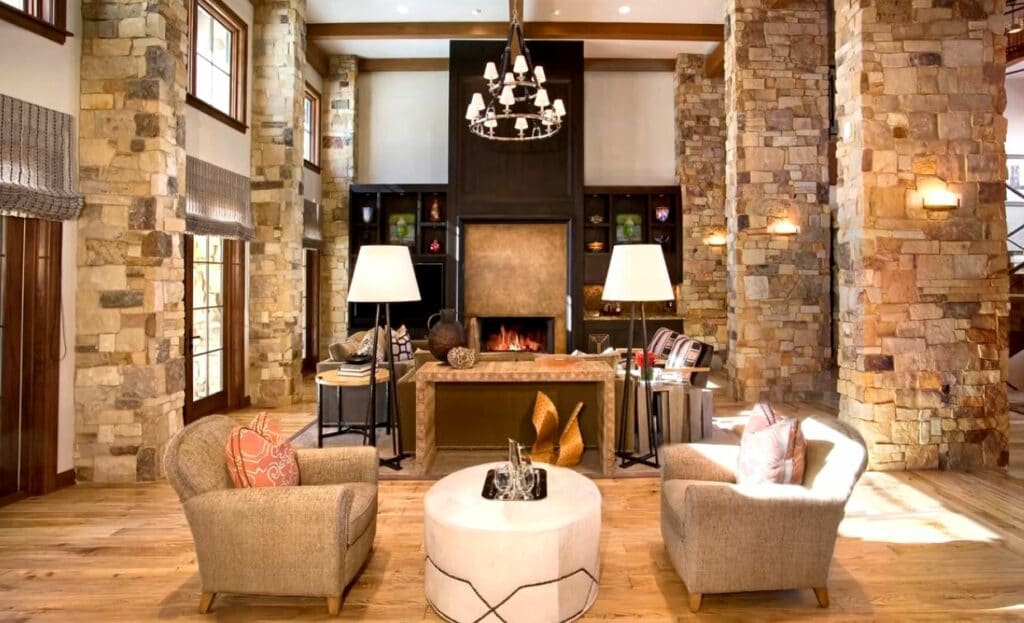 Living rooms are spacious high-traffic areas considered the heart of a home where you received guests. So, it would be great if you can create a durable flooring that will make your guests go "wow" through these ideas:
Reclaimed Hardwood Floor: Mix reclaimed hardwoods in different textures and colors to add warmth and character to your living room. The varying colors can add rustic elegance and depth to the room and can complement any decor. Distressed woods can also hide scratches better which makes them great for children and as pet flooring options.
Rich Brown Hardwood: Going with dark brown wood floors will make neural-colored schemes pop. So if you have an all-white living room, rich brown hardwood flooring can create a traditional feel.
Carpet and Area Rugs: A patterned carpet can add glamor to the room but choose small versions as they look more traditional compared to large-scale options. Choose a neutral color scheme and simple designs when using stripe, floral, and geometric patterns to make your living room appear open and fresh.
Vinyl or Laminate Flooring: Vinyl or laminate are great options if you are on a tight budget. They are also more durable so they are ideal in high-traffic areas like your living room. They come in wood-look options so you can still get the unique aesthetic of hardwood with enhanced durability.
Tile Flooring: Ceramic and porcelain tiles are the best options for living rooms, but they are more expensive. Neutrals, tans, browns, and greys are the best choices for an antique-looking living room tile flooring.
3 Farmhouse Bathroom Flooring Ideas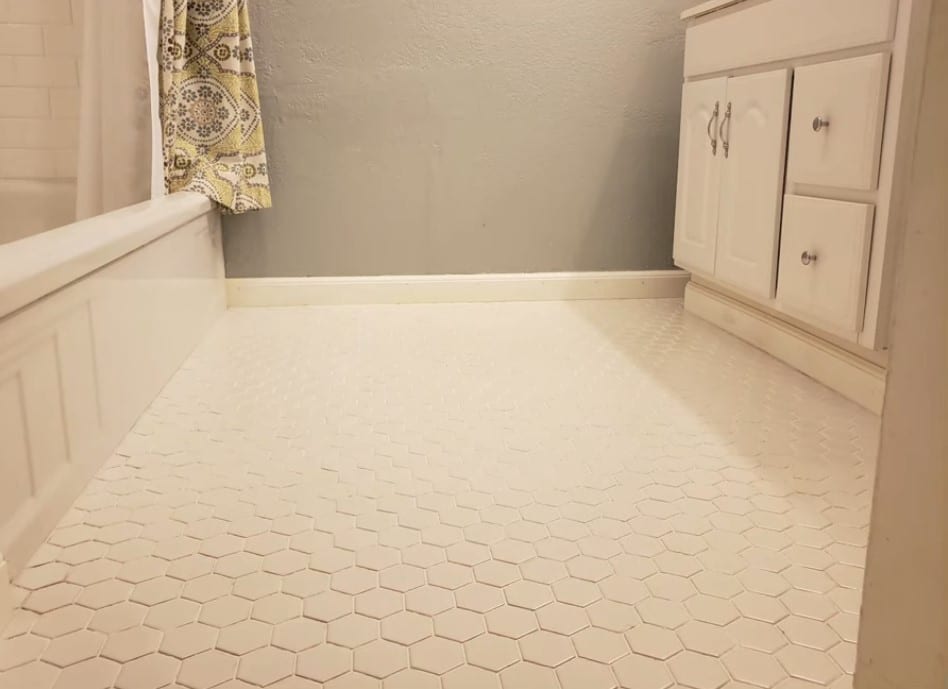 For bathrooms, here are a few farmhouse-style ideas you can try:
Stenciled Tiles: If you have an existing laminate or tile flooring, you can stencil over them to give them a new high-end look without spending a lot of money. You might want to try this DIY stenciled tile from Hometalk.
Mosaic Tiles: Another option is mosaic tile flooring which provides tons of design and style options that will work great in both large and small farmhouse bathrooms. You can even combine different tile colors to make your floor more interesting. Your mosaic tile options include white, gray, floral, honeycomb, penny round, and hexagon mosaic tiles.
Pattern Tile Installation: Aside from mosaic tiles, there are also great tile patterns for floors that you can follow to make your flooring more unique. These include herringbone and basketweave patterns.
You can find more farmhouse-style bathroom design ideas here.
3 Farmhouse Bedroom Flooring Ideas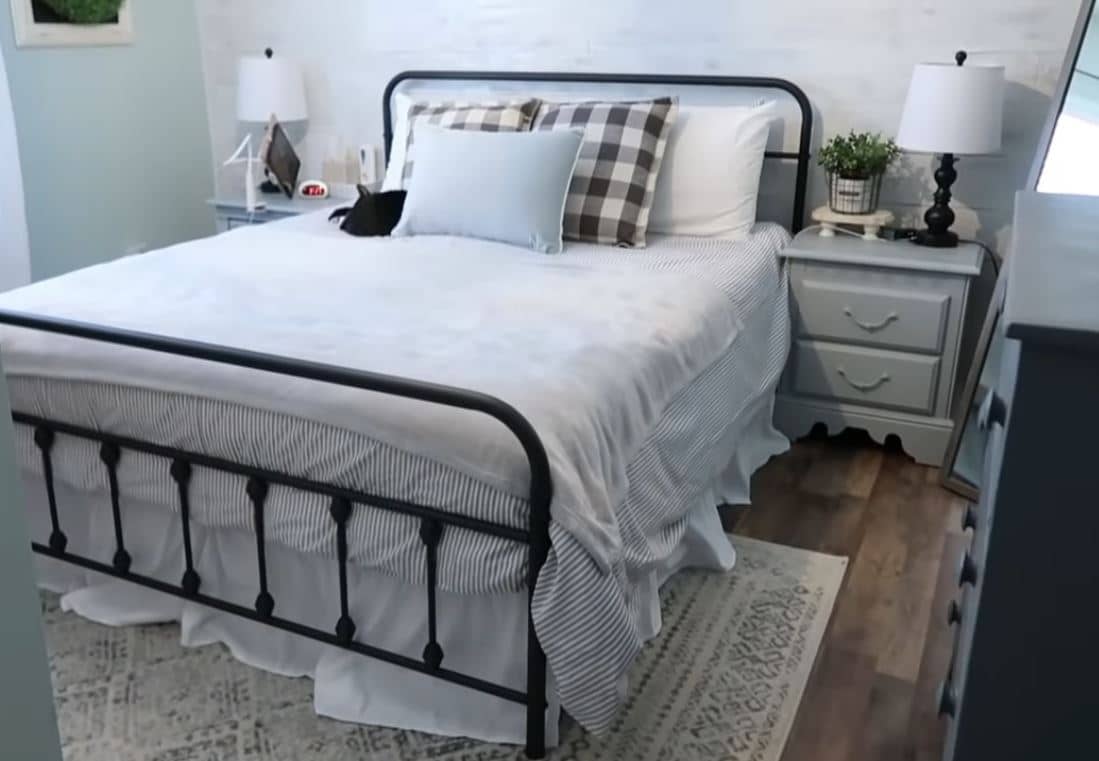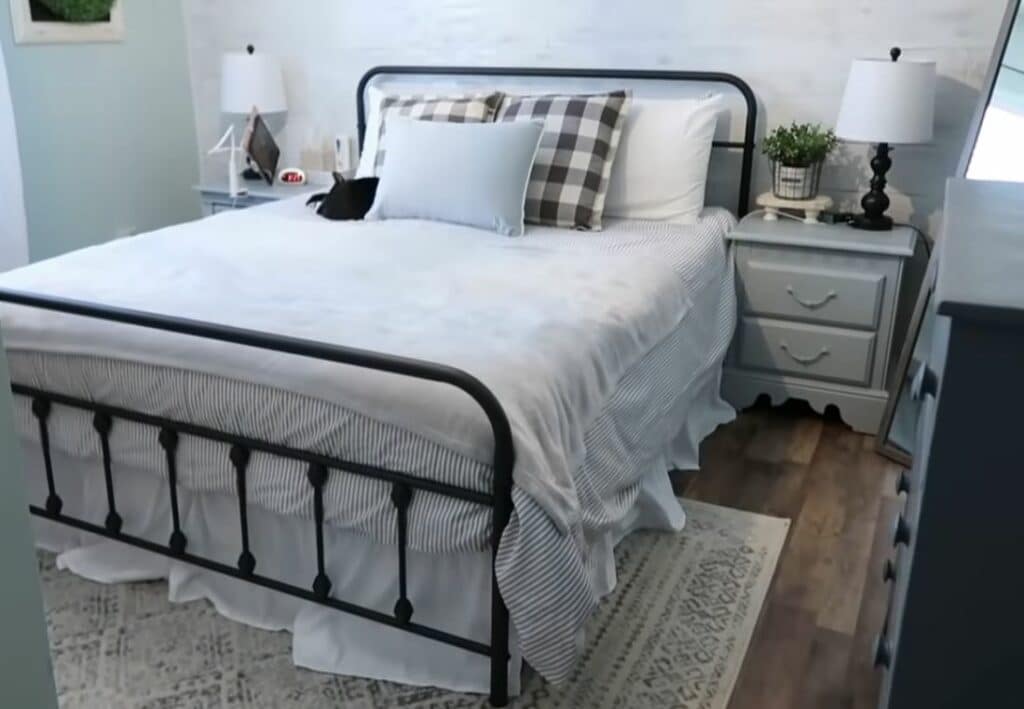 Lastly, here are rustic bedroom flooring ideas we can give you:
All-Wood: The best option for farmhouse bedrooms is wood flooring paired with wood decorations including walls and bed frames. Choose warm browns and have exposed ceiling beams for a more rustic feel. You can also include woven rugs and hanging lanterns. To prevent the decor from feeling too heavy, balance it with careful spacing, white accents, and lighter linens.
Vintage Laminate: A great mountain-style bedroom design includes beige laminate floors with vintage linens and quilt as well as beige walls.
Wall to Wall Farmhouse Carpet: If you don't want the look of hardwood in your bedroom, why not try carpets? They are soft underfoot which will make the room feel cozier and warmer.
5 Best Styles and Colors to Create an Authentic Farmhouse Rustic Flooring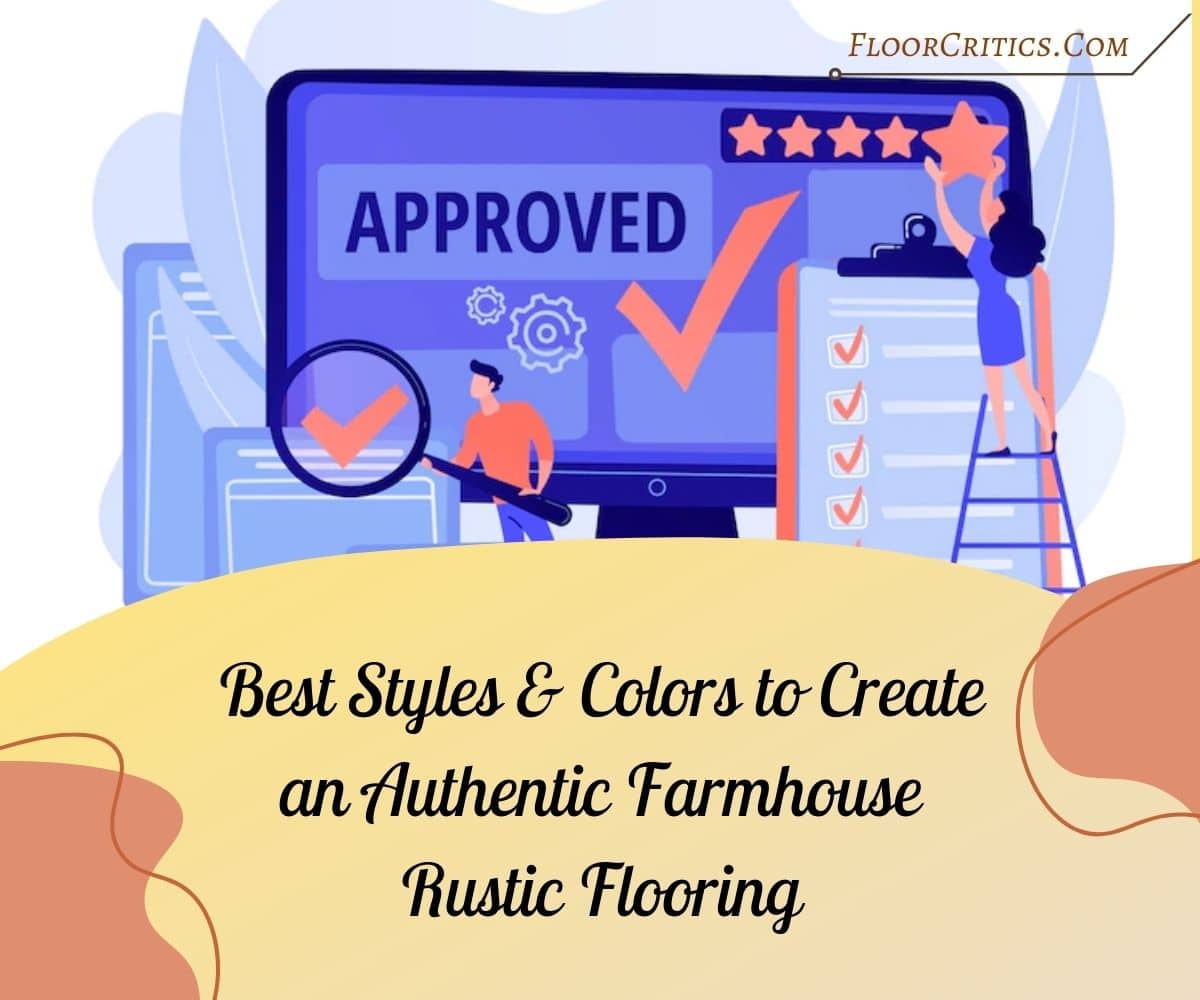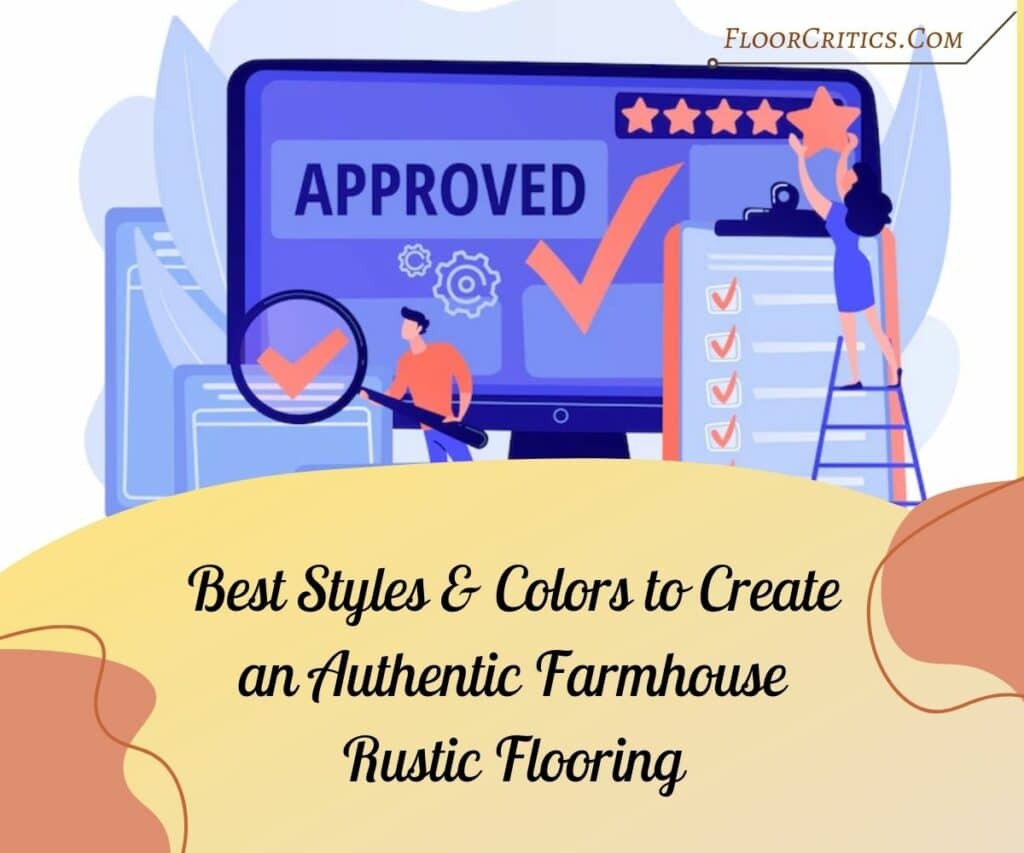 In addition, below are more ideas when choosing colors, styles, and designs for your rustic farmhouse flooring:
1. Wood Imperfections and Graining
Having an imperfect hardwood floor with more grains is the best way to bring out the rustic look of your farmhouse flooring.
The natural features of wood like enhance the rustic aesthetic of farmhouses. Choose options with more graining, mineral streaks, knots, and distress scuffs and marks.
Textured and wire-brushed woods give a more authentic look that you won't find in refined flooring. These have etched looks that highlight the grains that also allow you to add a second color for better contrast.
Chipping paint, uneven surfaces, dings, dents, and other imperfections are also desirable.
2. Farmhouse Wide Plank Wood Flooring
Wide planks are probably the most noticeable features of farmhouse flooring because they provide an old-world look. They provide a better contrast compared to traditional planks and make any room appear larger.
Although 5-inch wide plank farmhouse flooring will look great, it would be even better if you choose 7-12 inches wide planks. The wider the plank is, the more authentic vintage look you will get.
NOTE: Solid hardwood planks that are 5-inch wide or more should be nailed and glued down because they will contract and expand more.
3. Matte & Satin Finishes With a Natural Look
Regardless of the color of the finish you will choose, matte and satin finishes will work best for farmhouse floors. They offer more natural-looking floors and will blend well compared to glossy options. Glossy finishes will make your flooring appear too modern. In addition, matte finishes are ideal for laid-back aesthetics and perform well at hiding daily messes.
4. Farmhouse Wood Stain Colors
Farmhouses will favor muted and more natural-looking colors and tones. Natural and gray shades, as well as whitewashed colors, are the best choices.
Natural Wood Shades
The best way to elevate a farmhouse-style look.
Lighter shades are better, but you can go for darker shades of acacia or maple for a more modernized look.
Gray Shades
Gray shades are best paired with brushed nickel and stainless steel appliances and accessories.
Their neutral color can complement anything.
Whitewashed Flooring
Whitewashed hardwood floors create dreamy and spacious-looking flooring.
Prefinished floors are easier to whitewash. Engineered options are even easier and cheaper when done with wider planks.
More Farmhouse Wood Stain Tips
Avoid oil-based finishes and warm tones if you are refinishing whitewashed floors.
Avoid using reds, oranges, and yellows in stain colors as they are harder to decorate.
Muted and lighter colors will make any space appear larger and hide scratches and dirt better.
Lighter shades provide more flexibility when it comes to design because you can match them with various wood tones and use darker area rugs.
Pair light hardwood floors with country decors in cool tones.
5. American/North American Species
To achieve more gorgeous details, many people choose white oak and hickory wood species because they provide more character. White oak, including maple, also works well with gray and whitewashes.
Bonus: Other Design Tips to Achieve a Country-Chic Looking Farmhouse Home
After getting the best farmhouse flooring for your home, adding the right interior design elements will have a great impact on the overall look of your home.
1. Accessories
Include old family heirlooms.
Incorporate textured photo frames, lighting fixtures, mirrors, and flower vases.
Mixing dark-colored metals like copper, steel, and iron would be a great idea.
Use reclaimed and repurposed objects.
2. Area Rugs
Place areas rugs outside your homes.
The best rustic-style patterns include plaid, geometric, and hobnail patterns.
3. Neutral-Tone Paint Colors
Use a soft color scheme. White paints would be traditional options but you can include cream colors, burgundy, burnt orange, and peach. However, use sparingly to avoid making the space too overwhelming.
You can use warm blues, moss green, and barn red on cabinets, paintings, hutches, and others.
4. Wall Tiles and Backsplashes
Add retro-style wall tiles like patterned tiles. Floral, weave, decorative, arabesque, and encaustic tiles would be great.
Install backsplashes behind open shelvings. Natural stone tiles are popular but you can also use ceramic and porcelain tiles. Moreover, travertine, limestone, and glass options would do great.
FAQs
What Flooring Is the Farmhouse?
Traditional farmhouses use hardwood floors to add warmth and a more natural look. However, more durable and cheaper options, like luxury vinyl planks and laminates, are becoming a trend. These come in wood-look options in tons of styles and designs, so you can still get that authentic beauty of hardwood but with a more durable option.

In addition, environmentally conscious customers also opt for linoleum farmhouse flooring. Tile has even become a great option for its extreme durability compared to other options. Tiles come in both stone and wood-look styles which is also great.

Lastly, more comfortable modern farmhouse flooring would include high-end carpet products that are more water and stain-resistant. Carpets provide dimension to your rustic home and are great for people with children.

What Flooring Do Chip and Joanna Gaines Use?
The owners of Magnolia Homes and also home renovator television stars, Chip and Joanna Gaines, used LifeCore's Adela Rich Request hardwood flooring. They installed it as the primary flooring in a 2,000-sq. ft home as a part of their project "The Preserve by Magnolia Homes in Waco Texas".

Do Farmhouses Have Carpets?
Of course, they do. Carpets are great for creating a warm and cozy farmhouse flooring that adds dimension to your space. They are also sound-absorbent and slip-resistant which makes them ideal options for kids.

However, durability is the main issue with carpets, so you need to look for something that is stain-resistant and waterproof. They should be able to handle high traffic too if you are installing them in your living room.
Final Thoughts
Farmhouse-style floors are a great way to incorporate affordable flooring into your home while creating a unique look that's easier to decorate. With the right colors and type of flooring combination, you can have a chic farmhouse that can make your friends go "wow"!
Our farmhouse flooring ideas here will surely give you that wow factor you're looking for. If you don't know where to start, asking for the help of a professional might be best for you.
Back to Top