If you are considering installing or replacing a deck, you are no longer limited to the options of wood or composite PVC. Aluminum decking is taking the market by storm as a long-lasting, strong, and easy-to-maintain decking alternative.
While the words "aluminum decking" may elicit thoughts of Cat on a Hot Tin Roof, this could not be further from reality. Aluminum decking actually stays cool under foot even in hot conditions, and is also fire resistant. It is lightweight but able to support heavy loads, and is all but indestructible.
That said, there is no denying that aluminum decking is one of the more expensive options on the market, and it isn't easy to install.
So how do you know if aluminum decking is right for you?
In this comprehensive guide, we will take you through the pros and cons of aluminum decking, the associated costs, installation, and maintenance processes, and also the best brands to look at if you do decide to invest in this innovative alternative deck flooring.
Quick Links
Already decided that you are a fan of aluminum decking and what to jump straight to the best brands? Here are our top picks.
What Is Aluminum Decking
Well, it is pretty much what it says on the tin. Aluminum decking is outdoor deck flooring planks made from aluminum. But what sets this decking apart is that it will pretty much last indefinitely, even in the toughest weather conditions, which can make short work of wood or composite decking options.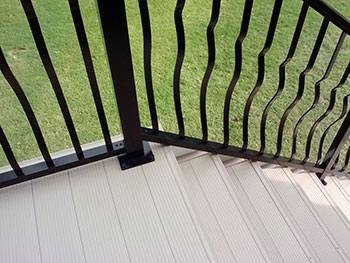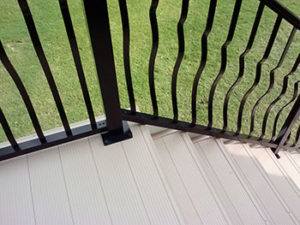 The material itself is both lightweight and strong. Most standard decks can hold weights of between 225 and 260 per square foot with ease.
The planks are also generally coated with fade-resistant and durable materials, such as polyurea elastomer, that help the deck retain its look. These finishes will also reduce slipping hazards and dampen any metallic noises.
While standard aluminum decks won't be damaged by water, it is also possible to get watertight aluminum decking. Watertight aluminum decking will keep whatever is underneath it dry. This makes it a great option for second-story or rooftop decks that also create a patio area underneath.
There are a variety of different plank designs available, including options that look like hardwood planks. Planks are generally six inches wide and come in lengths between 12 and 20 inches, but exact details depend on the manufacturer.
Aluminum Decking Pros
Longevity
Aluminum decking, as long as it has been anodized or coated, will last longer and look better in outdoor conditions than other popular decking materials, including wood. In fact, many manufacturers offer limited lifetime guarantees on their products, so you can be confident that your deck will last as long as you choose to stay in your home.

Low Maintenance
Aluminum decks are extremely easy to maintain, as they won't splinter, warp, crack, or otherwise become deformed, unlike most decks made from natural materials. While you will probably want to repaint your boards regularly to keep them looking fresh, they won't be damaged by UV rays. Mold and mildew are also a non-issue.
Cleaning can be done easily with a hose and a soft broom. Low-level pressure washing is also an option, though this is not recommended by all manufacturers as it can compromise the product's coating. Always read specific manufacturer's instructions for how to clean and care for your deck so that you do not inadvertently void your warranty.

Strength And Durability
While aluminum planks are light, they are incredibly strong. They can hold heavy weights in excess of 200 pounds per square foot, which is great if you plan to keep your grill on the deck. These planks are also scratch-resistant, so they should upld up well, even if under heavy traffic.

Safe
Aluminum decks are fire-resistant. They are also strong so they are unlikely to buckle under heavy weights.

Environmentally-Friendly
If you do decide to remove your aluminum decking in the future, they are recyclable, which means that they won't be sitting in landfills for years to come. Many decks are also partially made from recycled materials.
Aluminum Decking Cons
Expense
Aluminum decking will cost more than a wood deck, though how much more depends on the species of wood you are comparing costs with. Aluminum can cost up to three times as much as popular composite decking materials such as PVC.

Installation
While aluminum decking is not necessarily difficult to install, it does require specific tools, which may therefore require the services of a professional. In particular, the planks are difficult to cut and will require a carbide-tipped non-ferrous saw blade. This is not a tool that most DIYers have lying around.

Style
While many manufacturers will boast that they have a variety of aluminum deck floor styles, including options that look like hardwood, the reality is that you have much fewer style and color options that you would with wood or composite decks.

Sound And Temperature
While manufacturers can make aluminum decking that looks like hardwood, it won't feel like hardwood underfoot. However, aluminum decks tend to produce a relatively loud and hollow sound underfoot, which is a dead giveaway that the material is aluminum and not hardwood. Aluminum decks tend to stay cool even in hot temperatures, which can be an advantage.

Slippage
While most aluminum decks are treated with materials to make them anti-slip for human use, they can still be a slippery surface for pets.
Also if it gets icy, there is not much that will make the deck feel like anything but an ice rink.
Aluminum Deck Costs & Installation
There is no denying that aluminum decking is an expensive flooring solution, as it costs quite a bit more than other decking options.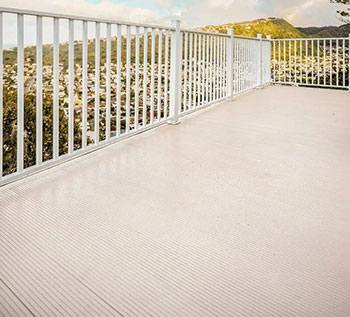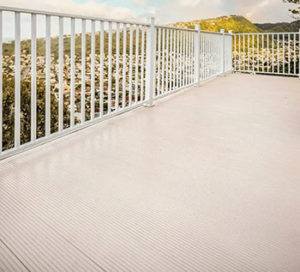 As is always the case, exact pricing depends on the quality and the brand that you choose, but you should be expecting to pay between $15 and $50 per square foot for materials, with average costs of between $25 and $35. This high cost is in part because most materials will need to be obtained from the manufacturer, as local DIY stores are unlikely to carry the bits and pieces that you need, unlike with other decking materials.
To put that in context, the average homeowner spends on $6 to $8 per square foot for wood decking depending on the type of wood. Composite decking alternatives also cost less, starting at around $5 per square foot.
Also consider that you are unlikely to be able to install the decking yourself. While the process is not vastly different from the process of installing a wood deck, special tools are required to cut the aluminum materials. For example, to cut the planks you will need a carbide-tipped non-ferrous saw blade.
Considering the cost of these tools and the expertise required, it tends to be cheaper to enlist the services of a professional. For this, you should expect to pay around $5 to $7 per square foot.
What does all that mean? Expect to pay upwards of $10,000 for a typical 300 square foot aluminum deck.
Aluminum Deck Maintenance
One of the advantages of aluminum decking is that it is easy to care for and maintain.
Quality aluminum decking comes pre-coated and should not have to be resealed. It should be impervious to rust, mold, and mildew, as well as insects and pests. You may wish to repaint every few years to give the deck a fresh lease on life.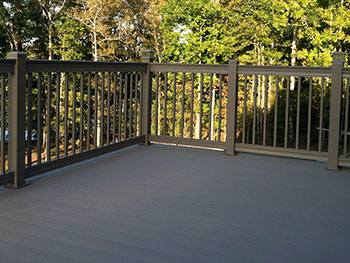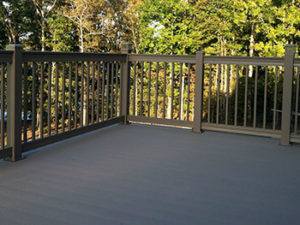 The decking is easy to wash with mild soap and a soft brush and can then be rinsed off with a hose.
While pressure washing is also a viable alternative, not all manufacturers recommend using a pressure washer, as it can compromise the finish coating. If you do choose to power wash, do so at a low pressure no more than 1,300 psi.
It is important to follow the manufacturer's cleaning instructions, as most aluminum decks will come with a limited lifetime guarantee, which means that it is guaranteed for as long as it is in the hands of the original purchaser. Naturally, you wouldn't want to do anything to void this coverage.
Most manufacturers suggest checking your deck over twice a year for loose screws or damaged areas so that repairs can be made before becoming larger problems.
Compare this with the process for cleaning and maintaining Ipe wood decking here.
Best Aluminum Decking Brands
Versadeck has one of the widest ranges of aluminum decking options available for residential use. Their decks come in eight color options, while most other companies are only offering three or four.
Versadeck planks are also designed to be waterproof with effective treatment, and feature a coating that prevents the deck from making a pinging noise when it is hit with raindrops. There are also watertight decking options available, which will also keep whatever is underneath your deck completely dry.
Versadeck offers planks that are pre-welded into modular pieces with built-in screw flanges for easy installation, even in tight corners. This allows for a standardized plan size and can ease the installation process.
Sales are made online and you can obtain a detailed quote, but they also have a comprehensive price guide available. They are one of the most expensive options on the market with decking starting from $25 per square foot.

This company has a long history in the commercial market, selling decking, railings, and drainage systems. Wahoo Decks and has more recently branched out into the residential market.
They currently only offer two residential lines: their standard Fortis aluminum decking system, and their premium AirdDeck system, which is waterproof and watertight– ideal if you want to keep whatever is underneath your deck dry. Both decking systems come with a lifetime warranty and are made with 50% recycled materials, which will appeal to the eco-conscious.
The benefit of the Fortis system is that it looks more natural, like a traditional wood deck, which will appeal to some buyers. Both decking ranges come in three color options: Artisan Clay, Granite, and Sandstone. Standard planks are two feet wide and can be cut to length.
Buy online through their website or visit this company's showroom in Georgia. Prices are available on request of a quote, but they are generally considered one of the most affordable options on the market.

Nexan has become one of the most popular brands on the market, offering a similar choice between standard aluminum decking and watertight decking that will keep whatever is underneath your deck dry too.
LockDry is their watertight system and comes in a Dakota Oak wood grain finish and six different color options. Their Nextdeck system has the same wood finish but only four color options.
If you are looking for a DIY solution, then Nexan is one of your best options, as it comes with a fastening system that makes it relatively easy to install the planks properly. You can also order your planks cut to size by sending a dimensional drawing of your deck, so that means less need for specialized tools. For this reason, specific prices are only available on request.
Compare these aluminum decking brands with PVC decking brands here.
FAQs
Does Aluminum Decking Scratch Easily?
Aluminum decking is highly scratch-resistant thanks to the powder coat that protects the aluminum. Of course, no material is 100% scratch resistant, and with enough use or a heavy and sharp enough instrument, it will scratch. But the coat–and any paint or other finish that you choose to apply–can also be touched up.

One thing to be wary of is snow removal. Always use a broom rather than a shovel to avoid damaging the deck.

Is Aluminum Decking Hot?
No, aluminum decking actually stays cool in hot weather conditions, and is even fire-resistant. This is because aluminum has more electrons than alternative decking materials, such as wood and plastic. This means that it distributes heat throughout the material in a stable way that prevents any one area from overheating.

Is Aluminum Decking Noisy?
While quality aluminum decking will have a casting applied to help dampen noise, aluminum decking can be noisy. Heavy footfalls will ring out, and you may also find that the deck produces noise when it rains.

What Is The Best Low Maintenance Deck Material?
Aluminum is the best low-maintenance deck material. It is not adversely affected by the elements, so it will not buckle or splinter like other materials. It is also impervious to insect attack and won't develop mold or mildew.

Aluminum decking is easy to clean, as it only requires soap and a soft brush and then rinsing with water.

What Decking Material Lasts The Longest?
Aluminum decking will potentially last forever. It will not be damaged or destabilized by outdoor weather conditions, and while you will want to repaint it to freshen up its appearance, it should maintain its structural integrity potentially forever.

Many aluminum decking brands come with a limited lifetime guarantee, so you can be confident that your deck will last as long as you choose to stay in your home.

How Do You Clean Aluminum Decking?
The best way to clean aluminum decking is to wash it down with a mild soap, scrubbing at any grimy parts with a soft brush. The soap can then be rinsed away with a hose.

You can also clean your deck with a pressure washer if you have one. However, many manufacturers don't recommend doing this regularly, as a powerful pressure washer may compromise protective coating.

What is aluminum decking, and will it increase the value of my home?
This decking type is made of aluminum planks that are perfect for any outdoor deck. It's an excellent outdoor material because of its durability, strength, lightweight nature, scratch-resistance, and ability to go against extreme weather.

Although any quality decking can increase the value of your home, aluminum is not a go-to for owners because of the limited choice of styles. It's not a smart idea to use it as your selling point. However, it's a high-quality option that is exceptionally durable and can withstand various weather conditions.
How do you install aluminum decking?
Although you can try to install this decking material yourself, it's a much better idea to hire professionals who excel at their job. The installation process is quite similar to installing wood decking; however, aluminum requires special tools and expertise.

If you decide to install it yourself, be prepared to invest in various tools and educate yourself on all the installation basics. In general, the planks aren't hard to lay, but there are rules you have to obey and numbers that you have to remember. Overall, it is much cheaper to get in touch with a professional.

How long does aluminum decking last?
Aluminum is one of the most durable, if not the most durable, decking material you can opt for. It doesn't have an expiration date and can last a lifetime. It's a highly durable alternative for your deck because it's not prone to damage, doesn't scratch easily, and it can resist various weather conditions.

Aluminum doesn't need special care to last a long time. You won't have to replace or treat it often, but you'll need to do repairs as necessary. Other than that, the maintenance is so simple that you'll wish you've always had it installed on your deck.

How much does aluminum decking cost?
This decking material is costlier compared to other decking alternatives. How much it will cost depends on where you buy it from, which style you choose, and the product's quality. On average, a square foot of this decking material will cost you between $15 and $50.

As you can see, it's definitely a higher cost than wood decking, but it's also a more durable one. Let's not forget that you have to consider the installation costs that vary from $5 to $7 per square foot.

Where can you buy aluminum decking?
There are numerous online and physical stores you can turn to when looking for this decking type. Although we researched multiple sellers, our top three choices are Versadeck, Wahoo Decks, and Nexan.

Versadeck is a company known for its wide variety of decking styles, colors, watertight options, etc. Wahoo Decks offers only two options, but the brand is well-known for its high-quality materials and affordable prices. Finally, Nexan is the best choice for people who prefer to install their decking without professional help because their planks come with a fastening system.
The Verdict
Aluminum decking is changing the market when it comes to outdoor decking. No longer are you forced to choose between natural wood decking, which is difficult to maintain and often buckles under the elements, or composite alternatives such as PVC, which tend to look and feel cheap.
Aluminum decking is an extremely durable alternative that won't be affected by weather conditions or other outdoor threats such as insects and mold. In fact, it is so durable that it can potentially last forever.
While it is an attractive and safe decking option, it is also more expensive than the alternatives. However, part of this expense can be offset by the fact that you should never need to replace the deck.
Don't be surprised if you see aluminum decking becoming one of the most popular decking options on the market over the next few years.
Have you installed an aluminum deck? Share your experience with the community in the comments section below or via our social media.
Back to Top