Just when you think you've made your most difficult flooring decisions, you come up against the stairs, and not just any stairs—the stairs leading down to the basement.
There are a lot of things to consider when choosing the stairs for your basement. Making the wrong choices can make the entry to your basement feel like it belongs in a horror movie, or worse, be a horror for you in the future as the stairs don't stand up against the wear and tear.
In this article, we will go through all the important things to consider when choosing the flooring for your basement stairs. We will also recommend our top five flooring options for basement stairs and when you should be thinking about using each.
The Challenges Of Basement Stairs
There are a lot of things to consider when deciding what type of flooring is going to work best on your basement stairs

Structure
First and foremost, what are your basement stairs actually made of?
Are they made from solid concrete that is structurally sound but a bit uneven underfoot? If this is the case, flooring that is more sensitive to an uneven substrate is going to be very challenging.
Are your basement stairs made from wood? If so, perhaps you will be able to refinish the stairs and have some nice hardwood flooring. But there is also the question of whether the moisture level in the basement area of the home has undermined the integrity of the wood. Yes, that is why there is always a squeaky stair.
If this is the case, you may need to decide whether your floor needs reinforcing as well as redecorating.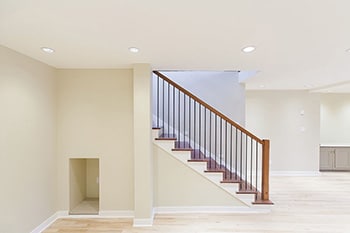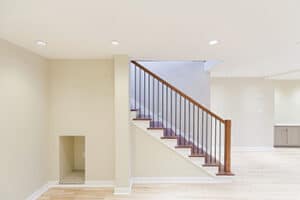 Safety
Safety is always a bigger concern with stairs than it is with other floors in the home. The uneven surface means that trips and falls are more likely, and may also be more painful when they do happen.
You will want to think about flooring options that aren't slippery and offer a little bit of extra traction. This is especially important if they are likely to be in a space where moisture is tracked, causing a further slip hazard, or if you have anyone with mobility issues using the stairs.

Traffic
Are your basement stairs a high-traffic area, or something that is only used on occasion?
This will make a big difference in how durable you need the flooring material to be.
It will also make a difference as to whether you need to worry about choosing a material that is noise-muffling.
Do you want to hear trampling feet coming up and down the stairs while watching TV or having dinner in the dining room? Basement stairs are usually close to these communal areas of the home.
So, what you use your basement for matters a lot. If it is just a storage area that is used quite rarely, you won't have the same traffic and noise concerns as you will if you have converted your basement into an extended living space that is used daily.

Style
Basement stairs will connect a living space in your home with your basement, each of which might have very different flooring options. So you will want something that ties the two together, or at least doesn't clash badly with either.
For example, if you have hardwood floors in your living space and a concrete floor in your basement, carpeted stairs might look quite out of place.

Beyond Flooring
But remember, don't just think about flooring when it comes to making your basement stairs safe, functional, and attractive.
Lighting, the color you decide to paint the walls, and the style of the hand banister will all have a big impact on how the staircase feels.
And this is yet one more thing that will need to be coordinated. Your staircase might look quite funny if you pair a redwood banister with a white oak finish on the floors.
Best Flooring Options For Basement Stairs
Carpet
Pros
Affordable
Grippy
Cushioning
Noise-dampening
Feels warm
Lots of style options
Cons
Short lifespan
Difficult to maintain
Not appropriate for moist areas
Regardless of what you have underneath, carpet is one of the best options when it comes to basement stair flooring. This is because it is grippy and adds a little bit of cushioning against hard edges if someone does have a fall.
Carpet also dampens noise, so it won't feel like an impending stampede if any members of the family, two- or four-legged, decide to come running up the stairs. It can also make the entrance to a cold area of the home feel a little warmer.
But, while carpet is also an affordable option, depending on the style you choose (because there are many options), it has a relatively short lifespan of only about 10 years, so you can expect to need to replace the carpet flooring on a regular basis.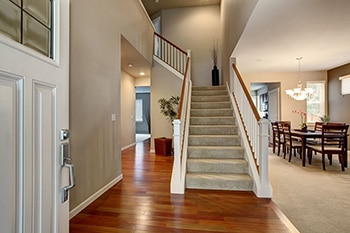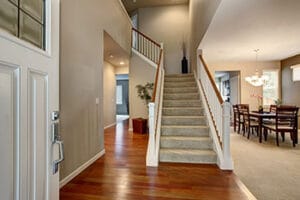 Carpet also requires a lot of maintenance. It needs to be vacuumed regularly in order to prevent dust and allergens from living in the fibers. Carpet also shouldn't be laid in areas with high moisture levels, as this can encourage the growth of mold, which is also not good for health.
But if you aren't dealing with moisture issues, and you are willing to commit to regular cleaning, carpet is one of the most affordable and safest flooring options for basement stairs.

Solid Wood
Pros
Classic style
Long lifespan
Adds value to your home
Easy to maintain
Relatively soft
Cons
Noisy
Not good with moisture
Can wear under heavy foot traffic
If you are lucky enough that your basement stairs are made from solid wood, then you have a lot of options. You can resurface and rejuvenate those wooden floors and you will have stylish basement stairs that add value to your home.
You can also install new wood floors, choosing either old wood planks or engineered hardwood planks, which will do better in moist conditions. But whatever you choose, it should not be a floating floor, as this can be dangerous, and should always be nailed and glued down by a professional.
Solid wood stairs could last you a century if you take care of them, and they are relatively easy to maintain.
Wood is pretty grippy and, depending on the type of wood, it can be relatively soft underfoot. Though certainly more painful to fall on than carpet, it won't do anywhere near the same damage as concrete or tile.
But while wood floors are durable, they do tend to scuff and discolor when they see a lot of foot traffic, so you can expect to see the wood starting to look older sooner in the main walking aisle. You can protect your wood floors from this wear by adding a carpet runner.
But just like carpet, wood floors don't do so well in places that have a lot of moisture, as this causes the wood to expand and contract. This can leave your stairs looking ratty and also result in the infamous squeaky step. Plsu, wood does nothing to dampen the sound of foot traffic.
Nevertheless, wood is an option that looks good no matter where it is in the home, so as long as you aren't dealing with moisture, you can have nice wooden stairs leading down to your basement. And, with proper care, they should last a lifetime.

Tile
Pros
Water-resistant
Durable
Easy to clean
Lots of style options
Non-slip options available
Cons
Challenging to install
Hard and cold
If you need durable stairs that will hold up well in the moist conditions of a basement, then tiles can be a great option. They are highly resistant to water damage, durable, and there are hundreds of style options, so you can achieve any look that you wish.
While tiles are a relatively affordable option in terms of material, they are difficult to install, especially somewhere like a staircase, so expect to pay for a professional installer.
In terms of not being damaged by water or mud, tiles are a great choice if the basement stairs are likely to see these things tracked over them. They won't get damaged, and they are easy to clean. However, tiles can be slippery. So make sure you choose non-slip options.
The other concern with tiles is that they are hard and cold. This means that if someone does have a fall on the stairs, it is likely to be painful.
Nevertheless, if the proper care is taken, tiles make an excellent flooring option for basements that will last, and you can achieve pretty much any look you desire.

Laminate
Pros
Affordable
Durable
Easy to maintain
Lots of style options
Cons
Difficult to install
Susceptible to moisture damage
Laminate flooring can be a good alternative if you are looking for an affordable option. It is versatile and durable and easy to maintain. There are a lot of style options, so you can achieve whatever look you want.
But installing laminate flooring on your stairs is not the same as installing it elsewhere in your home. You should never install floating stairs on staircases, as it can be dangerous. The planks will need to be glued or nailed down. In fact, it is best to speak to a professional installer when it comes to stairs.
The floor also won't hold up in moist conditions, much like wood floors, so shouldn't be installed anywhere there is a lot of moisture in the air. It can also sound quite hollow, so won't reduce traffic noise.
But, if you are looking for an affordable hard floor option, laminate can transform your staircase.

Paint
Pros
Affordable
Variety of options
Protects the concrete
Cons
Needs to be repainted regularly
Hard and offers no cushioning
If you are dealing with concrete stairs, you could go for the option of painting the concrete. This is a very affordable way of giving your staircase a modern, practical but bright feel.
This is only really an option if your floor concrete is in good condition, as while the paint will protect your concrete a little, it can't fix cracked or damaged concrete. An epoxy-based paint will provide greater protection than other options.
It is then important to choose a paint that is non-slip, to provide maximum stability on the stairs, especially since there is nothing to cushion the blow of any falls.
You should also expect to need to repaint your concrete steps every year.
While there might seem like there are a lot of downsides with paint, if you want to revitalize a staircase that you don't use often, and do it on a budget, it can be a fast and effective way to get the job done.
Stair Glossary
There are a number of important terms that you should know when installing flooring on stairs, or when speaking to professionals about your project.

Stair Tread
The tread of the stairs is the horizontal pieces on which you stand when walking up and down the stairs. They are the part of the stairs that you "tread" on.

Stair Riser
The riser is then the vertical part of the stair that causes the level of the floor you are walking on to rise.

Stair Nose
The nose of the stair is the part of the tread that extends beyond the riser. It is often on the nose that additional non-slip strips are placed to make stairs safer. When the nose protrudes significantly over the riser, it is often called a bullnose step.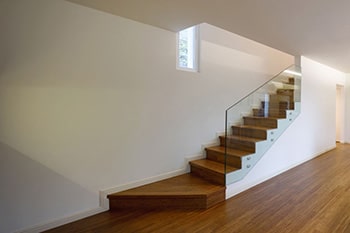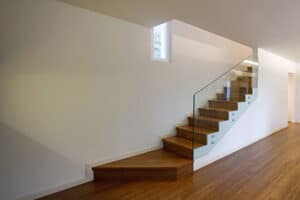 Going
The going of a flight of stairs is the horizontal length of the stairs from the face of the first to the face of the last riser. An individual going is measured from the face of two consecutive risers. This should be a minimum of 22 cm in domestic installations.

Rise
The vertical height of a staircase measured from finished floor to finished floor. The gradient of the staircase is the ratio of the going and the rise.

Landing
A resting place of a large step anywhere within the staircase. They are often used when stairs need to change direction.
FAQs
What Is The Best Flooring To Put On The Stairs?
Carpet is one of the best choices for stairs, as it is grippy and soft, and offers cushioning if anyone is to have a fall. Dense, low-pile carpet is the best choice, and a wool blend will reduce allergens. But carpet floors need regular cleaning.

What Is The Best Carpet For Stairs?
Dense carpets are the best for high-traffic areas like stairs, so Berber carpet or loop carpet is always a good option.

Should Stairs Match Upstairs Or Downstairs?
Ideally, stairs should match both your upstairs and downstairs floors. But if you have to choose, in the case of basement stairs, go with matching your upstairs. If you are dealing with wood flooring that is a different color upstairs and downstairs, you can mix the wood species on the stairs to blend or mosaic the two styles.

Can you change the basement stairs?
Yes, you can change the basement stairs. If your stairs are old, wobbly, or missing steps, you should consider replacing them. In most cases, repairing the stairs will do the job, but that's not an option for everyone.
 
You won't always have to replace the entire staircase. For example, if one or several individual stairs are broken, you can fix only those. But if the damage is extensive, you should get in touch with a professional and ask for their opinion.

How can I make my basement stairs better?
Your main priority is to have safe stairs that are stable to step on, not broken, and not dangerous for anyone in your household. If you want to improve the appearance of the stairs in your basement, you can easily do that by introducing new materials.
 
For example, hardwood and wood stairs are a great way to add value to your home and amp up the appearance of your basement. Hardwood is an investment, but it looks so luxurious. Another thing you can do is cover the stairs with a gorgeous carpet.

How do you open basement stairs?
Tearing down walls to open basement stairs is a great, affordable idea to make your basement more beautiful. You'll get a brand new room and a lot of extra space by accessing your basement.
 
The procedure can be tricky for people who are doing it for the first time and requires a lot of research. If you want to open basement stairs, you should contact a professional and ask them to help you with the procedure. Otherwise, you can damage electric cords in the process of tearing down walls.

How do you finish basement stairs?
If you already have staircase construction in your basement, you should think about finishing it. This will make the stairs usable and safe, and you'll reach your basement much more easily. Of course, what kind of finish you opt for depends on the construction material, your budget, space, and your wishes.
 
In most cases, the base of the stairs is made of wood. From there, you can cover the wood with carpets, stair runners, paint, or varnish. Concrete stairs can also be covered with carpets, runners, and wood.

Can you move the basement stairs?
If the house plan allows you to move the stairs that lead to your basement, you can move them. It all depends on the location of the new staircase and whether your stairs are finished or not. Moving them completely can be much costlier than working on the existing stairs.

But if the existing stairs aren't functional and are in the way of other rooms, then you should contact a professional and get their opinion. Moving them won't always be an option, but it's best to consult someone experienced in this field.

How much does it cost to build basement stairs?
Building and installing basement stairs can cost between $1,000 and $3,000. Of course, these are only estimated numbers, and the final cost depends on the materials you use, the cost of the builders, the size of the stairs, etc. Many factors will influence how much you'll pay; that's why it's best to get quotes from several companies.

Wood is one of the most common materials used for basement stairs because it looks good, it's durable, and it comes in many styles, shapes, and colors. Unfortunately, concrete and metal are more expensive.
The Verdict
Choosing the flooring for staircases can often be a second thought, as it seems less important than other areas of the home. But, these transition spaces can be some of the most difficult flooring challenges in your home.
This can be especially true when it comes to the basement stairs, as you may be transitioning between two very different spaces, and you might also be dealing with excessive moisture in the air coming up from the basement.
That means choosing the right flooring is a specific challenge for each home, as it depends on what your stairs are made of, how your basement and ground floor are decorated, what you use your basement for, and what kind of foot traffic the stairs are likely to see.
Carpet and hardwood are both excellent choices. Carpet is soft, noise-dampening, and adds cushioning in the case of a fall. Wood adds style and value, is durable, and is softer underfoot than other options such as concrete and tile.
Nevertheless, in the right circumstances, concrete, tile, and laminate are also viable floor options for basement stairs. It all depends on your home.
Have you recently refurbished your basement staircase? What did you use? Do you have any tips for others? Share your experiences in the comments section below.
Back to Top