Are you looking for world-class vacuum cleaners for carpets or hard floors? If so, then you'll want to read our Riccar vacuum reviews. Riccar is a top vacuum cleaner brand in the industry because they offer a variety of vacuum types. Whether you want a commercial vacuum cleaner or an upright machine, Riccar has them all.
But how do you choose the best Riccar vacuum for your cleaning tasks? Today's article will help you pick the right product to clean your floors. There is even a Riccar vacuum specifically designed for pet owners and allergy sufferers.
If you'd like to find out more about Riccar and how to choose the best vacuum out of the brand's various ranges then refer to our buyer's guide below. You'll learn all about the technology Riccar uses and the different types of vacuums they offer. Keep reading to find out more!
Product Quick Summary
Best Overall – Riccar R25 Standard Clean Air Vacuum
Best for Pet Owners – Riccar Tandem Air Premium
Best Lightweight – Riccar Prima Power Team Vacuum
Best Cordless – Riccar Cordless Super Light
Best Value – Riccar Vibrance Deluxe
Review Of Riccar Vacuums
1. Riccar R25 Standard Clean Air Vacuum – Best Overall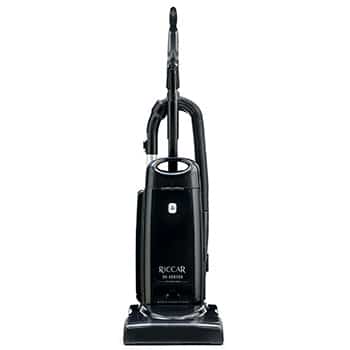 Image Credit: www.riccar.com
The Riccar R25 standard clean air vacuum is ideal for homeowners on a budget. It's an affordable vacuum cleaner with impressive cleaning abilities. This is an upright vacuum cleaner, so it's easy to store. It also has a flexible head so you can clean under low-profile furniture.
Product Key Features
Weight: 18.5 Pounds
Motor: 11 amps
Filtration: Electrostatic and fiber
Bag: Self-cleaning HEPA Media
This Riccar vacuum cleaner has a full bag indicator that signals when the bag is ready to be emptied. There's a carry handle on the top for when you need to lift your vacuum up to move it or carry it to another room.
What's more, there's an adjustable brush roll that makes it suitable for all types of floors. This vacuum is versatile and works great for every room in your home.
Pros
Doesn't damage carpets
Best for allergy sufferers
Comes with multiple tools
Cons
Might be too heavy for some
May cause static buildup on carpets
Many users of the Riccar R25 standard clean air vacuum appreciate how long the cord and hose are. It also has a bag that's easy to install and remove. Lastly, the vacuum has wheels, so it will glide over any floor type with ease.

2. Riccar Tandem Air Premium Pet – Best For Pet Owners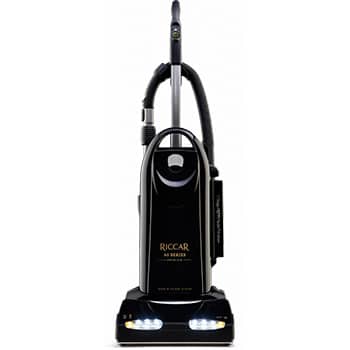 Image Credit: www.riccar.com
If you're a pet owner, then you'll want the Riccar Tandem Air Premium vacuum cleaner because it's powerful enough to easily remove stubborn pet dander from floors. This appliance has a dirt sensor that detects dirt in your carpet fibers, so you'll never miss a spot. It has dual motor technology to pull up any dirt deeply embedded into your carpets.
Product Key Features
Weight: 22.5 Pounds
Motor: 12 Amps
Filtration: 7 stage system
Bag: Self sealing bag
Inside this vacuum cleaner is a granulated charcoal filter that eliminates foul pet odors when vacuuming dander. Furthermore, it has a six position height adjustment so you can select a setting to fit your carpet's specific pile height.
The vacuum has 100% sealed filtration, which makes it ideal for allergy sufferers. You'll also appreciate that this Riccar vacuum comes with extra tools such as a crevice tool and deluxe dusting brush you can use to clean in corners or in between furniture. You can also get a Fur Get It pet tool to remove stubborn pet hair from floors and upholstery.
Pros
Has an LED headlight to see dirt easier
Surface selector for carpets and hard floors
15 foot cleaning reach
Comes with extra accessories
Cons
Can be heavy for some users
May experience problems with the belt at first
Overall, this vacuum is perfect for pet owners or users with allergies who want a clean home without any hassle.

3. Riccar Prima Power Team Vacuum – Best Lightweight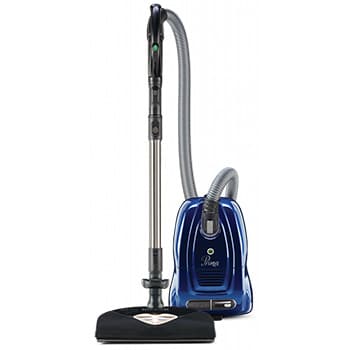 Image Credit: www.riccar.com
If you're tired of pushing around heavy vacuum cleaners, you'll love how the Riccar Prima Power Team machine is lightweight and easy to maneuver. It also has a 6.5 foot hose so you don't have to move the vacuum around much to reach tough-to-clean areas of your floor like corners and behind and underneath furniture.
Product Key Features
Weight: Not specified
Motor: 12 Amps
Filtration: HEPA Media filtration
Bag: Full bag indicator
Dust is 100% contained in this vacuum cleaner thanks to the sealed filtration system. This makes the vacuum ideal for allergy sufferers because dust won't shoot out of it when you're cleaning.
In addition, the vacuum's metal brush roll removes stubborn dirt and is designed to last many years. This machine removes and stores dirt and dust with ease. Another unique feature is the variable speed control to adjust suction and air flow speed.
Pros
Durable construction
Variable speed controls
Easy to move around
Lightweight and user friendly
Cons
May be difficult to clean for some users
May be expensive for those on a budget
Overall, the Riccar Prima Power Team vacuum is well worth the price because of its unique features and lightweight, easy-to-use design.

4. Riccar Cordless Super Light – Best Cordless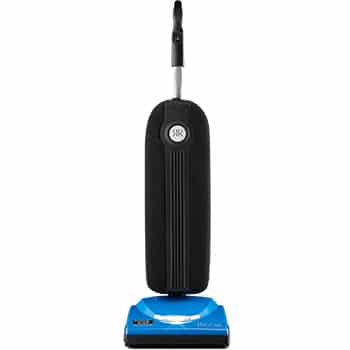 Image Credit: www.riccar.com
This Riccar vacuum cleaners is a cordless appliance, making it fully portable. This allows you to use the vacuum cleaner anywhere without the need for a power outlet. You can even use this vacuum to clean the inside of your car or outside entertainment area.
Product Key Features
Weight: 11 pounds
Motor: 312 motor watts
Filtration: HEPA filtration
Bag: HEPA media bag
Since this is a cordless vacuum cleaner, it runs on a 44 volt lithium ion battery with a run time of 50 minutes. There is a light indicator to tell you when it's time to charge your vacuum.
It also comes with a squeegee so you can clean bare floors such as marble or porcelain tiles and a durable chrome brush roll.
Pros
Ideal for allergy sufferers
Durable construction
Lightweight
Self-sealing vacuum bag
Cons
Run time may be too short for some users
Takes a while to charge
This lightweight vacuum cleaner can either be carried or pushed across the floor using its integrated wheels. It even has headlights so you can see dirt clearly in hard-to-reach spots to ensure you don't miss anything.

5. Riccar Deluxe Clean Air – Best Value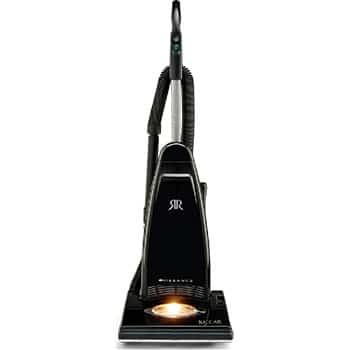 Image Credit: www.riccar.com
This product is another upright vacuum cleaner from Riccar offering a superior clean. The appliance uses clean air technology and has a self-sealing HEPA bag so dust won't escape the canister. Plus, it has an ultra bright LED headlight so you can see dirt clearly to ensure you don't miss any spots.
Product Key Features
Weight:19 pounds
Motor: 11 Amps
Filtration: HEPA filter
Bag: Self-sealing HEPA Media bag
The Riccar Deluxe Clean Air vacuum comes with additional cleaning tools such as a dusting brush, crevice tool, and upholstery tool. These accessories allow you to clean different types of surfaces easily.
It also has an electronic full bag indicator that lets you know when it's time to empty the vacuum bag. Lastly, it has a long 35-foot cord so you can reach floors throughout your home without changing power outlets.
Pros
Self-adjusting nozzle
35-foot cord length
Has rubber wheels
Comes with a bare floor squeegee
Cons
May be heavy for some users
Doesn't have a dirt sensor
Overall, the Deluxe Clean Air vacuum has the best value on our list because it has useful features such as a bare floor squeegee to clean hard floors and rubber wheels on the vacuum to make it easy to move the vacuum across your floor.
Buyer's Guide For Riccar Vacuums
Now that you know more about the best Riccar vacuums on the market, how do you choose the right one for your needs? This buyer's guide will help you with your purchase decision! In this section, we'll talk about the different types of Riccar vacuums you can get and the type of technology the brand uses in their vacuums.

Riccar Vacuum Technology
Most vacuum cleaner brands use either clean air or direct air technology. These types of vacuums have specific cleaning abilities. Here are brief explanations on both types of vacuum technologies and how they work. It should be noted Riccar uses both clean and direct air for their vacuum cleaners.
Clean Air
Clean air vacuum cleaners suck air into a filtration system along with all the dirt from your floors. This is the most common motor type, and many well-known vacuum brands use it, such as Kenmore, Hoover, and Dyson.
A clean air motor is ideal for advanced filtration and works best with vacuums with attachments. On the other hand, a clean air motor doesn't have as much suction power as a direct air motor. They don't produce as much air flow, which may limit cleaning performance on carpets.
Direct Air
Vacuums with direct air technology are excellent for cleaning carpets and rugs with various pile heights. This type of vacuum agitates carpets fibers to release dirt particles from them. The motor uses a fan to blow the dirt into the filters.
A vacuum with a direct air motor will have a bag that will inflate when you turn the appliance on. It delivers excellent cleaning performance because of its high air flow rate, especially when combined with a quality brush roll.

Types Of Riccar Vacuums
Canister: Riccar offers quality canister vacuum cleaners with powerful motors and easy maneuverability. All the canister vacuums have HEPA filters and flexible heads. They are lightweight and easy to carry.
Upright: The brand's upright vacuum cleaners have streamlined designs for easy storage. You can find the upright appliances in the Tandem, cordless, and lightweight ranges.
Speciality: The brand's specialty vacuum cleaners are available in the handheld, cordless, and Tandem models. These vacuums are designed to clean small, stubborn messes or upholstery.
Central: A central vacuum cleaner is installed in a home as a semi-permanent fixture. When dirt is sucked up through the vacuum pipe, the debris is disposed of through tubing installed inside a house's walls. Riccar has two central vacuums: Deluxe Hybrid Central and Standard Hybrid Central.
Riccar Vacuum Ranges
Tandem Air: Riccar introduced vacuums with Tandem Air technology in 2004, and they were the first vacuums to use two motors for powerful carpet cleaning capabilities. These vacuum cleaners are ideal for deep carpet cleaning, and they have multiple layers of HEPA filtration.
Lightweight: In the lightweight range, you'll find vacuums weighing between 8 lbs and 11 lbs. Even though the vacuums in this range are small and lightweight, they don't compromise on suction power.
Clean Air: These vacuums in Riccar's range have HEPA media filtration, so they're ideal for allergy sufferers. They also come with a variety of accessories to clean different types of surfaces.
Commercial Upright: For workshops, warehouses, or office environments, you'll want to buy a commercial upright vacuum cleaner from Riccar. They have powerful motors, and they don't take up much storage space. Furthermore, they have flexible heads so you can clean under low-profile furniture easily.
Pet Owners
Do you have pets that shed hair all over your carpets and upholstery? If so, you'll need a vacuum cleaner with powerful suction and quality brush rolls so you can remove pet dander easily. The best vacuum for pet owners is the Riccar Tandem Air Premium because it has dual motors for exceptional cleaning performance.

Allergy Sufferers
Allergy sufferers will benefit from Riccar's vacuum cleaners with self-sealing HEPA bags. These bags trap dirt, pet hair, and dust inside the vacuum so it doesn't shoot out when you're cleaning.
You may want to try the R25 Standard Clean Air upright vacuum for your cleaning tasks, as it has an integrated self-sealing HEPA bag.

Size
If you don't have plenty of storage space or you live in a small apartment, then you must consider the size of the Riccar vacuum you choose. There are handheld varieties for you to choose from or upright vacuums that fit well inside cupboards and closets. The Riccar canister vacuums are also compact so they're easier to store.

Weight
You don't want to push around a heavy vacuum while you're cleaning because it may put strain on your back and arms. You want a vacuum cleaner light enough to move around that will glide easily over your floors. There are lightweight vacuum cleaners that Riccar offers that also have wheels so they're easy to move around.

Maneuverability
Sometimes it can be difficult to clean under low-profile furniture, especially if you don't have the right type of vacuum. Choose a vacuum cleaner with a flexible head so you can clean under furniture easily. Or choose an appliance with nozzles instead so you can clean out tight corners or in between upholstery.
FAQs
How long does a Riccar vacuum cleaner last?
Riccar vacuums can last between 7 and 8 years if you take proper care of them. This is the average service life of a vacuum cleaner. The Riccar vacuum cleaners are made with premium materials that won't break easily over time.

On the other hand, if there is a part that breaks on your Riccar vacuum, you can replace it. There are online stores like Amazon that sell Riccar vacuum parts. Brick and mortar shops also sell Riccar parts, namely Walmart.

Do Riccar vacuum cleaners have warranties?
Yes, every Riccar vacuum cleaner is covered by a warranty. However, you will have to adhere to the brand's warranty policies if you want a replacement or repairs on your appliance. Find out more about Riccar's vacuum cleaner warranties here.

Can I buy Riccar vacuums on Amazon?
No, you won't be able to buy a Riccar vacuum off of Amazon because the site doesn't stock them. However, you can buy parts, accessories, and filters from certain suppliers on Amazon. If you want to buy a Riccar vacuum, you'll have to purchase one from the official Riccar site.
Final Thoughts
Still not sure which Riccar vacuum to buy? We recommend you get the Riccar R25 standard clean air vacuum. It's affordable, and it has unique features such as a self-sealing HEPA bag, a full bag indicator, and a powerful 11 amp motor.
If you have any comments or firsthand experiences with Riccar vacuums, please post them below or share your pictures via our social media.
Back to Top