PVC is a composite material that's become a popular product to use for decking because of its low maintenance and ease of installation. Many homeowners prefer PVC decking instead of hardwood floorboards because PVC is resistant to mold and pest damage. It also comes in a variety of styles and colors for patios, swimming pool decks, and balcony decking.
There are many PVC decking brands and products on the market, so how do you pick the best type to suit your requirements? That's what I'll be covering in today's article. I'll be giving you short overviews of the top five best PVC decking brands for you.
Find out more about which products you shouldn't use and how to maintain your PVC flooring by reading the guide below. Refer to the frequently asked questions at the bottom of the article to find out more about PVC decking costs and durability.
What Is PVC Decking?
PVC decking is made entirely of polyvinyl chloride and doesn't contain any natural wood. As a result, it's highly resistant to rot, scratches, and fading. Since there are no wooden components in the decking, it won't swell when exposed to water.
You can get PVC flooring that's made from 100% recycled plastic, so it's sustainable and saves companies from chopping down trees for planks. Additionally, if you want to change your decking, you can recycle your old PVC flooring.
There are two types of PVC decking materials to pick from: capped and uncapped. The capped boards simply have an extra layer of protection for higher scratch resistance, and they have a longer warranty period.
PVC decking comes in a variety of widths, lengths, and profiles depending on the brand you choose to buy from. There are also many color options and finishes available. High-quality brands will make PVC boards that have realistic wooden finishes.
So now that you know what PVC decking is, what are the best brands on the market? Take a look at the next section below to find out.
Best PVC Decking Brands
AsterOutdoor Interlocking Decking
AsterOutdoor interlocking decking boards or blocks are dark brown in color, which goes well with neutral-toned backgrounds including white. I love these decking tiles because they're easy to install. Thanks to the interlocking technology, you can assemble and disassemble this decking quickly and easily.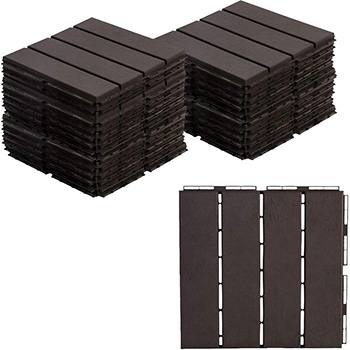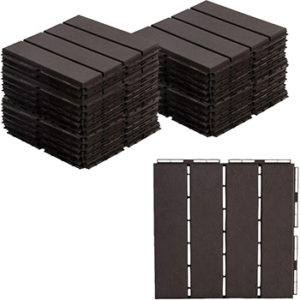 Features And Considerations
The AsterOutdoor decking has a slip-resistant surface, so it's perfectly safe to use for pool or boat areas. The grooves between the boards allow water to drain easily from the surface. This prevents flooding and mold growth.
These PVC decking boards are made with durable materials that are weather-resistant, making them a better alternative to hardwood decking. This is because the PVC material won't rot over time when exposed to water. The AsterOutdoor PVC decking is stain-resistant and won't snap or tarnish.
Customer Satisfaction
Homeowners love how versatile the AsterOutdoor PVC deck boards are, because they can be installed in gardens, outdoor showers, and even in playground areas.
These boards are easy to clean, so they won't require much of your time. Some people even use the AsterOutdoor decking to easily wheel bikes into garages or trucks.

Pandahome PVC Patio Decking
If you want to enhance the aesthetics of your home's exterior, then you'll love Pandahome's PVC decking. These PVC boards look like genuine wood due to their elegant dark finish and realistic wooden patterns.
I always recommend products that are easy to install, so you'll appreciate the interlocking technology these boards provide.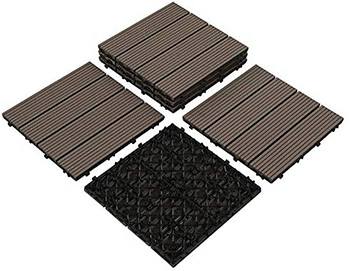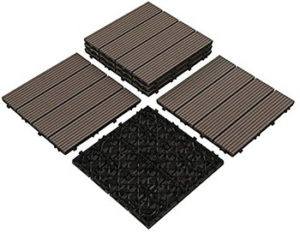 Features And Considerations
Pandahome PVC decking is made with durable, stain-resistant material. This PVC decking is designed to withstand the harshest of environments, so it won't crack, bend, or snap over time. Additionally, there's a grid that you install beneath your decking boards for proper drainage when it rains.
You can install the Pandahome decking over any type of flooring including concrete, wood floors, and even carpets. These boards have a four-way interlocking mechanism, so you can install them in any pattern you like.
Customer Satisfaction
This is another PVC product that requires minimal maintenance. Homeowners also love the color of these decking boards, which create a stunning contrast when paired with white walls.
These decking boards are ideal if you have active animals because they're also scratch-resistant. The Pandahouse decking is versatile too, so you can install it around pools, gardens, patios, and more.

Domi Outdoor Living Decking
The Domi Outdoor Living deck tiles have a different aesthetic than your standard PVC decking. This product comes in a dark gray color, which adds a unique aesthetic to your outdoor environment. You can also install the tiles in any pattern you like and, because of the interlocking feature, you can change your PVC decking easily.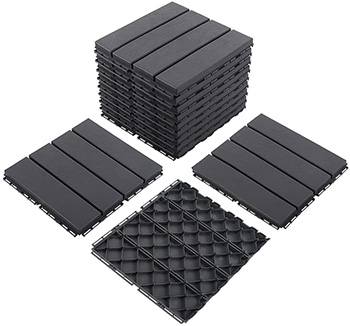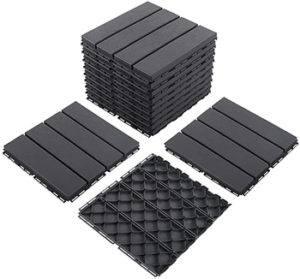 Features And Considerations
Domi designed these outdoor PVC decking tiles with easy click connections. This means you don't need any power tools, nails, or screws to assemble the tiles. Since these are made with durable PVC material, the Domi decking can withstand UV rays, and it's water-resistant too.
These are lightweight tiles that are easy to maintain. Simply wash them down with water from the hose or mop them with a mild detergent. The Domi decking can be used for any outdoor flooring such as patios, under gazebos, around pools, boat houses, and even outdoor showers.
Customer Satisfaction
Homeowners use the Domi decking for the inside and outside of their homes, and many of them are highly impressed with the look and feel of the tiles. They look classy and are extremely affordable. So you can renovate both your outdoor or indoor flooring and you won't break the bank, because Domi PVC decking is economical.

RevTime Decking
RevTime decking tiles are perfect for outdoor pool areas because they have a non-slip surface. Lines across each board prevent you from slipping when you get out of the pool. I personally think these tiles would also work well for patios and balconies.
These PVC decking tiles come in an elegant gray color that will make your outdoor area look fantastic.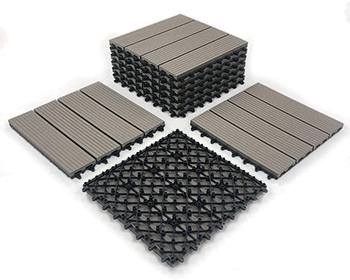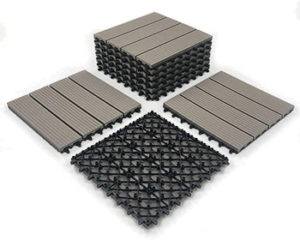 Features And Considerations
The RevTime decking is another product that uses interlocking and snapping technology. You don't have to use any tools, nails, or glue to install these tiles. This makes it easier for you to assemble or disassemble the RevTime decking, so you can change up the look of your flooring without hassle.
This material is made with high-quality plastic and wood composite that's also non-toxic. The PVC composite material is durable, so it won't scratch, bend, crack, or tarnish even in the harshest of environments.
Cleaning these PVC deck tiles is easy. You can either rinse them with hose water or use a mop to keep them clean.
Customer Satisfaction
Many people use the RevTime decking for pool areas or even for comfortable flooring for their pets. They're comfortable to walk on and can be used both indoors and out. There are homeowners who've used RevTime decking for their garage floors and for their laundry rooms.

YuPaoPao Outdoor Decking
If you're tired of traditional-looking wood decking, then you might love the YuPaoPao outdoor PVC flooring. These decking tiles come in a reddish-brown color that works well for driveways and patios. You can also install the tiles around your pool or entertainment area.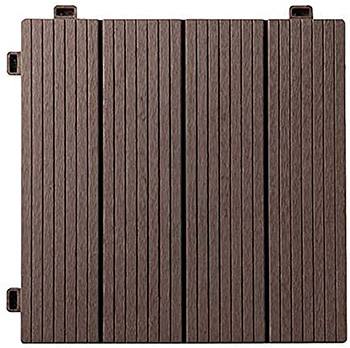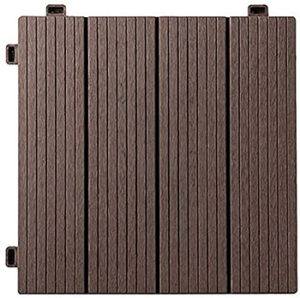 Features And Considerations
The YuPaoPao PVC decking does not have a wooden finish. Instead, these tiles look like stone but are actually lightweight and easy to install. With their interlocking technology, you don't need tools or nails to install them.
You'll also appreciate the durability of these PVC decking tiles because they won't corrode, and they're waterproof too. The color won't fade even when exposed to UV rays each and every day. Cold, heat, and rain are no match for the YuPaoPao decking.
Customer Satisfaction
The YuPaoPao decking tiles get high ratings from homeowners because of both their aesthetics and their durability. These tiles work well for all types of outdoor flooring such as pools, greenhouses, barbeque areas, and boathouses.
Types Of Decking Products To Avoid
Wooden Decking Materials
Maintenance is one of the biggest issues when it comes to wood materials. If you don't use the correct treatment for your outdoor wooden decking. it will start to crack or rot over time. Repairing or replacing wooden decking can be expensive too.
Certain types of wood tend to swell in humid or damp areas, which will cause the planks to split over time. You'll have to replace these wooden boards, which can be a difficult task.

Natural Stone Decking
Natural stone decking is more expensive than any other type of outdoor decking material. If you have granite or marble decking, maintenance can also be an issue. You can't use cleaning detergents that are high in acidity because this can damage the natural stone.
What's more, the grouting or mortar between the natural stone material isn't as durable as the stone itself. After about 10 years, the mortar will start to crack. You'll have to refill and repaint these sections when the cracking occurs.

Concrete Decking
Concrete decking may be affordable, but it will cost you in repairs every time. Concrete isn't durable or weather-resistant. Over time, the surface will start to crack due to the heat from the sun. Additionally, concrete will create a heat island, making your outdoor area hotter than it should be.

How To Maintain The Best PVC Decking Products
PVC is one of the easiest materials to maintain. Some decking boards or tiles come with grids underneath that work as a drainage system to prevent flooding and mold growth. This is so you don't have to unclog the PVC tiles or boards when it rains.
To keep your PVC deck in tip-top shape, all you have to do is sweep it regularly. You can use any broom to remove dirt and debris from your deck. You can then mop your PVC decking with any mild cleaning aid. Or simply rinse it with a high-pressure hose.
FAQs About PVC Decking
Which Is Better, Composite Or PVC Decking?
PVC decking is the better option because it's resistant to mold and mildew. Both composite and PVC decking are durable and stain-resistant. However, PVC has a higher scratch resistance than composite materials, so it's suitable for homeowners who have active pets.

How Much Does PVC Decking Cost?
PVC decking prices are much higher than composite flooring. You can expect to pay between $8.25 and $15.75 per square foot of PVC material. This cost excludes labor and shipping if you're ordering your products online.

If you want to get your PVC decking installed professionally, you can expect to pay between $4.75 and $9.75 per square foot, over and above material and shipment costs. Nevertheless, PVC decking is more affordable than hardwood decking and won't require replacements or regular repairs because the plastic is robust.

Does PVC Decking Scratch Easily?
PVC decking material has a high scratch-resistance rating. Since it's made from plastic, scratching the surface of these boards isn't easy. That's why PVC decking is suitable for both outdoor and indoor flooring.

If you do have scratches on the surface of your PVC decking, you can repair them yourself easily. All you need is a heat gun and a brush. Hold the heat gun 7 inches away from the scratched surface. The heat will soften the plastic, so you can use the brush to blend the scratch out.

Be careful not to overheat the plastic because you don't want to melt holes into your decking.


Is PVC Decking Slippery When Wet?
Your PVC decking won't be slippery when water gets onto the surface. Some PVC materials are textured or have lines and grooves to add traction to the surface. It's advised to install textured PVC decking around pools and boathouses to prevent accidents from happening.

If you live in an area that gets extremely cold in the winter, your decking can become slippery if there is a combination of ice and water on the surface. But don't try to scrape off the ice off the surface. Instead, use warm water to melt the ice away and then sweep away any access ice that's left behind.

Is PVC Decking Worth The Cost?
PVC is certainly worth the price you pay. PVC decking can be more expensive than wood or composite materials, but there are many advantages that make PVC materials worth the cost. In the long run, PVC decking holds the best value because of how durable the material is and because it's easy to maintain.

You don't have to worry about water, sun, or pest damage when you install PVC flooring outside your home. It's also extremely easy to install yourself because most PVC flooring comes with interlocking technology. So if you want to change or replace any part of your PVC decking, you can do so without hassle.

Does PVC Decking Fade Over Time?
If you buy a high-quality PVC decking for your outdoor area, you won't have to worry about the color fading over time.

PVC flooring is either capped or uncapped. The uncapped flooring is more susceptible to mold growth, while the capped flooring will be resistant to fading and staining.
Conclusion
PVC decking material comes in all types of designs, colors, and shapes. You can get PVC decking boards or interlocking tiles that make installation a breeze. PVC decking is versatile, because you can install it inside and outside of your home.
You can install PVC decking in greenhouses, around swimming pools, inside garages, on patios, and even in laundry rooms. The material is lightweight and non-toxic and can withstand the elements. What's more, if you're worried about termite damage, then PVC decking is the ideal choice because pests don't eat plastic.
PVC decking comes in many designs that will add elegance to the outside of your home. If you want to create a contrast, then pick darker boards to go with your light-toned walls.
I hope you found a high-quality PVC decking product that's ideal for your home. If you're still not sure which product to pick, do a comparison of the best PVC decking products I've listed to pick one that's ideal for your requirements.
Have you got PVC decking installed outside or inside your home? What are your experiences with your PVC material? Let us know your thoughts in the comments section below or share images of your PVC decking via our social media accounts. We're always happy to hear from our readers.
Back to Top