When you search for flooring do you generally see the same types of styles from different brands that all blend together?
Doma is on a mission to change this. Their product line of luxury vinyl plank, hardwood, and carpet is centered around bold colors and trendy prints.
Read on as we do our first review of the Doma brand and determine whether or not they should be a flooring brand you should consider.
Doma Brand Overview
Doma's tagline is: where fashion meets flooring. In Japanese tradition, doma refers to a home's extended entryway.
Doma is targeting customers that want the latest designs and materials without breaking the bank. While providing innovative flooring styles is their focus, they also aim to provide flooring products that won't break the bank.
This brand's products can be summarized as follows:
Bold designs
Modern mixed with classic
Quality craftsmanship
Doma offers three types of flooring: vinyl plank, hardwood, and carpet. Let's review each of their product lines.
Vinyl Plank
Doma's vinyl plank flooring comes in 9 separate collections with over 50 different color choices. Vinyl plank flooring offers the beauty of hardwood or vinyl tiles at a cost that is better suited to most family budgets.
The following are the key advantages we found with the Doma vinyl planks:
High-end look without the high-end price tag. The samples we tested offered a lot of sheen which instantly gave off a luxurious and elegant look.
Excellent variety in the width of the plank (~6 inches to 12 inches) so you can achieve your desired look. We really liked the look of the 12 inch planks in the Stonewalk collection.
With the variety of styles and durability, these planks can be placed in kitchens, living rooms, and entryways.
100% waterproof options
Wear layers starting at 12 mils and going up to 22 mils
Below are some of the vinyl plank styles offered by Doma.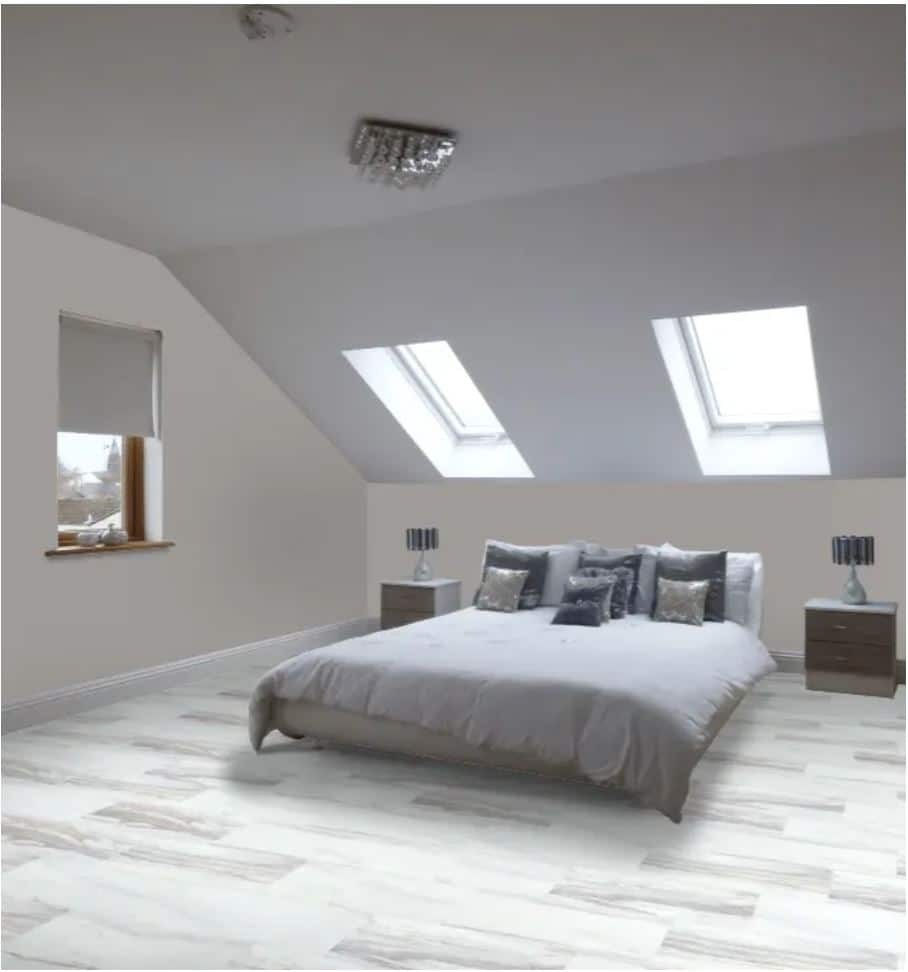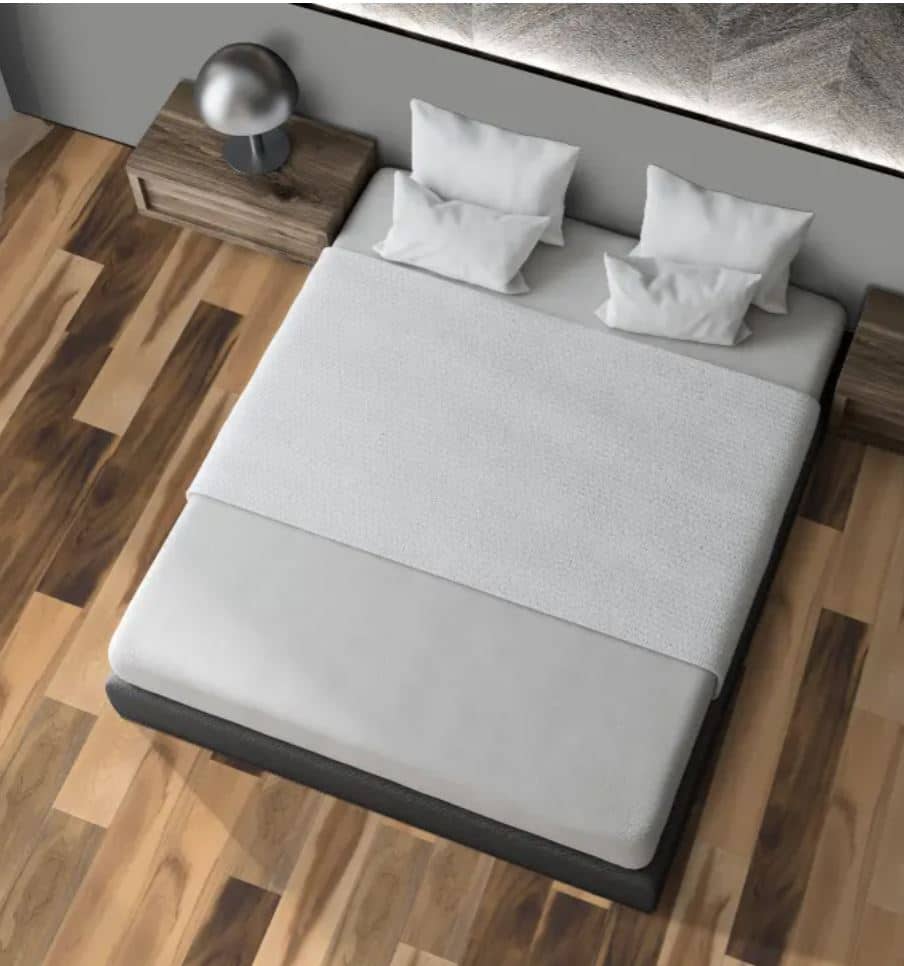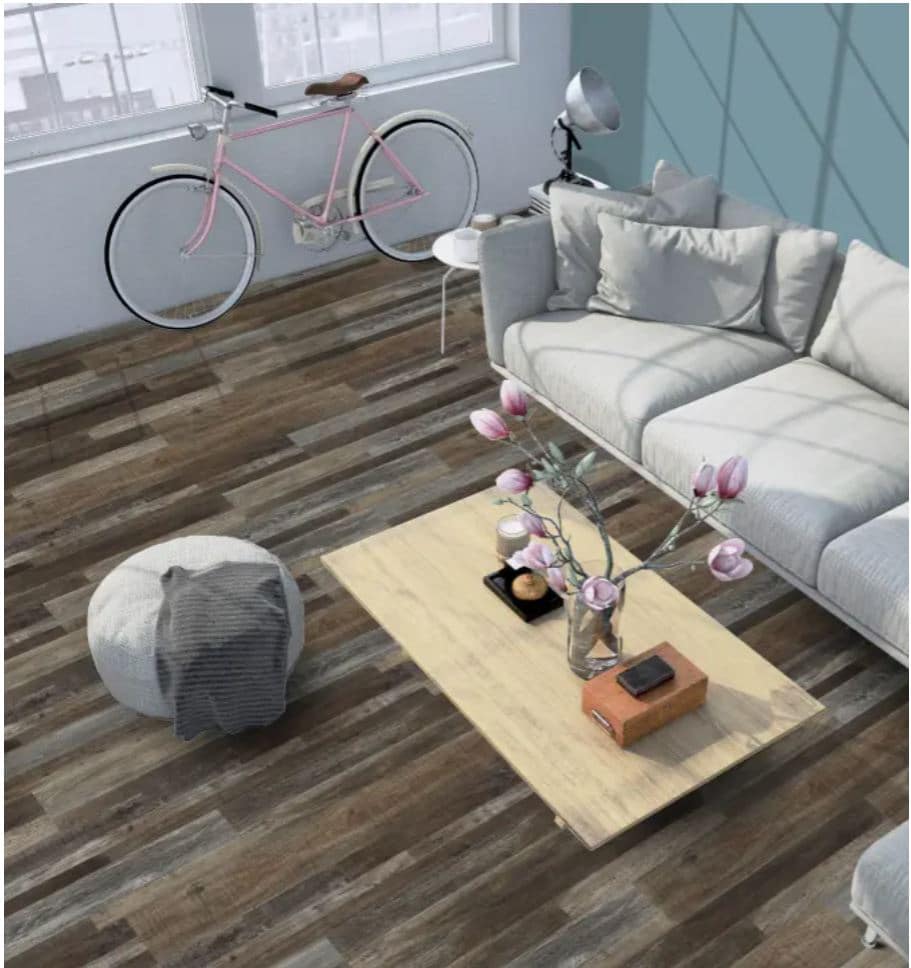 Hardwood
There are 6 different collections in Doma's hardwood line of flooring products. They are 100% waterproof and come in widths of 2.25 to 7.5 inches. Note: the Doma line includes both solid hardwood and engineered hardwood.
Hardwood is a great choice for your home if you can afford it. It is meant to last for decades as it does not warp or crack under pressure. In certain circumstances it may be true that hardwood can increase the value of your home. Our team has found that the primary reason for hardwood flooring to increase the value of a home is that hardwood is generally considered to be more aesthetically pleasing than other flooring options.
We were impressed by the choices Doma offers for their hardwood. Their hand-scraped or distressed line will give you that rustic or farmhouse look while their brushed or smooth surfaces lines will give you more of a traditional look. While most of their collections offer a variety a color options, there were a couple that had less than four color choices.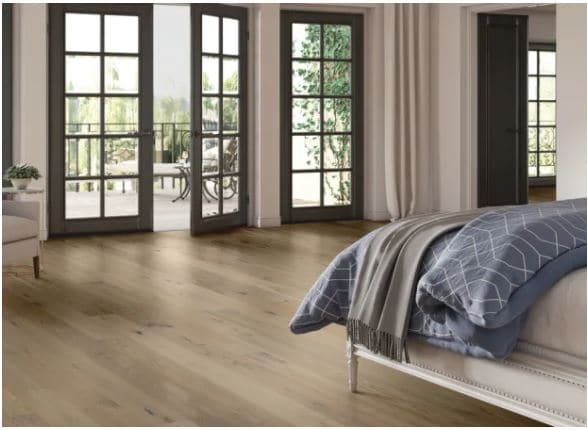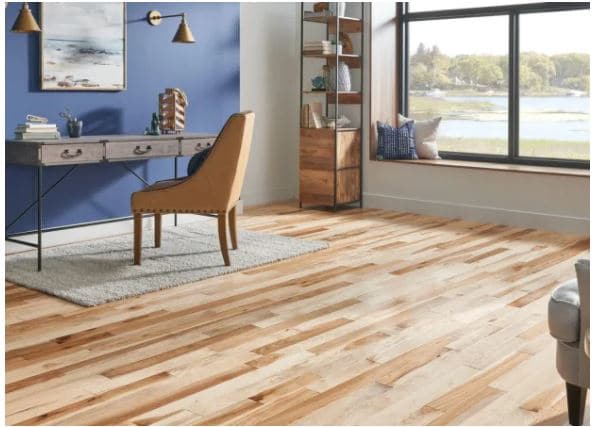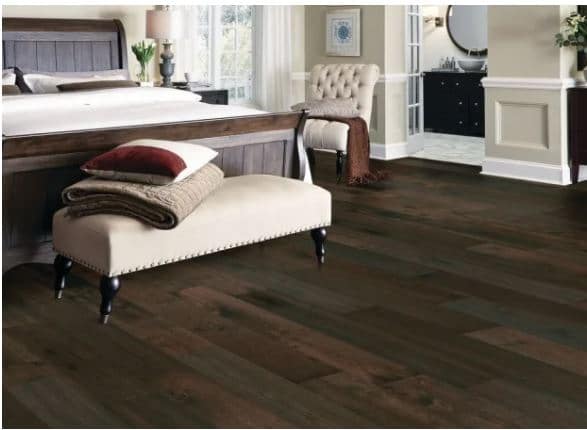 Carpet
Doma understands that your carpet does not have to be boring. We found their collection to be inspiring! There are so many stunning looks and styles they offer.
We feel their bold styles would look great in living rooms and bedrooms. Doma carpets are made from wool, nylon, or polyester depending on which style you choose. Wool tends to be the more luxurious option, but also costs a bit more.
The pile height is an important consideration when buying carpet. One option Doma offers is a cut pile which makes the carpet very soft and dense. It's a great choice for rooms where you will walk on your bare feet such as a bedroom. If you are looking for a more durable option, Doma also offers loop pile carpets. These types of carpets leave the yarn loops uncut and are perfect for high-traffic areas.
Here are some of the bold and patterned styles we loved from Doma.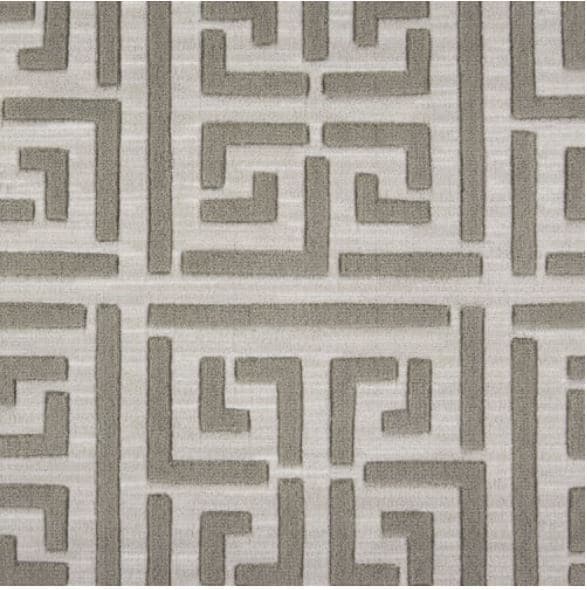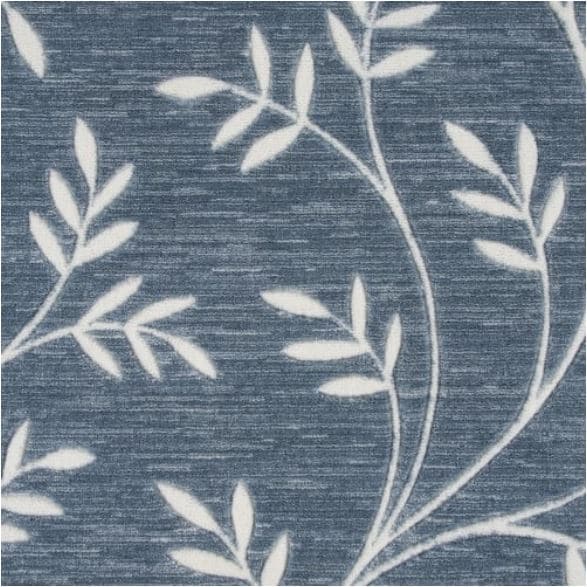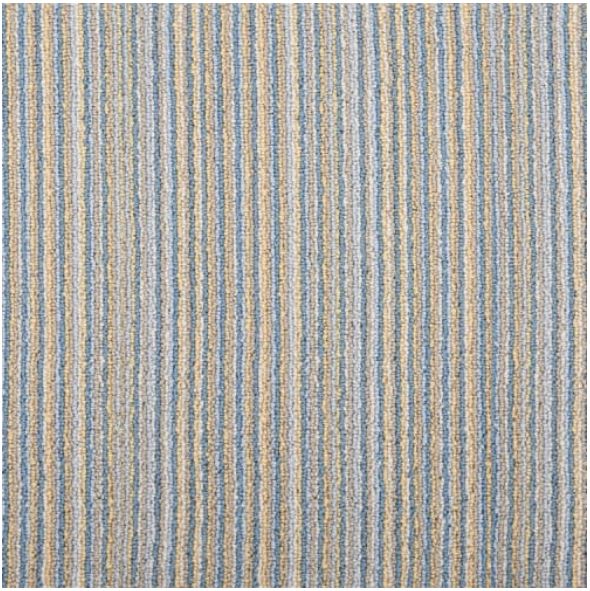 Where to Buy Doma?
Doma is available in a variety of independent retailers that know the brand well. You will not find Doma at national retailers like Home Depot or Lowe's as Doma feels you will get a better customer experience going through a trusted partner of theirs vs. a big box store.
Customer service and good installation are important to the company. They only want to sell their product through people they trust. We don't disagree with this approach.
Pros and Cons
What We Like
Bold and colorful styles
Exceptional quality at a reasonable cost
100% waterproof hard floors (not just water resistant).
Easy installation.
Eco-friendly with low or no VOCs and 100% recyclable.
What We Don't
Products are not sold at national retailers or online, only through local retailers.
Some of their collections have limited color options
Cost
Doma sells to retailers, who in turn sell to customers. The merchants are free to set their own pricing. On average, you can anticipate prices to be within the following ranges.
Vinyl Plank: $4 to $11 per square foot
Hardwood: $8 to $10 per square foot
Carpet: $4 to $10 per square foot
Our Rating
Let's review our rating of each of their product lines.
| | Vinyl Plank | Hardwood | Carpet |
| --- | --- | --- | --- |
| Cost per SF | $4.00 to $11.00 | $8.00 to $10.00 | $4.00 to $10.00 |
| Where to Buy | Local Retailers | Local Retailers | Local Retailers |
| Durability | A- | A | A |
| Style | A- | B | A |
| Installation | A | A | A- |
| Overall Rating | 4.8 | 4.7 | 4.9 |
Warranty
A limited lifetime warranty is provided by Doma. They have several commercial warranties ranging from 7 to 10 years. A standard lifelong stain, pet, and soil protection guarantee is available for their carpet line.
Doma strictly adheres to industry best practices in its supply chain. It only uses high-quality manufacturing technologies, ensuring high-quality floor covering. Pricing flooring at reasonable costs is another significant part of their value proposition, allowing most consumers to purchase the goods.
Doma's warranty coverage is inline with larger flooring manufacturers such as Shaw, Armstrong, or Mohawk.
Environmental & Ethical Factors
With a growing number of people becoming more conscious about preventing their homes from toxic fumes and chemicals, choosing a safe floor is a must. Luckily, Doma flooring is low-VOC or completely VOC-free.
Doma's hard flooring has vapor barriers. A vapor barrier's main function in hardwood flooring is to protect the central joist and prevent moisture from migrating into wall and floor cavities. Vapor barriers also help guard against mold, mildew and rotting of wood materials when an under-floor vapor retarder is not present.
In speaking with the team at Doma, they shared that they hold their manufacturers to the highest of standards around employee welfare and guarantee that its flooring is produced by manufacturers that employ certified free-trade labor.
Installation
Installation of Doma flooring is relatively easy. For their hard floors (vinyl plank and hardwood) installation is either done through a glue-down, nail-down, or floating/click-lock method. See our detailed guide for carpet installation.
Many people choose to install flooring themselves simply because they can save a lot of money if they do it themselves instead of hiring someone else to do the job for them. If you plan to do it yourself, please first check the flooring warranty so you understand what's covered incase you run into issues.
Why Pick Doma?
Styles
If you like bold colors and unique patterns, Doma has you covered. While their product line also has more traditional choices, we feel the edgier choices will allow you to consider something outside of your normal comfort zone.
Rooms such as a kids bedroom or living room would be a perfect choice to add a little more flare.
It would be worth getting samples, visiting a local retailer, or using their room visualizer to get a better sense of how the flooring would look in your home.
Durability
Maybe even more important than style is durability. Doma's products are made to withstand whatever life throws at them. Whether you have pets that shed, small kids, or just collect a lot of dust, Doma's floors are a good choice due to their high wear layer and low maintenance.
With our hardwood sample, we tried scuffing the floor repeatedly with our shoes and the floor held strong with no signs of wear. It's important to remember that no floor is scratch proof so use furniture pads when moving heavy pieces across your floors.
Price
We feel Doma flooring is priced right in the range of similar products from larger and boutique flooring companies. The style selection and overall durability help Doma score high on overall value.
Final Thoughts
After reviewing the Doma brand, we would recommend it as a flooring option you should consider for your home. There was not much to dislike about the brand besides its limited availability which should be expanding in the coming months.
If you have any comments or first-hand experiences with Doma, please post them below or share your pictures via our social media. We would love to hear from you!
Back to Top