Our Newton review is a comprehensive guide covering all aspects of this brand and its luxury vinyl plank, hardwood, laminate, and carpet floor products.
Newton's mission is to make quality flooring accessible to all people, not just ones that can afford it.
If you're deciding if Newton is the brand for your floor covering needs, then read on as we give an in-depth review on this company and its extensive range of flooring products.
Newton Brand Overview
Newton brands itself as perfectly designed floors at a fraction of the cost. They aim to target a price sensitive customer that does not want to sacrifice design, style, or performance. They pride themselves on three core principles:
Affordability: Newton floors were designed with the consumer's budget in mind.
Durability: While their products are affordable, they do not sacrifice on quality. They are built to handle what kids, pets, and life throw at them.
Style: They aim to provide unique style choices to customers that are often not found in other products at this price point.
Newton offers four types of flooring: vinyl plank, hardwood, laminate, and carpet. We feel Newton would be a great choice for flooring in your first home or for your first renovation project.
Vinyl Plank
Their vinyl plank flooring offers 9 distinctive collections. Vinyl plank flooring is a great option if you are wanting to mimic the look of wood, stone, or tile without having to pay the higher cost of hardwood flooring.
The variety and texture of the Newton planks are stunning. The planks range from 7 to 9 inches in width to really enhance the look of your space. In addition, they have a waterproof top layer that allows it to be placed in bathrooms, kitchens and other areas in your home that receive a lot of foot traffic.
In the samples we tested, we liked that Newton offers both a matte-like and high sheen finish. We suggest you consider high sheen vinyl plank in areas with high foot traffic like bathrooms and kitchens and a more matte finish in areas with less traffic. We felt the Ranger collection shown below to be a great choice for the kitchen. The Ranger collection is also one of their most popular collections on the market.
Below are some of the styles offered by Newton.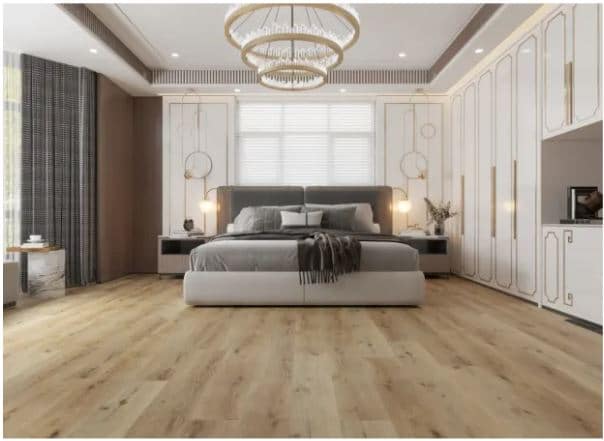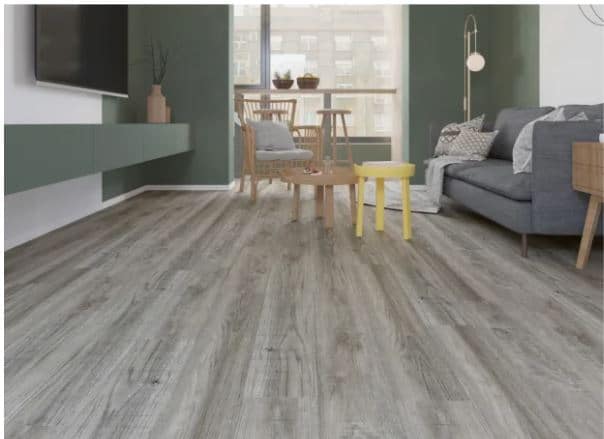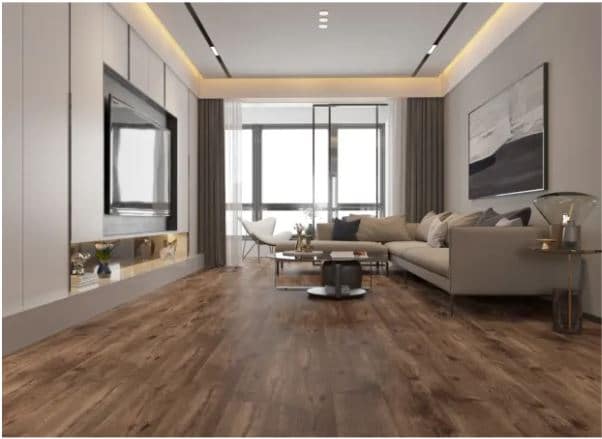 Hardwood
There are 9 different collections in Newton's hardwood line of flooring products. They are 100% waterproof and kid and stain friendly. Their hardwood floors are made out of natural-fiber wood. They come with a micro bevel edge and are easy to install using either a floating, glue down, or nail down method.
Hardwood floors are known for their durability, style, and strength. This style of flooring can be sanded down multiple times; therefore, the hardwood floor will likely still look good for many years to come.
Newton's line of hardwood floor has a variety of species ranging from maple to oak to birch to hickory. Most plank widths are around 5-6.5 inches.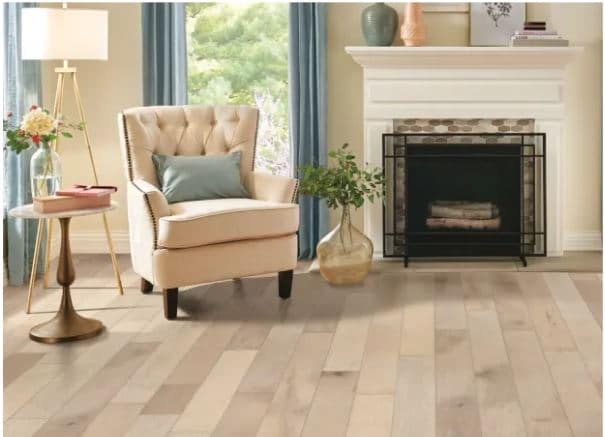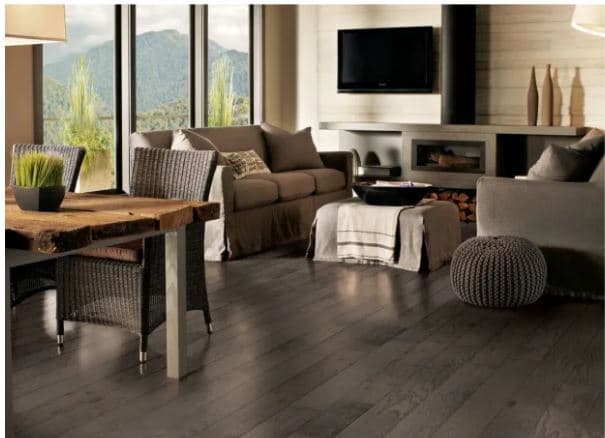 Laminate
We liked the patterns and textures of Newton's laminate floor collection the best. Their Eldorado and Holy Springs collections provided a style of rustic charm with wood-like planks.
For those who want style combined with long-lasting durability, laminate flooring is the style to choose. It is designed with a layer of high-density fiberboard that gives it an extra tough layer that will last for years.
The Newton laminate collection is defined by the unique design on each plank with a natural wood appearance that is enhanced with a lightly distressed surface. The unique style of detail allows it to go well in any room that needs an elegant touch, including kitchens and bathrooms.
There are 11 collections in this product line that feature both warm and dark color tones.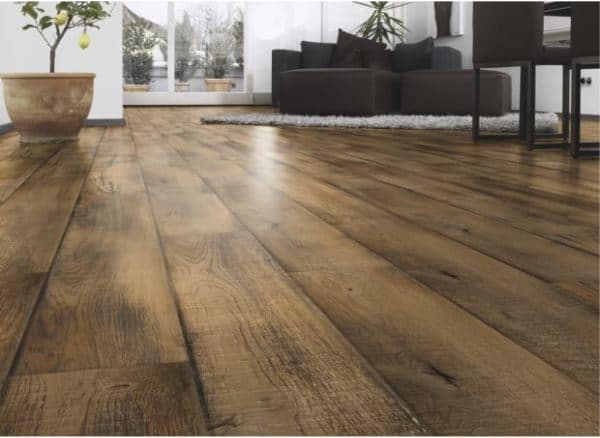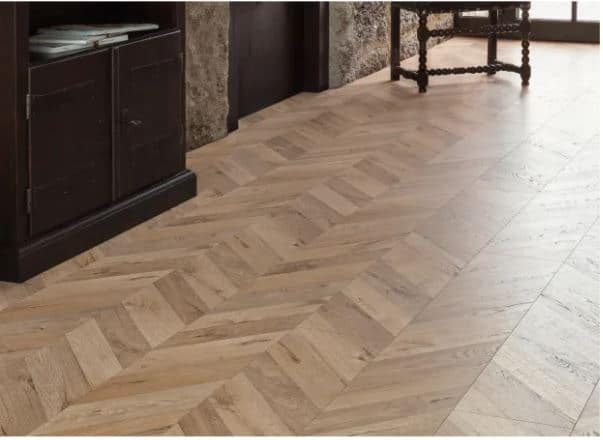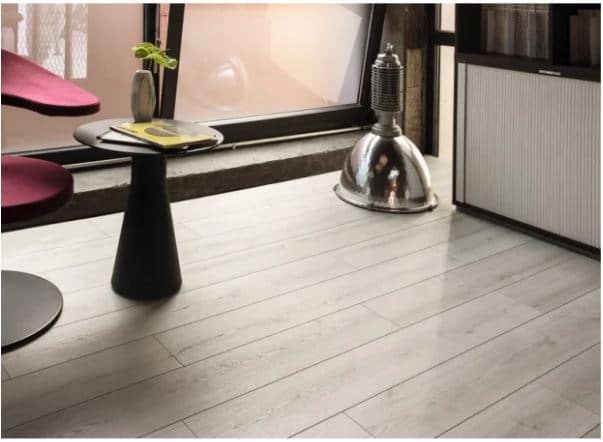 Carpet
If your style is classic or you are looking for warmth, then Newton's plush style and a raised pile texture carpet may be a good choice for you. Newton offers a great variety of carpet including patterned loop, twist, tufted, Berber, tip-sheared, and more.
Newton's styles tend to be more casual and universal vs. more bold styles. We found their styles to best fit in basements, living rooms, or kids play areas. Ultimately, the style of the carpet will depend on what kind of look you are going for. Four key things to consider when buying carpet are:
Pile height: Short pile is easier to clean and good for those with pets, while high pile is more luxurious, but requires more frequent vacuuming. Newton's product line is a short pile carpet.
Fiber composition: Wool is more durable than manmade fibers such as nylon or polyester, but it is also more expensive. Newton offers all three of these types.
Warranty
Texture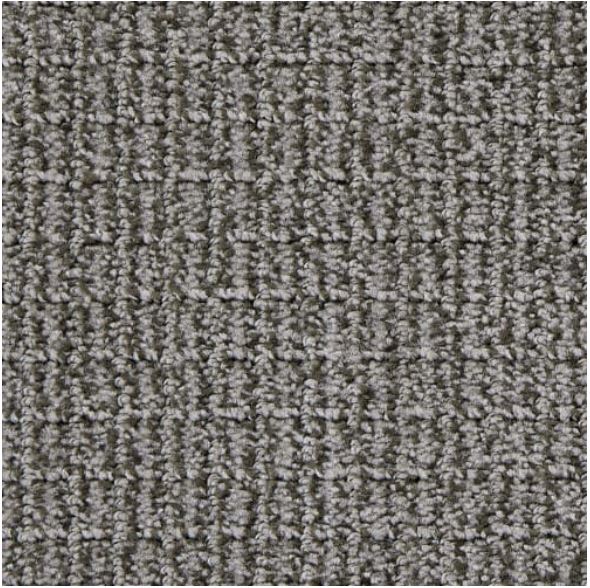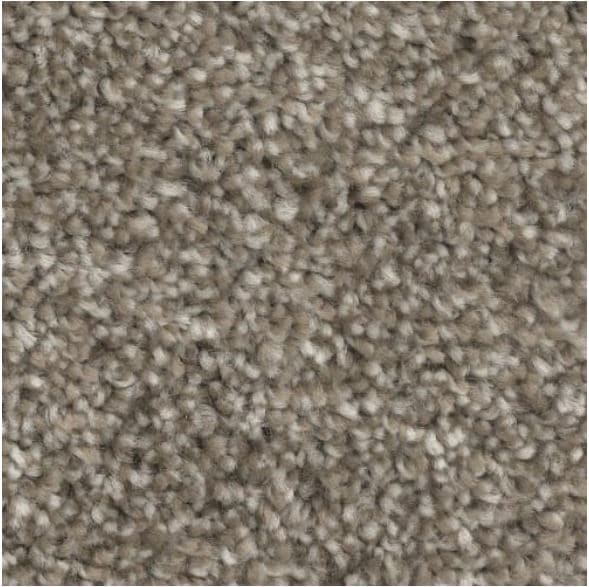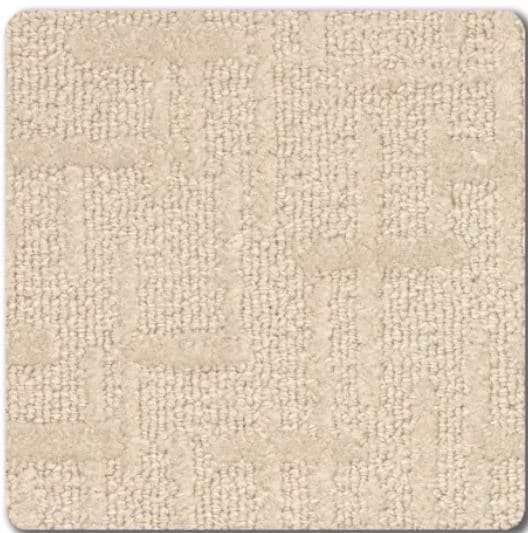 Where to Buy Newton?
Newton is available in a variety of independent shops throughout the United States. Each day, new retailers are added to the list. Newton does not sell companies like Home Depot or Lowe's.
On the downside, not being able to buy your flooring close to home makes it challenging for those without a nearby store. On the other hand, they want Newton-branded retailers who are knowledgeable about the goods to sell them.
Customer service and proper installation of this product are important to the manufacturer. This is another reason they only sell their goods through professionals they trust and who know their product inside-out! We feel that taking this approach will work in their favor.
Pros and Cons
What We Like
Exceptional quality at an affordable cost
Unique styles especially on their laminate flooring
100% waterproof hard floors (not just water resistant).
Eco-friendly with low or no VOCs and 100% recyclable.
Easy installation. Floating, glue-down, or loose lay installation methods.
What We Don't
Difficult to find. Products are not sold at national chains or online, only through local retailers.
Cost
Newton sells to retailers, who in turn sell to customers. The merchants are free to set their own pricing. On average, you can anticipate prices to be within the following ranges.
Vinyl Plank: $2 to $6 per square foot
Hardwood: $4 to $7 per square foot
Laminate: $3 to $6 per square foot
Carpet: $2 to $4 per square foot
Compared to brand name products on the market we have reviewed, we feel Newton provides just as good quality for a better price.
Our Rating
Let's review our rating of each of their product lines.
| | Vinyl Plank | Hardwood | Laminate | Carpet |
| --- | --- | --- | --- | --- |
| Cost per SF | $2.00 to $6.00 | $4.00 to $7.00 | $3.00 to $6.00 | $2.00 to $4.00 |
| Where to Buy | Local Retailers | Local Retailers | Local Retailers | Local Retailers |
| Durability | A- | A | A- | B |
| Style | B+ | B+ | A | B+ |
| Installation | B+ | A | A | A |
| Overall Rating | 4.6 | 4.8 | 4.9 | 4.5 |
Across its product line, Newton provides exceptional value.
Warranty
Newton provides a standard limited lifetime warranty. They have certain commercial warranties ranging from 7 to 10 years. For their carpet line, they provide a standard lifelong stain, pet, and soil protection warranty.
Newton is a flooring company that boasts about its products and sticks to the best industry standards. Newton only employs high-quality manufacturing procedures, ensuring superior floor covering. Their other key value proposition is pricing flooring at accessible prices, which allows for most consumers to buy their goods.
For reference, Armstrong's warranty ranges from 5 years to lifetime depending on the type of product you buy. It is always worth taking the time to understand the fine print as many things such as not using a certified installer often void warranty coverage.
Environmental & Ethical Factors
All Newton flooring is low-VOC or completely VOC-free, as determined by the FloorScore certification program. When selecting flooring, consider VOC levels since breathing in vapors can irritate the nose, eyes, and throat.
In addition, all floors are mold and phthalate-free. Even if the floors are entirely waterproof, any standing water should be removed around the floor.
Newton guarantees that its flooring is produced by manufacturers that employ certified free-trade labor.
Installation
For Newton's vinyl plank, hardwood, and laminate products, the installation method is floating, loose lay, or glue-down. This means laying these vinyl planks can be a DIY project, or you can call on the experts to do the job.
Why Pick Newton?
Value: Quality + Price
We feel what sets the Newton brand apart in a crowded field is its value proposition. It is one of the few brands that offers a high quality product that looks and performs like a luxury product, but at a fraction of the cost.
They don't claim to be the best flooring out there, but they do offer a product that will appeal to customers that are price sensitive and give them the option to consider a high quality product that they can afford.
Selection
When we look at the product selection of Newton, we forget that we are looking at a value brand. We were pleasantly surprised with the aesthetics, textures, and color tones the products offered. Many of the hard floor types offered a rustic look that so many homeowners are choosing in their homes today.
We suggest ordering multiple samples or visiting local retailers so you can see the product in your hand and how it will look in your room. They also have an online flooring visualizer in case you can't make it to the store.
Eco-Friendly
For the environmentally aware homeowner, Newton's flooring is an excellent choice. All of their flooring is 100% recyclable, and either low or no VOC which shows their commitment to sustainability. When it's time to replace your flooring, you can be certain that the discarded peices are recyclable, therefore reducing environmental harm.
Final Thoughts
The Newton line of flooring products is definitely worth checking out. While they are a new player, we think they hit an area of the market that is not fully served.
We feel their hard flooring and carpet provide a high return on investment.
If you have any comments or first-hand experiences with Newton, please post them below or share your pictures via our social media. We would love to hear from you!
Back to Top