Consumers who love the look of hardwoods but not the hassle now have a variety of options for imitating hardwood in their home. The best on the market are: vinyl plank and wood-look tile flooring, but which is best for you? Both mimic the classic beauty of hardwoods when sitting on the home improvement store shelf, but how do they stack up when put into action?
Vinyl plank and wood-look tile flooring each offer benefits for consumers, but they have their drawbacks as well. From appearance to durability, we'll take a look at the pros and cons of each type of flooring, helping you make the most informed purchasing decision.
Side-By-Side Comparison
| | Vinyl Plank | Wood Look Tile |
| --- | --- | --- |
| Durability | Extremely durable. Heavy furniture can cause denting. Can be prone to rips and tears. | Extremely durable. May crack over time or with misuse or improper installation. |
| Waterproof | Yes | Yes |
| Cleaning | Can be cleaned using steam mops or wet mops. Non-abrasive, mild cleaners should be used. | Can be cleaned with mild cleaners. Can be mopped. Grout may require scrubbing or restoration. |
| Maintenance | No wax should ever be used on vinyl. No-wax polishes can be used to restore shine. | Grout may need to be restored over time. Cracked tiles will need to be replaced. |
| Pet-Friendly | Yes | Yes |
| Styles | Available in a variety of wood styles, including oak, mahogany, and cherry. | Available in a variety of wood styles, including oak, pine, and walnut. Also available in a variety of exotic wood styles. |
| Installation | Floating or peel-and-stick | Traditional installation with mortar and grout |
| Prone to Fading | More prone to fading | Will not fade |
| Sizes | Typically 4-inches to 8-inches wide. Lengths typically up to 48 inches. Can be cut to size using a utility knife. | Widths starting at 4 inches and up to 12 inches. Lengths range from 28 to 48 inches. Must be cut using a tile saw. |
| Colors | Available in many colors including white, gray, light and dark wood finishes, and black | Available in many colors including white, gray, light and dark wood finishes, and black |
| Flooring Guide | Vinyl Plank Flooring Guide | Wood Look Tile Flooring Guide |
Durability
Hardwood floors are durable and can easily last for many years with proper care. However, as pet owners and parents know, hardwoods can be scratched and dinged, requiring pricey refinishing or even replacement over time. This is why many households are now turning to hardwood alternatives such as vinyl plank and wood-look tile.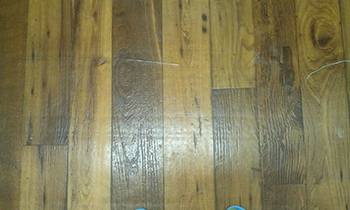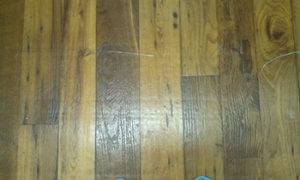 Manufacturers have created faux wood planks that look similar to expensive hardwoods. While vinyl plank isn't as hard as wood, it does offer its own set of benefits, including being more pet- and kid-friendly. Vinyl plank is more resistant to scratches that occur from pet claws, children, or everyday traffic.
Vinyl plank flooring will typically not show wear from everyday use, but it's not completely immune to damage. Because it is a much softer material than wood or tile, it can be cut or torn, such as when a sharp object is dropped or furniture is dragged across the floor. Once ripped, the plank will need to be replaced.
Vinyl plank flooring may also fade if exposed for long periods to sunlight. Owners should make sure to keep blinds or curtains drawn during the day to limit exposure, or use area rugs to cover flooring that is exposed to heavy sunlight.
Vinyl plank may also dent over time because it is a softer material. This commonly occurs when weight is placed on the vinyl for long periods of time, like underneath furniture or heavy appliances.
Wood-look tile is ceramic or porcelain flooring that is designed to look like hardwood flooring. In addition to its beauty, it also boasts many benefits that make it a preferred option over hardwoods for some homeowners. Durability is one of these benefits.
Tile flooring is extremely durable. Because it is a harder material than wood or vinyl plank, it is more resistant to scratches, dents, fading, and other types of damage. However, like vinyl, it isn't completely indestructible.
While wood-look tile can easily withstand everyday use, it can crack, just like any other porcelain or ceramic tile. If you drop something heavy, for example, the tile can break or chip. When this occurs, you will need to remove and replace the damaged tile.
When put head-to-head, wood-look tile is superior to vinyl plank when it comes to durability. You cannot fade, scratch, or otherwise damage it through daily use, and it's one of the most resilient flooring types on the market today.
Resistance To Water
Hardwood flooring looks great, but everyone knows that wetness can ruin it. Enter vinyl plank and wood-look tile. When put to the test, which can hold up to water exposure?
Vinyl plank flooring is completely water-resistant when installed correctly. This flooring can become wet without warping, staining, or buckling. You can install it in rooms where there's moisture—such as bathrooms, kitchens, and sub-grade basements—without fear of damage.
However, it is important to note that if there is any gaping in vinyl plank flooring, moisture can get underneath. This could lead to the growth of mold or mildew. Adhesive on peel-and-stick planks could also become loose and require a replacement plank.
Tile is also resistant to water. You can expose it to water without causing damage, making it a great choice for bathrooms, kitchens, and basements. With proper installation and grouting, moisture will never reach the subfloor underneath tile flooring.
Even though both types of flooring are resistant to water, wood-look tile is the superior choice. This flooring won't buckle, warp, or stain, and it doesn't have the gaping issues seen with vinyl plank.
Sizes, Styles & Colors
Flooring isn't "one-size-fits-all." Consumers want to be able to choose from a variety of colors, styles, and sizes. How do vinyl plank and wood-look tile stack up when compared to the seemingly infinite choices offered by hardwoods?
Vinyl plank comes in a variety of colors that mimic the most popular types of hardwood flooring. This includes oak, pine, and walnut. These floors are available in a variety of colors and styles, including traditional, rustic, and modern.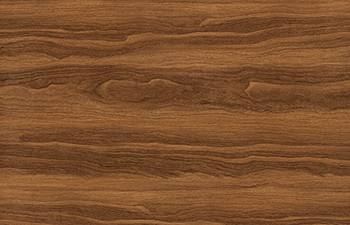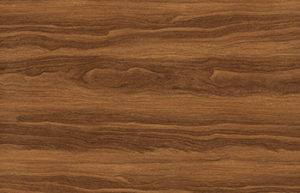 Vinyl plank is available in multiple sizes, from widths of around 4 inches to 8 inches. Lengths vary from 36 inches to 48 inches or more depending on the brand selected.
Vinyl plank is also available in a selection of thicknesses up to over 4 millimeters. Many of these planks feature varying patterns for the most realistic look as well as embossing that makes them feel like real wood.
Wood-look tile flooring is also available in a variety of colors. Wood species represented on tile include oak, walnut, and even exotics like Brazilian pecan. A variety of styles are available from shabby-chic and rustic to sleek and modern.
Size selections include widths from around 4 inches to 12 inches, while lengths vary from around 28 inches to 48 inches. Like vinyl, wood-look tile features 3D printing to create prints and textures similar to real wood.
Though it's a close race in terms of colors, styles, and sizing, wood-look tile has a slight edge over vinyl. With more size selections and choices that replicate exotic hardwoods, this type of flooring makes it easy to get the real look of hardwood along with the benefits of tile.
Care & Maintenance
One of the worst things about hardwood flooring is taking care of it. You can't get water on it, and you need to clean it with special products. You need to wax it to retain its shine. If the floor is old or damaged, it will need to be refinished, which can easily cost thousands of dollars.
This is why more homeowners are turning to other bare flooring types like vinyl plank. Vinyl plank is one of the easiest flooring types to care for and maintain, requiring no special procedures or products to keep it looking its best.
You can perform daily vinyl plank cleaning using just a broom or dust mop. You can also use a vacuum designed for bare floors for removing dirt, dust, and debris. For heavier cleaning, you can use a no-wax cleaner with a wet mop.
Even if a vinyl plank floor loses its shine, never use wax on it. This will cause a buildup that you will need to strip. Instead, use a no-wax polish designed for use on vinyl.
For marks on floors such as ink that won't come up with regular cleaners, you can use acetone or nail polish remover to remove the mark without damaging the floor.
Wood-look tile is also easy to clean. You can tackle daily messes using a broom, dust mop, or vacuum for bare floors. You can also use a mild cleaner and warm water with a sponge, cloth, or mop to clean up bigger messes.
The grout of tile can get quite dirty, and often a mop just won't do the trick in getting it clean. You can use a mild cleanser or a mixture of white vinegar and water to keep grout looking fresh. Apply this with a scrub brush to fully clean the grout.
Over time, the grout may become stained and very dirty, especially when it is a lighter color. If this happens, products are available to restore the grout's original color. You can also buy grout pens to change the color of the grout.
Although both types of flooring are easy to clean and maintain, vinyl takes this round. The amount of work you need to do to clean and restore dirty grout on tile floors puts wood-look tile at a disadvantage in this category.
Installation
When considering the costs of flooring, one of the expenses that should be calculated is installation. This is why many homeowners opt to do the job themselves, potentially saving thousands of dollars. When it comes to vinyl plank versus wood-look tile, which offers the easiest installation process?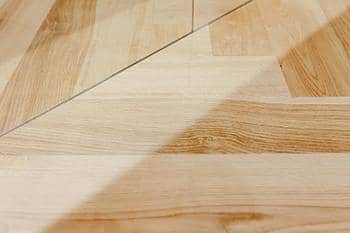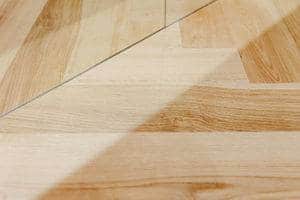 There are two different types of vinyl flooring. The first kind is a floating floor. This is similar to laminate in that people do not glue or nail it down, but instead click it together piece by piece.
This type of flooring has a tongue-and-groove design that allows installers to easily snap the planks together. You can easily cut and score each flooring piece using a utility knife. Other than measuring and ensuring you lock the planks into place, there are very few installation steps you need to follow.
The other type of vinyl plank is peel-and-stick. These planks come with a paper backing that you peel off to reveal adhesive. You cut the planks using scissors or a utility knife, then apply them directly to the subfloor underneath.
Peel-and-stick planks are one of the easiest flooring types to install. Even homeowners with no experience in remodeling can tackle this project in just a few hours. Likewise, with a little know-how, installing a floating floor is also fairly simple and straightforward.
On the flip side, ceramic tile installation can certainly prove to be a difficult DIY project. To begin, you must properly prepare the subfloor, otherwise the tile will be uneven and may crack soon after installation.
Once the subfloor is ready, you stick tile to the floor using mortar. Place spacers in between tiles so that you can apply grout between them. You will then apply and clean off the grout, which can prove to be a very messy process.
Tile will have to be cut throughout installation, and you will need to do this using a wet tile saw. These saws can be expensive, although renting one from a home improvement store can cut down on cost. While cutting, tiles can chip, crack, or break, resulting in the need for more tiles to finish the job.
While it isn't impossible for someone inexperienced in flooring installation to install tile flooring, it's important to note that this job can be very tedious and time-consuming. If done improperly, tiles can break and you will need to pry them up and replace them. This is why most homeowners opt to hire a professional.
In terms of installation, vinyl plank is the clear winner. Most homeowners can easily install this flooring themselves. On the other hand, professionals usually need to install wood-look tile. That can add hundreds or even thousands of dollars to the cost of flooring.
Cost
Hardwood floors are generally considered at the top end, which means expensive, and you can find hardwoods out there that cost as much as $15.00 per square foot. But there are also much cheaper options, starting from as little as $3.00 per square foot. However, if you are looking for something of reasonable quality, don't expect to pay less than $4.00-$7.00 per square foot.
You will probably also need the services of a professional contractor to install hardwoods. You need to take account of things such as expansion and contraction of the wood, so there is a lot more to it than just wielding a nail gun. This can add an additional $3.00-$7.00 per square foot.
Vinyl plank flooring will set you back anywhere between $3.00-$7.00 per square foot. This represents good value when you consider that it usually comes with an underlayer attached, and is simple enough that anyone with reasonable DIY experience should be able to do the install themselves.
Wood-look tile flooring can cost anywhere between $2.00 and $12.00 per square foot depending on the style that you choose. But also bear in mind that you will most likely need the services of a professional to install. Their skills will be required both to prepare the substrate, ensure that the tiles are laid evenly, and to ensure the individual tile patterns are aligned for the best overall aesthetic.
Resale Value
While selling their home might not be in the immediate future of a homeowner, it's always a wise move to consider how a renovation might affect future resale value. After all, anyone spending a lot of time and money to update their home would like to see a return on this expense in the future.
Vinyl flooring has gotten a bad rap in the past. Because it's one of the most affordable flooring types, it's often viewed as cheap and thought to drop the value of a home.
However, today's vinyl is still affordable but isn't like the cheap, tacky vinyl of past years. Instead, this flooring looks elegant and beautiful with many added benefits such as being kid-friendly for families. In fact, many home builders are even using this type of flooring in new construction.
That said, despite its improved appearance, homeowners generally should not expect to see much of a return in the resale value. While value may go up slightly, it wouldn't be as drastic as with homes that are upgraded with hardwoods or ceramic tile.
On the other hand, the return on porcelain or ceramic tile is quite significant. Because tile is so durable, long-lasting, and timeless, homeowners can expect this type of flooring to add value to their homes.
However, it is important to note that choosing an overly trendy flooring style could have the opposite effect. Very trendy styles could look dated after a short period of time, leading to lower offers when trying to sell.
Homeowners who plan to stay put for a while can certainly choose whatever flooring they like, but homeowners who do see a sale in their future should stick with classic and traditional styles.
When it comes to resale value, wood-look ceramic tile surpasses vinyl plank. When the right flooring is selected, this could add thousands of dollars to the value of a home.
FAQs
Which Is Better, Vinyl Or Wood-Look Tiles?
Whether vinyl plank or wood-look tiles are a better choice for achieving a wood look in your home depends on what you are looking for.

Wood-look tiles far outperform vinyl when it comes to durability and ease of cleaning and maintenance. But tiles can be very cold and hard underfoot, which means they don't always work well in colder climates or in places where people will spend a lot of time on their feet, such as kitchens.

While vinyl is less durable, it is still relatively durable and waterproof, plus it is warmer, can be laid over ambient heating, and is relatively soft underfoot. The other big advantage is that it is cheaper than tile. Not only are the planks less expensive on average, but the installation costs are significantly lower.

Does Vinyl Plank Flooring Increase Home Value?
While replacing any floor that has buckled or looks like it has been through a war can add some value to your home, generally speaking vinyl is not the floor of choice when it comes to adding value.

Hardwoods and tile are the best floorings when it comes to adding value to your home. They have a very long lifespan, and they are considered classic floors that will never go out of style.

Vinyl simply does not have the same prestige in terms of style, and while it might have a lifespan of 15 to 20 years, wood and tile can last a hundred years.

What Are The Disadvantages Of Vinyl Plank Flooring?
While vinyl plank flooring is an excellent new technology that provides attractive and durable floors at an affordable price, there are drawbacks. Primary among them is that vinyl flooring has a relatively short lifespan, of only around 15–20 years, and vinyl floors also do nothing for the resale value of your home.

But there are other concerns as well. First of all, as the look of the vinyl is achieved with a photographic layer, the floor is quite susceptible to fading in the sun, just like any photo. Also, while it will hold up well under pet claws and shoes, it can certainly be dented and damaged by heavy objects such as furniture. And once a plank is damaged, there is no way to rejuvenate or resurface it. It will have to be replaced.

Vinyl flooring is also not great for the environment, either in terms of manufacture or disposal. Most vinyl flooring is not biodegradable, so once you pull it out, it will sit in landfill forever. The chemicals used to make the planks can also be released into the air during installation, some of which can be harmful.

Do Vinyl Tiles Look Cheap?
There is some great technology out there to make vinyl flooring that looks genuinely like real hardwood. The print can even be textured to make it feel like hardwood under your toes. But, as with most things, you get what you pay for.

If you go for the cheapest possible option, at around $3.00-$4.00 per square inch, you can't necessarily expect your floor to look like real hardwood. Expect to pay at least $5.00-$7.00 per square foot if you want top quality.

Which Brand Of Vinyl Flooring Is Best?
There are a lot of really great vinyl flooring brands currently on the market. It is quickly becoming a popular option, so manufacturers are invested in producing quality options. But our favorite brands that we recommend are Karndean Korlok, Armstrong PRZYM, and COREtec Plus.

Karndean Korlok is currently the gold standard as far as vinyl flooring is concerned. It comes with a 20 mil wear layer and lifetimes warranty, and is relatively affordable at around $4.00-$5.-00 per square foot.

PRYZM is great when it comes to options, as there are more than 20 shades to choose from. It comes with an easy-to-use click-lock installation method, and is also designed to absorb sound and shock so that it's comfortable underfoot.

COREtec Plus is a little pricey, but it delivers on quality. You get a 20 mil wear layer and lifetime warranty, and it is incredibly simple to install as a floating floor.

Can You Put Heavy Furniture On Vinyl Plank Flooring?
Vinyl flooring can be sensitive to heavy furniture. Its flexibility means that it can also buckle under extreme weights, and heavy objects certainly shouldn't be dragged across the floor. Use felt furniture pads to act as a barrier between furniture and the floor.
The Verdict
Vinyl plank and wood-look tile are both viable alternatives to hardwood flooring for anyone looking for something that stands up better to scratches and water exposure.
Which is best depends on what you need. When it comes to durability, ease of cleaning, and adding value to your home, wood-look tile is the hands-down winner. But it is expensive and difficult to install, and can be very cold and hard underfoot, which means that it is not ideal for all environments.
Vinyl is less durable than tile, harder to care for, and will add nothing to the resale value of your home. However, it is inexpensive and easy to install, is soft and warm underfoot, and can also be installed on top of ambient heating.
Both are viable alternatives to hardwood floors. Which is right for you depends on your specific needs.
If you have any comments or firsthand experiences with vinyl or wood-look tile flooring, please post them below or share your pictures via our social media.
Back to Top