Picture this: You and your better half have finally decided to upgrade your ugly worn out floors with Armstrong Vinyl Plank. You're okay with spending a little more on good quality material-but prefer to stick to your budget.
You've calculated the costs, weighed the alternatives and are confident enough to take on the stores this weekend. But wait – Someone has been up late, scrolling through online design sites and now has their heart set on the Armstrong Pryzm flooring line.
Realizing its back to square one, you reluctantly open your web browser type the Armstrong brand name in.
The Pryzm line debuted in August of 2017. With this product, Armstrong strives to address common issues customers had with the company's Luxe line, such as scratching and staining.
This flooring carries a limited lifetime warranty and is 100% waterproof and stain resistant. Pryzm is advertised as less noisy and more comfortable than other vinyl planks.
Handy for late night snackers, klutz's and underappreciated cooks alike.
Here are some Armstrong flooring options to give you a sense of different varieties to purchase.
Intrigued yet? Let's take a closer look.
What styles are available?
Armstrong's planks comes in many different patterns and varieties.
Below are some examples: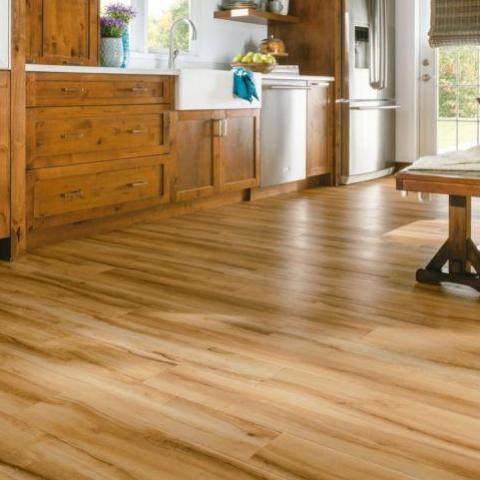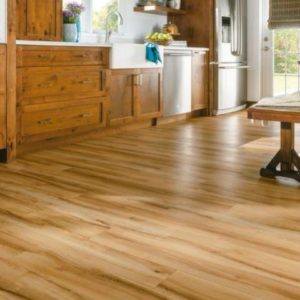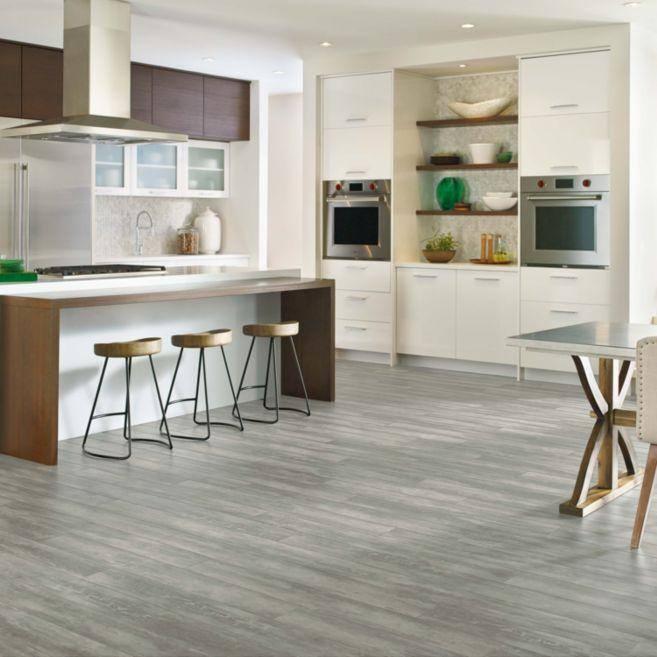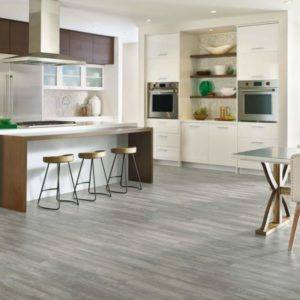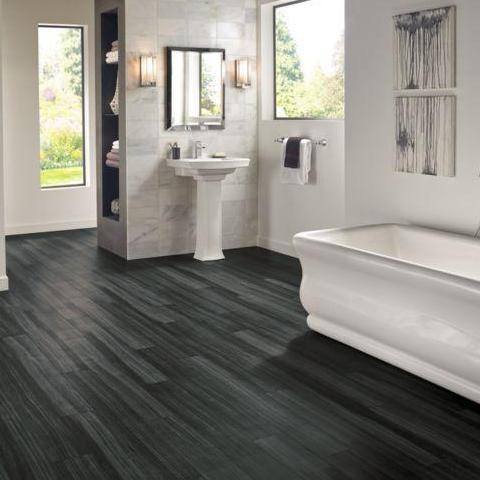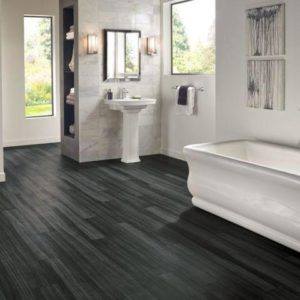 Floors are offered in several colors and themes. From planks that mimic historic reclaimed barn wood to striking reproductions of more exotic designs like acacia and hickory.
The Pryzm line also features many variations of coastal and beach-themed options. All floors are low gloss and textured according to the pattern.
There is a style available to suit almost any décor.
These planks come a standard 6.55 mm thick which is thicker than most competitive luxury vinyl. They feature a sound and shock absorbing cork backing to help alleviate aches from prolonged standing.
The planks run just shy of four feet in length. As with any flooring, longer planks will help to give your surface continuity and aid in the overall appearance of your design.
Depending on which flooring you choose, available width ranges from 4 – 7" with most patterns coming in the popular 5" size.
Pryzm scores high marks in both selection variety, and style.
Is Armstrong Pryzm durable and easy to maintain?
Yes. It appears to be one of the better flooring options out there.
Armstrong advertises Pryzm as dent-proof and scratch resistant.
In fact, the company states this product can withstand approximately 25psi. Which means, it can take on your worst case of gravitational woes and hold up to your children's annoying habit of dropping, well, everything.
Armstrong's newest flooring can also endure most furniture without denting.
The scratch resistance level of Pryzm is impressive for vinyl. Armstrong maintains this floor won't damage easily from high heels, pets, or everyday wear.
Surprisingly, little maintenance is required to keep Pryzm floors looking their best.
These floors will stay clean with regular dry dusting or vacuuming. The planks can be washed with either a damp cloth or Armstrong's cleaning products.
Unfortunately, the company discourages the use of everyday cleaners, but most manufacturers do.
How much do Armstrong Vinyl Planks cost?
This flooring is priced competitively with other higher end vinyl planks on the market.
Armstrong retailers tend to market these planks in line with brands such as Shaw or Mohawk. Although Pryzm is not the most inexpensive, it falls within the range of comparable products on the market.
Pryzm plank pricing varies by location and is set by the individual retailer. Average costs are in the area of $4-$7 per square foot. As you might guess, the advertised price rarely includes preparation or installation costs.
While these vinyl products can be pricier than the big box store's lines, larger purchases may warrant the extra cost. Many homeowners are willing to pay more for the guarantee that their flooring is designed and tested by a trusted name in the industry.
Pryzm seems to be a worthwhile investment for those looking to purchase vinyl plank. It certainly stands out as one of the more innovative options.
How easy is it to install?
Installing Pryzm planks does not seem difficult.
The manufacturer advises this product will float over most existing floors and slightly uneven surfaces.
Installation instructions are simple to understand, and improvement savvy homeowners should be able to follow them without too much trouble.
The flooring comes with micro-beveled edges that lock in place like puzzle pieces. For those preferring a full glue method, Armstrong does sell an adhesive for this purpose.
No vapor barrier or underlayment is necessary, except when installing in extremely damp areas. You can even lay it over radiant heating.
Under normal temperatures, this flooring does not need time to acclimate. You should, however, monitor humidity levels as they need to stay in the range of 35 -70%.
Pryzm can be used in damp areas such as basements, laundry rooms, and baths. Although the product is advertised as waterproof, Pryzm shouldn't be used in showers or saunas due to humidity.
As with any flooring, estimate using about 5-10% of the product for cutting and irregularities. Be sure you include that overage, and any expected waste when calculating the amount of square footage needed.
Armstrong carries coordinated moldings and trims to accommodate for transitions and stairways. When installing Pryzm, allow for ¼- ½" expansion zone around the perimeter and any fixed objects.
Depending on the layout of your home, hiring an installer may be a smart investment.
Professional installers and retailers can also act as the middleman between you and the manufacturer should any problems arise in the future. Having this product installed correctly, and the work guaranteed keeps the burden of proof off your shoulders.
FAQ
How to install Armstrong vinyl plank flooring?
It will depend on the type of Armstrong vinyl you're installing. There is an adhesive option or there are planks with micro-beveled edges that lock together. If you live in extremely damp areas, you may want to place underlayment before you install your planks. 

Simply add your first plank, preferably starting in one corner of the room. Then add the next plank by locking it into the first one. If you have the adhesive option, make sure your planks are all properly aligned and are installed close together to avoid gaps between the planks.

How to clean Armstrong vinyl plank flooring?
Armstrong has a specific flooring product called the Once 'n Done floor cleaner. This floor cleaner is specifically formulated for vinyl plank flooring. If you don't have Once 'n Done you can clean your floors with a damp microfiber mop.  

Where to buy Armstrong vinyl plank flooring?
There are plenty of retailers that sell Armstrong vinyl planks, such as The Home Depot, Lowe's, and Floor City, or you can simply visit the Armstrong website to see where they sell their products. Unfortunately, you can't buy vinyl planks directly from the Armstrong site.

Is Armstrong Once 'n Done safe for vinyl plank flooring?
Yes, Armstrong makes a Once 'n Done specifically for vinyl plank flooring. This cleaning aid doesn't have abrasive properties, so it won't scratch your vinyl floors. Additionally, the detergent is alkali-free so it won't destroy the integrity of your floors. Once 'n Done is a no rinse product, so you won't run the risk of damaging your vinyl flooring with too much water.
The Verdict
The manufacturer's demonstration videos are promising, and Pryzm certainly seems to be causing a buzz within the home improvement industry. While there is little independent data or unbiased reviews available as of late, it's not uncommon given the newness of this line.
The few online studies do seem to cast this product in a favorable light. Armstrong itself was voted as the most environmentally friendly flooring company by readers of Green Builder Magazine.
You should use your judgment before committing to a large purchase such as flooring. Keep in mind the price of luxury vinyl is comparable to hardwood and traditional floor coverings.
Take into consideration; vinyl flooring is not without its flaws. While you can replace individual planks, this floor is not renewable and can't be polished or refinished. Although if Armstrong's claims are true-you shouldn't have to be concerned about that.
Before you purchase anything, you should always try the product out in your home. Inexpensive or free flooring samples are widely available from retailers and Armstrong's website. You can also run them through a test regimen.
Go ahead scratch them, heat them, and spill everyday liquids and cleaners to your heart's content. Host a family-fun night experimenting in your own segment of Mythbusters-flooring edition.
The best part is you will know exactly how well these floors will stand up to the kind of abuse they will face in your home.
Help others by sharing your findings, comments, pictures, and videos with us via social media or on this site.
Back to Top