Armstrong's Rigid Core Luxury Vinyl Flooring has emerged on the market as a quality vinyl plank flooring manufacturer that can help you get the hardwood look at a fraction of the cost. But just how good is the brand really? Read our review to find out.
Whether you are after the rustic farmhouse look or a sleek, contemporary, exotic look, hardwood is still the most popular flooring option for a reason. But hardwood floors are expensive, challenging to install, difficult to maintain, and can't be installed anywhere with moisture.
Luxury vinyl plank (LVP) flooring has been designed specifically as an alternative to get the hardwood look in a more versatile material and at a more affordable price tag.
But not all LVP flooring delivers on promises, with some looking fake and not living up to the versatile and durable reputation. But we think you will find that Armstrong's Rigid Core Luxury Vinyl Flooring is one of the brands that delivers on its promise.
But learn more before you decide whether to buy with our complete review.
Rigid Core Features
If you are looking for a beautiful, natural-looking floor that can withstand the toughest traffic, then Armstrong's Luxe Plank flooring with rigid core technology just might be the thing you've been dreaming of.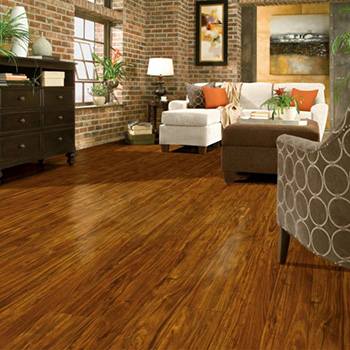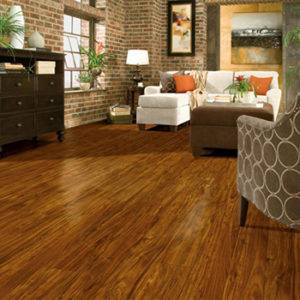 It comes in stunningly realistic planks that resemble wood. Or you can choose tiles that look so much like natural stone that it is hard to tell the difference.
And the best part: These luxury vinyl planks and tiles have Armstrong's innovative rigid core technology.
Rigid Core technology is Armstrong's answer to uneven subfloors.
Each plank has a rigid composite core plus an acoustic cork underlayment. This technology helps hide the imperfections of a not-so-even floor.
They simply lock together on top of your existing hard surface floor. And they don't need to be acclimated first.
This flooring comes in several sizes of planks plus natural stone options, so you can find the right look for any room. And they are waterproof, meaning you can even put them in bathrooms and basements.
You can also feel confident that this flooring will be safe for your home. Rigid Core Luxury Vinyl is FloorScore certified and will not affect your indoor air quality.
So, without further ado, let's check out some of the beautiful flooring looks you can achieve with Armstrong's Rigid Core Luxury Vinyl Flooring.
Styles & Options
When it comes to options, Armstrong covers them all, whatever your personal taste may be.
Their Luxe Plank Luxury Vinyl comes in four styles. These collections include exotic, rustic, and traditional hardwood looks.
The exotics include distinctive woods like African acacia and Brazilian tigerwood. Each has rich colors and variations in it.
The rustic look mimics reclaimed wood and features gorgeous styles like Farmhouse Plank and Painted Pine.
If traditional wood is more your style, then you may like their Countryside Oak. Most planks are either 6" x 48" or 7" x 48".
Or you can choose from a variety of natural stone looks that resemble travertine, slate, or stones.
The natural stone tiles vary in size, but most are either 12" x 24" or 18" x 18". Additionally, there are a few concrete looks that are available in a 6" x 48" plank.
Installation & Maintenance
Whether you are going for a wood or stone look, with this Armstrong product you can easily achieve it with much less work. Installing Rigid Core Luxury Vinyl is very easy to do.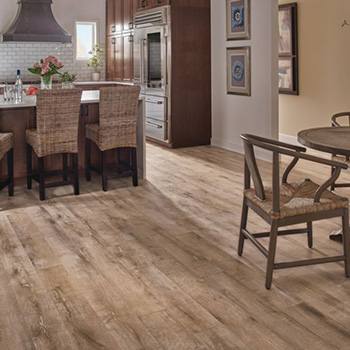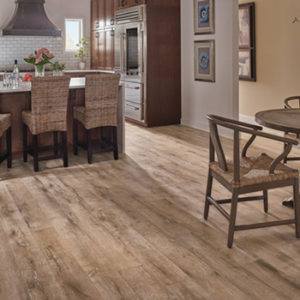 In fact, it makes a great DIY project, saving you even more money on installation fees. You'll need a few tools but nothing out of the ordinary.
In fact, you may have everything you need at home already.
And if you have ever tried to install tile or hardwoods on your own, you will find this is much easier. If you've never installed a floor before, you can likely still do this project with no experience.
The floors come with a locking installation system with a tongue and groove already fitted to each plank, which allows planks to easily click together and be secured with a tapping block.
Once you've installed your Rigid Core flooring, you can begin enjoying it right away. This LVT does not need to be acclimated.
Plus, it is very easy to maintain. Simply sweep or vacuum up loose dirt and debris on a regular basis. Just be sure you use a vacuum cleaner designed for hard floors. Armstrong does not recommend using a vacuum with a beater bar, as this can damage the floor.
This may need to be done frequently in high-traffic areas and once a week in non-traffic areas.
For deeper cleaning, use a damp mop. But avoid the use of harsh chemical cleaners. Armstrong recommends their own specialist VLP floor cleaner, Armstrong Once 'n Done Floor Cleaner. They also recommend their SatinKeeper Resilient Low Gloss Floor Finish for waxing floors and returning them to shine if they dull over time.
With a little routine care, these highly durable floors will retain their beauty for many years to come.
How To Purchase
Armstrong Rigid Core LVT can be purchased through most major home improvement stores like Home Depot and Lowe's.  You can get it directly from the stores or order it online and have it shipped to your home or to the store.
You can also purchase it from businesses that specialize in flooring, such as Floor and Décor, or through an online retailer like WeShipFloors.com.
Unlike some brands that are sold exclusively through one particular store, this product is readily available.
Costs may vary depending on where you live and the style you choose, but in general you can purchase it for between $2 and $3 a square foot. One case covers around 20 square feet.
Warranties
The exact warranty you get with your Armstrong Rigid Core Vinyl flooring depends on the line of products you go for. But the majority of their Rigid Core Vinyl flooring comes with a 30-year residential warranty and a 7- to 10-year commercial warranty. However, there are a few higher-end lines that come with a Lifetime residential warranty and a 15-year commercial warranty.
The residential warranty guarantees that the original product you receive will be free from manufacturing defects, and that once installed, it will not:
Wear-through
Stain from common household spills
Rip, tear, or permanently indent under normal use
Will not "bottom-up" discolor due to underlayment conditions
The edges of the planks will not curl up
Some lines also come with a Pet-Friendly warranty. This specifically refers to pet soiling and guarantees that the floor will not stain from pet business during the life of the warranty. Though they do advise that spills should be cleaned up immediately and any damage to the subfloor and surrounding structure from pet pee is not covered.
Armstrong's warranties specifically do not cover fire damage, flooding, or intentional abuse. It also does not cover damage caused by moisture in the surrounding structure or mold and mildew due to exposure to water.
It also doesn't cover damage from a vacuum cleaner barter bar, so if you choose to vacuum, make sure you get one that is safe to use on hard floors.
There is also a general disclaimer against "inappropriate end-user activities." This could include something as simple as wearing high heels on your floor. So, while the warranty offered by Armstrong is very good, be aware of its limits.
About Armstrong
While the original Armstrong company was established in 1860 as a cork manufacturer, they expanded into floor manufacturing and retailing in the early 20th century. But only in 2016 did Armstrong Flooring break away from Armstrong World Industries to become an independent enterprise that could focus on designing and innovating.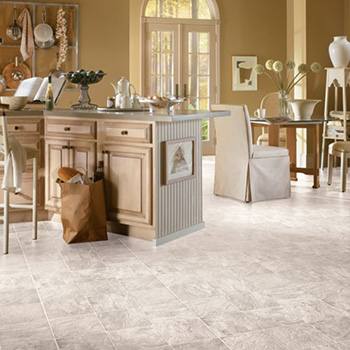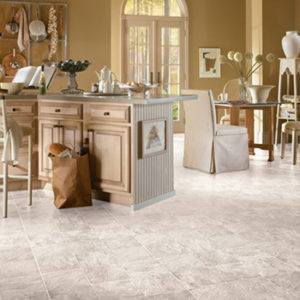 Today, Armstrong Flooring is North America's largest producer of resilient flooring products. Based in Lancaster, Pennsylvania, they have eight manufacturing facilities in the United States, China, and Australia.
FAQs
What Is Rigid Core Vinyl Flooring?
Rigid Core Vinyl Plank Flooring is a subcategory of vinyl plank flooring that has an enhanced rigid core, which gives the flooring planks greater dimensional stability. This means it is less likely to buckle under weight or warp with water, and it feels a bit sturdier underfoot.
Rigid Core Vinyl Flooring starts with a transparent wear layer on top to protect against scuffs and scratches. Underneath this is the thick vinyl printed layer that gives the planks their wood or tile look. This sits on top of a rigid core made from several different materials such as wood and stone plastic, and beneath this is an underlayment to provide moisture protection and act as a buffer between the flooring plank and the subfloor.

Is Rigid Core Luxury Vinyl Flooring Waterproof?
The rigid design of Rigid Core LVP floors means the planks are waterproof. They will not lose their shape when exposed to water, and water will not seep in or settle between the cracks. When this happens with other floors, these spaces can become breeding grounds for mold.
Armstrong markets their Rigid Core LVP Flooring as 100 percent waterproof and promises in their warranty that their planks will not swell, buckle, or lose integrity when exposed to water, and that the secure bond between the planks will remain.

Is Rigid Core Flooring Safe?
In general, some vinyl plank flooring is known to emit gasses and volatile chemicals, called VOCs, into your home, which can cause health issues. However, Armstrong's Rigid Core Vinyl Plank Flooring is FloorScore certified as safe for your home.
FloorScore is a certification for hard surface flooring and flooring adhesives, which is awarded when these products meet strict indoor air quality requirements. This certification indicates the floor is safe in terms of the dangerous chemicals formaldehyde, acetaldehyde, and all other organic chemicals with established CRELs.

How Do You Install Rigid Core Luxury Vinyl Flooring?
Armstrong's Rigid Core LVP Flooring comes with a locking installation system with a tongue and groove already fitted to each plank, which allows planks to easily click together and be secured with a tapping block.
The underlayment means that, while subfloors should be cleaned and prepared, your LVP floor will remain stable with minor imperfections in the subfloor.
The installed floor, unlike hardwood floors, does not need time to acclimatize, and you can start using it right away. This also makes installation easier, as you do not need to account for expansion when laying the floor.

How Do You Clean Rigid Core Luxury Vinyl Flooring?
Armstrong recommends sweeping and vacuuming your Rigid Core LVP Flooring to remove debris that can cause scratches, though make sure you are using a vacuum that is appropriate for hard floors. Vacuums with a beater bar are not recommended.
Spills should be cleaned up as soon as possible, and you can mop the floor regularly with a cleaning solution appropriate for vinyl flooring.
The Verdict
If you are looking for an affordable luxury vinyl plank floor solution to get the wood look in your home but without the wood hassle or price tag, then Armstrong's luxury vinyl flooring should be on your list.
It is high-quality, there is a good range of looks to choose from, and it is easy to install, even over a subfloor that is not entirely even. In fact, with the exception of carpet, you don't even have to remove existing flooring to install this LVP option.
Not only are the planks themselves affordable, but installation is easy and perfect for a DIY project, so you can save significant dollars there as well.
Available from most major flooring retailers, this is a very accessible flooring solution.
Do you have any experience with Armstrong's Rigid Core Luxury Vinyl Plank Flooring? Please share your thoughts and experiences with the community in the comments section below.
Back to Top