When comparing laminate vs. engineered hardwood flooring, which is the superior flooring? Both are popular alternatives to traditional hardwoods, so I've decided to compare the two side-by-side to see which flooring might be better for your home.
Before purchasing flooring, there are a few factors to consider. For instance, do you have kids or pets who may inflict wear and tear on the floor? Are you willing to put in the work to install the flooring yourself, or do you want to pay a professional if the price is right?
New flooring is a big investment, so it's important to put in the time to research all available options before making your purchase. Laminate and engineered hardwood are very similar, but each offer their own benefits, as well as drawbacks that could potentially be deal-breakers.
We'll explore the pros and cons of each type of flooring, providing the important information needed to make an informed purchase decision. In this guide, we'll compare the features of laminate and engineered hardwood, including:
Side-By-Side Comparison
| | Laminate | Engineered Hardwood |
| --- | --- | --- |
| Durability | Extremely durable. Resistant to scratches and dents but may chip. | Prone to the same type of damage as solid hardwoods, including scratches, dents, and dings |
| Waterproof | No | No, but more resistant to water than solid hardwoods |
| Cleaning | Daily cleaning with broom, dust mop, or vacuum. Can be cleaned with dry mop and cleaners made for laminate. Should not be wet mopped. | Daily cleaning with broom, dust mop, or vacuum. Can be cleaned with dry mop and cleaners made for engineered hardwood. Should not be wet mopped. |
| Refinishing | No | Yes, for some products |
| Pet-Friendly | Yes | Yes, but claws can cause scratches |
| Price | Averages between $2 and $4 per square foot | Averages between $4 and $7 per square foot |
| Installation | Floating floor | Floating, nail-down, glue-down |
| Lifespan | Between 15 and 25 years | Up to 80 years |
| Good for Allergy Sufferers | Yes | Yes |
| Professional Installation Costs | Between $2 and $7 per square foot | Between $3 and $10 per square foot |
| Flooring Guide | Laminate Flooring Guide | Engineered Hardwood Flooring Guide |
Price
One of the most important aspects that many consumers consider before purchasing new flooring is the price. How do laminate and engineered hardwood compare to each other in terms of price, and are either more budget-friendly than traditional hardwoods?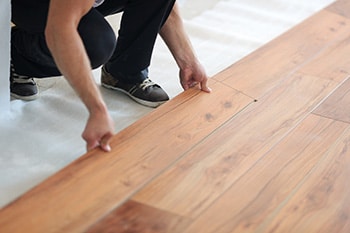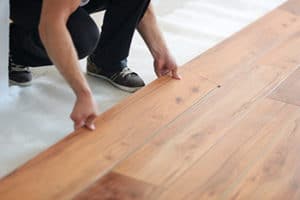 Laminate is extremely popular because it's affordable. It gives the same great look as hardwoods without the high price tag. Although prices vary by brand, the average cost of laminate flooring ranges between $2.70 and $10 per square foot.
When you compare this pricing to traditional hardwoods, it's easy to see that it's a budget-friendly option for cost-conscious consumers. Low-grade woods may be priced as low as $3 per square foot, while exotic woods may cost as much as $15 per square foot.
Engineered hardwoods, on average, costs between $6.15 and $9 per square foot. While it is more expensive than laminate, it is still an affordable alternative to hardwood flooring.
As you can see when it comes to pricing, both laminate and engineered hardwood are quite affordable when compared to other flooring types. However, laminate is significantly less expensive than engineered hardwoods.
Installation
The pricing of the flooring itself isn't all that a consumer needs to consider when deciding whether to purchase laminate or engineered hardwoods.
The cost of installation is also a factor, which is why so many people opt to just take on the job themselves. When it comes to ease of installation, which is superior: laminate or engineered hardwoods?
Laminate flooring is one of the easiest floors to install, even for someone who has no experience with flooring. People install laminate flooring as a floating floor. That means you won't need nails or adhesives. Instead, the flooring clicks together using an interlocking system to keep the pieces in place.
The installation process for laminate flooring does take time and patience, but it's very easy to complete. You don't need any expensive professional tools for installation. There are multiple online guides and videos that show exactly how to install this type of flooring.
But about the consumer that doesn't want to tackle a do-it-yourself flooring project? How much should they expect to add on top of the costs of the flooring itself?
The cost for professional installation of laminate varies by contractor, but consumers should expect to pay between $3.80 and $4.80 per square foot.
There are three different methods for installing engineered hardwood flooring. Like laminate, some engineered hardwoods can be installed as a floating floor. Additionally, there are other types of engineered hardwood floors that can be glued or nailed down.
A floating floor installation is the easiest way to install this type of flooring. Gluing or nailing down the floorboards is more extensive and does require more time and skill.
As with other flooring types, the cost for professional installation of engineered hardwood varies by contractor. On average, the pricing for engineered hardwood flooring installation can cost you between $3 and $10 per square foot.
Though it's a close race in this category, laminate is the winner. It's easy to install, and it is more affordable than engineered hardwood with professional installation.
Water Resistance
One of the major drawbacks of traditional hardwood flooring is that it can't get wet. You can't install it in rooms that are humid or moist, or you will ruin it. Cleaning can be a pain because you can't maintain it with traditional cleaners and wet mops.
So, how does laminate compare when it comes to water resistance? Laminate flooring is more resistant to water than hardwood flooring but only on the top surface. The floor can swell and warp if the sides and bottom of the flooring get wet.
If laminate gets wet on the sides or underneath, you can't refinish it. Instead, you will need to replace the ruined flooring. For this reason, spills should always be wiped up immediately and laminate should never be installed in rooms with high humidity or moisture such as kitchens or bathrooms.
Engineered hardwood is more resistant to water than traditional hardwoods. Due to the construction, it will not expand or contract in humid environments, making it ideal for installation in below-grade rooms where hardwoods cannot be installed.
Even though engineered hardwood is more resistant to water, it is not completely immune to damage. Spills should always be cleaned immediately and a wet mop should never be used to clean engineered hardwoods.
If water damage does occur, some brands of engineered flooring can be sanded, refinished, and restored without having to replace the entire floor. Because of this, engineered hardwood outperforms laminate when it comes to water exposure.
Durability
Hardwood floors are beautiful. However, it's easy to scratch them, and they can dull over time. They require time-consuming waxing and expensive refinishing.
For households with children, pets, or heavy traffic, does laminate or engineered hardwood offer durability?
A laminated floor looks just like real wood, but surprisingly, it's synthetic wood flooring with a photo printed on top. This flooring has the classic beauty of hardwoods but with one big advantage: it's extremely durable.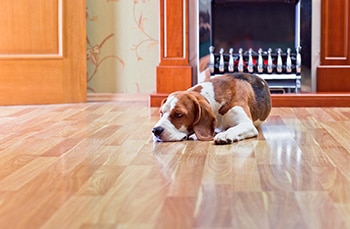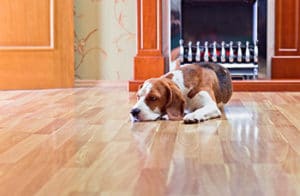 Laminate is a top flooring choice for households with children or pets or any homeowner who wants low-maintenance flooring that's resistant to damage. It's much harder to scratch and will not dent like hardwood flooring. Laminate flooring doesn't fade, and it's resistant to stains. Over time, laminate can chip, and as a result, you can't refinish the flooring and it will need to be replaced.
The top layer of engineered flooring is made from solid wood. So this flooring faces the same risk of damage as solid hardwood floors. This includes scratches, dents, and dings.
Damaged hardwood flooring can be refinished multiple times. With engineered hardwoods, many products can only be refinished once. There are other products you can't refinish at all so you'll need to replace them.
Because it is so resistant to scratching and other damage, laminate is the best choice in flooring when it comes to durability.
Colors & Styles
Every home is unique and has its own style, from traditional to modern. Homeowners want choices when it comes to how they style their homes, whether it's choosing the furniture, the paint, or of course, the flooring.
Laminate manufacturers use advanced printing processes to create flooring that looks and feels just like solid hardwood. These processes allow manufacturers to replicate many of the most popular species of wood, including oak, pecan, and walnut, in a variety of colors from whitewashed to ebony.
Engineered hardwoods have an upper layer that is made of real wood. Many of the same species in traditional hardwoods are in the construction of engineered hardwood flooring. This includes traditional species like maple and pine, as well as exotic species such as mahogany, Brazilian cherry, and acacia.
The engineered hardwoods on the market are available in many shades from light to dark, as well as different styles including classic, modern, and rustic.
Even though both types of flooring come in a variety of styles and colors, engineered hardwoods offer a larger selection to suit any home.
Care & Maintenance
One of the reasons that so many consumers are purchasing other types of bare flooring is because hardwood flooring is high-maintenance and you need to take special care to keep it looking its best.
When it comes to care and maintenance, which is the top pick: laminate or engineered hardwoods?
Laminate is easier to care for than traditional hardwoods. You can clean laminate on a daily basis with a broom, dust mop, or vacuum cleaner for use on bare floors. For more extensive cleaning, you can use a dry mop or cloth. Use cleaning tools with a detergent designed for use on laminate floors. This is important because other cleaners can cause a waxy buildup that is hard to remove and dulls the shine of laminate flooring.
Never use a wet mop, because water can damage laminate flooring. Avoid steam mops, as well. This is because excessive steam can also damage the floors.
Daily cleaning of engineered hardwood flooring is similar to laminate care. You can clean up dirt, dust, and debris using a broom or dust mop. You can also use a hardwood vacuum.
However, the vacuum must be appropriate for use on bare floors. Regular vacuums can scratch and damage engineered hardwood floors.
A dry microfiber mop with a cleaner appropriate for use on engineered hardwoods is the best way to give this flooring a deeper clean. Avoid wax-based and harsh cleaners.
Avoid wet mops and steam mops as well. This is because excessive moisture can damage floors.
Engineered hardwoods have one advantage over laminate. That is, you can refinish many brands. You can't refinish engineered hardwoods as many times as solid hardwoods. However, you can refinish some products once. This doesn't apply to all brands. Check manufacturer specifications and instructions before beginning the refinishing process.
Even though both types of flooring are easier to care for than solid hardwoods, the fact that engineered hardwoods can be refinished gives it a leg up against laminate in this category.
Lifespan Of Laminate And Engineered Hardwood
Depending on the quality and how well you take care of your laminate flooring it can last for up to 15 to 25 years. You may find more wear and tear in high traffic areas. To increase the lifespan of your laminate flooring always place proper underlayment before installing the boards.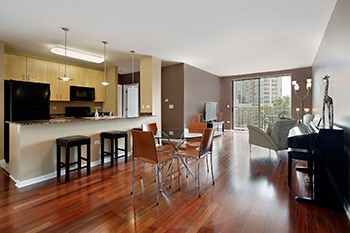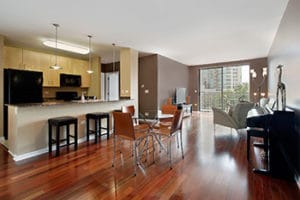 On the other hand, engineered hardwood flooring can last up to 80 years. This will also depend on the quality of the material and how well you take care of your flooring. The advantage of engineered hardwood is that it's similar to genuine hardwood floors. If there are scratches on the surface you can sand the top layer to refinish it and make it look good as new again.
Sizes
There aren't many size variants for laminate flooring. Standard laminate floorboards are 3 inches to 7 inches wide and 48 inches in length.
Engineered hardwood floorboards come with thick or narrow widths. You can get sizes as narrow as 2 ¼ inches or as thick as 7 inches. Lengths of engineered hardwood floorboards range between 36 inches to 48 inches.
Comfort Level And Soundproofing
With laminate flooring, you can add underlayment before installation so it's more comfortable underfoot. However, if the underlayment isn't installed properly it may cause uneven flooring which can affect the comfort level of your laminate floors. Heels or animal nails create an annoying sound on the plastic laminate floorboards.
Engineered hardwood flooring doesn't feel as soft underfoot as laminate flooring. But since this type of flooring can be nailed or glued down, it won't flex or warp.
Soundproofing can be done with both types of flooring and is required if you live above someone in an apartment building. Soundproofing is important to minimize the sound of footfalls.
Resale Value
Installing laminate flooring will not increase the resale value of your home. Some might say that laminate flooring could decrease the resale value because it doesn't have a long lifespan. If you do pick laminate flooring, make sure you purchase a high-end product that will last.
Engineered hardwood flooring improves the resale value of your home, similar to how genuine hardwood flooring would. This is because engineered hardwood flooring has a longer lifespan and can be refinished.
Level Of Stain Resistance
Quality laminate flooring products are highly stain-resistant, which makes them ideal for homes with children. So if you accidentally spill greasy food, fruit juice, and even alcohol on this type of flooring, it won't leave blotches on the surface.
Engineered hardwood floors don't have the same level of stain resistance as laminate does. This type of flooring is prone to staining easily because of the real wooden layer on top. But if you clean spills immediately after they happen, you may be able to prevent your floors from staining.
Another way you can protect your engineered hardwood floors from staining is by adding a sealant to the surface. This will add a layer of protection to the wood. If stains occur over time you can sand your engineered hardwood floors and reseal them.
The clear winner of the level of stain resistance is laminate since it has a printed layer on top that's plastic.
FAQs:
Is Engineered Hardwood Better Than Laminate?
If you look at the comparison between engineered hardwood and laminate flooring, you may find that the former is better value for money. Engineered hardwood can last up to 80 years and can be refinished if scratches and dents occur on the surface.

What's more, there are different varieties of engineered hardwood installations such as floating, glued backing, or nail down products. Laminate only has floating-style installation and can't be refinished if the surface of the flooring gets scratched.

Many people prefer engineered hardwood flooring because of the layer of real wood on the surface.

Which Is More Expensive: Laminate Or Engineered Hardwood?
Engineered hardwood flooring is more expensive than laminate floors for the product and for installation. Some homeowners pick laminate for their floors because it looks and feels like authentic wood but without the high price tag.

Laminate flooring also comes in a variety of patterns and colors so you're guaranteed a stunning floor that will suit your budget. However, laminate flooring doesn't last as long as engineered hardwoods. You may want to spend the extra dollars on engineered hardwood flooring if you want the long 80-year lifespan.

Do Engineered Wood Floors Scratch Easily?
The top layer of engineered hardwood is real wood so it can scratch just as easily as authentic hardwood flooring. However, there are products on the market that offer high scratch-resistant engineered hardwoods that are ideal for families with children and pets.

If your engineered floors get scratched you can refinish them which is something you can't do with laminate floors. So you can keep your engineered hardwood floors looking pristine for many years.

What Are The Pros And Cons Of Engineered Hardwood?
Let's delve into the pros before the cons of engineered hardwood floors. Firstly, engineered hardwood tends to fade quickly so it won't keep vivid color for long. Your floors mustn't be exposed to excessive UV rays because it will make your floors fade quicker. To minimize the risk of fading, keep your blinds or curtains closed when the sun is up.

Another con is that it's not suitable for families that have pets because animal claws can create scratches on the surface. Engineered hardwood flooring is not 100% waterproof.

Now onto the pros of engineered hardwood flooring. You can install engineered hardwood floorboards over concrete. Since this type of floorboard has a multi-layer construction, it holds up better against moisture and humidity than real hardwood.

Unlike laminate, engineered hardwood floors improve the resale value of your home. You may be able to demand a higher price on the resale value if you have engineered hardwood.

What Is The Best Laminate Flooring Brand?
There are actually two laminate flooring brands that are neck-and-neck at the moment. Shaw and Mohawk are both excellent laminate flooring brands because they both offer products that are durable and they come in plenty of colors.

Mohawk makes laminate prints look extremely authentic and they offer 200 laminate flooring designs. Shaw flooring has been in the industry since the 1940s and makes other types of flooring such as wall-to-wall carpeting. The Shaw laminate flooring also comes in a variety of colors and they're easy to install.

What Is The Best Cleaning Product For Laminate And Engineered Hardwood Floors?
The best cleaning product on the market suitable for laminate and engineered hardwood floors is Bona. It's a versatile cleaning aid because it can be used on cork and bamboo. This cleaning product is specifically designed to remove dust and dirt from your laminate and engineered hardwood floors without damaging them.

It's a water-based cleaning solution that dries fast and won't leave a sticky residue behind. Bona comes in a ready-to-use spray bottle so there's no need to premix products. The spray bottle allows you to spot clean.

What's more, Bona is Greenguard Gold certified which means it has low VOC emissions. This makes the product safe to use around children and animals. You'll also appreciate that the product hasn't been tested on animals.


Can You Install Engineered Hardwood Floors In The Kitchen?
Engineered hardwood is different from hardwood flooring. Since the engineered hardwood floorboards are layered, they can be installed in environments where they're prone to getting wet. You can install this type of flooring in your kitchen because the layers hold up well against moisture.

The middle layer of this flooring type is made of plywood, and the bottom layer has plywood and high-density fiberboard that's sturdy and durable. You won't have problems with mildew or mold growth with engineered hardwood flooring thanks to its layered construction.

What Are The Disadvantages Of Laminate Floors?
One of the drawbacks of laminate flooring is that it can't be refinished. The top layer has a synthetic print on top that can't be sanded or sealed. So if scratches and dents happen over time you may have to replace your entire floor.

Another disadvantage of laminate flooring is the level of VOC emissions. Since the product is made of synthetic materials it may release high VOC. Look for laminate flooring that has a low VOC emission. Or when you install the flooring make sure you keep the room well ventilated for a few days.

Walking on laminate flooring can be loud so you may want to add rugs in high traffic areas to deter the sound of footsteps.
Final Verdict
By understanding more about these types of flooring, it's easier for consumers to choose the best flooring that fits their own personal style and budgets.
Laminate flooring and engineered hardwood are both great choices for anyone considering bare flooring. Laminate has its advantages over engineered flooring, such as lower pricing, easier installation, and better durability. As a result, laminate is an ideal choice for households with children and pets that want low-maintenance flooring.
However, engineered hardwood flooring offers its own benefits, including an amazing selection of styles and colors, easy maintenance, and better water resistance. This flooring is ideal for anyone who wants a more affordable and lower-maintenance alternative to solid hardwoods.
If you have any comments or first-hand experiences with laminate or engineered hardwood flooring, please post them below or share your pictures via our social media.
Back to Top
Back to Top