Cleaning your Pergo floors is an easy process that can extend your floors' lifespan with minimal effort. If you don't know how to clean Pergo floors, you may assume it is a tedious job. Once you learn these simple tricks and what not to do, you'll be all set to keep your floors spotless.
Your shiny floors deserve to stay fresh and clean, and here I will show you how little effort is needed, using both natural methods and a Pergo floor cleaner for tougher stains and spills.
Keeping your floors glowing can be done using either a wet or a dry method. As long as you ensure quick cleans throughout the week, you won't have to spend too much time and effort cleaning these floors.
It is up to you whether you would like to use cleaning tools you already have at home or if you would prefer to invest in a dust mop to keep the sparkle in your floors.
Whether you have a busy household with pets and plenty of people walking through or live independently, you will want to keep your floors fresh for visitors regardless. Cleaning often is better than spending ages preparing your house and floors for guests only once in a while.
What Are Pergo Floors?
Pergo is an affordable addition to your home, offering easy-to-install, laminated flooring, which imitates hardwood without the hassle.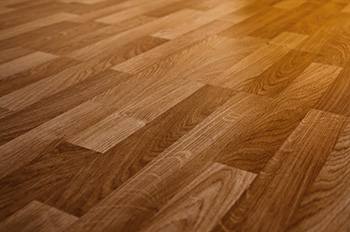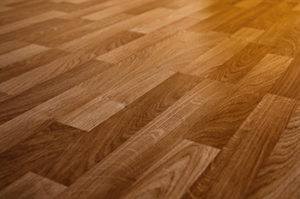 The installation process is done by simply snapping the pieces into place without using grout or other messy materials. This flooring offers no small crevices for dirt to lurk.
Pergo floors are a laminate option in place of the hardwood floor you might like but without the worry of exorbitant prices or high-maintenance upkeep of traditional hardwood.
Though these floors are certainly an easy-to-clean option, there are a few tips you should know to lengthen the lifespan of these floors. You only need a few household items to get the cleaning started, but you may need a floor cleaner in the event of a tougher job.
Materials You'll Need For Pergo Floor Cleaning
Dry mop or soft broom
Vacuum with a soft-bristled brush attachment
Wet mop
Bucket
Vinegar or ammonia
Water
Soft cloth
The Best Way To Clean Pergo Floors
Ultimately, the number one way to keep your Pergo floors consistently clean is to regularly clean them using the dry method of sweeping, vacuuming, or dusting a few times a week. Doing so regularly will prevent any dirt from building up.
Pergo Laminate Floor Cleaning Instructions
The Dry Method
To clean your Pergo floors using the dry method, you should use a regular broom or a dust mop to wipe away dirt. However, you can also opt to use a mop pad to clean the surface.
Alternatively, a vacuum works as long as you have a soft-bristled brush attachment to protect your floor from scratches. Gently push the vacuum across the floors, ensuring you don't apply too much pressure.
The Wet Method
If you are consistent in removing the dirt and dust from your floors, you can easily and properly clean your flooring using a simple mixture of vinegar and water when you require a more elaborate cleaning method. This cleaning method should only be used every two months or so.
All you need here is one cup of vinegar (or ⅓ cup ammonia) mixed into one gallon of warm water. Add the water and ammonia into a large bucket and mix before wetting your mop. Once wet, make sure you wring out the mop to remove excess water.
The mop should be slightly damp as you only want to dampen the floors with the mix and not leave puddles, as doing so could ruin your flooring. Gently mop the floors, giving some extra firm wipes on any areas with a build-up of dirt.
Alternatively, you can spray the vinegar mix on small areas at a time before mopping it over to ensure you don't create any puddles or leave the vinegar mix on the floor for too long before wiping it. If this mix dries before you mop, it can cause some damage to the floor.
Once you have mopped the entire floor with the vinegar mix, check to make sure no water has puddled anywhere. If it has, then wipe up these spots with a cloth or your dry mop.
Use Pergo Floor Cleaner For Tough Stains
If the above methods aren't working for tough dirt build-ups, you may need to use a commercial floor cleaner in these instances. However, you want to stay away from oil-based products and any others that are not labeled safe for laminate flooring.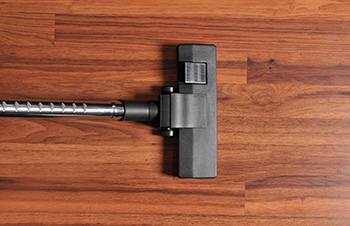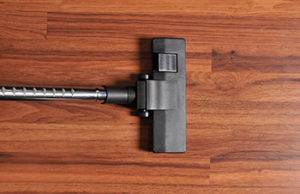 You can use a product like Rejuvenate High-Performance All-Floors Cleaner to clean your floors carefully. This product is non-toxic and safe for laminate floors, thus offering an easy-to-use spray option you simply mop up with a dry mop.
You can look for other laminate-friendly floor cleaners at your local store or on Amazon, but these should only be used on rare occasions for tough stains. Regular, light cleaning is your best option for maintaining your floors and keeping them in top condition.
Mistakes do happen, and sometimes spills occur that can create harder-to-clean stains on your flooring. Here you may need to try different methods to address the mess.
Stain Remover Tips And Options
For unexpected stains and spills, you may need to utilize methods beyond your regular cleaning routine. However, you should take good care not to use any products, natural or store-bought, that may ruin your floors.
If you find chewing gum or wax on your floors, you should place a bag of ice on top of it to harden the substance before carefully scraping it off with a blunt plastic object, such as a bank card.
In the event of a glue spill, you should find a glue remover– but read the instructions carefully to make sure it won't damage laminate flooring. Do some extra research on the product if necessary.
Greasy and oily stains can be cleaned using the vinegar and water solution (mentioned above). If this doesn't prove effective, you may need to try using some ammonia as instructed above.
If you come across tougher stains that don't come out with any of the above techniques, you can try using some nail polish containing acetone or a small amount of ethanol on the area.
Whichever technique you use, be sure to avoid rough brushes and bristles, and instead, use a soft mop, wipe, or cotton cloth.
More Tips To Protect Your Pergo Flooring
Apart from regular cleaning, there are other useful techniques to employ when looking after your laminate flooring.
To ensure you protect your flooring from scratches and unwanted marks, place doormats at each doorway of your house to remove grit and dirt from shoes before entering.
When placing these doormats, you should consider using rug pads to keep the mats from scratching the floors due to dirt filtering through the mat. It will also prevent the mat from sliding.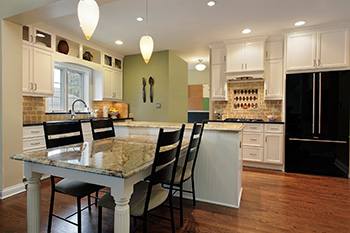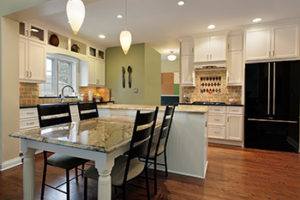 If any furniture items are moved around often, use sliding floor protectors to prevent scratch marks when moving the furniture. You can either attach rubber wheels to these items or look for furniture pads.
As you now know, Pergo floors should be kept as dry as possible. So if your floors are in a kitchen or bathroom, or another area where they may come into contact with moisture regularly, you should place absorbent rugs in these areas.
If you notice any minor damages to your Pergo floors, you don't have to worry about replacing the whole floor area. You can find a professional in your area to treat the damage with Pergo Floor Restore Repair Kit.
Summary Of Dos And Don'ts
This may seem like a lot to be aware of when using Pergo flooring in your home, but these are easy instructions to keep your floors looking pristine and lasting the test of time. Here are the most important dos and don'ts of Pergo flooring:

Do
Dust your floors regularly
Vacuum with soft-bristled brooms and vacuum attachments
Use a soft cloth when wiping the floors
Wipe with vinegar or ammonia mixture on tougher stains
Place rugs and mats throughout the house where necessary
Invest in rug mats to add additional protection
Add wheels or furniture pads to certain items
Fix up any scratches or damages to your floors as soon as possible
Don't
Clean with a soaked mop to wash the floors
Let water or other spills sit for long
Clean with soap and detergent-based products
Use harsh bristles or cloths when cleaning the floors
Wax your Pergo floors
Use harsh chemicals when cleaning
Clean with steam mops on Pergo flooring
Use a polishing machine on your floors
Drag furniture and other heavy objects across the floor
Cleaning Pergo Floors FAQs
Can You Use A Steam Mop On Pergo Floors?
Steam mops are not recommended for Pergo floors since the heat from the steam can cause the laminate to warp. The mop's moisture can also seep into the floors, creating dampness that will ruin the flooring.

Steam mops would need to be used exceptionally carefully on Pergo flooring. Ensure you don't hover over a spot for too long, as the heat and moisture can damage your laminate floors very quickly.

When using a steam mop, you would also need to make sure that most of the dust and dirt has been removed in advance to prevent the mop from pushing any dirt into the flooring and potentially causing scratches.

In fact, it would be best to avoid this cleaning method and use the techniques stated above. If you choose to use a steam mop anyway, place it on the lowest setting possible.

Can You Use A Swiffer Sweeper On Pergo Flooring?
Yes, a Swiffer Sweeper can be used on Pergo flooring as long as you are careful to only allow a small amount of spray on the floor at all times. You can manually spray the cleaning agent or water/vinegar mix to ensure you don't create puddles.

Wipe the floors quickly so as not to leave the wet mixture on the floor for too long. The Swiffer cleaner is a good option because you can use it both as a dry and a wet mop. Plus, using the absorbent cloths for the wet setting will soak up liquids efficiently.

What Are The Disadvantages Of Pergo Laminate Flooring?
Pergo floors, as you have noticed, are susceptible to damage from water and dampness. You should take extra care and precautions to prevent liquids from sitting on the floor for long periods.

This flooring type doesn't handle heat well and should be protected from any unnatural heat sources to prevent warping and damage.

If you are careful to protect the floors from excessive heat and water, you will be able to enjoy this fairly durable product at a remarkably affordable price. The advantages definitely outway the disadvantages for these floors.
The Final Verdict
Pergo floors are an excellent option if you are looking for an affordable yet elegant flooring product. These floors are easy to install, easy to maintain, and look just as good as more expensive hardwood options.
Cleaning these floors doesn't need to be a hassle, and you can enjoy sparkling floors through regular dusting and sweeping, with the occasional deeper clean using household items such as water and vinegar.
Don't forget to avoid any harsh chemicals since vinegar or ammonia can do the job for you more efficiently and affordably.
Now that you know all about Pergo flooring and how to maintain them, enjoy your new purchase with peace of mind that looking after your new investment will be simple and easy.
If you have any comments or first-hand experiences with Pergo floor cleaning, please post them below or share your pictures via our social media!
Back to Top