Perhaps your budget is tight, but you have had your eye on an expensive market-leading cordless vacuum cleaner that offers great features. However, the price of these market leaders leave you breathless. Don't despair! We've got you covered with these MOOSOO cordless vacuum reviews. You can find exactly what you want at a fraction of the price.
MOOSOO has been challenging the status quo of vacuum cleaners, and their range of cordless stick vacuums goes toe-to-toe with Dyson, Bissel, and Shark at a price that will leave you smiling. With so many great, functional accessories, the MOOSOO range of cordless vacuum cleaners is definitely worth a second look.
The mission statement of MOOSOO is to create low-cost versions of popular brands to satisfy a growing demand in the market. They have been successfully doing that for the last seven years. Here you can learn all about MOOSOO cordless vacuum cleaners today to help you choose an inexpensive and efficient vacuum.
PRODUCT

Most Versatile

MOOSOO VAC109 Cordless Stick Vacuum K17

Large capacity 2200 mAh battery
4-stage efficiency filtration system
Lightweight and versatile

4.7

Check Our Review

Most Improved/Best Overall

MOOSOO X8 2021 Newest 24Kpa 4-In-1 Cordless Vacuum Cleaner for Pet Hair

4-in-1 functionality
Larger motor for additional suction power
Upgraded turbine powered head

4.7

Check Our Review

Most Efficient

MOOSOO K17-PRO 24Kpa Cordless Vacuum Cleaner 6 In 1 Ultra-Quiet Handheld Vacuum

Ultra quiet at less than 68 dB
Two suction levels: 11 and 24 kpa
Extended hose addition

4.7

Check Our Review

Best Value

MOOSOO K17G Cordless Stick Vacuum Cleaner 23Kpa Strong Suction Pet Hair Carpet【Upgraded version】

Increased dust cup size
Flexibility of stick, shoulder, or hand vac
Lightweight and ideal for hard to reach places

4.8

Check Our Review
Review Of MOOSOO Cordless Vacuum Cleaners
MOOSOO offers a wide range of corded and cordless vacuum cleaners. We're looking at just the cordless machines today, because who needs cords all over the place? Every single one of these four MOOSOO cordless vacuum cleaners have received great customer reviews, but which should you consider buying?
Here are our top choices: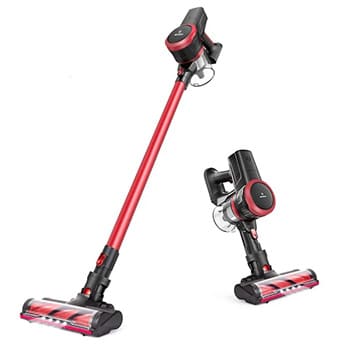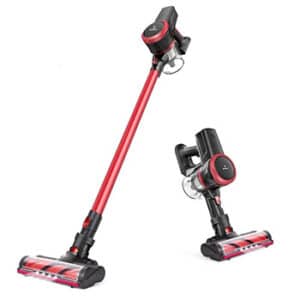 This bright red vacuum cleaner will turn heads with more than just its appearance. It is a highly functional cordless stick vacuum cleaner that converts to a hand vacuum in a jiffy.
Key Features
Washable HEPA filter
30 minute run time
13.5 ounce dust cup
Built to clean a range of floors, the K17 is a sturdy machine with surprising functionality for a cordless model. We found it to be ideal for a single person or a small family for light cleanings around the house.
Though this product is ideal for quick cleanings, you would still do well to keep your upright vacuum around to deep clean your carpets more frequently. The MOOSOO K17 cordless vacuum is adept at cleaning up dusty stains on smooth or hard floors, but it struggles a little with longer pile carpeting.
Pros
Weighs 2.84 pounds
Great for pet homes
Brushless motor with five times longer lifespan
LED lights on head for better visibility in darker areas and under furniture
Cons
Cleaning the filter can be time consuming
Larger particles can drop out before being sucked into the dust canister
Roller head does get tangled with longer hair being sucked up
The MOOSOO cordless K17 is affordable and also comes with a range of accessories, flaunting its versatility, which is a great plus point.
Back To Top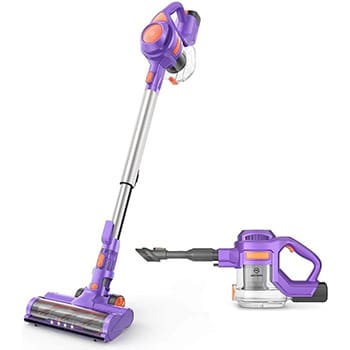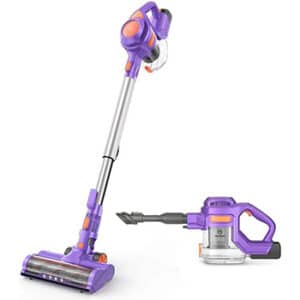 MOOSOO certainly seems to take reviews to heart, and this product is their solution to some of the common concerns with the K17 MOOSOO cordless vacuum cleaners.
Key Features
High-efficiency HEPA filter
30-minute run time
4.5-hour charge time
While the 4.5-hour charge time was a bit off-putting, this is actually pretty standard even for the Shark or Dyson cordless machines.
While the battery run time is not really much better than the K17, you can order a second battery, which you can charge outside the main vacuum unit. When you need to do a lot of vacuuming, you can simply slip out the battery, replace it with a newly charged one, and you're good to go for at least an hour.
The Shark IZ363HT Anti-Allergen Pet Power Cordless Lightweight Stick Vacuum may not be a stronger machine than the MOOSOO X8, but it offers a better battery with 50 minutes run time on a single charge. At 250W of power, the MOOSOO X8 also has a much stronger motor than the Shark's 181W motor. The X8 is more budget friendly and lightweight, weighing almost seven times less than the Shark IZ363HT that weighs in at 7.17 pounds.
Pros
Low price despite the improvements
Lightweight at 1.3 pounds
Upgraded 15W turbine LED motor head
12-month service warranty
Cons
30-minute run time or less when running in high mode
Dirt canister doesn't release from main vacuum, making emptying difficult
Replacement parts can be difficult to order
This MOOSOO model is a great lightweight, energy-efficient, and less expensive alternative to more pricey competitors on the market.
Back To Top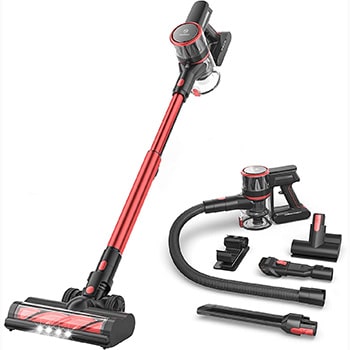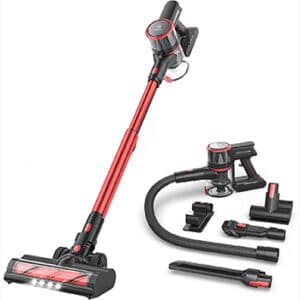 The K17-PRO gives strong competition to the Dyson V8-11 series and other leading brands and models on the market with two modes of operation that deliver more powerful suction.
Key Features
Converts to a shoulder vac with the addition of a flexible tube
200W brushless motor is guaranteed to last
Dual suction features
The economy mode preserves battery life, enabling 40 minutes of run time with no-fade power.
This is what many would consider the deluxe model of the MOOSOO range, and the K17-PRO certainly does provide a quick cleaning solution to any home. The large 43-ounce dust tank can hold a large capacity of dust and other particles, and the filtration unit works well to ensure the motor lasts.
Pros
For tougher tasks, switch to the high power suction mode with 24 kpa suction that operates for 11 uninterrupted minutes
Quick charging with a three-hour charge time
Cyclonic filtration with a washable HEPA filter
Cons
Getting replacement parts can be a challenge
Some of the attachments are not quite as functional, though the main swivel motor head works well
Heavier than the other MOOSOO cordless vacuum cleaners at 9.18 pounds
With its long runtime, fast charging, and two suction modes, the K17-PRO model is a great addition to any home or business.
Back To Top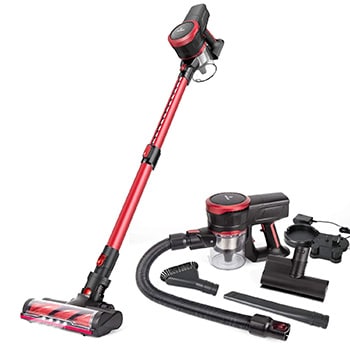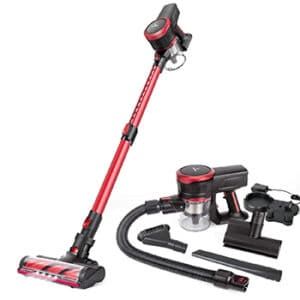 If you don't want to pay the hefty price of a high-end machine like the BISSELL Iconpet Cordless, then the MOOSOO K17G is the machine for you. With exceptional accessories, great upgrades on previous models, and attention to detail, this is a great option for your home and your pocket.
Key Features
Upgraded 200W brushless motor
Lightweight at 2.84 pounds
270-degree swivel tasker brush with increased reach and LED lighting
The features on this MOOSOO cordless vacuum cleaner are truly innovative yet simple enough to focus on getting the job done.
There is a lot to be said for the versatility of the MOOSOO K17G, and if you have a home with loads of stairs, then this machine will be ideal. It's lightweight enough that you can easily carry the cordless vacuum cleaner with you while you vacuum the stairs. The adjustable telescopic extension wand and flexible hose are great additions.
Pros
Adjustable extension wand increases reach from floor to ceiling
Larger dust cup at 3.3 ounce capacity
Ideal for stairs
Low price
Cons
Some larger particles fall out when the machine is switched off
Short run time with longer charge time
The motor head is smaller than other machines
This MOOSOO model has a large dust cup and great add-on features at an affordable price, making it a great choice for any home.
Buyers Guide For MOOSOO Cordless Vacuum Cleaners
With any new product you are interested in, you would do well to keep your desired features in mind. These are the real pain points you want to solve with your purchase, and while brightly colored accessories or fancy gadgets may seem enticing, you need to purchase a machine that will work for you and your lifestyle.
Suction Power
When it comes to the suction power of MOOSOO's vacuum cleaners, they are a bit less powerful than the Dyson and Shark cordless machines. Most MOOSOO machines have 200 to 250 watts brushless motors, but the MOOSOO X8 has the most power to really clean well.
Back To Top
Run Time
While MOOSOO cordless vacuums feature an easy ejection port for the battery units so you can easily change the battery, it is still a disruptive task to stop cleaning to change out a battery for a spare.
Being able to charge your cordless vacuum cleaner and change the batteries will ensure a longer run time, but the average is 30 to 40 minutes per battery pack, with the MOOSOO K17 Pro being the most efficient at 40 minutes in economy mode.
Back To Top
Accessories
Vacuum cleaner accessories make cleaning much easier and more fun, too. While some of the other market-leading cordless vacuum cleaners tend to only come with one or two accessories, MOOSOO cordless vacuum cleaners come with a range of accessories to access and clean any part of your home.
You can expect the following accessories standard with the MOOSOO K17G: floor cleaning head with LEDs, charging base, crevice nozzle, cleaning brush, hose, expandable aluminium stick, and cleaning brush, making it the best choice in this category.
Back To Top
Cleaning Versatility
Having to switch heads when vacuuming from your carpet to the tile floors can be a real distraction. Luckily, the MOOSOO range makes this a breeze. It is really simple to move from one surface to the other. No need to worry that the brush rollers may damage the ceramic floors or that the vacuum cleaners won't be able to clean a carpet.
The MOOSOO K17 range of vacuums all transition fairly easily from carpet to tile and vice versa. Long shag carpeting or deep pile carpets prove to be a bit more of a challenge, so you should look at investing in an upright or corded vacuum that has more suction power to deal with these kinds of surfaces.
Back To Top
Weight
While upright or freestanding vacuum cleaners support themselves, a cordless vacuum tends to rely on you to keep it upright. This means it can get really heavy while cleaning.
MOOSOO cordless vacuum cleaners such as the MOOSOO X8 are especially ideal for those with arthritis or carpal tunnel syndrome as they weigh very little and won't place strain on your hands or wrists. Some models with larger dirt tanks or heavier motors can weigh a bit more, though at a maximum of 9.81 pounds for the MOOSOO X17-PRO, this is hardly as heavy as some of the big name brands.
Back To Top
Moosoo Cordless Vacuum FAQs
Is MooSoo a good vacuum?
While the suction power of a Moosoo cordless vacuum cleaner is better than most stick vacuums, it still doesn't beat an upright vacuum cleaner. It is effective at suctioning up smaller debris, dust, and dirt, but in thicker pile carpets the Moosoo cordless vacuum cleaner doesn't fare so well.

Is Moosoo better than Dyson?
Moosoo can't really compare to Dyson, which is a market leader in innovation, power, and reliability. However, Moosoo still offers great features and slightly better than standard suction power, making it a cost-effective partner for your daily vacuuming needs. It's lightweight and uber easy to use, so having a Moosoo for quick spill management is a great way to complement your Dyson vacuum cleaner. 

Which is the best Moosoo vacuum?
Overall, Moosoo is known for affordable quality based on knock-off designs of other more expensive brands. Their best overall vacuum cleaner is Moosoo Cordless 4-In-1 Stick Vacuum, which is available in different sized motors, dirt tanks, and with different features depending on the model. 

How do you charge a Moosoo cordless vacuum?
Charging your Moosoo cordless vacuum cleaner is relatively easy. Simply install the mounting bracket that comes with the vacuum cleaner near a power outlet. This is also an ideal place to store the Moosoo cordless vacuum when not in use. Plug the charger into the mains with the correct adapter if needed. Then connect to the charging port that is located in the Moosoo cordless vacuum handle.

Be sure to charge the appropriate length of time to ensure adequate battery life. As with any battery, the more frequently you charge it (especially if you only charge for short periods of time), the less battery life you can expect. 
Final Verdict
If you are looking for great prices, good functionality, and efficient suction power, then you need look no further than MOOSOO's range of cordless vacuum cleaners. In this MOOSOO cordless vacuum cleaner review, we've put the top cordless vacuums from the brand through their paces, and while they all proved efficient in their suction power with dust, the MOOSOO X8 ticks most of our boxes. It is lightweight, and it has the strongest motor.
The run time is balanced against the charge time, and the accessories are all well designed, offering maximum value to consumers. This is a machine that can rival the Dyson and Bissell machines any day of the week at a fraction of the cost.
If you have any comments or first-hand experiences with the MOOSOO range of cordless vacuum cleaners, please post them below or share your pictures via our social media.
Back to Top