Are you looking for a lighter vacuum cleaner to clean your floors and carpets? The good news is that with advancements in vacuum cleaner technology, you are spoilt for choice. Our comparison of the LG CordZero vs. Dyson V11 reviews two of the more popular units currently on the market.
With powerful suction, an assortment of attachments, and superior batteries, both these models can easily deep clean carpets and smooth floors. Additionally, they're lightweight and there's no need to carry cords around. Since they're both compact, storage doesn't require a whole lot of space in your cleaning closet.
While shopping, you will likely have questions. Are these two models similar in all regards? Is one better than the other? Will one unit provide you with better cleaning? Can these units only vacuum or can they mop your floors as well? Our handy comparison guide will answer all these for you. We'll highlight and compare the different features that make both these units so popular so that by the end of our article, you'll know which one is the best option for your home!
LG CordZero vs. Dyson V11 Buying Advice
LG CordZero vs. Dyson V11
If you're looking for a lightweight option for cleaning your floors, the LG CordZero A9 and the Dyson V11 are most likely on your short list. It's important to consider the pros and cons of each model before you make your final decision.
LG is well known for its dominance in the entertainment industry; however, in recent years they've also made their presence known in smaller home appliances such as vacuum cleaners. Their leap into the cordless vacuum cleaning category has rendered them an all-around household name.
LG's CordZero A9 is a superior stick vacuum that can give your home a superior clean. One of its stand-out features is its interchangeable batteries. (The attached battery on a Dyson might leave users feeling limited). Additional good news is that the filters and internal cyclones are washable, meaning there's no need to spend any money replacing them! The LG also has a portable charger that can conveniently be used away from the wall outlet.
The name Dyson is well known for its innovative presence in the vacuum cleaner industry. It has always been their goal to set their models above other brands.
Aside from its superior suction power, the Dyson V11 also features some impressive "smart" technology. This innovative technology helps you track several important aspects while the unit is doing its job.
It features 3 modes of operation: Auto, Eco, and Boost. Different suction powers allow you to set your vacuum to your exact cleaning requirements. Dyson also features patented cyclones that route the air through the unit with incredible force. Although the battery is a high-capacity lithium-ion battery, it isn't interchangeable like the one found in the LG.
Features of the LG CordZero vs. Dyson V11
When it comes to Dyson V11 vs LG A9, there are some prominent features to consider. Read on to get a more in-depth analysis of what you can expect to find when you're considering the LG CordZero A9 vs. Dyson V11.
LG CordZero A9 Features
Although LG is not well known for home cleaning products, their CordZero boasts a few impressive features.
5 step filtration system: Easily removes 99.99% of dirt particles not only from the floor but from the air that passes through the motor
Washable filters and cyclones: Save money on purchasing new filters every few months
2 removable lithium-ion batteries: Allows you to clean with one and charge the other one simultaneously
Ergonomic thumb controls: Easy-to-control power settings while vacuuming
Power punch nozzle: Allows you to deep clean mattresses, stairs and upholstery
Unique charging stand: Make it easy to charge the unit while in compact mode, standing or even hanging in a storage closet.
Dyson V11 Features
The Dyson has a list of impressive features making it one of the most powerful vacuums currently on the market. Read on to see why the Dyson deserves a spot on your short list!
3 operation modes: Auto, Eco, and Boost provide you with different settings to give your home a superb clean
Patented cyclones: All Dyson vacuums feature superior motors that force the air through with strong force
Powerful digital motor: Generates about 185 air watts of suction by running at 125,000 RPMs
Auto mode: Allows the Dyson V11 to adjust the power to the type of surface without manual adjustments
High capacity lithium-ion battery: As an upgrade to previous models, the V11 delivers more runtime and power
LCD screens: Easily see how much runtime is left as well as any maintenance requirements
Our Winner
As much as we agree that both of these products can be a wonderful addition to your cleaning arsenal, we do have a favorite! The Dyson V11 wins our vote for the top cordless vacuum cleaner for the following reasons:
Dyson's patented cyclone technology that's featured in all their units is well known in the industry.
With its 185 watts of power, it's slightly more powerful than the LG CordZero.
The Dyson V11 is better suited to cleaning rugs with a slightly higher pile.
The LCD screen makes it easy for you to see how much runtime is left and which other maintenance functions are required.
Buying Guide
It's important to consider different features when you're shortlisting your options. Knowing what to look for and how each model stacks up to your needs will make choosing the best model much easier. Let's have a look at some of the crucial features to consider.
Battery
Experts agree that a cordless vacuum requires exceptional battery technology to not only power the vacuum, but make the batteries themselves last over time. The good news is that both of these lightweight stick models feature advanced lithium-ion batteries.
The Dyson V11 comes with one high-capacity battery, and it offers a higher power output than the initial Dyson models. You can expect about 60 minutes of runtime on the lowest setting, whereas the normal upright operating mode will give you about 45 minutes of cleaning time. Probably the only drawback of Dyson's battery is that it's fixed to the vacuum and needs to be charged in the unit.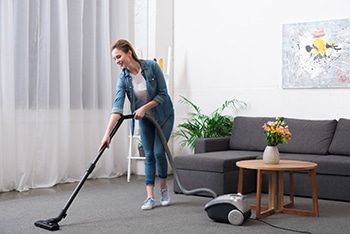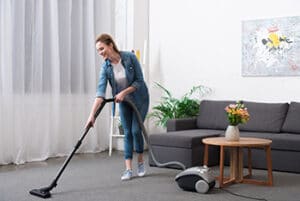 The LG CordZero, on the other hand, features two removable lithium batteries. Each provides only about 40 minutes of use, but since they're removable you can recharge one while the other is working in the vacuum. This gives LG the advantage for this feature.
Filtration System
Not all models in this category have the same filtration system. It's also important to note that quality filters are crucial because they are the components that will remove microscopic allergens such as pet dander, pollen, mold spores, and even dust mites. Ideally, you want a filtration system that absorbs as much debris as possible.
Dyson is well known for its innovative filtration systems. Their combination of internal cyclones and quality filters remove a minimum of 99% of those minute particles and organisms that end up on the floor.
The LG CordZero A9 has a 5-step filtration system. This type of system removes larger particles and then sucks the smaller allergens into the remaining filters. Just like the Dyson V11, about 99% of allergens are removed. While these two units use very different filtration systems, both do a stellar job of vacuuming tile, carpet, hardwood and even laminate.
Suction Power
You would not be alone in thinking that cordless vacuums don't have a lot of suction power, but you might be basing that train of thought on older, less popular models. The good news is, innovative battery and motor technology can place these lightweights on par with their bigger, corded cousins these days. The better a vacuum's suction power is, the less time you'll spend going over the same floor to suck up all the dirt and debris.
On average, the Dyson V11 is geared to draw about 185 air watts in its Boost setting, while both the Eco and Auto modes generate similar power. With a motor that's not quite as potent as the Dyson, the LG A9 averages about 140 air watts in its Turbo mode. With this type of power the unit is still able to deep clean carpets and floors, but since the Dyson V11 has the higher output, if it's wattage you're after Dyson is the clear winner in this category.
Warranty
It's always important to consider the warranty of a product. A manufacturer's warranty gives you an idea of the faith they have in their products. It also gives you peace of mind that there'll be a way to sort out any unforeseen issues.
Dyson has a 1-year warranty on all of its vacuum cleaners. The warranty covers original defects in materials and workmanship, and there's also ongoing support, should you need it.
LG also sports a 1-year warranty on their appliances. While the A9 is cordless, the same warranty applies. LG uses authorized service center agents to assist with all repairs that fall within the warranty period. With the same warranty on both models, there is no clear winner in this category.
Maintenance
You might think buying a cordless vacuum cleaner means there is no maintenance required; however, the way you use and maintain the unit will go a long way toward ensuring it lasts for as long as possible. Ideally, you'll want a unit that requires minimal maintenance to keep it functioning properly.
Both the Dyson V11 and the LG A9 have removable, washable filters. This makes the maintenance process much easier since you don't have to continuously spend money buying filters. A few handy tips for both models include the following:
Regularly wash the filters to ensure you maintain maximum performance.
Don't overfill the bin. Ensure you empty the bin as soon as the debris reaches the MAX marker.
Be sure to follow instructions regarding battery charging and storage.
With these few steps, it's clear to see that both models are very easy to maintain!
Water Mopping
Finding time to vacuum and mop can sometimes be challenging. Gone are the days where you had to vacuum the whole house and then haul out the mop and bucket. A cordless vacuum with a mopping feature will streamline your cleaning process and save you a considerable amount of time. Wouldn't that just make cleaning your floors a breeze?
The LG CordZero comes with a water mopping function. This means you can easily alternate between vacuuming and mopping to assist with cleaning dirt off of hard floors. The power mop nozzle attachment uses regular tap water to clean vinyl, tile and hardwood floors without needing harsh chemicals.
For the Dyson V11, you can buy a dual spinning mop head attachment which allows you to vacuum and mop at the same time. Since the mop pads are made of nanoscale nylon cloth, they can easily collect dust and water without leaving stains, marks or streaks on your floor. When it comes to LG A9 vs Dyson V11, it's difficult to choose one mopping feature over another. Both are quite efficient at getting floors clean and minimizing your cleaning time.
Attachments
If you want to ensure that you get the best use out of your cordless vacuum cleaner, it's always a good idea to consider the attachments that you get for free. Different types of attachments will allow you to use one tool to get the job done without too much effort.
Having the right attachments to get into all the nooks and crevices of your home will ensure that you won't have to go back to a spot to clean it by hand. Some attachments will need to be purchased separately, but the ones you get for free in the original package will determine whether or not the unit will provide you with the most value for your money.
The LG CordZero has the following handy items straight out the box:
Crevice tool
Combination tool
Portable charging stand
Quick-release battery
Universal power nozzle
Power floor nozzle
Telescoping wand
Extra filter
The Dyson V11 comes with a few nifty accessories. These include the following:
Crevice tool
Combination tool
Docking station
Charger
Stubborn dirt brush
High-torque cleaner head
Wand storage clip
Mini motorized tool
Both the LG cordless vacuum and Dyson V11 have a variety of useful accessories that make cleaning quick and easy. Either model with its host of accessories will be an asset to your cleaning routine!
FAQs
Does the LG CordZero have a HEPA filter?
The CordZero has a 5-step HEPA filtration system. This means it can easily filter up to an impressive 99.99% of the usual dust and allergens found around the home.

Should I charge my Dyson V11 after every use?
Dyson V11 units are designed to be left on charge permanently. This ensures the vacuum cleaner is fully charged when next you need it. The good news is that once the battery is completely charged, the unit won't use any additional electricity. Charging your battery after every use enables the monitoring system's algorithm to calculate and display the remaining run time. 

How long do stick vacuum batteries last?
Some users have reported that their Dyson V11 batteries can last up to 4 years, but units with lithium-ion batteries usually only last an average of one year. This is primarily because they're limited to only a few charging cycles. 
Final Thoughts
If you have any doubts about shortlisting one of these lightweights as one of your potential purchases, you can dismiss them now that you have read this comparison. Both models have exceptional suction power, superior batteries and are made by reputable companies.
When it comes to choosing the best one, our vote goes to Dyson V11. With its ability to deep clean carpets and floors by removing anything from dust to pet hair, it's well worth the hype. Its LCD screen easily provides information regarding the modes and maintenance requirements. It's quiet, lightweight and definitely a superior option!
If you have any comments or first-hand experiences with LG CordZero vs. Dyson V11, please post them below or share your pictures via our social media.
Back to Top