Cordless vacuums are a life saver! It took us a while to find the most quality products, but now that we did, we're ready to share them with the world. In today's article, we'll find out who will win in the battle of the Dyson V8 Absolute Vs. Animal vacuums.
These two cordless vacuums belong to the same Dyson line, but it can be quite confusing for customers to choose the right one. Both look and feel quite similar, but they're still very different. Find out more about the differences, pros, cons, and other notable features in our detailed review below.
We'll share our winner right after the features section along with a list of the most important rating criteria that influenced our decision.
Dyson V8 Animal vs. Absolute Buying Advice
Dyson V8 Absolute vs. Animal: Pros and Cons
Choosing between these two vacuums turned out to be a much more complicated task than we thought it would be. Since both designs look the same and mostly come with many of the same features, the choice mostly depends on your personal needs and preference.
Now, let's talk more about the pros and cons of each model so you can get a general idea of what you'll receive if you purchase one of the two vacuums. However, reading about the benefits and drawbacks won't be enough to make a decision; that's why we suggest you also go over the features and criteria we used to rate the products and select a winner.
Pros:
Works great on hard floors and carpets
Comes with a soft roller cleaning head that's ideal for floors with larger debris
Strong suction power combined with the soft brush can get rid of deeply ground-in dirt, dust, and pet hair
Dirt ejection system
Easy to clean and maintain
Cons:
More expensive than the V8 Animal vacuum
The battery usually has to be replaced after the first or second year of use
Pros:
It's ideal for cleaning pet hair from carpets
Great suction power
Easy to maintain and clean
It's more affordable than the Dyson V8 Absolute
It has a dirt ejection system
Cons:
Doesn't include a fluffy cleaning head
Similar to the V8 Absolute, the battery usually has to be replaced after the first or second year of use
Features
Now, let's take a look at all of the features these two models share and the features that divide them.
Surfaces
Although both of these Dyson vacuums are meant for both hard floors and carpets, we noted a difference in their performance on these two types of surfaces.
The Dyson V8 Absolute is called Absolute for a reason. It can pull up dirt, dust, and any other debris from your hardwood floors, tile, and carpets with ease. However, we noticed that this design is more suitable for hard floors because it's much gentler on such a surface.
The V8 Absolute comes with a soft roller head attachment that the Animal model doesn't have. This brush is specifically made for floors without carpets, but it's suitable for a range of flooring types, including linoleum, hardwood, polished concrete, etc.
The Animal design might not have this attachment, but it still does a great job when vacuuming your floors. However, if you decide to invest in expensive flooring such as hardwood, you should really focus on finding a vacuum that will have a gentle approach without any chance of causing damage like scratches or scuffs.
Additionally, the Dyson V8 Animal is called "Animal" for a reason. Removing pet hair from carpets is usually a nightmare. After reading how powerful this vacuum is for even the most dense and difficult pet hair, we couldn't wait to try it and see whether the rumors surrounding its efficiency are true.
The V8 Animal is an amazing choice for all households, especially those with pets and kids, because it removes pet hair, dander, dust, dirt, and other debris successfully without you having to scrub the carpets.
Attachments & Tools
When comparing these two Dyson vacuums, you'll notice they come with the same attachments and tools. There is only one difference, and that's the soft roller head attachment that we mentioned above. It will only be present in the Dyson V8 Absolute's packaging.
Before we get a little more into detail about the soft brush roller cleaner head, we wanted to list the attachments you'll receive with the Dyson V8 Absolute and Animal vacuums:
Extension wand
Mini motorized tool
Combination tool
Direct-drive cleaner head
Crevice tool
Mini soft dusting brush
The soft roller cleaner head is made of soft woven nylon that won't damage any of your beloved floors. More importantly, it will successfully get all the dirt, dust, and debris out of your floors and carpets. The V8 Absolute's powerful suction combined with this unique attachment easily gets into the deepest parts of your carpets, trapping even the smallest particles and pet hair.
Maintenance
The maintenance of both vacuums is the same. When you're done vacuuming or the dustbin is full, you should empty it. Thankfully, Dyson uses a smart dirt ejection method that helps you get rid of all the debris in the dustbin without making a mess.
The dustbin will eject the dirt and debris straight into your trash can so you don't have to get your hands dirty.
Although the dustbin emptying is quite simple, you can't expect that to be the case with the filters, too. There is no magical system that will clean them, so you'll have to do it yourself. The same applies to the vacuums' cleaning heads.
Design
When it comes to their outside appearance, these two vacuums are pretty similar. Therefore, it can be hard to differentiate between them from a single look. Both feature a 2-in-1 design, which means they can be used as a stick vacuum or as a handheld vacuum.
Transforming the vacuums from stick to handheld is very simple and takes only seconds. One of the main reasons why so many people love these Dyson vacuums is because of the versatility of their design and the ability to use them to clean even the tiniest and most hard-to-reach corners of the home.
The one design quality that clearly differentiates the two is color. The Dyson V8 Animal model comes in silver, while the Dyson V8 Animal is available in yellow.
Cleaning Mode
These two vacuums are built similarly, so it was really hard to choose the better option. Both the Absolute and Animal models have two cleaning modes.
The first mode is called Powerful and is excellent for everyday use. It uses less battery power, and when vacuuming with this mode, your battery life will last longer.
The second mode is called Max, which is a lot more powerful and designed for more difficult cleanings. The estimated battery life with this mode is up to 7 minutes.
Price
There is no doubt that price is one of the most important criteria for customers, no matter the kind of product they're buying. In this case, there is a price difference between the two Dyson vacuums, but it's not a significant one.
The price of the Dyson V8 Absolute is, on average, higher than the price of the V8 Animal, depending on where you purchase the vacuum. One of the reasons why there is a price difference is the Absolute comes with an extra attachment ideal for hardwood floors and other hard flooring types.
Weight
There is no doubt that cordless vacuums are easy to use, especially these two from Dyson's V8 line. However, the weight can significantly make or break your experience with a vacuum, even if the rest of the accessories and features are straightforward.
Thankfully, in this case, both the Animal and the Absolute are pretty lightweight. The Animal weighs 5.64 lbs, while the Absolute weighs 5.75 lbs. When you first see these two numbers, it doesn't seem like a significant difference, but our goal was to find out whether that 0.11 lbs will make a difference while using the vacuums.
After testing them for a while, we can confirm the V8 Animal does feel more lightweight while vacuuming, especially if you have to take care of ceilings or hard-to-reach spots. The Absolute model is also lightweight, but you will notice that it's heavier when comparing the two.
Overall, both models are perfect for anyone looking for a lightweight, cordless vacuum that can easily be transformed into a handheld vacuum. You can move it around your home with ease without ever having to stop and take a rest. Thanks to Dyson, cleaning your home won't feel like exercising.
Warranty
The two products both come with a limited two-year warranty. The manufacturer includes a long list of reasons why you should turn to them to use your warranty and which events are not covered.
Battery Life
These two vacuums are equipped with the same battery and claim to have the same battery life. Dyson uses a 21.6 V lithium-ion battery for both V8 models, so they both have a maximum battery life of around 40 minutes. Exactly how long the battery will last depends on what cleaning mode you'll use.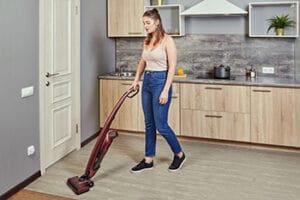 We tried both vacuums in both modes before deciding which one has higher battery life. Although the manufacturer claims they're both the same, the Absolute vacuum lasted a little longer during our experiment in both modes.
It was a small difference of around a minute, but when you're rushing to take care of the entire house, a minute can mean a lot. For many consumers, this won't be a deciding factor; however, we still wanted to mention it. Some people will find that extra minute of run time essential, and it might influence their final choice.
You have to be aware that these two vacuums require a battery change when the battery stops working. This usually happens around one to two years after initially buying the vacuum. The new battery is an investment you'll have to make, but it's thankfully not an expensive one.
Considering how useful and convenient these cordless vacuums are, it's definitely worth buying a new battery every year or two compared to having a bulky corded electric vacuum that will get in the way every time you decide to clean your home. Plus, these vacuums are very lightweight and can easily be used as handhelds to clean your entire home with ease.
The approximate charging time for both vacuums is between 210 minutes and four hours. This is reasonable considering you can spend almost 40 minutes using the vacuum before you have to charge it again.
Each vacuum comes with a charging dock you should install on your wall. Once you're done vacuuming or the battery is empty, you'll need to place the vacuum on the charging dock.
Dustbin
Once again, there isn't a clear winner in the Dyson V8 Animal vs. Absolute battle. The dustbin size of both models is the same. Both have a bin capacity of 0.54 L.
Both models are emptied in the same way, and their dustbins are the same size, so there is no point in using the dustbin as a deciding factor.
Our Winner
After going over all the features, pros, cons of the two Dyson vacuums in the V8 line, it's time for us to reveal a winner. We put both products through several tests, including their suction power, how well they clean floors, carpets, and pet hair, how long the battery lasts, how easy they are to maneuver, and whether they're worth the price.
Let's start with the fact that choosing a winner in the Dyson V8 Animal vs V8 Absolute was a little harder than we expected. They look the same; both are 2-in-1 designs, both come with the same motor, battery life, bin capacity, and suction. The only differences are the price and the soft roller cleaner brush.
Anyway, the Dyson V8 Absolute is our winner because the soft roller cleaner brush head proved to be a great asset. Everyone who has floors to clean at home, regardless of whether they're carpet, hardwood, or even tile, needs this vacuum. It's worth paying more to get the extra attachment.
Buying Guide
Now, let's see how each vacuum performed in the categories we listed as a rating criteria.
Types of Surfaces
As we already discussed before, both vacuums can be used on carpets and hard floors. The difference is the V8 Absolute comes with a special soft roller cleaner brush that is very gentle on floors and a perfect choice for people who want to target difficult messes on more sensitive floors without potentially damaging them.
The V8 Animal has all the same tools as the Absolute, but it doesn't come with the soft roller cleaner brush. In other words, it can be used for floors, but it won't be as gentle as the Absolute. So, when you need to cover a large flooring surface, your choice has to be the V8 Absolute.
The clear winner in this category is the Dyson V8 Absolute.
Price
Although the price difference between the two models is not significant, it still exists. As a result, some people prefer to invest in a slightly more expensive option as long as it offers more features, while others are strictly interested in the cheaper option.
In this case, the Dyson V8 Animal vacuum is cheaper than the V8 Absolute model. The Animal vacuum is built the same way as the Absolute, has the same motor, suction power, and same tools, with the exception of the soft brush cleaner head.
The winner in this category is the Dyson V8 Animal, and it's the perfect option for people who have pets and want an efficient vacuum for their home. But, if you have to cover more hard floors than carpets, you should consider paying a little more for the Absolute model.
Run Time
How come two vacuums with the same battery life and charging time have a different run time? Our research showed the run time of these two models is not the same. The Dyson V8 Absolute has a slightly longer run time, allowing you to get more done with a single charge.
The V8 Absolute will give you about a minute of extra runtime when you're using the vacuum in Max cleaning mode compared to the Animal and a few minutes extra in the other cleaning mode.
To conclude, the Dyson V8 Absolute is the winner in this category.
Final Thoughts
Can we finally wrap up the Dyson V8 Animal Vs. V8 Absolute battle? It's safe to say yes! Our entire team voted that the Dyson V8 Absolute is the winner, and anyone who can't decide between the two should opt for this model.
We decided this is the better performing vacuum because it's a better option for cleaning both hard floors and carpets, and it has a slightly longer run time. Although the price of the Animal is lower, we still believe the extra $150 or so for the Absolute will turn out to be your best investment.
On the other hand, if your home is mainly carpeted and you're struggling to get rid of pet hair, we kindly recommend the Dyson V8 Animal cordless vacuum.
If you have any comments or first-hand experiences with these Dyson products, please post them below or share your pictures via our social media.
Back to Top