Have you recently decided to upgrade the flooring in some areas of your home? If so, you might be thinking that you've bitten off more than your budget can chew! But have you considered SPC flooring? Stone plastic composite, or SPC as it's commonly known, is an excellent alternative to original hardwood flooring.
The best SPC flooring not only looks elegant but is durable in the sense that its dense design makes it virtually resistant to scratches and stains.
Not only is SPC flooring easy to install, it's also pet and child-friendly, making it easy to clean and maintain. High-traffic areas generally hold up well to the normal wear and tear your floors are subjected to every day.
In today's article, I'll be covering a few of the SPC flooring brands available on the market. I'll also highlight points you should consider as well as which products surpass expectations. In addition to that, I'll answer a few of the most common questions people have regarding SPC flooring in general.
Different Brands Of SPC Flooring
Vinyl floors have evolved a great deal since the days of the patterned kitchen floors of your childhood, and there are several brands of SPC flooring products on the market today. Let's discuss a few of them to give you a better idea of the brand that's right for your home and your budget.

Mohawk
Features
The Mohawk brand is primarily designed for active households. With its completely waterproof feature, this brand of SPC flooring is quite popular. Home owners with pets and small children enjoy the odor, dent, and scratch-resistance of these floors.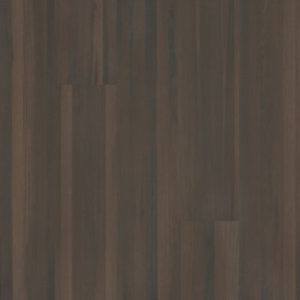 The seven-inch-wide planks can be easily installed over a variety of different types of subfloors. A pre-attached and waterproof underlayment adds to the comfort of the new floor.
Specifications
Length: 49-inch planks
Width: 7-inch planks
Thickness: 6.5mm overall thickness
Core material: Waterproof core, rigid vinyl
Surface texture: Random textured
Warranty: Limited Lifetime
Maintenance
Mohawk SPC flooring is easy to clean. Normal dirt and debris can be easily swept away with a soft-bristled broom. A wet mop can be used to remove sticky spots and for a more intense clean.
Cost
This brand ranges around $5.70 per square foot, making it one of the cheaper SPC flooring options.

Daltile
Features
Daltile SPC flooring is best known for its commercial grade type of vinyl plank. With a 20-mm wear layer, this product offers a remarkable 15-year light commercial warranty. The rigid core plank yields a very high quality floor that clicks together with a patented Uniclic locking method. A pre-attached underlayment adds insulation and reduces wear to the floor in general.
With its waterproof feature, it's a great option for high-moisture areas such as kitchens and bathrooms. Commercial-grade vinyl also makes it an ideal option for high-traffic areas in the office.
Specifications
Length:48–inch planks
Width: 7-inch planks
Thickness: 1.0 mm thickness
Core material:Multi-layer rigid core with Uniclic Locking System
Surface texture: Natural texture with SuperGuardz Technology
Warranty: Lifetime residential warranty and 15-year commercial warranty
Maintenance
Since this brand is made with industrial grade vinyl, cleaning it is super easy. As with most other SPC vinyls, a soft-bristled broom or sponge can be used to clean surface dirt and debris. Washing can be done with a mop or floor scrubbing machine. Simply mop up the floor and buff dry.
Cost
On average, the typical cost of Daltile is $5.99 per square foot, which is relative to other brands in this region.

Next Floor SPC Flooring
Features
One of the features that sets this brand apart from most SPC flooring brands is the range of exquisite colors and 9-inch x 60-inch plank sizes. In addition to the variety of colors and designs, the lower price range makes it even more accessible to anyone who wants to redo their floors on a budget. There's no glue or nails required with this brand since it's made with a drop-lock click system.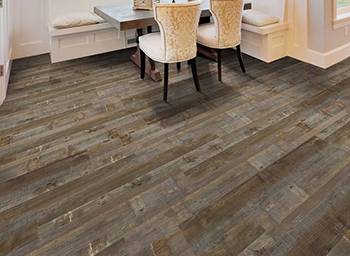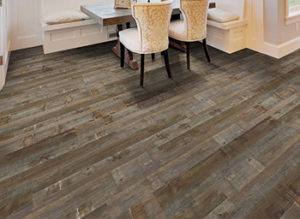 Specifications
Length: 60-inch planks
Width: 9-inch planks
Thickness: 5.7 mm thickness
Core material: Waterproof Core – Rigid Vinyl – SPC
Surface texture: Natural texture
Warranty: Lifetime residential warranty and 10-year commercial warranty
Maintenance
Next Floor vinyl flooring is cleaned the same way that most other vinyls are cleaned. They do, however, add that if you're using a mop, it doesn't take a lot of water to wash. SPC flooring doesn't require a floor to be drenched to be cleaned. Daily sweeping, and occasional washing with a damp mop, will keep your floor clean and fresh.
Cost
The Next Floor brand is considerably more affordable than the average SPC flooring option. With an average price of $3.98 per square foot, it makes it easy to refloor your whole home and stay within your budget!

InHaus
Features
InHaus is known in the flooring industry as a pioneer in laminate and vinyl flooring because it's designed as a hybrid floor featuring a ceramic composite core. Another plus point is that InHaus has almost no expansion or contraction, which makes it easy to install in larger rooms. A simple utility knife is all you'll need to snap the planks in place.
Specifications
Length: 51-inch planks
Width: 8-inch planks
Thickness: 4.5 mm thickness
Core material: Ceramic Composite Core
Surface texture: Natural texture
Warranty: Lifetime residential warranty and 10-year commercial warranty
Maintenance
Since InHaus represents the original breakthrough in waterproof flooring, there's no need for exceptional maintenance procedures. Cleaning is as simple as sweeping and then washing with a damp mop.
Cost
With an average cost of $5.82 per square foot, InHaus maintains the industry standard in pricing in this category.
Buying Guide
I've included a handy buyer's guide in this review to make it easier for you to consider the right SPC flooring for your space as well as your budget! Let's have a look at a few things to consider before making your final decision.
Main Factors To Consider
Vinyl is not as old school as you might think. In fact, vinyl is becoming more popular, and these types of products are receiving rave reviews from users. There are, however, several factors to consider before making your final choice about which SPC flooring you'll be adding to your home. Let's look at some of them.

Types Of SPC Flooring
There are primarily two types of SPC flooring: sheet flooring and tile flooring. Sheet flooring is very easy to install and is well suited for floors with a size of 330 square feet or more. The vinyl tiles are 9–12 square inches in size and are ideal for square-shaped floors.
SPC flooring options replicate the look of luxury vinyl tiles with a much more economical price tag. SPC flooring can ideally be installed in any high-traffic area of your home such as the kitchen, bathrooms, bedrooms, and even the living room.

The Different Types Of SPC Flooring
There are three types of flooring that make up the SPC floor range. Let's have a look at them:
SPC Tile Flooring: Primarily square-shaped, these tiles are similar to ceramic or stone tiles. They have a granite type of look with the realism of original hardwood.
SPC Sheet Flooring: This type of SPC flooring comes in a wide roll, which gives you the advantage of flexibility in dimensions. You can cut it to size when you're installing. This is a plus point for that odd space you have to cover.
SPC Plank Flooring: The plank version of SPC flooring is considered the most popular. Commonly referred to as "SPC plank" because of its three- inch width. The larger plank version has a width of 5 to 7 inches, which creates the visual effect of a wider space.
Advantages Of SPC Flooring
There are several advantages of installing SPC flooring. Let's have a look at a few of them:
Waterproof: By being water- and moisture-proof, SPC solves the shortcomings of traditional wood where water can stain and cause damage.
Anti-skid: SPC flooring has remarkable anti-skid features, so there will be no slippery floors.
Toxin-free: SPC flooring is formaldehyde- and benzene-free. This means there'll be no harm done to humans or pets.
Easy to transport: With its lightweight feature, SPC flooring is only 10% of the usual weight of regular wood floors. The thickness of SPC is generally between 1.6mm and 9mm. The weight averages between 4–16lbs.
How Durable Is SPC Vinyl?
In general, vinyl flooring is highly durable. If the product is installed and maintained in the correct manner, it can easily last between 10–20 years. With its durability and ease of maintenance, it's an ideal choice for rooms that have high traffic, such as kitchens, bathrooms, or playrooms.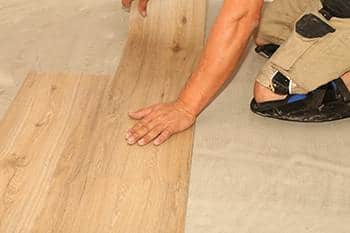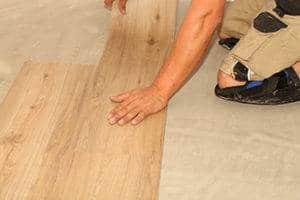 In addition, vinyl flooring usually has a wear layer covering the surface that is stain- and scratch-resistant. And what's better than a floor that doesn't get damaged when the kids and pets are playing all over it?

How Do The Warranty Periods Stack Up?
Most vinyl product manufacturers have very extensive warranty periods on their SPC flooring products. Warranties vary between 15 years and lifetime on the wear layer. When buying SPC flooring, invest in a brand that offers the best warranty especially if you're going to install the flooring in a high-traffic area.

Does Thickness Matter?
Another feature that makes vinyl flooring so popular is how soft it is beneath your feet. Some vinyl brands have additional padded layers, making them more comfortable. In terms of resilience, vinyl floors have a lot of elasticity. The luxury vinyl brands are also quieter due to their sound-absorbing properties.

What's The Best Way To Maintain Your SPC Floor?
The one point that almost all vinyl brands have in common is their ease of maintenance. Cleaning and upkeep is very easy and only takes a few simple steps. Start by sweeping the dirt and debris from the floor, and then run a damp mop across it. There's no need to wax, as a simple wash will keep the SPC as shiny as the day you installed it!

Be Wary Of Sunlight
One of the only downsides of vinyl flooring is that it can fade in direct sunlight. We recommend that you draw curtains to protect your vinyl floors during the times of the day when sunlight is at its strongest.

What Distinguishes SPC From Other Flooring?
There are a few features that differentiate SPC from other types of flooring. The most prominent being that SPC flooring has a complete waterproof core. It's also easy to install and maintain.

What Is The Cost Of SPC Flooring?
Calculated per square foot, SPC vinyl flooring is actually one of the most economical products to use to upgrade your current floors. The general cost averages between $3–$12 per square foot. Often cost can be significantly reduced if you can install it yourself.

Consider Customer Reviews
As with any other products you need to purchase, it's important to check the current customer reviews. Fortunately, SPC flooring reviews are very positive and most consumers have only good things to say about this type of flooring option. If you install and maintain the chosen flooring in the correct manner, you'll also be a happy customer.

Prerequisites To Installing SPC Flooring
A big plus point for SPC flooring is that it's much easier to install than other types of floors. SPC vinyl tiles or planks only require a clean floor, free of dirt and debris. Once the floor is clean and dry, the vinyl can be pasted onto the concrete or plywood subfloor.
The user manual details this very thoroughly.  And, if you're still a little uncertain, I've added an easy-to-follow tutorial for getting your SPC flooring installed in the right way!
FAQs About SPC Flooring
What Is SPC Flooring?
SPC flooring refers to "stone plastic composite" and is quite simply made of engineered vinyl planks that are designed to imitate natural wood and stone at a much lower price point.

Is SPC Flooring Good?
These types of floors are very durable. They are not only denser but also resistant to hard impacts compared to other types of flooring. These types of floors are also resistant to scratches and stains. High-traffic areas generally hold up well to wear and tear.

How Much Does It Cost To Install SPC Flooring?
The total cost of installation obviously depends on the size of the area you're covering. On average, the cheapest price would be between $0.65 to $1.39 per square foot.The highest cost for the best brand averages between $4.00 to $6.00 per square foot. Luxury brands could cost up to $12 per square foot; however, installing your vinyl yourself could save you some costs.

Does SPC Flooring Need Underlayment?
In general, SPC doesn't require any underlayment. It's crucial, though, that the subfloor is properly cleaned and free from any dirt and loose debris. Adequate cross-ventilation is also necessary.
Some luxury brands do come with a layer of underlayment adding additional comfort to your floor.

Is SPC Flooring Scratch-Resistant?
Since it's incredibly dense, SPC is resistant to impacts, scratches, and stains. 

Does SPC Flooring Expand And Contract?
Due to its construction, SPC doesn't contract or expand. SPC is also not affected by humidity or temperature fluctuations.

How Do You Clean SPC Flooring?
SPC cleaning is very easy. Simply follow these three easy steps to keep your SPC floor clean and in good condition:
Use a soft-bristled broom to clear the floor of loose debris and dirt
A damp mop can be used for general everyday care
For a more thorough clean, use a non-abrasive floor cleaner to maintain natural shine
How Do You Repair SPC Flooring?
To repair scratches on your SPC flooring, a simple trick is to use car wax and a soft, clean rag. Work the wax into the scratch and the surrounding area. Let the wax "absorb" into the scratched area for a few minutes. Rub the area with a soft, clean cloth and rub the wax gently into the affected area. Rub until the area is smooth and shiny.
Conclusion
When it comes to considering a new covering for your existing floor, I'd suggest SPC flooring. Not only is it affordable, but the different styles and colors available means you'll easily find the right tile or plank option to complement your current decor.
Not only are SPC vinyl floors perfect for high-traffic areas where children and pets play, they're also easy to clean and maintain. The best SPC flooring brands will give you an easy and affordable option to upgrade your current floors!
Have you recently installed SPC flooring in your home? Which are your favorite recommendations? Please share your thoughts in our comment section below. 
Back to Top