Are you tired of the traditional porcelain tiles in your kitchen? Then you'll be excited about the new trend that is  kitchen laminate flooring. This type of flooring comes in a variety of colors and designs that will transform your kitchen from shab to fab.
With laminate flooring, you can create a rustic-chic aesthetic with gray distressed finishes. Or opt for a natural wooden aesthetic with warm oak tones. No matter what color laminate you pick for your floor, you'll appreciate its authentic look and its attractive price tag.
In today's article I'll be giving you a comprehensive overview of laminate flooring for kitchens. I'll also be talking about the latest trends that you can expect to see in modern kitchens this year as well as the top brands to buy your flooring from.
Laminate Kitchen Flooring Trends
Are you looking for some inspiration to change up the look of your kitchen floor? The biggest trend right now for kitchens is wooden floors. Since hardwood flooring is expensive and doesn't always hold up well against moisture, your next best bet is laminate.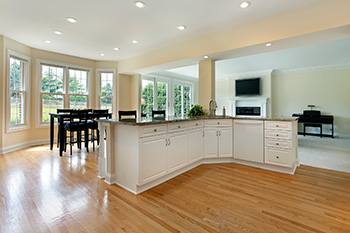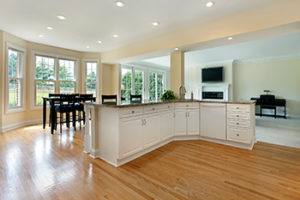 Take a look at the following laminate trends. Perhaps you'll find a style or design that will work well for your kitchen décor. 
Popular Patterns And Layouts
If you want a unique-looking kitchen floor, then changing up the patterns of your laminate floorboards may give you the look you want. The most popular patterns right now are herringbone and chevron.
To make these patterns stand out, use two-toned laminate floorboards or multiple colors to create a stunning contrast. Two-toned laminate floorboards will make your herringbone or chevron patterns look more defined. Another look that is popular on the market right now are wider floorboards featuring larger patterns.
Trending Kitchen Laminate Flooring Colors
The traditional color for kitchens is white because of its crisp, clean look. For years, white tiles have been the classic go-to flooring for kitchens. But in 2021's latest home renovations, you can expect to see dark to light gray laminate flooring with neutral backgrounds.
On the other hand, if you'd like to stick to the traditional white floors, they can be perfect for chic and timelessly-styled kitchens.
There will also be options for you to pick from with laminate flooring that have three or more color finishes. If you want to create a contrast, pick dark-toned laminate flooring such as charcoal to go with more neutral, lighter backgrounds.
Types Of Aesthetics You Can Expect In 2021 Kitchens
Many homeowners prefer to stick to a specific theme throughout their homes. But some have different decorative styles for each room. The kitchen is the best place where you can play around with various aesthetics. Here are the top themes you can expect to find in kitchens this year.

Farmhouse Kitchens
The farmhouse aesthetic is all about using natural elements. Wooden cabinets, tables, chairs, and ceilings are commonly found in farmhouse kitchens. If you want wooden floors but don't have the budget, you can opt for laminate flooring. This is because laminate floorboards have authentic wood grain finishes that look like real hardwood floors.
Use lighter shades of laminate flooring for this look, such as honey tones. Chestnut is also a strong choice because it will enhance the traditional ambiance of your kitchen.

Industrial Looks
Industrial kitchens consist of wood, stone, and steel. The best laminate flooring to use in an industrial kitchen is charcoal or gunmetal gray. It's also ideal to install textured laminate floors in an industrial setting, such as laminate that features distressed or wired-brush finishes.
Pick laminate floorboards with matte finishes instead of glossy to create this trending look in your kitchen. Distressed, gray-toned wooden laminate floorboards will go well with exposed brick, metal light fixtures, and natural stone countertops.

Contemporary
Another trending kitchen style is a contemporary look that creates a streamlined space with minimal accessorization and furniture. It's a functional space that should only have what you need to work in your kitchen.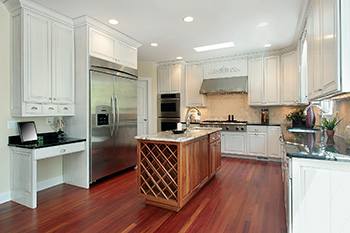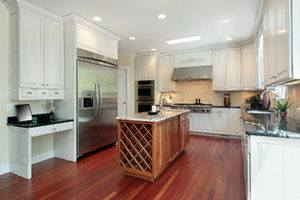 A contemporary kitchen is characterized by dark wooden floors and black cabinets with white countertops and steel fixtures. Pick dark chestnut laminate floors for your contemporary kitchen with either a gloss or matte finish. High contrasts and minimalist touches will sharpen the look of your contemporary kitchen.
The Benefits Of Laminate Flooring For Kitchens
Some homeowners are skeptical about installing laminate floors in their kitchens, even though it's a popular trend that has been making the rounds. If you're unsure of whether laminate floors will work for you, then perhaps this section will help you with your decision. Let's take a look at some of the top benefits for using laminate flooring in your kitchen.

Many Designs And Colors To Pick From
One of the reasons homeowners are choosing laminate floors for their kitchens is because of all the options available. There are myriad colors and finishes to pick from no matter what brand you choose. There are warmer tones such as chestnut and honey, but if you're looking for a darker, more contrasting floor color, laminate is also available inblack, charcoal, or burnt brown.
You may not be able to find the same range of color variations in traditional hardwood planks, which could limit your selection of  designs and tones to select from for your space. So instead, pick your favorite brand and buy laminate flooring with the colors and designs that will complement the aesthetics of your kitchen.

Robust And Waterproof Construction
Another reason why homeowners are skeptical about installing laminate flooring in the kitchen is the waterproof and durability factor. Some low-grade laminate floors will warp or get stained when exposed to water spills or environments with high humidity.
However, there are laminate brands that offer fully-waterproof flooring with robust construction, so that it feels like hardwood boards under foot. Pick floorboards with an interlocking installation system so that water can't seep in between the boards.

Easy To Install
Another reason to pick laminate floors for your kitchen is because of how effortless this flooring type can be to install. Some laminate floorboard brands offer a uniclic installation system that allows you to fit the boards together like a puzzle. You won't need any nails or special tools for the job.
While some laminate floorboards feature adhesive backing, the non-adhesive kind will be easier for you to remove and replace when it's necessary to do so.
How To Pick The Best Laminate Flooring For Kitchens Durability
Durability is the most important factor to consider when buying laminate flooring for this area of your home. You want your laminate floors to last, so pick boards that have an AC (Abrasion Criteria) rating of AC3 or above. The AC rating indicates that the floors have been tested for impact and abrasion resistance. For areas that experience high foot traffic, pick flooring with a higher AC rating of AC4 or AC5.

Wax Edges
You may spill water on the floor when washing dishes or when you're carrying pots of water to the stove. That's why you should pick laminate flooring with waxed edges if you're installing these floorboards in your kitchen.
The waxed edges help prevent water and moisture from seeping into your laminate flooring. So if you spill liquids on your floor, you will have time to clean it up before it causes damage.

Shape
The most popular type of laminate flooring is long floorboards. This gives you the traditional look of hardwood floors. But did you know you can also get laminate wood tiles that are square-shaped? If you want a unique aesthetic in your kitchen, then square laminate floor tiles can bring a fresh look to your space.

Color
It's up to you whether you want the same color laminate flooring in your kitchen that is featured in the rest of your home. You can change up the flooring in this room to match cabinets, countertops, and backsplashes. If you want a variety of looks throughout your home, each room can be outfitted with different laminate flooring colors and shades.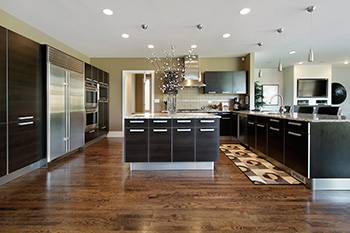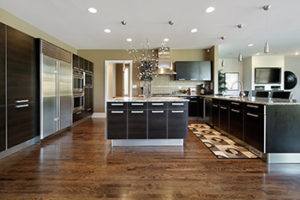 Make sure you opt for free samples before you buy your flooring, to see if the color you want will complement the décor in your kitchen.

Type
There are two different types of laminate flooring: plastic and engineered wood. Plastic laminate flooring is a lot cheaper than engineered wood laminate, but doesn't last as long comparatively. However, plastic is known to hold up more strongly in high-moisture areas because it won't swell when exposed to water.

Textures And Finishes
You want your laminate flooring to look as authentic as possible. So pick a product that features realistic wooden grains and finishes.You can select laminate flooring that has different patterns on it with either gloss, matte, or distressed finishes to suit your taste.
Top Laminate Flooring Brands
Now that you know more about laminate flooring kitchen trends, which brand will sell the product you're looking for? In this next section I'll be talking about the top flooring brands that offer durable, affordable, and quality laminate floors for your kitchen.

Mohawk is one of the top players in the laminate flooring industry because they've been in business since 1878. There are over 200 style options for you to pick from through Mohawk. What's more, Mohawk laminate flooring offers GenuEdge technology, which rolls the embossed design layer over the edges of the boards for a more realistic look.
This laminate floor brand also has uniclic installation, allowing the floorboards to click securely together. This speeds up the installation process and eliminates the need for adhesives or nails. The ScratchGuard technology protects the finish from scuff marks and scratches by integrating aluminum crystals in the top layer of the laminate boards.
Finally, the Mohawk RevWood Plus series laminate flooring is 100% waterproof. Therefore these laminate floorboards are ideal for your kitchen.

Shaw is another brand that offers different types of flooring such as wall-to-wall carpeting, hardwood floors and even luxury vinyl flooring. The company also manufactures laminate flooring in the US.
The Shaw brand offers locking technology that allows you to clip your flooring into place without adhesive, nails, or staples making them easy to install. This locking technology prevents water from seeping in between the laminate floors.
Shaw makes their laminate flooring with OptiGuard finishes. This is a high-gloss finish that is placed over your laminate boards that brings out the authentic wooden look of the floors and protects them from scratches.
You can install Shaw laminate flooring in your kitchen thanks to the water- and scratch-resistant construction. Shaw laminate floorboards are effortless to maintain, too. Simply use a damp microfiber mop to wipe up any messes.

Did you know that Pergo was the company that invented laminate flooring 35 years ago? This brand is still a major leader in the laminate flooring industry because of the company's dedication to quality and non-toxic products. 
Pergo laminate flooring is highly water-resistant, so they are ideal for residential kitchens. You'll have up to 30 minutes after a spill to safely wipe up liquids from these floors. The brand also offers affordable laminate flooring at just $2.50 to $3 per square foot.

Mannington offers the most elegant laminate flooring on the market. The company has been in the industry since 1915, so you're guaranteed excellent products that are made to last. There are four lines of laminate flooring to pick from through Mannington:
Coordinations
Restorations
Revolutions
Value-Lock
These laminate flooring products come with a 25-year warranty and they are all FloorScore certified. If you want Mannington laminate flooring for your kitchen, then pick from the Restoration collection because it offers SpillSheild Plus technology. The laminate flooring in this collection is ideal for kitchens and bathrooms because it's water resistant.
FAQs About Kitchen Laminate Flooring
Is It Okay To Put Laminate Flooring In A Kitchen?
Yes, laminate flooring is ideal to install in kitchens, provided they are waterproof and have an interlocking installation design. Some brands offer various finishes to safeguard your laminate flooring from moisture damage. For example, Mannington's Restoration collection has SpillGuard Plus technology that protects your laminate flooring from warping or bubbling when exposed to liquids.
Even though some laminate flooring brands are water-resistant, it's advised that you use a microfiber mop to clean up spills or to give your floors a quick wipe down. You should also clean liquid spills up immediately to prevent staining.

What Is The Best Flooring For Kitchens?
Laminate flooring is a strong candidate for your kitchen flooring because of its affordability and durability. Laminate flooring may not add value to your home but it's resistant to cracks, dents, and scratches. This type of flooring material is hardwearing and easy to clean. They also come in various styles and finishes and can be made to look like real hardwood floors.

What Kind Of Laminate Flooring Is Best?
The best kind of laminate flooring is scratch resistant, waterproof and has an easy installation. You also want a floorboard that's thick so that it can withstand high foot traffic. Additionally, you want an abrasion rating of AC3 and above to ensure you are using a durable product.
If you are concerned about the environment, then pick laminate flooring that has low volatile organic compounds for improved air quality. There are brands that make recycled laminate flooring that's eco-friendly.

What Is The Latest Trend In Kitchen Flooring?
The latest trend in kitchen flooring at the moment is gray laminate flooring. Gray is a flexible color, so you can use it with neutral or dark toned backgrounds. Laminate offers various shades of gray flooring for you to pick from, so you have a lot of flexibility and options.

Can You Put A Refrigerator On Laminate Flooring?
Yes, you can put a refrigerator on your laminate flooring, provided you've installed high-quality flooring that's scratch resistant, waterproof, and has an AC rating of AC3 and above. The floorboards must be thick to handle the pressure from the weight of the fridge.
Final Thoughts
So are you going to install laminate flooring in your kitchen? If you want to keep up with the trends, then pick gray laminate flooring. Or if you're looking for a different rustic aesthetic, then distressed laminate flooring will work for the theme of your kitchen.
What type of flooring do you have in your kitchen at the moment, and will you ever consider the switch to laminate? Let us know what your thoughts are in the comments section below. We are always happy to hear from our readers and your experiences with your home's flooring.
Back to Top