Trends come and go, but it looks like gray wood flooring is here to stay! This type of flooring has been gaining popularity for the last couple of years—and with good reason.
When discussing modern interior décor, gray hardwood flooring is the epitome of all things stylish and chic. It's aesthetically pleasing, easy to maintain, and hides dirt better than other types of floors. Sounds like a must-have for your indoor flooring, right?
While predominantly found in high-end homes, manufacturers are designing all sorts of styles and finishes to suit different budgets. You too can effortlessly transform your home's interior into a unique and up-to-date space.
Are you thinking of jumping onto the gray wood flooring bandwagon? Trend or not, don't do it blindly. The correct product should tick all the right boxes where upkeep and durability are concerned. The wrong product? Not so much.
But don't fret. I'm here to arm you with the facts you need to make the right purchase. Not only that, I'll also give you 5 best gray wood flooring recommendations from Wayfair that will go with your furniture and accents. Let's jump right in, shall we?
Product Quick Links
5 Best Gray Wood Flooring Products
Product Key Specifications
Size: 4/7x7x60 inches
Quantity: 24.5 square feet per box
Color: Gray
Species: Hickory
Warranty: 50 years
Product Review
At the top of my list is the Manor hickory gray hardwood flooring by Mannington. I've voted these hardwood flooring boards as the best overall product on my review list and here's why. With a stunning wine barrel finish and a dramatic patina effect, these hardwood floorboards will make an elegant addition to any room in your home.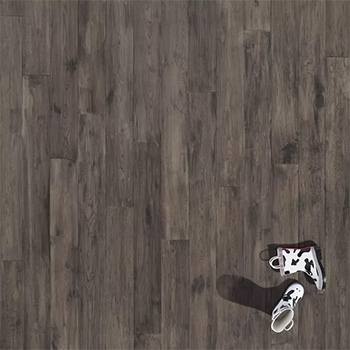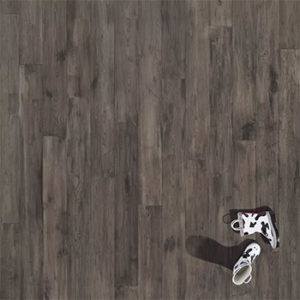 These hardwood boards are ideal for lounges, bedrooms, and hallways. You'll love the dark gray wood floor color that will add a sophisticated contrast in your home if you have white walls. These Manor hickory gray floor boards are thick, so they're incredibly durable and come with an impressive 50-year warranty.
Additionally, you'll appreciate how easy they are to install. These are staple, nail, glue, and float installations that can be done the DIY way, or you can get a professional to install them for you. Compatible subfloor types are concrete and wood.
What Reviewers Say
The Manor hickory gray hardwood flooring has high ratings from homeowners. People love the finish of these floorboards, and many have commented on the excellent quality of the product.
I recommend looking at what people have to say about products for an overview of durability, finish, and ease of installation. The Manor hickory gray hardwood flooring ticks all the boxes of a high-end flooring product for your home.
Features And Considerations
Mannington makes durable hardwood flooring that won't tarnish over time. These hardwood floors are ideal for larger spaces due to the length and width of the floorboards. The patina effect hides any scratches that may develop on the surface and provides a stunning contrast to your space.
These floors are easy to maintain and, due to the matte finish, the surface of the flooring isn't slippery so the product is safe to install if you have children. This is the best product if you want to buy gray hardwood flooring online.
Product Key Specifications
Size: 9/16x7x84
Quantity: 24.5 square feet per box
Color: Gray wood
Species: Oak
Warranty: 50 Years
Product Review
Here is another Mannington gray wood product on my list. I've selected this as my second best gray wood flooring product because it has a mid-range price and the quality of the boards are top-notch. This is light gray wooden flooring that's suitable for rustic homes or farmhouse decor. The boards have a wire-brushed textured surface and a matte finish.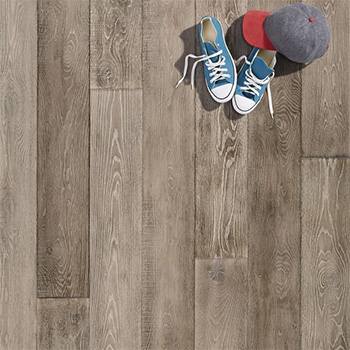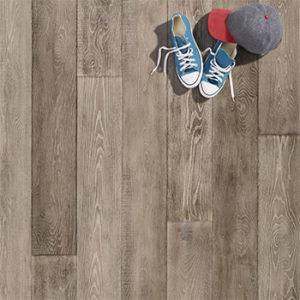 The Manor oak gray hardwood flooring is robust, so it won't crack or tarnish over time. These floorboards have a medium patina finish, so they'll go well with light or dark backgrounds. I believe these floorboards are ideal for rooms that have plenty of natural light such as sunrooms. Since the Manor flooring is so durable, it will be able to withstand UV rays in a sunroom.
What Reviewers Say
These Manor oak gray wood floorboards have high ratings from homeowners. As my review suggests, these floorboards are highly durable and excellent quality. People have also stated how easy it is to install the Manor oak flooring from Mannington.
Features And Considerations
If you're creating more of a rustic look for your home then you'll love the finish of these Mannington hardwood floorboards. These are non-slippery boards that are safe to install if you have animals and children. They're also effortless to maintain.
To install these floorboards you can either use staples, glue, nails, or floating installation. What's more, you can install these oak hardwood floorboards in your kitchen because they can withstand areas with high humidity and water spillage.
Product Key Specifications
Size: 3/4×5 with varying lengths
Quantity: 25 square feet per box
Color: Gray wood
Species: Walnut
Warranty: 50 years
Product Review
I've chosen the AHF walnut gray hardwood flooring as the budget pick in my review list. So if you want to renovate your flooring at a lower price, you'll appreciate this product. Not only is it affordable but it's excellent quality, aesthetically pleasing and durable too.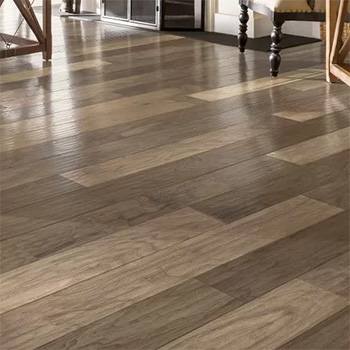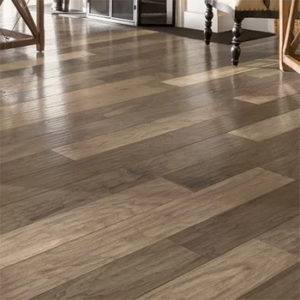 These floorboards are engineered hardwood, so they have a long service life. The hardwood floorboards are thick, and they come in various lengths so you can install them in big or small areas of your home.
The AHF have a semi-gloss finish, so they'll look stunning in kitchens, lounges or hallways with pendant lights. There's a contrast of light and dark gray colors, so the flooring is ideal for areas that have neutral-toned backgrounds and accents.
Overall, the AHF walnut gray wood flooring is easy to install and maintain. You can install these boards the DIY way or get a professional to do it for you free of charge.
What Reviewers Say
After reading some of the reviews on the AHF walnut flooring, I know that this is an affordable product that will not disappoint you. Homeowners love the quality of this flooring and the contrast between the light and dark boards.
It may be slightly difficult for beginners to install, but it does allow you to use staples, nails, or glue to do your own flooring.
Features And Considerations
The AHF walnut floorboards have a semi-gloss and smooth finish, so it may need to be polished often to keep the shine and integrity of the wooden surface. These floorboards are slip-resistant and stain-resistant. The flooring is also resistant to UV damage, so the boards are ideal for sunrooms or any area in your home that has plenty of sun coming through the windows.
Product Key Specifications
Size: 5/9 thickness with various widths and lengths
Quantity: 36 square feet per box
Color: Gray wood
Species: Oak
Warranty: Yes – number of years not specified
Product Review
I personally love the Forest Valley London oak hardwood flooring because it has the best value for your money. These boards are thick, and you get more boards in a carton than the other products on my list but at an affordable price.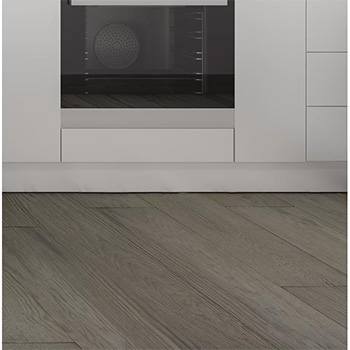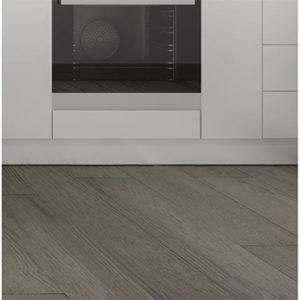 These boards are made from oak, so they're incredibly durable because they have a protective coating. These boards are scratch-resistant and are radiant heat-compatible. The color is a medium gray that will look elegant with neutral-toned backgrounds.
The floorboards are suitable for rustic and chic interior décor.
What Reviewers Say
Some homeowners have said that the Forest Valley oak flooring looks darker than in the stock pictures. So it's advised that you get a sample first before buying the product. Overall, this flooring has high ratings on durability, aesthetics, and ease of maintenance.
Features And Considerations
The Forest Valley oak gray wood flooring requires an expert level of experience to install these boards. Its compatible subfloor types are wood and concrete and it doesn't require underlayment.
Product Key Specifications
Size: 1/2×7.65 with varying lengths
Quantity: 28 square feet per box
Color: Brushed steel (gray wood)
Species: Oak
Warranty: 35 years
Product Review
I love this Latitude hardwood flooring from Mannington because it's perfect for bedrooms. These boards come in various lengths, so you can renovate small to large bedrooms easily.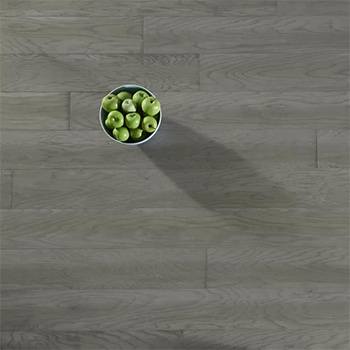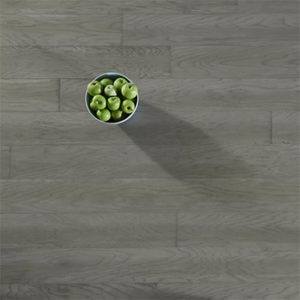 The floorboards are brushed steel gray wood with a wire-brushed, matte finish that's stain- and slip-resistant. These boards aren't easy to install for beginners, but you can get a free consultation and measurements.
What Reviewers Say
Homeowners love using the Latitude oak gray hardwood flooring in bedrooms because of its stunning color. I recommend getting the Latitude hardwood flooring if you have white walls.
Features And Considerations
The Latitude brushed steel gray hardwood flooring is robust, so it's perfect for residential homes as well as offices. The wooden boards have an aluminum oxide protective coating that will prevent deep scratches on the surface of the wood.
What To Consider Before Selecting Your Gray Wood Flooring
Thickness
You may have noticed how gray flooring comes in a variety of thicknesses. Thicker wooden floors are more durable than their thinner counterparts because they won't crack over time.

Size
Along with thickness, you must also consider the size of the wooden boards you want. Some wooden floorboard brands make their products in various lengths to make it easier to install. If you have a small room, pick shorter boards. Select longer hardwood floorboards for bigger spaces.

Quantity
Look at the quantity of the hardwood floorboards you get in each box. The carton will tell you how many square feet the wooden floorboards will cover. Measure the space you want to renovate and then buy the correct number of floorboards to cover your floors.

Installation
Is the hardwood flooring easy to install? Will you need to hire a professional for the task, or are they designed for DIY installation? Choosing the latter will work out to be cheaper since you don't have to pay for installation. This will depend on the type of hardwood flooring you pick.

Finish
Some flooring options have different finishes. Do you want your flooring to have a gloss or matte finish? Oil and polyurethane are popular finishes. However, the type of finish you pick will determine the durability of your hardwood flooring.
For example, oil finishes scratch easily, but at the same time, the scratches aren't too noticeable. Polyurethane finishes are more resistant to stains.

Warranty
You want a product that's covered by a reasonable warranty period. Manufacturers who offer longer warranties on their products are usually confident in the quality of their gray hardwood flooring.
Gray Wood Flooring FAQs Section
Are Gray Wood Floors Popular?
Yes, gray wood floors are popular. You get modern gray hardwood floors that will add elegance to the interior of your home.

Should Floors Be Darker Or Lighter Than Walls?
For modern décor, floors are typically darker than walls because it creates an aesthetically pleasing contrast. However, you can use light gray wood floors if you have darker walls.

What Furniture Goes With Gray Wood Floors?
Gray wood floors are synonymous with modern décor. As such, they work well when paired with modern pieces such as shiny metallic furniture and glass tables. Additionally, you can incorporate aquas such as icy blue and greens to complete the contemporary feel.

Are Gray Wood Floors Too Trendy?
No, gray wood floors aren't too trendy. They simply embody all things modern, chic, and stylish. Besides, trends last about five years, and gray wood floors have been in the game for about seven years now.
Conclusion
So, which gray wood flooring are you going to pick from my list of recommendations? Ideally, the floors you pick must look stylish. But more than anything else, pick hardwood floors that are durable so they can withstand any harsh environments. Your gray hardwood floors must be easy to maintain too.
In my opinion, the Manor Hickory Hardwood Flooring is the winner. Firstly, they're a breeze to install. Secondly, they are designed to last long. Finally, they are effortless to clean, and low-maintenance floors will never go out of style.
What's your take? If you have any comments or firsthand experiences with gray wood floors, please post them below or share your pictures via our social media platforms.
Back to Top