Are your floors chipped, faded, or in desperate need of an upgrade? Then perhaps you'll find inspiration from the flooring trends 2021 we will be showcasing in this article. Get rid of flooring that looks obsolete and deteriorated, and replace it with floors that are current and elegant.
In today's article, I'm providing you with a complete guide on what type of flooring you can expect to see in modern homes in the new year. This way, you can keep up with the times and maybe add value to your property. Incorporate one or more of the following flooring trends into your home to make it more modern.
I'll be providing information as to why these floors are trending based on durability, design, and ease of installation. So keep reading to find out more.
Textured Tiles For Living Rooms And Entryways
Textured tiles are popular because of their classic and elegant features. The latest in porcelain tiles look and feel like natural stone, such as marble or limestone. These tiles are glazed, which makes them 100% waterproof. As a result, you can install textured tiled flooring in your bathroom, kitchen, and basement.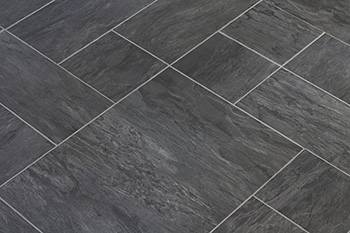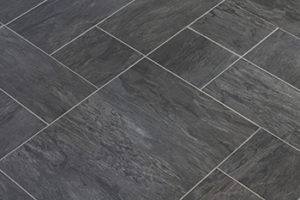 You can get the look of expensive marble without the high cost and maintenance. There are textured tiles that come with various patterns too, such as florals or geometric shapes. Or you may love the stunning detail of Moroccan-style tiles that come in various colors and decorative styles.
The reason why textured tiles are so popular is that they're easy to clean and they're incredibly durable. You can use any floor detergent to clean your tiles and they won't fade, crack, or chip over time.
Why Vinyl Flooring Is Going To Be Even More Popular
Vinyl is already an incredibly popular type of flooring for the modern home. These vinyl planks replicate the look and feel of hardwood floors. They can be installed in residential and commercial areas.
You'll love the various color and design options available. You can create rustic chic interior decor with ash-gray finishes, or an elegant wood-cabin aesthetic with reddish oak vinyl flooring. There are plenty of attractive realistic wooden patterns to pick fro, too.
Vinyl flooring has a multilayer design which adds to the durability of the flooring. There are also brands such as Shaw or Mohawk that sell vinyl laminate flooring that's water-resistant. There are low-quality vinyl planks on the market that aren't 100% waterproof, so check the specifications of your flooring before buying the boards to ensure yours are water resistant.
You'll appreciate how easy it is to install vinyl flooring. Most high-quality brands offer a locking system that makes it easy to secure your planks in place when you install them. These planks also come in various widths and lengths for large and smaller spaces.
Patterned Carpet Flooring For Dining Rooms And Bedrooms
Are you looking for classic flooring that provides a warm and cozy atmosphere? Then perhaps you'll want patterned carpet flooring in your home. Even though wall-to-wall carpets are classic flooring, there are now more options for you to pick from. You can select carpet tiles, natural fiber, or synthetic fiber-carpets such as those made from nylon or polyester.
There are short-pile carpets or shaggy styles for you to pick from. Shaggy carpets in neutral tones seem to be the most popular choice for living rooms. There are also outdoor carpeting trends that will transform your patio or pergola into a unique space.
Carpet tiles have many printed patterns to pick from. So if you want to add a fun contrast in your dining room, pick carpet tiles with a unique design printed on the surface. Additionally, there are various color options to pick from. So if you want a bedroom with an aquamarine-colored floor, you can get the tone you want with carpeting.
But 2021's carpet trend doesn't stop there. You can combine hard flooring with carpets. For example, if you have vinyl or tiled floors, you can place area rugs in certain places for style. Create a floating living room by adding a huge rug and place all furniture within the perimeters of the mat. This works well for large dining rooms, too.
On the other hand, carpets can be more difficult to maintain, depending on the variety you select. You may need a carpet cleaner to clean your floors. Some carpets are stain-resistant, so if you do accidently spill food or drink, it won't leave dark marks on the surface.
Engineered Hardwood Flooring Trends In 2021
Engineered hardwood flooring is not the same as solid hardwood flooring. Engineered hardwood flooring is a man-made product, combining wood and adhesives to create a composite. In contrast, hardwood planks are cut from the bark of trees and they are all-natural wood products.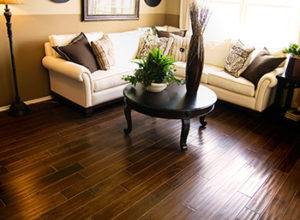 Solid hardwood flooring is expensive. But you can get the look and feel of hardwood floors with engineered wooden planks that are affordable and surprisingly durable. You'll love that engineered hardwood floors are waterproof, so they won't swell or rot over time. Therefore, you can install engineered hardwood floors on patios, in kitchens, and in basements.
Similar to vinyl flooring, engineered hardwood planks come in a variety of light colors that will add soft and warm honey tones to your home. More people want their homes to look larger and brighter so they opt for lighter-toned wooden floors.
There are two different engineered hardwood floor finishes you can pick from: wire-brushed or hand-scraped. The wire-brushed finish has intentional scratches on the surface for a more rustic look. The hand-scraped finish makes the engineered planks look like they're handcrafted.
What To Consider When Picking New Flooring For Your Home
Although the above trends may give you some interior decor inspiration, there are still a few factors to consider before selecting the flooring you want. In this next section, I'm going to highlight important features to look for in any flooring trend you want to use.

Sustainable/Eco-Friendly Flooring
Eco-friendly flooring is not only trending, it's also important for the environment. More people are becoming aware of climate change and how certain products may release more CO2 emissions. That's why you should always pick flooring that doesn't harm the environment.
At the moment, carpets are at the forefront of sustainable flooring, but there are brands that make eco-friendly hard floors. At the moment, millennials make up most of the homeowner demographic. Millennials are a generation of young adults who, as a demographic, care deeply about the impact products have on the environment.
That's why most carpets on the market are made with recycled materials. There are flooring manufactures that are taking strides to make flooring recyclable. This way, when you want to replace your flooring, you can get your carpets or boards recycled into new flooring.
So before you put your money down for vinyl, carpets, or tiles, make sure it's for a product that doesn't negatively impact the environment, and ideally one that you can recycle down the road.

Make Sure Your Flooring Is Waterproof And Stain-Resistant
Spilling liquids on your floors is inevitable, whether it's water, wine, or coffee. Therefore, pick flooring that is 100% waterproof and stain-resistant. Fortunately, there are vinyl planks and engineered hardwood floors that are water-resistant, so they won't bubble, crack, or stain over time.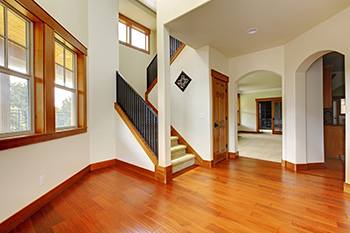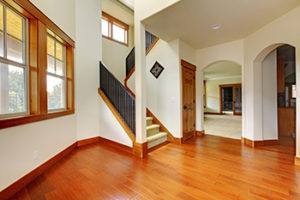 There are brands that make vinyl flooring with a rigid core made from stone plastic composite to prevent water damage. What's more, the locking system or Uniclic technology that these floorboards offer prevents moisture from leaking in between the boards.
You should also pick flooring that's treated so that you don't have to contend with dark stains on your floor's finish. Carpets can also be treated to increase their rate of stain resistance. Vinyl floors have the highest stain resistance no matter what you spill onto them. Simply use a detergent to clean up spills and prevent staining.
If you want to install hard floors in your bathroom or kitchen, then make sure you select a product that won't grow mold from moisture. Textured tiles or water-resistant engineered hardwood floors are good options for bathrooms and kitchens due to their waterproof constructions.

How Durable Is Your Flooring?
You want flooring that's not going to scratch, fade, or tear easily. Fortunately there are carpets, tiles, engineered wood, and vinyl flooring products that are made with durable materials. When you buy your flooring from a specific brand, check what the life expectancy of the product will be. High-quality carpets can last for up to 15 years.
On the other hand, vinyl flooring can last as long as 20 years. Engineered hardwood flooring lasts 20 years and tiles are the most durable, many with a life of up to 75 years. Natural stone tiles can last up to 100 years. So which option will you pick?
FAQs About Flooring Trends In 2021
What Are The Latest Trends In Flooring?
The most prominent flooring trend at the moment is a wooden aesthetic. It may seem that wooden floors have always been popular, but they weren't accessible to everyone because of the high cost of hardwood. Now homeowners can get synthetic wooden floors that are more affordable. What's more, vinyl or laminate floors look and feel like real hardwood floors so you won't have flooring that is obviously fake.
You'll also love the many colors available to pick from. You may find that light or dark gray vinyl floors are popular with white walls and dark furniture to create a stunning contrast. For more natural-looking floors, you may want to pick laminate or engineered hardwood floors in dark to light brown chestnut colors.

What Is The Most Popular Flooring In New Homes?
Newly-constructed homes are commonly either tiled with porcelain or layed with engineered hardwood. Since tiles can be made to look like natural stone, marble– and slate-looking floors are quite popular. What's more, tiles are easy to clean because you don't need special detergents to maintain them.
Additionally, you don't have to worry about water damaging tile floors. The most important factor as to why tiles are popular in new homes is because they add value to the property. Buildings are more likely to sell if they feature durable flooring such as tile.
On the other hand, for aesthetic purposes you may find that some new homes have engineered hardwood flooring in living rooms or bedrooms. This type of flooring also adds value to a house.

What Flooring Adds The Most Value To A Home?
One type of flooring that adds the most value to your home is natural hardwood. According to the National Wood Flooring Association, real estate agents state that homes with hardwood flooring sell quicker and at a much higher value (10% more, compared to a home without hardwood floors).
The average return on investment (ROI) for installing hardwood floors is between 70% and 80%. However, hardwood flooring is extremely expensive and is even pricier than installing wall-to-wall carpets. You can expect to pay between $9 and $12 per square foot of hardwood flooring. For higher-grade hardwood products, you can expect to pay even more.

What Color Of Flooring Sells Best?
The new trend for floor colors is greige, which is a combination of beige and gray tones. You can use greige flooring in any part of your home such as the bedroom, living room, and even entertainment areas. A combination of gray, beige, and dark brown adds a sophisticated aesthetic to your home.
If you prefer bright colors or you want to create a theme throughout the home, then carpets are your best option. This type of flooring comes in cool tones such as teal, purple, and turquoise. If you want to add a dash of funky color to your floors, consider doing so by placing area rugs around your home.
If you prefer neutral tones, then white tiles will work well. Or pick tiles with a soft tone, such as peach with gold flecks in it, paired with yellow lighting to brighten up your space.

Should Flooring Be The Same Throughout The House?
No, you don't have to have the same flooring throughout your house. For many years, homes have had various types of flooring throughout the property. Kitchens and bathrooms are typically tiled, while bedrooms, living rooms, and passageways can be laid with wooden or carpeted flooring.
But having different types of flooring throughout your house is not a rule. You can use the same type of flooring throughout your home if that's what you would prefer. Simply make sure the type of flooring you pick is able to withstand various environments, such as humidity and high foot traffic.
If you're going to use one type of flooring throughout your home, the best advice I can give you is to use tile. Whether you use ceramic, porcelain, or natural stone tiles, you can install this type of flooring in any environment and it stands up well against high foot traffic. You don't even have to stress about water damage because tiles aren't easily damaged by moisture or stains.
The only holdback you may need to consider with tile is ease of installation. Installing tiles is a long and tedious process. What's more, even though tiles are durable, grouting isn't guaranteed to have the same advantage. Grouting tends to become extremely dirty if you don't use the correct detergents to clean your floors. But there are grout-cleaning products on the market that you can use to clean in between your tiles.

Do People Prefer Flooring With Gloss Or Matte Finishes?
Most people prefer glossy floors because it gives them a clean and crisp look. However maintaining this glossy finish can be difficult. Scratches seem to be more visible on shiny floors, and spills will also be more noticeable. That said,glossy floors look stunning with the right lighting and can make your space look brighter.
Matte is also an excellent choice when it comes to wooden or tile finishes because it's less of a hassle to maintain, and you won't see scratches as easily on the surface.
Final Thoughts
If you weren't sure what flooring to pick to create a modern aesthetic in your home, then consider picking one of the flooring trends I mentioned in today's article.
So which flooring trend in 2021 do you plan to try in your home? Do you like textured tiles or would you prefer the wooden floor look that everyone loves at the moment? Let us know what type of flooring you prefer or have in your home by leaving a comment below. We love reading your comments and learning more about what type of flooring experiences our readers have had.
Back to Top