You may be hosting an event, or perhaps you want to practice dancing in the comfort of your own home. In either case, you may need a portable dance floor. But not all portable dance floors are the same. There are portable dance floor kits; alternatively, there are interlocking tiles so you can customize the size of your dance floor.
Ideally you want a portable dance floor that's easy to set up and remove when you're finished using it. Additionally, you want portable flooring that is versatile and can go over any type of subflooring such as tile or carpeting.
To help you find the ideal portable dance floor for your parties, work functions, or special events, I'll be giving you a complete guide on what to look for when buying or renting your floor. I'll also feature top products and brands for you to choose from that are safe and easy to dance on. Keep reading to find out more about these portable floors.
What Is A Portable Dance Floor?
Portable dance floors are temporary installations that people use for events such as weddings, disco parties, and graduations. These dance floors are light, compact, and easy to install. You can travel with a portable dance floor and set it up anywhere, whether it's outside on the grass or indoors on carpet.
Additionally, some portable flooring comes with a frame to streamline the edges and look. There are many types of portable dance floors that are made from different materials. You can also get them in various shapes and sizes. What's more, you can get a portable dance floor in a variety of colors, such as black, or ones that have wooden textures and tones.
The Advantages And Disadvantages Of Portable Dance Floors
Advantages
A portable dance floor is ideal if you want to protect your subfloor from getting damaged when you host events. There are many kits for you to choose from, but the most popular portable dance floors are the ones that simply snap together. This makes installation effortless.
Portable dance floors typically come in lightweight modular tile that you can store anywhere. Since the floor is made up of tiles that you snap together, you can fit them easily into the trunk of your car or truck. This means you don't have to struggle transporting your portable floor to your event.
Another advantage of portable dance floors is that they're specifically designed for easy foot movement when dancing. These temporary floors are also safe to walk and dance on if you pick a high-quality product.
Disadvantages
Some people rent portable dance floors so they don't have to worry about storage. But if you want to buy a portable dance floor to use for future events, you'll have to find a storage space for it. You may have to keep the floor in a safe environment to prevent it from getting damaged.
Another disadvantage is quality control. You may experience some scuff marks, dents, and scratches caused by different types of shoes. That's why you must purchase a portable floor that comes with an excellent warranty.
Types Of Portable Dance Floors
Rolls
When you want to cover a large area quickly, portable rolls are your best bet. These are rolls of vinyl that have no seams in order to reduce tripping hazards. Vinyl rolls come in various sizes, from small to large, and they are available in different colors too.
Sheets of vinyl are designed for any type of dancing, but the material is thin so it may not be suitable for sharply-heeled shoes. These sheets also need a flat, hard, and even surface to lay over, so they're not suitable for placement over grass or rough gravel.
Rolled vinyl portable dance floors are lightweight and easy to roll out. They're also the most cost-effective type of temporary dance flooring on the market.

Kits
Portable dance floor kits are probably the most popular type of temporary flooring. These kits contain tiles and parts to put the portable flooring together. They come in various sizes and designs and are suitable for indoor use or for smaller entertainment areas.
The standard size for a portable dance floor is 3×3 feet. Kits will often contain border pieces to neaten up the edges of the dance floor. These types of edges prevent people from tripping when stepping onto or off of the dance floor.

Tiles
Modular tiles create a floating floor that's suitable to place over grass, concrete, ceramic tile, or hardwood floors. The tiles have interlocking technology that allows you to build your flooring to the size you want. These interlocking mechanisms ensure that the tiles stay in place at all times.
Interlocking tiles come in a variety of materials for you to pick from such as vinyl, PVC, and composite. Some interlocking tile brands will have plastic or rubber backing to prevent damage to your existing floor.
The tiles can be expensive depending on their finish and what they're made from, but they're incredibly easy to install and maintain.

Foam
Foam portable flooring is similar to the interlocking tiles but are made from a soft rubber material. These foam tiles also have interlocking edges so you can fit the pieces together like a puzzle. The foam tiles come in a variety of colors, and you can even purchase foam tiles that feature a faux-wooden finish. 
This type of portable dance floor tile is suitable for all types of subfloors. You can use these foam tiles outside and indoors. High-end foam tiles are durable, but there are some products that can't withstand the elements. So make sure you buy a product that can withstand outdoor conditions if need be and high foot traffic.
How To Pick The Best Portable Dance Floor For Events
Outdoor Or Indoor Use?
If you want to install your portable dance floor outside, you'll need to use flooring that won't be easily damaged by UV rays or rain. What's more, you must pick flooring that's stable when installed over grass or gravel.
The best type of portable flooring for outdoor use is interlocking tiles. This is because the tiles are made from durable material that's waterproof, and they are thick so they create a stable surface to dance on. They also come in a variety of colors, with authentic wooden grains to enrich your decor. 
For indoor parties, you can select from a wide variety of portable dance floors such as vinyl rolls, foam tiles, or kits. Make sure you pick flooring that's seamless and has an adequate thickness to provide stability.

Pick One Based On Dancing Styles
The type of dance style expected at your event will determine the type of material you want your portable dance floor to be made of. For example, you don't want to use vinyl sheeting if dancers will be wearing stilettos, because you risk them ripping through the material.
For contemporary dancing, you want a lot of cushioning on the floor because this style uses plenty of floor rolling. So in this case, pick foam interlocking tiles for your temporary dance floor. Additionally, this type of flooring is suitable for children's parties because it prevents injury if a child falls.
Use smooth, even flooring for hip hop, jazz, tap, and ballet dancing. If you're using a dance floor kit, make sure there are no spaces between the tiles. Vinyl sheets are also ideal for any type of dancing that requires flat shoes.
You can use interlocking tile flooring for line dancing or freestyle dancing. Some interlocking tiles do have spaces between each board, so for safer dancing, pick sets that don't have these grooves.

How Durable Is The Flooring?
It's important that you pick a portable dance floor that can withstand high foot traffic and plenty of weight. You don't want your floor breaking or splintering during your event. Make sure the flooring is waterproof, because sometimes people spill drinks, causing a slipping hazard.
The material of the flooring mustn't rip, crack, or tear when people walk over the surface, no matter what type of shoes they are wearing. Cracks and uneven flooring can be a safety hazard, so always inspect your flooring before your party starts.

Make Sure The Surface Is Non-Slip
The most important safety feature to look for is a non-slip surface. Even still, liquid spills can cause a slippery area, so make sure you wipe up spills as soon as they happen, to prevent dancer injury.
Top Portable Dance Floor Products
There are some low-budget portable dance floors on the market that aren't made with high-quality materials. As a result, you may experience premature wear and tear on your temporary flooring.
Ideally you want a temporary floor that's durable and will last for many events to come. Take a look at the top portable dance floors in this next section. These temporary dance floors offer the quality and durability you're looking for.

High-quality portable dance floors are designed to endure harsh conditions and heavy foot traffic. This includes people jumping, hopping, and sliding on the floor's surface. One portable dance floor that's able to take plenty of foot abuse is the EventXpress Seamless Cam dance floor.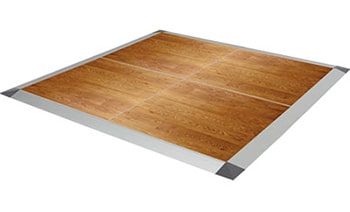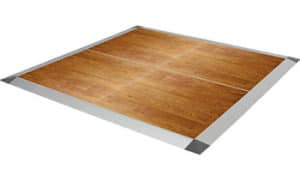 This temporary dance floor can withstand daily dance routines for years to come, thanks to its sturdy structure and durable vinyl finish. The flooring is easy to install because it offers a cam lock system so you can simply snap the tiles together for a seamless aesthetic.
Each tile has dimensions of 3×4 feet with a ½ inch thickness and a 48-lb weight. The core of these tiles are made with a strong plywood and the finish is made with vinyl. At the back of each tile is a polyurethane layer.
For improved stability and durability, the vinyl top layer has a coat of urethane and a glass fiber interlay. Although the EventXpress Seamless portable dance floor is pricey, this product will last many years and comes in eight different wood grain colors for you to choose from.
This temporary floor is ideal for all types of dancing such as ballet, jazz, and even tap dancing. You can install it in your house over carpet or outside for outdoor events.

SnapLock makes various types of flooring for residential and commercial use. The company also makes flooring for garages. Additionally, the brand makes outdoor portable dance floors to make any event memorable. You'll appreciate that there are many styles to choose from that will complement your outdoor decor.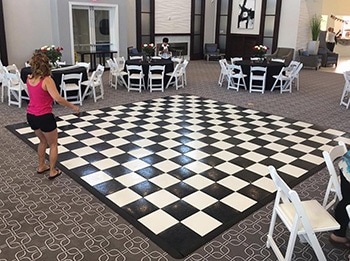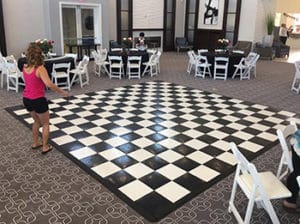 The most popular style is the checkered black-and-white tiles. Or you can purchase a SnapLock temporary dance floor in cedar for a wooden look. The flooring is also available in white marble that looks stunning with white lighting.
Each tile has dimensions of 3×3 feet with a weight of 18lbs. They have a power locking technology that keeps the tiles securely together and makes for effortless installation. As a result, there's no need to hire a professional to install the flooring for you because it's DIY-friendly. There are 840 support structures per square foot to ensure the tiles are sturdy and stay in place at all times.
The SnapLock portable dance floor is 100% waterproof so you won't have to worry about protecting the surface from spilled drinks. You'll also love how easy this floor is to clean.
Although SnapLock portable dance floors are pricey, there's a reason why this brand is so popular. The company makes quality temporary dance floors that come with excellent warranties. These floors are perfect for any type of dancing style too.

Alvas is a family-owned business that has been in the industry since 1952. The brand also provides an array of ballet equipment such as glassless mirrors and ballet barres. But one product that's particularly popular is the brand's dance floor.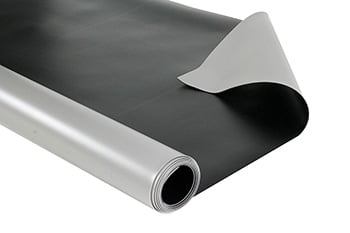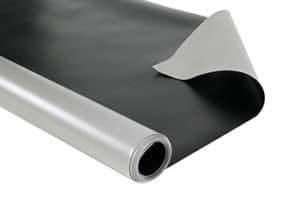 The Alvas Matlay temporary dance floor is a lightweight and non-slip mat that comes on a roll. This is a vinyl mat that is double-sided. Since this is a rollout-type dance floor, it's quick to lay down and quick to roll back up again.
This vinyl dance floor is 1mm thick and weighs 12lbs per 6×6 feet. You can cut this floor into any shape or size you want. It's mostly used for dance practice and to protect your permanent flooring from damage, especially if you have hardwood floors.
Since this is a lightweight and foldable product, you can take it with you anywhere. Set up a dance space within seconds whenever you need to. This is an affordable option for dancers who need a space to practice when they're not in a dance studio.
The Matlay dance floor is also suitable for kids parties or small events such as baby showers or birthday parties

When it comes to tap dancing, you'll need a temporary dance floor that's not going to crack or shift underfoot. You need a durable dance floor that's able to handle taps from your shoes. Fortunately, there are portable dance floors specifically designed for tap dancing.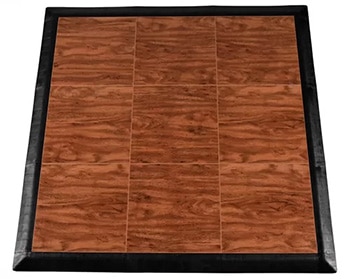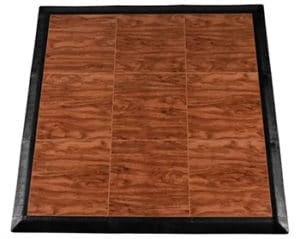 Greatmats is a brand that makes portable dance floors that are suitable for different types of heavy footing such as martial arts and the jive. People who love using the Greatmats portable dance floor are homeowners who need a place to practice when they're not in the studio.
The brand makes excellent flooring kits that come with everything you need to set up a dance space in minutes. Each kit has nine tiles with dimensions measuring 1×1 feet and ⅝ inches thick. All nine tiles create a 3×3-foot dance area that's big enough for your tap dancing practice.
On the other hand, if you have another dance style that requires more dance space, you can add onto the tiles with another kit. The tiles have a plastic base to create a non-slip application, and the surface layer is made from durable vinyl.
This tap dance portable dance floor kit can be installed outdoors, but you must place it over a level area. You'll appreciate that this flooring is waterproof so it won't get damaged if it rains or if someone spills their drink.
The kit weighs about 18lbs so it's light enough to travel with. These tiles come in six different colors such as cherry, oak, mahogany, and more. Each kit comes with a five-year warranty so you're guaranteed a product that will last for many years to come.
FAQs About Portable Dance Floors
How Much Does A Portable Dance Floor Cost?
Portable flooring can cost between $2 and $6 per square foot depending on the material Vinyl sheets seem to be the most popular choice for temporary dance floors, which could cost you around $2 per square feet. Dance floor kits are also quite popular and will cost between $3 and $7 per square feet.

What Is The Best Flooring Type For A Dance Floor?
The best type of flooring for a permanent dance floor is hardwood because it can withstand any type of dance style. Whether you do tap, ballroom, or clogging, your floors will withstand hard knocks from any type of shoes.
On the other hand, for portable dance floors the best material to use is vinyl. This is because the flooring is lightweight and pliable so it's easy to transport. What's more, vinyl comes in a variety of colors, so you can create an elegant dance floor for any type of party.

How Do You Make A Portable Dance Floor?
You can either create your portable dance floor with a kit or with interlocking tiles. First, you must decide how big you want your portable dance floor to be. You can buy kits in that specific size or you can put interlocking tiles together until you get the size you want.
Kits come with instructions on how to build the floor. Interlocking tiles are easy to clip together. The interlocking tiles create a floating floor so you don't need to place anything underneath them unless you want to further protect your subflooring.
If you don't have the time to make a portable dance floor, you could always opt for vinyl sheets or interlocking foam tiles that take less than a few minutes to put together.

Do Tap Shoes Scratch Wood Floors?
Tap shoes are designed not to scratch wooden floors. Black scuff marks from your shoes are sure to occur, but you can easily wipe these marks away. If you don't want to risk damaging your hardwood floors, then install a temporary dance floor in your home.
Ideally, you want flooring that's not going to dull the sound of your taps. So perhaps placing a thin piece of vinyl over the area may help to protect your wooden floors without dampening sound too much.

Can You Put A Dance Floor Over Carpet?
Yes, you can put dance floors over carpet, but keep the material of the flooring front-of-mind when doing so. Many people say that foam or rubber are not ideally placed over carpets, so perhaps interlocking tiles or vinyl sheets will do the trick.

How Much Do Dance Floors Cost To Rent?
If you don't want to build your own temporary dance floor, then perhaps you can rent one instead. You can expect to pay $1,000 for a 20×20 square foot dance floor per day, which includes installation costs.
Final Thoughts
Portable dance floors are excellent for outdoor events because you can provide safe flooring for people to dance on. You can also use portable dance floors indoors when you want to protect your actual flooring from scratches. Additionally, you want a portable dance floor that's easy to set up for your event.
The most popular types of temporary dance floors have interlocking technology so that the tiles or planks stay securely together. These types of floors are easy to install before and dismantle after an event. Kits are also a common choice because they come with a pack of modular tiles and seams for the edges.
You also want a temporary dance floor that's waterproof, especially if you're using it for parties or outdoor events. If it rains or if someone spills their drink on the floor, it won't damage the surface. The best waterproof products are made from vinyl.
I hope the guide I've provided for you has helped you with choosing the best type of portable dance floor for your dance style or event that you'll be hosting.
If you have any comments or first-hand experiences with portable dance floors, please post them below or share your pictures via our social media.
Back to Top