When keeping the visual aesthetics of your home appealing, it's essential to consider your flooring as well. Laying hardwood as a floor covering is one of the most attractive options. If you want to use different wood floor types from one room to another, it's possible! We will share some of the tricks on how to transition different wood floors successfully.
Wooden floors are a popular choice for many homes. Whether you're after the classical, timeless style or a more modern, chic appearance, there's a wood floor type for you. Different grains and tones give you a wide range of looks to pick from. But, what happens when you want to keep a continuous look throughout the house using different wood floors?
It's tempting to try and match each room's flooring as closely as possible, especially when the rooms are side-by-side or you have an open plan home design. More often than not, though, you'll end up with flooring that doesn't flow aesthetically.
In our article, we'll talk about the tricks and techniques flooring experts use to transition between beautiful wood floors throughout your home. You can use these tips to ensure your DIY project is successful when laying different wood floors in the same house.
Design Tricks When Transitioning Two Different Wood Floors
Homes with an open floor plan design that combines the kitchen, dining room, and living area all into one space are popular for creating an expansive atmosphere that flows. It's only natural to think you're confined to laying one type of flooring throughout the whole space, but what if you want to use different wood floors to differentiate between the areas?
Should you stick to one wood floor type for individual rooms in the home? While this is an option, it can stifle your desire to be creative with your home's interior design features. Consider these design tricks when you transition between two different wood floors for optimal visual appeal in both open plan spaces and individual rooms.
Experiment With Contrast
Homeowners choosing to transition two different wood floors in such areas may be tempted to match the flooring color as closely as possible; however, you should avoid doing this at all costs! The end result often highlights the different wood grains as well as the color tones of the two wooden floors being laid side-by-side.
Instead of spending hours trying to match different wood floor types as closely as possible, aim for contrast but be careful of going overboard! Stick to two different wood floors in one area to avoid too much contrast. Use darker woods on stairways and in larger rooms. Dark wooden floors are also better for south-facing rooms.
Lighter wood types can be laid in areas leading up to rooms with darker wood. This could include your hallway in which you could opt for lighter maple or even white oak which looks appealing next to shades of darker mahogany hardwood.
When looking for cohesion in open plan areas, remember to consider the shades of your kitchen or dining room cabinets with the flooring color and grains. By mixing and matching furnishing with the wood floors, you're also bringing in contrast without breaking the flow.
Use The Right Shades For Different Room Sizes
Room size does matter when it comes to choosing wood flooring shades. Dark hardwood types such as redwood, brazilian walnut, and beech look great in larger rooms. These darker hues also work best in south-facing rooms. Light wood such as ash or hickory works well for smaller rooms.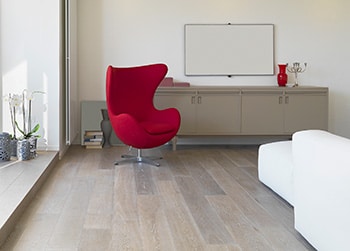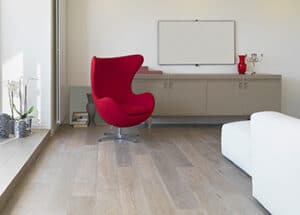 To ensure you don't create a mismatched appearance between individual rooms, passages, and hallways, lay the flooring in such a way that you still get visual appeal.
Laying The Floor
If you're laying two different wood floors in individual rooms with doors separating them, lay the planks in opposite directions. The same technique should be applied when you transition flooring wood to wood from a passage to a room, with or without a door. By laying the wood floors in opposite directions, you're creating interest and contrast.
When transitioning two different wood floors in an open plan area, the hardwood planks should be laid in the same direction to create unison and flow. However, avoid laying wood floors in the same direction as the length of the room if it's a small space such as the hallway. You'll end up narrowing the room and creating the illusion of being in a tight corridor!
Separating Open Floor Plans
Wood to wood transition is possible in homes with open floor plans and is one of the best ways of creating an illusion of separation between the different areas. Laying different hardwood types between the kitchen, dining area, and living room helps to demarcate the space into more defined rooms – without the walls!
The trick to using two or more different wood floors in an open floor plan is laying them in such a way that the patterns are contrasted. An example of this would be going from parquet flooring to straight engineered hardwood floors.
Here are some other ways of creating contrast either with patterns, features, or other flooring types, while keeping the natural lighting and flow that comes with open floor plans.
Irregular Designs
Get creative and lay the flooring with irregular designs such as diagonally, curved, or shaped lines. Diagonal lines work well for homes with modern furnishing while curved lines are good for more classical interior design.
By creating irregular designs with the different wood floors, you're highlighting rather than trying to hide the differences.
Extend Boundaries
Instead of stopping the boundary of one floor type exactly at the line where one area starts, extend the boundary. This could mean pushing the boundary of the kitchen floor over the line into the dining area before meeting up with the next floor type.
Extending the boundaries gives a more casual appearance to the look of the open space.
Fixed Features
Take advantage of fixed features in the open space to create contrasting patterns. An example of this would be the island in the kitchen. Create a border around the bottom of the island using a different floor cover type such as tiles. This will add intrigue to your style.
Other fixed features could include the fireplace or a bookcase in the room.
Buffer Zones
A clever way to distract from two different wood floors is to create a buffer zone. This can be made up of tiles with interesting designs to contrast between the two wooden floors. This buffer zone doesn't need to be very wide; two to three feet is sufficient.
A temporary buffer zone can also be created with a carpet runner or rugs. Be sure to use rubber pads under the carpet or rug to prevent it from sliding on the hardwood flooring.
Use Furniture
Consider using furniture items to "hide" the line between two different wooden floors. At the meeting point of the two different wood floors, place a sofa or a bookcase. Any other interesting feature such as a large sculpture or a colorful rug would work just as well.
These features will help to distract from the joining of two different wood floor types without breaking the flow of the open floor plan. Be clever with the color of the furnishing, too, and use it to enhance the different wood floors.
Back To Top
How To Transition Between Different Wood Floors
If you're laying the different wood floors yourself, make sure you have all the necessary tools on hand before starting the job. When installing engineered hardwood you have the option of traditional nail-down, click-lock, or glue-down varieties. Solid hardwood flooring is installed using the traditional nail-down method.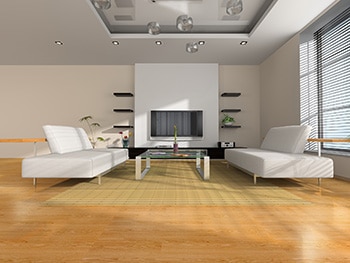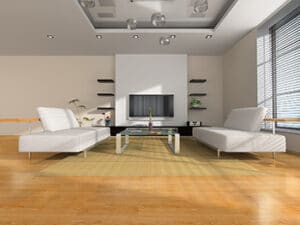 The following basic tools and materials are required:
Rubber mallet
Table saw or jigsaw
Drill and drill bits
Tape measure
Level
Spacers
Tapping block
Nails
Nail gun
Other useful items such as safety goggles, dust mask, and a broom will allow you to complete the job more efficiently.
When transitioning between two different wood floors, various methods can be used:
T-molding
Seam binder
Flush stair nose
We explain, in more detail below, how to use these methods when laying different types of wooden floors throughout the house.
The T-Molding Method
Also known as transition-molding, the T-molding method is used to transition different wooden floors to each other or to other floor types such as tiles, laminate, or carpeting. T-molding can also be used at doorways when joining two floor types. In addition, this type of molding is used as an expansion joint when the dimension of the floor exceeds 40 inches, lengthwise or widthwise.
T-molding creates a visually appealing aesthetic where the two floors join, with the narrow part extending downwards into the expansion gap. The two top components of the T-molding close the gap between the flooring.
In order to use this method, there needs to be a gap of 1 ¼ inches between the two adjoining floors. To securely attach the T-molding to the hardwood floors, run a ¼ inch bead of construction adhesive along the top of the hardwood, using only one side. Firmly press down the T-molding.
Some T- moldings have the option of being screwed down. Pre-drilled holes are included in the metal track for proper placement of screws.
The Seam Binder Method
Also known as wood-to-wood seam binders, these transition strips are ideal for transitioning different wood floor types. They typically measure about 5 inches wide, although they can come in other widths. These flat transition strips are constructed from hardwood and have beveled edges, giving them a neat finish. This type of transition strip works best for wood floors of similar heights.
An advantage of using seam binders is that you can pick unfinished ones, which means you can stain them to match your floor coloring as closely as possible.
Installing seam binders is simple. Position the transition strip over the seam of the adjoining floors. Place screws in the pre-drilled holes and tighten into the subfloor through the gap of the two floors. Because the screws aren't driven directly into the wooden floors but rather to the subfloor, the flooring can still expand and contract. This prevents the wood floors from cracking.
The Flush Stair Nose Molding Method
When transitioning nail-down or glue-down wooden floors on stairways, the flush stair nose molding method ensures a neat finish. This is also a good method to use when transitioning different floor levels such as a step into a sunken living room area.
Flush stair nose molding is designed to protect the edging of stair treads, but they also allow for a smooth transition between two different adjoining floors at various levels. The nosing side is milled to fit the 90 degree angle of the step, which means that the stair nose fits neatly with the riser and tread.
Unfinished stair noses made from hardwood allow you to stain them to match the flooring as closely as possible. While this type of molding is normally installed after the flooring is done, if transitioning from the top of the stairway to another room, it's laid first. The molding acts as a border for the floor edging.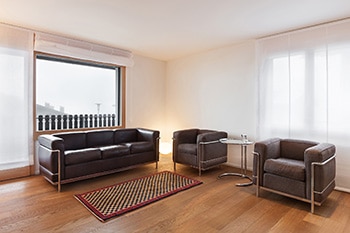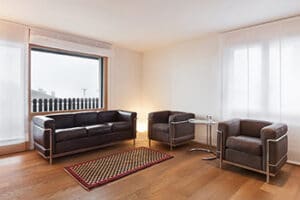 Flush stair noses are normally glued down first with construction adhesive before fastening with nails. Push the nosing down firmly to ensure it adheres to the floor and wipe away any excess glue that oozes out. Use a nail gun or hammer to drive two-inch finish nails into the nosing, securing it firmly to the flooring.
Back To Top
FAQs
Is it okay to have two different wood floors?
While not everyone likes the idea of using different wood floors in the house, it comes down to personal preference. There's no reason why you shouldn't have two different wood floors in open floor plans; however, avoid using different wood floors in a single small room.  

By using different techniques, you can still create a visually pleasing effect when transitioning between different wood floors. Room sizes also give you the freedom to use different wood floors. Larger and south-facing rooms would benefit from darker woods, while smaller rooms and hallways should have lighter wood floor types. 

Can you put two different wood floors next to each other?
You can put two different wood floors next to each other in the same space; however, avoid trying to match the colors and grains as this often results in looking like a mistake. Rather, opt for contrast by playing with different patterns such as going from straight planks to parquet flooring. 

Another smart way of putting two different floors next to each other is by using different shaped lines such as curved or diagonal. Using furniture and placing them directly on the seam also distracts from the transition between different wood floors. 

How do you transition from one wood floor to another?
The best way to transition from one wood floor to another is to use either the T-molding or seam binder method. These methods ensure a smooth finish between the gaps while still allowing the adjoining hardwood floors to expand and contract. 

Transition strips for hardwood floors are constructed with the same material, and some come unfinished so that you can stain them to match the floor colors. If you're transitioning wooden floors from a hallway to a stairway, use flush stair nose molding to give a neat, seamless finish. This type of molding is also good for transitioning from one wood to another on different floor levels.

How do you transition flooring between rooms?
The key to transitioning flooring between rooms with doors is in the laying of the floor. The hardwood planks should be laid in opposite directions between room to room including the connecting passages. 

If you're using different wood floors to separate areas in an open floor plan, then lay the planks in the same direction. 

How do you blend new and old hardwood flooring?
When transitioning between different wood floors, you might find yourself installing new hardwood flooring in some areas of the home while retaining old wood floors. Use techniques such as contrast, different patterns, and movable features to create a seamless transition between the old and new. Finding a wood grain that complements the existing flooring is also a good way of transitioning between old and new floors. 

If you're not keen on using two different wood floors, consider sanding and refinishing your existing hardwood flooring before replacing with new wood floors. 
Back To Top
Conclusion
When transitioning between two different wood floors, there are some key factors you should consider in order to make your floors visually appealing. These include:
Contrast
Different shaped lines
Plank direction
Use different wood grains that complement each other and avoid matching colors exactly. Instead, focus on undertones such as warm and cool, and take advantage of furnishings and other features in the room to distract from the different wood floors.
T-molding and wood-to-wood seam binders create a smooth transition between the wooden floors without closing the expansion gaps, and flush stair nose moldings are perfect for finishing off the transition of wood flooring on stairways to room and for steps going down to sunken areas.
If you have any comments or first-hand experiences with how to transition between two different wood floors, please post them below or share your pictures via our social media.
Back to Top