It's every pet owner's daily nightmare: pet hair all over their home. While we love our furry friends, we dread the shedding after winter and the endless dirt being trodden into our homes by their paws. It is an endless battle to vacuum up dirt, leaves, dust, and a shower of hair and pet dander that seems to stick to everything, particularly our carpets and sofas.
Investing in the best quality vacuum cleaner to deal with pet hair and dander is a must for any pet-loving and health-conscious homeowner. After all, excess pet hair can affect your health by causing respiratory problems such as asthma and allergies.
To help you find the best vacuum for your needs, we've put together a detailed Bissell CrossWave Pet Pro review. This product is the market leader when it comes to vacuums designed for pet hair and dander.
Read on to discover how this incredible product can change your life and positively impact your health while ensuring your beloved pets are also healthy and happy.
Bissell CrossWave Pet Pro 2306A Buying Advice
We considered a range of factors to be as thorough as possible in our review of the Bissell CrossWave Pet Pro. In addition to the usual factors like motor capacity and suction power, we also kept functionality and ease of tank cleaning in mind to give you a comprehensive view on what life with the Bissell CrossWave Pet Pro is like, and to be honest, we were impressed!
The Bissell Crosswave Pet Pro offers an excellent value for the cost, as indicated by a slew of favorable ratings and reviews by happy customers. We factored all of these in along with our tests where we tested the machine's ability to suction hair out of carpeting, off hardwood and tile floors, and even from area rugs, and we reached a consensus.
Earning our rating of 4.6 stars out of 5, the Bissell CrossWave Pet Pro is a winner for any pet owner.
Review of Bissell CrossWave Pet Pro 2306A
We were very excited to get our hands on a Bissell CrossWave Pet Pro to test, and it didn't disappoint. This is a machine truly designed with the pet owner in mind. It has loads of amazing and highly functional features, and it truly makes cleaning up after your beloved pets a breeze.
Pros:
Product is lightweight and maneuverable at 11 pounds without the added weight of the filled tank and dirt cup
Cleans multiple surfaces with ease
Vacuum and wash carpets at the same time in one quick motion
Different cleaning heads are available for unique flooring surfaces
Self-cleaning
Tangle-free pet brush roll
Comes with a spare roller, two bottles of PET Multi-Surface with Febreze Formulas, and a docking tray
Each purchase donates $10 to the BISSELL Pet Foundation that helps to save homeless dogs
Cons:
The dirt cup is small, sometimes requiring multiple rinses during a cleaning session
Really dense pet hair can clog the roller brush, causing streaks
Cleaning the roller brush and rinsing the tanks is required immediately after vacuuming and mopping to prevent odors
The handle has a trigger that sprays the cleaning solution, which can be a challenge for those with arthritis or low mobility
Cleaning the machine and rollers can take a while after using if you have pets with especially dense and long hair
Some of the plastic parts feel a bit flimsy, but with a five-year guarantee, this shouldn't be a problem
Bissell CrossWave Pet Pro Product Analysis
Having looked at the basics of the Bissell CrossWave Pet Pro, we decided to get down and dirty and really put it through its paces to test the functionality, tank capacity and emptying process, and multi-surface cleaning power. This is what we found:

Functionality
This Bissell CrossWave Pet review wouldn't be complete if it didn't include a breakdown of how to operate the machine to show you just how well-designed the engineering on this machine really is.
For starters, the machine requires minimal assembly which really only involves locking different rollers and fittings in place. The Pet Pro has dual action cleaning, where it vacuums (by sucking dirt into the dirt cup) and washes (by squirting out clean water and cleaning solution).
The machine sucks up dirt and dust into the dirt cup and then washes floors with ease. It essentially does two jobs in one go.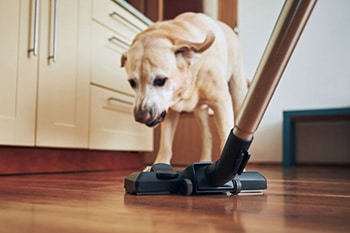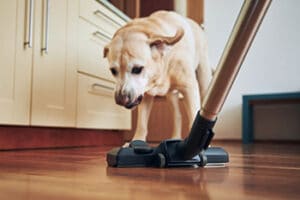 There is usually no need to go over tough stains multiple times, though you may occasionally require this if you are dealing with a particularly dirty floor. Simply pushing the machine slowly and steadily across your floor will produce stunning results. There is one catch, though: it cleans so thoroughly, you will need to empty out the tanks and fill it up with new cleaning solution pretty often.
Because of this, it is best to clean your home daily to ensure the tanks don't clog up completely as a result of tackling especially difficult messes that have been left to accumulate for several days or weeks. Fortunately, most diligent pet owners do this anyway.
The machine has a very straightforward operation that doesn't require any waiting in between vacuuming and washing, and it neatly delivers a clean floor the moment you use it. The floor is also remarkably dry after the machine vacuums up the dirty water.

Tank Capacity and Design
The clean tank has a capacity of 0.21 gallons, while the dirt cup has a capacity of 0.11 gallons. This means you will need to empty the dirt cup twice for each clean tank of solution. When cleaning a large home, this can become a bit of a problem, as you may end up emptying the dirt cup several times per cleaning session.
Fortunately, the two tanks function separately, which means you can empty the dirt cup without having to remove the clean tank. Plus, a filled dirt cup means the machine is working as it should.

Tank and Clean Out
Following the cleaning of your home, you will also have to clean the tanks, brush, and occasionally the hoses. This is made a lot easier with the vacuum's self-cleaning function. Simply remove the tanks, placing the clean tank aside to dry while you strain the dirty tank before emptying it into the garbage disposal unit or pouring the liquid down the drain.
Rinse the tanks, set aside to dry, and place the machine on the docking station to run a self-cleaning cycle. All of this can be done in a few minutes at most.
Be sure to clean the tanks and machine after EVERY cleaning session, as the machine will develop an unpleasant wet-dog smell if you don't. This is because some hair and dirt will escape the filter and could end up clogging up the machine's pipes. It is a good idea to run a solution of water and vinegar through the machine once a week.

Suction
With 4.4 amps or 600 watts of power in the motor, the Bissell CrossWave Pet Pro is average in this department, but what does matter is the sustained quality of the machine.
There is an auto cutoff, which is connected to the float in the dirt cup to ensure the machine doesn't overflow. Since the clean tank is almost twice the capacity of the dirt cup, this is a great design, as nobody wants to have dirty water leak all over their new machine from an overflowing dirt cup.

Multi-Surface Cleaning
While the Bissell CrossWave Pet Pro does come with a multi-surface roller brush to clean any surface, there are also specialized brushes available to complement your cleaning experience and tackle specific messes.
If you have a home with mostly hardwood floors, then the wood floor brush roll would be a wise investment. If you have area rugs that require a bit more vigorous scrubbing, then the area rug brush roll will help you tackle that cleaning job all the more effectively with its stiff scrubbing bristles.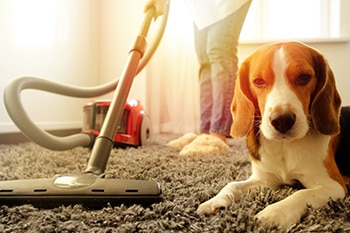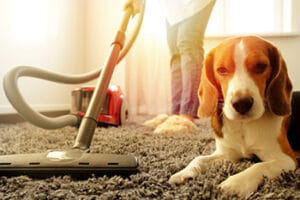 Luckily, the Pet Pro comes with an auto adjustment button on the handle to let you lift or lower the roller head to easily move from carpet to tile. This is a great feature for a quick overall house clean when using the multi-surface roller brush.
One potential negative is that the Pet Pro doesn't scrub grout lines in tile floors, though this is somewhat difficult to do with any length bristle. The scrubby brush might be a good option as long as the grout lines are not too deeply eroded in your floor. The machine sucks up the used cleaning solution, which helps to keep grout lines from developing any buildup.

Accessories
The Bissell CrossWave Pet Pro comes complete with its standard tanks, dirt cup, and one multi-surface tangle-free brush roll. Additional accessories include an extra multi-surface tangle-free brush roll, rinse and storage tray, brush roll drying tray with rinse funnel, rinse cup, and multi-surface PET with Febreze Formula.
Plus, there are a range of rollers available for different surfaces such as hardwood and area rugs. There are also many different Bissell cleaning solutions that work well with the Pet Pro.
If you are still not sure which vacuum will best suit your pet-related cleaning needs, check out our review to see how the Bissell CrossWave stacked up against the Tineco.
FAQs
Is the Bissell Crosswave Pet Pro really worth the cost?
Yes, absolutely! It is a great machine that offers powerful cleaning with advanced features such as a vacuum and mop in one and a cleaning station that cleans the roller brush for you.

Plus, the truly bagless and touchless cleaning of the tanks is convenient and truly hassle-free, which helps to further justify its cost.

Is the Bissell CrossWave Pet Pro better than the Bissell CrossWave Max?
These are two vastly different machines with very different features, so it's hard to make a direct comparison. For example, the Bissell CrossWave Max has Wi-Fi, which enables remote access via the app, while the Pet Pro has a stronger motor and offers better suction power.

However, there is a caveat to this, as the Pet Pro is a much more noisy machine than the Max. Knowing which to choose will depend on your unique cleaning requirements and personal preferences.

How does the Bissell CrossWave Pet Pro clean itself?
You simply place the machine on the self-cleaning tray, fill the container with water and cleaning solution, switch it on, and watch as the roller brush is cleaned efficiently and thoroughly.

The clever design removes the need to pick hair from the bristles and compliments the tangle-free design.

Do I always have to clean my floors with water with the Bissell CrossWave Pet Pro, or can I use it as a regular vacuum too?
The Bissell CrossWave Pet Pro is able to function without washing while vacuuming. You can absolutely use the machine to clean carpets and other surfaces that you may not want to wash in the same session.

Dry particles are kept in a separate tank, which can be easily disposed of after performing a regular dry vacuum.

Can I use my Bissell CrossWave Pet Pro on my laminate floors and on my carpets?
Yes, the Bissell CrossWave Pet Pro is a multi-surface cleaning machine, and it can move smoothly from one flooring type to another with little to no adjustments. Should you move from your tile floors to your area rug, you simply need to press a preset selector on the handle to automatically adjust the height of the cleaning heads.

But that's not all! You can actually clean many different surfaces with the Bissell CrossWave Pet Pro, including the following:
– Hardwood
– Carpets
– Ceramic tiles
– Laminate
– Rugs
– Linoleum
– Rubber
– Pressed wood
– And many more!
Final Thoughts
We loved reviewing the Bissell CrossWave Pet Pro, and we would definitely recommend it to you if you have pets or messy kids. It is convenient to use, easy to store, and offers reliable service every time. It truly deserves our rating of 4.6 stars.
If you have any comments or firsthand experiences with the Bissell CrossWave Pet Pro, please post them below or share your pictures via our social media.
Back to Top