Imagine yourself sitting there on a Saturday afternoon, and gazing at the tired and worn-out laminate floor of your bedroom. You may be tempted to think what it would look like with laminate floor paint. Perhaps this is an effective way of sprucing things up?
Could you do a DIY revamp without having to rip up floorboards or replacing one floor for another? Your musings turn to browsing, and soon you end up on Pinterest or some home improvement site where you are awed by images of what appear to be successfully-painted laminate floors. Could you do this?
Can You Paint On Or Over Laminate Flooring?
The short answer is YES.
The longer and more involved answer is that you could if you have the right equipment, quality paint, and the knowledge to ensure that you achieve a long-lasting finish. Painting over your laminate floor is, however, not an easy process. A painted finish is also not always advisable for areas with laminate floors.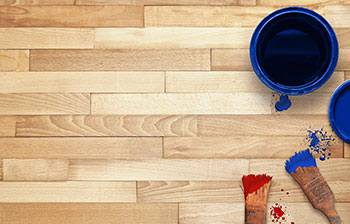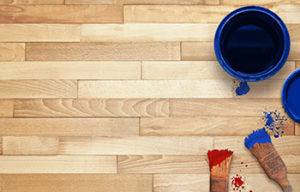 While you may love the thought of quickly color-washing your laminate boards in an afternoon, magically producing a stylish new finish that same day you can brag to your friends about, the reality is not that simple.
Painting laminate floors takes time… but it can absolutely be worth it.
Laminate floor painting, just like refurbishing your hardwood floor, will take a considerable amount of time, a reasonable amount of money, and cause no small discomfort in having to move furniture, ventilate the area, and give the sealants time to cure. It is also not reversible, and once you have prepared a laminate floor for painting, you have no way to go but forward.
But nothing good ever comes easily. And the requirements for painting your laminate floor should not dissuade you from at least considering the option. Weigh up your pros and cons, consider the reasons why you should paint your floor, and then decide for yourself whether this is a process you'd like to undertake.
Reasons Why You Would Paint Over Laminate Flooring
Three top reasons you would paint laminate flooring include:

Cost
Most homeowners pay between $1,411 and $3,395 for a professional installation of 330 square feet of laminate flooring in their homes. While this may seem reasonable, these estimates do not include the cost of removing existing flooring, moving furniture, installation on stairs (which is time-consuming and highly technical work, thus costing extra), nor do they include the potential cost of excess materials.
If you already have a laminate floor installed, would you really want to go through that whole rigmarole again? Probably not.
Painting your existing laminate floor offers you a reasonably cost-effective way of freshening up your home, and if done correctly, it is fairly durable too. Considering your average cost of painting 200 square feet laminate flooring, costing between $250 to $300, it is not an expensive option.

Style
By choosing to paint your existing laminate flooring, you can find a new way of decorating your home in any style that appeals to you. With paint, you can choose your style of flooring.
It becomes possible to inexpensively create a distressed finish, whitewashed boards, dark oak, ebony, or many other colors. This can provide you a cheap way to copycat much more expensive looks in your home.

Taste
Not all of us like the ranges of laminate floor boards available, and if you are picky about the type of flooring you use in your home, you may believe it is better to keep existing boards and simply change them. By painting your laminate flooring, you can help with environmental preservation, as doing so saves natural forests with fewer boards having to be cut.
Simply skimming or sanding existing boards can provide you with a recycled surface that you can play on to your creative heart's content.
Pros And Cons Of Painting Over Laminate Flooring
With any big decision, it is best to weigh up the pros and cons, and with the decision to paint your laminate floors, you need to be sure of your choice. Once you have painted, you can't go back to the original laminate.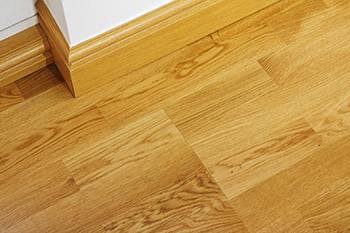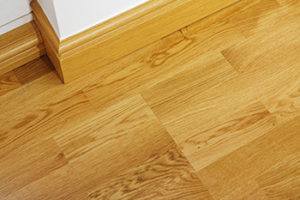 Pros
✔ Once you have learned how to paint laminate floors, it is fairly easy to do. Apart from being somewhat time consuming, it can be done with limited or basic skills and still yield a positive result.
✔ The cost of painting your laminate floors is far less than installing new laminate floors or other flooring types. The more expensive equipment like orbital sanders can be hired to further decrease costs, and with some careful preparation, you can achieve a good finish with little fuss.
✔ The type of paint you choose, color, finish, and method of painting is an individual choice, making it a great choice for DIY décor enthusiasts.
Cons
⛌ Some basic skills are required. You'd need a paint brush, a sanding machine, and patience to mark off areas and borders.
⛌ Floors require preparation and sealing after paint has been applied.
⛌ Paint, both for the undercoat and layers of latex paint, requires curing time, and it needs to be thoroughly dry before applying the final sealant layers. If this is not done correctly, the paint will rub off or tack onto carpets and other surfaces.
⛌ Cleanup can be quite labor intensive, and you may need to close off the room where you are working to control the dust that the sander may produce. Care should be taken, especially around people with allergies and asthma due to the dust and sealant odors, which may aggravate symptoms.
Step By Step: How To Paint Over Laminate Flooring
Learning how to properly paint over laminate flooring is quite important. This is not the kind of project where you can simply throw down some paint and wing it. There is a very specific technique that should be used, and if you can't follow the instructions closely, then it is best not to try.
Remember: once you start, your laminate boards are forever changed. There is no going back.
Which Laminate Floor Paint To Use
Experts recommend using latex-based paint for laminate flooring. This should be applied over an oil based primer like KILZ Adhesion High-Bonding Interior Latex Primer. While some online resources may recommend painting straight onto the laminate surface without sanding, this is ill-advised.
For starters, smooth laminate boards are not generally porous enough to allow the paint to stick. The glossy layer that gives laminate its shine is also what keeps paint from adhering. While a quick paint job without sanding may look stunning in no time at all (and seriously, you could spray paint your floor in an hour, dry for an hour, and then move your furniture back in), the quality will not last.
Only with quality paints, thorough preparation, and patience will you achieve a lasting finish that will not nick, scrape, or scratch with time.

Materials And Equipment Required To Paint Your Laminate Floor
So, painting over laminate flooring will require a bit of shopping, but don't fret! You can find everything you need online:
Rubber gloves
Painting masks
Masking or painters tape
Paint tray (and paint tray liner or cling film)
Foam paint rollers & handle extensions
Edging brushes
Oil-based primer (and tint if you are using a darker paint)
Latex paint in the color of your choice
Polycrylic or polyurethane sealer
Trisodium Phosphate (TSP) (cleaner)
Sanding paper (120 to 150 grit)
Preparing Your Laminate Floor
It can't be emphasized enough that you must prepare your laminate floor before painting. You can also use the same techniques and materials to paint an existing vinyl floor. Quality preparations of your existing floors can almost take longer than the actual painting process, but it is worth your time investment and will give you a professional finish.
Repairing & Cleaning
Laminate floors tend to pick up nicks, dents, cracks, and even minor warping. Depending on the condition of your laminate flooring, this may mean quite a bit of time spent on preparation.
Start by examining your floor inch by inch. Note any deep dents, scrapes, or scratches that need to be smoothed. This is your opportunity to even out your flooring for its new look. Caulk can be used to fill in these imperfections; if you leave them, they will become serious eyesores once the floor is painted.
Mark the areas that need attention. Now, sand the floor with a fine-grit sanding paper, using an orbital sander. This will help cut down on the preparation time when compared to sanding by hand. So spending the $25 to $30 to rent a machine for the day is well worth it.
Next, use the TSP to clean the floor, stripping off any grease, grime, dirt, soil, and sawdust (from sanding). Wash this away and dry the boards thoroughly. Any moisture caught between the raw laminate board and the primer will cause bubbling of paint, so be thorough. You may want to use large fans, AC units, or heaters for this process, depending on what the weather calls for.
Now you are finally ready to start painting… almost.
Before you pour paint into the trays, prepare edges by masking off any areas such as walls, corners, pipes, plumbing, or electrical outlets that edge onto the laminate floor. Spills and splashes will make your job a flop.
Priming
You can now begin edging the floor with a brush and primer. Be sure to apply the paint evenly, getting into little corners that may later be missed. If you are painting a darker latex paint layer, you may want to tint your primer, as doing so cuts down on the number of layers you need to paint.
Your primaer may require drying overnight, but be sure it is fully dry before applying the initial layer of paint. Tacky primer will result in messy paint. Make sure you can see an even adhesion to the laminate, as you don't want to later have paint rubbing off where the primer was too thin or not sticking to the laminate.
For a high-gloss finish, you can gently sand the primer layer, then vacuum and tack with a moist rag to ensure the paint adheres properly. Now you can apply your paints.

Painting & Sealing Your Laminate Floor
The moment you have been waiting for is here!
Application of Paint
While you may be tempted to apply the paint in perpendicular layers, you should follow the lines of the laminate boards, applying paint with the foam rollers. If you apply the paint layers at 90° angles, you will end up with splotchy edges.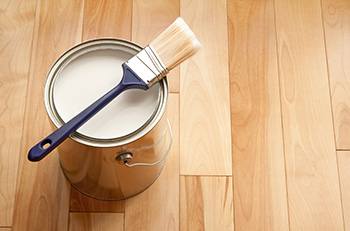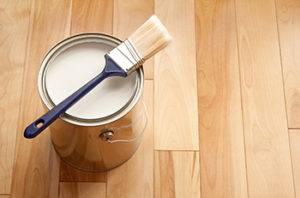 Use a handle extension to ensure you don't step in wet or tacky paint as you push the roller along the boards with equal pressure on the handle.
Drying Time
Follow the manufacturer's instructions regarding drying time. This will fluctuate depending on where you are in the U.S.
To bring that sparkle of a new floor to your painted laminate floor, you need to apply at least one to two coats of sealant.
How Soon To Apply Sealant
Depending on the climate where you live, you may find that your paint layer is still slightly tacky (even after a night of drying), but don't let this concern you. Applying your sealer to this last layer of paint will dry out the paint completely, giving you a smooth finish, once it is dry.
You can then sand the sealant slightly, wipe with a damp cloth, and apply a second layer for a nice glossy finish.

Cleaning Your Painted Laminate Floor
When it comes to cleaning, this can be your real moment of truth. A poorly-painted floor will begin scuffing almost immediately.
Avoid harsh chemicals, as even a strongly-mixed vinegar solution can strip the sealant layer that is protecting your newly-painted laminate floor. Using a mild soapy solution or water with a small amount of vinegar will suffice, leaving your painted laminate floor sparkling and fresh.
FAQs
What Kind Of Paint Do You Use On Laminate?
Due to the smooth nature of laminate boards, the general recommendation is to use latex paint, such as Krylon COLORmaxx Brush On Paint, which is a good choice. Latex paint offers a smooth and durable surface, which is required to provide a good flooring finish.

To ensure a smooth and durable finish, an oil-based primer is also a good idea.

What Kind Of Primer Should I Use On Laminate?
An oil-based primer is best for use with latex paint on your laminate flooring. This is because laminate flooring is smooth and compact, making adhesion more difficult. Oil-based primers stick well, and with sufficient cure time, you will have a suitable surface to apply your paint to.

How Can I Change The Color Of My Laminate Flooring?
The two ways of changing the color of your laminate flooring is to either paint it with a high-quality latex paint over a properly prepared surface, or you by applying a darker laminate stain.

What Is The Best Way To Ensure My Painted Laminate Flooring Lasts?
Sealing your laminate flooring with a polyacrylic or polyurethane sealant is the best way of preventing water stains and warping, and of sealing the painted boards. These precautions will reduce wear and tear caused by foot traffic, and help prevent the soft boards from getting chipped or scratched.

Over time, minor imperfections can be buffed and removed or simply concealed by topping up the sealant coat.

Can I Paint My Laminate Floors With Chalk Paint?
While some bloggers recommend chalk paint, it is not as durable as latex paints. However, if you apply an adequate seal such as a wax coating followed by a polycrylic sealer, you can achieve a pretty sturdy finish.

How Do I Clean My Painted Laminate Floors?
Washing with a mild soapy solution will be a safe bet; however, remember that the laminate is still a composite wood, so excessive water can lead to warping. Hence, you should use a well-dried mop to clean your painted laminate floors. Steam cleaning is not advised, as the heat of the process will likely remove the layers of sealant and warp the wood planks.
Conclusion
Painting your laminate flooring is a good way to save money. When correctly applied, paintis a great surface treatment of your old floors. Dents, nicks, scuffs, and other imperfections can be perfectly hidden behind a glossy layer of high-quality latex paint.
While saving money is great, the décor potential of a well-painted laminate floor is endless, and even your kids can get in on the act by painting their own rooms, ensuring fun for the whole family.
If you have any comments or first-hand experiences with painting your own laminate floors, please post them below or share your pictures via our social media.
Back to Top