It's funny how we go all out cleaning each and every corner of the house except the humble garage! Clutter, grime, oils, and grease build-up seem to be the order of the day in a typical garage. I'm here to let you know that even your garage floor deserves that very special dose of TLC you award the rest of your home!
You don't have to wait for your monthly spring cleaning session to give your concrete garage floors some much-needed attention. Regular cleaning of your garage space is the way to go. This way, the accumulation of dust, dirt, and debris is kept to a minimum. As you know, all these factors make your garage a haven for all sorts of unwanted creepie crawlies or, depending on where you live, even rats or raccoons!
And that's precisely why I'm here today. To give you all the tips and tricks on the best way to clean your garage floor. This includes everything from how to get stains off the garage floor to deep cleaning and pressure washing your garage floors.
I'll also recommend the best garage floor cleaning products on the market and highlight products you should rather steer clear of when cleaning your garage while I'm at it. I'll then conclude the article with the answers to a few burning questions you might have on cleaning your garage floors.
At the end of the article, you should have all the information you need to keep your concrete garage floors looking snazzy and sparkling. Well, you know what I mean.
Let's get you schooled!
Best Type Of Garage Floor Products
Wondering what to clean the garage floor with? As promised, I'll kick off this article by giving you a list of garage floor cleaning products you should rather use for the deed. Quite frankly, the task is only as effective as the products used. Of course, this will depend on the exact type of mess you're cleaning. Is it a stain, spill, or bit of regular old debris? I'll discuss them all.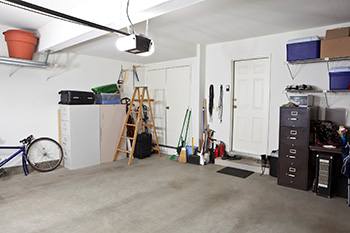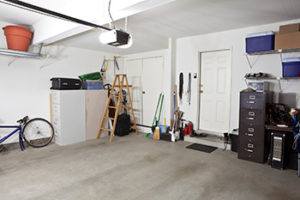 I can't help but mention that concrete floors are a popular option for garage flooring. It's fair to assume that their durability and low level of maintenance are some of the key reasons behind its popularity. But be that as it may, concrete floors do stain.
Why is that? Well, concrete is naturally porous. This means any spills or dirt are easily soaked up. Your best bet is to clean up any mess before it has time to settle. If the latter occurs, your job becomes significantly more difficult.
And now for my recommendations.

1. Soap
You can never go wrong with good-old fashioned soap to clean up your garage floors..But not just any soap will do. Either opt for an olive-oil based soap, which is very effective at cleaning concrete garage floors specifically.
Look for soap that features lye as the key active ingredient. When lye is combined with water, it forms a mixture that is known to remove any grime and dirt that has settled in your garage floor. If you're lucky, you can even pick a soap that doubles as a moisturizer depending on the active ingredients. You won't need to wear protective gloves for the latter.

2. Deep Cleaner
If your garage floors have suffered considerable neglect, it's time to pull out the big guns, like a deep cleaner. This heavy-duty product is one of my personal favorites and is very effective at removing stubborn stains.

3. Cleaner & Degreaser Solution
Expect double cleaning action if you pick a product with a cleaner and degreaser. This duo is a solid combination designed for heavy-duty cleaning.
Opt for a degreaser that consists of a water-based solution to penetrate your garage floors and remove even the toughest of stains. Such a solution is effective at removing tough grease and oil stains.
But what I absolutely love about most degreasers is that they're non-corrosive and non-abrasive. Plus, depending on the brand you pick, they don't produce an unpleasant chemical odor.

4. Baking Soda
Not everyone is a fan of chemicals and I completely understand that. If you prefer more natural remedies, use some baking soda. Simply mix half a cup of baking soda with a gallon of warm water and you will have created an all-purpose cleaner that'll remove all the stains on your garage floors in no time!

5. Scrubbing Towels
Scrubbing towels are my go-to for those quick garage clean-ups. Use them to clean spills on your garage floors – they really work wonders AND they're massively affordable. You can even use these multi-purpose towels to wipe clean any of your dirty tools when necessary.

6. Scrubbing Wipes
Aside from scrubbing towels, you can also use wipes for smaller jobs like slight spills. As previously mentioned, the faster you clean up spills, the less stains are likely to occur on your garage floors. If wipes and towels don't cut it, consider using a standard floor scrubber.

7. Wash Solution
A wash solution is yet another powerful cleaning agent you can use to clean your garage floors. Your cleaning job is set to go even quicker if you pick a solution that contains 70% alcohol. Such a solution doesn't evaporate as quickly as other cleaning formulas, which is essential for an effective deep clean.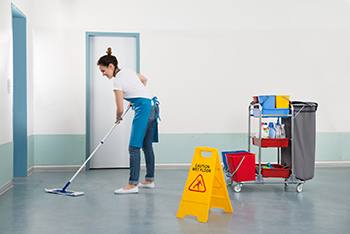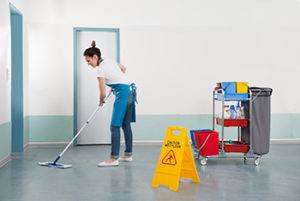 A wash solution will remove stubborn grime from your concrete floors. And most wash solutions are easy to use. All that's required is a simple splash of the solution onto your floors. No need to rinse it off.

8. Sweep Broom
Let's face it, it's not every day that you need to splash some sort of chemical on your garage floors to clean them. Sometimes, all you need is a quick sweep to rid your garage space of any dust and debris.
You can never go wrong with a broom. Just pick a quality broom with sturdy bristles designed to effectively pick up dirt and grime. Given the endless options at your disposal, you can choose between one with a thick or slim design.The latter makes the broom easy to store even in tight spaces.

9. Oil Absorbent Roll
Cleaning oil spills on your garage floors doesn't have to be a time-consuming affair. Sometimes, all you need to do is place an oil absorbent roll onto the affected surface and wait for the magic to happen!
These pads will do all the work by absorbing all the oils or oil-based liquids. These rolls usually come in the color white. And they are made of fiber, making them sturdy but lightweight for easy handling.

10. Oil Absorbent Pad
You can also opt for an oil absorbent pad, which works pretty much the same as the roll mentioned earlier. The major difference is that pads are already cut up into small portions for cleaning up those quick small oil stains.
These pads are also made up of polymers or cotton fibers. And they are designed to lift up oils stains from your garage floor with the utmost of ease.

Products To Avoid
Granted, concrete garage floors are considered low maintenance. But this doesn't mean you can clean them using any product you can get your hands on. Some products will, unfortunately, damage your concrete floors.
I'll list a few products you must never use on your concrete garage floors:

1. Ammonia
Firstly, ammonia is far from from safe. It's known to produce a poisonous gas that can have devastating effects when inhaled. Secondly, ammonia is also irritating to the mucous membranes and eyes. With regards to your concrete floors, ammonia isn't pH neutral. As a result, the substance can easily break down the sealant that covers most concrete floors.

2. Bleach
Much like ammonia, bleach is also known to do more harm than good on garage floors. It can also disintegrate your garage floors when used over longer periods of time. Also, bleach tends to produce intense chemical fumes you might find overwhelming.

3. Highly Acidic Substances
Never use any highly acidic substances on your garage concrete floors. Vinegar or any citrus cleaners fall under this category. Such substances will also weaken and damage your garage floors as time goes on.

Product Precautions
The products mentioned earlier are best used on concrete garage floors. This means that, for best results, you should rather not use them on tiles or plastic floor coverings. Also, to maintain these products so they work effectively, it's important that you keep the following tips in mind:
Store them in a clean dry place.
Avoid mixing any of the chemicals listed here with bleach.
Always follow the manufacturer's instructions with regards to dilution measurements if they are to be mixed with water.
Know exactly when to use each product and always use the correct product for the task. Case in point; not all garage messes require a degreaser. Degreasers are mainly used for the removal of heavy-duty stains.
Avoid mixing your cleaning solutions with other solutions for best results.
Depending on the instructions, always leave the solution for a few minutes before wiping it off.
FAQ
How Do You Clean A Concrete Floor?
There's no one set method to clean your concrete garage floor. But I'll share with you the method I've found to be the most effective. You'll obviously need to start by sweeping off any moving debris with a broom.

After which you can go ahead and scrub your floors with a cleaning agent of your choice depending on the mess you want to clean up. Always adhere to the manufacturer's mixing instructions if the product requires dilution.

I'd advise you to start by dividing the floor into sections for a more strategic approach to cleaning. Thereafter, you can go ahead and start scrubbing with a deck brush. In case the floor is extremely dirty, leave the solution to settle for a few minutes before you start scrubbing.

Rinse off the solution using a high pressure nozzle and you have yourself a clean garage! Whatever you do, don't wait for the solution to dry up before rinsing. If you leave it to dry up, then there's a possibility that some remnants of the solution will remain behind.

How Do I Make My Garage Floor Look New?
Despite being durable and strong, concrete garage floors will finally give in to the daily tire and foot traffic, not to mention adverse weather conditions… But not all hope is lost. There's a way to revive your floors so they can look new again!

Start off by spot cleaning to remove any stubborn stains using a heavy-duty cleaner. After cleaning individual spots, you can proceed to clean the entire floor using the method outlined earlier.

The next step is to apply a water-repellent sealer to prevent further dirt or grime build-up. If you notice any cracking or flaking on your floors, consider resurfacing with a premium resurfacing product. Level out any depressions in your garage floor and fill up any cracks by using a quality concrete leveler.

By following these steps, your garage floors will be returned to its former glory in no time!

Can You Pressure Wash A Garage Floor?
Thankfully, yes! Pressure washing is one of the most effective ways to remove deeply embedded grime and dirt. You'll need a pressure washer for the job.

What I like about pressure washers is that they don't only clean concrete floors well, but the process goes much faster. You don't have to spend time scrubbing your floors on all fours!

Depending on the model you use, a cleaning solution can be easily added. If you don't happen to have a pressure washer lying around, you can always rent one. It's a much cheaper option!

What Is The Best Concrete Cleaner?
From my experience, using a cleaner that contains muriatic acid, also known as hydrochloric acid, is best. Why is that, you ask? The substance is known to neutralize alkalinity for effective cleaning of tough stains.


How Do You Deep Clean A Garage?
For that thorough spring cleaning exercise, it's wise to incorporate the deep cleaning technique. For this method, your garage needs to be totally empty. So, pick a day when the weather is favorable so you can place the contents outside.

Gather your cleaning tools, including your broom, bucket, brush, cleaning solution, and towels. Don't forget your mask and gloves!

Start off by sealing off any cracks. Sweep off any debris using your broom. Pay special attention to the corners. Wash down the walls because they aren't exempt from dust accumulation.

Scrub the floors using a detergent of your choice and you'll have a clean and fresh garage. Leave the space to air dry for a while and go ahead and return the items. Just make sure you only return the essentials and discard things you'll never use. And you're done!
Conclusion
And there you have it: all the answers on how to clean your garage floor. All the products on my list are great buys. But if I had to single out one, I'd advise you to go with a cleaner and degreaser solution.
This solution is designed to remove even the toughest of stains. I love that it won't corrode your floors over time, plus it's non-abrasive. Best of all, it doesn't produce any unpleasant smells if you pick the right brand.
That's all from me, what are your thoughts? Do you have any extra tips you'd like to share on cleaning your garage floors? Let me know.
Back to Top