Buying carpet is an investment, so you don't want to waste your money on a low-grade product. That's why some companies give out free carpet squares and samples, so you can test the material in your home before you buy.
When you opt for a free carpet sample, you can feel the texture of the fibers to see if they'll be comfortable to walk on. Furthermore, you can test the durability of the carpet you want to buy. Using carpet samples saves you a lot of time and frustration.
In today's article, I'll be giving you a complete guide on what free carpet samples are, how you can get them, and why they're important. If you'd like to find out more about carpet samples, then refer to the FAQ section where there's additional information for you.
So if you're a homeowner looking for carpeting with the perfect texture, color, and retention then you've come to the right place. Continue reading to find out more about free carpet samples and squares.
What Are Free Carpet Squares And Samples?
When you look at rugs online, or even on a store shelf, it doesn't provide you with enough information to make a buying decision. Computer screens are deceiving. It may show you a particular color, but when your carpet arrives it can be a different shade than what you saw on your screen. Carpet squares may look great on the shop shelf, but how durable are they and what textures and fiber types are available?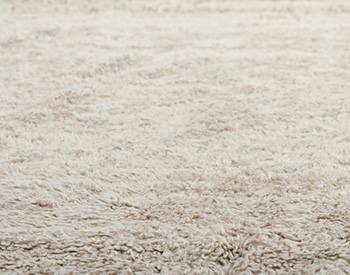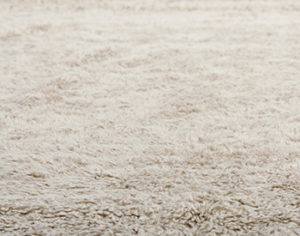 To test the carpet before you buy, you can opt for free samples from the retailer you want to purchase from. You'll get a small piece of carpeting in the shape of a square. With your sample, you can feel the texture of the carpet fibers and test the durability of the square.
Getting carpet samples is the perfect way to pick the right carpet for your home. In this next section. I will explain why it's important to get free carpet squares and samples before you buy your flooring. It may be somewhat difficult to find those carpet squares, though, so continue reading to find out where you can get free samples hassle-free.
Why It's Important To Get Free Carpet Squares
The cost to do wall-to-wall carpeting can get expensive depending on the type you buy. You don't want to spend thousands of dollars on carpeting that you're not going to be happy with. Therefore, it's best to test the carpet you like first.
Your carpet sample provides many benefits. For one, you can check the durability of the padding of the carpet using your sample. And the most important aspect is to see if the color and texture of the carpet complements the aesthetics of your interior décor. Look at the color of the fibers to see if the carpet will go well with your furniture and walls.
It's also important to test how easy it is to maintain the carpet you want to buy and how quickly it will dry when you've washed it. Another feature you can test is how well it holds up to UV rays and if the color will fade when you clean it.
If you're ordering carpet tiles and not wall-to-wall coverings, you'll also need to check the size of the tiles and if they'll complement the aesthetics of your space.
All these features are aspects you must test before buying your carpet so that you can be 100% happy and satisfied with your purchase.
How To Get Free Carpet Samples
You can either order free carpet squares online or at your local store. The most convenient way to get carpet samples is to order them on the Internet. Simply find an online or local shop that offers samples of the carpet you want to buy. Typically, retailers will offer three or six free square samples for you to test.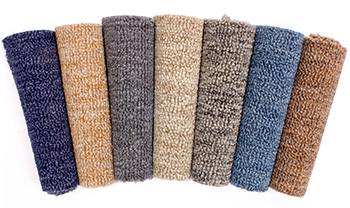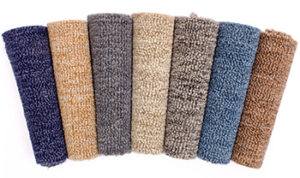 Once you've ordered your samples, the retailer will ship them to you. There are shops that offer free shipping, but you'll have to check their terms and conditions before ordering your squares. Ordering your carpet samples online is convenient because you don't have to travel to a shop to get them.
On the other hand, if you prefer to see the samples before you order them, you can visit your local home decor retailer. Local shops will have a wide variety of colors, textures, and patterns for you to choose from.
Pick the carpet you want and then order a sample so you can see what it will look like inside your home. The color is the most important aspect if you're decorating your house. But you can also check the texture and the quality of the carpet samples in the store before you order your samples.
What To Do With Old Carpet Samples
Once you're done with your carpet samples, you may think there's no use for them anymore. But there's a lot you can do with your old carpet samples so that they don't go to waste. Take a look at the following ideas on what you can do with your free carpet squares.

Make An Indoor Or Outdoor Rug
Carpet squares are perfect for making an indoor or outdoor rug. If you don't want people treading in mud or water onto your floors, then make a scruffy rug to put outside your door. Or you could make a stylish floor mat for your office or bathroom with your squares.

Provide Extra Cushioning
Do you work in the garden often? Then you can make carpet padding to kneel on when you're working in the soil. Your carpet will protect your knees from cuts and scrapes, especially if you like to wear shorts while you're removing weeds from flower beds or trimming your hedges.

Make A Scratching Post For Your Cat
Cats love to scratch carpet, so to prevent them from clawing your new floor coverings, use your samples to make scratching posts for your feline friends. There are scratching posts you can get at the pet store, but they are pricey so make your own.
You can make as many scratching posts as you can with the samples you have and place them all around your home. Your cats will always have a post to scratch, no matter what room they're in.

Cover Shelves With Carpet
Some people use covers for shelves to protect them from scratches and dents. Covering your shelves also adds some traction to them so items don't slide off easily. Use your old carpet samples to cover shelves you want to protect or to simply add a unique look to them.

Recycle Your Free Carpet Squares
If you have no further use for your carpet samples, then you can recycle them. Fortunately, nearly all types of carpet can be recycled depending on what materials they're made from.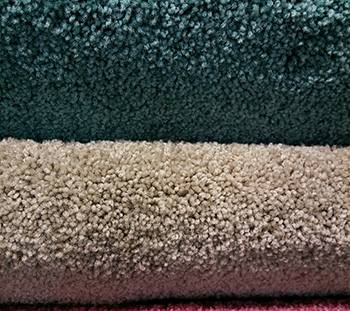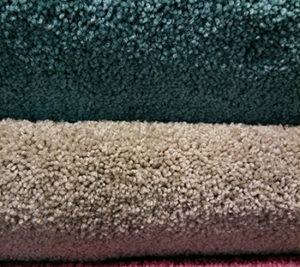 Before ordering carpet samples from a retailer, check to see if they offer recycling solutions to make the process easier. You may be able to send your carpet samples back so they can recycle them into brand new floor coverings.
FAQs About Free Carpet Squares And Samples
Can You Get Free Carpet Samples?
Yes, you can get free carpet samples from various retailers. There are some shops that don't offer samples, but you can view the retailer's details on their website. Before you shop for the carpet you want from a specific retailer, first check whether they offer free squares for you to test.
If you can't find free samples from your local carpet vendor, you can always opt for an online store. There are plenty of online retailers that will ship your free samples to you. Simply check the terms and conditions of the online store you pick, to see how much shipping will cost and what size samples they offer.

What Size Is A Carpet Square Sample?
Carpet square sample dimensions can range between 4×4 inches and 24×18 inches. But this will depend on the retailer you get your samples from. There isn't a standard size for carpet samples. So when you want to order samples, make sure you pick a retailer that offers you the size or sizes you're looking for.
Some local retailers will offer cheap or free carpet samples that are small so you can fit them in a bag. This makes it easy to transport the samples from the store to your home. Additionally, it's easier to walk around your home with smaller sized squares so you can see if they match your furniture and backgrounds.
If you want larger carpet squares, speak to your retailer and see if they offer larger dimensions for you to try.

What Are The Best Places To Get Free Carpet Samples Locally?
The best places to get free carpet squares locally are Lowes, Menards, and Home Depot. These retailers have stores located all over the US, so you're guaranteed to find one near you. If you prefer to view carpets in person, then opting for a local retailer for your samples is the best choice.
Lowes is the popular choice for various types of free flooring samples such as vinyl or laminate. The brand also has hundreds of carpet samples for you to pick from. However, there may not be a wide variety of samples available in-store. But Lowes also has an online store where you can find carpets made from nylon or polyester.
At Lowes, you can find 8×8 inch carpet samples that are free, or you can buy affordable squares from high-quality brands starting at $4.69 per square.
Home Depot stocks a few of the same branded carpets that Lowes does. The type of samples you find may vary depending on the region you're in. On the other hand, Home Depot doesn't stock as many styles and brands as Lowes. But the retailer does offer samples from their very own collection called Home Decorators Collection, which features plenty of polyester products.
So if you want to get cheap or free carpets, Home Depot is the place to go. There are some carpet styles that are limited to three free samples. but after that you can buy swatches for as little as $1 a square.
Lastly, you have Menards, which is a retail store that offers excellent prices on their floor coverings. This retailer provides various types of carpet such as Plush and Berber. which you can get swatches for easily. The size of each sample is 4×4 inches, and they do offer shipping if you want to order your samples online.

What Are The Best Places To Get Free Carpet Samples Online?
The best place to order free or cheap carpet square swatches online are Shaw, Mohawk, and FlooringInc. If you don't feel like driving to your local store to get your free carpet samples, then ordering them online will save you the trouble. However, some retailers may charge you shipping fees. so check what the costs are on delivery before you order your samples.
Shaw is the most popular retailer to get any type of flooring from, such as hardwood flooring, vinyl, and even composite decking. The brand also has a wide variety of carpeting for you to pick from. There are over a 100 styles available on the company's online store.
The Shaw brand offers both nylon and polyester products, but it doesn't seem like you can order free samples from the site. Swatches cost $4.99 per square with free shipping. Or you can also find Shaw samples through Lowes or Home Depot, where you can get free squares.
Mohawk is the second most popular flooring brand on the market. The company is the largest carpet manufacturer, so it's an excellent place to look if you want a variety of options. On the Mohawk store, there are over 1,400 carpet samples for you to pick from. This brand has collections called Air.O and SmartStrand Silk that have plenty of colors, textures, and patterns available. Mohawk offers carpets that are wear- and stain-resistant.
Lastly, there's FlooringInc. This brand offers a variety of flooring such as hardwood and even rubber and foam types. The FloorInc online retail store offers durable carpets and samples for you to test. You can order three samples for free with an affordable shipping fee of $4.99. After your three free samples, you can purchase a variety of carpet squares for as little as $0.50 each, which makes this the most cost-effective online store to get carpet samples from.
You'll appreciate how fast FloorInc is with their deliveries. So if you're on a budget and need quick samples so you can make a decision on which carpet to buy, then FloorInc is the best place to go.

What Is The Best Carpet Material To Buy?
Nylon is considered the best carpet material because of its durability and ease of maintenance. There are retailers who offer free carpet samples with different materials such as polyester and nylon. It's important to test all types of carpeting material to see how well they hold up, especially in harsh environments. By testing the durability of your carpet, you can see if it will be ideal for the area you want to cover.
It should be noted that nylon is sensitive to chemicals such as bleach, but it does have an excellent retention rate. This simply means that nylon fibers hold their shape and will bounce back up, even after being flattened by heavy furniture.
Get carpeting samples made from different types of materials, so you can pick the one you know will work well in your home.
Back To Top
Conclusion
If you're decorating your house, it's important to pick the correct carpeting that will complement your space. The color, pattern, and texture of the carpet will have a major impact on the aesthetics of your house, so it's always best to get a variety of samples to test in each room.
Some colors may be too dark or too light for the look you're going for. Therefore, if you've chosen a theme, get carpet samples in different shades to see which one looks best. Free carpet squares are also ideal if you want to test the feeling of the carpet. If you're going for a soft and elegant style, then the texture will be an important feature.
Have you ordered free carpet samples recently? How easy was it for you to get your samples? Did you order them online or get them at your local store? Leave a comment below with your experience and let us know if opting for carpet samples was helpful to you. There may be first-time readers looking for additional information on carpet samples that could help them.
Back to Top